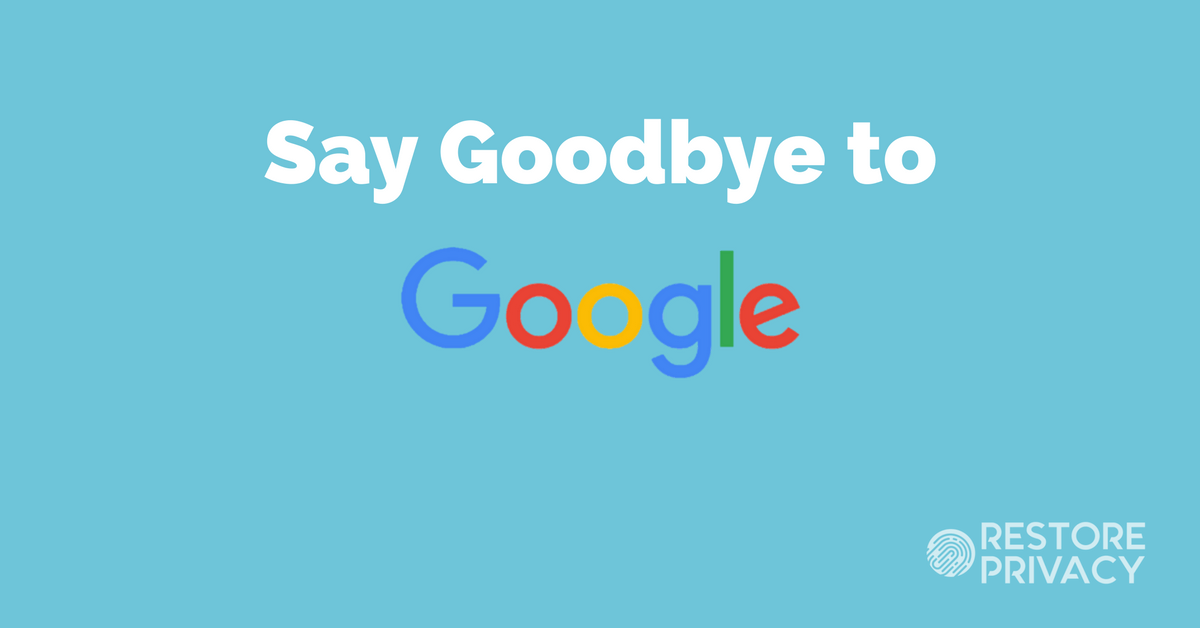 Do you want to know the truth about Google?
They have a dark secret.
Google's entire business model is based on you surrendering to corporate surveillance. That's it. All they do is repackage mass corporate surveillance into convenient, free, trendy applications that suck up all your data.
Your private information is the "secret sauce" to their entire business. And when you use any Google product, you feed them more data. Your data makes them powerful and allows them to:
Dominate the online advertisement industry.
Partner up with governments for mass surveillance and other "projects". Google (or Alphabet) is one of the largest lobbyists in the world – spending money to influence regulations, bribe politicians, and get tax breaks. Classified documents revealed Google has been helping the NSA with mass surveillance since early 2009.
But you can opt out. Here's how.
In this guide we will cover:
How to download all your data from Google (email, search history, and everything else).
How to delete your data.
How to disable activity logging and ads.
How to delete all your Google accounts.
Now let's get started.
Step 1: Download the data you need
The first step is to download the data you need, before you delete everything from Google servers. The less you download the better because data, emails, photos, search histories can always be hacked and stolen. My recommendation is to keep as little as possible (such as your important emails) and just delete everything else. But be sure you have everything you need – you can't undo this.
1) First, login to your Google account.
2) After logging in, visit the Download your data page / https://takeout.google.com/settings/takeout
3) Now choose all the different products you want to download. Everything is automatically selected, so uncheck anything you don't want.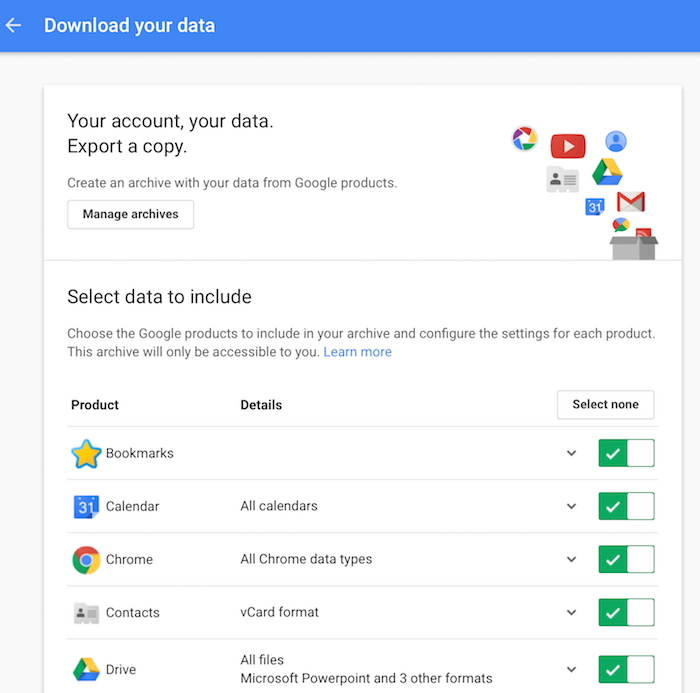 4) The next step is to customize how you want your data. You can choose between .zip, .tgz, and .tbz file formats, as well as different file archive sizes. Then select your preferred delivery method.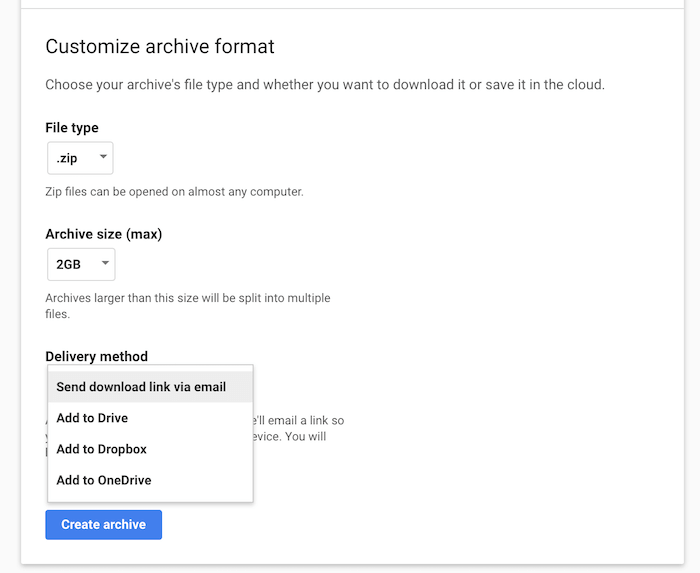 5) Click the Create archive button and download your data. Instead of keeping your backup data in cloud storage (which is never too secure), you can keep one copy on your computer and another copy on a secured storage device.
Step 2: Delete your data
This is one of the most refreshing steps there is: deleting your Google history and data.
To delete your Google data, follow these steps:
1) Go back to your My Activity page.
2) Click on the vertical row of dots in the upper right corner of your screen, and select Delete activity by.

3) Under Delete by date select All time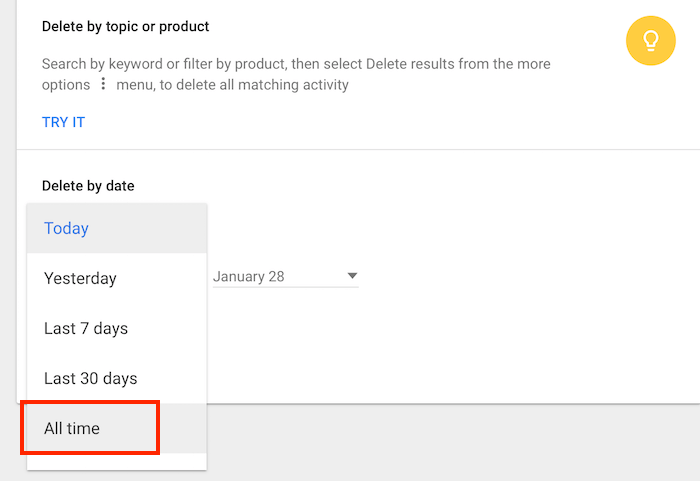 4) Next, choose which products you want to delete. I strongly recommend deleting everything – All products.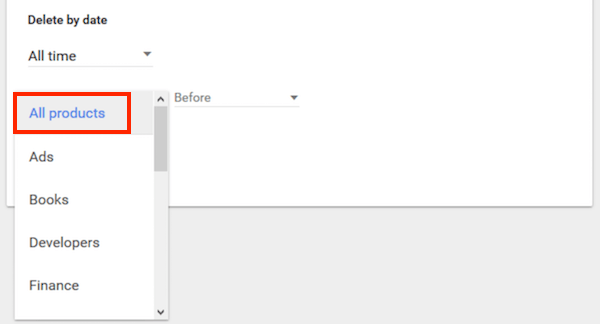 5) Now at the bottom click DELETE and then OK on the warning message.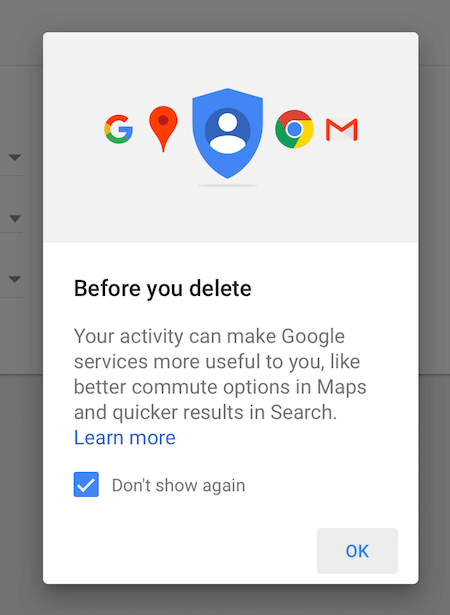 Congratulations! You have deleted your entire Google history.
Now when you go back to your My Activity page, it should something look like this with the No activity message at the bottom.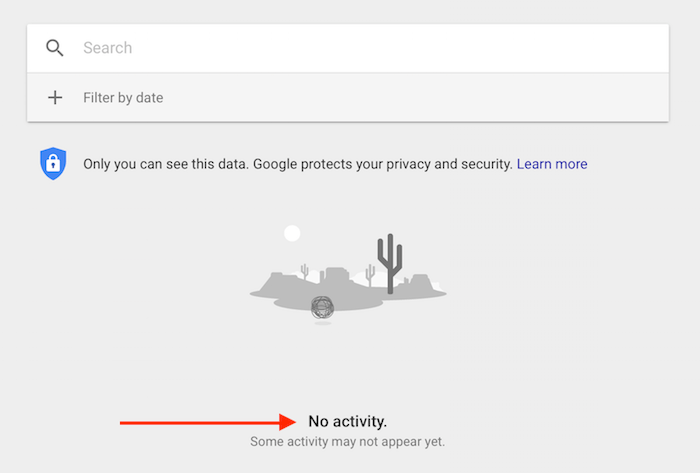 Feels good, doesn't it?
Now you have a choice
At this point in the process, you have two options:
Delete your Google accounts (Gmail, YouTube, Drive, etc.), or
Keep your Google accounts and disable activity logging
Of course, my recommendation is to delete everything associated with Google – including all of your accounts.
If you want to completely delete everything with Google, simply jump ahead to Step 4: Delete Your Google Accounts below.
Now, there is also a middle ground option if you want to delete some accounts, but keep others. (Or, perhaps, you want to keep everything.) Regardless, you should probably disable the data collection options and advertisement tracking. Here's how.
Step 3: Disable Google activity logging and ads
If you're going to keep any Google accounts, it's important to disable the activity logging. This bulk data collection is a huge privacy violation and is only used to help Google make more money by targeting you with ads.
1) Return to your My Activity page.
2) Click on the vertical row of dots in the upper right corner of your screen, and select Activity Controls.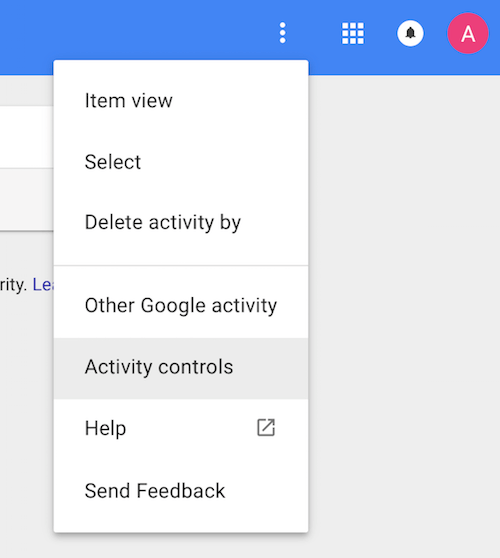 3) Of course, the default option is to collect as much data as possible, so you'll see that the switch to the far right of the different categories is blue.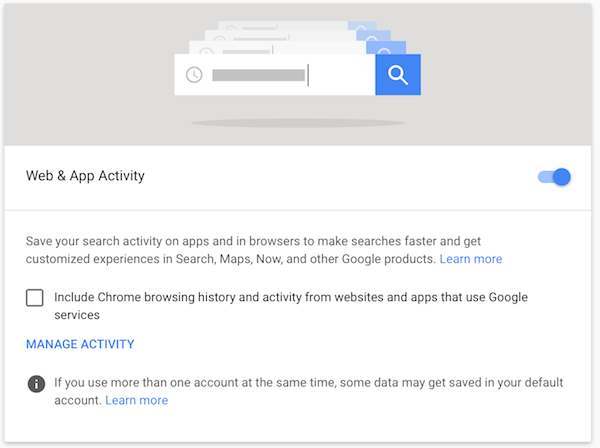 4) Click the switch to the right of the Web & App Activity section. You will then get a popup window asking if you want to Pause Web & App Activity? Read through the information, then select PAUSE at the bottom.
5) If you did this correctly, the switch will be grey. You can now repeat Step 4 for all of the following categories:
Location History
Device Information
Voice and Audio Activity
YouTube Search History
YouTube Watch History
Now all the different web Activity Controls should be disabled (grey). Next, on this same page, you can disable "Ads Personalization" in step 6.
6) For added privacy go to the bottom of the Activity Controls page. Here you will see a Related Settings section with an Ads option. Click Ads.

7) Just like before, select the blue switch on the far right to turn ads OFF. Then read the information in the popup windows and confirm that you want to turn the ads off. Now all ads should be turned off, and the ads personalization section should be completely greyed out, like this:

Great. You're done.
Do you want to take it one step further? You can delete all your accounts from Google and pull the plug for good…
Step 4: Delete your Google accounts
Alright, you're on the final step. The only thing left to do is delete all your accounts. Here's how.
1) Go to your My Account page / https://myaccount.google.com/intro
2) Under the Account Preferences section click Delete your account or services.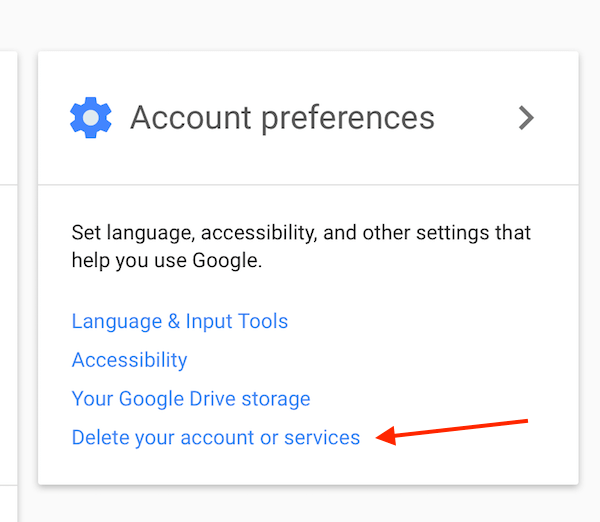 3) From here, you have two options: Delete products (such as Gmail, YouTube, etc.) or Delete Google Account & Data. Since this is a guide on how to delete everything from Google, we'll select Delete Google Account & Data.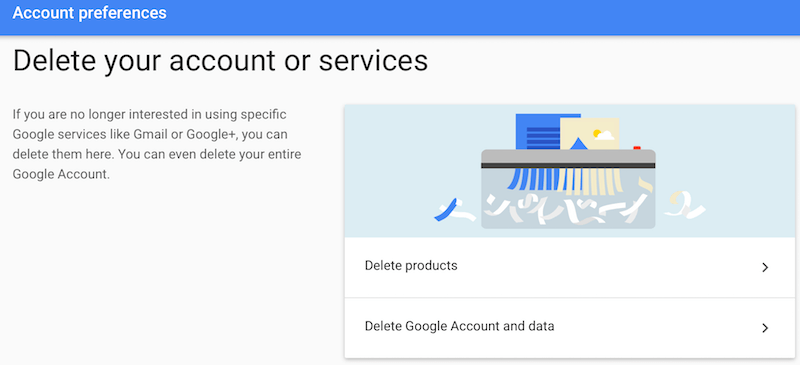 4) Google will ask you to re-enter your password. And then you'll get to an account deletion overview page. Carefully read through everything on this page. If it all sounds good, select the two agreement boxes at the bottom of the window.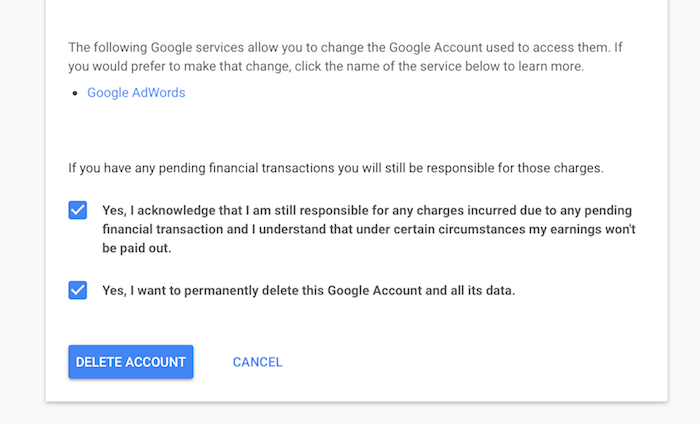 5) Now, for the final step. Take a deep breath and hit DELETE ACCOUNT. If you did everything correctly, you should see this message.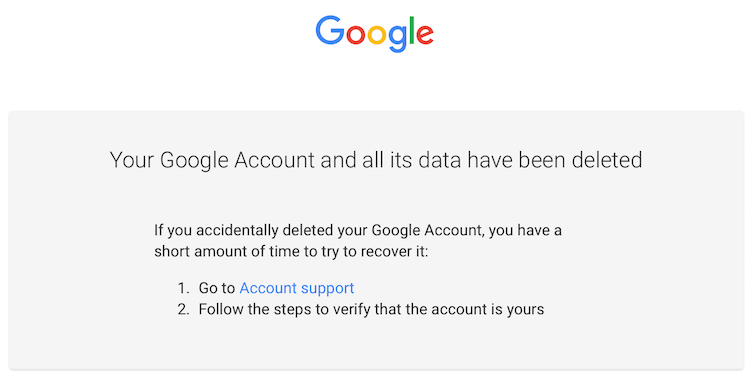 You may also get an email confirmation if you have a recovery email connected to your Google account.
Congratulations – you're free again!
You've broken out of the Google corporate surveillance matrix and have taken a major step toward securing your privacy.
Now that you've said goodbye to Google, you may want to check out all alternatives, see Google Alternatives for Every Product.
Deleting Google is just one step in restoring your online privacy. If you're ready to go further, check out the Simple Online Privacy Guide.