When examining the two most popular VPNs in the industry, making a decision can be tough. Both ExpressVPN and NordVPN have millions of satisfied users and numerous websites recommend both VPNs. The question, however, is which VPN comes out on top in back-to-back testing for this ExpressVPN vs NordVPN comparison.
This is probably the most in-depth comparison of ExpressVPN and NordVPN you will find, with 12 categories and over 4,700 words. All of our test results are posted below and you can see that there was a clear winner in nearly every category, especially in the area of performance.
Below are the different test categories we examined for this NordVPN vs ExpressVPN comparison test report:
VPN Apps
Speeds
Reliability
Features
Security
Logging Policies
Jurisdiction
Torrenting
Netflix and Streaming
Price
Payments and Refunds
Value
Lastly, we will also wrap up this comparison with some FAQs and our conclusion and recommendations.
Now let's get into the in-depth test results for this comparison guide. First up are the speed tests.
VPN Apps comparison with ExpressVPN and NordVPN
In this category we are mainly looking at the design and usability of the VPN apps (user experience).
First we'll examine the ExpressVPN apps. As you can see below, the ExpressVPN client is clean and minimal, as I pointed out in the ExpressVPN review.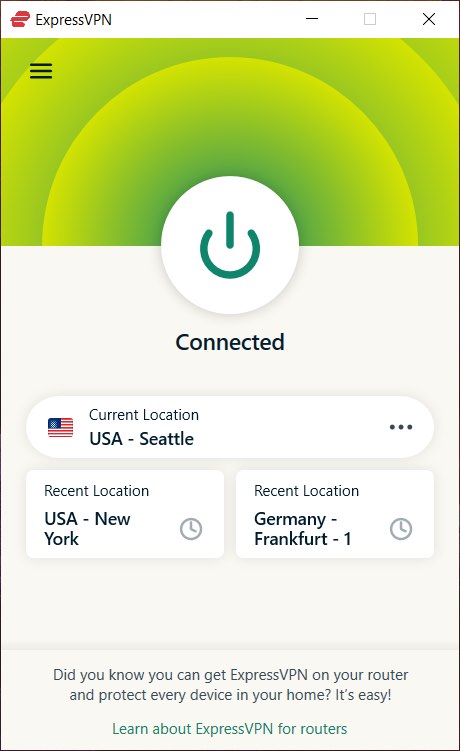 To access more features and settings, you will need to click the three lines in the top-left corner, which will open up a second window. This can be a bit confusing, but it also keeps the main app screen less cluttered.
Similarly, when you want to switch servers with ExpressVPN, you will need to either click one of the two options at the bottom of the app, or click the active server to open up a second window of server locations. While NordVPN keeps everything in the main app screen, ExpressVPN relies on a second screen popup for more options.
NordVPN apps
In contrast to ExpressVPN, NordVPN apps take up a bit more space, but also include more options. You can see on the left side of the NordVPN client the specialty servers and country locations. You can also quickly select a server location with only one click from the global map, as you can see below: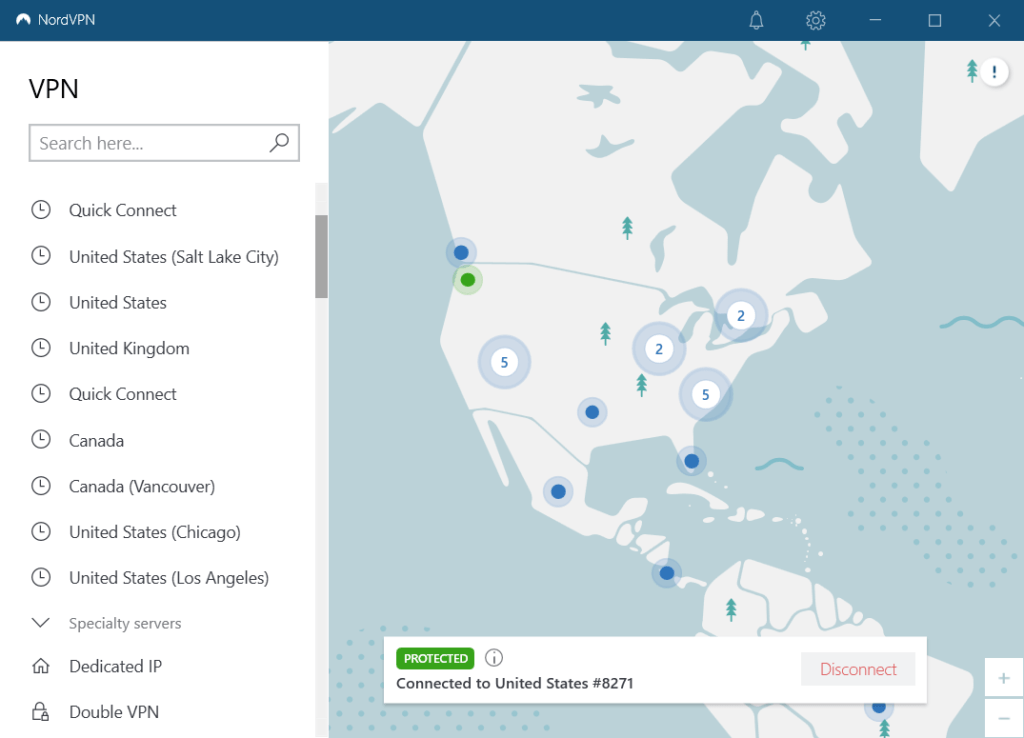 In comparison to ExpressVPN, the NordVPN Windows app is larger, but it also gives you easier access to features, server locations, and specialty servers, without having to open up second windows. This is a big advantage, and one reason we ranked it as one of the best VPNs for PC users.
Ultimately, this all comes down to user preference. Both ExpressVPN and NordVPN offer good VPN apps.
Winner for VPN apps: Tie
---
ExpressVPN vs NordVPN speed tests
Based on all of the speed tests we ran for this comparison, NordVPN is faster than ExpressVPN with all server locations tested.
Speed testing variables – I ran all tests for this NordVPN vs ExpressVPN speed comparison on a 500 Mbps connection, using the same test machine. I used the official VPN app for each service, along with the best protocols for speed and security:
ExpressVPN's Lightway protocol – This is a new protocol that was released by ExpressVPN. It promises to be faster and more secure than OpenVPN.
NordVPN's WireGuard protocol – The WireGuard VPN protocol continues to gain popularity because it is faster and more secure than other VPN protocols. NordVPN's implementation of the WireGuard VPN protocol is called NordLynx.
First up were speed tests with servers in the United States. Now let's examine the test results.
Server speeds in the US
ExpressVPN server in Seattle: 136 Mbps

This is not a great test result, especially when you consider my baseline speed of 500 Mbps and the close distance (23 ms ping). And keep in mind that this is with ExpressVPN's Lightway protocol. We found ExpressVPN speeds with OpenVPN to be significantly slower as well. Can NordVPN do better?
NordVPN server in Seattle: 445 Mbps

This is the fastest VPN speed test we have ever clocked, approaching 450 Mbps. We can see that NordVPN is significantly faster than ExpressVPN, by about 309 Mbps. It's already clear that the WireGuard VPN protocol gives NordVPN a big edge.
Next I tested servers in Los Angeles, California.
ExpressVPN server in Los Angeles: 209 Mbps

NordVPN server in Los Angeles: 304 Mbps

Once again, NordVPN outperformed ExpressVPN in this server location by a large margin. NordVPN was about 95 Mbps faster than ExpressVPN.
I then ran tests for servers in New York, with similar test results.
ExpressVPN server in New York: 214 Mbps

We can still see here that ExpressVPN's Lightway protocol simply cannot achieve the speeds we are are getting with NordVPN's WireGuard (NordLynx) protocol.
NordVPN server in New York: 280 Mbps

This was actually the slowest VPN speed tests I got with NordVPN — and it was still significantly faster than ExpressVPN by about 66 Mbps.
Long-distance speed tests in the UK
I also ran a few long-distance speed tests with servers in the UK. The results were similar to before, with NordVPN coming out on top.
ExpressVPN server in the UK: 235 Mbps

This was actually the fastest VPN speed test result I was able to get with ExpressVPN. But as you will see below, NordVPN was still much faster.
NordVPN server in the UK: 295 Mbps

Here again we see that NordVPN is about 60 Mbps faster than ExpressVPN for the UK server location. Even with the long distances, I was still able to achieve nearly 300 Mbps with NordVPN.
We can see that NordVPN offers serious performance advantages, which is a big reason we rated it as the best VPN for gaming, where ping and speeds are important.
ExpressVPN's slow OpenVPN speeds
While all of the ExpressVPN speed tests above were conducted with the Lightway protocol, we also need to discuss OpenVPN speeds.
In years past, I could normally get around 150 Mbps or more with ExpressVPN and the OpenVPN protocol. Unfortunately, in all of my recent OpenVPN speed tests, ExpressVPN was significantly slower than NordVPN.
ExpressVPN speeds with OpenVPN: 35 to 60 Mbps

This is pretty slow in comparison to NordVPN's speeds with the OpenVPN protocol.
NordVPN speeds with OpenVPN: 190 to 270 Mbps
For those who want to stick with the OpenVPN protocol, NordVPN offers a big performance advantage over ExpressVPN in this area as well. Even with double-VPN servers, where traffic is encrypted over two separate hops, NordVPN was still faster than ExpressVPN's OpenVPN speeds. Here is the NordVPN double-VPN server configuration (US – Canada) coming in at 214 Mbps.

Note: ExpressVPN does not provide any double-VPN server configurations or specialty servers like we find with NordVPN.
Conclusion on speeds: Based on all of our tests, NordVPN is significantly faster than ExpressVPN in all the server locations we tested. NordVPN beats ExpressVPN with both the WireGuard and OpenVPN protocols with all server locations. Here is a table recapping the ExpressVPN vs NordVPN speed test results:
| | | |
| --- | --- | --- |
| Location | NordVPN | ExpressVPN |
| Seattle | 445 Mbps | 136 Mbps |
| Los Angeles | 304 Mbps | 209 Mbps |
| New York | 280 Mbps | 214 Mbps |
| United Kingdom | 295 Mbps | 235 Mbps |
| OpenVPN | 214 Mbps | 41 Mbps |
Winner for speed: NordVPN by a large margin
---
Reliability: Is NordVPN or ExpressVPN better?
In terms of reliability, both NordVPN and ExpressVPN are great options.
First we will take a look at NordVPN.
NordVPN reliability
With the most recent round of tests for the NordVPN review, I found everything to work very well. NordVPN offers excellent reliability in the following areas.
Applications: The apps work great without any bugs or crashes.
Servers: The servers were reliable and fast with no issues to report.
Connections: Connections were stable and fast to connect.
In terms of reliability, we found no problems with NordVPN. It is a reliable VPN.
ExpressVPN reliability
Similar to NordVPN, ExpressVPN also does well in terms of reliability. But it's not quite on par with NordVPN.
Applications: Smooth and easy to use with no crashes, bugs, or issues.
Servers: Unlike with NordVPN, there is definitely more variability in speed with ExpressVPN, especially if you are using the OpenVPN protocol.
Connections: ExpressVPN has stable connections, although OpenVPN takes a while to connect.
One big issue with ExpressVPN in terms of reliability is accessing streaming content. We've noted over the past year that ExpressVPN is not very reliable with streaming. Specifically, it can have problems with unblocking some streaming sites, but they are improving, as we'll cover more below.
NordVPN wins this category.
Reliability Winner: NordVPN
---
Features comparison
Both ExpressVPN and NordVPN offer some good features for different types of users. But again, there is a big distinction in this category.
ExpressVPN has fewer features than NordVPN
ExpressVPN is a pretty basic VPN service. As we noted above, it offers basic and user-friendly VPN apps, simply because there are not a lot of features to showcase, unlike with NordVPN.
One of the main features with ExpressVPN is the split tunneling VPN option. This lets you route certain apps through the encrypted VPN, while routing other apps over your regular (unencrypted) internet connection. This is not a very unique feature and we also find it with NordVPN and ProtonVPN.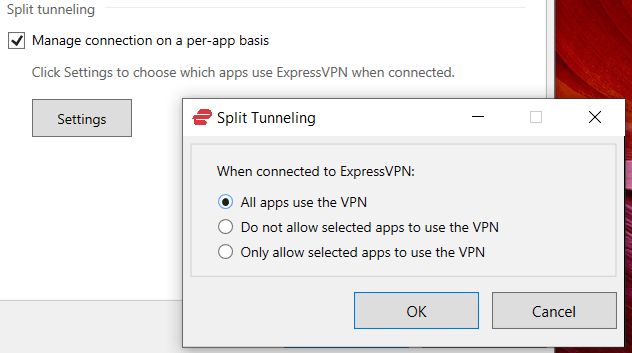 Overall, I don't see much use for a split tunneling feature. Additionally, NordVPN also offers a split tunneling feature with mobile apps.
Lightway – We already discussed Lightway above in the speed tests section, where we saw that it was nowhere near as fast as WireGuard with NordVPN. Aside from the performance drawbacks, we should also note that Lightway is only being used with ExpressVPN (limited adoption).
ExpressVPN's Threat Manager feature
Another new feature with ExpressVPN is what they are calling Threat Manager. This is an interesting feature that is very similar to NordVPN's CyberSec and Threat Protection features, but much more limited. ExpressVPN describes the feature as a tool to "block app trackers" on your device. From the ExpressVPN support page:
Threat Manager prevents all apps and websites you visit on your device from communicating with the third-party companies in our blocklist.
ExpressVPN's feature works similar to other VPN ad blockers we have discussed on this site. In our tests of the Threat Manager feature, it did not work well at blocking ads on our devices, and this suggests it's only for trackers. Additionally, the Threat Manager feature did not work at all on Linux. Currently Threat Manager is only available for iOS, Mac OS, and Linux. This means that this feature is not available for Windows or Android platforms at this time.
While there are other noteworthy aspects of ExpressVPN's service, such as running all servers in RAM-disk mode, these are not really features. So let's move on to NordVPN, where things get a bit more exciting.
NordVPN has more features than ExpressVPN
The features category is a big distinction between NordVPN and ExpressVPN.
First we will look at NordVPN's specialty servers, which are servers for different use cases. Unlike with NordVPN, ExpressVPN does not offer any of these specialty servers. Here's what you get with NordVPN:
Double-VPN servers encrypt traffic over two separate hops. This adds an additional layer of encryption and security, without sacrificing on speed.
Tor-over-VPN servers encrypt traffic with the Tor Network, in addition to the VPN server. While there is a performance tradeoff here due to the Tor network, this is another useful feature.
P2P servers are optimized for torrenting traffic, with excellent speeds.
Obfuscated servers conceal VPN traffic to look like regular HTTPS encryption. This is a great feature to use if you need a VPN for China, or any other restricted network situation where VPNs may be blocked.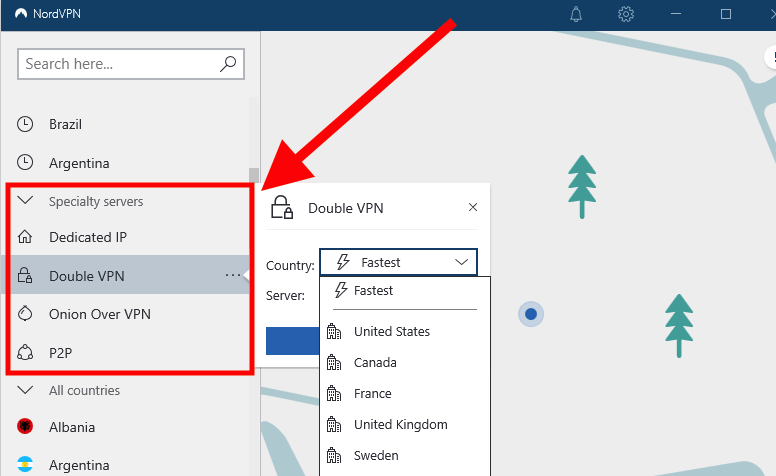 I found the double-VPN servers to perform well in my testing. This is a feature we see with both NordVPN and Surfshark. The P2P servers also worked great with fast speeds and no connection issues.
Aside from the specialty servers, NordVPN also offers a useful security feature called CyberSec. The CyberSec feature blocks ads, trackers, malware, and phishing domains from infecting your device. It is easily enabled directly in the VPN app, as you can see below:

If you need a VPN with ad blocking, then NordVPN would be a great choice. One big advantage you get with CyberSec is that it works for your entire operating system when the VPN is on, rather than just in the browser.
ExpressVPN does not offer any type of feature like NordVPN's CyberSec. While it does have a "Threat Manager" feature, this feature from ExpressVPN does not block ads. Meanwhile, the NordVPN CyberSec feature works well for blocking ads, trackers, and even malware domains.
NordVPN's Threat Protection feature
Beyond the CyberSec feature, NordVPN also launched a Threat Protection feature in 2022 that is similar to an antivirus and tailored to desktop operating systems. The Threat Protection feature is available for Windows and Mac OS operating systems. Here is what this feature offers:
Blocks malicious advertisements
Protects your device against web and file malware
Blocks trackers
Full protection, even when you are not connected to a VPN server
This makes NordVPN's Threat Protection feature much more robust than ExpressVPN's Threat Manager feature. With NordVPN, the feature is more robust and effectively blocks more harmful stuff from getting on your device. Additionally, the VPN does not need to be on for it to work. This gives NordVPN an advantage of ExpressVPN.
Below is a screenshot of the Threat Manager feature that we tested out for this comparison report. You can see that enabling Threat Protection is as simple as hitting the toggle switch at the top. Additionally, you can see all of the domains being blocked in the Window below.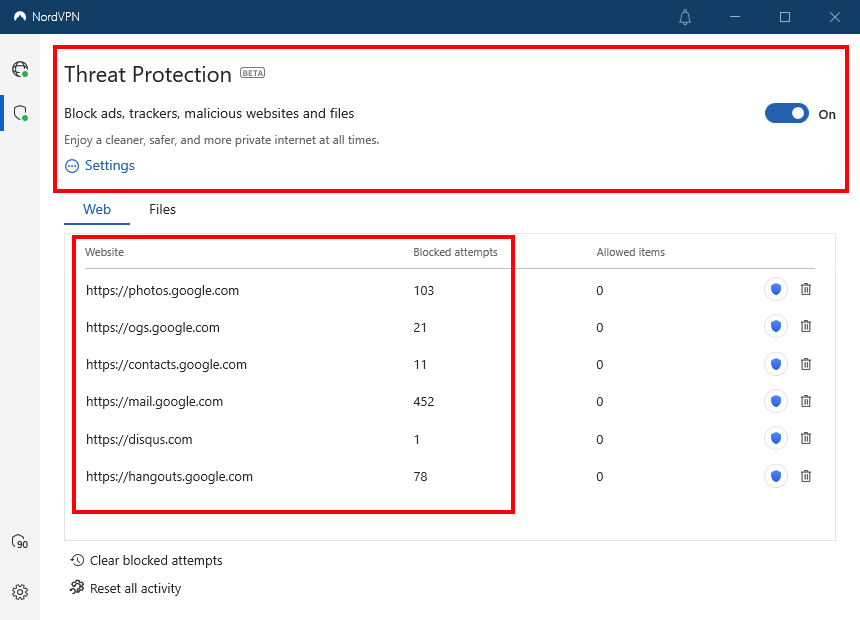 WireGuard – NordVPN's implementation of the WireGuard protocol (NordLynx) is another great feature. While we already covered the great speed tests results above, here are some other benefits of WireGuard with NordVPN:
Instant connection times (can establish a connection in less than one second)
Seamless transition between networks, such as when switching from WiFi to 4G
Better battery life with mobile devices
More reliability and fewer dropped connections.
ExpressVPN and NordVPN servers
Here is a table highlighting the differences in server count between ExpressVPN and NordVPN:
| | | |
| --- | --- | --- |
| Servers | ExpressVPN | NordVPN |
| Total | 3,000 | 5,500 |
| Countries | 94 | 60 |
| Virtual Locations | Yes | No |
| Specialty Servers | No | Yes |
One of the reasons ExpressVPN has more "server locations" than NordVPN is because ExpressVPN uses virtual server locations. These are basically fictitious locations where the physical location of the server does not truly match up with the claimed location (from the IP address). NordVPN does not do this.
Features winner: NordVPN
---
Security and encryption
In the security category, both NordVPN and ExpressVPN do very well. However, there is only one winner in this area.
Encryption comparison
Both ExpressVPN and NordVPN utilize strong encryption standards, as you can see in this table:
| | | |
| --- | --- | --- |
| Item | ExpressVPN | NordVPN |
| Cipher | AES-256 | AES-256 |
| Authentication | SHA-512 | SHA-256 |
| RSA Key | 4,096-bit | 4,096-bit |
NordVPN and ExpressVPN basically offer the same levels of encryption and both are secure. The slight difference in hash authentication is rather trivial as both offer a high level of security that is considered unbreakable by today's standards.
VPN protocols
Both NordVPN and ExpressVPN support all of the main VPN protocols.
ExpressVPN: OpenVPN UDP, OpenVPN TCP, IPSec/IKEv2, IPSec/L2TP, and Lightway protocol
NordVPN: OpenVPN UDP, OpenVPN TCP, IPSec/IKEv2, IPSec/L2TP, and WireGuard
The big difference here is that NordVPN is using a widely-accepted, open-source protocol with WireGuard. Meanwhile, ExpressVPN has opted for a self-developed Lightway protocol that is not being used by anyone else. Another problem with Lightway is that it is not integrated into the OS kernel, like WireGuard is with Linux and Windows.
With VPN protocols, NordVPN has an advantage over ExpressVPN.
Server security with NordVPN and ExpressVPN
In terms of server security, both of these VPNs have some similarities and differences.
Here are some noteworthy aspects of ExpressVPN's server network:
All servers running in RAM-disk mode. This offers a higher level of security and also ensures no server can physically store any data.
Uses some virtual server locations. This is a drawback with ExpressVPN that you will not find with NordVPN.
Does not use colocated servers, but instead rents servers from third parties.
Now let's examine NordVPN:
All servers running in RAM-disk mode (just like with ExpressVPN).
Does not use any virtual server locations. Instead, all servers are running on dedicated physical hardware in secure data centers (another advantage over ExpressVPN.
Is rolling out colocated (self-owned) servers throughout the network. NordVPN has already implemented colocated servers in most locations, and the entire network will consist of colocated servers in the coming months. This means no more rental servers from third parties, as we see with ExpressVPN.
NordVPN comes out on top in the server security category.
Leak protection
Both NordVPN and ExpressVPN do very well in terms of leak protection. With the NordVPN and ExpressVPN desktop clients, they both offer:
IP address leak protection (for both IPv4 and IPv6)
DNS leak protection
Kill switch to block traffic if the VPN connection drops
Once again, however, NordVPN offers more customization with its VPN kill switch. NordVPN allows you to enable two different types of kill switches, even at the same time:
Internet Kill Switch – This will block all internet traffic if your VPN connection drops for any reason.
App Kill Switch – This will close out specific apps (that you select) if the VPN connection drops.

I thoroughly tested all leak protection features in each of the respective reviews using these VPN test procedures. The results were great: (no leaks) for either VPN service. This third sub-category is a tie, although NordVPN has a better kill switch feature with more customization options.
Overall Security winner: NordVPN
---
Logs and Privacy: Is Nord or Express best?
When it comes to privacy and logs, NordVPN and ExpressVPN are great options. Both of these VPNs are verified no logs VPNs. We'll examine both.
NordVPN logging policy
NordVPN is a no logs VPN provider, as explained on its website:
We do not store connection timestamps, session information, used bandwidth, traffic data, IP addresses, or other data. Nothing to store – nothing to share with anyone.
Verification: NordVPN's logging claims were verified when they voluntarily subjected their servers, VPN infrastructure, and staff to a third-party audit to verify their logging policies. The audit was completed by PWC AG in Zurich, Switzerland.
NordVPN has undergone two separate no-logs audits conducted by PWC AG.
ExpressVPN logging policy
Fortunately, ExpressVPN also has a straightforward no logs policy:
ExpressVPN stores no activity logs and no connection logs from our users. Here's what that means:

No activity logs. ExpressVPN does not see or record which websites you visit. We never log the destination or contents of your traffic, and we run our own private, zero-knowledge DNS on every VPN server for added privacy and anonymity.

No connection logs. ExpressVPN never logs connection timestamps, session duration, your source IP address, or the ExpressVPN IP address that your computer assumes when connected to the VPN.
Verification: Like NordVPN, ExpressVPN has also undergone a third-party no logs audit. This audit was also performed by PWC and verified the no-logs policy and privacy protection measures are in place.
Unlike NordVPN, however, ExpressVPN has not undergone a second no-logs audit.
ExpressVPN purchased by a conglomerate (Kape Technologies) in 2021
In September 2021, news broke that Kape Technologies purchased ExpressVPN. We covered all the important details in the link above. Ultimately, we consider this to be a strike against ExpressVPN in the trust/privacy category.
Logs and privacy winner: NordVPN
---
ExpressVPN and NordVPN jurisdictions
Both ExpressVPN and NordVPN are based in good privacy jurisdictions.
NordVPN in Panama – Panama is not a member of the 14 Eyes countries and is considered to be a good offshore privacy jurisdiction that is safe from US and European influence.
ExpressVPN in British Virgin Islands – The British Virgin Islands are also considered a good jurisdiction. The BVI is not a member of 5/9/14 Eyes surveillance groups and it is a free and independent country, with its own legal and judicial system, despite the historical ties to Britain.
Both Panama and the British Virgin Islands have strong privacy protections in place, making them popular locations for banking and other businesses that demand high levels of privacy.
Jurisdiction winner: Tie
---
Torrenting with ExpressVPN and NordVPN
Once again, both ExpressVPN and NordVPN are good options for torrenting. But again there is a difference in this category.
When looking for the best VPN for torrenting , there are two things to consider:
Speeds: NordVPN was the big winner in all of our speed tests. It offers the fastest speeds for torrenting over ExpressVPN.
Leak protection: ExpressVPN and NordVPN both offer great leak protection. Each incorporates a kill switch into the VPN apps to protect your traffic. This will keep your IP address and location secure when torrenting files. If the VPN connection drops, you will still be protected if you have the kill switch activated.
While both ExpressVPN and NordVPN offer secure VPN apps with built-in leak protection, the big difference is in speeds, where NordVPN comes out on top. If you want to torrent with your VPN, NordVPN's speeds will give you an edge over ExpressVPN.
NordVPN also offers dedicated P2P servers, which are optimized for fast torrenting speeds. I tested this out for this comparison and NordVPN's P2P servers performed well. ExpressVPN does not offer any P2P servers.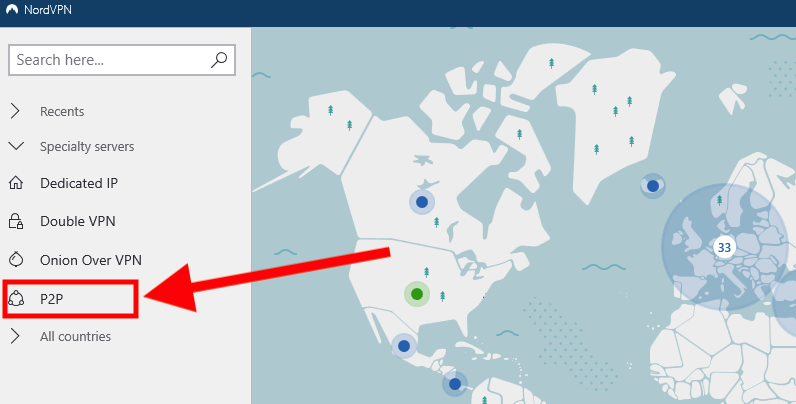 Torrenting winner: NordVPN
---
Netflix and streaming comparison
As someone who enjoys streaming American Netflix, I've tested many services to find the best VPNs that work with Netflix. Fortunately, both NordVPN and ExpressVPN work well for accessing Netflix.
ExpressVPN Netflix – ExpressVPN offers 24/7 access to Netflix, but only for a select few regions. While it is generally a good VPN for Netflix, it comes with a few drawbacks:
Fewer Netflix regions supported. The main regions supported by ExpressVPN are USA, Japan, and UK, but a few other regions may also work.
Slower speeds (but you should still have plenty of speed to stream Netflix in HD with ExpressVPN).
In comparison to ExpressVPN, NordVPN simply works better For Netflix and streaming in general.
NordVPN Netflix – NordVPN currently supports a larger number of Netflix libraries. Officially, NordVPN supports 14 different Netflix libraries, including: US, UK, Canada, Germany, France, Italy, Netherlands, Spain, Japan, Australia, India, Brazil, South Korea, and Finland. This is far more Netflix regions than you will find with ExpressVPN.
In addition to having more access to different Netflix libraries, NordVPN also gives you better speeds for streaming, as we covered above. Below I'm testing out NordVPN with Netflix; everything worked well: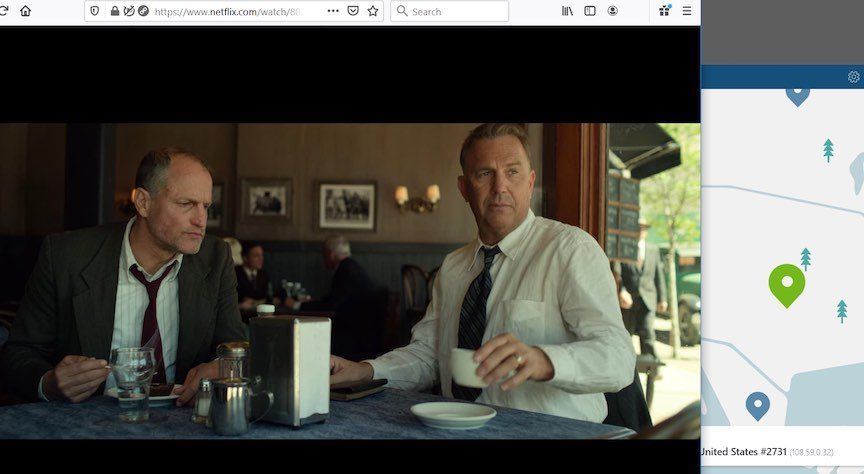 NordVPN is the clear winner when it comes to streaming Netflix. But what about other streaming services?
Other streaming services
ExpressVPN – Generally speaking, ExpressVPN does well with streaming. However, it has suffered from outages over the past few years, particularly with BBC iPlayer and Netflix. Fortunately, in our latest test for our guide on the best VPN for BBC iPlayer, we found ExpressVPN to perform well.
Note: We also observed ExpressVPN's problems with streaming in our tests for the Surfshark vs ExpressVPN comparison. This may have changed, however, with VPN streaming always being a cat and mouse game.
NordVPN – Just like with access to a larger selection of Netflix libraries, NordVPN also provides access to a larger number of streaming services. This gives NordVPN a big advantage over ExpressVPN in the streaming category.
NordVPN consistently works with Disney Plus, Hulu, Amazon Prime, BBC iPlayer, ESPN, HBO, DAZN, and many others. It is one of the best all-around VPNs for streaming on the market.
Both NordVPN and ExpressVPN offer dedicated apps in the Amazon Store if you need a VPN for Firestick or Fire TV.
Netflix and streaming winner: NordVPN
---
Prices: Nord vs Express
In terms of price, NordVPN is the winner with the cheapest rates.
Here is a brief breakdown of the pricing with both ExpressVPN and NordVPN:
It's clear that NordVPN offers the cheapest price with the two-year discounted rate at $3.29 per month. ExpressVPN is more than double the price of NordVPN when looking at the cheapest monthly rates. NordVPN is currently the best cheap VPN, offering a high-quality service at under $4 per month.
ExpressVPN does not offer any free trial, nor do they offer two-year plans. The discounted 15-month rate does offer some good savings (below the standard price of $8.32/month without the coupon). Regarding temporary sales, ExpressVPN remains consistent on their pricing, as explained in my ExpressVPN coupons guide.
Price winner: NordVPN
---
Payments & Refunds: NordVPN vs ExpressVPN
Now we'll examine payment options and refunds for both ExpressVPN and NordVPN.
ExpressVPN – ExpressVPN supports a wide range of payment options, including all major credit cards, PayPal, Bitcoin, as well as other payment processors.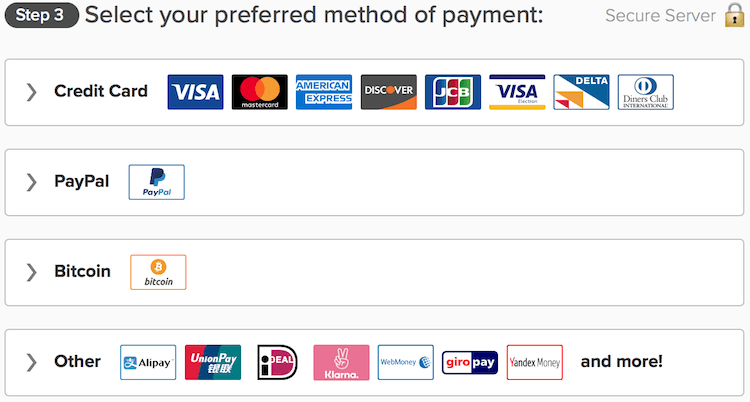 You only need to enter a valid email address and your payment details with ExpressVPN.
NordVPN – NordVPN also supports many payment options, but there is one big difference: no PayPal. For unknown reasons, PayPal has not been an option with NordVPN since January 2019. This is indeed a drawback, since PayPal is a popular payment option.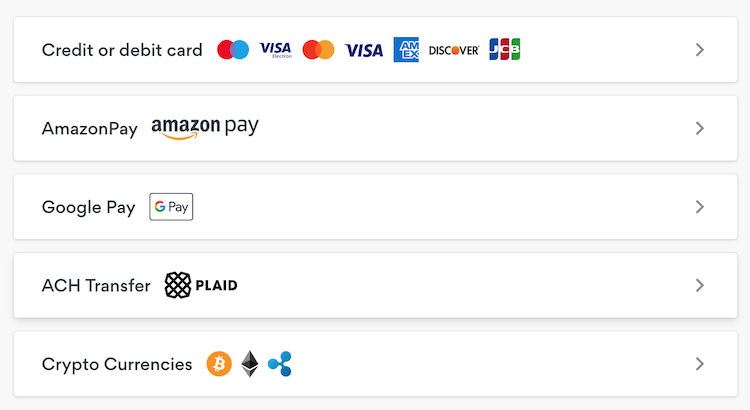 While NordVPN does not currently accept PayPal (in the US), all other major payment options are available, including cryptocurrencies. Additionally, NordVPN accepts more cryptocurrency payment options than ExpressVPN.
Note: NordVPN occasionally offers discounts and special packages, such as around the holidays. This is explained on my NordVPN coupon page that tracks the latest deals.
Refunds – Both ExpressVPN and NordVPN offer a 30 day money-back guarantee.
This category is a tie. ExpressVPN accepts PayPal, NordVPN accepts more cryptocurrencies, and both offer a 30 day money-back guarantee.
Payment options and refunds winner: Tie
---
Is ExpressVPN or NordVPN the best value?
Last, but not least, is the question of value.
Which VPN offers the best value for your money?
In comparison to ExpressVPN, NordVPN simply offers more bang for your buck:
Faster speeds
More privacy and security features
Better performance with streaming and torrenting
Cheaper prices
Considering all this, NordVPN is the clear winner in the value category.
Value winner: NordVPN
---
Conclusion: NordVPN wins in 2022
Based on all of our test results and research, we must conclude that NordVPN is better than ExpressVPN. NordVPN was the winner in nine categories.
To summarize our findings in this NordVPN vs ExpressVPN comparison, here are the winners for each category:
| | |
| --- | --- |
| Category | Winner |
| Speeds: | NordVPN |
| Reliability: | NordVPN |
| VPN Apps: | Tie |
| Features: | NordVPN |
| Security: | NordVPN |
| Logs & Privacy | NordVPN |
| Jurisdiction | Tie |
| Torrenting | NordVPN |
| Netflix & Streaming | NordVPN |
| Price | NordVPN |
| Payments & Refunds | Tie |
| Value | NordVPN |
Overall winner: NordVPN
While we like and recommend both of these VPN services, NordVPN has made massive progress over the past few years. It has overtaken ExpressVPN in most categories, especially in the areas of performance, features, and streaming.
It is for all of these reasons and more that we consider NordVPN to be the best all-around VPN service and give it our top recommendation.
At the end of the day, either of these two VPNs may be the best service for you. It all depends on your needs and uses for the VPN. Whichever service you decide to go for, be sure to get the best price via the discounts below:
NordVPN Coupon

Get 68% Off NordVPN plus FREE anti-malware protection for all your devices:
(Coupon is applied automatically.)
And now for ExpressVPN.
This is the best deal you can get on ExpressVPN, but it's still a lot more money than NordVPN.
If you are really still on the fence, keep in mind that ExpressVPN and NordVPN both offer a 30 day money-back guarantee. Therefore you could purchase both VPNs, test each service for a few weeks, and then cancel the one you don't want for a full refund.
This NordVPN vs ExpressVPN comparison guide updated on June 13, 2022 with new information and test results.