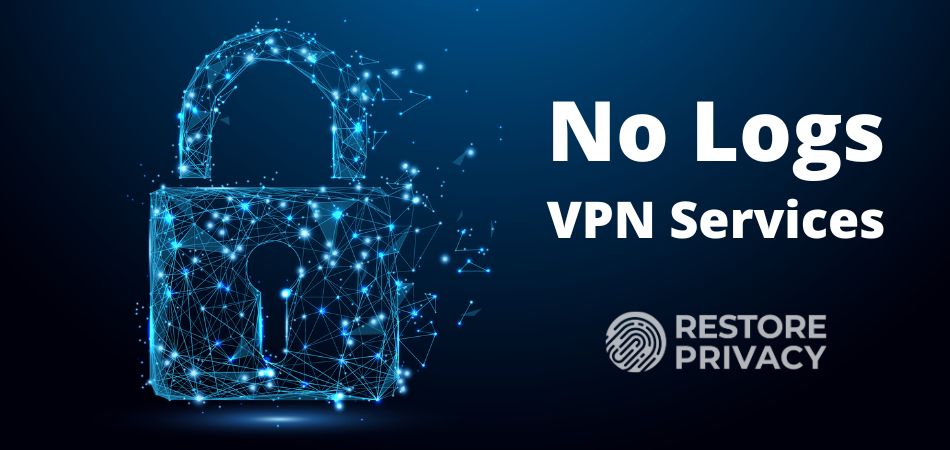 Can you trust any VPN that claims to have a "no logs" policy? Unfortunately, the answer is no. This guide examines all "no logs" VPN services that have actually been verified and proven true.
What is the best no logs VPN service and which of them is trustworthy and proven?
This is a tough question. First, there are dozens of VPNs claiming to be "no logs" without any proof or verification whatsoever. In other words, you just have to take their word at face value. But herein lies the problem.
VPNs caught logging their own users!
Over the past five years, I have identified a few "no logs" VPNs that have collected user data and provided the information to government agencies.
PureVPN claimed to be "zero logs" but was caught logging customer data for the FBI.
IPVanish also claimed to be "no logs" but then collected logs and provided the data to the FBI.
HideMyAss provided logs to US authorities for an alleged hacking case of Sony. The VPN user ended up in jail and learned that HideMyAss might log your ass.
Free VPNs are also notorious for making money off their users by collecting data through their servers and selling it to third parties. A "free VPN" pays the bills by selling your data.
There are surely other cases of this happening that have not come to light. We only know about the examples above from court documents that were released to the public detailing how the VPNs gave up logs.
Only trust a no-logs VPN that has been verified
Fortunately, there have been a handful of VPN services that have had their no-logs claims tested and verified to be true. This list highlights the small number of verified and proven no-logs VPNs:
NordVPN – Best no-logs VPN, verified with three third-party audits (68% off coupon here)
Surfshark – Recent third-party audit and a pro-privacy jurisdiction
ExpressVPN – Passed third-party no-logs audits and real-world verification
VyprVPN – No logs verified by a third-party audit
OVPN – Swedish VPN, verified to be no-logs in a court case
ProtonVPN – Verified by a no-logs audit
Here are the best no-logs VPN services in 2023:
NordVPN: Verified with three no-logs VPN audits
| | |
| --- | --- |
| VPN | NordVPN |
| Based in | Panama |
| Logs | No logs (audited) |
| Price | $3.19/mo. |
| Support | 24/7 live chat |
| Refund | 30 days |
| Website | NordVPN.com |
NordVPN is one of the leading VPN services on the market that excels in many areas. The company behind NordVPN, Nord Security, is comprised of a global team and is strategically based in Panama, which is one of the best privacy jurisdictions in the world. Unlike the UK and the United States, Panama is not a member of international spy alliances. It also does not impose any mandatory data retention requirements, allowing NordVPN to be a 100% no-logs service.
NordVPN offers a wide selection of apps, excellent speeds, and more privacy and security features than most other VPNs. In the latest round of testing for the NordVPN review, it performed very well in all categories.
NordVPN now fully supports the WireGuard VPN protocol in all NordVPN apps, offering users faster speeds and upgraded security. We were able to hit 445 Mbps with NordVPN in testing out WireGuard vs OpenVPN speeds. This makes NordVPN the fastest VPN we've tested to date: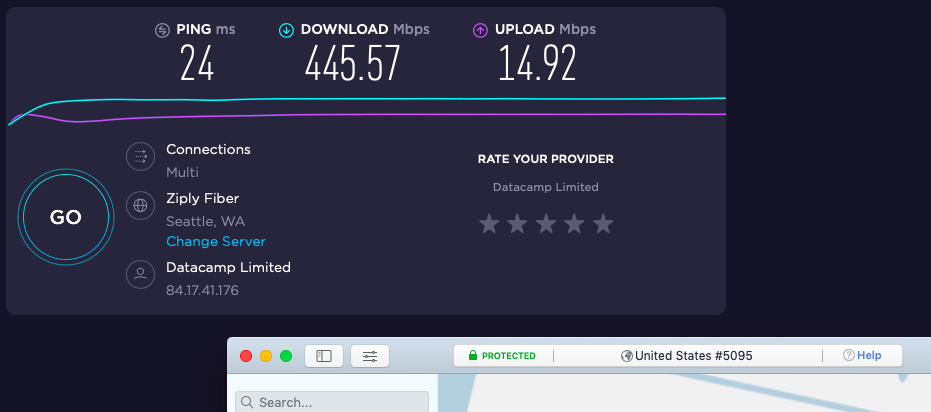 NordVPN uses the strongest encryption standards and also includes built-in leak protection (VPN kill switch) with all VPN apps. Additionally, NordVPN also offers these privacy and security features:
Double-VPN servers to encrypt traffic over two different locations
Tor-over-VPN servers that also encrypt traffic through the Tor network
P2P servers for high-speed downloading and file sharing. (NordVPN is ranked as the best VPN for torrenting.)
Obfuscated servers to hide VPN traffic to look like regular HTTPS encryption and also get around VPN blocks
Threat Protection feature to block ads, trackers, and malware domains, even when your data is not passing through the VPN
The double VPN servers are great if you feel the need for an extra layer of encryption. We also see this feature with Surfshark and Proton VPN. Here is the NordVPN desktop app for Windows that we tested: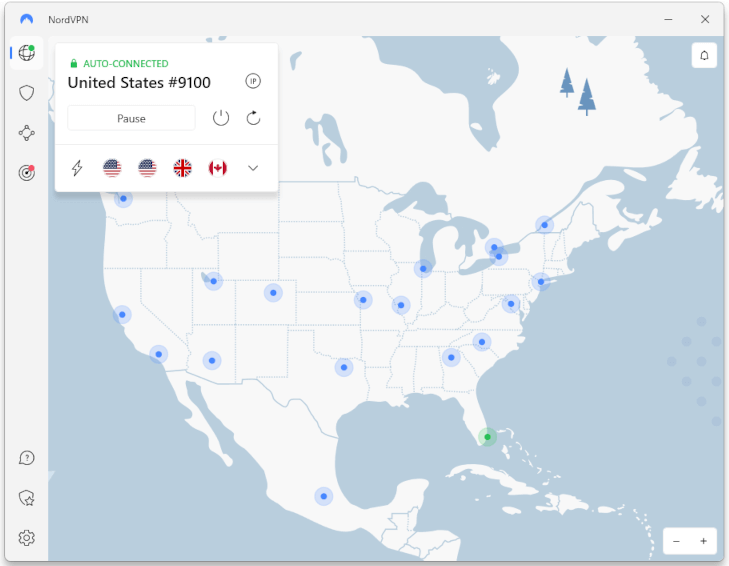 NordVPN is easily one of the best VPNs you will find in terms of privacy features and performance. And for those who need a VPN for streaming, NordVPN has you covered. It fully supports all major Netflix regions and is also a great VPN for BBC iPlayer, Hulu, Amazon Prime, Disney Plus, and more. They even have a dedicated app if you need a VPN for Firestick or Fire TV.
NordVPN was audited three separate times to verify its no-logs policy
NordVPN has now undergone three separate no-logs audits confirming its no-logs status. The first two were performed by PricewaterhouseCoopers (PWC) AG in Switzerland in 2019 and 2021. The most recent audit was completed by Deloitte in January 2023. The auditors confirmed that NordVPN was fully compliant with its no logging policies and privacy guarantee.
It appears that NordVPN may undergo annual no-logs audits for verification purposes, which is great to see. Here is an overview of the scope of the audits:
NordVPN auditors had full access to examine NordVPN's servers, interview employees, observe operations, inspect configurations, databases, and any other relevant aspect of the VPN service.
The audits officially verified NordVPN to be a "no-log service" that is compliant with its privacy policy and no-logs claims.
NordVPN does not store connection logs, IP addresses, traffic logs, or any internet activity information.
The audit confirmed NordVPN's logging policy, which you can read on their website as follows:
NordVPN strictly keeps no logs of your activity online. That means we do not track the time or duration of any online session, and neither do we keep logs of IP addresses or servers used, websites visited or files downloaded. In other words, none of your private and secure data is logged and gathered at any time. As a result, we are not able to provide any details about your behavior online, even if you request it yourself.

NordVPN is outside of the EU and US jurisdiction and is not required to collect your personal data and information – it means nothing is recorded, monitored, stored, logged or passed to third parties.
In addition to the no-logs policies, NordVPN has also implemented big security upgrades and new features.
Server upgrades: RAM-disk (no logs possible) and colocation
NordVPN was one of the first VPN providers to transition its entire network to run in RAM-disk, without any hard drives. By running in volatile memory (RAM), not a single VPN server has the capability to store any data. This also means that no third-party entity will be able to steal a NordVPN server and recover user data. It provides NordVPN users with a higher level of data security compared to most other VPN providers.
Another major development with NordVPN is that they are working to roll out a network composed entirely of self-owned servers (also known as colocated servers). Many locations are already live now, and more are coming online in the coming months. Here are the benefits of self-owned colocated servers:
NordVPN will have 100% control over the hardware
No more relying on rental servers from third parties (what most other VPNs do)
Higher level of data security for NordVPN users.
In short, NordVPN is making leaps and bounds in the areas of privacy and security on a network-wide level.
Security audits and Bug Bounty program
We've already talked about the no-logs (privacy) audits that NordVPN completed – but that's not all. NordVPN has also completed an in-depth security audit with Versprite. This audit included penetration testing and analysis of all NordVPN infrastructure, including all data centers where NordVPN servers are located.
Lastly, NordVPN is one of the few VPNs to have a public Bug Bounty program. This rewards anyone for finding bugs, problems, or security issues that could affect NordVPN users. Most VPNs do not offer anything like this.
Conclusion: NordVPN's no logs policies, favorable jurisdiction, strong security, and excellent performance make it a great choice for all types of users. It works well with all streaming services and also offers many extra privacy features. With the coupon below, NordVPN is one of the best values available for a no logs VPN.
+ Pros
User-friendly and reliable apps
Double-VPN and Tor-over-VPN servers
Passed numerous 3rd-party audits
Strong encryption standards with full support for WireGuard
Works with Netflix and many streaming sites
Threat Protection feature to block ads, trackers, and malware
Professional 24/7 live chat support
Consistently fast speeds
Dedicated RAM-servers with 10 Gbps bandwidth channels
– Cons
Big discounts only available with 2-year plans
NordVPN's Cyber Deal is live:

Get 68% Off NordVPN with the coupon below plus 3 months FREE, no activation code needed:
(Coupon is applied automatically; 30 day money-back guarantee.)
Check out our in-depth NordVPN review for more info.
---
Surfshark: Recent third-party audit and a pro-privacy jurisdiction
| | |
| --- | --- |
| VPN | Surfshark |
| Based in | The Netherlands |
| Logs | No logs |
| Price | $2.30/mo. |
| Support | 24/7 live chat |
| Refund | 30 days |
| Website | Surfshark.com |
Launched in 2018, Surfshark has made a name for itself in the VPN space. Fast, secure, and full of advanced features, Surfshark is also very inexpensive while supporting unlimited simultaneous connections. They are based in the Netherlands, a good location for a VPN with no mandatory data retention policies. The one thing this VPN still needed was a third-party audit of their no-logs policy. That need has now been filled.
On January 25, 2023, Surfshark announced that it successfully completed a third-party audit of its no-logs policy. This audit was conducted by Deloitte, one of the Big Four auditing firms. We have long been comfortable with Surfshark's claims to be a no-logs VPN. Now we have the proof.
Based on our testing, Surfshark is one of the fastest VPNs available thanks to their implementation of the WireGuard VPN protocol, second only to NordVPN. It is one of the best VPNs for streaming, being able to unblock virtually any streaming media source around the world.
Surfshark has user-friendly apps for most operating systems and internet-connected devices. They are one of the few VPN services that provides a graphical VPN app for Linux. Shown below in its dark mode, this app is much more convenient than that command-line interfaces that NordVPN and others provide.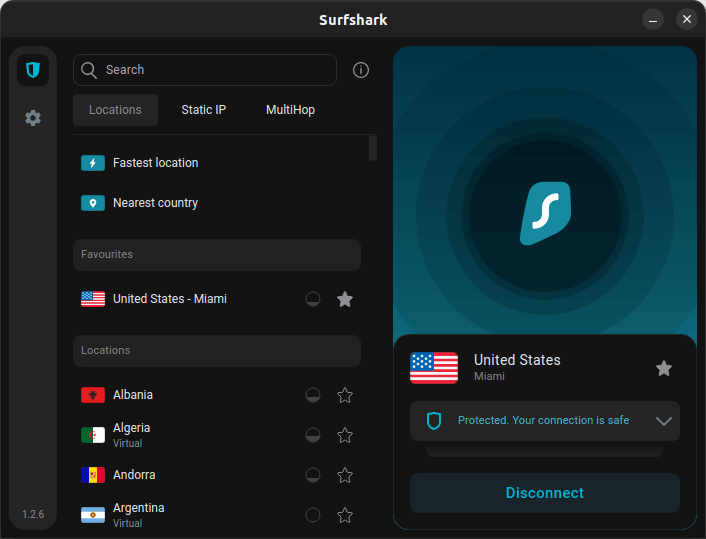 When it comes to advanced features, most of Surfshark's offerings are similar to those of NordVPN. They include things like diskless servers with 10 Gbps data channels, the CleanWeb ad and malware blocker, and a variety of specialized server types. Two recent innovations taking Surfshark beyond even NordVPN's capabilities are the IP Rotator and Dynamic MultiHop features.
If you enable IP Rotator, Surfshark will automatically change your IP address every few minutes, without disconnecting you from the VPN. Rotating your IP address eliminates the potential privacy risk of using the same IP address for extended periods.
Dynamic MultiHop is the latest addition to the Surfshark feature set (launched in January, 2023). The VPN has long supported MultiHop, a double VPN service. MultiHop offered pre-defined server pairs, France and Sweden, Singapore and the Netherlands, and so on. Dynamic MultiHop takes this to the next level by allowing you to create your own double VPN pairs by selecting from more than 100 options. The company states that, "Dynamic MultiHop will give you better security and might improve your speeds."
If a fast, secure, no-logs service that offers the latest technology and unlimited simultaneous connections while also being super cheap VPN sounds good to you, you'll want to give Surfshark a try.
+ Pros
Unlimited connections
User-friendly apps for all devices and operating systems
CleanWeb feature to block ads, trackers, and malware
Works great with Netflix and many other streaming services
24/7 live chat support
Strong encryption and security features (audited)
– Cons
Limited support for VPN routers
Above average monthly prices
Surfshark VPN Coupon:

Get 82% off Surfshark VPN (drops the price down to $2.30 per month) plus 2 months FREE:
(Coupon is applied automatically.)
Check out our in-depth Surfshark review for more details.
---
ExpressVPN: Third-party no-logs audits and real-world verification
| | |
| --- | --- |
| VPN | ExpressVPN |
| Based in | British Virgin Islands |
| Logs | No logs (audited) |
| Price | $6.67/mo. |
| Support | 24/7 live chat |
| Refund | 30 days |
| Website | ExpressVPN.com |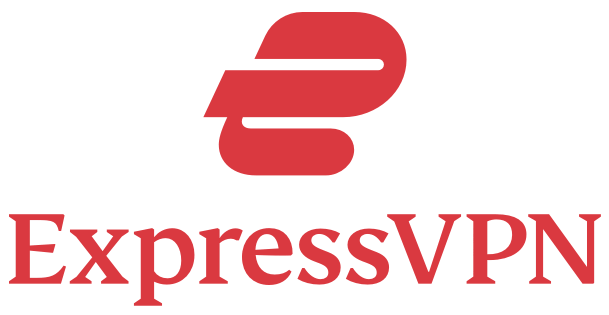 ExpressVPN is another privacy-focused, no-logs VPN that is based in the British Virgin Islands. It offers excellent performance, strong security, and user-friendly VPN apps. And like NordVPN, ExpressVPN is also a great streaming VPN service. It is one of the few VPNs that work with Netflix, Hulu, Disney Plus, and most other streaming services.
In terms of speed and security, ExpressVPN is a strong contender. They support the OpenVPN and IKEv2 protocols with an AES-256 cipher. They have also launched the Lightway protocol, which offers better speeds and reliability than OpenVPN and has many similarities to WireGuard. However, even with Lightway, ExpressVPN still came in second place with speeds in our Surfshark vs ExpressVPN comparison.
ExpressVPN offers a great selection of no-logs VPN apps that we tested out for the review. Below is the ExpressVPN Windows app.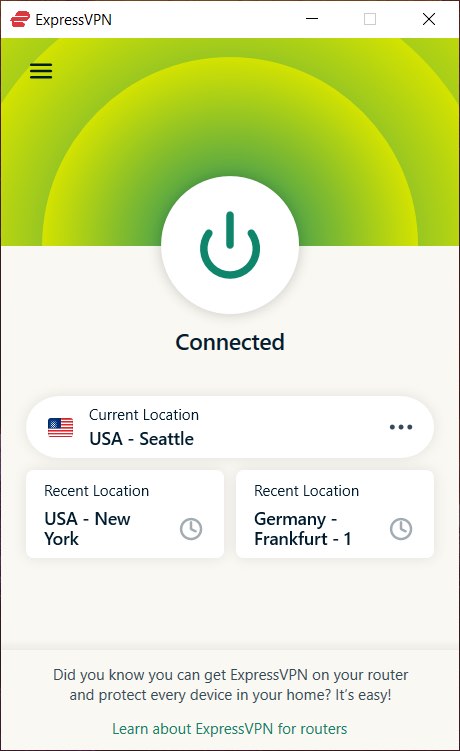 ExpressVPN also offers a great VPN router app. This makes it easy to use the VPN on your router, and this allows you to extend the VPN to other devices on your network. Additionally, you can also use this feature if you need a VPN for Apple TV since Apple TV does not directly support VPNs.
Check out the ExpressVPN review for a detailed analysis and all test results.
Now let's examine how ExpressVPN's no-logs policies have been tested and verified.
ExpressVPN TrustedServer (RAM-disk servers)
Similar to NordVPN, ExpressVPN has also upgraded its network to run in RAM-disk mode. They call this the TrustedServer feature. And as they point out, this is a major improvement from a privacy and security standpoint:
With our industry-first TrustedServer technology, our VPN servers run only on volatile memory (RAM), not on hard drives. Since RAM requires power to store data, this guarantees that all information on a server is wiped every time it is powered off and on again.

In contrast, the traditional and most common way of running servers relies very much on hard drives, which retain all data until they are erased and written over, a painstaking and error-prone process. This increases the risk that servers could inadvertently contain sensitive user information. If someone were to hack or seize the server, they could gain access to this data. Even worse, hackers who do find their way in might be able to install a backdoor that remains indefinitely.
We see other VPN services have also adopted this server approach, including NordVPN and Surfshark.
Third-party audits
ExpressVPN has also passed a third-party audit that was conducted by PricewaterhouseCoopers. This security audit verified the TrustedServer feature, no logs policy, and that all privacy protections are being adhered to correctly. Very few VPNs have undergone third-party audits to verify logging policies.
Lastly, ExpressVPN also decided to open source their browser extensions and subject them to a full security audit by Cure53. Cure53 is a well-regarded cybersecurity firm based in Berlin that has also audited other VPNs, such as TunnelBear.
Turkish police seize ExpressVPN server (but no data)
In addition to audits, ExpressVPN has also passed a real-world test.
In December 2017, Turkish news outlets reported that police in Turkey attempted to force ExpressVPN to provide customer data for a criminal investigation. However, ExpressVPN did not have any logs to provide authorities, as they explained in a statement.
After failing in their attempts to coerce data from ExpressVPN, the Turkish police then decided to physically seize ExpressVPN's server, which they obtained from a data center in Turkey. However, this also did not reveal any information because ExpressVPN does not keep any logs on its servers – or otherwise.
ExpressVPN further clarified that all customer data was safe when they issued a statement on the case:
As we stated to Turkish authorities in January 2017, ExpressVPN does not and has never possessed any customer connection logs that would enable us to know which customer was using the specific IPs cited by the investigators. Furthermore, we were unable to see which customers accessed Gmail or Facebook during the time in question, as we do not keep activity logs. We believe that the investigators' seizure and inspection of the VPN server in question confirmed these points.
Conclusion: ExpressVPN is another solid choice for a no-logs VPN service that has been completely verified and proven true. It does well in many areas. However, as we pointed out in the ExpressVPN vs NordVPN comparison, ExpressVPN does not offer as many features as other leading VPNs. The speeds are also not on par with other leading VPNs, such as NordVPN, which uses the WireGuard protocol.
And while ExpressVPN does have an above-average price, you can still take advantage of the coupon below.
+ Pros
User-friendly and secure apps
Split tunneling feature (for macOS, Windows, and routers)
Works with Netflix and most streaming services
24/7 live chat support
Passed independent third-party audits for security and no-logs
Very large server network
– Cons
Above-average prices
Fewer features
Average OpenVPN speeds (use Lightway)
ExpressVPN Coupon:

Sign up for the 12-month plan and get 3 months added to your subscription for free.
(Coupon is applied automatically.)
See our ExpressVPN review for more info and test results.
---
VyprVPN: No logs verified by a third-party audit
| | |
| --- | --- |
| VPN | VyprVPN |
| Based in | US |
| Logs | No logs (audited) |
| Price | $5.00/mo. |
| Support | 24/7 live chat |
| Refund | 30 days |
| Website | VyprVPN.com |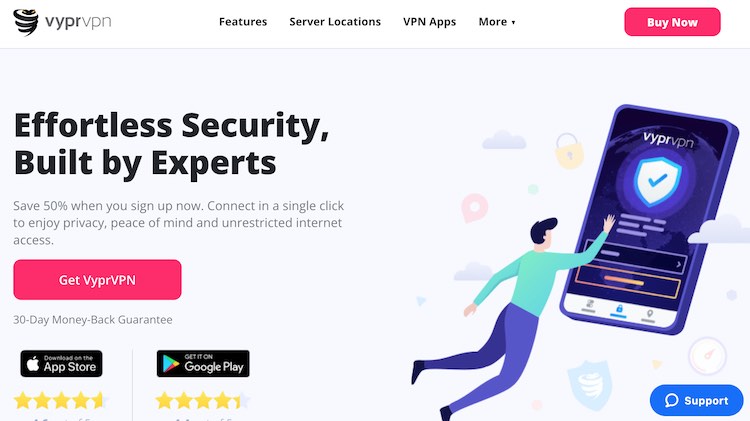 VyprVPN is a no logs VPN service based in Switzerland with secure apps and good performance. It did well in speed tests for the VyprVPN review and has a pretty good reputation. VyprVPN is unique in that they physically own every server in their network (no rentals from third parties), which helps to ensure data security.
If you want a VPN to get around blocks, then VyprVPN is a great choice. It offers the Chameleon protocol, which will get around most VPN blocks and restrictions. This is important when using a VPN for China. Here is the VyprVPN app we tested.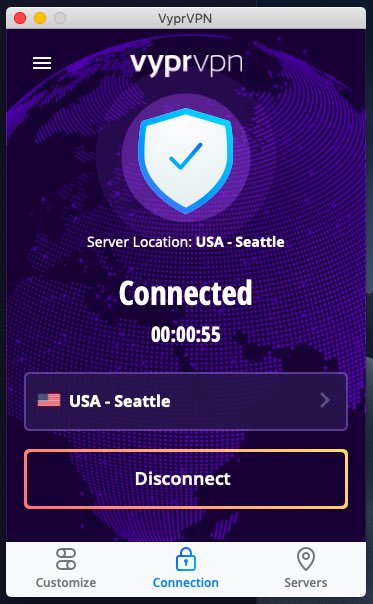 Following the lead of NordVPN, VyprVPN has now also implemented the WireGuard VPN protocol into their service. We were able to hit speeds of up to 300 Mbps, which we posted in the VyprVPN review. And while this is certainly fast, VyprVPN still came out behind in the VyprVPN vs NordVPN comparison.
No logs: VyprVPN audited and advised by a cybersecurity firm
To verify the no logs policies, VyprVPN underwent an independent audit conducted by Leviathan Security Group. The auditors examined all aspects of VyprVPN's network to identify areas where logs were maintained that could de-anonymize the user. After fixing a few issues, they re-tested everything and found VyprVPN to be in full compliance with their stated "no logs" policy.
VyprVPN's security audit is available to the public here and can be referenced publicly. Here are a few sections:
We examined all components of the project according to the threat assessment described below. While vigilance against logging is necessary to complete the process of implementing "No Log", we feel that this assessment achieved its goal of uncovering weaknesses in Golden Frog's implementation. The project revealed a limited number of issues that Golden Frog quickly fixed. As a result, it can provide VyprVPN users with the assurance that the company is not logging their VPN activity.

Golden Frog worked to remediate all no-log-related findings concurrently with the assessment. Once it had completed this, we performed a retest and verified that all of the fixes were effective.
Before this change took place, VyprVPN logged connection data (including IP addresses) for 30 days. Now, VyprVPN can be counted among the small number of verified no-logs VPN services.
+ Pros
Secure applications with strong encryption
Excellent speeds with all servers tested
Full WireGuard support directly in VPN apps
Chameleon protocol (obfuscation)
Entirely self-owned server network
User-friendly apps for many devices/platforms
Based in Switzerland with an audited no-logs policy
– Cons
Requires name for registration
No cryptocurrency payment options
Above-average prices
Fewer features than some other leading VPNs
See the VyprVPN review for more information and test results.
---
OVPN – A no-logs VPN in Sweden
OVPN is a smaller VPN provider in Sweden that takes privacy very seriously. When it comes to logs, they have been a zero-logs VPN service from the beginning. In fact, they even have insurance to cover legal fees for court costs to fight any data requests. They also publish regular transparency reports documenting anything that could affect customer data and privacy.
Similar to NordVPN and Surfshark, OVPN offers double-hop VPN servers and also an ad-blocking feature. The desktop apps for Linux, Windows, and Mac OS all incorporate leak protection and strong encryption. And like NordVPN, OVPN supports WireGuard for even better speeds compared to other protocols.
OVPN wins court case proving no-logs claims
In September 2020, OVPN won a court battle proving that it does not keep any logs. The case centered around a movie company that was demanding user data and logs for a public IPv4 address, presumably for a copyright violation issue.
OVPN won the case by successfully proving that they do not have any logs to provide:
To summarize the verdict, the Rights Alliance and their security experts have not been able prove any weaknesses in OVPN's systems that could mean that logs are stored. OVPN therefore wins the information injunction as our statements and evidence regarding our no log VPN policy have not been disproven. The movie companies also need to pay OVPN's legal fees.
It's also worth noting that OVPN uses only dedicated bare-metal servers running in RAM-disk mode. This further ensures there is no user data available for anyone to go after.
+ Pros
Designed for maximum user privacy and security
Dedicated apps for Windows, macOS, Linux, Android, iOS, and support for other devices
No IP address or DNS leaks detected
Support for streaming and torrenting
Lots of configuration options
Monthly transparency reports
Multiple payment methods including anonymous payments
– Cons
Small server network with few locations
Above average prices
See the OVPN review for more info.
---
Perfect Privacy: Real-world verification of no logs
| | |
| --- | --- |
| VPN | Perfect Privacy |
| Based in | Germany |
| Logs | No logs |
| Price | $8.95/mo. |
| Support | Email |
| Refund | 7 days |
| Website | Perfect-Privacy.com |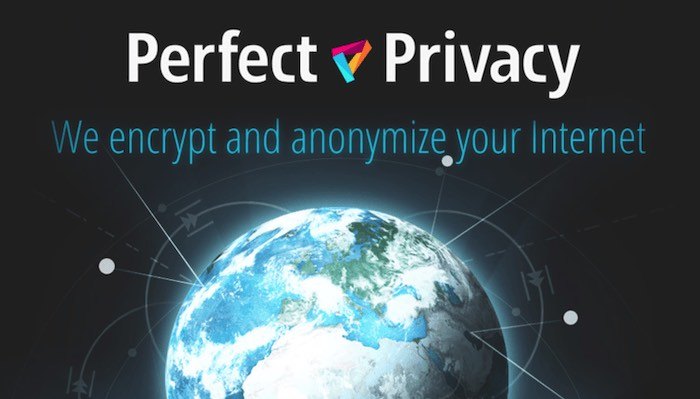 Perfect Privacy is a Switzerland-based VPN that offers advanced online anonymity and security features. It is a no logs service that does not restrict user accounts in any way, giving you an unlimited number of connections. Privacy features include multi-hop VPN configurations, port forwarding, and a TrackStop feature to block ads, trackers, malware, and phishing domains.
From the beginning, Perfect Privacy has focused its service on privacy and anonymity, never keeping logs of any kind and not limiting VPN connections in any way.
The two main drawbacks of Perfect Privacy are the high prices and the lack of support for streaming services. While Perfect Privacy is not the best VPN for streaming, it does well in the areas of privacy and security. mm
Perfect Privacy servers seized in the Netherlands
Even though Perfect Privacy has not undergone a third-party audit, like our other top recommendations, it has passed a real-world test. A few years ago, Perfect Privacy announced that Dutch authorities had seized one of their servers in Rotterdam, Netherlands. Although the reason for seizing the server was never revealed, Perfect Privacy confirmed no customer data was obtained:
Since we are not logging any data there is currently no reason to believe that any user data was compromised.

…We can now conclude that no customer information was compromised due to the seizure. The Rotterdam location will continue to operate using the replacement servers.
RAM-disk servers (no logs possible)
Just like with ExpressVPN and NordVPN, Perfect Privacy runs all their servers in RAM-disk mode. They explain the reasoning for this on their log policy page:
Our infrastructure is built on this philosophy: All our services are running within strongly encrypted RAM disks so that it is technically impossible for data to be stored on hard drives. This also means that no data can be recovered if the power is disconnected.

Nobody can force us to log your data. If that were the case we would rather discontinue Perfect Privacy than to record your data and compromise your privacy.
While Perfect Privacy does have some drawbacks, it remains a great option for privacy-focused users.
+ Pros
Multi-hop VPN chains, up to 4 servers (self-configurable)
Zero logs with an unlimited number of connections
Dedicated bare-metal servers with full IPv6 support
Obfuscation support (Stealth VPN)
Customizable firewall and port-forwarding options
TrackStop filter to block ads, trackers, malware, and more
– Cons
Expensive

Does not work well with streaming sites, such as Netflix and Disney Plus

No iOS VPN app
Our Perfect Privacy review has more info and test results.
---
Proton VPN: Passed a third-party no-logs audit
| | |
| --- | --- |
| VPN | Proton VPN |
| Based in | Switzerland |
| Logs | No logs |
| Price | $4.99/mo. |
| Support | Email |
| Refund | 30 days |
| Website | ProtonVPN.com |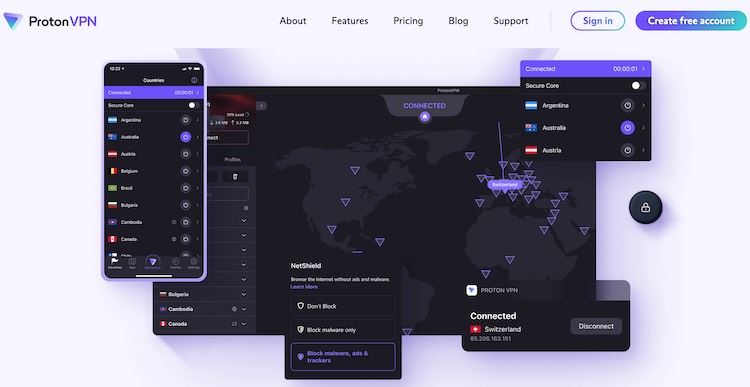 Proton VPN is the latest addition to our no-logs VPN list. This VPN is based in Switzerland and is the counterpart to Proton Mail, a secure email service that has been operating since 2014. It has a great track record and maintains a great reputation in the privacy community.
Proton VPN offers some great privacy and security features. Like both NordVPN and Surfshark, Proton VPN offers a double-VPN feature that they call Secure Core. They also have an ad blocking VPN feature called Net Shield. Blocking ads through the VPN is efficient and also important for privacy reasons.
Proton VPN completed an independent audit to verify their no-logs policy
While Proton VPN has always claimed to be a no-logs service, it was independently audited in 2022 by Securitum to verify these claims. Additionally, ProtonVPN maintains a Transparency Report that details if and when there is ever a legal request for user data. The only case (so far) was a 2019 court case where a foreign government requested data logs. However, as the report explains, Proton VPN was unable to provide any information as a no-logs VPN.
One drawback with Proton VPN is that it has inconsistent speeds. As we noted in the Proton VPN vs NordVPN comparison, speeds were hit or miss with Proton servers around the world. It is also not a great VPN for streaming, with fewer services supported.
+ Proton VPN Pros
Useful privacy features (no leaks)
Secure server network (secure core)
Good privacy jurisdiction and data protection policies
WireGuard VPN support (but not on Linux)
Transparent company with a good track record
– Proton VPN Cons
Average speeds
Above-average prices
Limited support for streaming
Check out our ProtonVPN review here.
---
Jurisdiction and logging policies with VPN services
One thing to consider with any VPN service is jurisdiction: where the VPN is legally based.
Jurisdiction is an important factor to consider because it greatly affects the security of the VPN's customers. A VPN must abide by the laws in the country in which it is legally based (incorporated). Many countries have laws that can undermine encryption and data security, for example:
Australia and access to encrypted data
Australia has a law that allows governments to force companies to provide access to encrypted data. We discuss this topic at length in our guide on VPNs for Australia. Here's a brief synopsis of this law:
The Australian Parliament passed a contentious encryption bill on Thursday to require technology companies to provide law enforcement and security agencies with access to encrypted communications.

Privacy advocates, technology companies and other businesses had strongly opposed the bill, but Prime Minister Scott Morrison's government said it was needed to thwart criminals and terrorists who use encrypted messaging programs to communicate.
Right now, the United States is considering similar legislation, which you can read about here.
US government agencies can force companies to log users (numerous cases)
The US is also a hostile jurisdiction for privacy. Here, authorities can force companies to hand over data logs and provide access to user information. Here are three examples:
Lavabit was forced to provide encryption keys to its email service. Rather than comply, the owner shut down the company.
Riseup, a secure email and VPN service in Seattle, was forced to hand over user data to the FBI and also slapped with a gag order that prevented any disclosure.
IPVanish, a "zero logs" VPN, provided user logs to the FBI for a criminal investigation.
Choose your VPN carefully and also consider jurisdiction. We recommend going with a VPN service in a safe privacy jurisdiction, such as Panama, the British Virgin Islands, Switzerland, and others.
With that being said, jurisdiction is not a silver bullet. When PureVPN collected logs for the FBI, it was based in Hong Kong. Today, PureVPN is based in the British Virgin Islands and promises better data security.
Free VPNs caught harvesting data logs
Free VPN services are usually not the best VPN services. One reason is that free VPNs have been known to record VPN logs and collect user data. Over the years, we have profiled the many reasons you may want to avoid a free VPN. One of the biggest issues is how free VPNs make money.
To cover the costs of server hosting, app development, and everything else, free VPNs typically make money by collecting data about their users. They can then sell this data to third parties, such as advertisers. This is a growing business model and there are numerous VPNs that utilize tracking or data collection tools. We discovered this in our Hotspot Shield VPN review. It was also the case in our Betternet review.
Free VPNs are often in the news for bad practices. Another example highlighted free VPN apps that deliver financial malware to unsuspecting victims. If something is free, then you are likely the product. The only exception to this is the freemium business model, where you get a limited free version, but can update to a paid version. These are probably the best free VPN services.
Internet service providers are logging everything (use a VPN for basic privacy)
This guide has been focused on logging policies with VPN services, but let's talk about internet service providers (ISPs) for a minute. Did you know that your internet service provider is probably logging everything you do online?
The US Federal Trade Commission (FTC) investigated the issue of internet service providers collecting user data and came to some alarming conclusions. In a detailed report, they found that all major internet service providers in the US are collecting vast amounts of user data and also sharing this data with a wide network of third-party groups, particularly advertisers.
We covered this topic in our article describing how internet service providers are logging everything you do online. Specifically, the FTC report discovered that these companies are collecting the following data:
Every website you visit
Information from your web browser
Data from other connected devices on your network
Location data from mobile devices
The solution is to use a VPN at all times. If you do, your ISP will only know that you are connected to a VPN, with no way to see what you are actually doing online. Since using a VPN is legal in almost every jurisdiction on Earth, this is perfectly safe and legal.
An internet service provider is not your only adversary, however. There are many other hackers that make the news every week for ransomware and exploiting network vulnerabilities. Needless to say, you need protection when going online today.
Conclusion: Use a verified no-logs VPN in 2023
With high-profile data logging cases like PureVPN and IPVanish eroding trust, it is now more important than ever to verify that a VPN's claims are actually true.
To be sure, maintaining some connection logs is not necessarily a deal-breaker, especially if it is done in an honest and transparent manner. The problem, however, is that many VPNs simply use "no logs" as a marketing slogan, without any kind of verification.
Another issue is that there's no widely accepted definition of exactly what "no logs" means.
In light of all these factors, it's great to see that there are VPNs taking proactive steps to verify and audit their own policies. This helps to build trust and maintain a higher level of honesty in the industry.
While there will always be bad apples in the VPN world, there are still a small number of trustworthy VPNs that have properly earned the title of "no logs" services.
Related Articles:
This no-logs VPN guide was last updated on June 10, 2023.