| | |
| --- | --- |
| VPN | ProtonVPN |
| Based in | Switzerland |
| Logs | No logs |
| Price | $4.00/mo. + |
| Support | Email |
| Refund | 30 days |
| Website | ProtonVPN.com |
ProtonVPN is a newer VPN service from the makers of ProtonMail, a Switzerland-based email service.
In this new and updated review, I put ProtonVPN through extensive testing to examine all aspects of the service:
How fast is ProtonVPN with servers throughout the network?
Do all the features work correctly?
Does ProtonVPN have any problems with IP address leaks or DNS leaks?
How responsive is the ProtonVPN support staff?
Does ProtonVPN unblock Netflix?
All of these questions are answered in this ProtonVPN review, with screenshots posted below for verification.
Overall ProtonVPN has made huge improvements in a number of different areas since the last review, but there are still a few drawbacks we'll cover below.
ProtonVPN overview
Here is a brief overview of my test results and research findings for this ProtonVPN review:
Pros of ProtonVPN:
Useful privacy features (no leaks)
Secure server network (secure core)
Good privacy jurisdiction and data protection policies
User-friendly VPN apps
Works well with Netflix
Responsive and professional support (via email)
Transparent company with a good track record
Cons of ProtonVPN:
Variable speeds with some servers
Prices are above average (for access to all servers and features)
Additional research findings:
Payment options and refund policy
Does ProtonVPN work for torrenting?
Does ProtonVPN work in China?
Pros of ProtonVPN
Here are the Pros that I found for this ProtonVPN review.
1. Useful privacy features (and no leaks)
ProtonVPN has some useful privacy and security features.
First, it offers good leak protection settings with the Windows and Mac OS apps I tested. In addition to the kill switch and DNS leak protection, both the Windows and Android clients also offer a split tunneling feature. This allows you to route traffic for certain applications outside of the VPN tunnel.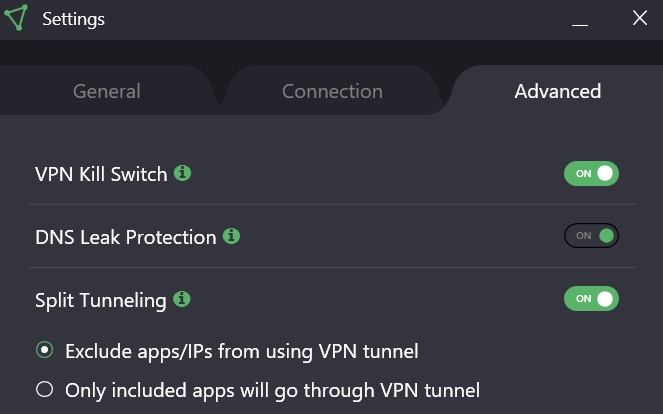 ProtonVPN also offers different settings for auto connect, protocol selection (UDP or TCP), and startup options. Regarding the kill switch and leak protection settings, everything worked well in testing for this review.
I ran the Windows and Mac OS apps through some basic VPN tests to identify potential leaks or flaws. Everything checked out (no leaks):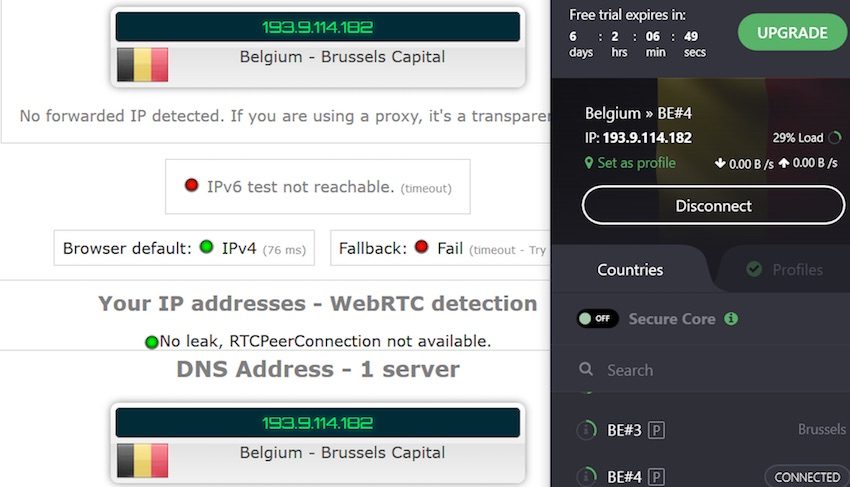 The screenshot above is with the ProtonVPN Windows client. The Mac OS client also did not have any leaks that I could find.
ProtonVPN encryption and VPN protocols
The ProtonVPN Windows client and Linux script utilizes the OpenVPN protocol. The Mac OS, Android, and iOS apps utilize the IKEv2 protocol. You can see my comparison of OpenVPN vs IKEv2 here – both are considered to be secure VPN protocols.
For the data channel, ProtonVPN uses an AES-256-CBC cipher together with HMAC SHA-512 authentication.
2. Secure server network (Secure Core)
ProtonVPN runs its entire network on dedicated bare-metal servers. This is advantageous from a security and performance standpoint over virtual servers.
Currently, ProtonVPN has 568 servers in 43 different countries. This isn't too bad for geographic diversity, but is definitely smaller than some of the larger VPNs, such as NordVPN.
One unique aspect of ProtonVPN is their implementation of Secure Core.
What is Secure Core?
The Secure Core feature is basically a double-hop VPN server configuration routed through ProtonVPN servers in Switzerland, Sweden, or Iceland. In other words, your traffic will first get routed through one of the Secure Core servers before going to the second VPN server and exiting the encrypted tunnel.
The main advantage of the Secure Core servers is that it provides an additional layer of protection. This protects against a compromised server in a third-party data center, for example. ProtonVPN has gone to great lengths to ensure the security of these "core" servers:
We have also gone to extraordinary lengths to defend our Secure Core servers. First, servers are located in countries selected specifically for their strong privacy laws (Iceland, Switzerland, and Sweden). We also placed our Secure Core servers in high-security data centers to ensure strong physical security. ProtonVPN infrastructure in Switzerland and Sweden is housed in underground data centers, while our Iceland servers are on a former military base. Furthermore, Secure Core servers are wholly owned and provisioned by us(shipped on-site directly from our offices). Finally, Secure Core servers are connected to the Internet using our own dedicated network with IP addresses that are owned and operated by our own Local Internet Registry (LIR).
In addition to ProtonVPN, there are also other VPN providers that offer multi-hop VPN configurations. Unlike with ProtonVPN, however, these other providers do not have the same physical security infrastructure in place.
To use the Secure Core servers, you will need to have a "Plus" or "Visionary" subscription. (We'll examine the subscription levels more below.) Within the ProtonVPN client, you can toggle the Secure Core servers off/on and then connect to the one you want.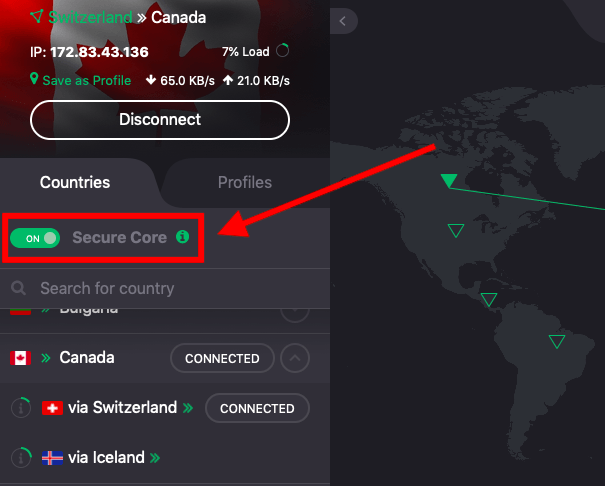 I found the secure core servers to work well, although some were down for maintenance when working on this ProtonVPN review.
Are Secure Core servers slow?
Secure Core servers will generally be slower, simply because traffic is getting routed across two encrypted VPN servers. This adds more encryption and latency. Nonetheless, I still found the Secure Core servers to offer pretty good speeds.
Here is a nearby secure core configuration via Sweden > France: 94 Mbps

Some of the secure core servers I tested with longer distances (higher latency) were slower, but still not horrible.

ProtonVPN's secure core is slower than other servers, but that's understandable with the added distance and encryption. Overall the performance was good.
Lastly, ProtonVPN also offers Tor-over-VPN servers. I did test these servers for the review, simply because I knew they would be slow (due to the slow Tor network).
3. Good privacy jurisdiction and data protection policies
ProtonVPN is based in Switzerland under the company ProtonVPN AG. Switzerland is a good privacy jurisdiction and is not part of the five eyes, nine eyes, or 14 eyes surveillance alliances. As noted on the ProtonVPN website:
We are headquartered in Switzerland which has some of the world's strongest privacy laws. Switzerland is also outside of EU and US jurisdiction and is not a member of the fourteen eyes surveillance network.
From a business standpoint, ProtonVPN is a separate entity from ProtonMail. However, it still falls under the same parent organization, Proton Technologies AG, based in Geneva, Switzerland.
As we've covered before, Switzerland is a great jurisdiction for both VPN services and secure email providers.
ProtonVPN logs policy
ProtonVPN describes itself as a no-logs VPN provider. The one thing they store is timestamps, as explained on their support page:
ProtonVPN respects its users' privacy and enforces a no-logs policy. This means your VPN connections remain private and we do not store information about your connections or the websites you visit.

For the purpose of securing your account and making sure it's you who is signing in, we store a single timestamp of your accounts most recent login. Again, we do not store any information about where you signed in from or how long you were logged in.
The ProtonVPN privacy policy offers further clarification on the timestamp issue:
Each time a user connects to the Service, we only monitor the timestamp of the last successful login attempt. This gets overwritten each time you successfully log in. This timestamp does not contain any identifying information, such as your IP address or your location; it only contains the time and date of the login.

We retain this limited information to protect user accounts from password brute force attacks. This is necessary to identify password guessing attempts targeting specific user accounts and to take action to protect those accounts.
This is definitely not concerning given that it's a single timestamp. ProtonVPN also explains in this blog post how they are fully compliant with GDPR privacy protections and do not share data with third parties.
There are also a few no-logs VPN providers that have been verified and audited.
4. User-friendly VPN apps
ProtonVPN has a very nice lineup of apps that are user-friendly and fully-featured.
The layout and design are great, and I also like the dark-mode theme. Here I'm testing out one of the secure core configurations on the ProtonVPN Windows client: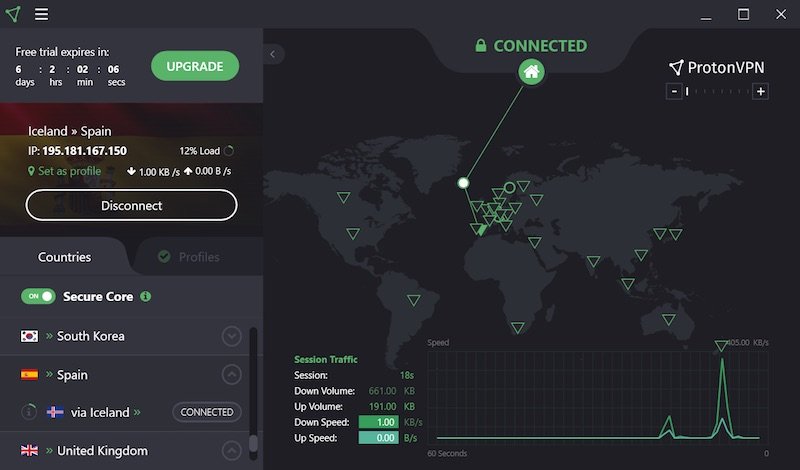 In general, connections were pretty quick to establish and there weren't any major issues.
ProtonVPN offers dedicated clients (apps) for all major devices and operating systems. Depending on your operating system, you can use ProtonVPN through a client or natively, such as with the IKEv2 protocol on iOS. ProtonVPN does not currently support the WireGuard VPN protocol, which is still under development.
There are also various startup and notification preferences you can customize within the ProtonVPN client.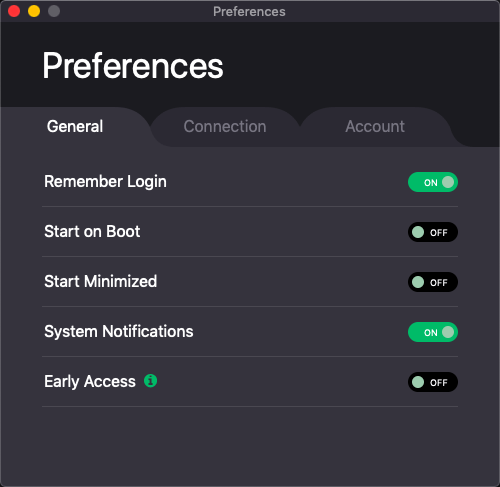 ProtonVPN also has a command line tool for Linux. If you need a VPN for Mac, you can use the ProtonVPN Mac OS client or natively with IKEv2.
Overall ProtonVPN has a nice lineup of VPN apps, which have improved significantly since I first tested out ProtonVPN when it was released in 2017.
5. ProtonVPN works with Netflix
ProtonVPN also works with different Netflix regions. As they state on the ProtonVPN website:
ProtonVPN users can securely watch US Netflix when connected to any ProtonVPN Plus server located in the US. These servers are available for Plus and Visionary Plan subscribers. For the fastest and most reliable connection, please connect to the server that is closest to your current location.
I tested US Netflix with a ProtonVPN server in New York and did not have any problems getting through. The speeds were adequate for the short tests that I ran.
Note: ProtonVPN currently supports the following Netflix regions:
US Netflix
UK Netflix
German Netflix
To see other VPN services that unblock Netflix regions around the world, check out the best VPN for Netflix guide.
Note: You will need a paid VPN plan to access Netflix (not working with ProtonVPN free plans).
6. Responsive and professional support (via email)
ProtonVPN offers support via email. Their website also has various FAQ articles and guides, which are useful for standard questions.
I used the contact form on their website to submit various inquiries to test out support's response time.

Overall I was happy with the prompt replies. My inquiries were usually answered on the same day they were submitted.
With previous ProtonVPN reviews, I was critical of their support due to delayed response times (several days). Support with ProtonVPN has definitely improved over the past few years. There's also an active ProtonVPN subreddit.
Some people prefer a VPN with live chat support, which is indeed useful if you want instant help. While ProtonVPN does not offer live chat, their support team seems to be on top of things.
7. Transparent company with a good track record
It's no secret that Proton Technologies, including ProtonVPN and ProtonMail, has an excellent reputation in the privacy community. It is also a company that is very transparent and led by reputable, public-facing people.
ProtonMail was started in 2014 by a group of academics/scientists who were working at CERN in Switzerland and also MIT. On the topic of transparency, ProtonMail published an interesting blog post about the organization and leadership:
As a company, we are committed to the highest levels of transparency so you know exactly who you are trusting. Our key employees and their backgrounds are public knowledge. Where we are based, the address of our headquarters, our company statutes, and even our directors are all a matter of public record and available for inspection at the Swiss commercial register. ProtonMail's initial financing through crowdfunding is also publicly documented, along with the identities of many of our initial 10,000 financial backers. But we go even further than that. We also meticulously document and publish information on all the law enforcement requests that we receive.

Transparency also extends to our communications. We have a published threat model for our services that explains what we can and can't protect against, and also a very clear privacy policy. Furthermore, important updates are regularly posted on our blog and disseminated to the Proton community. We also engage in daily conversations with the Proton community on Reddit, Twitter, and other platforms.
As noted above, ProtonVPN and ProtonMail both fall under the parent company Proton Technologies AG, based in Geneva, Switzerland. The ProtonVPN arm of this business is officially registered as ProtonVPN AG, which shares the same core leadership as ProtonMail.
Andy Yen is the CEO of both ProtonMail and ProtonVPN. In 2014 he gave a good TED Talk about email privacy here.
Cons of ProtonVPN
Now we'll take a look at some of the cons of ProtonVPN:
1. Variable speeds with some servers
While ProtonVPN has generally improved with speeds since the last review, it's also not the fastest VPN I've tested.
All speed tests for this ProtonVPN review were carried out with a baseline connection speed of about 160 Mbps from my location in Western Europe, using the speed test website here.
For the first round of ProtonVPN speed tests, I examined servers in Europe.
ProtonVPN server in Switzerland: 152 Mbps

This is excellent considering my baseline speed is 160 Mbps.
Next I tested a ProtonVPN server in Italy. The speeds were not as fast at around 22 Mbps.

Next up, a server in Sweden offered speeds around 60 Mbps:

Lastly, I tested a ProtonVPN server in France, which was pretty good: 149 Mbps.

With nearby servers (around Europe) there was clearly some variability, but overall not too bad.
Next I tested servers in the US and Canada.
First I tested a server in New York and was only able to get around 29 Mbps:

This is definitely under-performing.
I was able to find a few fast servers in the US, however, such as a ProtonVPN server in Virginia at 137 Mbps.

Next I tested a ProtonVPN server in Texas, which gave me about 122 Mbps.

Finally, I tested a server in New Jersey, which was the slowest of them all at around 13 Mbps.

If you need a VPN for USA and speed is your top concern, you may want to check out some other options.
In general ProtonVPN's speeds aren't too bad, but there is definitely some variability as you can see. In comparison to other premium VPN providers, there is certainly room for improvement in the performance category. One of the fastest VPNs I've tested is ExpressVPN.
On a positive note, speeds were certainly better than the last ProtonVPN review I did, so things are improving.
2. ProtonVPN prices are above average (for full access)
ProtonVPN is an interesting case when it comes to prices. On the one hand, they offer an unlimited free VPN with pretty good speeds (for a free service). But on the other hand, to get all features and access to the entire server network, you'll need to purchase a "Plus" or "Visionary" plan, which costs $8 to $30 per month. This makes ProtonVPN rather expensive (for all features).
The paid subscriptions are broken down into the different plans you see below. This is with "annual" payments being selected – if you choose "monthly" the plans are slightly expensive.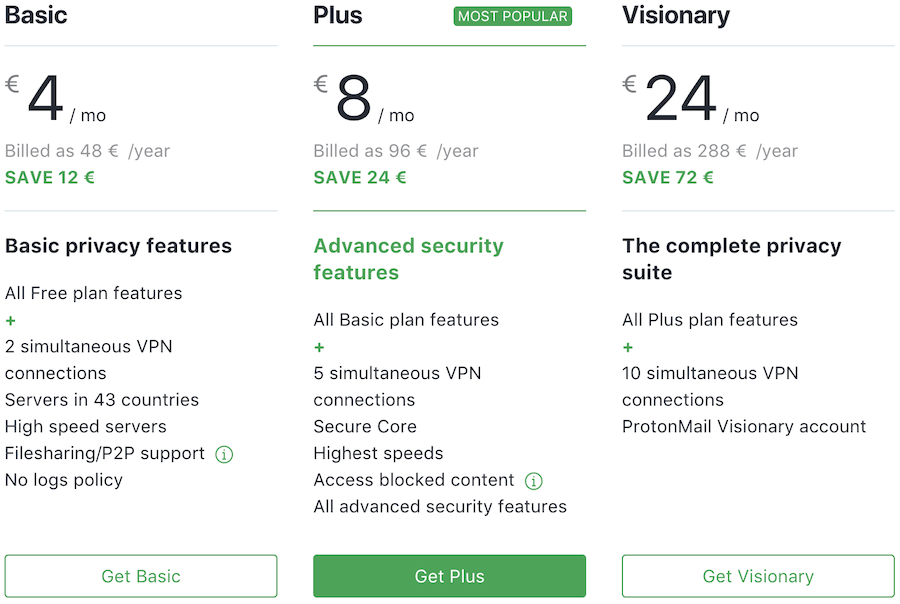 While this may seem rather complex, it does allow you to select the exact plan that fits your needs, whether it is the free plan or the Visionary plan.
For those wanting maximum security and privacy, I'd recommend the Plus subscription because it provides access to the Secure Core server network.
The Visionary plan is quite expensive, but it may be a good fit if you want a combined solution for VPN and secure email service, all rolled into one subscription.
Assuming you want access to the entire server network and all features, the Plus plan comes in at $8 per month. While this is certainly not a cheap VPN, it is also not the most expensive VPN I've seen.
See all ProtonVPN prices here.
Additional research findings
Below are additional findings from my research of ProtonVPN for this review.
ProtonVPN payment options and refund policy
To get started with ProtonVPN, you can create a free or paid account. If you opt for a paid account, you'll have the option to pay with PayPal or a credit card. However, if you are upgrading your account, you'll have the option to pay with:
Credit cards
PayPal
Bitcoin
Cash
Bitcoin and cash can offer more privacy, but you can also pay with a virtual credit card (such as from privacy.com) using an anonymous name and address.
ProtonVPN refund policy
ProtonVPN offers a pretty good refund policy. As they explain on their Terms and Conditions page,
You may cancel your account with a refund for any unused portion of the service period within 30 days of the initial purchase. Here, any unused portion of the service period refers to the prorated remaining full days of the subscription period. Refunds or credits beyond the 30 days window will be considered, but at the sole discretion of the Service.
This is somewhat different from other VPN services in that they do not offer a full 100% refund, but rather a prorated refund of unused time. Nonetheless, it is still generous in comparison to other free VPN services, such as Windscribe and TunnelBear, which both have more restrictive refund policies.
Does ProtonVPN work for torrenting?
Many people are looking for the best VPN for torrenting due to the risks associated with copyright infringement.
Generally speaking, ProtonVPN is a good VPN for torrenting, but with one catch. Torrenting is not supported on the free plans. This is understandable since they don't want bandwidth being eaten up by torrents.
With paid plans, torrenting is completely supported and allowed without restrictions.
Does ProtonVPN work in China?
Unfortunately, it does not look like ProtonVPN is working in China, according to the latest support update:
As of Sept. 18, 2019, the Chinese government is blocking access to ProtonVPN as part of a larger crackdown on Internet freedom.

The Chinese government works hard to control its citizens' access to the Internet. The Great Firewall employs a vast system of technical tools, including DNS filtering, URL filtering, and deep packet inspection, that the Chinese government uses to prevent people in China from accessing foreign websites. The government also uses these tools to detect and block VPN servers.
You can see these best VPNs for China instead.
ProtonVPN review conclusion
When I first tested out ProtonVPN in 2017 after its official launch, I was somewhat critical due to various bugs and problems I encountered. Now, two years later, it is a polished VPN service that has improved tremendously.
So is ProtonVPN recommended?
Yes.
Following the latest test results for this ProtonVPN review, I will be adding it to the best VPN services list.
ProtonVPN is a polished service that has a lot to offer:
Useful privacy features (no leaks)
Secure server network (secure core)
Good privacy jurisdiction and data protection policies
User-friendly VPN apps
Works well with Netflix
Responsive and professional support (via email)
Transparent company with a good track record
ProtonVPN remains an up-and-coming service to watch. While it may not (yet) have the brand recognition of some of the bigger players competing for market share, such as ExpressVPN vs NordVPN, it is a solid contender. I'll keep this ProtonVPN review updated with the latest news and test results.
You can get started with ProtonVPN here.
Alternatives to ProtonVPN
Click the VPN name below to read our full review – or grab the discount for the best savings. All three of these VPNs have a 30 day money-back guarantee.
You can also check out our guide on the best VPNs here for other recommendations.
---
If you have used ProtonVPN, feel free to share your honest review (good or bad) below.