Living in the digital age has allowed us to connect to like-minded individuals across the world, have access to immense amounts of information at our fingertips, and work from the comfort of our homes.
However, it's not all fun and games in cyberspace – it's infested with conniving cybercriminals and all sorts of schemes created to steal your sensitive information and profit from your financial, personal, or even political ruin.
In short, not using a password manager in this day and age is much like flirting with your own downfall – it can put you, your family, and your business at serious risk.
The good news is that there are plenty of powerful password managers on the market and most of them offer free editions – so, you can have your cake and eat it too?
Yes, you can, with either of our two competitors as both offer a fully-featured yet free-forever version of their products. Well, to be honest, there are a couple of reasons why you'll want to upgrade to their paid products, but that's a story for one of the next chapters.
Both NordPass and Bitwarden are at the top of our list of best password managers on the market in 2023, but how to be sure which of the two is better for you?
For starters, Bitwarden is open-source software and strengthens its security through transparency – so, anyone can see, use, change, and share it with others. In contrast, NordPass is a close-sourced proprietary solution, meaning its provider owns all rights to use, alter, and copy the code.
Besides this, there are more similarities than differences between NordPass and Bitwarden, so we'll have to go for a closer look to decide which one is the better solution overall.
| | | |
| --- | --- | --- |
| | NordPass | Bitwarden |
| Website | NordPass.com | Bitwarden.com |
| Platforms | Windows, macOS, Linux, Android, iOS | Windows, macOS, Linux, Android, iOS |
| Browser extensions | Chrome, Edge, Firefox, Opera, Safari | Chrome, Firefox, Edge, Opera |
| Free version | Yes (1 device) | Yes |
| Encryption | XChaCha20 | AES 256-bit |
| Support | 24/7 Live Chat | Forum; Email |
| Price | From $1.43 | From $0.83/mo. |
| Coupon | 50% Off + 1 Month Free > | N/A |
These will be the main areas we're going to cover in this comparison guide:
Background check
Platforms availability
Core and premium features
User interface and ease of use
Security and encryption
Privacy policy
Plans and pricing
Customer support options
Now it's time to kick things off with a brief background check of NordPass and Bitwarden, side by side.
Background check: Company information and history of security incidents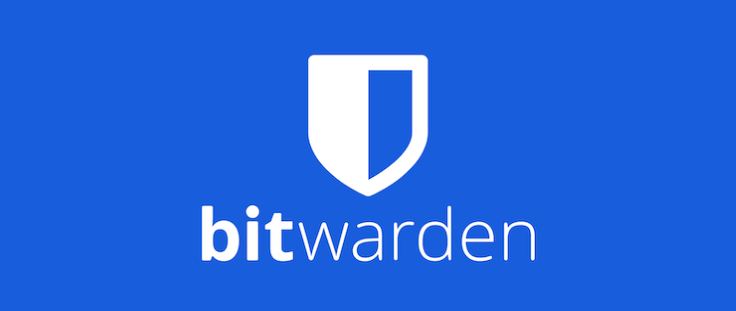 Launched in 2015, Bitwarden is a powerful, feature-packed, and pocket-friendly password manager that does its task differently from other password management tools. It's an open-source solution, which means its original source code is open for inspection, modification, and redistribution.
The company behind Bitwarden is small, privately held, and situated in Santa Barbara (California, USA). Since the USA is one of the Five Eyes Alliance (FVEY), this is not great news for those who value their privacy on the internet. It's because the FVEY countries are part of this international intelligence-gathering alliance that has ways to bypass privacy laws. That's why many privacy advocates will try to talk you out of using services from these countries – and rightly so.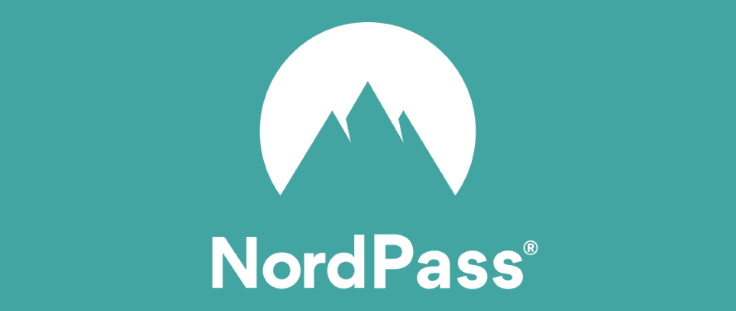 Meanwhile, created in 2019, NordPass is an even younger player in the password management market, but also a pretty prosperous player. It's the latest output of Nord Security, a well-versed veteran of cybersecurity widely known for NordVPN, its leading product and one of the most popular VPN services out there.
Like all Nord Security products, NordPass is cleverly situated in Panama, which isn't one of the infamous FVEY nor 9-Eyes countries – so, a lack of privacy shouldn't pose a problem.
As for security incidents, Bitwarden and NordPass have never been hacked or breached, which means your data should be safe with either of them.
Background check winner: NordPass
---
Platforms availability: Does NordPass or Bitwarden support more platforms?
One of the things you'll want to check before choosing one password manager above all others is the scope of platforms that the solution supports – namely, supported operating systems and web browsers.
If the solution you're considering doesn't support the platforms you use in your personal and professional life, then it's best to skip it.
Having to join together several password managing tools or similar solutions because neither of them supports the platforms you use is not only time-consuming but also comically impractical.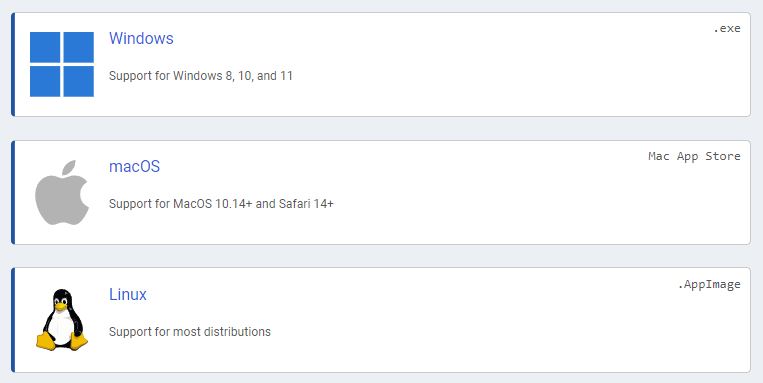 Bitwarden's app is currently compatible with the following operating systems:
Windows (version 8, 10, and 11)
macOS (version 10.14 and up and Safari 14 and up)
Linux (supports most versions)
iOS (version 10.0 and up)
Android (version 8 and up)
AndroidPN Client (F-Droid client app)
When it comes to browser extensions, Bitwarden supports these:
Google Chrome
Mozilla Firefox
Microsoft Edge
Opera
Safari
Vivaldi
Brave
Tor Browser
Command-line tools (CLI) for Windows, macOS, and Linux are also available, and when nothing else is at hand you can access your password manager from any browser with Bitwarden web vault.

Now let's take a look at NordPass.
NordPass's desktop and mobile app are available on the following operating systems:
Windows (version 8, 32/64bit and up)
Linux (any version supporting snap 64bit)
macOS (version 10.13 and up)
Chrome OS (supports NordPass Web Vault only)
Android (version 8.0 and up)
iOS (version 14.0 and up)
When it comes to browser extensions, these are available:
Google Chrome
Mozilla Firefox
Microsoft Edge
Opera
Safari
Because Bitwarden supports more web browser extensions (and one of the top anonymous web browsers today – Tor Browser), we'll let it win this round.
Platforms availability winner: Bitwarden
---
Features comparison: Bitwarden vs NordPass
While different users will prioritize different aspects of a password manager when it comes to the core features, most users will look for the same:
the ability to import/export passwords
auto-fill and capture login information
create strong passwords with a simple-to-use generator
Of course, there are a couple of security-focused features to look for, but we'll leave that for the next chapter. So, if you want to find out about that first, scroll down to "Security and encryption".
As one would expect, both Bitwarden and NordPass will safely store your credentials and other sensitive information in an encrypted vault that is shielded by a master password. Also, their freemium editions are more generous than those of most top password managers.
Here's the list of the core features you'll get with Bitwarden and NordPass:
Autosaving and auto-filling login credentials
Cross-platform support
Categories for passwords, notes, and credit card details
Emergency access
Simple-to-use random password generators
Strong industry-standard encryption
Secure password vaults
Securely syncing passwords across all your devices
Secure data sharing
Two-factor authentication (2FA)
User-friendly dashboards
We should also mention the similarities our two contenders share when it comes to account and password recovery procedures. To cut it short, it will be a nerve-wracking experience with Bitwarden and NordPass alike, so it's best not to forget or lose your master password, to begin with.
However, if you get struck by bad luck and fail to recall your master password, you can request a recovery code – but beware, you'll get in only once after which you won't be able to find it again.
And if you lose your recovery code in addition to your password – say goodbye to your account and all its content. While you can create a completely new account, you'll have to add your items from scratch.
Alright, now let's continue with the core capabilities, just like we did in the NordPass vs LastPass comparison. That is, importing/exporting passwords, auto-filling forms, and generating strong passwords.
After that, we'll dive into premium features and figure out which of our contenders sticks out. If you're more into premium than core features, scroll down to the "Premium features" chapter.
Importing/exporting passwords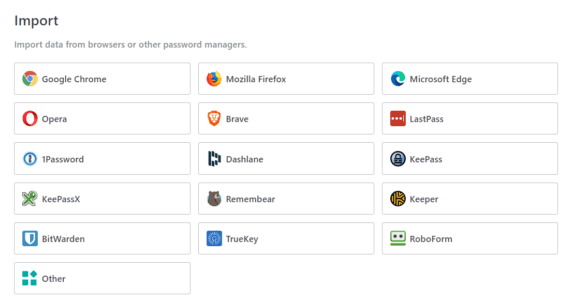 As soon as you create your account with either of the two password managers, you'll want to start adding login credentials. As expected, there are a couple of ways you can do this – from using the .CSV file method to importing logins manually one by one.
Also, you can use the least painful method and let your new password manager import all your login from your old password manager or your web browser. However, while both of our contenders offer this functionality, with one of them, the process was almost painless while with the other it was pretty much a pain in the neck.
In summary, importing passwords with NordPass felt like a piece of cake and everything was complete in a couple of minutes. NordPass's simple-to-understand dashboard offers a separate section for importing your passwords and other data from other password managers and browsers.
Some of the password managers you can import directly from include 1Password, LastPass, Keeper, RoboForm, and KeePass. As for browsers, you can import all your data from Chrome, Firefox, Edge, Brave, and Safari in no time. This was also a key advantage we noted in the NordPass vs 1Password comparison.
Unfortunately, importing items from other password managers and browsers was not as effortless with Bitwarden. As with many similar open-sourced solutions, its system doesn't seem to be created with this action in mind. As a consequence, there isn't a separate section where you can select a source you wish to import from and the process isn't as clear.
Thankfully, Bitwarden's knowledgebase offers detailed step-by-step guides about importing items to your vault – you can check it out here.
Auto-filling and capturing login information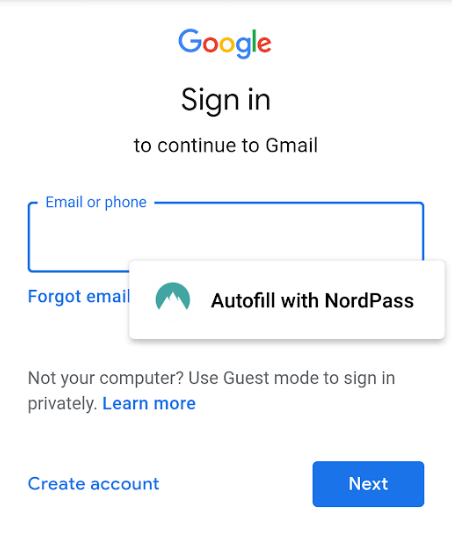 From what we've seen, capturing login information and auto-filling empty forms is a bit faster and easier with NordPass than with Bitwarden. Once the box for login credentials shows up, you'll be prompted to choose one of the saved logins or save a new one. So, everything should be finished within a single click.
While we wouldn't go as far as to call Bitwarden's auto-filling and auto-capturing feature clunky, it isn't as streamlined as the one with NordPass. Instead of getting the job done with a single click, you'll have to right-click in the box, tap the Bitwarden icon, and then finally autofill the credentials you want.
So, although auto-filling and capturing login credentials is as straightforward with both our contenders, the process is somewhat swifter with NordPass.
Random password generator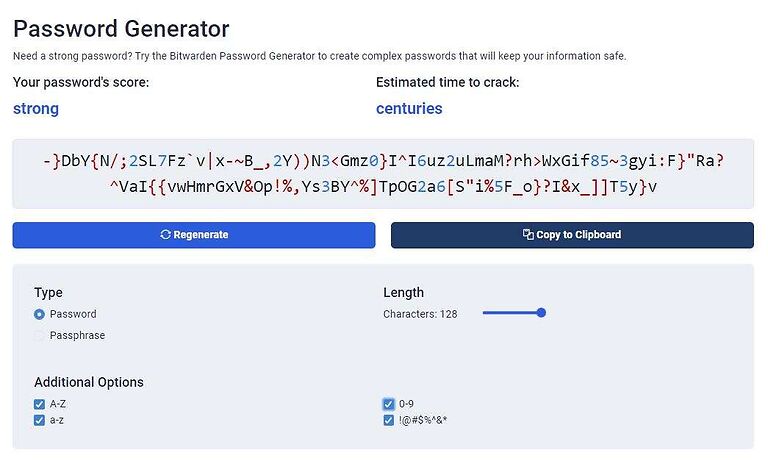 To shield yourself from hackers and their password-hacking tactics you'll want to create impossible-to-crack passwords and make your accounts unbreakable. Since most of us aren't especially good at coming up with strong passwords, our best bet is to search for a solid random password generator that'll save us trouble.
By good luck, both NordPass and Bitwarden provide solid random password generators that will simplify the password-creating process for you.
NordPass' strong password generator can come up with passwords of up to 60 characters. These can be a combo of uppercase and lowercase characters but also digits and symbols. It also allows you to generate passphrases instead of a meaningless mix of symbols. These are as safe but much easier to remember.

Meanwhile, with Bitwarden you can produce up to 128 characters long passwords and, like with NordPass, these can be a combination of uppercase characters, lowercase characters, numbers, and symbols.
Besides creating a password, Bitwarden will also evaluate it and estimate the time that would take for your password to be cracked – centuries in our case. And if you already have a password you're proud of, you can check its strength with Bitwarden's password strength testing tool.
Also, you can generate and evaluate passphrases and check a short FAQ section right under the generator – it's a nice little touch.
Premium features
If you wish for something beyond simple, single-user password management, you'll probably want to check out the top premium features our contenders have to offer. While some of these are cost-free, others are included in paid plans only.
So, to make this difficult decision a bit easier for you we've thrown together a brief list of the best premium features you can get with NordPass and Bitwarden.
Encrypted file storage
With all paid editions of Bitwarden, you'll get 1GB of encrypted file storage and if you purchase the "Families Organization" or higher plans you'll get 1GB for personal and 1GB for organizational items – so, 2GB in total. And this doesn't work as a miniature version of Dropbox or something like that – no, here you get to attach the files to items in your Bitwarden vault.
For instance, you could create a secure note and then attach suitable photos or documents to it – or even other files. What's most important, all attachments you create will be encrypted and synced across all your devices together with the vault item they're attached to.
If you want to upload data files to NordPass, you'll have to download the NordLocker app first. However, while this isn't as convenient as having an all-in-one solution, even with the free plan you'll get 3GB of cloud storage – a terrific trade-off for a slight lack of convenience indeed.
Real-time data breach scanning
If any piece of your sensitive information (such as email addresses, passwords, and credit card details) has been exposed in a data breach, NordPass will give you an alert. This is thanks to its built-in data breach scanner that automatically searches through leaked databases and checks if any of these items are saved in your vault.
If any of your items have been exposed, NordPass will have them ranked and point out the most serious ones security-wise.
In terms of data breach monitoring, Bitwarden will get a co-called Vault Health Reports for all its premium users – so, all paid users. However, free users will get a similar feature but one limited to usernames.
The premium reports will reveal any exposed passwords or otherwise poor passwords, suspicious sites, inactive 2FAs, and data breaches related to individual vaults only.
Bitwarden Send and encrypted sharing
All Bitwarden premium users are entitled to a so-called Bitwarden Send, which is an encrypted sharing feature that works between all premium users. However, you can also share items with users who don't have Bitwarden accounts, which is just awesome.
With Bitwarden Send, you can send text or files up to 500MB via desktop and up to 100 MB via mobile devices. Every time you send something, the send itself will be given a randomly generated and secure link, which can then be shared with anyone via chat, email, or any other communication channel.
NordPass also enables encrypted sharing between its users, but to share your items you'll have to purchase a premium plan. On the other end, a free user (and even a non-user) can receive shared items. All shared items will show up in the "Shared Items" section of the NordPass vault – which makes keeping a tab on all your shared items pretty easy.
TOTP verification code support
With all Bitwarden accounts, you'll get access to time-based one-time password (TOTPs) storage. However, TOTP code generation requires you to purchase a premium membership – that is, any of the paid plans. While it isn't something everyone will put into use, it can match apps like Authy, and OTP, and Google Authenticator.
Random username generator
With NordPass' username generator, you can come up with a unique and secure username for each of your social media accounts. Instead of using the same (or similar) username across all platforms and thus compromising your privacy, now you can easily create unique usernames like a dream.
The usernames themselves are a combo of words that shouldn't be too hard to remember. Here's what we ended up with when we tried out NordPass' username generator: "spacexdragon", "alienamadeus", and "peachpancakes" – we guess these could work for Twitter.
Also, the generator will display if your username is available or taken across different platforms – YouTube, Steam, and Reddit to name a few.
Trusted contacts
Sharing passwords over the internet via unencrypted email or messaging apps isn't a particularly safe practice – for instance, you could fall victim to a man-in-the-middle attack and get your accounts hijacked. Enter NordPass' Trusted Contacts feature.
By adding other NordPass users to your "Trusted Contact" list, you can make sure that whenever you exchange passwords it will be via an encrypted connection and safe from cyberattacks.
In the end, while it's a tie between Bitwarden and NordPass in terms of core functionality, NordPass comes out as slightly stronger once we catch up to premium features.
Features winner: NordPass
See all NordPass premium features here >>
---
User interface and ease of use: Is Bitwarden or NordPass more user-friendly?
If a password manager you're using isn't making your life easier, then you should think about ditching it for one that will.
Since these sorts of solutions are geared toward non-professionals and professional users alike, everything from picking out a plan to putting your password manager to use should feel like a breeze.
Fortunately for our contenders, both of them are fairly easy to understand and use. However, using one of them ended up being a bit more complex than we expected – to find out which, stay tuned.
Also, to figure out which is more user-friendly overall, we'll go through three core phases: the initial sign-up, user interface design, and how easy was to work with both password managers.
Sign-up and installation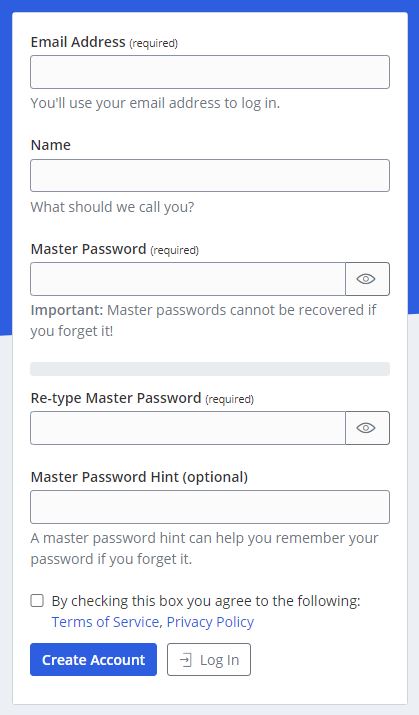 To create an account with either of our contenders you'll be asked to surrender your email address – and you need an account to make use of these tools.
Right off the bat, Bitwarden will also ask you for a name (any name you want to be called by), master password, and master password hint – while this is optional you'll probably want to take this option. Remember, if you forget your master password, you'll lose your Bitwarden account and be forced to create a new one – and add all passwords from square one.
To sign up with NordPass you'll need an email address and as soon as you provide it you'll get a welcome email from Nord Security. Go through it and find a link that'll take you to the next page and walk you through the process of creating your master password and installing NordPass apps.
So, NordPass will hold your hand and walk you through the whole process while Bitwarden will let you figure everything out on your own. Nevertheless, creating accounts and installing apps with both password managers was an easygoing experience.
We should also note that if you already have an account with Nord Security (perhaps you're using NordVPN), you'll still need to create a separate account for NordPass.
User interface: Bitwarden vs NordPass
While using these two contenders doesn't call for a high level of technical know-how, NordPass feels more user-friendly right from the start. Its app design is consistent across all platforms while UI feels super simple to use – some users might even find it a bit too simple, especially in terms of form entries.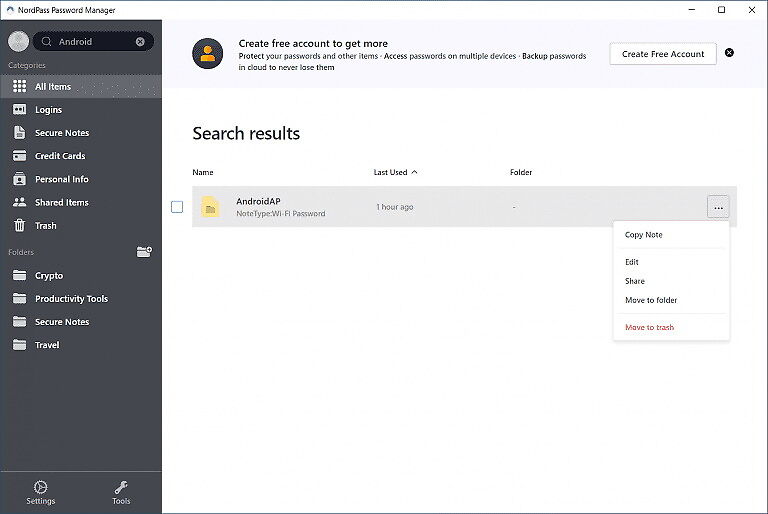 If you're not a fan of the bright screen, with NordPass you can switch on a dark theme, which is good news for those who use dark mode with everything else.
While UI is one of NordPass's brightest spots, at the same time it's a stumbling block for Bitwarden. Its UI isn't nearly as user-friendly as one of its competitors or other popular password managers.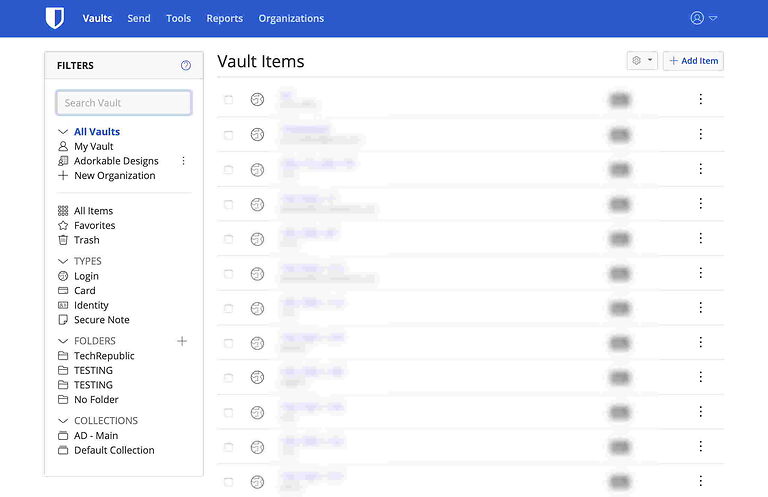 Importing passwords from other platforms isn't as straightforward as it could have been and syncing vaults with other users can get terribly tricky. Plus, auto-saving and auto-filling credentials can feel somewhat clunky with Bitwarden.
What's more, while Bitwarden supports a whole variety of browser extensions, user experience is inconsistent across them and can swiftly go from satisfying to annoying.
Password managers in action (summary)
As suggested above, while Bitwarden is simple to download and install, things tend to get a bit tricky after that. To figure out how to import passwords into its vault we were forced to look for a how-to guide in Bitwarden's knowledge base. The guide itself was exceedingly easy-to-follow, but with most password managers, the process of importing/exporting passwords was so simple, one could work it out without a guide.
With NordPass, everything was easy and there was no need for consulting written guides or contacting customer support. As soon as we arrived at NordPass' dashboard, we were welcomed by the setup guides which walked us through every step of the way – from importing passwords to syncing the app across devices. This gives NordPass a big advantage over Bitwarden in terms of usability.
User interface and ease of use winner: NordPass
---
Security and encryption: Is Bitwarden or NordPass more secure?
Now that we've seen how NordPass and Bitwarden work, let's check how they hold up in terms of security – namely, what encryption they utilize, what type of authentication tools, and whether they've conducted any independent security audits.
Encryption
Both NordPass and Bitwarden offer superb security as a whole, but which one has a superior encryption algorithm that'll make sure your private data stays private?
With Bitwarden all your data will be enciphered via AES 256-bit encryption before leaving your device – so, it will be encrypted in transit between your device and Bitwarden's servers, as well as at rest on its servers. Since this type of encryption is being used by the US government to safeguard top-secret information, your data should be safe as well.
At the same time, NordPass stays a step ahead of its competitors (Bitwarden included) and utilizes a cutting-edge ChaCha20 encryption algorithm, variant XChaCha. It's newer, faster, and future-proof.
While Bitwarden's AES 256-bit encryption is still an industry standard, due to lightning speed, simplicity, and the fact it doesn't require hardware, NordPass has an advantage with XChaCha20 encryption.
Multifactor security
NordPass supports multiple authentication methods, which doesn't come as a surprise since MFA can't be evaded with NordPass – as it shouldn't be. These methods include identity verification via email, third-party authenticator apps, and third-party security keys. Plus, if you've purchased one of their business-focus plans, you can also choose which devices can be trusted.
If you want to boost your security with Bitwarden, the simplest way is to enable basic 2FA on your account – that is, verification via email and an authenticator app. However, to make use of additional authentication methods (via Duo Security, YubiKey, and FIDO), you'll need to purchase one of the paid plans.
Secure data storage
Since we've already covered this subject in the "Premium features" chapter, we're going to keep it short.
Both NordPass and Bitwarden provide encrypted data storage. However, with Bitwarden, it is limited to 1GB and available with paid plans only.
To make use of data storage with NordPass you'll have to download the NordLocker app first – and it's a separate install from the password manager. On the bright side, even with the free edition of the product, you'll get a bountiful 3GB of storage space which makes it all worthwhile.
If you want more storage space and don't mind paying for it – you can scale up your storage space up to 2TB.
Third-party security audits
Like all the best password managers, NordPass has undergone a comprehensive security audit conducted by an independent company. This audit was carried out in 2020 and the company behind it, Cure53, identified a few low-level vulnerabilities which were immediately patched up.
Likewise, Cure53 also audited Bitwarden in 2018 and you can check the complete report right here – no need to sign up to see it. This testing identified five vulnerabilities, one of which called for immediate action.
In 2020, another security audit took place and this time it was supported by Insight Risk Consulting, a London-based risk management company. While some vulnerabilities were discovered, the final results were "rather positive". If you wish to see the report summary, click here.
In the end, we should point out that neither Bitwarden nor NordPass was ever hacked.
Security and encryption winner: It's a tie
---
Privacy policy: Is NordPass or Bitwarden more private?
As expected from a US-based password manager, Bitwarden goes with a few potential privacy problems. On top of being based in an FVEY country notorious for poor privacy laws, Bitwarden will also snatch some of your personal information (your email address, IP address, and interactions with Bitwarden's community to name a few).
Fortunately, Bitwarden doesn't have access to your vault, and even if it somehow gains entry to it – everything in it is encrypted.
Like Bitwarden, NordPass is built on a zero-knowledge architecture and has zero access to your data. While it does collect some statistical information (such as the strength of your master password), since the company is smartly situated in Panama, you shouldn't be short on privacy with NordPass. NordPass also collects very little information about its users.
Privacy policy winner: NordPass
---
Plans and pricing: Are NordPass and Bitwarden a good value?
If you're into bargain hunting, there's no better bargain than a feature-rich freebie – and both our contenders offer free editions of their products.
Both freemium editions will let you store an unlimited number of passwords and sync them across unlimited devices too – so, they're oddly openhanded in comparison to most popular password managers out there.
However, this generosity has some limits. With NordPass' free plan, you won't get some fine features like advanced 2FA, emergency access, and secure password sharing. While with Bitwarden you can securely share text with other users, file sharing is reserved for paid plans.
Now, let's check out the paid plans and see how much they'll going to cost you. First up is Bitwarden below: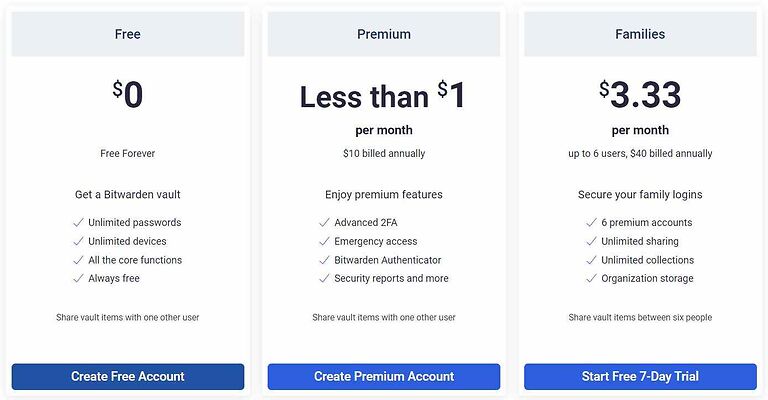 In addition to the free edition, Bitwarden offers two personal ("Premium" and "Families") and two business plans ("Teams Organization" and "Enterprise Organization").
The "Premium" plan will set you back a mere $10 per year, which is less than $1 per month. The "Families" plan supports up to 6 users and will cost you $3.33 per month which is $40 for a whole year – it's a pretty reasonable price from our perspective.
For business users, Bitwarden offers business-oriented plans: "Teams Organization" and "Enterprise Organization" and both are billed per user.
However, if you're running an enterprise with hundreds to thousands of users and find the out-of-the-box plans too limited, you can get in touch with Bitwarden's sales them to set up a custom plan. There are 7-day free trials for "Families", "Teams Organization", and "Enterprise Organization" plans.
As for payment methods, Bitwarden accepts all major credit/debit cards, electronic bank-to-bank payments (ACH), and Bitcoin (BTC).
Now, let's take a look at NordPass' plans and pricing and see how it compares to Bitwarden.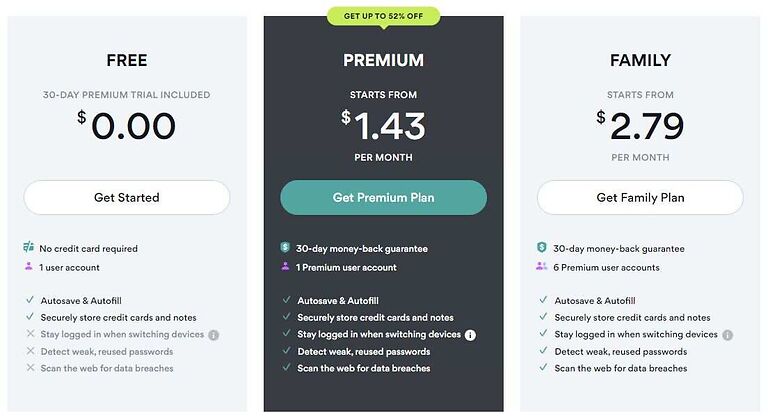 Besides the free edition, NordPass offers one premium plan, one family plan, and two plans aimed at business users. Both "Free" and "Premium" are aimed at single users, which means you can have only one user account with either of them.
EXCLUSIVE DEAL: Get 37% off NordPass plus 1 month free here >>
Also, if you sign up for a free edition you'll get to try out the "Premium" plan for 30 days. Once the trial period runs out, you'll have to upgrade your account to "Premium" or let it be automatically downgraded.
For the "Premium" plan you'll have to pay $1.43 per month and the "Family" plan starts at $2.79 and supports up to six users.
If you're looking for a solution suitable for a business, then "Business" and "Enterprise" plans are worth checking out. Both will get you a complete set of business-oriented features such as a security dashboard, secure item sharing, and activity log – so, you'll be able to track all user activities within your business solution.
The "Business" plan starts at $2.56 per user per month and supports up to 250 users at max. With the "Enterprise" plan the number of users isn't limited, but you'll have to get in touch with the sales team to get the pricing.
All personal paid plans are backed by a 30-day money-back guarantee, while the "Business" plan comes with a 30-day free trial.
Supported payment methods with NordPass include all major credit/debit cards, PayPal, Amazon Pay, Google Pay, Sofort, and cryptocurrencies (BTC, Ethereum, and Ripple).
Plans and pricing winner: It's a tie
---
Customer support: Does NordPass or Bitwarden offer the best support?
To cut it short for those without much time on their hands, NordPass is superior to Bitwarden when it comes to the scope and accessibility of customer support.
Unlike with Bitwarden, the NordPass support team will be there for you round-the-clock and won't cut out free users from paying ones. So, even if you're not paying for a premium plan, you'll get the help you need.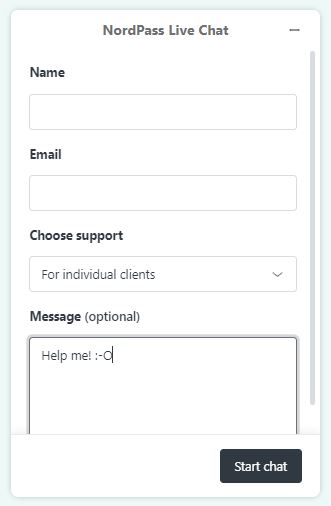 While there is priority support for premium users with Bitwarden, it will get you ticket-based email support and that's about it – the status of priority users will bring you priority ticket queuing only.
So, get a ticket and wait in line for your email to get answered with Bitwarden.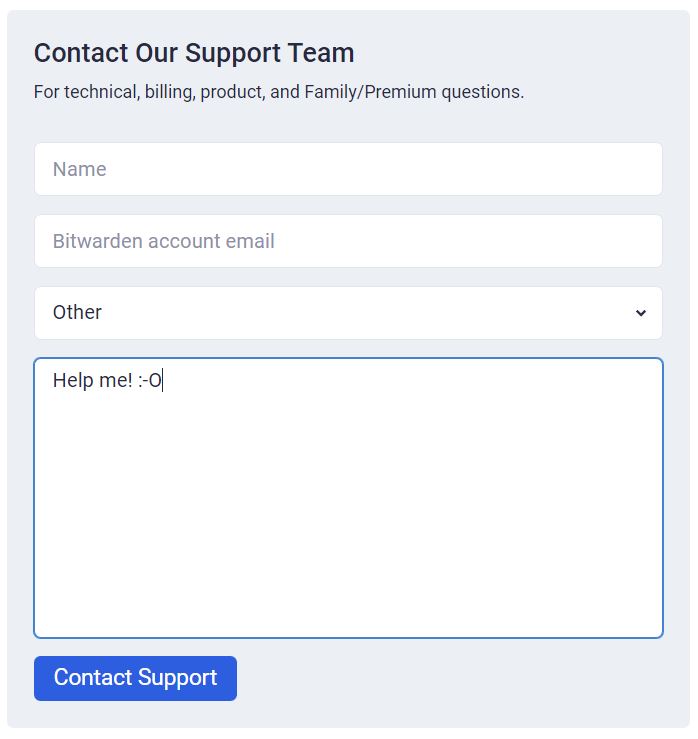 At the same time, NordPass offers 24/7 live chat and refuses to lock its customer support behind a paywall – which is why it wins this round.
When it comes to self-services, both Bitwarden and NordPass provide solid FAQ sections and piles of step-by-step guides – good news for do-it-yourself types of users.
Customer support winner: NordPass
---
Conclusion: Is NordPass or Bitwarden best?
Those who are looking for a feature-rich yet free-forever password manager can find that with NordPass and Bitwarden alike. Both offer superb free editions of their product. Unlike their competitors, they won't stop you from syncing data across different devices.
However, if you want more than a simple password manager that only you will use, then you'll notice that NordPass has many advantages over Bitwarden.
To avoid any ambiguity about why NordPass takes the prize, we'll go through all areas we've examined in this comparative guide and create a summary. So, here it is:
Background check: NordPass – the company behind it is situated in a very safe privacy jurisdiction, has passed third-party audits, and has had no previous security incidents.
Platforms availability: Bitwarden – as it supports more browsers and offers command-line tools for Windows, macOS, and Linux.
Core and premium features: NordPass – NordPass comes on top when it comes to premium features.
User interface and ease of use: NordPass – feels more user-friendly from the beginning to the end and the app design is consistent across all platforms.
Security and encryption: It's a tie – NordPass utilizes more powerful encryption and Bitwarden is an open-sourced solution. Also, neither of them has ever been hacked.
Privacy policy: NordPass – NordPass wins without a hitch as its competitor is based in the USA.
Plans and pricing: It's a tie – both contenders offer a wide variety of solid plans – freemium editions included. While Bitwarden comes slightly cheaper, with NordPass you'll get a more polished product, so we're going to call it a tie.
Customer support options: NordPass – unlike Bitwarden, NordPass offers 24/7 live chat support and doesn't lock its customer support team behind a paywall.
In conclusion, while both password managers present a splendid value for money, NordPass starts with a couple of small wins and then goes on to take the prize. After all, it does most things a bit better than Bitwarden does anyway.
If you still want to see our separate hands-on reviews for both password managers and get dedicated and more in-depth analysis, you can check our NordPass review and also the Bitwarden review.
Note: There is also an exclusive deal available for NordPass if you want to give it a try below.
NordPass Cyber Deal:

Get 52% Off NordPass (drops the price to $1.43 per month) plus 1 month free:
(Coupon is applied automatically.)
NordPass vs Bitwarden FAQ
Is NordPass better than Bitwarden?
While you can't go wrong with either of them – both password managers are highly competent – we find NordPass to be a better choice. Its UI is more intuitive, auto-filling is more convenient to use, and its customer support is there to offer you a hand 24/7, whether you're a paying subscriber or a free user. Also, NordPass utilizes future-proof encryption and has superior privacy protection.


Have NordPass and Bitwarden ever been hacked?
No, neither of the two password managers was ever hacked. While NordPass is still a new player in the market, Bitwarden has been out there since 2015, which makes it even more remarkable. However, even if both of them happen to get hacked, your sensitive data would stay on the safe side.  This is because they utilize a "zero-knowledge" architecture and encrypt all your data before it reached their servers – even if hackers steal your data, it would be useless to them.  


Can you import passwords to NordPass from Bitwarden?
Yes, you can. To do this you'll want to export your items into a .CSV file and download it to your device. Now head over to your NordPass dashboard and find the "Import Items" option where you'll select "Bitwarden" from the list of supported imports. Now upload the exported .CSV file and select the items you wish to import – the importing process shouldn't take more than a couple of seconds.  


This NordPass vs Bitwarden comparison guide was last updated on January 4, 2023.