If you're looking for a secure, feature-rich, and simple-to-use password manager that won't break the bank, you'll probably come across NordPass or LastPass – and both are brilliant choices. But, there is room for one winner only, so how can you know which of the two is the right choice for you?
While you could try out both password managers and then make up your mind, that would take too much time – the time you would otherwise spend on being more productive perhaps.
So, your best bet is to continue reading our in-depth NordPass vs LastPass comparison and put your trust in us and our hands-on experience with these terrific tools.
Since all of the best password managers offer similar sets of features, we'll focus on features that make them stick out.
Unlike LastPass, NordPass is a relatively new player in the industry but it has one of the leading providers of digital security and privacy solutions behind it. We're talking about Nord Security, the company that came up with NordVPN, probably the most popular VPN services out there.
Meanwhile, LastPass is an industry veteran that has been around for many years. Unfortunately, however, in that long timespan LastPass has had numerous security incidents (details below). The most recent security incident happened just a few months ago and left hackers with internal access for four days.
Before we really get into the details, this table highlights the key specs of each password manager:
| | | |
| --- | --- | --- |
| | NordPass | LastPass |
| Website | NordPass.com | LastPass.com |
| Platforms | Windows, macOS, Linux, Android, iOS | Windows, macOS, Android, iOS |
| Browser extensions | Chrome, Edge, Firefox, Opera, Safari | Chrome, Firefox, Opera, Safari, and Edge |
| Free version | Yes (1 device) | Yes |
| Encryption | XChaCha20 | AES 256-bit |
| Support | 24/7 live chat | Email |
| Price | From $1.43 | From $3.00/mo. |
| Coupon | 37% Off + 1 Month Free > | N/A |
Now let's examine our testing criteria.
Here are the areas we're going to cover in this comparison:
Background check
Platforms availability
Core and premium features
User interface and ease of use
Security and encryption
Privacy policy
Plans and pricing
Customer support options
Now, let's get this NordPass vs LastPass comparison going with a brief background check of each password manager.
Background check: Company information and history of security incidents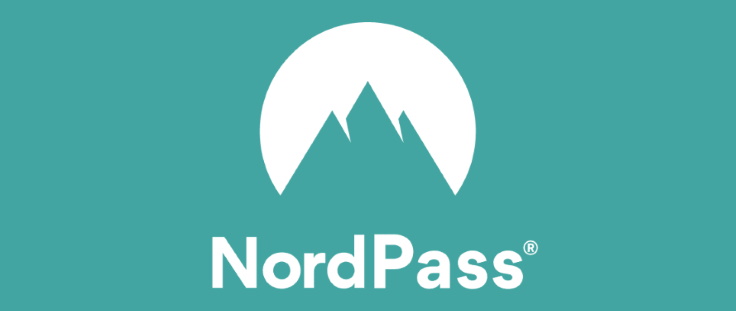 Coming into existence in 2019, NordPass is still practically a toddler in the password manager market, but one talented toddler indeed. This comes as no surprise since its sole parent, Nord Security, is a longtime leader in cybersecurity.
The company is cleverly placed in Panama, which is good news for those who are serious about privacy. As for security incidents, none were recorded during these three years of NordPass' existence. NordPass passes the background check with flying colors.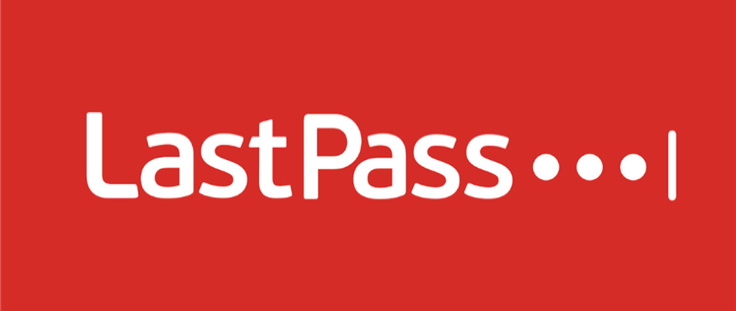 LastPass, on the other hand, has been around since the dawn of the cloud – that is, since 2008 as it was a pioneer in cloud security technology. It's a well-versed veteran of the market and it helped shape the need for password managers at the outset. In contrast, NordPass is one of a handful of Nord Security projects, with the flagship being NordVPN.
Unfortunately for those who value their privacy, LastPass is based in the US (Boston, Massachusetts), which is one of the Five Eyes surveillance countries. This means your private data could be collected by multiple US agencies.
Also, there were quite a few noteworthy security incidents with LastPass:
Although LastPass has been around for quite some time, the series of reported security incidents remain a cause for concern. In contrast, there were no such incidents with NordPass, which can be partially attributed to its novelty position on the market.
So, if we focus on the history of security incidents with both providers, NordPass comes as a clear winner.
Background check winner: NordPass
---
Platforms availability: Which one supports more platforms?

Not being available across all popular platforms would be a serious shortcoming for a password manager, since its users wouldn't be able to conveniently carry it with them at all times.
Most people use a single password manager, so it's critical to check the availability of its app across major platforms before making a commitment.
NordPass's desktop app is currently compatible with the following operating systems (OS'):
Windows (version 8, 32/64bit and up)
Linux (any version supporting snap 64bit)
macOS (version 10.13 and up)
Chrome OS (supports NordPass Web Vault only)
Android (version 8.0 and up)
iOS (version 14.0 and up)
As for browser extensions, these are supported as we write:
Google Chrome
Mozilla Firefox
Microsoft Edge
Opera
Safari
So, while NordPass has primarily been perceived as a desktop app, you don't need to install the desktop app so the extension would work on your browser.
LastPass's desktop app is currently available on the following OS:
Windows (version 8.1, 32/64bit and up)
However, LastPass's browser extensions support Linux and Chrome OS as well.
As for browser extensions, LastPass is currently compatible with:
Google Chrome
Mozilla Firefox
Microsoft Edge
Opera
Safari
So, when it comes to web browser extensions the story is the same with NordPass and LastPass – they support all the same browsers. However, NordPass's desktop app is available on more operating systems than the one LastPass offers, so we'll have to go with NordPass on this one.
Platforms availability winner: NordPass
---
Features: Does NordPass or LastPass have superior features?
With both NordPass and LastPass you can expect to get all the essential features of an excellent password manager. These include:
Strong password generators
Secure password vaults
Solid industry-standard encryption
Secure data sharing
Cross-platform support
Ability to autosave and autofill login credentials
Automatic syncing across devices
Security dashboards
Multi-factor authentication (MFA)
As a bonus, you'll also find an emergency access feature with both providers, so someone you trust can access your account if you can't or aren't around.
Most of the core features are roughly the same, so we'll focus on the features that make the difference – namely, importing/exporting capabilities, auto-filling empty forms, and generating strong passwords.
If you're more concerned with the security features, scroll down until you spot them in the "Security and encryption" chapter.
Importing/exporting passwords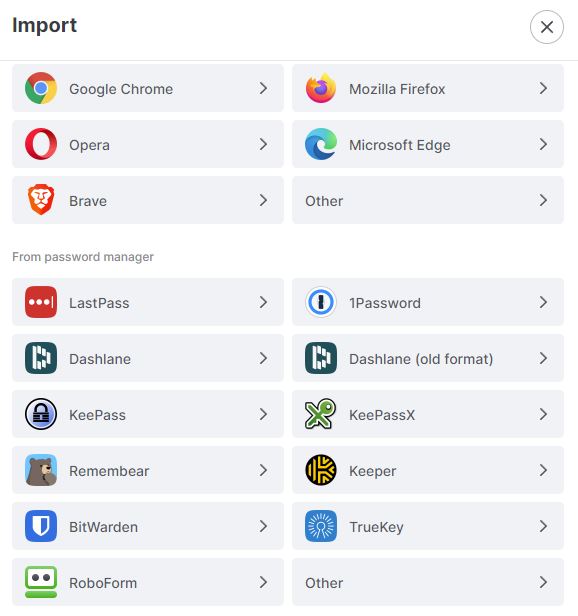 If you're already using a password manager you don't particularly like, you can utilize NordPass or LastPass to automatically import all items from it. It's simple, it's secure, and it's a true time-saver.
However, one of our contenders supports more official importing options and that contender is NordPass. These options include all major browsers (such as Chrome, Firefox, and Brave), but also plenty of their competitors. So, 1Password, KeePass, BitWarden, Dashlane, and LastPass to name a few.
If your current password manager isn't on the list, you can always click on the "Other" option which will get you a template so you can import passwords from anywhere.
The list of supported imports is somewhat shorter with LastPass, but since there is a convenient "Other" option, this shouldn't be a problem. It can import CSV files from wherever and offers you one final chance to avoid importing data by hand.
However, after putting the import option to the test with both managers, we've noticed that the whole process with NordPass was smoother. This was also the case in our NordPass vs Bitwarden comparison.
Auto-filling and capturing login information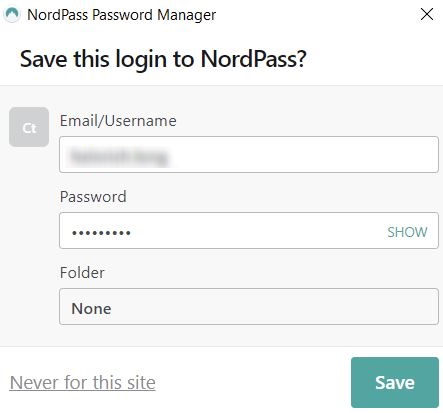 The ability to auto-save and auto-fill passwords knock out the need to type in or copy-and-paste usernames and password to log in to your accounts. A password manager isn't only better at memorizing all your login information than you are but also acts as a time-saving tool.
While we've managed to utilize this capability with both NordPass and LastPass, the process was not so smooth with the latter one.
It appears we weren't the only one since there are tons of tutorials on the internet on how to fix the LastPass auto-fill feature. Even LastPass' official site provides a step-by-step guide on this subject offering a couple of possible solutions to this problem.
Random password generator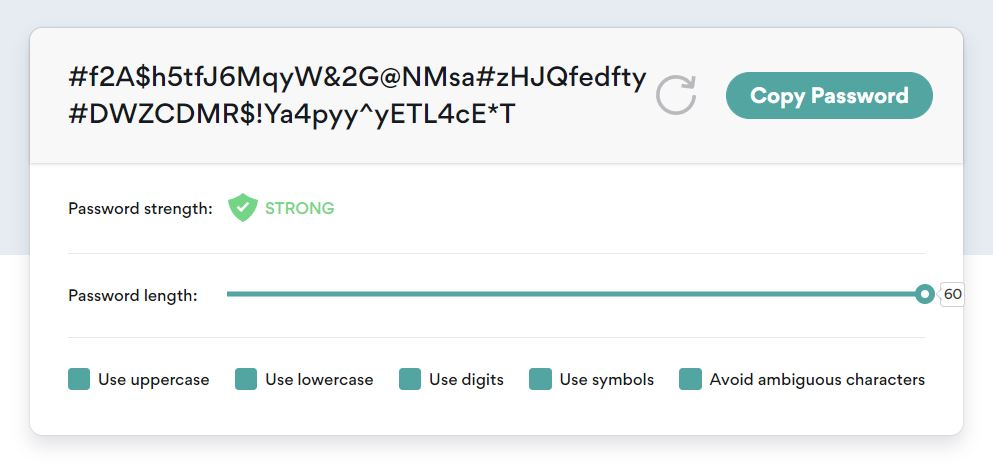 With a strong password generator, you'll be able to create impossible-to-crack passwords and you can do it all in a couple of seconds.
Both NordPass and LastPass offer equally capable random password generators and anyone can utilize them without even creating an account.
Simply go to the right page, choose the length of your password (the maximum is up to 50 characters with LastPass and up to 60 characters with NordPass), and copy your password once it's generated. There's nothing to complain about with either of these handy tools.
Premium features
In addition to core features, both contenders provide some pretty-looking premium features for which you won't have to pay a pretty penny.
If you pay for one of NordPass's premium plans, you can boost your standard service with a:
Password strength checker
Data breach scanner
Real-time data breach monitoring
Emergency access
Encrypted data sharing
Unfortunately, if you decide to stick to the free version you won't be able to stay logged in while switching devices.
LastPass' premium features include:
1GB encrypted file storage
Emergency access
Dark web monitoring
A security dashboard
Priority customer support
Advanced MFA
Like with NordPass, continuing to use the free version comes with a couple of drawbacks – a major one being the lack of cross-device capabilities.
Features winner: NordPass
See all NordPass features here >>
---
User interface and ease of use: Which one is more user-friendly?
To single out a more user-friendly password manager of our two contenders, we'll focus on the three main phases of utilizing this sort of solution: the initial sign-up, user interface design, and how simple is it to work with it.
Sign-up and installation
As far as we can tell, finding your way around official sites, locating the plans, and installing password managers is equally easy with both contenders.


Those who want to try out the freemium edition with LastPass only need to hit the "Get LastPass Free" button on the landing page, enter their email address and a master password, and continue with the installation. If you wish to add a LastPass to your browser, you can do it like with any other extension.


The sign-in process and app installation are nearly the same with NordPass, which means that the two contenders will have to share the winning spot this time.
We should also note that if you already have an account with Nord Security (perhaps because you're using NordVPN), you'll still have to create a separate account for NordPass.
User interface
Both NordPass and LastPass offer an intuitive, user-friendly UI that will make managing and monitoring your data as simple as it gets.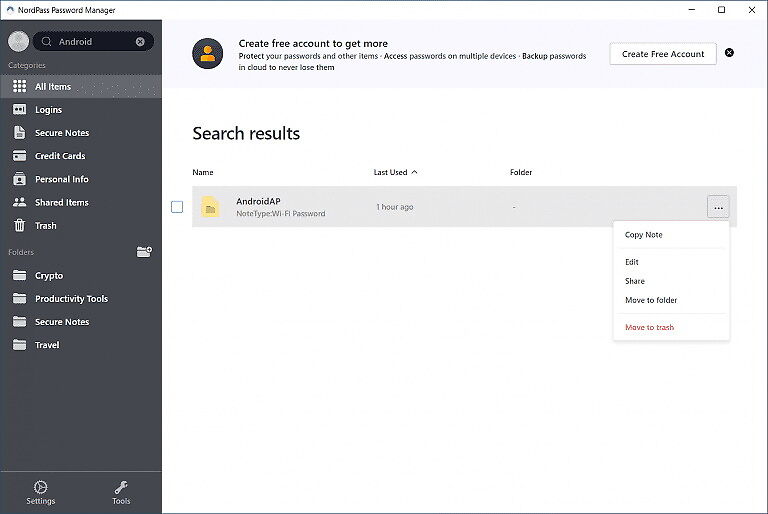 And the same is true whether you are accessing the app via your browser, desktop, or smartphone – the user experience is commendably consistent.
While NordPass' UI looks and feels more in line with modern times, we found both UIs equally easy to use.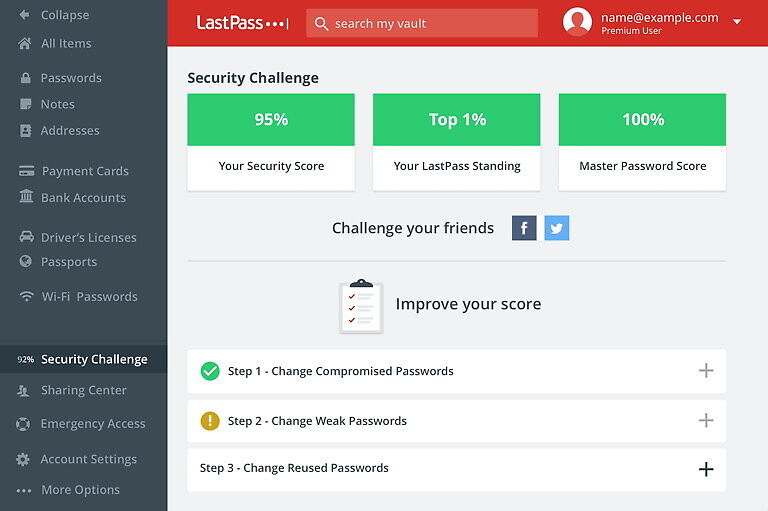 However, if you think a UI should keep up with graphic design trends, NordPass's UI is likely more to your liking. If you, like us, rank ease of use above aesthetics, it's a tie between the two contenders.
Password manager in action
Working with both NordPass and LastPass is relatively simple, even if you haven't used a password manager before.
For instance, if you hover the mouse over different items on LastPass' UI, it will display all options you have for that item. This makes an overview of your vault's content clean and simple to understand.
LastPass also offers a setup guide that'll help newcomers familiarize themselves with additional steps such as adding new accounts, connecting the app across other devices, and exploring third-party integrations.
Apart from an insignificantly slower start, working with NordPass is as user-friendly as working with LastPass.
However, if you've wanted to securely share folders with other users, you'll have to choose LastPass since you can only share individual items with NordPass.
Instead of having to share each item one by one, with LastPass you can simply place an item (or items) you want to share with others in the shared folder. This feature can be particularly useful if you're working with large groups.
User interface and ease of use winner: It's a tie!
---
Security and encryption: Which one is more secure?
Since the level of security is one of the first things you'll check when choosing a password manager, we'll have to pay special attention to it – we won't skip anything.
The good news is, both NordPass and LastPass stand strong on cybersecurity providing all standard security features a proper password manager can't be without. Rest assured, your passwords and other sensitive data will be encrypted before being sent to their servers.
The only person who knows your master password is you – so, there's no way anyone from the NordPass or LastPass team can get hold of it, let alone enter your vault, and look around.
Also, both contenders support 2FA and MFA, but only one of them utilized cutting-edge encryption for state-of-the-art security.
Encryption
To ensure your master password is encrypted beyond recognition, both contenders utilize strong encryptions. However, only one of them is ahead of the times.
With LastPass, you'll get 256-bit AES encryption with PBKDF2 SHA-256 salted hashes, which means your master password is safe from being seen and stolen by anyone – the LastPass team included. This also serves as a strong shield from brute-force attacks, since thinking up all variables for the encryption key would take an eternity.
While NordPass doesn't stick to the "old" ways, it will supply you with a secure data encryption solution. In place of industry-standard 256-bit AES encryption, NordPass utilizes cutting-edge ChaCha20 encryption algorithm, variant XChaCha to be precise. It's newer, it's simpler, and it's faster than its counterpart.
Plus, it's less prone to human error, it doesn't require hardware, and it does a superb job of ciphering and securing data. Consequently, NordPass's encryption implementation seems superior to that of LastPass.
Multifactor security
While none of the two contenders offers 2FA by default, you'll probably want to enable it as soon as you sign up and create your account.
Not long ago, NordPass supported email verification codes only, but it has expanded its arsenal with security keys since. So, now you can also choose between third-party security keys certified by FIDO such as Yubikey, ePass, and MultiPass series.
If you wish to add an extra layer of security to your data, the option for a hardware token will make it pretty much hackproof.
On the other hand, with LastPass, you'll get 2FA, but you can also choose the same security methods as with NordPass – third-party authentication software, smartphone apps, and security tokens alike.
What's more, you can add other factors in addition to 2FA, such as MFA, and which devices should be trusted. However, this is reserved for business users only.
Secure data storage
While both contenders offer to store an unlimited number of passwords (even with the free tier), with NordPass you'll also get unlimited secure file storage – perfect for secure notes.
If you opt for LastPass' premium plans you'll get to use 1GB of encrypted file storage, while with other plans you'll get 50MB only. Also, uploaded files can't exceed the 10MB size limit, which isn't much at all.
On the other end, NordPass puts no limits on the password storage space and you'll even get a plentiful 3GB of file storage space. As most providers offer 1GB of it, this came as a positive surprise. However, it's not all sunshine and rainbows with NordPass.
For instance, to upload data files, you'll have to download its NordLocker app first. While it's a simple installation, it's a separate app and less convenient than having everything in a single place.
So, while LastPass keeps things more conventional and convenient by utilizing the same vault for all types of files, with NordPass you'll get more gigs.
Third-party security audits
It's no secret that LastPass has been subjected to several third-party audits – you can learn all about it on their official site since they haven't been shy about it.
However, it's also known that LastPass has been hacked before and the team behind it has remained relatively transparent about it.
As for audits, the series of audits was conducted between 2020 and 2021 and ended with a conclusion that the company behind LastPass has solid internal security procedures, to put it short.
During 2020, NordPass went through a comprehensive security audit conducted by the Cure53 cybersecurity firm and it found some low-level vulnerabilities that were subsequently patched. And unlike LastPass, NordPass has never been hacked.
Security and encryption winner: NordPass
---
Privacy policy: Which one is more private?
Whether you're creating an account with LastPass or NordPass you'll be asked to provide the same piece of information – your email address.
Tip: This might be a good time to start using a secure email service if you are not already doing so.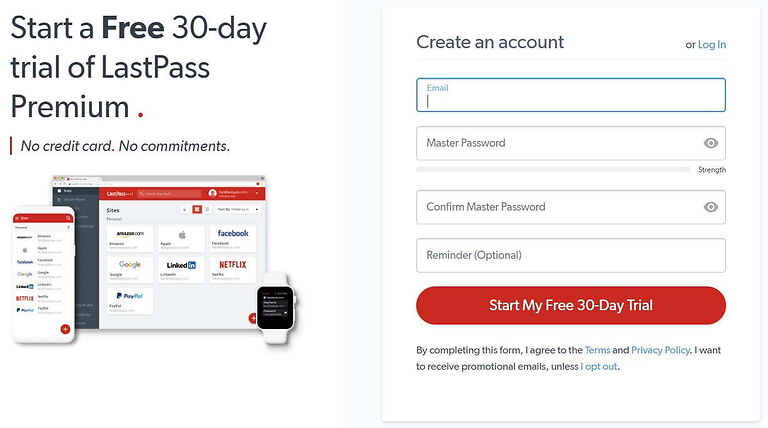 Also, both password managers collect some amount of personal information from their users but make every effort to ensure that their sensitive data is safe and secure.
For instance, NordPass will log a payment method you used to purchase your plan – that is if you didn't stick to the free edition. However, since Nord Security accepts cryptocurrency payments, you can take advantage of these private and anonymous payment methods.
Unless you've utilized a good VPN service or use Tor Browser, NordPass will also know from which IP addresses you've entered your vaults, and that's about it.
Meanwhile, since LastPass is based in the USA, its privacy policy is a bit more complicated than it looks at the start. First off, it has three equally essential privacy policies: the US privacy policy, the international privacy policy, and the supplemental privacy policy for California.
To put it simply, LastPass will collect some of your personal information (such as user registration, billing, and service data), and may be compelled to share it with third parties or if required by law.
So, if privacy is one of your top priorities, our guides on secure browsers and the best VPN services could be quite useful in such a case.
Privacy policy winner: NordPass
---
Plans and pricing: Which one offers better value for money?
When it comes to plans and pricing, both contenders seem surprisingly similar. However, there are a couple of differences that could make a substantial difference for some of us.
While both NordPass and LastPass provide a freemium edition of their plans, most users will find their premium plans more attractive. Nevertheless, free plans come with similar features and functionality, which makes them a good place to start.
NordPass currently offers one free plan, one premium plan, one family plan, and two plans aimed at business users – so, five plans in total. Both "Free" and "Premium" are geared towards single users, which means you can have only one user account with either of them.
However, both plans support multiple devices and all your data will be automatically synced across them – which is something we don't see often enough with free editions.
Also, if you sign up for a free edition you'll get to try out the "Premium" plan for 30 days, after which your account will be automatically downgraded – if you don't upgrade to "premium", that is.
In addition to everything from the free edition, the "Premium" plan will also get you the ability to stay logged in while switching between devices, secure sharing, emergency access, password strength checker, and scanning the web for data leaks. And if you go for the "Family" plan you'll get all this but spread across six premium accounts.
When you use the coupon link above, you will get the discounted prices shown below for NordPass:

If you're seeking a password management solution fit for a business, then "Business" and "Enterprise" plans are worth a look. Both will get you a full set of business-oriented features such as a security dashboard, secure item sharing, and activity log, which means you'll easily keep an eye on all user activity within your business solution.
The "Business" plan starts at $2.56 per user per month and the maximum number of users is 250. While the "Enterprise" plan refuses to restrict the number of users, to get the pricing you'll have to contact the sales team – it's a customizable sort of solution.
All personal paid plans come with a 30-day money-back guarantee, while the "Business" plan offers a 30-day free trial – no credit card information required.
Available payment methods with NordPass include all major credit/debit cards, PayPal, Amazon Pay, Google Pay, Sofort, and cryptocurrencies (such as Bitcoin and Ethereum).
Now let's take a look at LastPass pricing and how it compares to NordPass.

As with NordPass, with LastPass you get to choose between five different-sized password manager packages and they cover personal, family, and business accounts.
The "Premium" plan costs €2.90 ($2.85) per month on an annual billing which is almost twice the price of LastPass's "Premium" plan. This plan bumps off the limits of the free edition and adds some amazing features that almost justify the price: 1GB of encrypted file storage, dark web monitoring service, and advanced MFA options.
You'll also get an emergency access feature, so there's no need to get worked up if you get locked out of your account by accident.
Like with LastPass, the family plan (titled "Families") covers up to six users and throws in all features from the previous plans. However, unlike with NordPass, this plan will cost you €3.90 ($3.85) per month when billed annually.
If you're interested in a business-focused plant, don't fail to check out "Teams" and "Business" plans. However, a custom-made plan isn't available at the moment.
As suggested, the "Teams" plan is ideal for teams and it can cover up to 50 users for €3.90 ($3.85) per month per user, which is quite reasonable although more pricey than NordPass' business-oriented option.
With the "Premium" and "Families" plans you're entitled to a 30-day free trial, while with "Teams" and "Business" packages the free trial will cover you for 14 days.
However, there are no money-back guarantees with LastPass – so, as soon as you pay you can say goodbye to your money. (This is not the case with NordPass.)
As for payment methods, LastPass accepts all major credit/debit cards and that's about it. However, if you really want to use PayPal, you can purchase LastPass through iTunes or Google Play stores and link that to your PayPal account.
To sum it up, both contenders provide plenty of superb feature-rich plans. However, since NordPass puts fewer restrictions on its free edition, supports more payment methods (cryptocurrencies included), and provided more pocket-friendly pricing, we'll pick it as the winner for this round.
Plans and pricing winner: NordPass
See all NordPass price plans and get 1 month free >>
---
Customer support: Which one offers stronger support?
With the complexities involved in setting up and using a feature-rich password manager, it's always comforting to know you have a support staff to rely on if something goes wrong. This is especially true for total beginners who have a bunch of questions about how everything works and all.
As for self-services, NordPass provides a FAQ section and plenty of step-by-step guides as part of its Help Center. The guides are split into seven convenient categories ("Getting Started", "General Info", "Troubleshooting", and so forth), but it's a lot simpler to use the search box and find what you need that way. The guides themselves seem simple to understand and most of them are backed by suitable screenshots.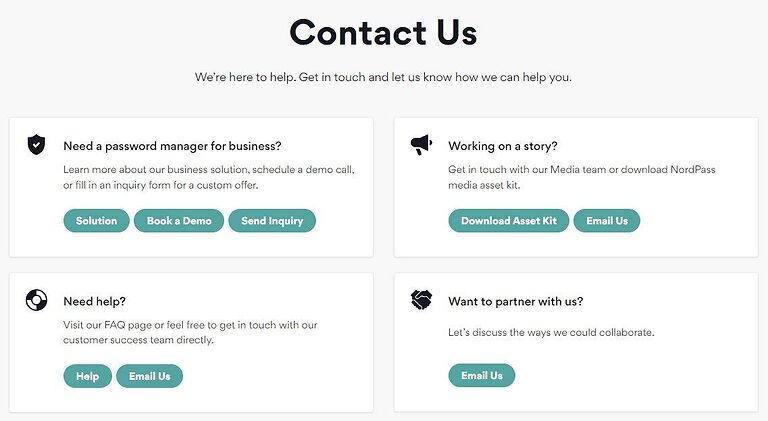 If you wish to reach out to someone from NordPass' support staff, you can send them a support ticket or request to start a live chat conversation. With NordPass, there is 24/7 live chat support.
LastPass is similar to NordPass with a Knowledge Base that includes popular topics.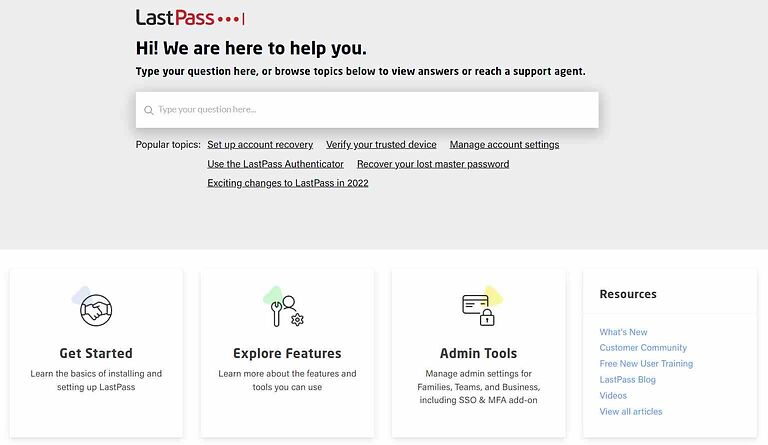 When it comes to the self-support option, with LastPass you'll get access to its Support Center, a FAQ section, and a community forum. The most popular topics (such as "Verify your trusted device") are highlighted right below the search box, but you can also browse how-to guides through three main categories ("Get Started", "Explore Features", and "Admin Tools").


If you want to get in touch with LastPass' technical team you can do it via email, but only if you're a paid user – so, no direct support channels for free users. LastPass does not have live chat support like we see with NordPass.
While both contenders hit the spot with their self-support services, since NordPass doesn't lock its support staff behind a paywall and it also offers 24/7 live chat support, we'll have to let it claim victory in this area as well. It was also the winner in this category in our NordPass vs 1Password comparison.
Customer support winner: NordPass
---
NordPass vs LastPass: Who wins the day?
While using a password manager will make your life easier, knowing how to find the right one can be somewhat complicated. Both NordPass and LastPass are pretty popular and have some of the best solutions at your service today – at the end of the day, you can't go wrong with either of them.
However, while these two share more similarities than differences, the differences that separate them could make a real difference for some users. Also, NordPass was slightly better in most competition categories which makes it a clear winner.
So, here is the breakdown and the summary of all areas we've examined:
Background check: NordPass – it's based in a safe privacy jurisdiction and has had no previous security incidents.
Platforms availability: NordPass – its desktop app is compatible with more operating systems. Otherwise, it's a tie.
Core and premium features: NordPass – while this was a tough call, we went with NordPass since it provides stronger core features and a less limited free edition.
User interface and ease of use: It's a tie – although there are slight differences, we found both contenders equally user-friendly.
Security and encryption: NordPass – while this wasn't an easy choice, we went with a contender with future-proof encryption, independent security audits, and superb features even with the free edition.
Privacy policy: NordPass – and it wins with flying colors as its competitor is based in the USA.
Plans and pricing: NordPass – it's more budget-friendly, accepts cryptocurrencies, and puts fewer restrictions on its free plan.
Customer support options: NordPass – since it doesn't lock its customer support staff behind a paywall and also gives you 24/7 live chat support.
So, while both password managers present superb value for money, NordPass takes the lead and sweeps the board. It utilizes superior ChaCha20 encryption, a modern and user-friendly user interface, a less strict approach with its free tier, more pocket-friendly pricing, and doesn't deny direct customer support channels to free users.
At the end of the day, we find that NordPass does everything a bit better than LastPass. If you want to give it a test drive, use the coupon below and get an extra month for free:
NordPass Cyber Deal:

Get 52% Off NordPass (drops the price to $1.43 per month) plus 1 month free:
(Coupon is applied automatically.)
Lastly, you can also check out LastPass here.
If you still want to check our separate hands-on reviews for both password managers, you can see our NordPass review and also the LastPass review.
NordPass vs LastPass FAQ
Is there something better than LastPass?
Since LastPass has shackled its free edition, there are quite a few better choices, especially if you're looking for a feature-rich freebie. For instance, with NordPass' free edition you can use multiple devices and sync them automatically too. With open-source Bitwarden you can do the same and also share your vault securely with one other user. If you're not into freebies, with Dashlane you can get more premium features such as a built-in VPN. So, while LastPass is still one of the best options around, we wouldn't call it the best.


When was LastPass hacked?
LastPass has suffered several hacks during its existence which left some users wondering whether it is still trustworthy. The most infamous hacking incident happened in 2015 when cybercriminals managed to steal account email addresses, password reminders, server per-user salts, and authentication hashes. However, there was no evidence that any vault data was ever taken. Also, there were a few minor security incidents in 2016 and 2017, and the latest one occurred in August 2022 when some of its source code and technical information were stolen. As before, no sensitive customer data was compromised.


Can NordPass be hacked?
While a perfectly unhackable password manager doesn't exist in the real world, NordPass comes pretty close to it. It utilizes future-proof XChaCha20 encryption, zero-knowledge policy, and multi-factor authentication to keep all your data safe. Also, while NordPass stores all user passwords in the cloud, it encrypts them first. So, not even the NordPass team can decipher them, let alone hackers. This means that even if NordPass somehow gets hacked, these hypothetical hackers won't be able to use your sensitive data in any way.   


Is NordPass cheaper than LastPass?
If you're looking to save some money, NordPass might be a better pick since all its password manager packages are slightly cheaper than those with LastPass. Also, it provides more flexible billing options, so if you want to subscribe for one month only – you can do that with NordPass. However, both password managers offer a free edition and you can use it forever.


Is NordPass more trustworthy than
LastPass?
While LastPass has suffered several data breaches and cyberattacks in the not-so-distant past, we wouldn't call it untrustworthy. The company was transparent about it and its engineers took action to swiftly solve this problem. That being said, NordPass seems like a safer choice overall. It's based in Panama, stores no information about its users, and utilizes state-of-the-art encryption algorithm.


This NordPass vs LastPass comparison guide was last updated on January 3, 2023.