Utilizing a password manager, even a free one, is one of the smartest strategies for staying on the safe side of cyberspace. It will simplify the process of creating strong passwords and using them too – so, no need to waste your brainpower on remembering random combinations of characters and typing them in every time you want to enter your accounts.
However, while using a password manager is a no-brainer, figuring out which one to use will require some research – or, you know, you could pick our brains and get a clear picture.
Both NordPass and Dashlane are among the best password managers on the market today – you can't make a mistake by opting for either of them. However, one might fit your personal or professional needs better than the other one. If you're here to find out which, this NordPass vs Dashlane guide is exactly what you need right now.
Before we dive deep into details, let's compare their key specs:
| | | |
| --- | --- | --- |
| | NordPass | Dashlane |
| Website | NordPass.com | Dashlane.com |
| Platforms | Windows, macOS, Linux, Android, iOS | Windows, macOS, Android, iOS |
| Browser extensions | Chrome, Edge, Firefox, Opera, Safari | Chrome, Safari, Firefox, Opera, Edge |
| Free version | Yes (1 device) | Yes |
| Encryption | XChaCha20 | AES 256-bit |
| Support | 24/7 Live Chat | Email; chat |
| Price | From $1.43 | From $4.99/mo. |
| Coupon | 50% Off + 1 Month Free > | N/A |
As for our testing criteria, here are all the areas we're going to consider in this Dashlane vs NordPass comparison:
Background check
Platforms availability
Core and premium features
User interface and ease of use
Security and encryption
Privacy policy
Plans and pricing
Customer support options
Now that we've got that covered, let's get cracking with our NordPass vs Dashlane comparison guide. Like with our previous pieces, such as NordPass vs LastPass, we'll start with a brief background check of both our contenders.
Background check: Company information and history of security incidents
Founded in 2009, Dashlane started its journey as a venture-funded company and reportedly raised over $200 million in funding over the years surpassing 10 million users in 2018.
This suggests that Dashlane has the capacity to support everything from security-conscious individuals to enterprise-level online projects and businesses – meanwhile, many popular password managers can't brag about this.
On the downside, Dashlane is based in New York (the USA) – so, in one of the Five Eyes Alliance (FVEY) countries. This is unfortunate news since FVEY is a major intelligence gathering and sharing alliance, with the USA at its core. If your privacy is one of your priorities, it's probably best to avoid services that are based in the USA or other FVEY countries – so, the UK, Canada, Australia, and New Zealand.
Now let's take a look at NordPass and its background.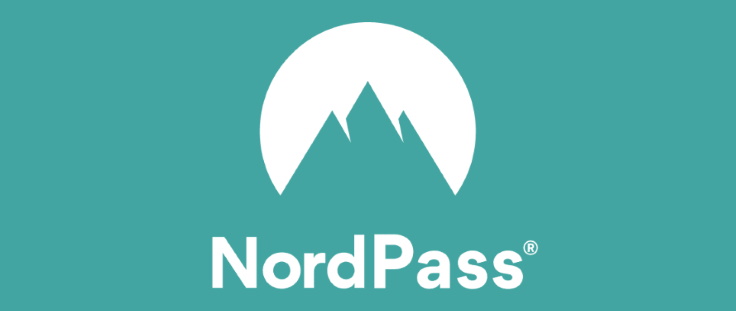 Unlike Dashlane which has been around for over a decade, NordPass is still fresh from the oven of the password manager industry – it was launched in 2019. However, the company behind it is a well-versed veteran of cybersecurity named Nord Security – famous for one of the best VPNs on the market, NordVPN.
Together will all Nord Security products, NordPass is based in Panama, which is an ideal privacy jurisdiction. Panama is not a member of any intelligence gathering networks like we see with the US and UK.
As for security incidents, neither of our two contenders has ever been hacked nor was the security of its users otherwise compromised. However, since NordPass is situated in a country with stronger privacy laws, we'll have to let it win the first round.
Background check winner: NordPass
---
Platforms availability: Does NordPass or Dashlane support more platforms?
If the password manager you've chosen doesn't support all platforms you're using on a day-to-day basis, chuck it and choose another one.
Fortunately, both Dashlane and NordPass are available across all popular platforms, operating systems, and web browsers included. Anything less than that couldn't cut it since there are some seriously capable competitors out there.

Dashlane's latest desktop and mobile apps are currently compatible with the following operating systems:
Windows
macOS
Linux
Chrome OS
iOS / iPadOS (version 15 and up)
Android (version 8 and up)
We should note that while Dashlane supports browser extensions on computers running on Windows, macOS, Linux, or Chrome OS, this is supported via browser extensions, not native apps.
As for browser extensions, Dashlane supports these:
Google Chrome
Mozilla Firefox
Microsoft Edge
Safari (macOS 12.0 and up)
Also, while Brave and Opera aren't officially supported, Dashlane works well with both of them anyway.
Now let's how NordPass holds up.

Its desktop and mobile apps are available on the following operating systems:
Windows (version 8, 32/64bit and up)
Linux (any version supporting snap 64bit)
macOS (version 10.13 and up)
Chrome OS (supports NordPass Web Vault only)
Android (version 8.0 and up)
iOS (version 14.0 and up)
When it comes to browser extensions, these are available – so, everything Dashlane supports minus Brave.
Google Chrome
Mozilla Firefox
Microsoft Edge
Opera
Safari
Since our contenders support pretty much the same platforms (officially at least) we're going to call it a tie.
Platforms availability winner: It's a tie
---
Features comparison: Dashlane or NordPass
Whether you go with Dashlane or NordPass, one is sure – you'll get the ability to:
Import/export passwords
Auto-fill and capture login information
Generate random passwords
Plus, both providers will surprise you with some superb premium features – dark web monitoring to name just one.
Also, both password managers will shield your vault behind a master password – so, there's only one password for you to remember.
When it comes to core features – the ones you'll get even with the free edition – NordPass outshines Dashlane as it puts fewer restrictions. However, Dashlane seems a bit stronger in terms of premium features – after all, it's somewhat famous for some of its extra features.
Now, let's go back to the core features and see what you can look forward to getting with Dashlane and NordPass alike:
Automatic cross-devices syncing
Autosaving and auto-filling login credentials
Cross-platform support
Easy-to-use dashboards
Automatic cross-devices syncing
Autosaving and auto-filling login credentials
Cross-platform support
Easy-to-use dashboards
Emergency contact access
Multi-factor authentication (MFA)
Random password generators
Secure encryption algorithms
Secure password vaults
Secure data sharing
We've left security features for the next chapter – they deserve a chapter of their own – so, if that's what you want to check right now, scroll down until you spot them in the "Security and encryption" chapter.
Importing/exporting passwords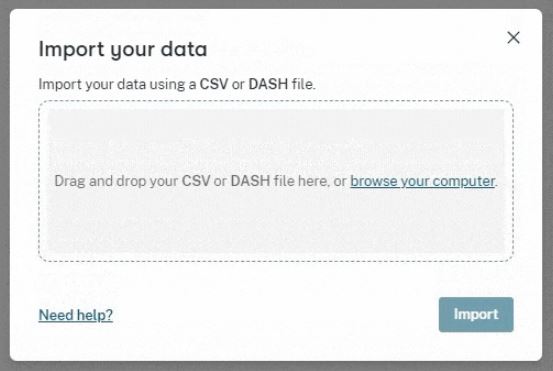 As soon as you create an account with either of our competitors, you'll be brought to their dashboards and prompted to start adding your passwords. If you're already using another password manager of your browser for this purpose, the simplest way is to export your passwords from them via the password importing feature.
You can import your passwords and other data to Dashlane from a few web browsers (Chrome, Firefox, and Internet Explorer) and their competitors (1Password, RoboForm, KeePass, and LastPass). If the platform you're using isn't on this list, you always have an option to export/import your data via a custom .CSV file.
With NordPass, you'll get a wider variety of import options than with Dashlane, as we also observed in the NordPass vs Bitwarden comparison. It covers all browsers Dashlane does and also throws in Opera and Brave. As for other password managers, among the options, you'll notice some surprising finds such as RememBear (from the folks behind TunnelBear VPN), True Key, and KeePassX. Plus, all options you'll see with Dashlane.
Like Dashlane, NordPass accepts bulk importing your passwords via .CSV file from wherever, which beats adding everything the hard way.
Auto-filling and capturing login information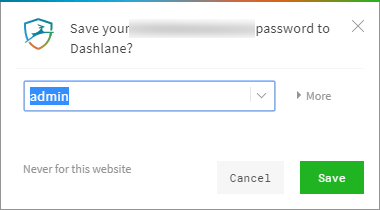 Auto-saving, auto-filling, and auto-logging with either of our contenders work like a charm and feels perfectly painless – and our opinion hasn't been shaken no matter how my times we tested the same thing.
You can set Dashlane to automatically fill the form and log you in, auto-fill the form only, or turn off this all together. Once we opted for the auto-filing and auto-logging option, Dashlane filled out all of our logins in an instant and never missed a field – this is true for payment forms as well.
You can set up NordPass to spot your favorite sites and log you into them with a single click of your mouse – it's really as simple as that. Also, like with Dashlane, whenever you try filling in credentials you'll be prompted to choose one out of the two options: to select one of your saved passwords or add a new one.
All in all, auto-saving and auto-filling features work swimmingly with both Dashlane and NordPass.
Random password generator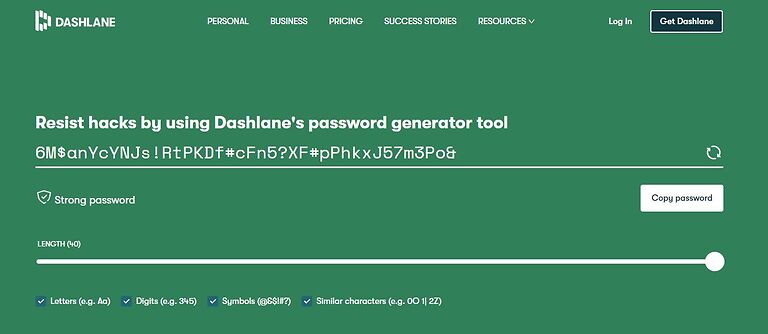 We're living in a world dependent on the internet like never before while large-scale data breaches are starting to become alarmingly common. To shield yourself from ever-evolving cyber threats, you'll want to have a strong password for each site you rely upon. Thankfully, both of our contenders will provide you with a way to create rock-solid passwords.
Dashlane provides all its users with a configurable password generator that will let you create passwords of up to 40 characters. These can be a combination of letters, digits, and symbols – and you can choose whether to include similar characters.
While it isn't as configurable as some of its competitors – for instance, like Bitwarden's password/passphrase generator (as explored in our NordPass vs Bitwarden guide) – it's easy to use and extremely useful to boot.
With NordPass' strong password generator you can uncrackable passwords in a matter of seconds. Even if you don't use NordPass, you can utilize the online version to come up with passwords. Otherwise, you can opt between the online version or generate passwords offline on your device.
You can create passwords of up to 60 characters long and they can be composed of uppercase and lowercase characters, digits, and symbols. Plus, you have a choice to avoid using ambiguous characters.
While creating passwords shorter than 12 characters (you can go as low as four characters with Dashlane – it will get you into the red zone though) is possible, we wouldn't advise going with anything less than 16 characters.
Premium features
Now, let's move on to the premium features, like with did with our previous NordPass vs 1Password comparison guide. If you're looking for something more than simple, single-user password management, this chapter will probably make it or break it for you.
Some of these features come at no cost while others will be included in premium plans only. So, to make this choice simpler for you, we've thrown together a short list of the top premium features you can get with Dashlane and NordPass.
VPN for WiFi protection
This is one of Dashlane's most peculiar premium features as it can't be found with any other popular password manager on the market.
So, if you're willing to pay at least $3.99 per month, you'll get a two-in-one type of product, a password manager, and a Hotspot Shield VPN service. With it, your IP address will be protected by a VPN while you're browsing so you can keep your online anonymity intact.
As this VPN service doesn't put any limits on your bandwidth usage, you can encrypt an unlimited amount of traffic. Plus, you can choose between 30 countries. And if this sounds too good to be true, it's because it actually is.
Namely, Hotspot Shield isn't one of the best VPN services around, and there have been quite a few controversies surrounding this solution – mostly regarding flaws in its system that could lead to serious privacy and security risks.
Nevertheless, having an unremarkable VPN still beats not having a VPN at all – it's a critical privacy tool that will also keep all your sensitive data safe online.
Secure file storage
If you pick out one of Dashlane's paid plans, you'll get 1GB of encrypted file storage, where each file can be up to 50 MB in size. To utilize this secure storage, you'll have to create a secure note in Dashlane – once you do that you'll be able to attach multiple files to that secure note. Like other data in your vault, all files attached to a secure note will be encrypted and synced across your devices.
On the another hand, NordPass doesn't lock its encrypted file storage behind a paywall. So, even those who are using the free edition can enjoy the benefits of having secure file storage – and we're talking a about generous 3GB of cloud storage space. However, it doesn't come without strings attached – namely, you'll need to download a separate NordLocker app to utilize it.
While this isn't as convenient as having an all-in-one solution, with 3GB you can rest assured you won't be running out of storage space anytime soon.
Dark web monitoring
Thanks to Dashlane's dark web monitoring feature you can be sure you'll be informed immediately if any of your data has been compromised in a cyber security breach, so you can take action before the long-term damage is done.
As its name suggests, it scans the dark web searching to see if any of your email addresses can be found there – if yes, you'll be alarmed without delay. On the downside, Dashlane will check five of your email addresses for data leaks, and that's about it – hope you're not using more than five of them.
Also, dark web monitoring comes with paid plans only.
With NordPass there are no such restrictions – so, dark web monitoring and alerts are available with all its pans – free and paid alike. Its built-in data breach scanner will automatically search through leaked databases and check if any of the leaked items are saved inside your vault.
If NordPass finds that some of your items have been compromised, it will have them ranked highlighting the most serious security threats.
Password health checker
Once you create your master password and get to Dashlane's dashboard, you'll probably notice the "Password Health" page inside the "Security" Tools section. There, you'll see whether any of the passwords stored in your vault have been compromised, reused, or weak.
However, to utilize a password health checker and get a security score you'll have to add at least five logins.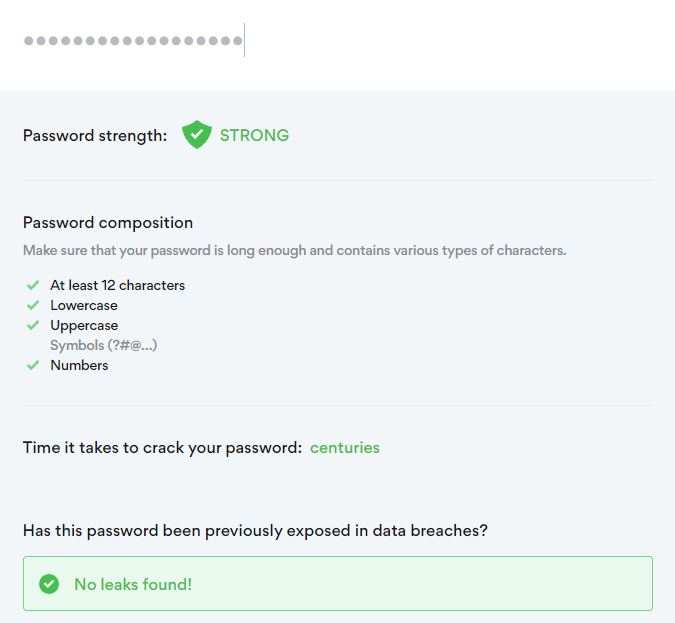 Likewise, with NordPass you'll also get to boost your online security with a password strength checking tool, and you can use an online version even if you don't use NordPass at all. Also, NordPass estimates how long would it take for a password to get hacked – we hoped for "eons" but got "centuries" which is not that bad.
While NordPass' password-checking tool is certainly less comprehensive, we found it extremely useful as well.
Random username generator
Are you having trouble coming up with cool and catchy usernames for your social media accounts? With NordPass' random username generator all these troubles will come to an end.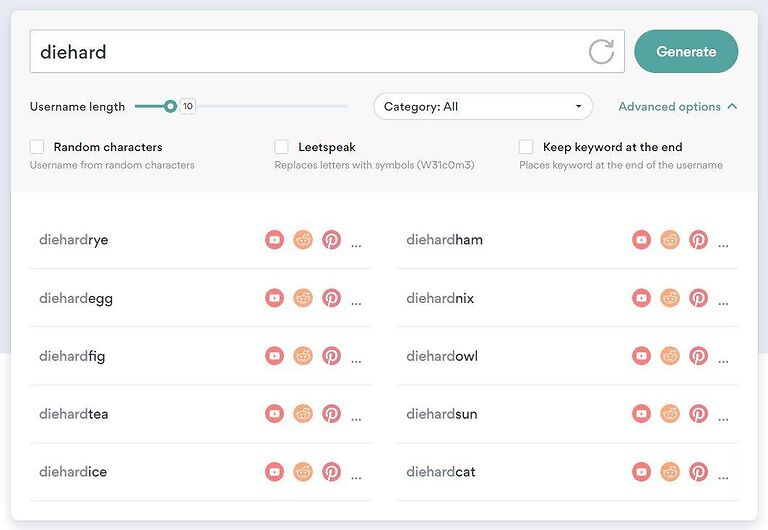 More importantly, by using unique usernames for each of the platforms you rely on, you won't have to worry about the lack of privacy. The more usernames you're using, the less chance there is someone who will find out who you are.
The generator will combine a couple of words that should be easy to remember – and you can choose words from several categories such as movies, music, and space. If you're wondering what we've come up with, lo and behind, the bizarre beauty of randomness: "diehardham", "star-lordcranberry", and "kalewalker". We guess "kalewalker" could work for a healthy food box subscription service or something like that.
Once you choose a username, the generator will show you if your username is available or taken across several popular platforms – such as YouTube, Steam, and Fortnite.
Features winner: It's a tie
---
User interface and ease of use: Is NordPass or Dashlane more user-friendly?
In addition to being accessible across all platforms you rely on, a rock-solid password manager should utilize a UI you'll want to use every day and on all your devices. It's also advisable to look for consistency in its cross-platform design.
Fortunately, both Dashlane and NordPass are available with all the most widely used platforms, and using either of them should be a seamless experience.
That being said, we found one of our competitors slightly simpler to use. To justify our choice we'll go through three core phases of using a password manager: the sign-up process, user interface design, and how effortless/effortful it feels to work with this solution.
Sign-up and installation

If you're new to our contenders, you'll be asked to create an account with them.
While with NordPass you can do it right at the start, with Dashlane you'll have to download its app first. Apart from this slight difference, the process is pretty much the same with both password managers.
Once you download at least one of Dashlane's apps, you'll be prompted to create an account by surrendering your email address and coming up with a solid master password.
To make sure that the password that shields your vault is strong enough, Dashlane won't let you sign up before passing password strength requirements. So, a simple eight-character-long password won't cut it. Once this is done, Dashlane will send you a confirmation email. Follow the instructions and you'll be ready to use Dashlane like a pro in almost an instant.
To make use of NordPass you'll be asked to sign up first. You can do it via your email address, or your Google and Apple accounts. While NordPass is not as strict as Dashlane when it comes to master password creation, there are some criteria you need to satisfy. In short, your master password needs to contain both uppercase and lowercase letters, at least one symbol, and to be eight characters long at a minimum.
However, we don't advise settling for anything less than 16 characters, since this is the golden standard for solid security.
In addition to the master password, NordPass will also ask you to come up with your account password. However, it won't bother to explain why you need two passwords and what purpose they serve.
So, your account password shields your NordPass account (where you monitor and manage your subscriptions and settings) while your master password safeguards your vault (where you store your sensitive data, passwords included) – there it is, you're welcome, NordPass.
User interface: NordPass vs Dashlane
Once you install your password manager, you'll be brought to the central UI where you'll be given a couple of tips and tricks on how to use it – the same applies to Dashlane and NordPass users.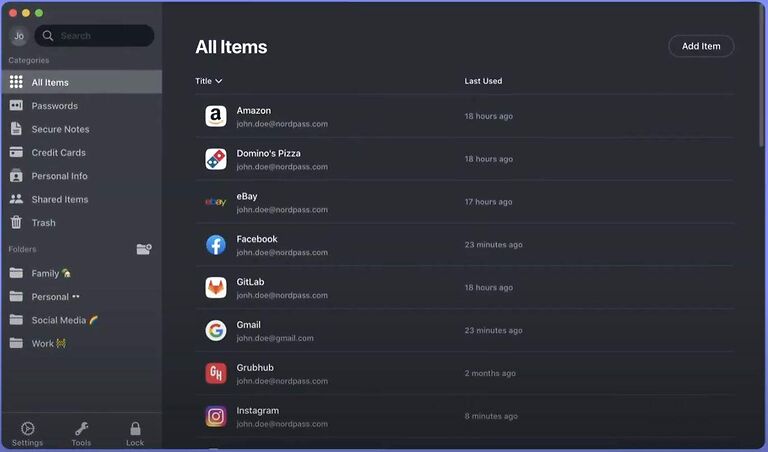 Both UIs benefit from clear-cut design and a user-friendly approach. So, even if this is your first-ever password manager, you'll figure out how everything works in a matter of minutes. This is also true across all apps and platforms – once you learn how to use one, you'll learn them all.
If you feel your bright screen is blinding you, you'll be glad to hear both Dashlane and NordPass support dark mode. However, while with NordPass you can use dark mode with all its apps, with Dashlane this only works with iOS and Android mobile apps and its Safari app on macOS.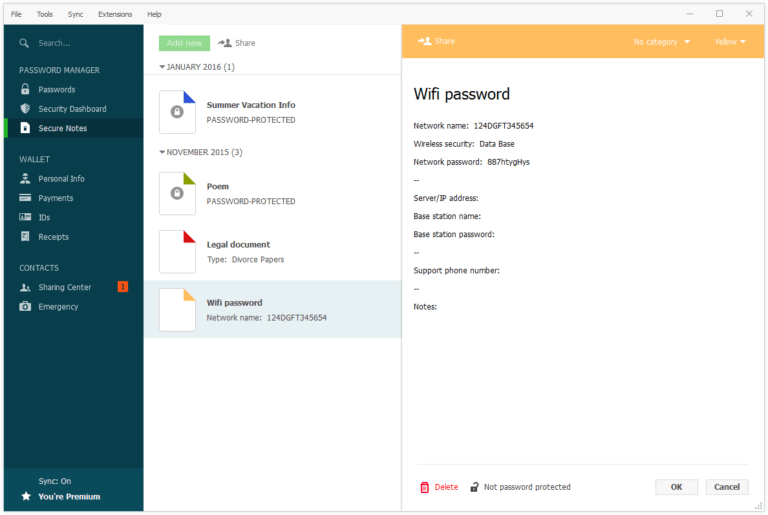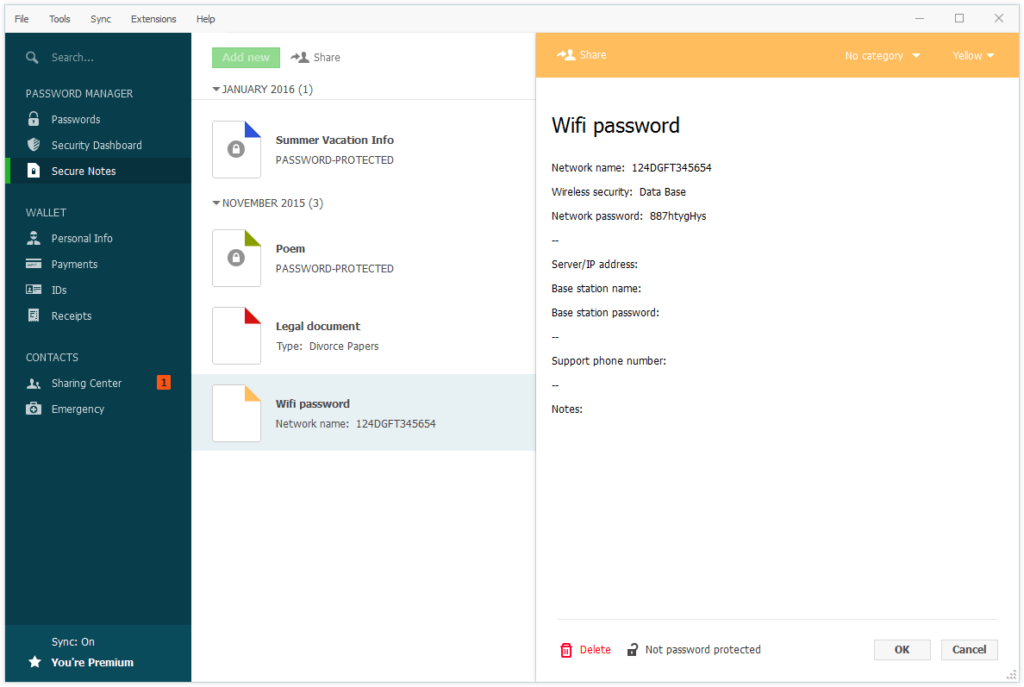 Although both UIs are similarly designed, you'll spot some differences on the left menu when it comes to available tools – VPN service, password health checker, and dark web monitoring. However, it should be noted, the pricier Dashlane plan you've purchased – the more of these tools you'll see here.
Password managers in action
After you add a few passwords to Dashlane, you'll be able to see them in your vault – and you can do it from your browser extension, the web version of the app, or a desktop client.
However, to access your secure notes, personal information, or payments, you'll have to use the web version. And to check out IDs and receipts, you'll need to access the desktop client. In short, to access different components of Dashlane you'll have to use different versions of it – which all feels awfully awkward.
So, while Dashlane's UI is as user-friendly as they get, working around it can leave you feeling confused.
While NordPass' browser extension is also strongly linked with the web apps, everything feels a bit easier to use. There's a slim chance you'll ever find yourself in need of how-to guides or reaching out to customer support. Once you arrive at NordPass' dashboard, you'll be welcomed by the setup wizard which will take you through the essential stages of using NordPass.
However, since browser extensions by both password managers are tightly linked to their web apps, if you want to access advanced features or modify settings, you will need to use these web apps.
User interface and ease of use winner: NordPass
---
Security and encryption: Is NordPass or Dashlane more secure?
Since the primary purpose of a password manager is to keep your password safe and secure, one of your first considerations when choosing this type of solution should be security. In this case, the level of security that these two competing password managers provide.
So, to check how Dashlane and NordPass hold up in terms of security, we'll examine what encryption they utilize, what type of authentication tools, and whether have they conducted any third-party security audits.
Encryption
Both Dashlane and NordPass utilize end-to-end encryption algorithms, but only one of these is future-proof on top of that.
Dashlane makes use of industry-standard AES 256-bit encryption – the one that's used by most of the top password managers, as well as the US government – which says a lot about it. In addition to encryption, Dashlane also boosts your password security with Argon2 cryptographic algorithm.
Meanwhile, NordPass stays a cut above the competition by choosing a cutting-edge ChaCha20 encryption algorithm, variant XChaCha. It's not only newer but three times faster than AES and less likely to become obsolete foreseeable future.
If you desire to dive deeper into the differences between AES 256 and XChaCha20 encryptions, check out this comparison guide from NordPass' official blog.
Multifactor security
NordPass offers more multi-factor authentication options than ever before as it expanded its arsenal not long ago. In addition to confirmations via email or a dedicated authenticator app, now you can also use security keys. You can get one of the FIDO-approved U2F devices, like Yubikey, iePass, BioPass, MultiPass, ePass, and others.
We should also note that all authentication options above are available with both free and premium versions of NordPass.
Likewise, with Dashlane you can choose between using 2FA and MFA, but also utilize different authenticator apps such as Google Authenticator and Authy. However, these options are locked behind a paywall for premium users only.
Secure data storage
Both Dashlane and NordPass allow users to store an unlimited number of passwords with free and paid subscriptions alike. However, if you wish to upload encrypted files to secure notes, there are borders you can't go beyond.
Dashlane's premium plans come with 1GB of storage space, and in addition to saving these files, you can share them securely too.
While NordPass offers secure data storage with both free and paid plans, you'll have to download the NordLocker app to take advantage of this. It might not be as convenient as having everything in a single place, but it offers plentiful 3GB of storage space which makes it worth the extra effort.
Plus, if you want more than 3GB of storage and are willing to pay for it – you can expand your storage space up to 2TB.
Third-party security audits
In February 2020 NordPass has undergone a comprehensive security audit conducted by an independent Berlin-based IT cybersecurity company known as Cure53. Its summary report is available on the official site. In short, only a couple of low-level vulnerabilities were found and all of them were promptly patched up.
If the name of the company behind this audit sounds somewhat familiar, it's because it is the same company that audited Bitwarden in 2018 – as covered in our Bitwarden review.
If you're wondering about Dashlane security audits, we're still wondering too. Dashlane claims that all its servers are hosted with Amazon Web Services (AWS), which is presented as proof it takes its security very seriously. Besides this, Dashlane states in its FAQ section that its products are audited to make sure there are no holes in its system – and that's about it.
Despite this, we couldn't find any published audit results besides a 2016 paper by a group of students at MIT that found Dashlane to be "quite secure against all of the attacks" they've carried out. However, while security analyses like these are certainly commendable, they can match the reliability of an established cybersecurity company such as Cure53.
Security and encryption winner: NordPass
---
Privacy: Is NordPass or Dashlane more private?
If you're worried about your privacy, you'll be pleased to hear that both Dashlane and NordPass operate under the zero-knowledge policy. To put it simply, it implies they can't see or use your master password or secure data from your vault.
Like other popular password managers, NordPass collects some information but not all that much – it's mostly of statistical significance. As stated in Nord Security's privacy policy, this includes:
Contact information (like your email address)
Access logs (IP address you've visited, your browser type, and OS you're using)
Cookies (for instance, your language selection)
Third-party service providers (such as email automation tools)
If you're using the free edition of NordPass, you won't be asked to provide credit card details – which makes this plan a superb choice for privacy-conscious individuals.
Much like NordPass, Dashlane collects some data from its users such as an email address they've registered from and their IP address. While its privacy policy isn't an easy read, if you're considering using Dashlane it's smart to check it out first.
However, you can reduce this to a minimum with the aid of any solid VPN service – such as Surfshark or ExpressVPN.
Also, the fact that Dashlane is based in the USA – a country notorious for having poor privacy laws – will likely drive away privacy-conscious people.
Privacy policy winner: NordPass
---
Plans and pricing: Do NordPass and Dashlane provide good value for money?
If you're planning to try out a password manager before putting any money into it, here's a piece of good news – both of our contenders offer free versions of their products and they aren't half bad.
The main drawback with free plans is the lack of ability to securely share passwords and other sensitive data with everyone you want. With Dashlane's free plan you can share up to five passwords with each person, while with NordPass free users can't share passwords at all.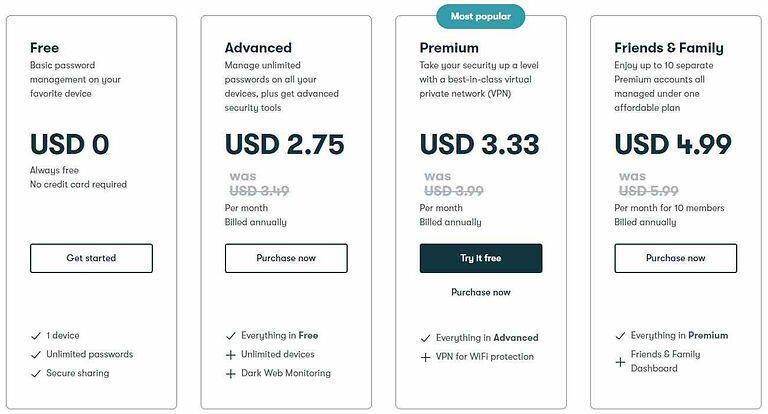 As for paid personal plans, Dashlane provides three of them: "Advanced", "Premium", and "Friends & Family", where the family-focused plan can cover up to 10 premium user accounts. Meanwhile, the other two are aimed at a single user.
"Advanced" is a first step up from "Free" and it will get you a couple of security tools (such as dark web monitoring) and the ability to use unlimited devices. To get this, you'll be expected to pay $3.19 per month, if you go for annual billing.
However, to get hold of the VPN service Dashlane is famous for, you'll have to purchase "Premium" and it will set you back $3.99 per month with annual billing. As this plan costs a couple of cents more than "Advanced" yet offers everything it does and also throws in a VPN – it's undoubtedly a better deal out of the two.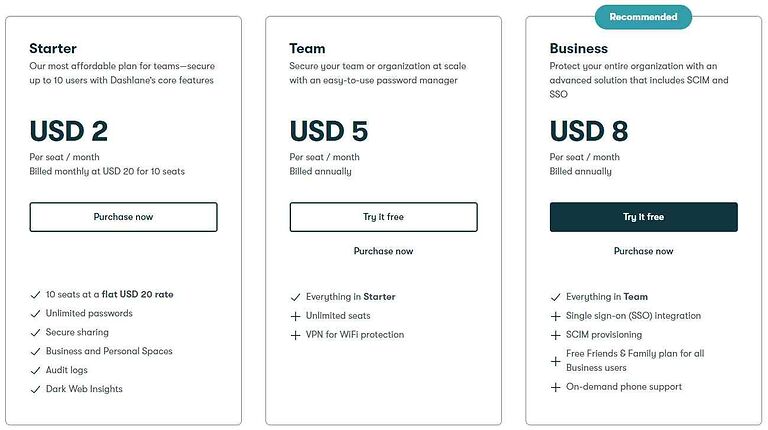 In addition to personal plans, Dashlane also provides three plans aimed at businesses: "Starter", "Team", and "Business". If your goal is to protect your business with an advanced security solution that includes SCIM and SSO, you'll have to go with the "Business" plan.
All businesses-focused plans are billed annually, while with personal plans you can opt between a monthly or an annual billing option.
We should also note that Dashlane offers a 30-day money-back guarantee for personal plans and 30-day free trials with the following plans: "Premium", "Team", and "Business".
As for payment methods, Dashlane accepts payment via all major credit/debit cards and uses payment services from PayPal, Stripe, and Checkout.com.
Now, let's see what NordPass has in store for us.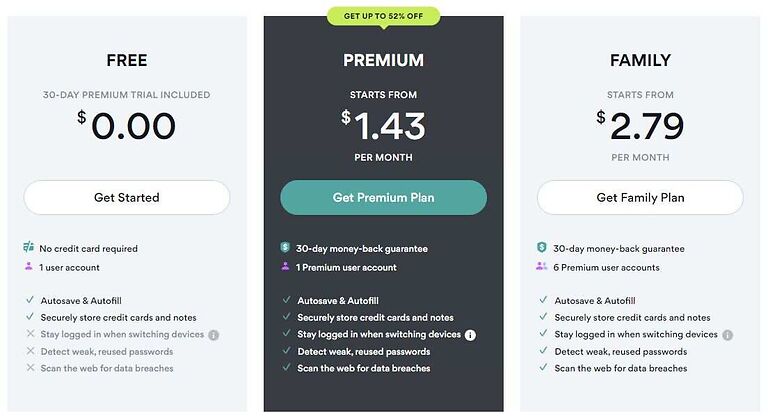 In addition to the free edition, NordPass provides one premium plan, one family plan, and two plans aimed at business users. Both "Free" and "Premium" are aimed at single users, which means you can't use more than a single user account.
If you subscribe to a free plan, you'll get to have a go at the "Premium" plan for 30 days. Once the promotional period runs out, you'll be automatically downgraded if you don't upgrade your account to premium.
For the "Premium" plan will have to pay $1.43 per month and the "Family" plan starts at $2.79 and supports up to six users. However, the price will spike up if you don't commit for two years straight. So, if you want to subscribe for one month only it will in fact cost you $4.99 for that month.
Like with Dashlane, the longer you commit – the more money you'll save in the long run.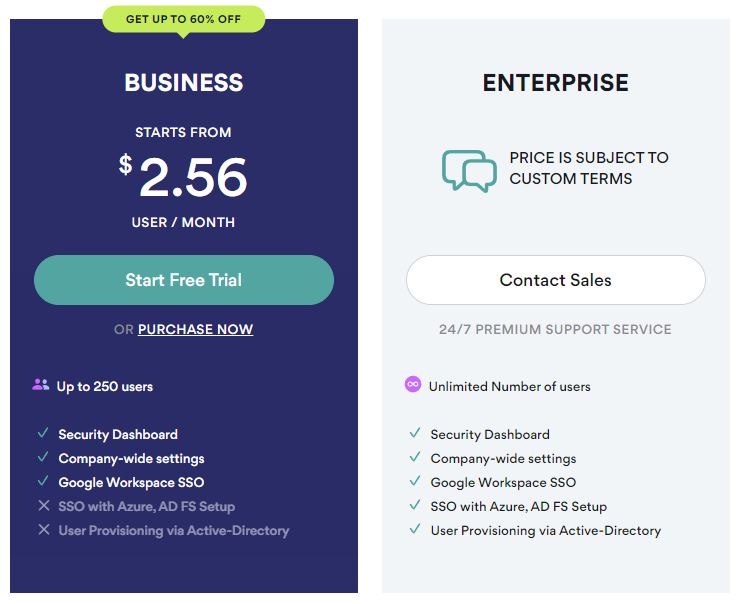 As for business-focused solutions, NordPass provides "Business" and "Enterprise" plans, the latter of which is completely customizable to boot.
To make use of the "Business" plan you'll have to pay $2.56 per user per month, and you can do that for up to 250 users at max. If you want more, you'll have to go with the "Enterprise" plan, as the number of users isn't limited with this one. However, to get your pricing you'll have to contact the sales team.
All personal paid plans are backed by a 30-day money-back guarantee, while the "Business" plan comes with a 30-day free trial.
As for payment methods, NordPass supports all major credit/debit cards, PayPal, Amazon Pay, Google Pay, Sofort, and cryptocurrencies (BTC, Ethereum, and Ripple).
Having a choice to pay with crypto is splendid news since this offers a superb level of privacy, transparency, and security. It also offers lower transaction costs when compared to other financial services (such as wire transfers).
Plans and pricing winner: NordPass
---
Customer support: Does NordPass or Dashlane offer the best support?
Both contenders will supply you with multiple support channels to rely on if you have any issues or concerns. Also, both offer live chat support, which is probably the most popular customer service type on the planet.
What's best, you don't even need to sign up to get the help you need.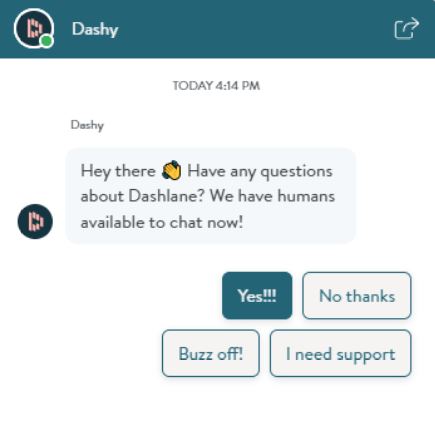 With Dashlane, live chat is available from Monday to Friday, 9AM to 6PM (EST) and in English, French, and German language. With business-focused plans, you can also request a call from the customer support team but this type of support is available in English only.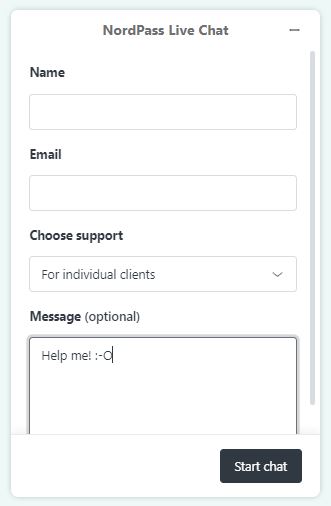 NordPass live chat support is available 24/7 and this is true for all users, free and premium alike. However, those who've purchased their enterprise-level package get to enjoy premium support services – although we aren't exactly sure what that entails.
As for self-services, with both contenders, you'll find well-written FAQ sections and knowledgebases filled with simple-to-follow guides.
All in all, whichever password manager you choose you can be sure you'll get solid customer support to make your life simpler.
Customer support winner: It's a tie
---
Conclusion: Is NordPass or Dashlane the best?
There is no doubt that both Dashlane and NordPass are trustworthy password managers that are worth your time.
At first, NordPass might seem more suitable for those who are searching for a simple solution, while Dashlane looks like the one with all the bells and whistles you could wish for.
The truth is that you can't go wrong with either of our contenders. However, one might be better suited for you than the other one – it all comes down to personal preference and professional needs.
So, to help you figure out which one is the right for you, let's check out all areas we've examined in this comparative guide:
Background check: NordPass – It's situated in a very safe privacy jurisdiction and has passed an independent security audit – the same can't be said about Dashlane.
Platforms availability: It's a tie – Both our contenders support pretty much the same platforms, so we're going to call it a draw.
Core and premium features: It's a tie – While Dashlane can boast about VPN service, NordPass comes slightly stronger in terms of core features. Also, Hotspot Shield VPN can't match the power of NordVPN, which you can bundle with NordPass.
User interface and ease of use: NordPass – NordPass seems like a more convenient option out of the two as it is a bit more user-friendly. However, Dashlane isn't far behind.
Security and encryption: NordPass – NordPass utilizes more powerful, future-proof encryption and has published security audit results. In contrast, Dashlane is surprisingly secretive about the subject.
Privacy policy: NordPass – NordPass wins this round without any trouble as its competitor is based in the USA.
Plans and pricing: NordPass – While both password managers offer a wide variety of solutions, NordPass offers a completely customizable business-focused solution, while Dashlane doesn't. Also, with NordPass, you get more flexible billing options and can pay with cryptocurrencies.
Customer support options: It's a tie – Both contenders will supply you with solid customer support options, but NordPass support is available 24/7/365, while Dashlane is limited to US business hours Monday through Friday.
While both Dashlane and NordPass are superb choices for individual and professional users alike, NordPass gets off to a stronger start and takes the prize at the end of the day.
If you want to check out our separate hands-on reviews for both password managers, you can see our NordPass review and also our Dashlane review.
NordPass vs Dashlane FAQ
Have NordPass and Dashlane ever been hacked?
No, as far as we are aware neither of the two password managers was ever hacked. While NordPass is still a newcomer to the industry, Dashlane has been around since 2009 and can still boast about its brilliant track record.


Is Dashlane more trustworthy than
NordPass?
No, it's the other way around. To be fair, both password managers are considered trustworthy and for all the right reasons. However, NordPass has published its security audit results while Dashlane remains silent about the subject.   


Is Dashlane or NordPass better for privacy?
Since Dashlane is based in the USA – one of the FVEY countries – this will be an easy answer. NordPass is a better choice for those who value their privacy on the internet. The FVEY countries have a bad name when it comes to privacy laws as they go far beyond what is needed to make sure the world is still a safe place. They'll try to crack encryption algorithms and even bribe or blackmail companies to sabotage their own security systems.   


This NordPass vs Dashlane comparison guide was last updated on January 3, 2023.