Thinking about ditching your poor password habits and utilizing one of the best password managers on the market, but aren't sure where to start?
Perhaps you already have a couple of contenders for the role of your password manager and possibly these two are NordPass and 1Password. If yes, this 1Password vs NordPass guide is just the thing you were looking for.
Both contenders are superbly secure, with full sets of features, and simplicity as the guiding principle of their design. So, even if you've never used anything remotely similar to a password manager before, you'll master either of them in almost no time. However, since only one of the two can take the prize, which one will it be?
NordPass is still practically a new kid on the password-managing block, while 1Password has been around since 2006. However, despite their age gap, both offer secure and user-friendly solutions for storing passwords and other sensitive information.
Also, both providers utilize end-to-end encryption, zero-knowledge architecture, and two-factor authentication (2FA) to make sure you're on the safe side of the internet.
While somewhat similar, they're not the same, not by a long shot. They have a bit different customer base in mind and they do business differently. That's why we're going to focus on features that make them different and thus could make a difference for you.
Before we dive into details, here are the key specs from each password manager:
| | | |
| --- | --- | --- |
| | NordPass | 1Password |
| Website | NordPass.com | 1Password.com |
| Platforms | Windows, macOS, Linux, Android, iOS | Windows, macOS, Linux, Android, iOS |
| Browser extensions | Chrome, Edge, Firefox, Opera, Safari | Chrome, Firefox, Safari, Brave, and Edge |
| Free version | Yes (1 device) | 14 day trial |
| Encryption | XChaCha20 | AES 256-bit |
| Support | 24/7 live chat | Email |
| Price | From $1.43/mo. | From $1.50/mo. |
| Coupon | 37% Off + 1 Month Free > | N/A |
As for our testing criteria, here are the main areas we're going to cover in this comparison guide:
Background check
Platforms availability
Core and premium features
User interface and ease of use
Security and encryption
Privacy policy
Plans and pricing
Customer support options
Now it's time to buckle down and begin with a brief background check of NordPass and 1Password, side by side.
Background check: Company information and history of security incidents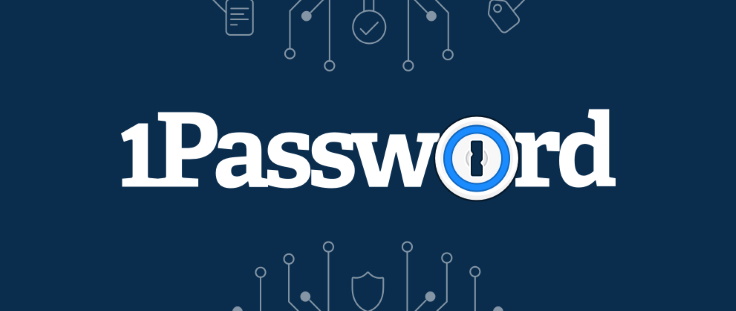 1Password came into existence in 2006 as a macOS-only software but later upgraded its solution so it can run on all major operating systems, browsers, and mobile devices. The company behind it, AgileBits, is stationed in Toronto, Ontario (Canada) which is unfortunate news for all of us who work hard to protect our privacy.
This is because Canada is a member of the Five Eyes Alliance (FVEY), together with the USA, the UK, Australia, and New Zealand. The countries that are part of this international intelligence-gathering alliance lack strong privacy laws, which is why many privacy advocates advise against using services from any of these countries. Also, it's rumored that these countries cooperate to spy on each other's citizens – which negates any privacy protection that exists within a given country.
As for security incidents, 1Password still manages to avoid falling victim to cybercriminals – so, it's never been hacked.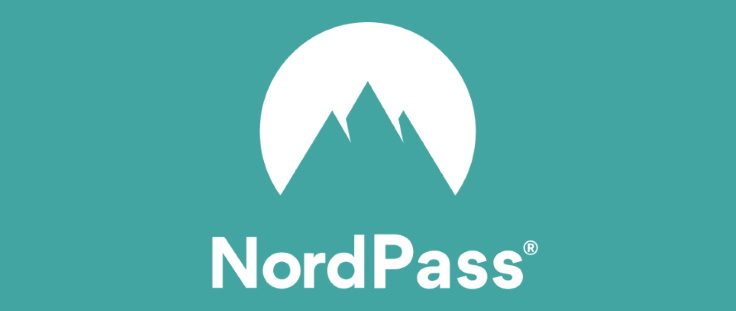 Unlike 1Password, NordPass is still practically a newcomer in the password manager industry, but a pretty popular newcomer indeed. It was launched in 2019 by the longtime leader in cybersecurity named Nord Security. If you care about your privacy you've probably heard about its flagship product NordVPN. It's not only one of the most well-known virtual private networks (VPNs) in the industry and also a first-rate product that comes at a reasonable price.
Nevertheless, let's get back to NordPass. Like all other Nord Security solutions, it's smartly situated in Panama, which means that the lack of privacy won't be an issue in this case.
When it comes to security incidents, there were none during these three years NordPass has been with us. While this looks less impressive in comparison with 1Password's squeaky-clean track record of 16 years, it's still praiseworthy.
Background check winner: NordPass
---
Platforms availability: Which supports more platforms?
One of the must-have features of a solid password manager is the ability to work on all popular platforms including operating systems and web browsers. Everything else would act as a serious stumbling block when competing with similar solutions.
Since using anything more than a single, all-in-one password manager wouldn't be as convenient, it's vital to check the availability of its app across all popular platforms before making a long-term decision.
1Password's latest desktop app is currently compatible with the following operating systems:
Windows (64-bit version of Windows 10 or up)
Linux (any version supporting snap 64-bit x86 or ARM processor and GNU C Library, glibc 2.28 or up)
macOS (version Catalina 10.15 or up)
Chrome OS
Android (version 9 Pie or up)
iOS (version iOS 15.5 or up)


As for browser extensions, 1Password supports these:
Google Chrome
Mozilla Firefox
Microsoft Edge
Opera
Safari
NordPass's desktop app is available on the following operating systems:
Windows (version 8, 32/64bit and up)
Linux (any version supporting snap 64bit)
macOS (version 10.13 and up)
Chrome OS (supports NordPass Web Vault only)
Android (version 8.0 and up)
iOS (version 14.0 and up)

When it comes to browser extensions, these are available – so, precisely the same as with 1Password.
Google Chrome
Mozilla Firefox
Microsoft Edge
Opera
Safari
Since 1Password and NordPass support exactly the same OS' and browser extensions, we can't do anything but call it a tie.
Platforms availability winner: It's a tie!
---
Features: Is NordPass or 1Password better?
Whether you choose 1Password or NordPass, you can be sure you'll get a chance to generate strong passwords, store them securely, and keep them synced across all your devices. Both contenders use a master password to safeguard your vault, meaning you'll have to remember one password only.
So, when it comes to core features – it's almost a tie. However, you'll notice some slight, yet significant, differences once we take a shot at premium features.
The core features you can look forward to getting with 1Password and NordPass include:
Automatic syncing across devices
Autosaving and auto-filling login credentials
Intuitive and insightful dashboards
Multiple-platform support
Multi-factor authentication (MFA)
Safe industry-standard encryption
Secure password vaults
Strong random password generators
Secure data sharing
Both providers also offer emergency access features within their packages, which is something that can put your mind at ease. So, if you aren't around or aren't able to access your vault, the person you trust can pitch in and save the day.
First, we'll cover some of the core capabilities, namely, importing/exporting capabilities, auto-filling empty forms, and generating strong passwords.
After this, we'll plunge into premium features – this is where one of our contenders shines through and gets the prize. If that's what sparks your curiosity, skip to the "Premium features" chapter.
If you're eager to see security features, you can scroll down until you spot them in the "Security and encryption" chapter.
Importing/exporting passwords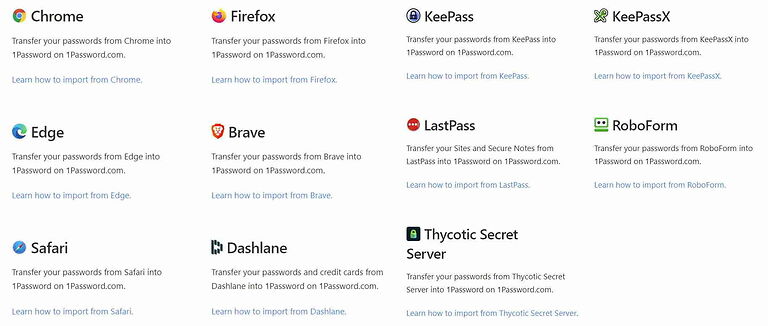 Having a chance to import all your passwords and other private data from a password manager you're currently using (but aren't too happy with) is a precious and time-saving perk.
As you might expect, both of our contenders will bestow this handy feature upon you, but the choice of platforms you can import from is slightly different. Also, while NordPass offers a wide variety of import methods, 1Password is less flexible about it.
In addition to bulk importing your passwords via CSV file, with NordPass you can also import your passwords from several password managers including 1Password, LastPass, Keeper, RoboForm, BitWarden, and many more. As for browser extensions, you can swiftly import all your data from Chrome, Firefox, Edge, Brave, and Safari.
On the other hand, while 1Password provides seamless password importing, it provides it for a privileged few. If you're already using a password manager you'll find KeePass, KeePassX, Dashlane, LastPass, RoboForm, and Thycotic Secret Server on the list — and that's it.
However, when it comes to browser extensions, 1Password is on par with NordPass as it supports imports of everything NordPass does. Still, to import from other third-party apps you'll have to use CSV, 1pux, or 1pif file form.
So, while both contenders support imports from the same browser extension, NordPass is less restricted when it comes to integration with third-party apps – that's why NordPass wins this round. This was also the case in the Bitwarden vs NordPass comparison guide.
Auto-filling and capturing login information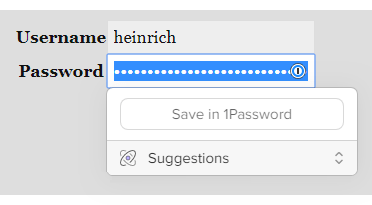 Like other top password managers, 1Password and NordPass provide users with a fine auto-filling feature for swift and straightforward logins. However, if we needed to choose one provider with a more seamless process, it would be NordPass.
You can configure NordPass to recognize your favorite sites and log you into them with one click of your mouse – it truly tasks care of all the tiresome takes for you. Every time you click on the box for filling in credentials, you'll be asked to opt for one out of the two options: choose the password you've already saved or save a new password.
So, while both contenders are simple to use, NordPass is a bit more convenient when it comes to auto-filling and capturing logins.
Random password generator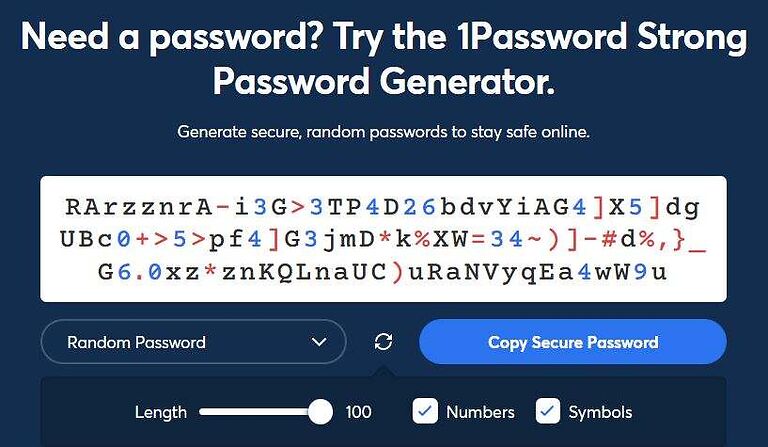 Since the strongest password is, as a rule, the one you can't force yourself to remember, the simplest way to come by such a password is to utilize a strong password generator. As we all know, humans aren't particularly good at creating strong passwords – even if we come up with a random mixture of characters we won't be able to remember it.
Fortunately, both 1Password and NordPass provide solid random password generators that will take care of the password-creating process for you.
With NordPass' generator, you can create passwords of up to 60 characters that can be a combination of uppercase and lowercase characters, as well as digits and symbols.
With 1Password you can go beyond the number 60 and generate up to 100-characters-long passwords. Plus, in addition to random passwords you can also generate passphrases (memorable passwords), and personal identification numbers (PINs).
So, since 1Password's random password generator comes with more bells and whistles, we'll let it claim victory in this subchapter.
Premium features
Finally, one filed where 1Password leaves NordPass in the dust – however, to be fair, it wasn't exactly a walkover. While some users won't find these features particularly useful in practice, some of them could seal the deal for others.
Secure document storage
Once you sign up with 1Passwords you'll get 1GB of document storage per account with all personal plans and 5GB per account with business-focused packages. This is great news if you have files you want to store securely – for instance, your last will (or something less foreboding like a passport).
If you're planning to pick out 1Passwords's family-focused plan, you'll get 1GB for each family member – the limit is up to five members but you can add more users for $1 per month only. So, while we can see how this could attract those searching for a password manager for the whole family, it should be of use for single users as well.
At the same time, NordPass offers no separate storage space for documents.
Travel Mode
Since this is one of 1Password's strongest extra features, it's fortunate that it comes with all its plans. As soon as you tell 1Password which of your vaults is safe for travel, it will remove all unsafe vaults from your device. So, you'll want to choose which vaults are safe and which are not. Then simply activate the Travel Mode and that's it.
If you're a frequent traveler with a thing for privacy, you'll find this mode truly useful. No more sharing your personal information with overly inquisitive border guards – that is, beyond what the travel requires. Also, if your mobile device gets stolen by a pickpocket, your sensitive data will stay safely out of their reach.
At this time, NordPass doesn't provide a travel mode.
Data breach scanner
This is one of the built-in NordPass' premium features that automatically scans leaked databases and checks if any of them are saved in your vault. It'll check your email addresses, passwords, and credit card details – if they have leaked, NordPass will have them rank and highlight which data breaches could have the most serious security consequences.
Another handy breach-related feature is real-time data breach monitoring and it also includes prompt alerts. If any of your data is considered compromised in a breach, you'll instantly be alarmed so you can immediately take action to minimize the damage done.
To defend yourself from data breaches with 1Password, you'll get the so-called Have I Been Pwned integration that will let you know if any of your logins has been compromised. It'll also tip you off if you're using any old, reused, or otherwise poor passwords.
Watchtower password strength checker
With 1Password Watchtower you won't have to check every site you're logged in to find out if you have a security problem with the password you're using. Watchtower will do it for you and advise you to change the weak passwords as soon as you can.
Also, you can conveniently integrate Watchtower with Have I Been Pwned tool to check if any of your passwords have been compromised in recent data breaches.
Advanced sync options
If you're not sure about using 1Password to sync your passwords across devices, you can utilize one of the alternative solutions – and only 1Password offers this option. The advanced sync solutions include iCloud, Dropbox, a wireless LAN (WLAN) server, and a local folder.
Since each of these alternatives has its requirements, it's smart to check them out before making any step.
While both contenders have more than a couple of tricks up their sleeves, we'll have to go with NordPass for core features and 1Password for premium features. However, since we're fans of 1Password's premium feature, we'll have to give this round to it.
Features winner: 1Password
---
User interface and ease of use: Which one is more user-friendly?
Both 1Password and NordPass are extremely easy to use and in an eerily similar way too. So, to pick out a more user-friendly out of the two contenders, we'll have to compare them during the three core phases for this type of solution: the initial sign-up, user interface design, and how easy it feels to work with it.
Sign-up and installation
With both password managers, you'll be asked to enter and verify your email address to create an account – and you need an account to utilize their services. However, 1Password will ask you to provide a name as well. Since your master password will safeguard all other passwords in your vault, make sure to check out some tips and tricks on how to create a strong password.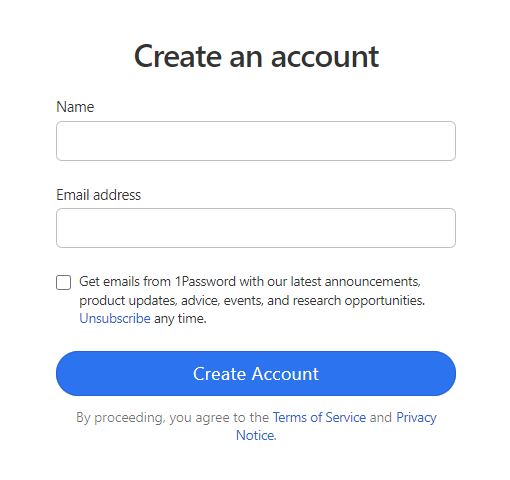 Since 1Password lacks a free edition of its product, once your 14-day trial runs out, you'll be asked to insert your credit card details. Unfortunately, it's the only payment method 1Password it provides. As part of the installation process, 1Password will also create your Secret Key and Emergency Kit.
To put it simply, your Secret Key is a password you'll have to enter every time you sign in from a new device.
As its name suggests, Emergency Kit is something you might need if you find yourself in case of emergency – you only need to download it in PDF form and store it somewhere safe. Perhaps it would be a smart strategy to print a copy of it and store it in a safe deposit box. This kit contains your sign-in email address, the email address you used to create your account with 1Password, your Secret Key, your account password, and the setup QR code.
As soon as you create an account with NordPass you'll get a welcome email from Nord Security. After you go through the content of the email you'll be asked to follow a link that'll walk you through the process of creating your master password and completing the installation of NordPass apps. Aside from some minor differences, the sign-in process and installation are pretty much the same as with 1Password.
Also, we should mention that if you already have an account with Nord Security (for instance, because you're using NordVPN), you'll still have to create a separate account for NordPass.
User interface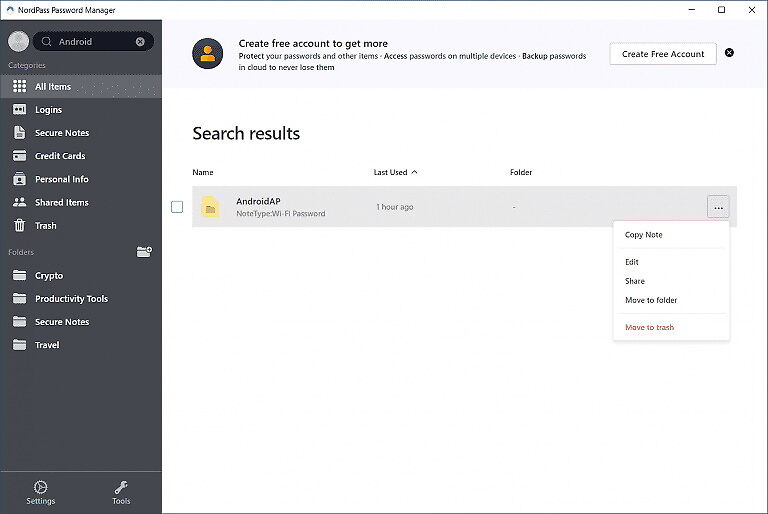 It doesn't matter which OS or device you're using, NordPass' app looks and feels modern on each of them. It's up-to-date, clean, and commendably intuitive.
While both NordPass' and 1Password's UIs can be described as user-friendly, the look of NordPass' app is more consistent across all platforms.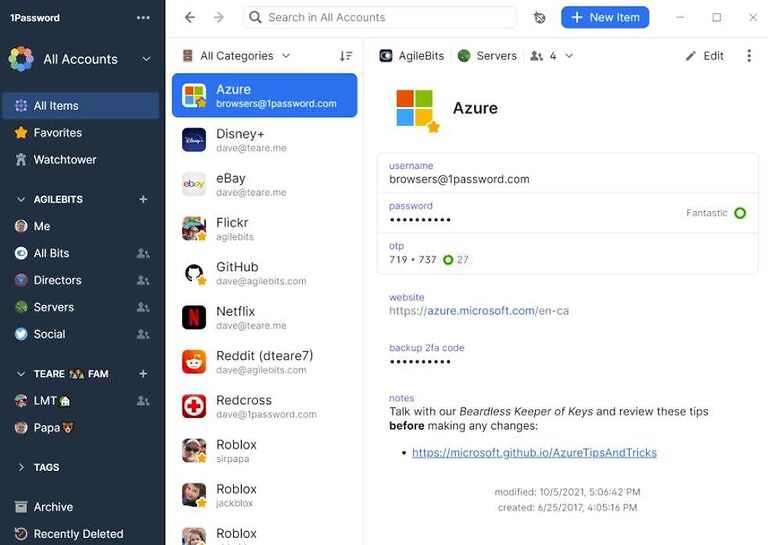 On the other hand, 1Password's apps don't share the same look across all platforms and they don't have the same learning curve. If you go to the download page on 1Password's official site, you'll swiftly notice that apps for different operating systems look somewhat chaotic. For instance, while the app for Windows looks magnificently modern, if you check how the app for Chrome OS looks you'll be surprised by an odd, old-looking UI from the bygone era.
Password managers in action
Even if you haven't used a password manager before, you'll find both 1Password and NordPass simple enough. However, one of our contenders will make everything a bit easier for you.
Once you've done with the installation setup, you'll be able to generate, save, and fill in passwords with ease – which is what you'd expect from some of the top password managers today. But, with NordPass the process feels more effortless than with 1Password – signing in takes more clicks and your search for credentials may result in you being redirected to 1Password's web app.
Also, NordPass offers simple-to-follow setup guides and also tutorial videos. These help new users get familiar with any additional steps like adding new accounts, syncing the app across devices, or considering third-party logins.
User interface and ease of use: NordPass
---
Security and encryption: Which one is more secure?
Both 1Password and NordPass are cut above the rest when it comes to cybersecurity. They provide types of encryption with the highest level of security, several MFA methods, and "zero-knowledge" privacy policies. Plus, they've conducted third-party security audits, which is always a good sign.
So, whichever you choose out of these two contenders, it's safe to say that your passwords and other sensitive data will be in safe hands. Also, they'll be fully encrypted before being sent to their servers so not even the providers themselves can see what's inside your vault or what your master password is.
While both contenders support several 2FA and MFA methods, only one of them utilized future-proof encryption for state-of-the-art security.
Encryption
As with other top password managers, 1Password exceeds most expectations in terms of security. All your data will be shielded with a 256-bit AES encryption with keys generated from your master password. As we've mentioned in the chapter above, in addition to a master password 1Password also adds a 128-bit Secret Key, which makes it harder to crack by brute force attacks.
NordPass goes a few steps ahead of its competitor and employs a future-proof ChaCha20 encryption algorithm, variant XChaCha to be exact. It's not only more up-to-date than its counterpart, but also swifter and simpler.
What's more, it's less prone to human error, it doesn't require hardware, and it does a superb job of ciphering and securing data. That is why we consider NordPass' cutting-edge encryption superior to 1Password's industry-standard 256-bit AES.
Multifactor security
If you want your sensitive data to be safe from breaches, MFA will add a layer of protection against it on top of your existing cybersecurity arsenal. Once you enable it, you'll have to provide something besides your username and password to log in – so the software can be sure you're who you claim to be.
Since an MFA is a must for NordPass users, this password manager supports more than a few authentication methods. These include email identity verification, third-party authenticator apps (such as Google Authenticator), and third-party security keys (for instance, MultiPass). If you're using one of the business-focus plans you'll also get to choose which devices are deemed to be trusted.
In contrast, 1Password doesn't support as many authentication options as NordPass. You have a choice to 2FA with authenticator apps such as Microsoft Authenticator and Authy or utilize Duo Security for push notification authentications – and that's about it.
Secure data storage
Let's start with the good news – NordPass doesn't put limits on passwords you can store inside your password vault. What's best, even with the completely cost-free plan you'll get unlimited password vault storage. If you're one of us who use a unique password for each of your accounts – this is particularly welcome news for you.
On the downside, if you're planning on storing data other than a password – things are a bit more complicated. To upload data files, you'll have to download the NordLocker app first and you'll have to do it separately. However, while this is not as convenient as having everything in a single place, the installation was pretty simple.
Plus, even the free edition comes with plentiful 3GB of storage space which isn't a bad trade-off. If you're willing to pay, this space can scale up to 2TB.
On the other end, with 1Password you can store an unlimited number of passwords, items, and up to 1GB of document storage. That is, it's 1GB of storage with its personal and family-focused plans and 5GB with business-oriented packages.
While this might sound superb at first, there are some strings attached. Namely, each file must be under 2GB in size, which might fit some documents but not others.
So, while both contenders will supply you with some data storage, if you're willing to put a little effort into NordPass, you'll get more than you can spend.
Third-party security audits
Both 1Password and NordPass were subjected to several independent security audits and they aren't shy about it at all – you can find everything about it on their official sites.
If you go to 1Password's Security Audits page you can find details about all third-party audits that were conducted between 2015 and today. The most recent audits (those carried out between 2020 and 2022) are highlighted at the top of the page. There, you can also go through in-depth reports provided in PDF form.
In 2020, NordPass passed a comprehensive security audit conducted by the Cure53 cybersecurity firm. While it identified a few low-level vulnerabilities, these were patched shortly thereafter.
It should also be noted that neither 1Password nor NordPass has ever been hacked.
Security and encryption winner: NordPass
See all NordPass security features here >>
---
Privacy policy: Which one is more private?
As one would expect from a Canada-based password manager, 1Password comes with a couple of potential privacy problems. Besides coming from a country with poor privacy laws, 1Password also does collect some personal data – it's all expensed in the Background check chapter above.
Among the data 1Password collects from its users you'll find personally identifiable information such as purchased plan, used payment methods, log-ins, IP addresses, usage of storage space, and so on. However, while 1Password promises never to share your personal data with third parties, Canadian privacy laws say otherwise.
Fortunately, due to their zero-knowledge architecture, 1Password and NordPass have no way to access your password vault.
Like 1Password and other cybersecurity companies, NordPass collects some standard statistical data about your account's activities such as the strength of your master password, the type of browser you use, and the number of items stored in your vault.
However, one thing that sets NordPass apart is its acceptance of cryptocurrency as a payment method. These private and anonymous payment methods are useful for those who want them. This also gave NordPass an advantage in the LastPass vs NordPass comparison guide.
And if you want to stop any of these password managers from snooping around IP addresses from which you've entered your vault, you should consider using a good VPN service, or use Tor Browser.
Privacy policy winner: NordPass
---
Plans and pricing: Which one offers better value for money?
At first, our contenders might seem the same in terms of plans and pricing, but once we dive a bit deep you'll begin to see some serious differences.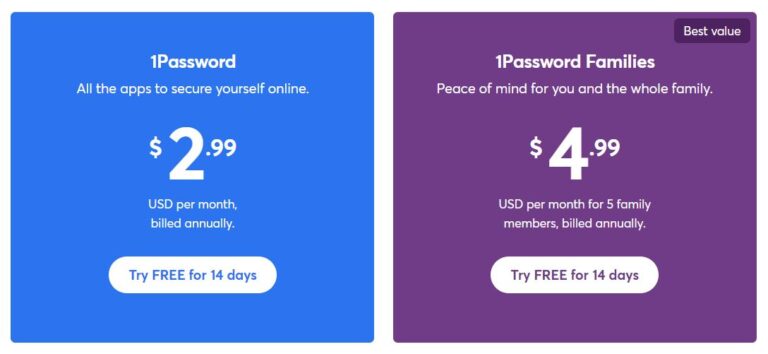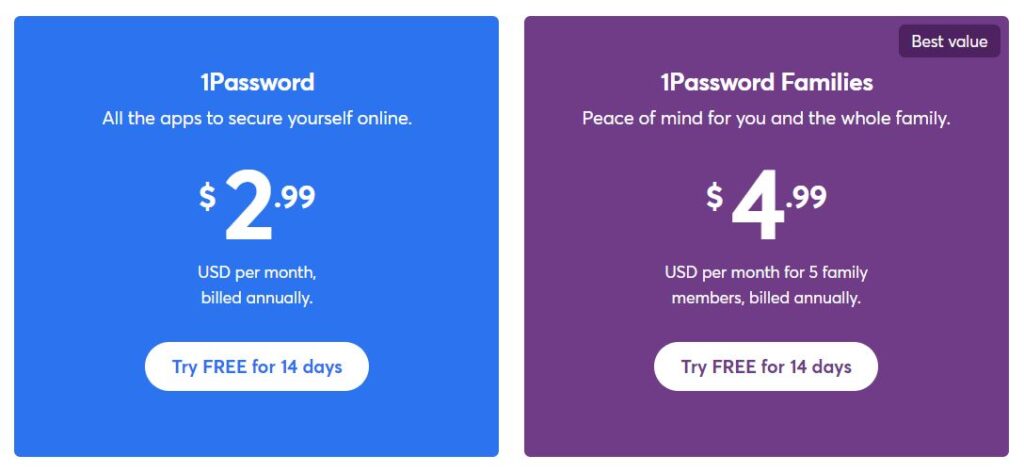 At first, our contenders might seem the same in terms of plans and pricing, but once we dive a bit deep you'll begin to see some serious differences.
1Password's cheapest personal plan will cost you $3.19 per month and it will be billed annually. So, it will add up to $35.88 per year, once it starts after a 14-day trial. If you're not sure about using 1Password, cancel your subscription before the end of your free trial since there's no way to get a refund once it runs out.
The "Family" plan supports up to five family members and costs only $4.99 per month, billed annually at $59.88. This plan includes everything from the previous one, plus a management console for the family, more user accounts, and the ability to recover locked family member accounts. And if you have a big family, you can invite additional users to your plan for $1 per person per month.
If you're here for professional packages, 1Password offers three of them: "Teams", "Business", and "Enterprise". "Teams" starts at $19.95 per month and covers up to ten team members and support up to five guest accounts for limited sharing. "Business" is even richer in features as it is aimed at bigger businesses. It'll cost you $7.99 per user per month and provide a rather impressive collection of features including custom security controls, an activity log for tracking any changes to the vault, and business-focused Watchtower reports.
There's also the "Enterprise" plan for enterprise-level business but you'll have to get in touch with the sales department to get the pricing since the plan is customizable.
All personal and business plans besides "Enterprise" come with a 14-day free trial – no credit card information required.
Available payment methods with 1Password include all major credit/debit cards (including Visa, Mastercard, American Express, Discover, Diners Club, and UnionPay) and that's about it.
We should also point out that 1Password, unlike most popular password managers, lacks a free edition of its product.
Now, let's take a look at NordPass' plans and pricing and how it compares to 1Password.
Unlike 1Password, NordPass provides a freemium edition of its product and it comes with similar features and functionality as its paid counterparts. This makes it an excellent place to start exploring NordPass.
When you use the coupon link above, you will get the discounted prices shown below for NordPass:

As we write, NordPass offers one free plan, one premium plan, one family plan, and two plans aimed at business users – "Business" and "Enterprise" where the latter one is completely customizable.
Both "Free" and "Premium" are created with single users in mind since you can have only one user account with either of them. Nevertheless, they do support multiple devices and all your data will be automatically synced across them – which makes it an unbelievably good buy.
If you subscribe for the free edition, you'll get a chance to try out the "Premium" plan for 30 days after which your account will be automatically downgraded – if you fail to upgrade to "premium", that is.
On top of everything included in the free edition, "Premium" plan will also throw in the ability to stay logged in while switching between devices, secure sharing, emergency access, password strength checker, and scanning the web for data leaks.
With the "Family" plan you'll get all this but cast across six premium accounts.
Both "Business" and "Enterprise" plans come with a wide variety of business-focused features such as a security dashboard, secure item sharing, and activity log – so, everything you'll need to keep a close watch on all user activity across your solution.
The "Business" plan will cost you $2.56 per user per month and it supports up to 250 users. Like with 1Password, you'll have to contact the sales staff to find out how much will "Enterprise" plan set you back.
A 30-day money-back guarantee is offered with all personal paid plans while the "Business" plan comes with a 30-day free trial – also, no credit card details are required.
NordPass provides more payment methods than most of its competitors. These include all major credit/debit cards, PayPal, Amazon Pay, Google Pay, Sofort, and cryptocurrencies (such as Bitcoin, Ethereum, and Litecoin).
Plans and pricing winner: NordPass
---
Customer support: Which one offers better support?
When it comes to customer support, both contenders will lend you a helping hand through several customer support channels. However, we found one of our contenders more helpful than the other.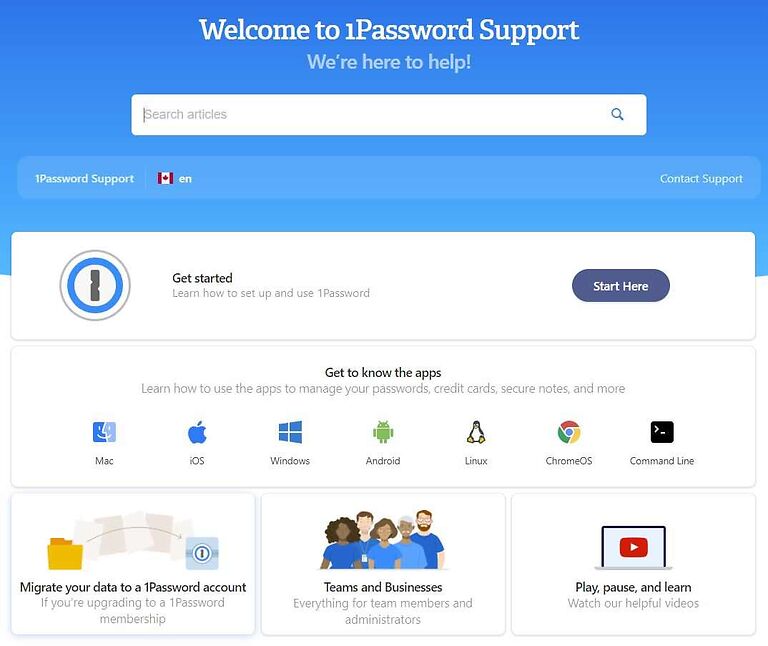 Your first stop with 1Password will probably be its simple-to-use knowledgebase. It's packed with well-written how-tos where the most popular guides are highlighted under the search box.
If this doesn't work for you, there's an option to get in touch with the support team via email, social media sites (Facebook, Twitter, Reddit, and so on), or its community forums. However, if you were expecting to get a swift response, we'll have to burst your bubble – with 1Password's support team, you'll need to wait.
On the other hand, NordPass takes its customers (even free users) a bit more seriously. In addition to the FAQ section and stacks of step-by-step guides, NordPass offers support via tickets and 24/7 live chat – and you shouldn't wait for an eternity before receiving a response, unlike with 1Password.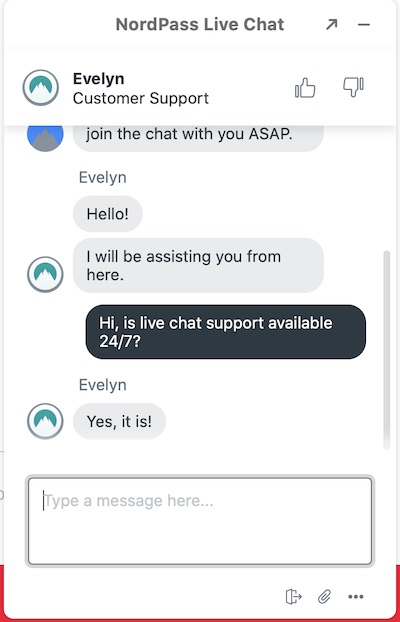 All in all, while both contenders offer solid self-help options, there's not much competition for NordPass here – it comes out on top beyond question.
Customer support winner: NordPass
To connect with NordPass live chat support, simply go to the NordPass website here and then scroll down to the bottom of the page and click the chat icon in the bottom-right corner.
---
NordPass vs 1Password: Who wins the day?
While both 1Password and NordPass are superb choices, after scrutinizing all areas significant for users, we've found NordPass is superior in terms of security, user-friendliness, and price-performance ratio. Therefore, NordPass wins this contest.
If you've scrolled through the guide missing some of the critical chapters, you might be wondering why NordPass was victorious. So, here's the recap and the summary of all areas we've scrutinized in this NordPass vs 1Password comparison guide:
Background check: NordPass – it's based in a safe privacy jurisdiction, has a less prying privacy policy, and hasn't suffered any security incidents.
Platforms availability: It's a tie – since 1Password and NordPass support the same OS' and browser extensions, we can't do anything but call it even.
Core and premium features: 1Password – while this was a tough call, since we're fans of Travel Mode we went with 1Password. However, NordPass is a bit better for core features and 1Password for premium features.
User interface and ease of use: NordPass – because every step of the process from creating an account to capturing logins felt more effortless with NordPass than with 1Password.
Security and encryption: NordPass – while this wasn't an easy pick, we chose a contender with future-proof XChaCha20 encryption.
Privacy policy: NordPass – NordPass wins this round since it accepts cryptocurrency payments and has a competitor that is based in Canada.
Plans and pricing: NordPass – it's more pocket-friendly and offers a free tier of its products, while 1Password doesn't.
Customer support options: NordPass – in addition to self-support services it provides 24/7 live chat support for all users, which can't be said for 1Password.
In the end, while both password managers present excellent value for money, NordPass takes the leading role and comes out on top. It's a highly polished, feature-rich product that comes with a risk-free 30-day money-back guarantee and a freemium edition.
If you still want to see our separate hands-on reviews for both password managers, you can see our NordPass review and also the 1Password review.
Be sure to get the best savings possible with the coupon below.
NordPass Cyber Deal:

Get 52% Off NordPass (drops the price to $1.43 per month) plus 1 month free:
(Coupon is applied automatically.)
NordPass vs 1Password FAQ
Were NordPass and 1Password ever hacked?
No, neither of the two password managers was ever hacked. While NordPass is still a new kid on the bock, 1Password has been around since 2006, which makes this fact even more impressive in our book. However, since both NordPass and 1Password utilize a "zero-knowledge" policy and encrypt all your data before it reached their servers, even if they happen to get hacked – all your data would remain safe and secure.


Can NordPass import from 1Password and vice versa?
You can use a shortcut to import your data from 1Password to NordPass since 1Password is one of many password managers NordPass supports direct imports from. Alternatively, you can also do it by using a CSV file. On the other hand, if you wish to import your files from NordPass to 1Password, you'll have to do it via the CSV file you've created previously.


Which has better mobile apps – NordPass or 1Password?
Since NordPass' mobile apps are intuitive, user-friendly and as fully-featured as their desktop counterparts, we find them superior to 1Password's mobile apps. In contrast, 1Password's mobile apps seem somewhat short on features.


This NordPass vs 1Password comparison was last updated on January 3, 2023.