While the internet sometimes seems like all fun and games, it's also a perilous place swarming with crafty cybercriminals, malicious software, and all sorts of security risks. Safeguarding your sensitive information behind strong passwords is a smart strategy but it's not the only thing you can do to boost your security online.
By using one of the best password managers, you can better secure your online accounts. Additionally, you can save the time in both creating strong passwords and entering them into different websites.
Since both NordPass and RoboForm have been coming out on top among the most popular password managers on the market, we'll compare them in this hands-on guide.
While RoboForm is one of the well-versed veterans of the industry, NordPass looks like a newcomer in comparison. However, the new kid on the block is becoming more popular every day, has passed third-party security audits, and is also innovating with new features. So let's see who comes out on top.
| | | |
| --- | --- | --- |
| | NordPass | Roboform |
| Website | NordPass.com | LastPass.com |
| Platforms | Windows, macOS, Linux, Android, iOS | Windows, macOS, Linux, Android, and iOS |
| Browser extensions | Chrome, Edge, Firefox, Opera, Safari | Chrome, Firefox, Opera, Edge, and Safari |
| Free version | Yes (1 device) | Yes |
| Encryption | XChaCha20 | AES 256-bit |
| Support | 24/7 live chat | Email |
| Price | From $1.24 | From $1.16/mo. |
| Coupon | 37% Off + 1 Month Free > | N/A |
So, to help you get an idea of which out of the best solution, we'll take a close look at each contender.
Here's the list of core areas we're going to cover in this RoboForm vs NordPass comparison guide:
Background check
Platforms availability
Core and premium features
User interface and ease of use
Security and encryption
Privacy policy
Plans and pricing
Customer support options
Now, let's start with a brief background check of NordPass and Bitwarden, side by side.
Background check: Company information and history of security incidents
Launched in 2019, NordPass is one of the newest additions to the Nord Security family, a longtime leader in cybersecurity. If the company's name sounds somewhat familiar, it's because it stands behind one of the best VPN services on the planet, as you can see in our NordVPN review.
To build brand trust, NordPass and its sibling have undergone independent security audits and passed with flying colors.
Like other Nord Security products, NordPass is smartly situated in Panama. This allows it to be a completely no-logs service and not retain user data. So unlike the infamous FVEY countries, such as the US and UK, poor privacy laws won't present a problem within the foreseeable future.
Now let's examine the background of RoboForm.

RoboForm came into existence in 2000 as a form-filling software but it soon developed into the full-fledged password manager. It was launched by Siber Systems (or Siber for short), a privately-held IT company situated in Fairfax, Virginia (USA).
Since the USA is part of the Five Eyes Alliance (FVEY), this is unfortunate news for all those who value their privacy on the internet. It's because FVEY is a major intelligence gathering and sharing alliance, with the USA at its heart. Additionally, there have been various cases where privacy companies have been forced to log their users.
Background check winner: NordPass
---
Platforms availability: Platforms availability: Does NordPass or RoboForm support more platforms?
In terms of platform availability, you shouldn't go along with anything less than having support for all the operating systems and web browsers you rely upon day by day. And apps are supposed to be available on computers and smartphones alike.
Fortunately, both of our contenders provide cross-platform support, so you should be comfortable with either of them. Below is the lineup of supported operating systems and browser from NordPass.

NordPass's desktop and mobile apps are available on the following operating systems:
Windows (version 8, 32/64bit and up)
Linux (any version supporting snap 64bit)
macOS (version 10.13 and up)
Chrome OS (supports NordPass Web Vault only)
Android (version 8.0 and up)
iOS (version 14.0 and up)
As for browser extensions, these are available:
Google Chrome
Mozilla Firefox
Microsoft Edge
Opera
Safari
RoboForm's app is currently compatible with the following operating systems:
Windows (version Vista, 7, 8, and 10, as well as Windows Server)
Linux (via standalone extension only)
macOS (version10.13 and up)
Chrome OS (via standalone extension only)
Android (version 5 and up)
iOS (version 13 and up)
When it comes to browser extensions, these are available:
Google Chrome
Mozilla Firefox
Microsoft Edge
Opera
Safari
It's evident that NordPass and RoboForm are evenly matched in terms of platform availability, so we can only call it even.
Platforms availability winner: It's a tie
---
Features comparison: NordPass vs RoboForm
While there are some variations with the premium features each popular password manager provides, in terms of core features, most are similar. They'll give you the ability to:
import/export passwords
auto-fill and capture login information
create strong passwords with a simple-to-use generator
As noted in the NordPass review, one should take a look at security-focused features before choosing one of these solutions. However, since this is a very significant subject, we're going to dedicate a separate chapter to it. So, if you're in a hurry to check security features, scroll down until you see "Security and encryption".
As for the core features, here is what you can expect to get with both NordPass and RoboForm:
Autosaving and auto-filling login credentials
Categories for passwords, notes, and credit card details
Emergency access/trusted contact
Easy-to-use strong password generators
Intuitive and insightful dashboards
Multi-platform support
Solid industry-standard encryption
Secure password vaults
Securely syncing passwords across devices
Secure data sharing
Two-factor authentication (2FA)
We should also note that the password recovery procedures with both password managers are pretty much a pain in the neck. So, try not to forget or lose your master password.
If you're not sure you can trust yourself to keep your master password safe and close at hand, enable biometrics, and set up an emergency contact – it will make it much easier. Also, don't lose your account email address as it can be essential for the recovery procedure.
Very well, now let's continue with the core capabilities, just like we did in the NordPass vs Bitwarden comparison. This includes importing/exporting passwords, auto-filling forms, and generating strong passwords.
After that, we'll continue with the premium features and figure out which of our contenders has more to offer. If you wish to see premium features right now, scroll down until you see the "Premium features" chapter.
Importing/exporting passwords
While with all password managers, you have an option to add passwords to your encrypted vault. You can do this automatically after account creation or manually via your dashboard. It's much simpler (and time-saving) to import them all at once via importing functionality or .CSV file.
The importing option comes into play only if you're already using another password manager or your web browser for storage. However, as noted in our secure browser guide, it's not a good idea to store passwords directly in your browser. However, it's fine to use a secure browser extension, such as the ones below.
Fortunately, both NordPass and RoboForm will allow you to import your passwords from various platforms.
NordPass supports import from all major password managers including 1Password, LastPass, KeePass, Dashlane, and BitWarden. As for browsers, Chrome, Firefox, Edge, Opera, and Brave are supported. For everything else you can export/import via .CSV file.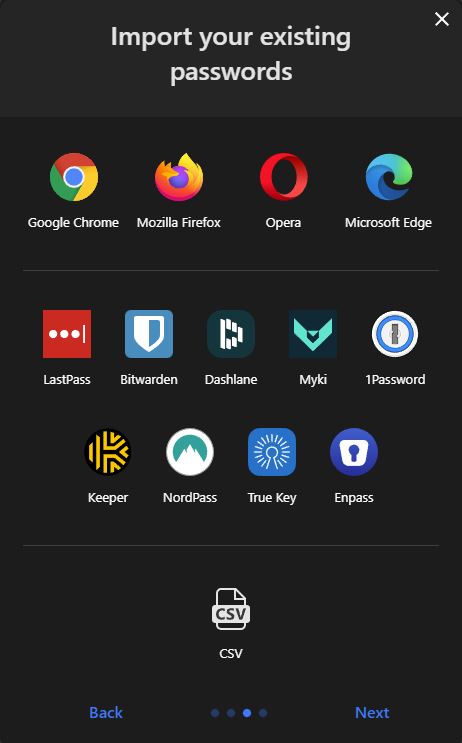 RoboForm's list of supported password managers includes some big names as well – LastPass, 1Password, BitWarden, Keeper, and True Key – to name a few. As with NordPass, you can also import passwords from browsers – the same ones are supported except for Brave. For everything else, the answer is .CSV file
Although exporting/importing passwords via .CSV might feel intimidating at first, it's surprisingly straightforward.
Auto-filling and capturing login information
When it comes to auto-filling and capturing logins, both NordPass and RoboForm pass the test with flying colors. As soon as you sign in to a site, a small window will pop up in the top-right corner prompting you to save your login information.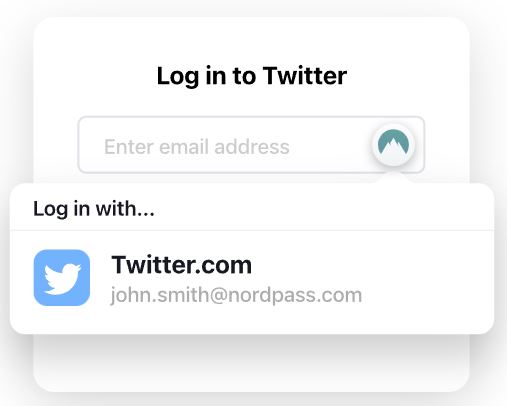 From then on, every time you visit the same sites, the icons will appear and once you click on them, they will auto-fill the login fields with your credentials.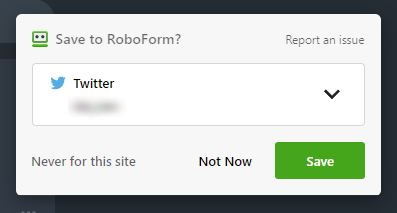 This process is as straightforward and as swift with both our contenders and everything should be done within a couple of clicks.
Random password generator
To make sure your passwords can't be cracked, NordPass and RoboForm offer strong password generators – and you don't have to be a subscriber to lend their password-creating powers.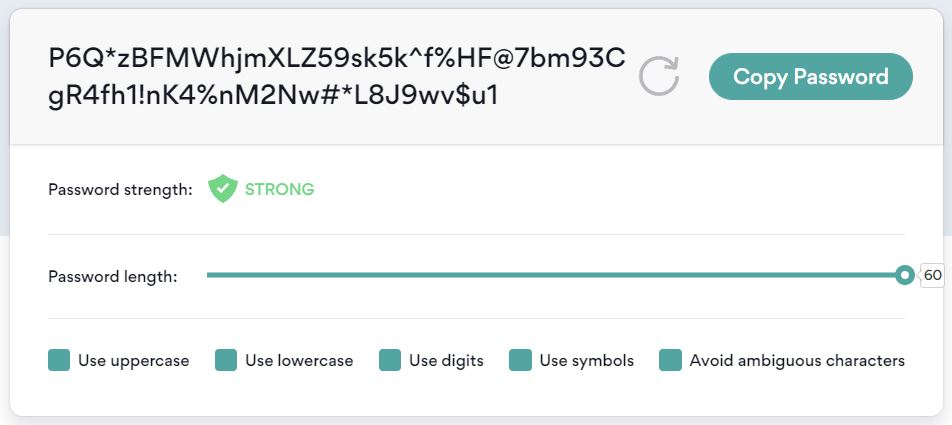 With NordPass' strong password generator you can come up with passwords of up to 60 characters. These can be a combination of uppercase and lowercase characters, as well as digits and symbols.
And if you'd rather use a passphrase than a confusing combo of characters, NordPass also offers a passphrase generator.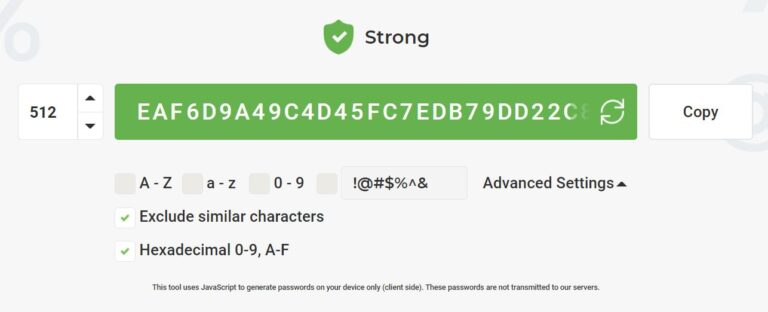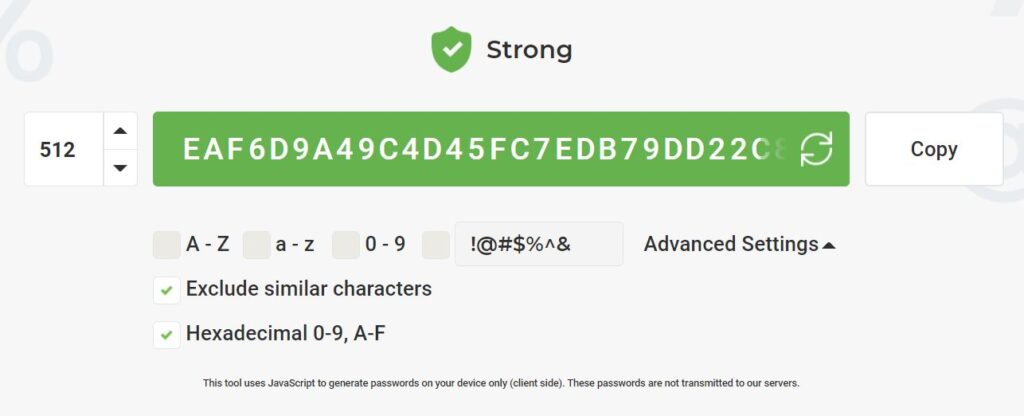 At the same time, with RoboForm you can create up to 512 characters long passwords. It supports everything NordPass' password generator does and also throws in two additional settings options: to exclude similar characters and to include hexadecimal numbering, 0-9, A-F.
Premium features
Considering both of our contenders are just as effective when it comes to core features, their premium features may be a deciding point. Some of these are cost-free, while others come with paid plans only.
So, if premium features are the most significant factor for you, here's a brief list of the best premium features you will get with NordPass and RoboForm.
Password audit / Password strength checker
You can check how secure your passwords are with both of our contenders.

With RoboForm, you'll have to go to your dashboard and find the "Security Center" section near the bottom-left sidebar menu. As soon as you arrive there, it will automatically check the strength of every password saved in your vault and give you a shout if any of them have been reused, compromised, or simply shown as weak.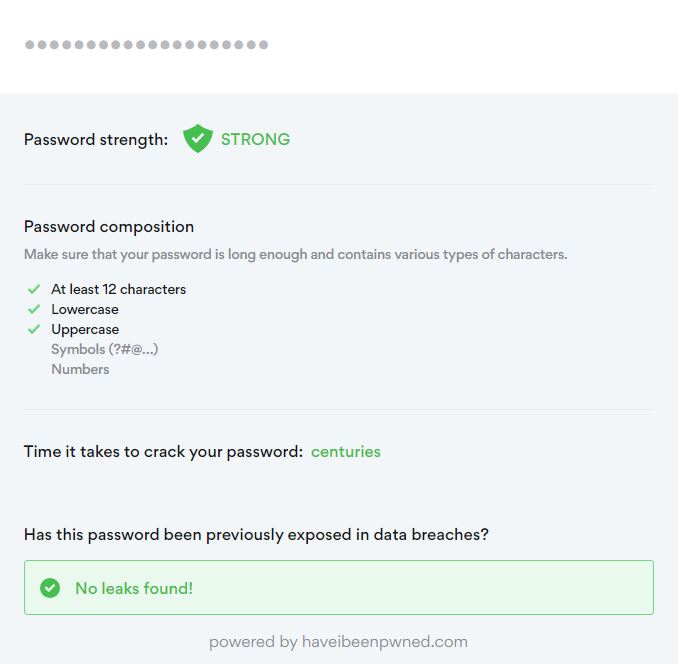 With NordPass you can use a stand-alone password strength checker, and it's free for all subscribers and casual visitors alike. If you want to use it, go here, type in or copy/paste your password, and it'll rate its strength in real-time.
Right under the rating, you'll get a couple of tips about your password composition. In short, try using at least 12 uppercase/lowercase characters and combine them with numbers and symbols.
Moreover, NordPass' checker will also see if your password has been previously exposed to security breaches.
Real-time data breach monitoring with alerts
All premium NordPass subscribers can benefit from its real-time data breach monitoring and they'll also be alerted without delay if their email address gets exposed during a breach.
This gives NordPass users the ability to act quickly and diminish the damage that could be done in a data breach.
While RoboForm will notify you about any compromised password in your vault, it won't do much about your email address.
Secure data sharing / Secure shared folder
If you've purchased any of the premium NordPass plans, the items you share with other users will also appear in the "Shared Items" section of your vault. Thanks to this you can easily keep track of what you've shared and with whom.
We must also note that while you have to be a premium (paid) user to share your items, your recipients can be free NordPass users or non-users. So, you can securely share your items with pretty much anyone.
To securely share your data using RoboForm you'll have to do it via its secure shared folder feature. It's available with paid plans only (starting with "Everywhere") and it gives you the ability to grant specific access levels to specific users, in line with their needs.
Random username generator
If you're not feeling particularly creative or simply want to create a unique username for all of your online accounts – NordPass' username generator can help you with that.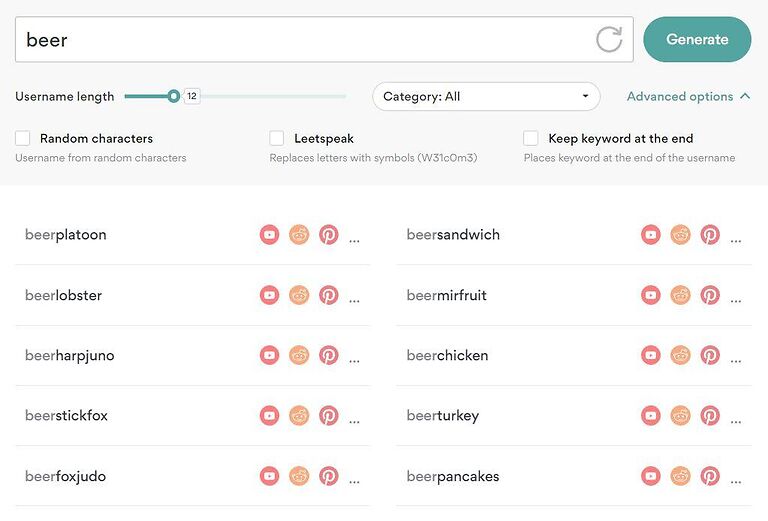 It'll generate random usernames that'll take shape of strings of words that are relatively simple to remember. Here, you can choose categories (such as movies, space, and food), which will then affect the words that form your username.
For instance, by choosing "food" you can end up with random usernames such as "beerlobster", "grapeheart", and "whiskeywind" – so, "beerlobster" for the win.
In the end, the generator will also display if your username is available or taken across different platforms – YouTube, Vimeo, Twitch, and so forth.
Features winner: NordPass
See all NordPass features here >>
---
User interface and ease of use: Is NordPass or RoboForm more user-friendly?
Both NordPass and RoboForm hit the high points in terms of user-friendliness, starting with the sign-up and installation process to adding login credentials and syncing the data securely across multiple devices.
In short, both our contenders are relatively simple to understand and use. And if you get stuck anywhere along the way, there are simple-to-follow guides.
Like in our NordPass vs 1Password side-by-side comparison, we'll cover three core phases: the initial sign-up, user interface design, and how easy was to work with both password managers.
Sign-up and installation
Orienting yourself around official sites, finding personal and business plans, and installing password managers is equally easy with both NordPass and RoboForm. You can also find add-ons in your web browser app store. Since we use Chrome, we visited the Chrome Web Store and found both extensions within seconds.


If you want to try out the freemium edition of NordPass, go to the official site and scroll down until you see three plans. There, you'll see the "Free" plan so go and hit the "Get Started" button. After this, you'll be asked to enter a valid email address and come up with a master password – and then you can continue with the installation.
If you wish to add a NordPass to your browser, you can do it like with any other extension.
Making use of RoboForm's free plan is also easy. Just visit the official site and tap on the "Get RoboForm Free" button on the landing page – it's probably the first button you'll spot on the site. Besides being asked to supply our full name, sign-up and installation processes were pretty much the same as with NordPass.


User interface
Once the installation is complete, you'll be sent to the main dashboard – and the same is true with both password managers.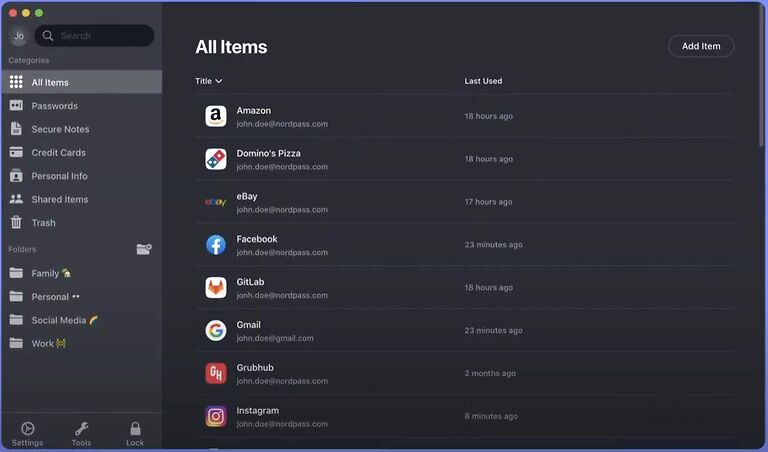 As soon as you add all the necessary information to NordPass, Nord Security will welcome you with an email and help you make your first steps – and give you a link. When you arrive on the dashboard you'll also meet the setup wizard which will give you a couple of tips about using NordPass.
Like with NordPass, once you reach RoboForm's dashboard you'll be offered a short YouTube tutorial. It seems helpful enough and it will support you during your first steps with the password manager.
Also, if you find UI' to be eerily similar, it's because we're trying our best to protect our eyesight by utilizing the dark mode – and yes, both our contenders have this option.
Note: It should also be mentioned that you'll have to create a new account with NordPass even if you already have an account with Nord Security – for instance, if you're using NordVPN or NordLocker.
Password managers in action (summary)
Even those who have never used this sort of solution before will surely find both password managers easy to understand and use. So,although we've tried to find a favorite out of these two, it was an impossible task – they're both equally easy to set up and work with.
User interface and ease of use winner: It's a tie
---
Security and encryption: Is NordPass or RoboForm more secure?
Considering the amount of sensitive information a password manager holds – such as contact information, credit card details, and possibly compromising documents – checking out the security-focused features is critical.
While it doesn't occur often, password managers have suffered security incidents. As we covered in our LastPass review, this password manager has suffered from a handful of security issues. Proceed with caution.
So, like in our NordPass vs LastPass guide, before choosing which of our contenders is more secure, we'll check how they hold up in terms of security.
Specifically, we'll see do they utilize industry-standard encryption, what authentication tools are available, whether there is secure data storage, and whether they've passed any third-party security audits.
Encryption
With solid encryption algorithms, zero-knowledge architecture, and 2FA support, both NordPass and RoboForm can keep you on the safe side of the internet. However, NordPass comes out on top in terms of security technology.
With a cutting-edge ChaCha20 encryption algorithm, variant XChaCha, NordPass manages to stay a step ahead of its competitors, including RoboForm. It's not only more up-to-date than standard AES, but also lightning fast, free of hardware, and future-proof.
Meanwhile, RoboForm protects all user data on its servers with 256-bit AES encryption, which is still considered to be an industry standard. All data is encrypted in transit between your devices and the RoboForm servers, as well as while at rest.
As with other password managers, there is only one way to access data in your vault and it includes a master password that only you control. So, while RoboForm being situated in the USA is bad news, even if the company gets compelled by the US government to share your data, it will stay securely encrypted, and locked behind the master key.
Multifactor security
With NordPass, you can't simply avoid using MFA, as you shouldn't. So, it comes as no surprise that NordPass supports a handful of authentication methods including verification via email, third-party authenticator apps, and third-party security keys.
And if you want to use NordPass for your business, both of its business-focus plans give you the ability to choose which devices are to be trusted.
RoboForm provides 2FA via email, mobile phone, and third-party authentication apps like Google Authenticator, Microsoft Authenticator, or Authy. Whichever version you choose, it'll involve a one-time password that will be valid for a minute or less.
NordPass gives all users the ability to use 2FA. Meanwhile, with RoboForm, 2FA is only available with paid plans only.
Secure data storage
Both NordPass and RoboForm offer some sort of storage but they come with a couple of shortcomings.
To utilize NordPass' data storage, you'll have to download the NordLocker app and install it separately from the password manager (see our NordLocker review for more info). However, this inconvenience comes with a superb pay-off – even with the free edition, you'll get to use a plentiful 3GB of secure storage space.
If 3GB isn't enough, you can upgrade your storage space up to 2TB – but there is added cost to this.
While RoboForm doesn't offer encrypted data storage like NordPass, there are a few features that come close to it. Namely, bookmark storage (similar to the bookmark feature that comes with web browsers) and an option for its users to store their data locally. The latter is a superior choice for tech-savvy users with their own secure servers but can be really risky if you don't possess enough technical know-how to keep your network secure.
Also, like with almost all password managers, RoboForm lets you save secure notes, but this isn't as comprehensive as the secure data storage NordPass has to offer.
Third-party security audits
Although NordPass is still practically a newcomer, it has undergone a comprehensive security audit and its results are looking great – as shown in the audit summary. The audit was conducted by an independent security company called Cure53. While a few low-level vulnerabilities were discovered, NordPass team took immediate action to patch them up. We see this auditing trend also growing in the VPN space, such as with ExpressVPN and NordVPN.
Unlike NordPass and other top password managers, RoboForm doesn't offer any information about security audits it has undergone, if any. Since we can't overstate the importance of independent audits for any cybersecurity company, we'll take this as one of RoboForm's major stumbling blocks.
Security and encryption winner: NordPass
---
Privacy policy: Is NordPass or RoboForm more private?
Let's start with the less private choice out of the two, RoboForm.
The company claims it collects as little user data as it is possible and this includes information gathered from the license purchase page and users' computers. However, RoboForm operates and stores data in the US (remember, one of the FVEY countries), and there have been many situations when government agencies have showed up demanding user data.
If you want to check out RoboForm's privacy policy for yourself, you can do it right here.
On the other end, while NordPass collects some basic statistical information (such as the strength of your master password), the company behind it is situated in Panama – a country that isn't part of Five Eyes, Nine Eyes, or 14 Eyes surveillance alliances. This allows NordPass to better secure user data.
To see NordPass' privacy policy, go right here.
Privacy policy winner: NordPass
---
Plans and pricing: Are NordPass or RoboForm a good value?
If you're searching for a completely cost-free solution, you'll be pleased to hear that both NordPass and RoboForm offer some of the best forever-free password managers in the industry.
So, if you don't mind using them on a single device, you'll get all the core functionalities of a password manager such as unlimited logins, form-filling, secure password sharing, and creating strong passwords – and checking them for leaks too.
All in all, if you need a password manager for personal use, you can get a superb solution with NordPass and RoboForm alike.
Now, let's see the free and paid plans from NordPass.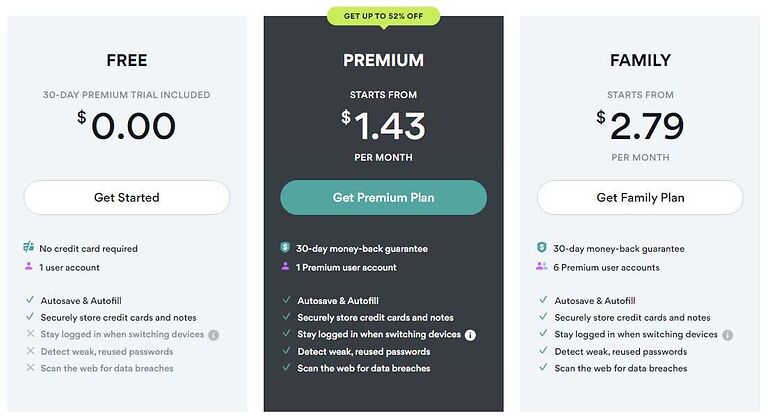 As for the paid plans, NordPass provides a bit of something for everyone. There is a premium plan, a family-focused plan, and two plans aimed at business users – one of which is customizable.
If you go straight to "Premium" you'll have to spend $1.24 per month (if you subscribe for two years, that is), and "Family" starts at $2.79 (for two year-plan also) and supports up to six users.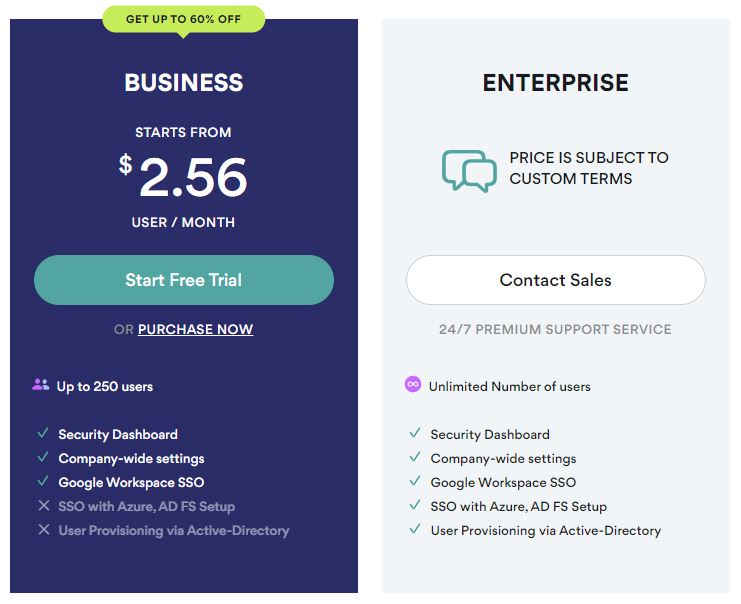 If you're here for business-focused solutions, then you'll want to check "Business" and "Enterprise" plans. With both, you'll get a full set of business-focused features such as a security dashboard, secure item sharing, and activity log.
The "Business" plan is more straightforward as it costs $2.56 per user per month and supports up to 250 users.
With NordPass you can choose between being billed every month, every year, and every two years. The monthly billing option is something we seldom see, so we're glad to have it with NordPass.
While personal paid plans are backed by a 30-day money-back guarantee, with the "Business" plan you'll get a 30-day free trial.
As for payment methods, NordPass supports all major credit/debit cards, PayPal, Amazon Pay, Google Pay, SOFORT, and cryptocurrencies (BTC, Ethereum, and Ripple).
Now, let's take a look at RoboForm's plans and pricing and see how it holds against NordPass.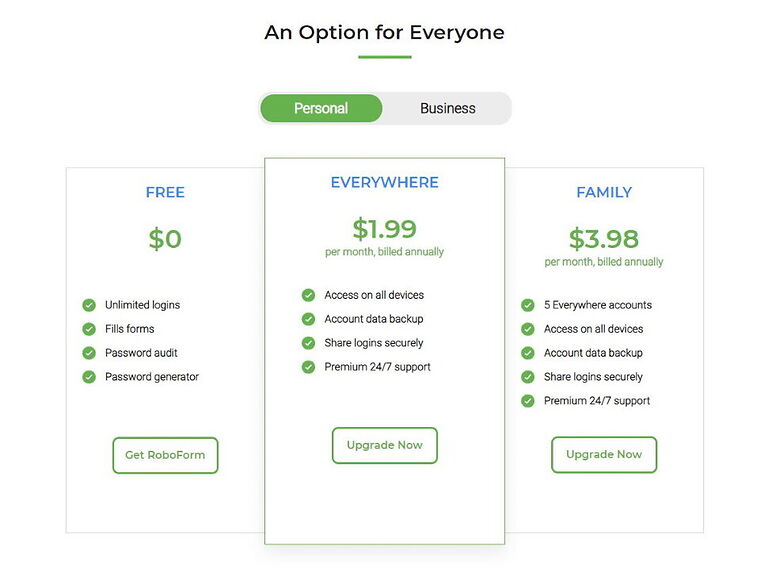 Apart from the free edition, RoboForm offers a plan for single users called "Everywhere" and it will cost you $15.50 for a whole year, or about $1.30 per month. So, a bit cheaper than the NordPass "Premium" plan.
For families, there is the "Family" plan which will set you back $31.00 per year – which is very reasonable – and support up to five users. You can get more details in our RoboForm review.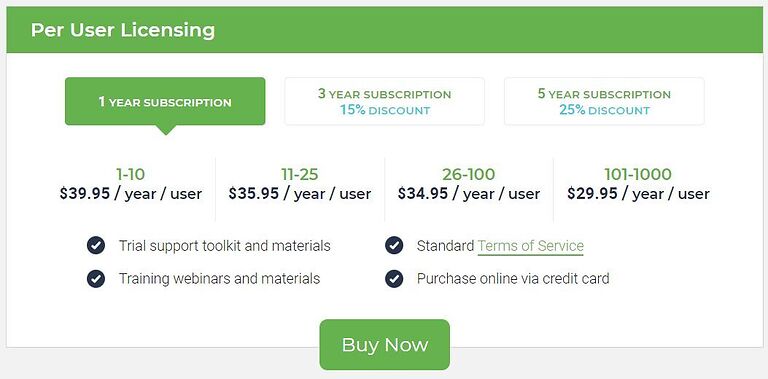 The "Business" will let you customize the number of users and its pricing is closely linked with it. For instance, if you're running a small business with 10 employees, the package will cost you $259.50 per year.
Also, with all three plans you can choose between three billing cycles: one year, three years, and five years.
With the "Everywhere" and the "Family" plan, you'll get a 30-day money-back guarantee, which is plenty of time for testing.
The supported payment methods with RoboForm include all major credit/debit cards, PayPal, and paper checks/money orders.
Plans and pricing winner: It's a tie
---
Customer support: Does NordPass or RoboForm offer better support?
At last, we'll examine customer support options – the same way we did in our NordPass vs Dashlane guide. In short, we'll check what channels are available, at what time, and to which users.
It doesn't matter whether you're a free or paid user. With NordPass you'll get almost the same level of support, including 24/7 live chat support. However, premium users will get the help they need more promptly. The live chat support (available 24/7/365) is a big advantage of NordPass.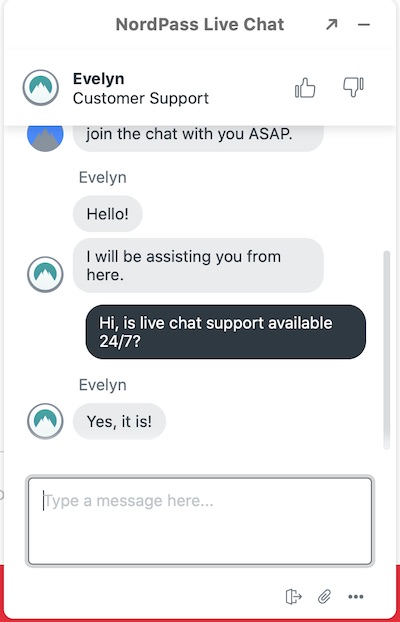 As for self-service, NordPass provides a FAQ section, well-supplied knowledge base, and an official blog full of tips and tricks.
While RoboForm's official site also features a blog, the blog has not been updated for nearly a year.
As for support channels, you can reach RoboForm's support staff via email – and that's about it for free users. Premium users, however, will also get live chat support from 9 AM to 5 PM (EST), Monday to Friday.
As for self-services, you can choose between step-by-step guides in the "Help Center" and the "RoboForm Manual" section. We found most how-tos surprisingly simple to understand and follow. Also, there is a FAQ section covering almost 30 common concerns.
Customer support winner: NordPass
---
Conclusion: Is NordPass or RoboForm the best?
If you're looking for a simple-to-use, seriously secure, and superbly budget-friendly password manager with a fantastic free edition, both NordPass and RoboForm will fit the bill. They also provide free trials/money-back guarantees for those who want to try out their products, with no strings attached.
With that being said, when we tally up every category, NordPass is the overall winner. Here is a brief recap:
Background check: NordPass – The company behind it is located in a safe privacy jurisdiction and has passed an independent security audit. NordPass is based in the US and has not published any security audits.
Platforms availability: It's a tie – NordPass and RoboForm are on an equal footing as they support the same platforms.
Core and premium features: NordPass – While it's a tie in terms of core features, NordPass is more generous with the premium features.
User interface and ease of use: It's a tie – We found both password managers equally easy to understand and use.
Security and encryption: NordPass – NordPass wins with flying colors as its competitor is short on security features and offers no information about its security audits.
Privacy policy: NordPass – NordPass wins without a hitch as its competitor is located in the USA, one of the worst countries in the world for digital privacy.
Plans and pricing: It's a tie – Both contenders provide personal, family, and business plans, and all of them are pretty pocket-friendly to boot. Also, both password managers offer a fine forever-free plan.
Customer support options: NordPass – NordPass provides round-the-clock live chat for all users (free and paid alike) and a regularly updated blog.
All in all, although both password managers provide superb value for money – and fantastic forever-free editions – NordPass comes out stronger in most categories.
While RoboForm is far from a bad solution, it can't match NordPass in terms of features, security, and privacy – and that is what password managers are all about.
If you want to give NordPass a try, there is a great coupon below:
NordPass Black Friday deal is live:

Get 58% Off NordPass (drops the price to $1.24 per month) plus 4 months free:
(Coupon is applied automatically.)
NordPass vs RoboForm FAQ
Do NordPass and RoboForm offer free plans?
Yes, both password managers offer forever-free plans and they're surprisingly good to boot. With either of them, you can store an unlimited number of login credentials, auto-save/auto-fill logins, share your passwords securely, check them for online leaks, and create new hack-proof passwords with strong password generators.    


Have NordPass or RoboForm ever been hacked?
No, as far as we know, neither NordPass nor RoboForm has ever been hacked. However, even if they happen to get hacked, hackers couldn't do anything with your data as it is fully encrypted.


Which one is more secure: NordPass or RoboForm?
While both password managers can be considered secure – as they utilize strong encryption algorithms – we found NordPass to be a clear winner. It offers more security features (such as secure data storage and real-time data breach monitoring) and it passed a comprehensive security audit conducted by an independent cybersecurity company in 2020. In contrast, RoboForm remains suspiciously secretive about its security audits, if there are any.


This NordPass vs RoboForm comparison guide was last updated on January 4, 2023.