| | |
| --- | --- |
| Rank | #1 |
| Based in | British Virgin Islands |
| Logs | No logs (audited) |
| Price | $6.67/mo. |
| Support | 24/7 Live chat |
| Refund | 30 days |
| Website | ExpressVPN.com |
ExpressVPN is a large, well-regarded VPN service used by many people – but does it really live up to its good reputation?
In this new and updated ExpressVPN review, I put the service through extensive testing in order to answer the following questions:
Is ExpressVPN consistently fast and reliable?
How well do the features and leak-protection settings work?
Are the VPN apps reliable and user-friendly?
Can it unblock Netflix and other streaming services?
Is it really worth the price?
To answer all these questions, I ran dozens of tests using ExpressVPN apps on all major operating systems to verify speeds, reliability, security, and whether all the features worked correctly.
---
---
ExpressVPN overview
Here is a brief overview of the test results and research findings for this ExpressVPN review:
Pros of ExpressVPN
Excellent speeds throughout the server network
User-friendly and reliable VPN apps (support for all devices)
Strong encryption, great security features, and no leaks
Located in a privacy-friendly jurisdiction (BVI)
Proven no logs VPN provider
Large, secure server network, servers running in RAM-disk mode
Works with Netflix, great for streaming
Browser extensions with HTTPS Everywhere
Split tunneling feature
Great Android and iOS apps
Dedicated VPN router app (for unlimited connections)
Great customer support (24/7 live chat + 30 day money-back guarantee)
Cons of ExpressVPN
More expensive than some rivals (but see the 49% discount coupon)
Additional research findings
ExpressVPN leak testing tools
Can you use ExpressVPN for torrenting? (Yes)
Does ExpressVPN work in China? (Yes)
ExpressVPN now allows 5 connections
ExpressVPN Pros
Here are the pros of ExpressVPN:
1. Excellent speeds throughout the server network
ExpressVPN is easily one of the fastest VPNs I've tested, with consistently fast speeds throughout the server network.
For this ExpressVPN review, I ran all speed tests on a 160 Mbps wired connection from my physical location in Germany, using 256-bit OpenVPN on the most up-to-date ExpressVPN apps.
Nearby ExpressVPN server speeds
First I ran tests with nearby ExpressVPN servers, which were relatively close to my physical location, and the speeds were all very impressive.
ExpressVPN server in Frankfurt, Germany: 147 Mbps

This speed test result nearly maxed out my baseline connection speed, but it was not an anomaly: all nearby ExpressVPN servers were fast.
ExpressVPN server in Switzerland: 150 Mbps

Wow.
ExpressVPN server in the United Kingdom: 147 Mbps

If you need a UK VPN service with excellent speeds, ExpressVPN is a good option.
With all ExpressVPN servers in Europe, my speed was well over 100 Mbps, with the average being between 140 and 150 Mbps. These are amazing speed test results – to say the least.
Long-distance ExpressVPN server speeds
Next, I ran a number of long-distance speed tests using servers in the United States and Canada, which are further away from my physical location. Normally with long-distance speed tests, there's a considerable reduction in speed due to higher latency. With ExpressVPN, however, the reduction was very minimal.
ExpressVPN server in New York: 141 Mbps

Considering the distance, this is another great speed test result.
ExpressVPN server in New Jersey: 136 Mbps

All of the ExpressVPN servers I tested in the United States performed well, between 120 and 142 Mbps. For readers in the US needing a VPN for USA, ExpressVPN would be a solid choice given the speeds and security.
I also tested a few ExpressVPN servers in Canada. The locations I tested were Toronto and Montreal, and both servers had excellent speeds:

Once again, server speeds were excellent for Canadian servers, making ExpressVPN one of the best VPNs for Canada.
These are among the best long-distance speed tests I've seen.
Tip for getting the fastest speeds with ExpressVPN
The ExpressVPN apps have a useful feature to help you select the fastest server, which is the "recommended server" feature. These "recommended" servers will offer the best speeds based on your proximity to the server location and available bandwidth (server loads).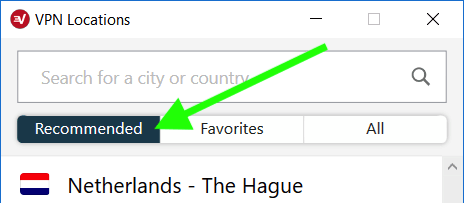 Conclusion on speeds: ExpressVPN now takes the crown as the fastest VPN I've tested. It offers consistently fast VPN speeds on all the servers I tested in the network. If you have a need for speed, ExpressVPN offers premium performance.
2. User-friendly and reliable VPN apps (support for all devices)
When it comes to secure, reliable, and user-friendly VPN apps that just work, ExpressVPN is probably the best option available.
In addition to the VPN quality and reliability, ExpressVPN offers dedicated apps to support all major operating systems and devices.
Recently ExpressVPN rolled out new and updated VPN apps for Windows, Mac OS, Android, and iOS, which I tested out for this review. Here are some of the new updates with these VPN apps:
New design (better layout)
One-tap location change
Improved connection speeds
Improved connection reliability
Here you can see the new ExpressVPN Windows app (same design for Mac OS, Android, and iOS):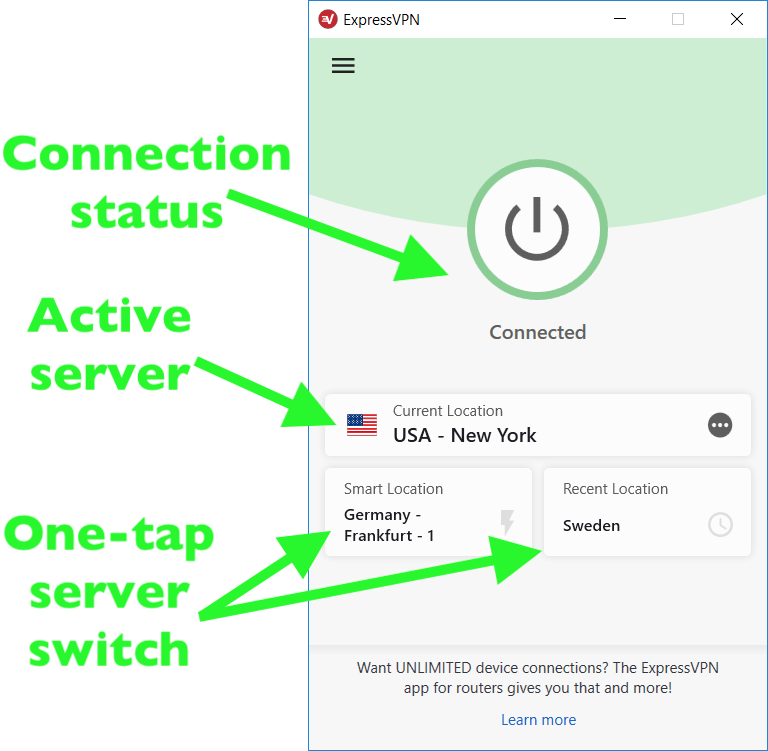 Tapping the three lines in the top left corner of the VPN app opens up a new window with more features and settings, which we'll cover below.
The ExpressVPN app has always been one of my favorite VPN apps with an intuitive design and great layout. Many VPN apps are buggy and/or clunky. This is not the case with ExpressVPN, especially with the latest VPN apps that were released in April 2019.
3. Strong encryption, great security features, and no leaks
Despite being a high-performance VPN with amazing speeds, ExpressVPN also does not compromise on encryption or security.
ExpressVPN encryption
For encryption, ExpressVPN uses an AES 256-bit cipher with a 4096-bit RSA key and SHA-512 HMAC authentication. This is the highest level of encryption and is currently considered unbreakable, while also offering good performance. Additionally, ExpressVPN supports Perfect Forward Secrecy negotiated through Diffie-Hellman key exchange.
VPN Protocols
You can select which VPN protocols you want to use directly in the ExpressVPN apps. Here are the available VPN protocols with the ExpressVPN Windows app:
OpenVPN UDP
OpenVPN TCP
IPSec/L2TP
PPTP
With "Automatic" enabled, ExpressVPN will select the best VPN protocol based on your network settings. For the vast majority of cases, this will be the OpenVPN UDP protocol, which offers the best combination of speed and security. If you are experiencing connection problems on your network, OpenVPN TCP may be a better option (but not as fast as UDP). L2TP and PPTP also offer good speeds, but not as much security as OpenVPN.
ExpressVPN Network Lock feature (kill switch)
ExpressVPN refers to their kill switch as the Network Lock. The Network Lock feature will keep your data secure by blocking all traffic if the VPN connection drops. This ensures every data packet remains encrypted and secure, with your real IP address being protected at all times.
The Network Lock feature is currently available in the following apps:
Windows
Mac OS
Linux
Routers
Below you can see ExpressVPN's Network Lock feature under the General settings in the Windows app: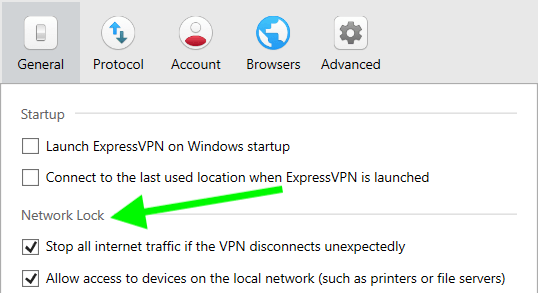 The Network Lock feature worked well when I tested it out with Windows and Mac OS. All traffic was effectively blocked when I manually interrupted the VPN connection.
The kill switch (Network Lock) is a very important feature to keep your data secure in the event of a dropped connection. Most VPNs offer this feature, but in many cases it does not work well (see PureVPN for example).
ExpressVPN leak test results
I ran the ExpressVPN Windows and Mac OS apps through some basic VPN tests to identify any issues or problems. The main testing site I used was ipleak.net. I did not find any leaks or security issues with any of the ExpressVPN apps.
ExpressVPN Windows client with no leaks: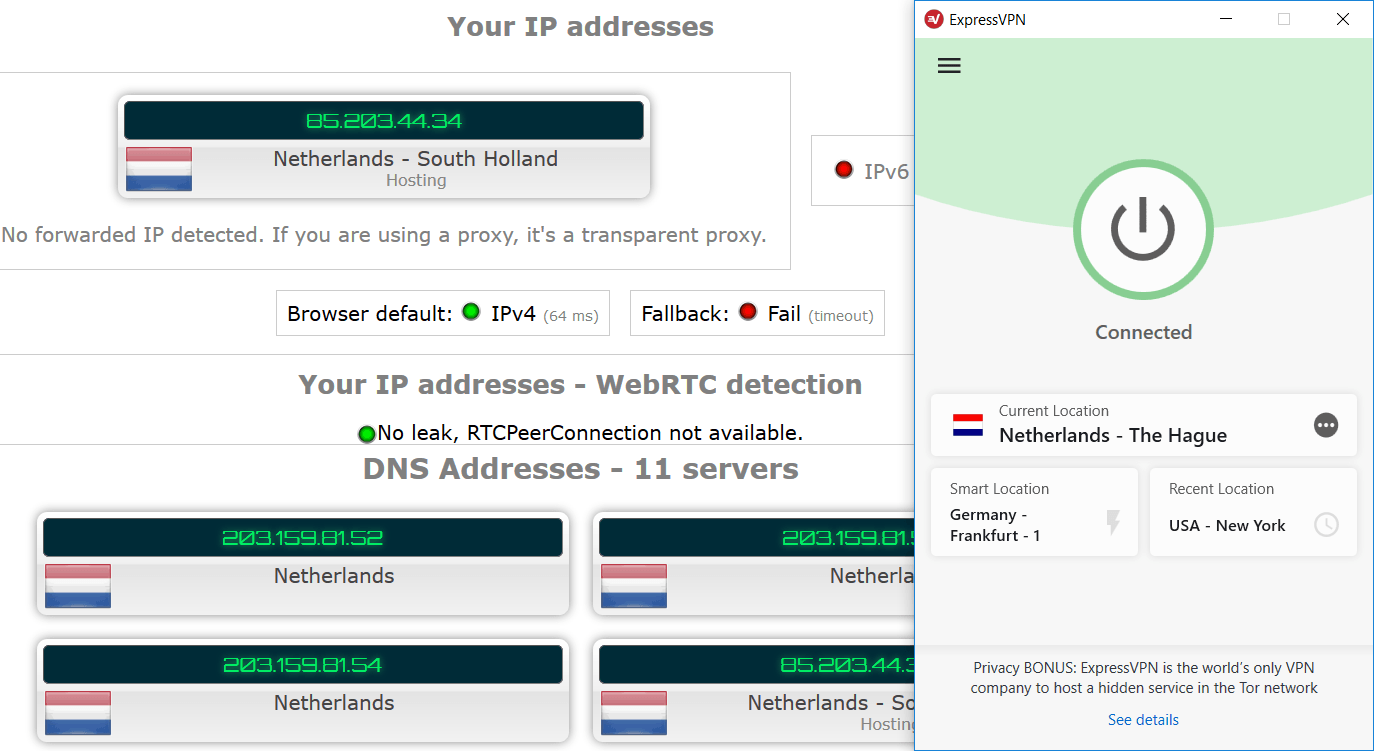 As you can see above, ExpressVPN is securing all my traffic by providing me with an IPv4 address, blocking IPv6, and handling all my DNS requests with their secure DNS resolvers. ExpressVPN's Windows app passed all tests (no leaks were found).
I also ran the ExpressVPN Mac OS client through these tests and did not find any leaks or security problems.
I really liked the ExpressVPN Mac OS app. It is arguably the best VPN for Mac with the design, leak protection settings, and performance.
Conclusion on ExpressVPN security
ExpressVPN is a great choice if you want a high-security VPN service, with maximum encryption and data protection features. It offers both performance and security.
4. Located in a privacy-friendly jurisdiction (BVI)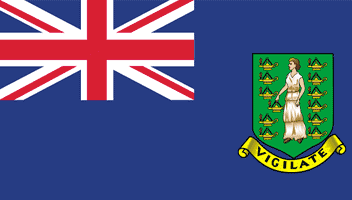 ExpressVPN is based in the British Virgin Islands (BVI). The British Virgin Islands are an independent, self-governing entity with strict laws protecting the privacy of businesses and individuals operating there.
Unlike the UK, the BVI have no mandatory data retention laws or wide-scale surveillance programs, which affect UK VPN providers. Similar to Switzerland, the British Virgin Islands are well-known for strong privacy protection and data secrecy.
The judicial system in the BVI also cannot be compelled to force BVI companies to produce records on their customers. As a country, the BVI is fully independent and does not fall under any other country's jurisdiction, despite the historical connection to Britain.
Considering all these factors, ExpressVPN seems to be located in a good privacy jurisdiction, which is not part of the 5/9/14 Eyes surveillance alliances.
5. Proven no logs VPN provider
ExpressVPN is also one of the few VPNs with no logs that has been verified. First we will take an in-depth look at ExpressVPN's policies, then we'll cover the real-world case that further verified these policies.
ExpressVPN log policies
ExpressVPN clarifies its commitment to user privacy on their website:
ExpressVPN is a premium VPN provider focused on user privacy and anonymity. Our network is built around specifically NOT knowing the internet activities of our users. As privacy is a core part of our service offering, ExpressVPN is in the business of protecting our users' private internet data.
Here is a brief overview of their policies from their website:

In the Privacy Policy they further explain:
ExpressVPN is committed to protecting your privacy. We want you to understand what information we collect, what we don't collect, and how we collect, use, and store information. We do not collect logs of your activity, including no logging of browsing history, traffic destination, data content, or DNS queries. We also never store connection logs, meaning no logs of your IP address, your outgoing VPN IP address, connection timestamp, or session duration.
That being said, there is an option in the VPN apps to share crash statistics, which helps ExpressVPN improve apps, but this data is completely anonymized, does not include personal information. Nonetheless, it can also easily be disabled with one click in the Settings area.
ExpressVPN servers seized: 'no logs' policy confirmed
In December 2017 news broke that authorities in Turkey seized an ExpressVPN server in an attempt to obtain customer data. Before the server was seized in Turkey, Turkish authorities had attempted to force ExpressVPN to provide logs from the server in question. ExpressVPN informed the officials that they are a no logs VPN, not subject to Turkish law, and they did not have any data to provide.
Why is this important?
The relevant issue here is that the authorities were not able to obtain any customer data – because there were no logs available.
ExpressVPN issued a statement here, which explains the case:
As we stated to Turkish authorities in January 2017, ExpressVPN does not and has never possessed any customer connection logs that would enable us to know which customer was using the specific IPs cited by the investigators. Furthermore, we were unable to see which customers accessed Gmail or Facebook during the time in question, as we do not keep activity logs. We believe that the investigators' seizure and inspection of the VPN server in question confirmed these points.
This case confirms ExpressVPN's logging policies and overall commitment to securing customer data.
6. Large, secure server network, running in RAM mode
ExpressVPN offers a large selection of servers around the world, with a very secure network setup.
Right now ExpressVPN has about 160 VPN server locations in 94 countries, with a total of more than 3,000 VPN servers. Europe and North America have the best coverage, but they also offer a good selection of servers in South America, Africa, the Middle East, and the Asia Pacific region.
The server page allows you to see all locations in your area. This page also shows which servers are online and the available VPN protocols each server supports.
All servers running in RAM-disk mode (TrustedServer feature)
In April 2019, ExpressVPN announced a major new network update: all servers in the network would be running in RAM-disk mode, with nothing stored on the hard drive.
ExpressVPN refers to this network security standard as the TrustedServer feature.
On their blog they explained the security benefits of running all servers in RAM-disk mode on their blog:
With our industry-first TrustedServer technology, our VPN servers run only on volatile memory (RAM), not on hard drives. Since RAM requires power to store data, this guarantees that all information on a server is wiped every time it is powered off and on again.

In contrast, the traditional and most common way of running servers relies very much on hard drives, which retain all data until they are erased and written over, a painstaking and error-prone process. This increases the risk that servers could inadvertently contain sensitive user information. If someone were to hack or seize the server, they could gain access to this data. Even worse, hackers who do find their way in might be able to install a backdoor that remains indefinitely.
This is a huge benefit and further lines up with no logs and no data collection. Furthermore, it also protects customer data if a VPN server were ever to be seized by authorities.
Does ExpressVPN use virtual server locations?
A virtual server location is when a VPN server announces an IP address that does not match the physical location of the server. As ExpressVPN has explained on its website, they utilize virtual server locations for these reasons:
When data centers in certain countries do not meet the security requirements of ExpressVPN (such as in Turkey, where servers were seized by authorities)
In countries where there is inadequate network infrastructure to support ExpressVPN servers
Because some ExpressVPN users need IP addresses in these locations, ExpressVPN does utilize a limited number of virtual server locations, which comprise less than 3% of the total network. Many VPNs that use virtual locations, such as PureVPN, are not transparent about the exact locations. ExpressVPN, however, lists all virtual locations and explains the reason for using them.
If you want to use IP addresses from remote regions of the world, ExpressVPN would be a good choice due to their large network of servers.
Does ExpressVPN offer static/dedicated IP addresses?
No, ExpressVPN does not offer dedicated IP addresses.
If you want a dedicated IP address, see my guide on VPNs with dedicated IPs for more details. (Note that dedicated/static IPs are not the best choice for privacy because your internet traffic is not getting mixed with other users.)
7. Works with Netflix, great for streaming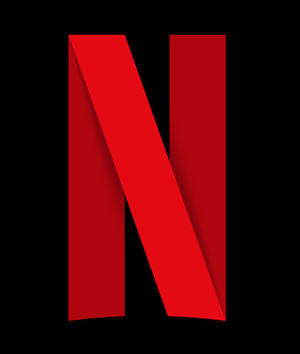 ExpressVPN is one of the few VPN providers that continues to work with Netflix, no matter where you're located in the world.
For this review, I tested out US Netflix with an ExpressVPN server in Washington DC. Everything worked perfectly.
To use Netflix with ExpressVPN, simply start the ExpressVPN app on your device, connect to a server of your choice in the Netflix region you want to use, and then stream Netflix as normal.
If you get any kind of proxy error with Netflix when you are connected to an ExpressVPN server, just contact ExpressVPN's chat support and they'll tell which server to use instead.
ExpressVPN is currently the best VPN for Netflix for two main reasons:
Excellent streaming quality (no buffering or interruptions)
24/7 access to Netflix (no network-wide blocks)
ExpressVPN is also a great choice if you need a reliable VPN for Kodi.
8. Browser extensions with HTTPS Everywhere
ExpressVPN offers browser extensions for Chrome, Firefox, and Safari browsers. The browser add-on is an extension of the ExpressVPN app, therefore you will need to be running the ExpressVPN Windows, Mac OS, or Linux desktop application.
Why use the browser extension when you can use the desktop VPN app?
The biggest advantage of using the browser app is convenience – i.e. the ability to easily switch server locations directly in your browser, rather than having to navigate to the desktop VPN client. Here's what that looks like in Firefox: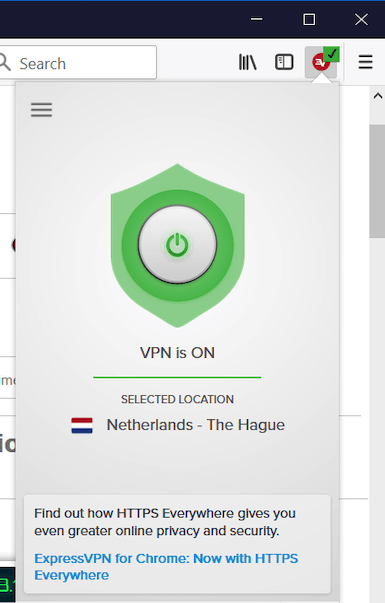 Additionally, the ExpressVPN extension also incorporates HTTPS Everywhere – a great add-on (from the Electronic Frontier) that forces HTTPS connections.
9. Split tunneling feature
ExpressVPN offers a split tunneling feature with their applications for Windows, Mac OS, and routers.
Split tunneling allows you to select which apps will go through the VPN tunnel and which can bypass the VPN to the regular (unencrypted) internet.
This feature can be found in the settings area of the Windows and Mac OS clients. By default, all traffic and applications are routed through the VPN. In the settings, you can select three different options:
All apps use the VPN
Do not allow selected apps to use the VPN
Only allow selected apps to use the VPN
If you click the second or third options, a pop-up window appears, allowing you to select the specific apps.
The Mac OS split tunneling feature is basically the same as with Windows above.
This is also really useful with routers, because it allows you to select specific devices and/or websites to bypass the VPN. ExpressVPN is one of the few providers that offer this feature (and it works well).
10. Great Android and iOS apps
Both ExpressVPN mobile apps I tested on Android and iOS performed well.
ExpressVPN is one of the best options for both Android and iOS, allowing you to use the OpenVPN protocol and secure tunneling. Most VPN providers are limited with the VPN protocols they offer on mobile devices. This is especially true for iOS, where most VPNs only support the IPSec/IKEv2 protocol.
ExpressVPN has fully-functional OpenVPN apps with secure 256-bit encryption for both Android and iOS (iPhone and iPads). With iOS, you can choose between OpenVPN and IPSec/IKEv2 protocols. The ExpressVPN Android app uses only the OpenVPN protocol.
From a design and layout perspective, both the Android and iOS apps look the same as the screenshots above with the Windows and Mac OS apps.
11. Dedicated VPN router app (for unlimited connections)
ExpressVPN is also one of the few VPN services that offers a dedicated VPN router app, which works on select router models.
Using a VPN on your router is a very smart way to get an unlimited number of connections with your VPN. This is because the router will only count as one connection, but it will provide every device that connects to your router with the full benefits of the VPN: encrypted traffic, new IP address, location anonymity.
If you want to use ExpressVPN on your router, you have the following options:
Use the ExpressVPN router app on one of the supported router models (recommended)
Manually setup ExpressVPN on your router (more work, but not too difficult with some routers, such as with most Asus models)
Using the ExpressVPN router app is the best solution because it offers the following features:
Easily switch between VPN servers
Split tunneling (select which apps or websites bypass the VPN)
Network Lock (kill switch) to block all traffic if the VPN connection drops
Here you can see the supported models for the router app on the left, and the types of routers you can use for manual setup on the right: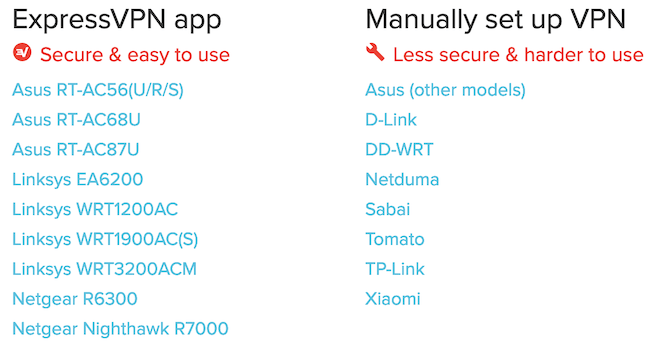 See my VPN router guide for additional setup options.
12. Great customer support (24/7 live chat + 30 day money-back guarantee)
While support with larger VPN services can sometimes be hit or miss, ExpressVPN seems to be doing quite well with live chat support.
I tested out ExpressVPN's support repeatedly for this review. In all my interactions, I found the support department to be prompt, knowledgeable, and polite.
You can get access to 24/7 live chat support directly through their website in the bottom-right corner. With each chat session I initiated, I was connected to a representative in under a minute.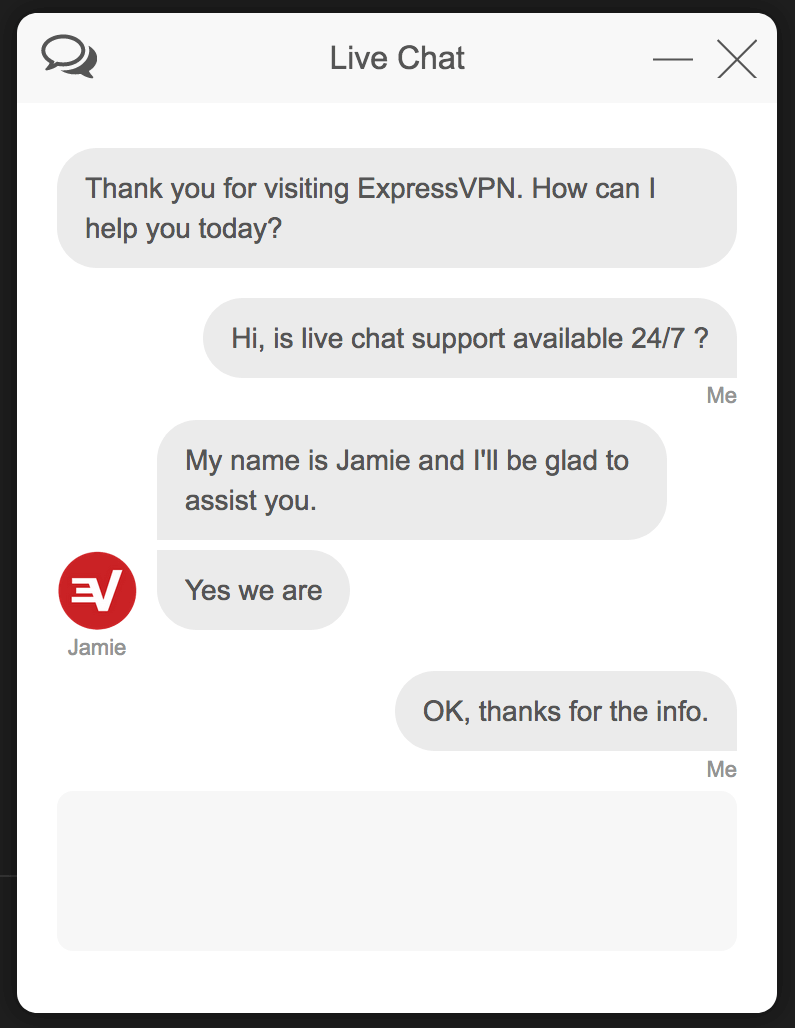 Live chat support is definitely a plus if you need help setting up the VPN on your devices or have specific questions that are not answered on the website.
30 day money-back guarantee
Another great benefit with ExpressVPN is that it offers one of the longest refund windows in the industry. With all VPN subscriptions (even one-month plans), you get a full 30 day money-back guarantee. If you are not 100% satisfied with your VPN subscription, you can cancel on day 30 for a full refund, no questions asked.
Overall ExpressVPN offers great customer support.
ExpressVPN Cons
1. More expensive than some rivals
One drawback with ExpressVPN is that it is a bit more expensive than some other rival VPN competitors (but certainly not the most expensive).
ExpressVPN costs $6.67 per month if you use this discount coupon and select the 15-month plan. Without the discount coupon, the cheapest price for ExpressVPN is $8.32 per month with the annual plan.
Here are the prices with the current ExpressVPN coupon:
$6.67 per month (15-month plan)
$9.99 per month (6-month plan)
$12.95 per month (monthly plan)
This makes ExpressVPN more expensive than NordVPN ($3.49 per month), even with the NordVPN coupon. (Note, ExpressVPN still comes out on top in the ExpressVPN vs NordVPN comparison.) It is also cheaper than Perfect Privacy, another top-ranked service, which costs $8.95 per month.
The key question, however, is value: what you get for your money. In terms of value, ExpressVPN has a lot to offer, as you can see with all of the pros above. I would argue the biggest factors that make ExpressVPN a good value are:
Amazing speeds (consistently fast throughout the entire server network)
Secure and reliable apps with great features
24/7 access to Netflix and other streaming services
While ExpressVPN is on the higher end of the price spectrum, you typically get what you pay for with VPNs.
UPDATE: Now more device connections (5)
Previously, one of the cons was that ExpressVPN only allowed three connections, but in June, 2019, they increased the connection limit to five. This is a good number of connections and about average for the VPN industry.
Additional research findings
Here is some additional information I found for this ExpressVPN review:
ExpressVPN leak testing tools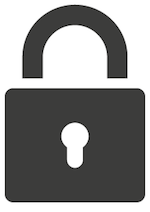 Over the past year, ExpressVPN has made several major improvements to its applications. While the apps still have the same design, they are now hardened and secured to protect users against all types of leak scenarios.
Here is a brief overview of these security updates:
Additional WebRTC leak protection – The WebRTC leak vulnerability pertains to the Firefox, Opera, Chrome, and Chromium-based browsers whereby your real IP address can be exposed. While this is technically a browser flaw that many VPNs won't protect you against, ExpressVPN apps now offer protection.
Additional DNS leak protection – ExpressVPN has also updated their applications to patch a rare DNS leak that may occur when switching network interfaces with an active VPN connection (such as switching from an ethernet cable to WiFi). Very few VPNs protect against this leak scenario.
To identify problems with their VPN service, ExpressVPN developed a suite of privacy testing tools. They decided to make the leak testing tools completely free and open source – they can be used to test any VPN for failures (available on GitHub).
You can also get more information and test your VPN on their website leak testing suite.
Can you use ExpressVPN for torrenting? (Yes)
Many VPNs restrict or limit torrenting on their network. With ExpressVPN, torrenting is allowed without any restrictions or limitations.
There are four factors that make ExpressVPN a good choice for torrenting:
High-performance (premium) server network with exceptionally fast speeds and great reliability.
Overseas jurisdiction that is not subject to DMCA requests or copyright violation demands.
High-quality applications that will keep your data secure while also protecting you against leaks and vulnerabilities. This, of course, also protects you from copyright trolls and DMCA notices.
No bandwidth limitations or traffic restrictions whatsoever.
ExpressVPN is among the top recommendations in our VPN for torrenting guide.
You can also get more information on the ExpressVPN torrenting page.
Does ExpressVPN work in China? (Yes)
Despite the current VPN blocks and censorship efforts, ExpressVPN continues to work in China.
To use ExpressVPN in China, simply connect to one of the China-designated servers (check with support to see these). These servers will automatically utilize an obfuscation protocol with the VPN app, thereby concealing the VPN traffic as regular HTTPS encryption. This easily gets through the Great Firewall and censorship efforts.
See the best VPNs for China guide for additional information and setup tips.
Now five simultaneous connections
In June 2019, ExpressVPN increased their connection limits from three to five. This is a great improvement over the previous limit of three connections.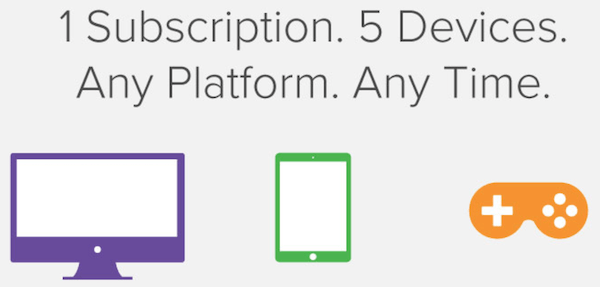 Note: You can use ExpressVPN on an unlimited number of devices, but you are limited to five simultaneous connections at any one time with your subscription.
If you want to use more than five devices with the VPN, there is a simple solution: use ExpressVPN on your router – as we covered above – for an unlimited number of connections. The router will count as only one connection and you'll be able to use it with as many devices as you wish.
ExpressVPN review conclusion
ExpressVPN's performance for this latest review update has earned it a top spot as the best VPN for 2019.
In an overcrowded VPN market, ExpressVPN continues to stand out from the rest and remains the top recommendation at Restore Privacy. To summarize, here are the main findings from this ExpressVPN review:
Superior performance with excellent speeds and reliability throughout the VPN server network.
High-security applications with maximum encryption (passed all privacy/security tests) and the Network Lock feature to keep all data secure.
Excellent offshore jurisdiction and company policies to protect customer data and user privacy (which were also verified with the server seizure in Turkey).
Continues to work with Netflix and other streaming services.
Huge selection of apps that are well-designed, secure, reliable, and user-friendly.
Proven no logs VPN service with all servers operating in RAM-disk mode (no data storage possible)
Top-notch customer service with 24/7 live chat support and a 30-day money-back guarantee.
There is very little not to like with ExpressVPN.
It is a service that continues to improve and gets better over time. While the price has traditionally been on the higher end (at $8.32 per month) you can now get an great discount to reduce the price down to $6.67 per month.
---
---
If you have used ExpressVPN, feel free to share your honest review (good or bad) below.
---