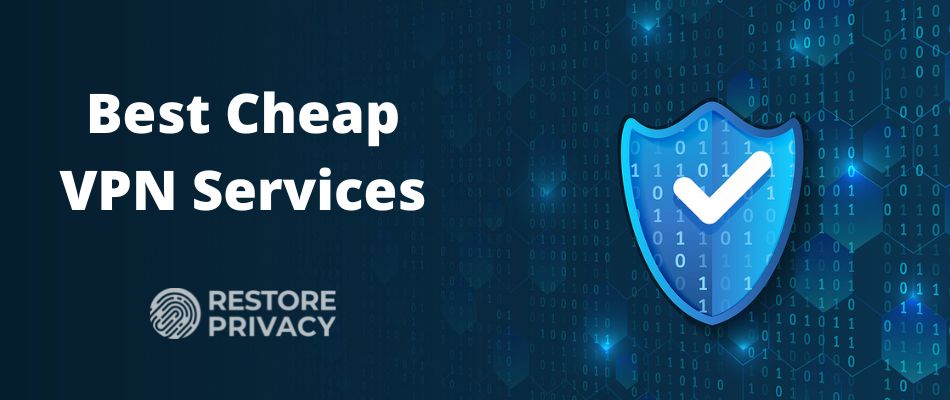 There are many cheap VPN services on the market — but most do not make the cut to be recommended due to data leaks, slow speeds, and/or security issues. This guide highlights the best cheap VPN that passed all our tests in October 2023.
Everyone likes to save money and the same applies to VPN services. Many cheap VPN services suffer from crippling problems like slow speeds, data leaks, and inferior security.
Fortunately, there are several affordable VPNs that strike useful balances between cost, performance, and features. So why pay more when you can achieve the same level of protection at a fraction of the cost?
In this comprehensive guide, we cover the best cheap VPN services available. By the time you finish it, you will have the information you need to choose the best of the best for your specific needs. Say goodbye to overpriced VPNs, and embrace the world of cost-effective privacy and security.
To qualify for this cheap VPN comparison, the service must have a subscription plan that costs under $4 per month. We purchased the leading VPNs in that price range and tested them to narrow our list down to only the top picks.
Below is our ranking of the best cheap VPN providers that are safe, secure, fast, and fully featured. Finding the best cheap VPN all comes down to matching your specific needs to the service that best fits those needs.
How we rank the best cheap VPNs in 2023
How do we rank these low-cost VPNs? Here are the criteria:
Cheap prices (under $4.00/month)
Strong security with no leaks found (no IP address leaks or DNS leaks)
Good performance throughout the server network (speed and reliability)
High-quality VPN apps with all features working correctly
A trustworthy and well-established VPN provider with a good track record
Key Takeaways
T

he best cheap VPN services in 2023 offer a great balance between cost, performance, and features.

When selecting among the best of these inexpensive VPNs, consider security and privacy features, encryption protocols, subscription renewal cost,

and speed to find the best cheap VPN for you.

You will get superior security and privacy if you stick with the

reliable providers listed in this guide.
Here are the best cheap VPN providers:
NordVPN – Best cheap VPN service in 2023
| | |
| --- | --- |
| VPN | NordVPN |
| Based in | Panama |
| Logs | No logs (audited) |
| Price | $3.19/mo. |
| Support | 24/7 live chat |
| Refund | 30 days |
| Website | NordVPN.com |
If you are looking for the best cheap VPN, one that doesn't compromise either security or performance, NordVPN offers a premium experience. It outperforms other VPNs in nearly all categories, from privacy to security, speed, and streaming. While the team behind NordVPN is global, the business is strategically based in Panama for privacy reasons. Panama does not require logs or data retention, as we see in countries such as the US and UK.
NordVPN is a verified no-logs VPN service, having passed multiple third-party audits for verification. The service has 5,500+ servers in 60 countries. All their servers run in RAM-disk mode without hard drives. This makes it impossible for any data to ever be stored on a server, further securing your data from third parties.
Privacy and security features of NordVPN
This cheap VPN also offers an impressive list of features to keep your traffic private and secure, including:
Strong encryption: NordVPN uses an AES-256-GCM cipher with an HMAC SHA256 hash authentication and a DHE-4096 key exchange for Perfect Forward Secrecy.
Obfuscated servers: NordVPN offers obfuscated servers that make your VPN traffic look like regular HTTPS encryption. Traffic passed through these servers is hidden from most blocking and censorship systems, even in places that have stringent controls, making this a great VPN for China.
Double VPN servers: Nine locations in the NordVPN network contain Double VPN servers. These servers encrypt your traffic across two locations before entering the unencrypted internet.
Dedicated IP servers: 15 locations in the NordVPN network contain Dedicated IP servers. These servers assign you an IP address that is used only by you and does not change between sessions.
Onion Over VPN servers: These servers pass your traffic through the Tor (Onion) network as well as the NordVPN server network, further anonymizing your traffic.
P2P servers: These servers are designed to provide fast and secure P2P transfers of files, including torrents.
Leak protection: NordVPN incorporates a VPN kill switch in all their VPN apps to keep your traffic secure and ensure no unencrypted data leaks out of the tunnel.
Streaming support: NordVPN supports a huge selection of streaming services, including numerous Netflix regions, BBC iPlayer, Hulu, Disney Plus, and more.
Threat Protection: This feature will protect your devices against ads, trackers, and malicious files (like an antivirus). On Windows and macOS devices, Threat Protection can even protect traffic that does not pass through a VPN server.
> (opens in a new tab)">See all NordVPN features here >>
NordVPN apps are easy to use and full of features
NordVPN offers a huge selection of secure VPN apps for all types of devices. Whether you need a low-cost VPN for PC or a reliable VPN for mobile operating systems, NordVPN has you covered. They offer apps for Windows, Mac OS, Linux, Android, iOS, gaming systems, and more. Below is the Windows VPN app we tested from NordVPN: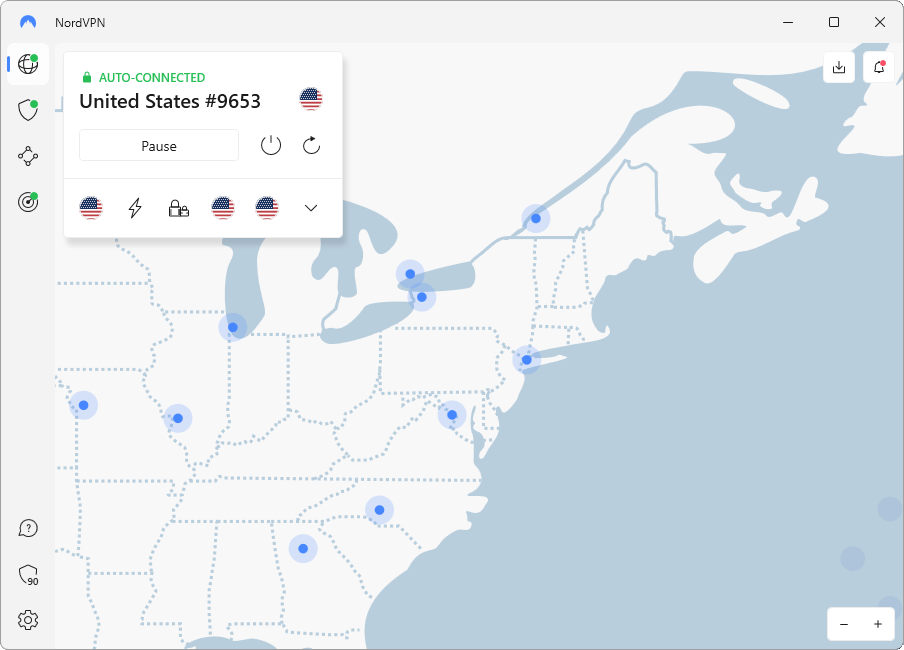 If you need a good VPN for streaming, NordVPN remains one of our top recommendations. It is an excellent VPN for Netflix, BBC iPlayer, Hulu, Amazon Prime, and more. NordVPN even has a dedicated Amazon Firestick VPN app to use with streaming devices. Torrenting is allowed on all servers with excellent speeds.
How fast is NordVPN?
NordVPN is one of the fastest VPNs we've tested, consistently beating out other top-rated VPNs. NordVPN supports the WireGuard VPN protocol with all of its VPN apps. This offers even faster speeds than legacy VPN protocols along with upgraded security. Below is a recent speed test where we hit over 755 Mbps on our 1,000 Mbps test rig when downloading from a NordVPN server in Seattle.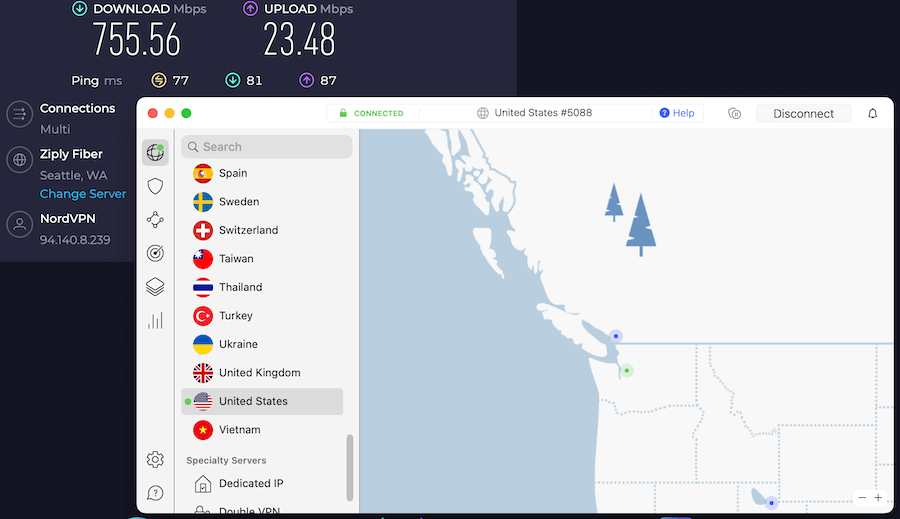 If you want to test-drive what I consider to be the best cheap VPN, then grab the discount below for the best savings. All NordVPN plans come with a 30-day money-back guarantee as well as access to 24/7 live chat support.
+ Pros
User-friendly and reliable apps
Double-VPN and Tor-over-VPN servers
Passed numerous 3rd-party audits
Strong encryption standards with full support for WireGuard
Works with Netflix and many streaming sites
Threat Protection feature to block ads, trackers, and malware
Professional 24/7 live chat support
Consistently fast speeds
Dedicated RAM-servers with 10 Gbps bandwidth channels
– Cons
Big discounts only available with 2-year plans
NordVPN Cyber Deal is Live:

Get 68% Off NordVPN (drops the price to $3.19 per month) plus 3 months FREE:
(Coupon is applied automatically.)
The NordVPN review also includes more test results and information.
---
Surfshark – Cheapest VPN with fast speeds
| | |
| --- | --- |
| VPN | Surfshark |
| Based in | The Netherlands |
| Logs | No logs |
| Price | $2.30/mo. |
| Support | 24/7 live chat |
| Refund | 30 days |
| Website | Surfshark.com |
Surfshark offers excellent security, privacy, and performance at a price that is hard to believe. It is an ideal option for users seeking a budget-friendly VPN option without compromising on features. Coming in at only $2.30 per month for the two-year plan, Surfshark still manages to challenge NordVPN on features and performance. And they have one feature that blows away the competition.

While most VPNs allow you to have 5 or 6 devices using their network at any one time, Surfshark offers unlimited simultaneous connections! This is a great benefit in today's world where everything and everyone seems to be connected to the internet at all times. And it is easy to take advantage of all those connections since Surfhark gives you custom VPN apps for all major operating systems and devices.
Like NordVPN, Surfshark also supports the WireGuard VPN protocol and delivers very fast speeds, challenging NordVPN on this front too. It even beat out ExpressVPN in the Surfshark vs ExpressVPN comparison.
Surfshark is great for streaming
Do you want a cheap VPN to stream your favorite media? Surfshark is a great solution if you need a VPN for Hulu, Netflix, BBC iPlayer, Amazon Prime, and more. Right now Surfshark supports 15+ Netflix regional libraries. You can easily stream Kodi with a VPN as Surfshark offers a broad server network and great speeds. We clocked speeds up to 397 Mbps in our Surfshark review.
Privacy and security features of Surfshark
Surfshark is a no-logs VPN service that has had their no-logs status confirmed by a third-party audit. Beyond the lack of logging, here are some of the other Surfshark features designed to keep your internet traffic private and secure:
CleanWeb feature to block ads, tracking, and malware domains
MultiHop (Double VPN) servers that encrypt traffic over two hops
Camouflage mode (Obfuscated) servers to conceal your VPN traffic and get around VPN blocking
Static and Dedicated IP servers for situations where you need a fixed IP address but also want the privacy and security of the Surfshark VPN
Private DNS that ensures even your ISP can't see which sites you visit
Bypasser (split tunneling) feature to rout traffic outside the VPN (we also see this feature with ProtonVPN and NordVPN)
> (opens in a new tab)">See all Surfshark VPN features here >>
Surfshark VPN apps
Like NordVPN, Surfshark also has a large selection of apps for all types of devices. Here is the Surfshark Windows VPN app that we tested: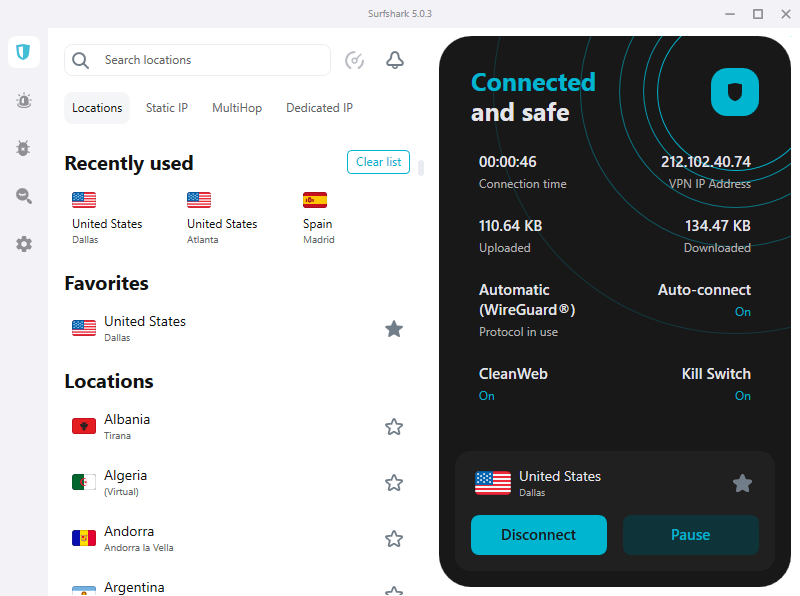 You should also be aware that Surfshark is doing intense development work right now, testing and deploying advanced new features like dynamic MultiHop (you select the servers that are included) and IP rotator (changes your IP address frequently to make you harder to track). This is definitely a VPN provider to watch.
To get the lowest price on Surfshark VPN, use the coupon below with the two-year subscription plan. Every Surfshark subscription comes with a 30-day money-back guarantee and 24/7 live chat support.
+ Pros
Unlimited connections
User-friendly apps for all devices
CleanWeb feature to block ads, trackers, and malware
Works great with Netflix, Amazon Prime, and other streaming services
24/7 live chat support
Full WireGuard support
Split tunneling feature
Secure encryption and leak protection features
– Cons
Limited VPN router support
Big discount only with the two-year plan
Surfshark VPN Coupon:

Get 82% off Surfshark VPN (drops the price down to $2.30 per month) plus 2 months FREE:
(Coupon is applied automatically.)
See our Surfshark review for more info and the latest test results.
---
VPN.ac – A secure and cheap VPN based in Romania
VPN.ac is another top-rated cheap VPN service, coming in at $3.75 per month with the two-year plan. They prioritize strong security features and dependable performance while offering secure VPN apps and a dedicated bare-metal server network with great speeds. Although it is not as fully featured as NordVPN and CyberGhost, VPN.ac is still a decent option at a reasonable price.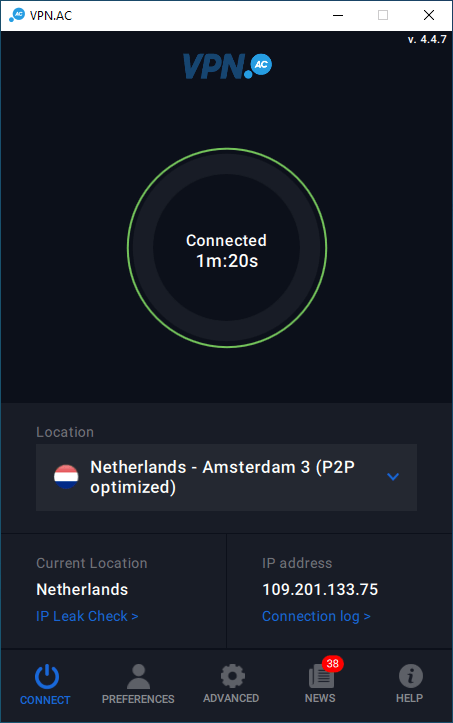 VPN.ac features
For those on a budget who are looking for a security-focused service, VPN.ac is worth considering. Their entire server network runs only on dedicated bare-metal servers, providing you with excellent speeds and security.
They offer 22 double-VPN server configurations as well as secure proxy browser extensions for Chrome, Firefox, and Opera. Within the VPN.ac applications, you can select the VPN protocol, port, and encryption cipher you'd like to use.
Excellent obfuscation features
If you are in a location where VPNs are blocked, VPN.ac offers excellent obfuscation features to get through these restrictions. This makes it one of the best VPNs for China.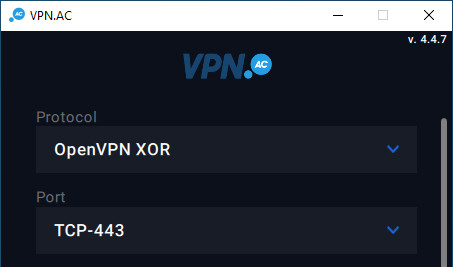 However, VPN.ac does have two notable drawbacks:
It is not a good option if you are interested in streaming video or other content.
VPN.ac has short a 7-day refund window on all subscriptions.
+ Pros
Dedicated bare-metal servers with self-hosted encrypted DNS
Excellent speeds with plenty of available bandwidth
Multi-hop (double VPN) server configurations
Obfuscation features with many different encryption options
Secure proxy browser extensions
WireGuard VPN support
– Cons
Does not work well for streaming

Fewer features than other leading VPNs

Limited refund window (7 days)
Discounted trial: You can get a discounted one-week trial for only $2 (see the FAQ section in the top menu).
See the VPN.ac review for detailed test results.
---
Atlas VPN – Great VPN if you're on a budget, and full of features
| | |
| --- | --- |
| VPN | Atlas VPN |
| Based in | United States |
| Logs | No logs |
| Price | $1.82/mo. |
| Support | Live chat, email |
| Refund | 30 days |
| Website | AtlasVPN.com |
Atlas VPN's popularity as a great cheap VPN was already growing when it was acquired in 2021 by Nord Security, the parent company behind NordVPN. The acquisition has turbocharged the growth of Atlas VPN, and once you test it you can see why this service has become so popular.
In at least one way, Atlas VPN has jumped past even industry leaders like NordVPN. Unlike virtually every other VPN service, Atlas VPN doesn't support OpenVPN, the long-time industry-leading VPN protocol. Atlas VPN exclusively uses WireGuard for all their VPN traffic.
Using only the WireGuard protocol gives Atlas VPN extremely strong security. However, we were not overly impressed with the service's speed. The fastest VPNs we have tested all take advantage of WireGuard's speed. Atlas VPN is fairly fast, but not in the same league as the top WireGuard-powered services.
Atlas VPN privacy and security features
Atlas VPN has one of the lowest prices you will find. But that low price doesn't keep Atlas VPN from offering some big features. This service delivers the kind of strong privacy and security features you find with the leading VPNs. All Atlas VPN apps include a VPN kill switch to secure your traffic. Atlas VPN also offers these extra privacy features:
MultiHop+ – This will route traffic over multiple servers (two or more), thereby securing your traffic behind several layers of encryption.
SafeBrowse – Stop trackers and block malware by activating this feature.
SafeSwap – This feature will give you "many rotating IP addresses" without having to disconnect from the VPN.
Split tunneling – Lets you connect to services that don't work with VPN connections while keeping the rest of your traffic protected.
Data Breach Monitor – As the name implies, you can use this tool to safely check if your email address has been flagged in any major data breaches, based on public databases.
Tracker Blocker – This feature not only blocks trackers but also advertisements and websites that host malware.
No-logs policy – While Atlas VPN is a no-logs VPN, their no-logs status has not been confirmed by outside auditors, in contrast to services like NordVPN.
> (opens in a new tab)">See all Atlas VPN features here >>
Aside from privacy and security features, Atlas VPN also delivers solid streaming performance for a very low price. Within the VPN app, you can select between Streaming and Privacy Pro servers. You can see this in the screenshot below:
For streaming, Atlas VPN gives you access to all the major services, including Netflix, Hulu, Amazon Prime, BBC iPlayer, and even Disney Plus.
All Atlas VPN subscription plans come with a full 30-day return window. And you also get access to live chat support if you need help setting up your cheap VPN on all your devices.
Atlas VPN and Surfshark are rather similar with their unlimited simultaneous connections, low, low prices, and good streaming capabilities. But there are a few places where Atlas VPN doesn't yet match Surfshark:
Atlas VPN is based in the United States, which is not a great location for a VPN. Depending on your specific use case, this could rule out Atlas VPN.
The Atlas VPN no logs policy has not been validated by a third-party auditor.
Atlas VPN is not nearly as fast as Surfshark or NordVPN, both of which also use the WireGuard VPN protocol.
+ Pros
User-friendly VPN apps
Strong encryption and security (with WireGuard)
Extra privacy features (Ad Blocker, MultiHop, and SafeSwap)
Affordable prices (with a free plan)
Works well for streaming
Unlimited simultaneous connections
– Cons
Based in the US (Five Eyes)
No support for routers
Small server network
Check out our Atlas VPN review for more info.
---
Trust.Zone VPN – A basic, low-cost VPN in Seychelles
Another cheap, yet high-performing VPN service to consider is Trust.Zone. Trust.Zone is based in Seychelles and offers a basic VPN with some great features at a very reasonable price. It is a no-logs service with strong encryption and good security.
Trust.Zone features
Here are some highlights from the Trust.Zone review:
Strong encryption: Data is secured with an AES-256-CBC cipher, SHA256 authentication, and an RSA-2048 handshake.
Leak protection: Leak protection (kill switch) features are available with the Windows and Android clients.
Streaming support: You can stream Netflix, Hulu, and other services through Trust.Zone servers (no blocks).
Dedicated IP: Trust.Zone offers very affordable prices if you need a VPN with a statoc IP address in different countries.
Double VPN servers: Trust.Zone offers a few double-VPN servers, but not nearly as many as NordVPN or Surfshark.
WireGuard: Surfshark now supports WireGuard, but the setup is cumbersome through third-party apps.
Unfortunately, Trust.Zone does not offer a macOS VPN app. Another possible drawback is that they have not published any third-party audits of their no logs policy.
FREE TRIAL: Trust.Zone is a great option if you want a free trial VPN. You will get 3 GB of bandwidth and/or 3 days, whichever comes first, and you don't need to provide any payment info.
+ Pros
Competitive prices
Great speeds and reliability
Good leak protection settings
Free trial (no payment info required)
P2P torrents allowed
Dedicated IP addresses available
Additional 10% discount (see coupon code below)
– Cons
Fewer features than competitors
No custom VPN clients for Mac OS (but still supported)
10% OFF Coupon Code: For an additional 10% off your order, use the coupon code RESTOREPRIVACY10
See thisTrust.Zone review for more details.
---
PrivadoVPN – Secure, fast, affordable VPN in Switzerland
| | |
| --- | --- |
| VPN | PrivadoVPN |
| Based in | Switzerland |
| Logs | No logs |
| Price | $2.50/mo. |
| Support | Live chat; Email |
| Refund | 30 days |
| Website | PrivadoVPN.com |
If you're looking for a good and affordable VPN, consider PrivadoVPN. Even though it's not as popular as other big VPN services, PrivadoVPN works well and has great privacy features. It's based in Switzerland, which is known for having strong privacy laws, and it doesn't keep logs of your online activity.
In terms of streaming services, PrivadoVPN currently supports Netflix, BBC iPlayer, Amazon Prime, and other services (but we haven't tested them all). This cheap VPN is also a good VPN for torrenting, with no restrictions on torrenting or file-sharing. With a paid subscription to PrivadoVPN, you'll get unlimited simultaneous connections to their VPN server network.
PrivadoVPN encrypts traffic with an AES-256 cipher and supports the OpenVPN and WireGuard protocols. The apps include a kill switch to prevent any VPN leaks. And like Surfshark and NordVPN, PrivadoVPN also has an ad-blocking VPN feature that's called Control Tower.
Refund policy: PrivadoVPN offers a 30-day refund policy and live chat support with all subscription plans. The cheapest VPN subscription is with the one-year plan when you use the exclusive coupon below.
+ Pros
User-friendly and secure VPN apps
Fast and consistent speeds
Works with Netflix and other streaming sites
Affordable prices (with a free plan)
Strong encryption and security (with WireGuard)
No logs and based in Switzerland
– Cons
macOS app needs some work
Smaller server network
No obfuscation (stealth VPN)
PrivadoVPN Coupon:

Get 88% off PrivadoVPN (drops the price to $1.99/month) + 3 months FREE:
(Coupon is applied automatically.)
Check out the PrivadoVPN review for more info.
---
AirVPN – Secure and cheap VPN in Italy
AirVPN is a VPN service that focuses on keeping your online activities private. It is based in Italy and is very affordable. AirVPN has been around for many years and has a good reputation among people who care about privacy.
You can use AirVPN on all major devices and operating systems, and its apps have built-in leak protection to keep your data safe. Unlike the majority of VPN services, AirVPN only uses dedicated bare-metal servers to ensure the highest level of security.
AirVPN key features
Overview of AirVPN features:
Fully-featured open-source clients: The AirVPN client is open-source and available for Windows, Mac OS, Linux, and Android. It incorporates strong leak-protection features.
Strong encryption: Air VPN encrypts traffic with an AES-256-GCM cipher together with a 4096-bit RSA key and SHA384 authentication.
Secure servers: AirVPN runs only dedicated bare-metal servers in secure data centers around the world.
IPv6 support: IPv6 is supported throughout the server network.
No logs: AirVPN is a no-logs VPN service.
Although AirVPN has a lot ot offer besides a low price, it does have a few drawbacks:
It is not nearly as fast as some of the best VPN providers
It is not the most user-friendly service
We found the support to be hit or miss
The refund policy is extremely limited
Here are the pros and cons of this inexpensive VPN service from Italy:
+ Pros
Secure applications with strong encryption
Great reputation and track record
Some advanced features available
No logs policy
– Cons
VPN apps are not user-friendly
Speeds are variable
Support is hit or miss
Limited refund policy
Refund policy: Refunds are limited to only 3 days and/or 5 GB of data transfer.
---
Are cheap VPNs safe and secure?
While most cheap VPNs are not secure, there are a few noteworthy outliers that offer secure VPN clients, good encryption, and fast speeds. But the problem is finding the good ones when many cheap VPN services have problems like these:
Traffic leaks – They leak your IP address and/or DNS requests, thereby rendering the VPN useless.
Broken features – Many cheap VPN services advertise features that simply do not work well. imagine relying on a VPN service with a faulty kill switch or unreliable split tunneling. See our PureVPN review for an example.
Data collection – Some cheap free VPN services pay their bills by collecting and selling your data. (see Betternet). Others are forced to collect data by the jurisdiction in which they are based. Two of the US-based VPNs that have been forced to do this are IPVanish and Riseup VPN.
Poor support – Many cheap VPNs skimp on customer support.
We've done the hard work of finding good cheap VPNs for you in this article. Choose from among these for the best results.
What is best, a free VPN or a Cheap VPN?
You might be tempted to use free VPN services – but this is usually a bad idea. Most "free" VPNs make their money by collecting and selling user data to third parties. Is saving a few bucks a month worth the risk of getting your online identity stolen, or finding that your personal information if for sale on the Darknet?
Others free VPNs get paid by hackers and other crooks to install malware on your computer. One interesting study found that 38% of free Android VPN apps contained malware, and over 80% leaked sensitive user data.
In short, using a free VPN can easily lead to bad things. Spend a few bucks per month and use a cheap VPN service instead.
Low-price VPNs with discounts and coupons
As mentioned above, some of these VPN services are offering discounts and coupons.
VPN coupons and discounts are a great way to secure a cheap VPN without breaking the bank. While many VPNs are fairly expensive and do not offer any major discounts or coupons, there are a few that offer some great deals.
For example, our top recommendation, NordVPN, occasionally offers bundled deals and discounts. I keep track of these on the NordVPN coupon page. We also have an ExpressVPN coupon page. However, even with the coupon, ExpressVPN is still more expensive than any other VPN on this list.
There are also many cheap VPNs that offer discounts at various times of the year. For example, we find many people purchasing VPN subscriptions around Black Friday and Cyber Monday. We track these deals as well with our guide on the best VPN Black Friday deals.
What about VPN renewal prices, do they stay cheap?
Keep in mind that some inexpensive VPNs might raise their prices upon renewal. We've also noticed that some VPN services will increase their prices significantly after the renewal term. Some VPNs may even offer a cheap trial period, but then hike the prices much higher than average when the trial is over. We have seen this in the past, for example, with PureVPN and also Avast VPN.
To avoid any surprises, ensure that you read the terms and conditions and understand the pricing structure for renewals before subscribing to a cheap VPN service.
Are cheap VPNs worth it?
As long as you can find a trustworthy and secure provider, using a cheap VPN is definitely worth it. But it can take a lot of effort to research the best options. Unfortunately, there are many cheap VPNs that don't use strong encryption or are extremely slow.
The key question here is value: what you get for your money.
Some VPNs are on the higher end of the pricing spectrum, such as ExpressVPN at $6.67 per month. And despite being less money, NordVPN still beat ExpressVPN in nearly every category of the NordVPN vs ExpressVPN comparison. So paying more money does not necessarily mean better VPN performance — there are many factors to consider. All of the cheap VPNs we recommend in this guide offer full support for the WireGuard VPN protocol, which is on its way to becoming the new industry standard.
Lastly, at the other end of the spectrum are free VPN mobile apps, which are generally not worth the risk.
Cheap VPNs take the middle ground and offer good value for your money. In other words, you can still get a pretty good VPN without spending too much money, provided that you select a good provider.
Are there any 100% free VPNs?
Unfortunately, the answer is not really. As we already covered above, free VPNs have costs to operate the service, and somebody needs to pay these costs. If the VPN does not cost any money, then the chances are very high that you are actually paying for the service with your private data.
Some VPNs use a freemium business model. Freemium VPNs offer a limited or restricted free VPN option, along with premium paid plans. We already discussed this above with TrustZone VPN offering a free 3-day trial. There is also Atlas VPN, which offers 10 GB of free data each month (see our Atlas VPN review for details).
Why are long-term VPN subscriptions the cheapest?
There's one thing you will probably notice when browsing the websites of these cheap VPNs. When looking at pricing tables, you can see that the prices of long-term plans are a lot cheaper than paying for the service on a month-to-month basis. In other words, the overall cost over time is cheaper, despite the higher up-front cost. Let's look at an example with a Surfshark VPN pricing table below:
On a monthly basis, you will save a lot more money by signing up for a long-term (24-month) subscription. Meanwhile, if you keep paying the recurring fees for a 1-month subscription every month, you will end up paying more than three times the price over the course of two years. If a company can get you to sign up for a long-term subscription, they lock in a long-term customer. Most subscription services utilize this same pricing model where you save more when you sign up for a longer subscription.
Given the amount of money you can save, it is good to go with a longer plan (just keep in mind the 30-day refund window). The longer plan will give you the best savings for your VPN, and the refund window will give you time to test everything out. It's the best of both worlds.
Other tips for VPN shoppers on a budget and looking to save money
It seems like prices for everything are going up right now. While inflation has fallen from recent highs, the cost of living is still going up sharply. Consequently, people are looking to save money everywhere they can. Thanks to intense competition, VPN prices are not skyrocketing like most other things.
For those on a budget, we would recommend going with a VPN that has a full 30-day refund window. This gives you plenty of time to test out the service risk-free. After all, there is no sense in buying more than one VPN because the first one you purchased did not meet your needs.
Another tip is to take advantage of free trial VPNs. This will allow you to test out the VPN with either a completely free trial window or a risk-free trial that allows you to get a full refund. One example of the former is Trust.Zone, which offers a 3-day free trial for all new users.
Our third tip is to consider bundling services. In many cases, this is cheaper than purchasing services separately. For example, with NordVPN, you can add both NordPass and NordLocker to your VPN subscription. This will be much cheaper than purchasing all three services separately.
This is not always the case, however. As we noted in the ProtonVPN review, this service used to charge an absurd rate ($24 per month) for their "Visionary" plan, which is just the VPN and secure email service bundled together.
Comparing the top cheap VPNs for people on a budget
To wrap up, we suggest choosing one of the cheap VPNs we discussed in this guide. By choosing a cheap VPN such as NordVPN, Surfshark, or any of the others highlighted here, you can enjoy a secure and private browsing experience without breaking the bank. These VPNs all provide robust security features, reliable performance, and also protect your privacy, ensuring that you can access the internet safely and anonymously.
While there are other low-cost VPNs available, we've personally tested and approved the ones listed below. They meet our high standards, provide great value for money, and are worth considering if you're on a tight budget.
Why shell out more when you can gain the same level of protection for a fraction of the cost? Make a well-informed choice and select the best affordable VPN service that fits your needs and budget.
A cheap VPN service will get the job done, with money to spare. And if you want to check out some other deals, see our VPN coupons guide for additional ways to save in 2023.
This guide on the best cheap VPNs was last updated on October 1, 2023.