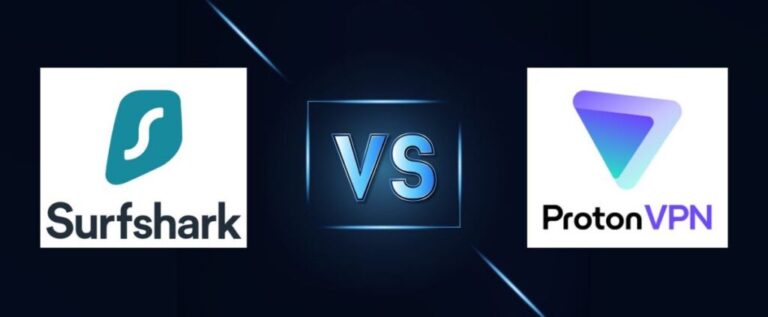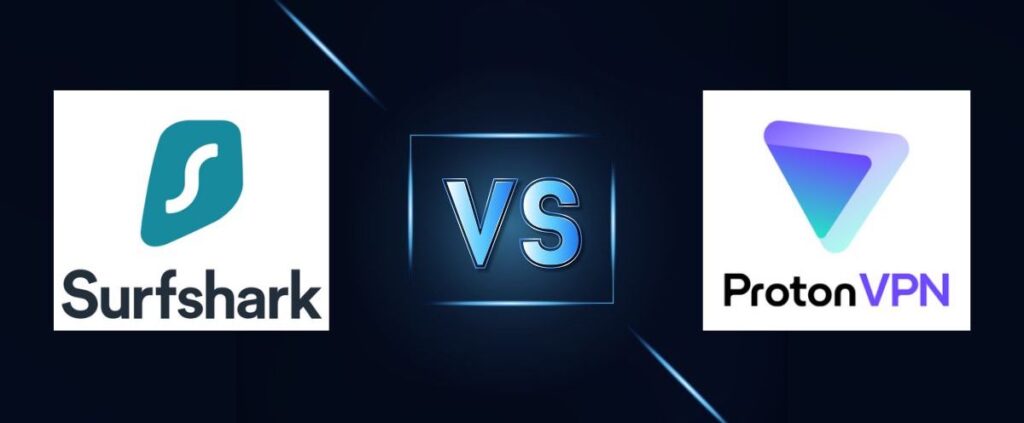 Surfshark and Proton VPN are both on the leading edge of VPN innovation. They offer advanced privacy features, secure apps, and operate in safe, privacy-friendly jurisdictions. With all that being said, our back-to-back tests revealed one clear winner in this Surfshark vs Proton VPN comparison.
Interestingly, both of these VPNs are relative newcomers to the scene. Proton VPN officially launched in 2017, and Surfshark one year later in 2018. Despite this, however, both of these VPNs have grown in popularity and are now recognized as industry leaders.
Based on the latest test results, Surfshark has a clear advantage over Proton VPN. It offers much faster speeds throughout the server network, more security features, an unlimited number of connections, and it is significantly cheaper than Proton VPN (see the coupon below). But before we dive into the details, let's cover they key facts of each VPN:
| | | |
| --- | --- | --- |
| | Surfshark VPN | Proton VPN |
| Website | Surfshark.com | ProtonVPN.com |
| Location | Netherlands | Switzerland |
| Servers | 3,200+ | 1,800 |
| Countries | 100 | 60 |
| Logs | No logs | No logs |
| Torrenting | All servers | Restricted |
| Support | Knowledge Base; 24/7 chat | Knowledge Base; email (no chat) |
| Apps for | Windows, macOS, Linux, Android, iOS | Windows, macOS, Linux, Android, iOS |
| Price | $2.05 (with coupon) | $4.99 |
| Coupon | 84% Off + 2 Months Free > | N/A |
Here are the eight categories we are going to examine in this Proton VPN vs Surfshark VPN comparison guide.
Company background and jurisdiction
VPN features
Speed tests
Streaming and torrenting
Security and Encryption
Privacy
Prices and Refunds
Value
In the rest of this comparison we will dig into each one of these categories with you. You'll see how we pick the winner in each category and have the info to make up your own mind as you wish. By the time you're done, you should have all the information you need to choose between these two quality VPN services.
Company background and jurisdiction
If you are going to pay a company to protect your internet traffic from prying eyes, you had better be able to trust the VPN not to spy on you itself. There have been cases in the past where this happened. Two examples: PureVPN logged a user and gave the info to the FBI, and IPVanish did the same thing a few years ago.
Witht that in mind, here's the information we have been able to glean about the backgrounds of these two VPNs.
Surfshark background and jurisdiction
| | |
| --- | --- |
| VPN | Surfshark |
| Based in | The Netherlands |
| Logs | No logs (audited) |
| Price | $1.99/mo. |
| Support | 24/7 live chat |
| Refund | 30 days |
| Website | Surfshark.com |
Surfshark is a relatively young VPN. It's parent company, Surfshark LTD, was incorporated in 2018. We have not been able to find a single privacy or security violation in the history of the company. This sterling reputation was enhanced when the Surfshark VPN successfully completed an independent security audit conducted by Cure53. (Cure53 has also audited NordVPN and ExpressVPN.)
Interestingly, a few years back, Surfshark merged with Nord Security, the same company that owns NordVPN and Atlas VPN. We're happy to note, however, that the company continues to innovate, grow, and improve under the Nord Security umbrella — so far, so good. Additionally, both Surfshark and NordVPN are also leading brands under Nord Security.
Surfshark LTD is now based in the Netherlands. Due to its location in Europe, this is not the best jurisdiction for a VPN. On the other hand, the Netherlands is not a member of the Five Eyes surveillance alliance. Add in that Surfshark has a strict no-logs policy, and that Cure53 says the service is secure. Your VPN traffic should be safe with Surfshark.
Proton VPN background and jurisdiction
| | |
| --- | --- |
| VPN | Proton VPN |
| Based in | Switzerland |
| Logs | No logs |
| Price | $4.99/mo. |
| Support | Email |
| Refund | 30 days |
| Website | ProtonVPN.com |
Proton VPN has a very different pedigree. Proton AG, the parent company of Proton VPN, is the creator of Proton Mail the famous secure email service. With this background, it should be no surprise that Proton VPN has a good reputation for privacy and security.
Proton AG is based in Switzerland. Just as with Surfshark, this jurisdiction in the heart of Europe isn't ideal. But the country is not part of any surveillance alliances. And like Surfshark, Proton VPN is also a no logs VPN service. Taking things one step further, Proton VPN has successfully completed an independent no-logs audit conducted by Securitum. In other words, your VPN traffic should be safe with Proton VPN too.
But in September 2021, things got more complicated. That's when it was discovered that Proton Mail had provided IP address logs to Europol, despite claiming on their website that they didn't keep any logs! If you want more details on this mess, you can find them in our detailed report on the Proton Mail logging incident.
What does this mean for Proton VPN? It is hard to say. On the one hand, Proton VPN and Proton Mail have the same parent company. On the other hand, Proton VPN is a verified no-logs VPN. You'll have to decide for yourself whether or not you can trust Proton VPN.
While both companies have strong backgrounds and are based in good privacy jurisdiction, the situation with Proton Mail makes us nervous. We're giving this category to Surfshark.
Company background and jurisdiction winner: Surfshark
---
VPN features
When two VPNs are high-quality products, choosing the 'best VPN' for your needs often comes down to their feature sets. Let's investigate those feature sets now.
Surfshark VPN features
Surfshark has an incredibly wide range of features. Aside from NordVPN, I can't really think of another VPN service that comes close to matching them. Here are the highlights:
Nexus Technology
Nexus is a different approach to structuring a VPN server network. Without going into all the details (you can find them here), Nexus technology connects all the Surfshark VPN servers into a single Nexus network. Over time, this approach will enable Surfshark to roll out new features designed to increase your privacy and increase VPN performance.
The first Nexus feature to become available is Rotating IP. It protects your privacy by automatically rotating your IP address every 5 to 10 minutes, without changing your VPN location, and without disconnecting you. Other Nexus features are expected to roll out throughout 2023.
CleanWeb 2.0
CleanWeb 2.0 is the latest version of Surfshark's built-in VPN ad blocker. It blocks ad (of course), but it also blocks trackers, malware, and phishing attacks. This new version also alerts you to data breaches.
Note: The ability to block malware is becoming more and more crucial every day. Hackers are even infecting the links leading to secure web browser and other alternatives to Big Tech, hoping to infect your devices before you upgrade your defenses. Both malware and ransomware is becoming increasingly common.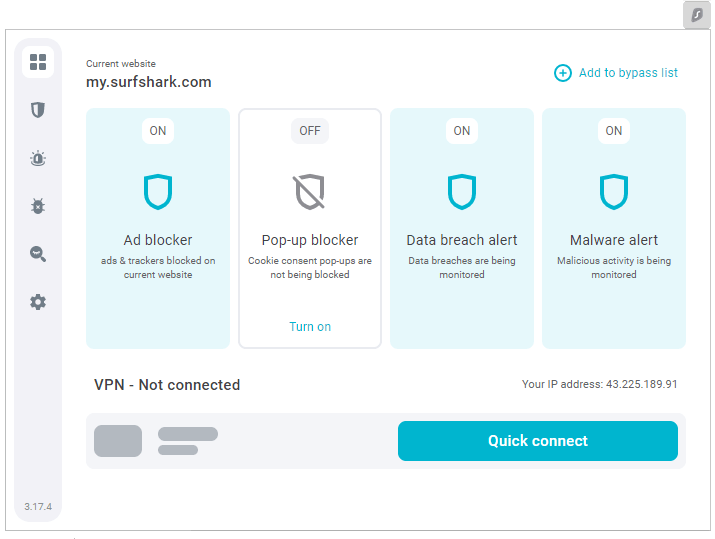 The CleanWeb 2.0 browser extensions add one more trick. They can stop those annoying cookie pop-up requests. Imagine not having to deal with that particular type of annoyance anymore!
Bypasser
Bypasser is a split tunneling feature that gives you control over which traffic goes through the VPN and which traffic goes directly to the internet, outside of the VPN. Surfshark is on our list of the best VPNs with split tunneling.
Kill switch
A VPN kill switch is designed to prevent your data from leaking onto the internet in a situation where your connection to the VPN is somehow interrupted. Surfshark's kill switch has two modes: soft and strict. The Soft kill switch option kicks in if the connection to the VPN drops accidentally. The Strict kill switch option kicks in if you are disconnected from the VPN server for any reason.
Surfshark servers
Surfshark's VPN server network consists of 3,200+ servers located in 100 countries. This puts it on par with the likes of ExpressVPN and CyberGhost with server numbers. Besides thousands of fast, secure servers, the network contains a variety of specialized servers for special situations:
Camouflage Mode, Surfshark's name for obfuscated servers. These servers make your VPN traffic look like HTTPS traffic. This protects your privacy by making your VPN traffic invisible to most internet censorship systems. These obfuscated servers are useful if you need a VPN for UAE and other restricted countries.
Multihop servers is Surfshark's name for Double VPN servers. Multihop passes your VPN traffic through two VPN servers, one after the other to boost your security. Connecting through two servers in this manner makes it much harder for snoops to track your movements across the internet.
Static servers are servers that give you the same IP address whenever you log onto them. Unlike some other static IP VPNs, however, these IP addresses are shared with others (not dedicated). Useful in situations where you need a static IP address, but still want the other benefits of a VPN. You can identify static servers by the presence of an S in a circle: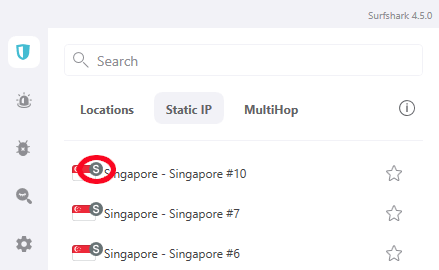 Diskless servers. All Surfshark VPN servers now run in diskless mode. With no hard disk drives, it is impossible for any user data to be stored on a server. You are protected even if a hostile entity physically seizes a VPN server.
Proton VPN features
Proton VPN is another service that includes more features than the average VPN. Here are the highlights of their feature set:
Secure Core
The Proton VPN Secure Core architecture is an enhanced Double VPN architecture. The enhancement is that the Secure Core servers are housed, "in hardened data centers in Switzerland, Iceland, and Sweden, protected by strong privacy laws, and operated on (Surfshark's) own dedicated networks."
NetShield
NetShield is a combined ad and tracker blocker as well as a malware stopper. Very similar to the original version of Surfshark's CleanWeb.
VPN Accelerator
VPN Accelerator is the name for a set of Proton VPN technologies designed to speed up your internet connection. It is hard to pinpoint specific examples of VPN Accelerator in action.
Stealth
Proton VPN stealth protocol obfuscates your VPN traffic, making it look like regular HTTPS traffic. The company claims that Stealth is superior to other obfuscation technologies since it was designed to be obfuscated from the ground up. They claim that many competing obfuscation technologies are hacks on top of existing VPN protocols, and simply don't work well anymore. With that said, Proton VPN is still not a good VPN for China as it is currently blocked.
Split tunneling
Proton VPN does offer split tunneling, but as of today only does so in their Windows and Android apps.
Kill Switch
Most of Proton VPN's apps have the equivalent of Surfshark's soft kill switch. They will protect you if you accidentally get disconnected from the VPN. But they won't keep your traffic from flowing if you intentionally disconnect from the VPN.
Proton VPN's Windows and Linux apps have both that kind of kill switch and the equivalent of Surfshark's strict kill switch which blocks traffic if you are disconnected from the VPN for any reason.
Proton VPN servers
Right now, Proton VPN has over 1,800 servers in 67 countries. As far as VPN server networks go, this is a decent size. Nothing to write home about, but not horrible either. And the network does have a few types of specialized servers. We've already mentioned the Secure Core servers. Beyond those, the network contains these specialized servers:
P2P/Torrenting servers, which are optimized for downloading and sharing content.
Streaming servers, which are optimized for unblocking and streaming content from sources around the world.
Tor over VPN servers, which enhance your privacy by passing your VPN traffic through the 'anonymous' Onion (Tor) network.
But the important thing to remember here is that this full server network is only available to Proton VPN's paying customers. People with a Free account are limited to a little over 100 servers in 3 countries (Japan, the Netherlands, and the United States). Those free servers are also slower than the rest and blocked from using all the advanced features: Secure Core, NetShield, P2P/torrenting, streaming, and Tor over VPN.
Full disk encryption. While Surfshark uses diskless servers to protect the data on those servers, Proton VPN relies on full-disk encryption to protect any data that might wind up on a server. Encrypting your disk drives to protect the data on them is good practice, but running servers diskless is a better one.
While Proton VPN offers more features than most VPNs, Surfshark offers more features, more completely deployed across their apps, than does Proton VPN.
VPN features winner: Surfshark
---
Surfshark vs Proton VPN speed tests
A VPN will always have some impact on the speed of your internet connection. That is inevitable thanks to the amount of work it must do to provide you with a secure, private connection. However, the question is always how much of an impact a particular VPN will have.
To answer that question we ran a series of speed tests. We ran each VPN over the 500 Mbps internet connection in our US lab to see how fast they were when connecting to servers in various locations. In each case we selected the fastest VPN protocols supported by the services (WireGuard for both of these) and recorded the best test results.
Test #1: Seattle, USA
Surfshark connected to a VPN server in Seattle, USA: 308 Mbps.

This is a very good result for Surfshark.
Proton VPN connected to a VPN server in Seattle, USA: 122 Mbps.

Surfshark was more than 2.5 times as fast as Proton VPN in this test.
Test #2: New York, USA
Surfshark connected to a VPN server in New York, USA: 397 Mbps.

This was an exceptionally fast result, the fastest we have seen for a connection to New York.
Proton VPN connected to a VPN server in New York, USA: 158 Mbps.

While Proton VPN improved its speed on this test, Surfshark is still around 2.5 times as fast.
Test #3: Los Angeles, USA
Surfshark connected to a VPN server in Los Angeles, USA: 346 Mbps.

Surfshark is delivering consistently strong results on each test.
Proton VPN connected to a VPN server in Los Angeles, USA: 90 Mbps.

A disappointing result for Proton VPN. Surfshark was almost 4 times as fast as Proton VPN on this test.
Test #4: UK (United Kingdom)
Surfshark connected to a VPN server in Manchester, UK: 330 Mbps.

Proton VPN connected to a VPN server in London, UK: 17 Mbps.

This is a terrible performance by Proton VPN. Surfshark was 19 times as fast as Proton VPN in this test!
If you want a high-speed VPN, Proton VPN is not the VPN for you. Proton VPN also got trounced when we did our Proton VPN vs NordVPN testing. NordVPN is the fastest VPN service we have tested to date. To find out more about this speed demon, check out our complete NordVPN review.
Speed tests winner: Surfshark
---
Streaming and torrenting comparison
Streaming and torrenting are among the major uses of VPNs around the world. And while both activities are similar in some ways, they have significantly different requirements. We'll deal with streaming content from multiple sources (including Netflix) first, then get into torrenting.
The primary requirements to be a good streaming VPN are raw speed and the ability to unblock geo-blocked streaming service websites. This is true whether you are using a VPN for Hulu, Netflix, or any other service.
Raw speed is important because nobody enjoys watching a video that has annoying pauses and stutters. Likewise, no one enjoys watching a video at low resolution because their VPN is too slow to stream the content in full HD or better resolution.
The ability to unblock geo-blocked websites is important because most of the best streaming services use geo-blocking systems to control who can watch their content. They want to prevent you from watching content that is not approved for your geographic region, while you want to watch the content you pay for, even if you happen to be outside some arbitrary "acceptable" location.
Streaming Netflix and other content with Surfshark
Surfshark is one of the best streaming VPNs on the market. Surfshark does a great job of unblocking streaming media sites of all types. And it is extremely fast too, meaning that it streams video smoothly without stuttering or any other visible problems.
Surfshark VPN remains a great VPN for Netflix, being able to unblock and stream content from the most popular Netflix regional libraries around the world. In the following screen capture we are in the United States streaming Netflix from their German library: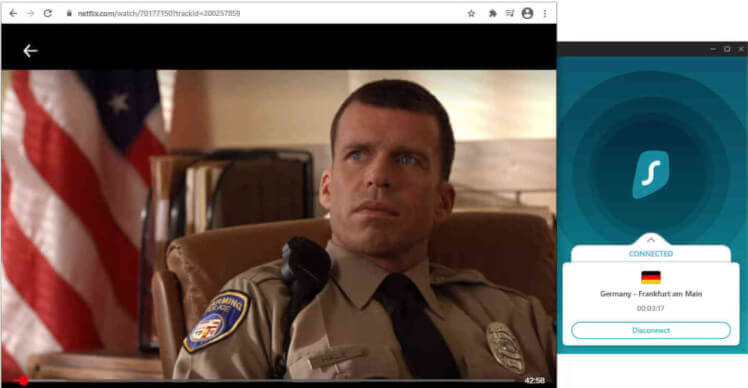 Surfshark's streaming prowess isn't limited to just Netflix. Our testing has shown that Surfshark is also one of the best VPNs for Amazon Prime Video, Disney Plus, and most other streaming video services. So it is no wonder that Surfshark made our list of the best VPNs for streaming, as well. You should also be aware that Surfshark has a dedicated app for Firestick and Fire TV, which greatly expands the number and type of devices where you can stream content with Surfshark.
Streaming with Proton VPN
Proton VPN is certainly not a bad VPN for Netflix and other streaming media services. It just isn't at the same level as Surfshark. Perhaps the biggest drawback of Proton VPN is its low speed. The slower the VPN, the greater the chance that you will not have smooth streaming.
Another issue we have when comparing Proton VPN vs Surfshark for streaming is the fact that it isn't as good at unblocking streaming services as Surfshark is. Proton VPN only works with a handful of the Netflix regional libraries. And when our team was looking for the best VPN for streaming services like Amazon Prime Video or Hulu, Proton VPN didn't make the cut. Further holding back Proton VPN in this competition is its lack of a dedicated app for Firestick or Fire TV.
Note: Streaming content is one area where the money-back guarantee of Proton VPN can come in handy. You can test the streaming in your location, with your ISP (Internet Service Provider), and your favorite streaming services to see if you are happy with the results.
One other thing. While every Surfshark user can stream content, people using the Free Proton VPN plan are blocked from streaming.
Streaming and Netflix winner: Proton VPN is pretty good, but Surfshark is one of the best in the world.
Now that we have streaming out of the way, what about torrenting?
Torrenting
When it comes to securing your IP address and preventing data leaks, both of these VPNs are secure. They don't leak your IP address and they have kill switches that will ensure that your address won't leak even if the VPN connection drops for some reason. So both should be safe for torrenting.
Now let's look at speeds, which should be fast for torrenting. And as we've seen, Surfshark thrashes Proton VPN in speed tests. And there is one final bit of anecdotal evidence that makes the shark the clear winner. Proton VPN prevents you from torrenting on some of their servers. We've seen numerous complaints about users being automatically disconnected if they try to download content using the wrong VPN server.
Torrenting winner: Surfshark
Streaming and torrenting overall winner: Surfshark
---
Security and encryption: Is Surfshark or Proton VPN best?
Both of our contenders provide excellent security for your VPN traffic, and they have security audits to prove it. Surfshark has successfully completed two third-party security audits. Both audits were conducted by Cure53, a cybersecurity firm that has audited ExpressVPN and several other VPN services.
ProtonVPN has successfully completed a third-party security audit conducted by SEC Consult. This audit only addresses the macOS version of the Proton VPN app, but it does give us some confidence that Proton VPN is secure.
Both of these VPNs use similar encryption algorithms and VPN protocols as you can see here:
Surfshark: For encryption, Surfshark uses the AES-256-GCM (Galois/Counter Mode) cipher with an RSA-2048 key exchange, or the ChaCha20 cipher with rotating keys to provide Perfect Forward Secrecy. Surfshark uses three VPN protocols: OpenVPN, IKEv2, and WireGuard.
Proton VPN: For encryption, Proton VPN uses the AES-256 cipher with an RSA-4096 key exchange or the ChaCha 20 cipher. Proton VPN uses the same three VPN protocols as Surfshark: OpenVPN IKEv2 and WireGuard.
We have to declare these VPNs equal when it comes to encryption. Surfshark VPN wins for security thanks to its two third-party security audits.
Security and encryption winner: Surfshark
---
Privacy: Proton VPN vs Surfshark
We want our VPNs to protect our privacy. Part of that is the choice of jurisdiction. Some jurisdictions respect online privacy, and others don't. This is one reason why we do not recommend you use a VPN that is based in the United States. There have been numerous cases of the US government forcing privacy companies to secretly spy on their users.
Surfshark is based in the Netherlands, which is a good privacy jurisdiction. As the company recently noted on their website,
We're based in the Netherlands, so we play by their rules (which are pretty great when it comes to user privacy). As there is no obligatory data retention law, we do not have to store logs, and it makes for a perfect location for a VPN provider.
Reading the Surfshark Terms of Service and Privacy Policy shows that Surfshark has a good no-logs policy. By default, Surfshark apps will record a crash report if an app fails. The mobile apps may contain an advertising ID. But you can disable both of these in the app, and we highly encourage you to do so. All in all, Surfshark seems a very good option for privacy.
Proton VPN is based in Switzerland. This is generally a good jurisdiction for a VPN, but recent events have made us a bit nervous. The Swiss government has sent many requests for user data to Proton Mail, a sister company of Proton VPN. Proton AG, their parent company, has complied with many of these requests, in one case contributing information that helped the French put a Proton Mail customer in jail.
We realize that the privacy laws in Switzerland are different for email services than they are for VPNs. We understand that Proton AG must legally comply with valid requests from the Swiss government, but the whole situation makes us uncomfortable.
You'll need to decide for yourself if the benefits of Proton VPN outweigh the possible privacy risks.
Privacy winner: Surfshark
---
Prices and refunds
While Surfshark has been winning in most of our test categories, both of these VPNs are quality products. And the cost of a service is important. If you can't afford something, it doesn't matter how great it is. So let's see what these two services cost, and what their refund policies are.
Surfshark VPN price and refund policy
With the high-level test results that Surfshark delivers, you might expect it to be expensive. But it isn't. In fact, the Surfshark VPN is one of the least-expensive VPNs you will find. Here are the Surfshark subscription prices as of mid-December, 2022:

As you can see in the screen capture above, the price of a Surfshark subscription drops massively as you commit to a longer and longer subscription term. A 24-month (2-year) Surfshark subscription currently costs $2.05 per month and includes 2 free months. This is an excellent deal, particularly given the great performance of this VPN. Throw in the fact that you also get unlimited simultaneous connections, and Surfshark offers a virtually unbeatable deal.
Surfshark refund policy
Surfshark offers a full 30-day money-back guarantee on all but their 1-month subscriptions. This puts them on par with other leading VPN services such as NordVPN and ExpressVPN. It also puts them ahead of many VPNs (including Proton VPN) that offer pro-rated refunds instead of full refunds.
Proton VPN price and refund policy
While Proton VPN publishes one of the best free VPNs on the market, all free VPNs have major limitations. If you need a VPN for more than very casual, occasional use, you will really want to invest in a paid Proton VPN Plus subscription.
A Plus subscription gives you access to the full set of Proton VPN servers (not just the small set of slow servers in the Free subscription). You also get access to the full feature set: streaming, torrenting, NetShield, Secure Core servers, and Tor over VPN servers. And it supports up to 10 simultaneous connections, instead of the single connection in the Free subscription.
Here is the latest pricing for Proton VPN subscriptions:


While a 1-month subscription to Proton VPN costs less than a 1-month subscription to Surfshark VPN, the longer-term subscriptions for Surfshark are far less expensive than those for Proton VPN.
Note: While Proton VPN is more expensive than Surfshark, it isn't the most expensive quality VPN either. You can see this in our ExpressVPN vs Proton VPN comparison.
Proton VPN refund policy
Proton VPN offers a 30-day refund policy. But this is a pro-rated policy. According to the Proton VPN Terms and Conditions page, you can receive a refund of the unused portion of the service period. While this isn't a disaster (and hopefully something you will never need to worry about) it is still not as good a policy as the full 30-day refund offered by Surfshark.
To summarize, Surfshark has much better pricing and a better refund policy.
Prices and refunds winner: Surfshark
---
Value: Is Surfshark or Proton VPN the best?
Sometimes it is hard to decide which VPN offers a better value. A lot depends on the features each offers and exactly how you want to use the service. But sometimes it is easy to decide which VPN offers a better value.
This is one of those times. Surfshark is faster than Proton VPN. It permits more simultaneous connections than Proton VPN and has VPN apps for more devices and operating systems. It offers more features and works better with Netflix, streaming, and torrenting. The Customer Support team is available 24/7 through live chat in case you have problems. And a long-term subscription costs far less.
The Surfshark VPN is clearly a better value for the vast majority of people.
Value winner: Surfshark
---
Conclusion: Surfshark wins by a mile
As we have noted in other reviews and articles, our team likes Proton VPN. It is definitely one of the better VPNs you will find. But this is a battle between two of the very best VPNs available. Given that, the following results aren't quite so devastating:
Company background and jurisdiction: Surfshark
Features: Surfshark
Speed tests: Surfshark
Streaming and Torrenting: Surfshark
Security and Encryption: Surfshark
Privacy: Surfshark
Price and Refund: Surfshark
Value: Surfshark
Surfshark is definitely the winner here. They won all eight categories, although some of them were very close calls. But what really tips the scales in Surfshark's direction are the low, low price and the unlimited number of simultaneous connections. As we all connect more and more devices to the internet, the number of simultaneous connections a VPN can support become ever more important.
We suggest you give Surfshark a try. With its 30-day money-back guarantee you get plenty of time to test the service before you are committed to a long (but low-priced) relationship with this service.
Surfshark Coupon:

Get 80% off Surfshark VPN (drops the price down to $1.99 per month) plus 5 months FREE:
(Coupon is applied automatically.)
Proton VPN more to your liking? No worries. It is definitely a quality service. Use the link below to give it a try:
This Proton VPN vs NordVPN comparison report was last updated on November 22, 2023.