Surfshark and NordVPN are both popular VPN services with a lot in common. Each VPN offers excellent apps and a large server network, but there are also some key differences we discovered in back-to-back testing. To see whether NordVPN or Surfshark came out on top, we conducted numerous speed tests with both services, and then closely examined all aspects of each VPN.
Based on the latest test results, NordVPN was the clear winner. NordVPN offers faster speeds, more security features, and better streaming capability — but Surfshark is also not very far behind.
This table highlights the key facts of each VPN before we dive into the test results:
| | | |
| --- | --- | --- |
| | NordVPN | Surfshark |
| Website | NordVPN.com | Surfshark.com |
| Location | Panama | The Netherlands |
| Servers | 5,500+ | 3,200 |
| Countries | 60 | 95* |
| Logs | No logs (audited) | No logs |
| Torrenting | All servers | All servers |
| Support | Knowledge Base; 24/7 chat | Knowledge Base; 24/7 chat |
| Apps for | Windows, macOS, Linux, Android, iOS | Windows, macOS, Linux, Android, iOS |
| Price | $3.09 (with coupon) | $2.49 |
| Best Deal | 68% Off Coupon > | 81% Off Coupon > |
*The server count with Surfshark is a bit deceptive. Unlike with NordVPN, Surfshark uses virtual server locations that do not necessarily correspond to where the server is actually (physically) located. With NordVPN, all servers are physically located in the advertised location and there are no virtual server locations.
Here's an overview of what we will cover in this Surfshark vs NordVPN guide:
VPN apps
Speeds
Features
Security
Privacy and logging policies
Jurisdiction
Connections
Price
Streaming
Torrenting
Support
Now let's begin this comparison report by examining the VPN apps of Surfshark and NordVPN.
VPN apps: NordVPN vs Surfshark
Both NordVPN and Surfshark have user-friendly and reliable VPN apps.
The NordVPN apps are well-designed, secure, and easy to use. In comparison to Surfshark, the NordVPN desktop apps (Windows and Mac OS) are a bit larger, but offer easy access to all the features. Below is the Windows VPN app from NordVPN.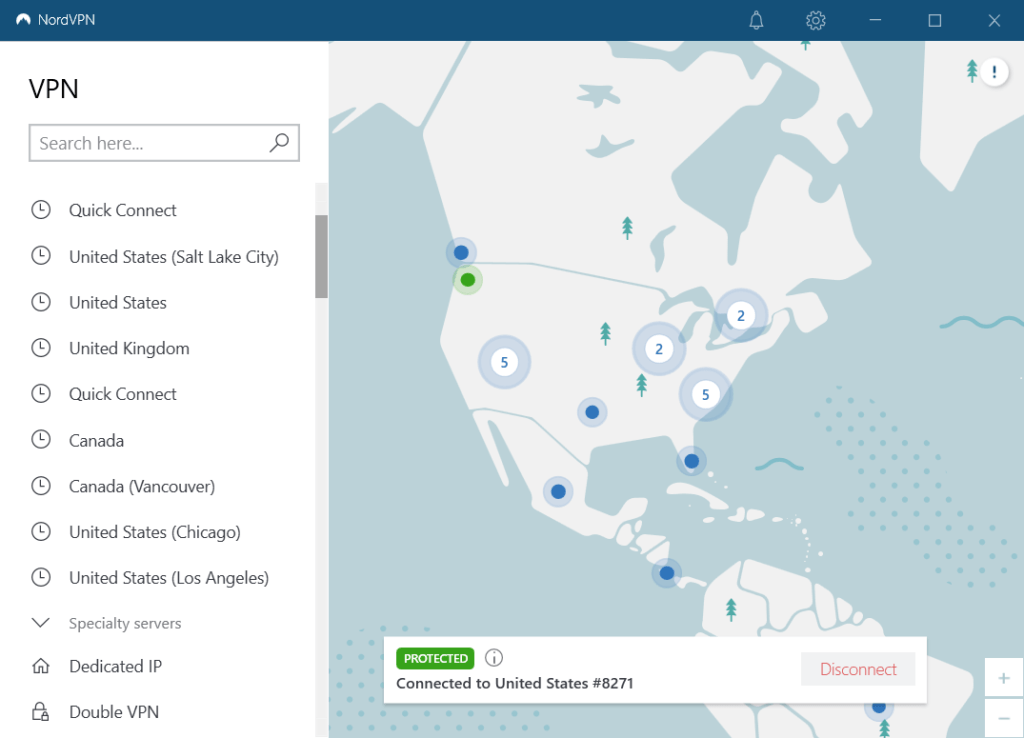 You can select from the specialty servers on the left, or click a country from the map. The NordVPN client will automatically select the best server within the country. You can also select specific servers or servers in specific cities. All NordVPN apps include built-in leak protection with a kill switch.
One great aspect about NordVPN apps is that you can easily select features and servers right in the app, without having to open up a second window. This is a noteworthy benefit that gave NordVPN an edge in the ExpressVPN vs NordVPN comparison.
Surfshark apps have a different design than NordVPN and do not incorporate a map for server selection, but instead have a large list, which takes up space on the left.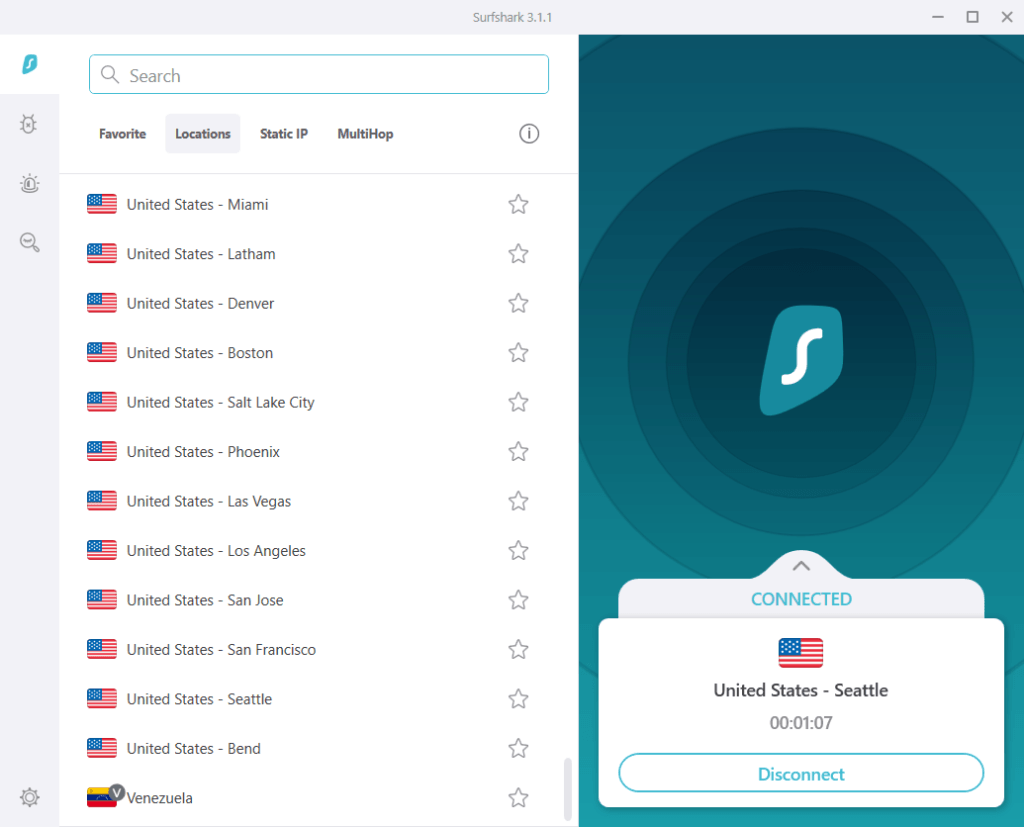 Like NordVPN, Surfshark apps also incorporate built-in leak protection with a kill switch to block unencrypted data from leaking out of the VPN. Server selection is also easy with Surfshark. Simply tap the "Locations" tab on the left, which opens up a list of servers.
Overall, both apps are great and it all boils down to user preference on design. As we will examine below, NordVPN and Surfshark both have similar features.
Winner for VPN apps: Tie (both are great, just slightly different designs)
---
NordVPN vs Surfshark speed tests
Both NordVPN and Surfshark support the WireGuard VPN protocol. Because WireGuard is (generally) much faster than OpenVPN and other legacy protocols, we would expect both NordVPN and Surfshark to offer good speeds.
We ran all of the NordVPN vs Surfshark speed tests on a 500 Mbps connection from our lab in the United States. All tests were run with the WireGuard protocol using the official VPN client. So now let's get to the results.
Test #1: Los Angeles, USA
First up was a NordVPN server in Los Angeles: 304 Mbps.

At over 300 Mbps, these are great speeds with NordVPN.
Here was the Surfshark server in Los Angeles: 346 Mbps.

Surfshark has a bit of an edge over NordVPN for this location, but both are quite fast at over 300 Mbps.
Test #2: Seattle, USA
Here was the NordVPN server in Seattle: 445 Mbps.

This is the fastest VPN speed test result we have clocked so far. Hats off to NordVPN!
And here was the Surfshark server in Seattle: 308 Mbps.

With the Seattle location, NordVPN has a big edge.
We ran a few other tests for each respective VPN review, and the results were pretty similar. Both of these VPNs are fast when you use the WireGuard VPN protocol.
Note: Not all VPNs with the WireGuard protocol are fast. For example, both NordVPN and Private Internet Access support WireGuard. However, in the NordVPN vs PIA comparison, Nord blew the competition out of the water.
Surfshark slower speeds with OpenVPN
One drawback we noted with Surfshark was with the OpenVPN protocol. When testing out speeds with OpenVPN, it was difficult to get above 100 Mbps, which is below average for a fast VPN. For example, here was the Surfshark OpenVPN server in Los Angeles, getting about 81 Mbps download speeds.

We found most all the Surfshark OpenVPN speed tests we ran were in the 70 to 90 Mbps range. This is not very good.
In contrast, we found NordVPN OpenVPN speeds could typically range from 200 to 270 Mbps. Even when running speeds with NordVPN's double-hop servers (that route traffic over two different VPN servers), we could still get great speeds. Here was the NordVPN USA-Canada (double-VPN) servers with the OpenVPN protocol:

NordVPN delivers excellent speeds with OpenVPN protocol as well as with WireGuard.
Winner for speeds: NordVPN
Other speed comparisons: NordVPN consistently performs well in comparison to other top-rated VPNs. It also came out on top in the NordVPN vs IPVanish comparison tests.
While Surfshark didn't quite beat NordVPN in this category, it still routinely outperforms other VPNs. You can see this in the Surfshark vs ExpressVPN comparison.
---
Features comparison (NordVPN and Surfshark are similar)
Now we will examine the features offered by NordVPN and Surfshark.
NordVPN features
NordVPN packs in a lot of features – above and beyond most other VPN services. The specialty servers are great for different use cases:
Double-VPN servers, where traffic is encrypted over two different hops.
P2P servers that are designated for torrenting with great speeds and security. (NordVPN is currently the best VPN for torrenting with the fastest speeds.)
Obfuscated servers that hide (obfuscate) VPN to get around VPN blocks or any restrictions.
Tor-over-VPN servers that encrypt regular VPN traffic a second time through the Tor (Onion) network.
I tested out these specialty servers in the NordVPN review and found them to perform very well.
Another great feature with NordVPN is CyberSec. This is a specialized filter that is more than just a VPN ad blocker. CyberSec will block ads, trackers, malware, and phishing domains.
One of the biggest features with NordVPN is the WireGuard VPN protocol. NordVPN's implementation of WireGuard is called NordLynx, and you can easily enable it within the settings area: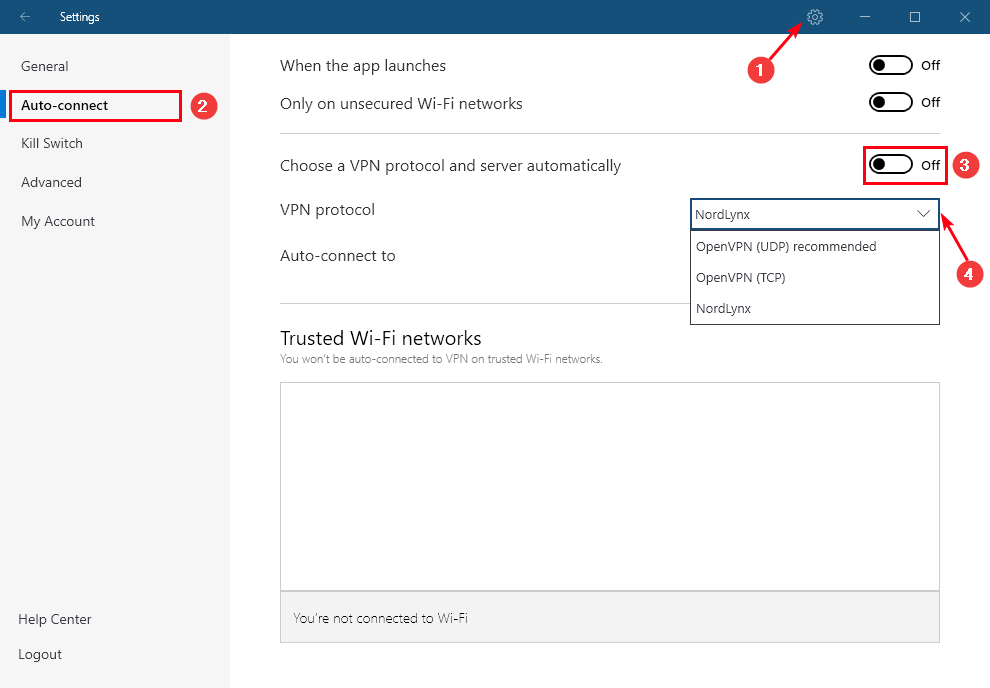 With WireGuard delivering on speeds and security, this is a great feature that Surfshark does not (yet) offer.
Another great feature you will find with NordVPN, but not Surfshark, is a dedicated IP option. This allows you to utilize a dedicated IP address that no other user has access to. There are both pros and cons to this, as we discuss in our guide on the best VPN for a static IP.
Surfshark features
Surfshark has many similar features to NordVPN.
Double VPN servers to encrypt traffic over two hops.
Obfuscation to conceal VPN traffic and get around blocks.
CleanWeb is a feature similar to NordVPN's CyberSec. It blocks ads, trackers, and malware domains.
Full WireGuard support with Surfshark
Surfshark has also successfully implemented the WireGuard VPN protocol, which we covered above in the speed tests section. Aside from fast download speeds, WireGuard also gives you faster connections, and better performance on mobile devices when switching network interfaces.
Surfshark also has a few extra privacy features, but they are paid add-ons:
Surfshark Alert – This gives you real-time alerts if your private information has been compromised in a data breach leak.
Surfshark Search – This is a private search engine.
Winner for VPN features: NordVPN
See all NordVPN features here >>
---
Security and encryption
In terms of security, both NordVPN and Surfshark are solid choices.
NordVPN security
NordVPN secures traffic with an AES-256 cipher and HMAC SHA256 hash authentication with the OpenVPN and IKEv2 protocols. The WireGuard (NordLynx) protocol uses updated encryption algorithms with the ChaCha20 cipher.
With NordVPN, all apps incorporate a kill switch to secure traffic and prevent any data leaks. The CyberSec feature is an additional layer of security to prevent malicious domains and ads from loading on your device.
For network security, NordVPN runs all servers in RAM-disk mode, which makes it impossible to store logs on any server and provides a higher level of data security for NordVPN users. They have also completed a server assessment to ensure all data centers meet their strict security criteria.
NordVPN is also rolling out colocated (self-owned) servers for all locations. This is a big development that is already partially complete. This eliminates the need to rent servers from third parties and puts all hardware under NordVPN's control. (Surfshark does not use colocated servers.)
Lastly, NordVPN has also undergone third-party security audits that were conducted by Versprite. These audits included all aspects of NordVPN's infrastructure as well as penetration testing to identify and correct any vulnerabilities.
Surfshark security
In many ways, Surfshark is similar to NordVPN in the area of security. Surfshark secures VPN traffic with an AES-256 cipher for the OpenVPN and IKEv2 VPN protocols. If you are using a VPN for Mac OS, you can select between OpenVPN, IKEv2, or WireGuard.
In July 2020, Surfshark announced that it had converted all servers in its network to run in RAM-disk mode, just like with NordVPN. This is a good development and growing trend in the VPN industry, as we also noted in our ExpressVPN review.
Like NordVPN, Surfshark has also undergone an independent security audit. Unlike NordVPN, however, the audit was limited to only their browser extensions. Cure53, a Germany cybersecurity firm, conducted the Surfshark audit, and you can get more details in our Surfshark review.
While there are many similarities here, NordVPN wins this category for two main reasons:
NordVPN has undergone more (and more in-depth) security audits
NordVPN is deploying colocated servers (partially complete)
Winner for security: NordVPN
---
Privacy and logging policies: NordVPN vs Surfshark
In terms of privacy and logs, both NordVPN and Surfshark are no logs VPN services – but there's one key difference between these two VPNs.
NordVPN privacy and logs
NordVPN is a no-logs VPN service that does not keep any usage or connection logs. This is clearly explained on their website: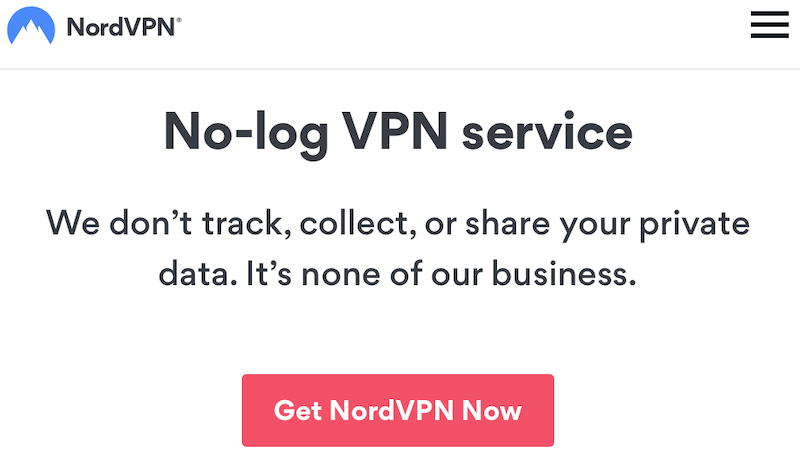 One area where NordVPN differs from Surfshark, however, is that NordVPN has had its logging policies audited and verified. To verify the no-logs claims, NordVPN has undergone two separate audits by PWC AG in Zurich, Switzerland. The first audit was completed in 2019, and the second audit was completed in 2020. The auditors had full access to verify privacy and logging policies.
Why should you care about a no-logs audit?
Well, we've seen a few "no logs" VPN services that have turned out to be logging their users. Two examples of this are with PureVPN and also IPVanish. We also noted in the HideMyAss review that this VPN handed over logs to US authorities over a hacking claim.
Surfshark VPN privacy and logs
Like NordVPN, Surfshark is also a no-logs VPN service, as explained on its website.
Unlike NordVPN, however, Surfshark has not yet completed an independent audit to confirm their no-logs policy. However, Surfshark has passed security audits conducted by Cure53.
Therefore the winner of this category goes to NordVPN, which has had its no-logs and privacy policies audited twice.
Winner for privacy and logs: NordVPN
---
Jurisdiction comparison
On the topic of privacy, another important consideration is jurisdiction: where the VPN is legally based. Jurisdiction is important because it determines the laws (and governments) that the VPN must comply with. Generally speaking, we recommend avoiding services that are based in bad privacy jurisdictions, such as the Five Eyes countries (US, UK, Canada, Australia, and New Zealand).
Surfshark jurisdiction: The Netherlands (previously BVI)
Surfshark was previously based based in the British Virgin Islands (BVI). However, in October 2021, they moved jurisdictions to The Netherlands. Surfshark has explained that the change in jurisdiction was for business reasons.
While I do not consider The Netherlands to be an excellent jurisdiction, it is still not a bad option and is outside of the core 5 Eyes countries that we recommend avoiding.
NordVPN jurisdiction
NordVPN is based in Panama. Like the BVI with Surfshark, Panama is also a great location for a privacy-focused service because it is outside of the EU and US jurisdictions. As we have seen over time, the US, EU, Canada, and some other Western countries do not have favorable privacy laws. In some cases, governments can force VPNs to log user data and turn this over to authorities. This has even happened in Switzerland with ProtonVPN, which we discussed in the ProtonVPN vs NordVPN comparison.
I would consider NordVPN's jurisdiction in Panama to be better than Surfshark's jurisdiction in The Netherlands.
Winner for jurisdiction: NordVPN
---
Connection limits: Surfshark vs Nord
When we talk about connections with VPNs, we are referring to the number of simultaneous connections you can have under one subscription. Most VPNs impose some kind of limit on connections, where the average is about six.
Surfshark is a bit of a standout in this category. It offers an unlimited number of simultaneous connections. From the Surfshark website:

There are only a few other VPNs that offer an unlimited number of connections, another option being Perfect Privacy. Do you need an unlimited number of simultaneous connections, or would a fewer number of connections be enough?
NordVPN is more in line with the VPN industry average in the category of connections. They offer users six simultaneous connections per subscription. This is on par with most other VPNs, including ExpressVPN and CyberGhost.
Note: There is one trick that you can use with any VPN to get an unlimited number of connections, and that is to use a VPN on a router. A VPN on your router will only count as one connection, but it protects every single device that connects to the router, without having to download VPN software for the devices.
Winner for connections: Surfshark
---
Surfshark prices vs NordVPN prices
Price is another consideration for most people when selecting a VPN. In terms of price, both Surfshark and NordVPN are on our list of the best cheap VPNs, with prices under $4 per month.
NordVPN prices – Right now NordVPN is running a discount with the two-year plans to drop the price down to $3.09 per month. Here are the prices with the NordVPN coupon:

Now we'll look at Surfshark's prices.
Surfshark comes in a bit cheaper than NordVPN at only $2.49 per month with the two-year plan. Here are the current prices:

NordVPN and Surfshark both have expenses prices for the monthly plans. However, Surfshark is cheaper than NordVPN with the two-year and six-month subscription plans. Therefore it comes out on top in the price category.
Winner for price: Surfshark
---
Netflix and Streaming
Even though Netflix works hard to block VPN services, there are still some good VPNs that work with Netflix. Both Surfshark and NordVPN are among the select few that still work well. Here's a screenshot of me streaming Netflix with NordVPN: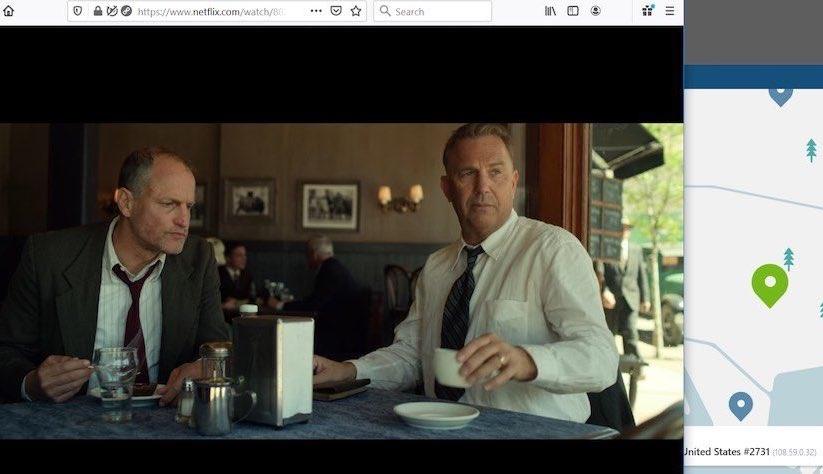 For the respective VPN reviews, we tested both Surfshark and NordVPN with US Netflix. They both worked well and were able to unblock US Netflix without any streaming or playback issues. Another advantage of both services is that they unblock numerous Netflix libraries around the world, such as Netflix Canada, UK, Germany, and Australia. They will work well if you want to change Netflix regions to access content from anywhere.
But what about other streaming services?
We have also tested these VPNs with BBC iPlayer and Amazon Prime – and the results were good. Once again, both Surfshark and NordVPN work for these streaming services and were able to unblock content in our tests.
In short, both NordVPN and Surfshark are great VPNs for streaming and they will most likely give you access to any streaming media you are looking to watch. (And if you are getting blocked, just open a chat window and their support staff will help you out.)
Winner for streaming: Tie
---
Torrenting – Is Surfshark or NordVPN best?
Many people use VPNs for torrenting. This allows you to cover your digital tracks and hide your IP address. Because torrenting can be a grey area when it comes to copyright issues, it's better to be safe than sorry.
One of the biggest considerations when selecting the best VPN for torrenting is speed. As we demonstrated above, NordVPN generally outperforms Surfshark with faster speeds with the OpenVPN protocol, although the WireGuard speeds were tied. Because speeds are crucial for torrenting large files with a VPN, NordVPN also comes out on top here as well. It is the best VPN for torrenting with extremely fast speeds and strong security.
Winner for torrenting: NordVPN
---
Support comparison
The last category on our list to examine is support. Fortunately, this one is also easy – and it's again a tie.
Both NordVPN and Surfshark offer 24/7 live chat support to help get you through any problem or issue. To connect with their support staff, simply go to Surfshark or NordVPN's website, and then click on the chat icon in the bottom-right corner. For example, here I'm connected to a NordVPN support agent: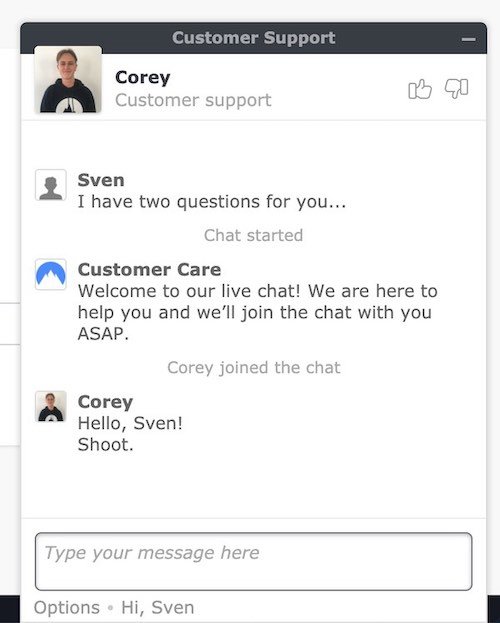 In the support category, you won't go wrong with either NordVPN or Surfshark. I've had many interactions with the support staff of both VPNs and the results have been positive.
Winner for support: Tie
---
Value comparison
You can see we are getting near the end of this Surfshark vs NordVPN comparison report. So far, NordVPN has a big lead and has outperformed Surfshark in most categories.
When considering value, we are looking at what you get for your money. While NordVPN is slightly more expensive than Surfshark, it also delivers more features and offers better performance throughout the server network. Surfshark is cheaper than NordVPN, but it doesn't quite offer as much.
Either way, both of these VPNs are a great value. We'll call this category a tie.
---
Conclusion NordVPN wins in 2022
Both Surfshark and NordVPN are great VPN services that we recommend in many different VPN guides. However, in this NordVPN vs Surfshark comparison, NordVPN came out on top.
Here is a brief overview of the findings with the winner for each category:
Speeds – NordVPN
VPN apps – Tie
Features – NordVPN
Security – NordVPN
Privacy and logging policies – NordVPN
Jurisdiction – NordVPN
Connections – Surfshark
Price – Surfshark
Streaming – Tie
Torrenting – NordVPN
Support – Tie
Value – Tie
As you can see above, NordVPN came out on top in six categories, Surfshark was the winner in two categories, and two categories were tied.
To me, the biggest reasons to go with NordVPN are the following:
Faster speeds – NordVPN offers faster speeds with the OpenVPN protocol. Both VPNs are fast with the WireGuard protocol.
No-logs audits – NordVPN has passed two separate no-logs audits. This gives you the assurance they are serious about privacy.
Both do well with streaming, security, VPN apps, and support.
One other big distinction is that NordVPN is already rolling out colocated servers throughout their network. When this is complete, NordVPN's entire network will run on self-owned hardware, without any use of rental servers. We'll update this Surfshark vs NordVPN comparison when this milestone is complete.
Still on the fence? Try both risk-free, then cancel one for a full refund
Did I mention that both NordVPN and Surfshark offer a 30 day money-back guarantee with all plans?
This allows you to test both VPNs risk-free for 30 days. Therefore you can purchase a subscription to both VPNs, and then simply cancel the one you don't want. In a sense, they both work as free trial VPNs within the 30-day refund window.
Whichever VPN you decide to go with, be sure to get the best deal with the discounts below. Here is the NordVPN coupon that's active right now:
NordVPN Cyber Deal is Live:

Get 68% Off NordVPN (drops the price to $3.09 per month) plus 3 months FREE:
(Coupon is applied automatically.)
Surfshark also provides an opportunity to save some money.
And with the coupon below, it is a bit cheaper than NordVPN.
Surfshark VPN Coupon

Get 83% off Surfshark VPN (drops the price down to $2.21 per month) + 3 months FREE:
(Coupon is applied automatically.)
Note: We also have a dedicated guide showing the best VPN coupons, if you want to see other deals and discounts.
That wraps up this Surfshark vs NordVPN comparison. Stay safe and secure online, and feel free to drop a comment below about either of these two VPNs!
This NordVPN vs Surfshark comparison report was last updated on October 3, 2022.