This in-depth guide examines who comes out on top in the 1Password vs Bitwarden battle. Our tests results revealed a clear winner, revealed below.
With cyberattacks and security breaches becoming more common than ever before, finding ways to strengthen your security online has never been as important. One way to find peace of mind is to utilize a premium password manager to keep your data safe and secure.
If you've checked our best password managers list, you've noticed that there's a special place for 1Password and Bitwarden on it – and for a couple of solid reasons. Both will save, store, and sync all your passwords across different devices and unify them into a single encrypted vault.
However, that's not all – you'll get some top-tier features as well such as terrific travel mode with 1Password and encrypted file storage with Bitwarden. But which of the two is better for personal, family, or business use?
First off, Bitwarden is an open-source solution and enhances its level of security with the transparency of its source code. This means that anyone can see, use, change, and share it with others. Meanwhile, 1Password is a close-sourced proprietary product, so no one besides its provider can use, alter, or copy its code. This is similar to what we observed in the NordPass review.
Apart from this, the two password managers share more similarities than differences. So, we'll have to get a closer look to decide which one is the overall winner.
| | | |
| --- | --- | --- |
| | 1Password | Bitwarden |
| Website | 1Password.com | Bitwarden.com |
| Platforms | Windows, macOS, Linux, Android, iOS | Windows, macOS, Linux, Android, iOS |
| Browser extensions | Chrome, Firefox, Safari, Brave, and Edge | Chrome, Firefox, Edge, Opera |
| Free version | No (14 day trial) | Yes |
| Encryption | AES 256-bit | AES 256-bit |
| Support | Email | Forum; Email |
| Price | From $1.50/mo. | From $0.83/mo. |
These are the key areas we're going to talk about in this comparison guide:
Background check
Platforms availability
Core and premium features
User interface and ease of use
Security and encryption
Privacy policy
Plans and pricing
Customer support options
Now, it's time to start things off with a brief background check of Bitwarden vs 1Password.
Background check: Company information and history of security incidents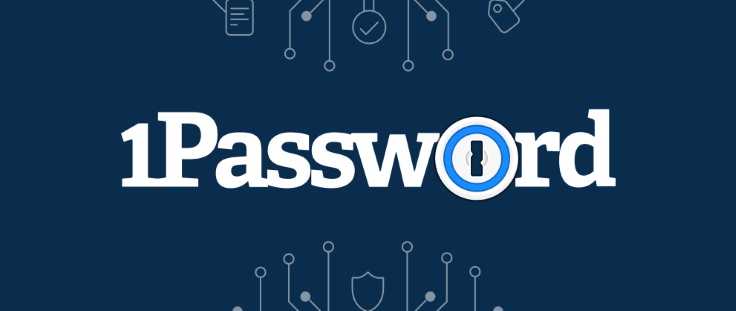 Published by AgileBits in 2006, 1Password started its journey as a Macintosh-only password-managing program. As time went by, 1Password evolved into a cross-platform solution, running on all major operating systems and web browsers. Unfortunately, AgileBits is based in Ontario (Canada).
We say "unfortunately", because Canada is one of the Five Eyes Alliance (FVEY) countries, which are international intelligence-gathering alliances notorious for poor privacy laws. So, if you feel strongly about protecting your privacy, it's smart to avoid using services operating from these countries. So, the USA, the UK, Australia, New Zealand, and (as mentioned) Canada.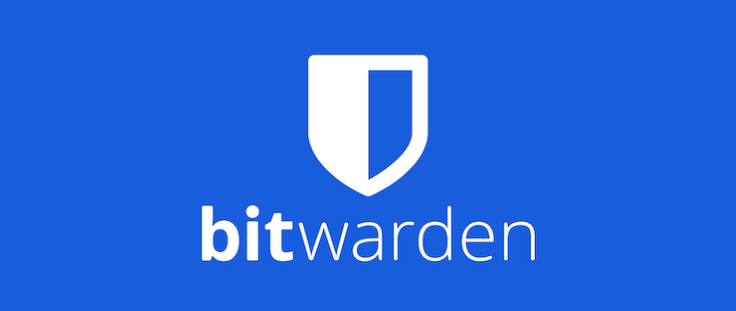 Launched in 2015, Bitwarden is a password manager that takes its task differently from its competitors. First of all, it's an open-source solution, which implies that its source code is available for inspection, modification, and redistribution. Secondly, it offers a forever-free plan that doesn't come short on features, unlike 1Password.
The company behind Bitwarden is relatively small and situated in Santa Barbara, California (USA). If you've been paying attention, you'll know that this is one of the FVEY countries. Yes, this is also bad news for your privacy.
As for security incidents, neither of our contenders was ever been hacked or breached (based on our research). In our 1Password vs LastPass comparison, however, LastPass fell behind due to numerous security incidents.
Background check winner: It's a tie
---
Platforms availability: Does 1Password or Bitwarden support more platforms?
In terms of platform compatibility, both our contenders stand pretty strong as they support all the major operating systems and web browsers on the market. However, Bitwarden sticks out as it offers more browser extensions and also a command-line interface (CLI).
We should point out that although the CLI tool doesn't come near to a typical graphical user interface (GUI) in terms of user-friendliness, it's a superb option for tech-savvy users nevertheless. In the VPN world, we do see some of the best VPNs for Linux offering a full GUI, but we don't see this with password managers (yet).


1Password's app is currently compatible with the following operating systems:
Windows (64-bit version of Windows 10 or up)
Linux (any version supporting snap 64-bit x86 or ARM processor and GNU C Library, glibc 2.28 or up)
macOS (version Catalina 10.15 or up)
Chrome OS
Android (version 9 Pie or up)
iOS (version iOS 15.5 or up)


As for browser extensions, 1Password supports these:
Google Chrome
Mozilla Firefox
Microsoft Edge
Opera
Safari
Now, let's take a look at Bitwarden.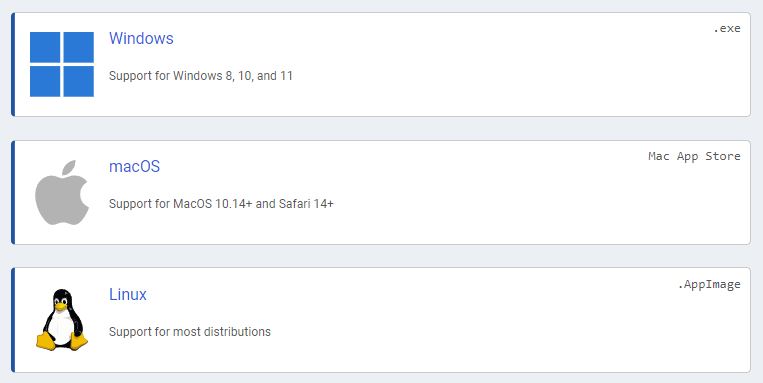 As we noted in the Bitwarden review, its app is currently compatible with the following operating systems:
Windows (version 8, 10, and 11)
macOS (version 10.14 and up and Safari 14 and up)
Linux (supports most versions)
iOS (version 10.0 and up)
Android (version 8 and up)
AndroidPN Client (F-Droid client app)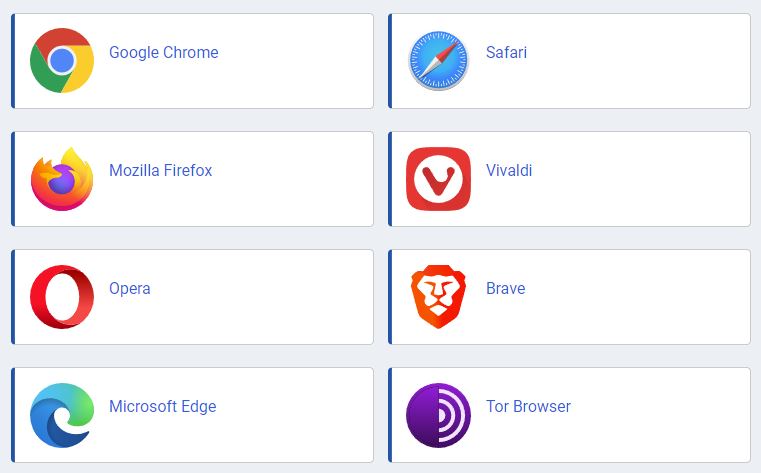 When it comes to browser extensions, Bitwarden supports all of these:
Google Chrome
Mozilla Firefox
Microsoft Edge
Opera
Safari
Vivaldi
Brave
Tor Browser

As suggested, CLI for Windows, macOS, and Linux are also available.
Platforms availability winner: Bitwarden
---
Features comparison: 1Password or Bitwarden
If you're after solid core features, 1Password and Bitwarden will hit all of the right checkmarks, making your decision even more difficult.
Whichever you chose, you can rest assured that all your passwords will be strong, safe, and conveniently synced across all your devices. However, if you're more into premium features that'll enhance your quality of life (such as travel mode), one of our contenders is a clear choice.
Now, let's get back to the core features.
With 1Password and Bitwarden you can be sure you'll get the following functionalities:
Autosaving and auto-filling logins
Categories for passwords, notes, and credit card details
Cross-platform support for all major OS' and web browsers
Intuitive user interface (UI)
Simple strong password generators
Solid industry-standard encryption
Secure password vaults
Syncing passwords across all your devices
Secure data sharing
Two-factor authentication (2FA)
Alright, let's dive into the details of the core capabilities, just like we did in the NordPass vs LastPass comparison guide.
The three main categories include: importing/exporting passwords, autosaving and auto-filling forms, and generating strong passwords.
Importing/exporting passwords
Bulk importing for your passwords is something you can do with 1Password and Bitwarden alike. The process is pretty much the same as with other password managers. However, the export/import process was simpler and more user-friendly with 1Password. Meanwhile, Bitwarden can boast about providing more import choices.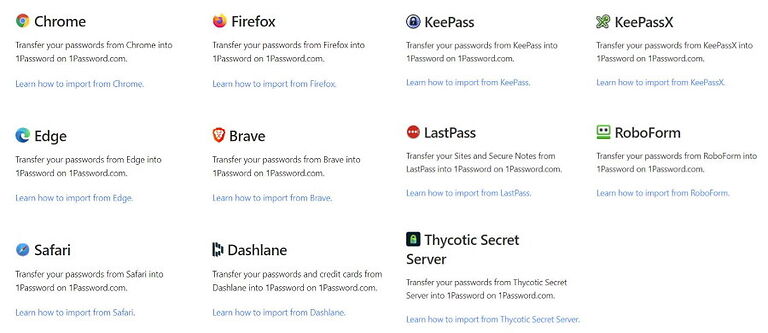 With 1Password you can import your data from several web browsers including Chrome, Firefox, Edge, Brave, and Safari. As for other password managers, Dashlane, KeePass, KeePassX, RoboForm, and LastPass are on the list. So, no support for its chief competitor Bitwarden.
As with other password managers, you can also import your passwords and other data via .CSV file. Plus, you can also utilize .1PUX or .1PIF file formats if you want.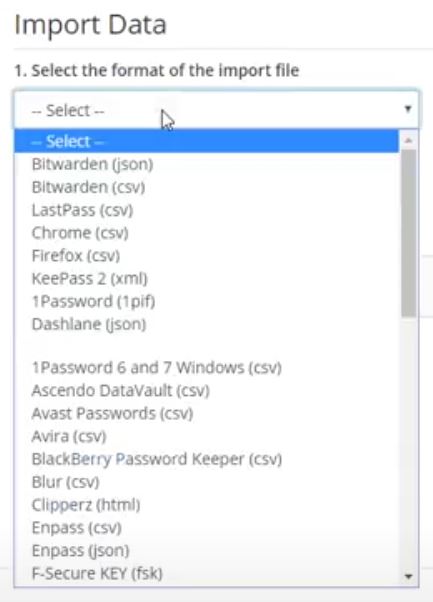 Like 1Password, Bitwarden also allows its users to import their data from a handful of web browsers such as Firefox and Chrome/Chromium.
However, the list of supported password managers is much longer than with its competitors. In addition to every platform 1Password supports, Bitwarden also includes Ascendo DataVault, Avast Passwords, Buttercup, Enpass, Codebook, and the list goes on. You name it, Bitwarden is got you covered.
Also, Bitwarden supports importing data by using .CSV files, but also .JSON files. The importing process itself doesn't feel as smooth as with 1Password. The UI looks out-of-date and it calls for more clicks, but there are enough step-by-step guides to oil the wheels.
We must also note that Bitwarden's bulk import functionally doesn't allow file attachments, which means you'll have to move them manually to your vault.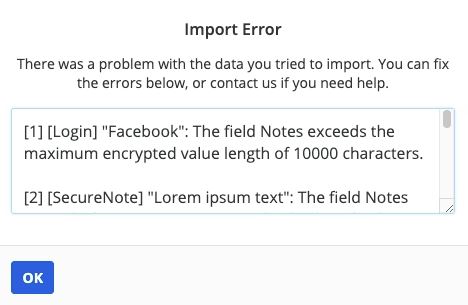 Also, there's a slight chance that an error might occur once you attempt to import a .CSV file, but there's a suitable how-to that'll come running to help you.
Auto-filling and capturing login information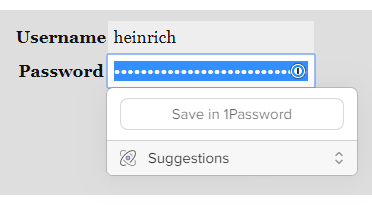 Capturing login information and auto-filling empty forms is faster and feels somewhat smoother with 1Password. Unlike other password managers that wait for you to successfully log into a site before offering to save your login credentials, 1Password offers it straight away.
While, in theory, this makes the process swifter, it also makes it more error-prone. Sometimes, 1Password will fail to capture the data. As for auto-filling, it feels slightly clunky. First, you'll have to click on the 1Password icon and if it suggests more than one item, you'll have to scroll down and look for the right login credentials.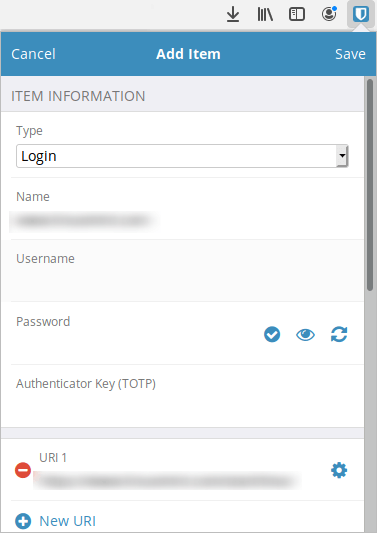 Bitwarden takes the traditional approach yet still turns out to be tiresome. To make use of auto-fill functionally, you'll have to click on the box, then tap on the Bitwarden icon, search for the right credentials, and finish it off by hitting the autofill button. All in all, there were too many clicks for this feature to be called convenient.
Random password generator
A strong password generator is a terrific yet simple tool that will empower you to protect yourself from hackers and their horrible schemes. Fortunately, both 1Password and Bitwarden will provide you with one. The best thing about it is that everyone can use it – subscribers and casual visitors to the website alike.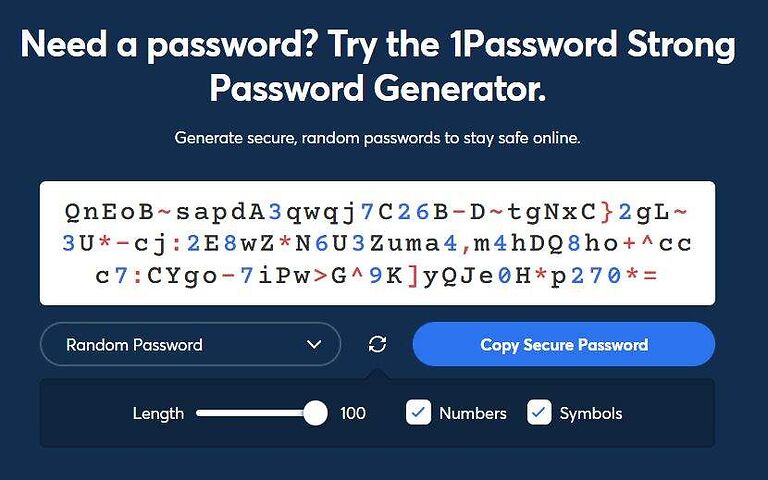 With 1Password's generator, you can create up to 100-characters-long passwords. These can include uppercase/lowercase letters, numbers, and symbols. In addition to passwords, you can also generate passphrases and even PINs.
For kicks, we tried our luck with the passphrase generator and ended up with "cuddly-holdout-endure-criminal" – it's kind of memorable.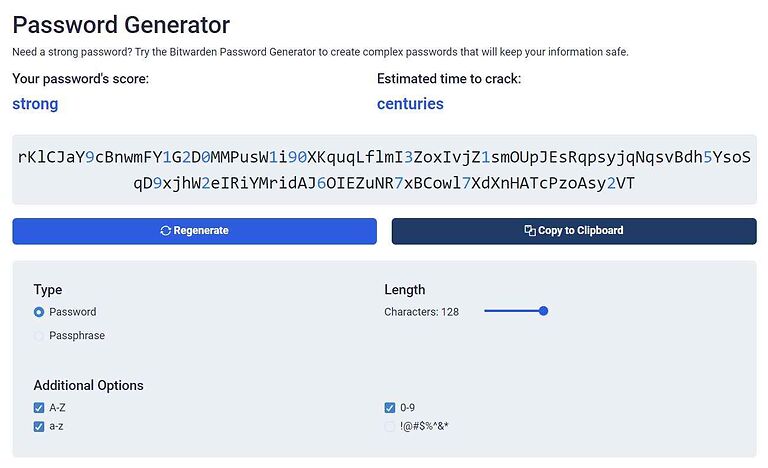 At the same time, with Bitwarden you can generate up to 128-characters-long passwords – so, 28 characters longer than with 1Password. These can be a combo of uppercase/lowercase letters, numbers, and symbols. Also, you can adjust the generator type to come up with a passphrase instead of a password.
To continue the tradition that started a couple of minutes ago, let's check the passphrase generator and see what we'll end up with. We got "overact-feed-feline-activity" – somehow it sounds like a reminder to feed our cat – like anyone ever needs one of those.
Also, Bitwarden will evaluate each of your passwords/passphrases and estimate the time that would take for your password to be cracked – we got "centuries".
Premium features: Bitwarden vs 1Password
While both Bitwarden and 1Password are strong in terms of core features if you're looking for something beyond a simple, single-user solution you'll want to check out this chapter.
We'll look into the premium features our contenders have to offer, one by one, and then choose the winner for this round.
Some of these features come free of charge, while others are locked behind a paywall.
Let's start by revealing that 1Password offers a wider variety of additional features than Bitwarden. These include a so-called Emergency Kit, which can be a lifesaver if you've lost your master password or secret key.
However, more isn't always better. That's why we're going through the best premium features 1Password and Bitwarden will provide you with.
1Password Emergency Kit
If you happen to forget your Secret Key or any other pieces of account information, 1Password's Emergency Kit will step in to save the day.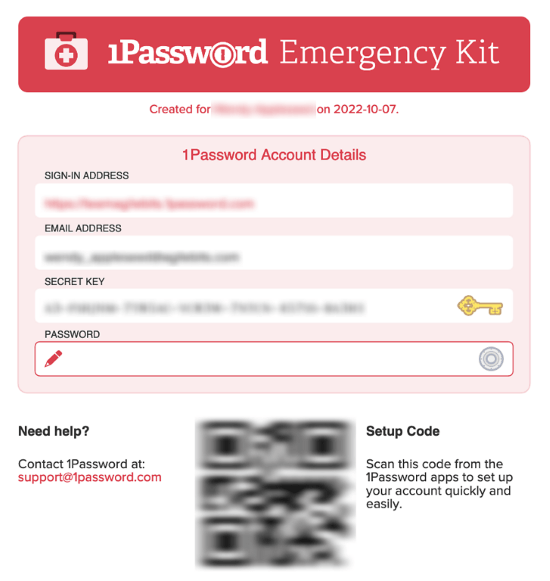 As soon as you create your 1Password account, you'll be prompted to pack the following data into your Emergency Kit and download it to your trusted device as a PDF file:
Email address – the address you used to create your account.
Sign-in email address – the address you use to sign in to your account.
Secret Key – a 34-character-long key that serves as a second line of defense along with your account password.
Account password – a password you use to sign in to your account.
Setup code – a QR code you'll be using to sign in from now devices.
Once you're equipped with the Emergency Kit, losing your login information will be a small annoyance rather than a cause for alarm.
Secure file storage
Both 1Password and Bitwarden provide access to secure file storage and you'll get it as soon as you sign up with them.
1Password provides 1GB of document storage per account with all personal plans and 5GB per account with business-oriented products.
The storage situation is similar with Bitwarden as you'll also get 1GB of encrypted file storage per account with all paid personal plans. With business-oriented plans, you'll be entitled to 1GB for personal and another 1GB for organizational items. So, 2GB in total.
Travel mode
One of the more unique features you'll get with 1Password is travel mode. As its name suggests, it will be most useful to frequent travelers.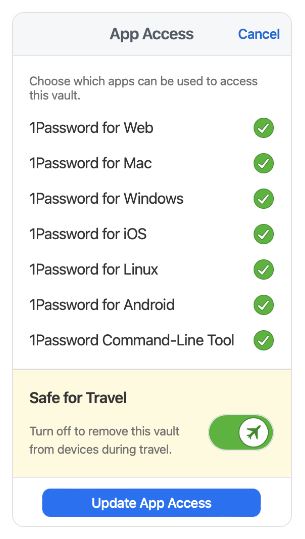 One of the more unique features you'll get with 1Password is travel mode. As its name suggests, it will be most useful to frequent travelers.
As you prepare for the trip, tell 1Password which of your vaults is safe for travel. Once you activate the travel mode, all vaults that aren't marked as safe will get deleted from your device. So, if you come across an overly inquisitive border inspector, they'll only see the data you've classified as safe to be seen. It's as simple as that.
This mode can also prove useful if you run into a cutpurse or lose your device during your journey – all your sensitive data will remain safe.
Advanced sync options
In addition to 1Password's sync solution, you also have a choice to keep all your devices synced via iCloud, Dropbox, a wireless LAN (WLAN) server, and a local folder. However, since each of these choices comes with its own set of requirements, your safest bet is to check them out before going in for it.
Also, while it's great to have more than one sync option, sticking to 1Password's own solution is not only the simplest but probably the most secure option as well.
Vault health reports / Watchtower reports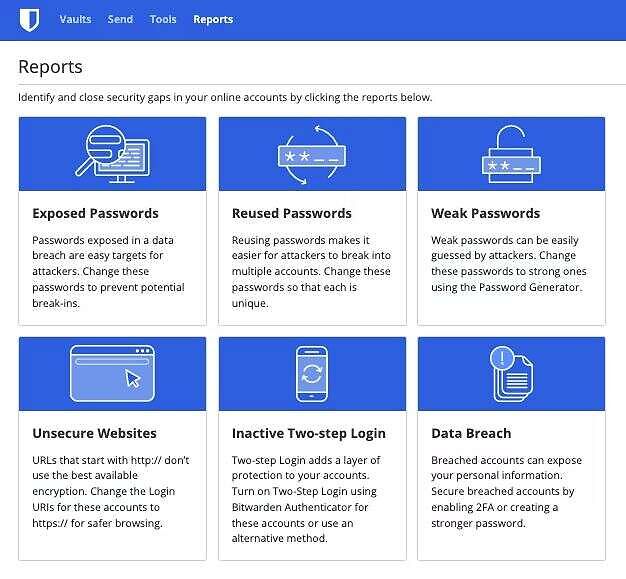 With all paid Bitwarden plans you'll receive prompt reports about your vault's well-being, the co-called Vault Health Reports feature. With the free edition of the product, you'll get username data breach reports, and that's all of it. So, it's similar to vault health reports but restricted to usernames only.
The vault health reports will reveal any exposed or otherwise weak passwords, inactive 2FAs, suspicious sites, and reports on data breaches.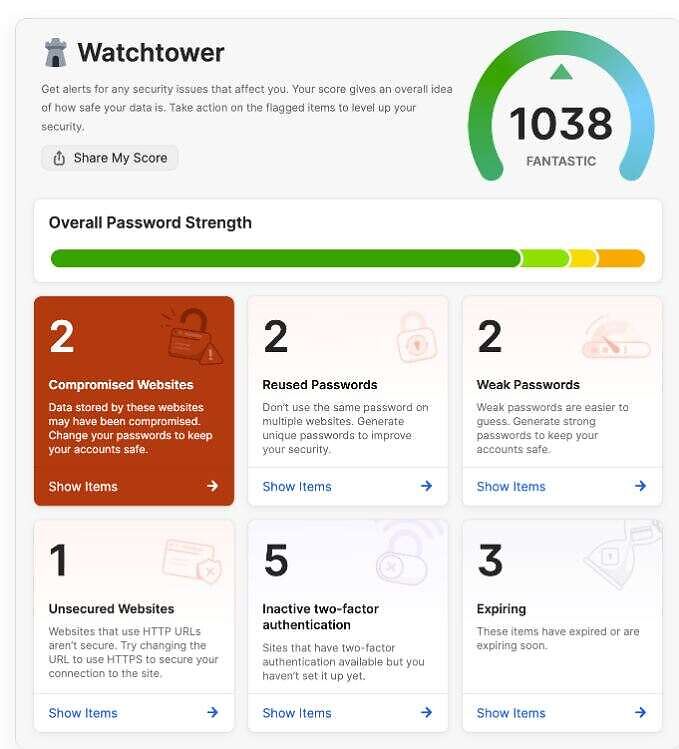 With 1Password you can combine the Watchtower password strength checker with Have I Been Pwned tool. This will make sure all your passwords are strong and safe from recent data breaches.
Almost in real time, Watchtower will alert you about any password breaches and other security issues connected to the items stored in your vault. As expected, it'll also let you know if any of your logged sites have been compromised.
Secure password sharing
Thanks to 1Password's secure sharing tool you can share passwords at work without having to worry about security. This feature is reserved for business-focused plans, though. It will enable you to easily store, manage, and share all of your employee's credentials and other sensitive data (such as secure notes, documents, and software licenses) via 1Password.
Once you generate a secure share link, it will stay there seven days before it kicks the bucket. However, you can alter this time frame and have the link expire in one hour or even a month.
This feature is also available with all Bitwarden business accounts. It will give you control over who has access to the secure entries called "organizations" and "collections". As an administrator, you'll have to invite users to them.
In addition to this, for one-to-one secure data sharing Bitwarden has put forward a so-called Bitwarden Send. It allows you to set expiration dates and access limits for shared data, which significantly lower the risk of unintended data leaks. As expected, all data will be encrypted with an end-to-end 256-bit AES algorithm during the transmission.
Features winner: 1Password
---
User interface and ease of use: Is 1Password or Bitwarden more user-friendly?
While in terms of features most users will put focus on different things, we all want the same when it comes to usability. This includes a swift sign-up, seamless installation, intuitive UI, and overall user-friendliness.
Fortunately, both 1Password and Bitwarden are similar. However, we found one of our contenders simpler to use, and most strong marks can be contributed to its exceedingly easy-to-use UI.
However, let's start with the sign-up and installation processes.
Sign-up and installation
To sign up with either of the two password managers, you'll be required to supply an email address (1Password will also ask for a username). So, you have to create accounts to make use of them. In addition to this, you'll also have to come up with a solid master password – yes, the one that'll safeguard all other passwords inside your vault.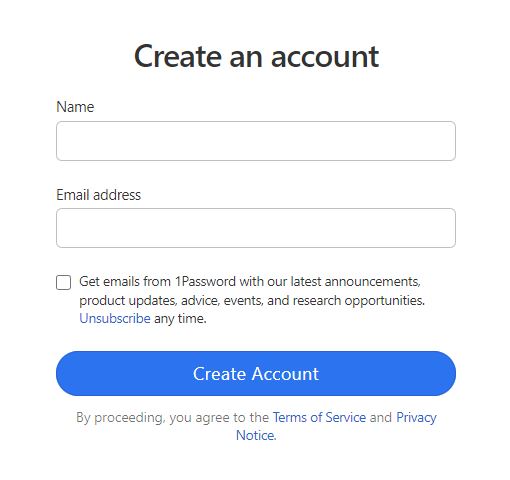 To sign up with either of the two password managers, you'll be required to supply an email address (1Password will also ask for a username). So, you have to create accounts to make use of them. In addition to this, you'll also have to come up with a solid master password – yes, the one that'll safeguard all other passwords inside your vault.
1Password doesn't provide a free edition of its products, which implies you'll eventually have to leave behind your credit card details. And if you're wondering why you can't pay via PayPal or some other way, we're wondering too.
The installation process is as simple as it gets. As a part of it, you'll get your Secret Key and Emergency Kit.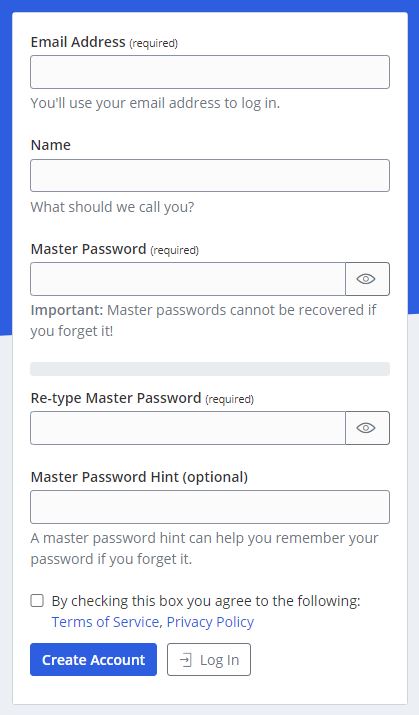 Signing up with Bitwarden seems much the same except you get to add a master password hint. While this is only an option, it's smart to take it. Then, if you misplace your master password, it won't be the end of your account.
Installing Bitwarden was the same as installing 1Password, so we can't pick a favorite one in this case.
User interface: 1Password vs Bitwarden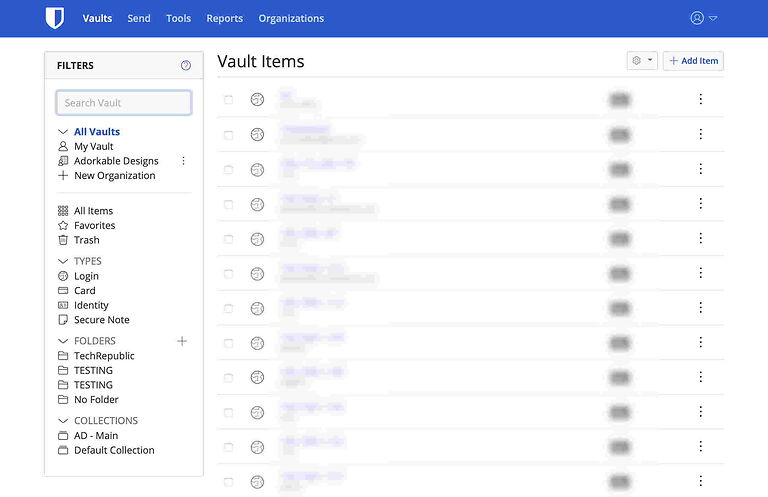 If you've almost forgotten Bitwarden is an open-source solution, you'll be reminded of the fact as soon as you arrive at its UI. To be fair, it looks professional and feels fairly easy to use. However, the UI also seems stripped down in comparison with other popular password managers, 1Password included.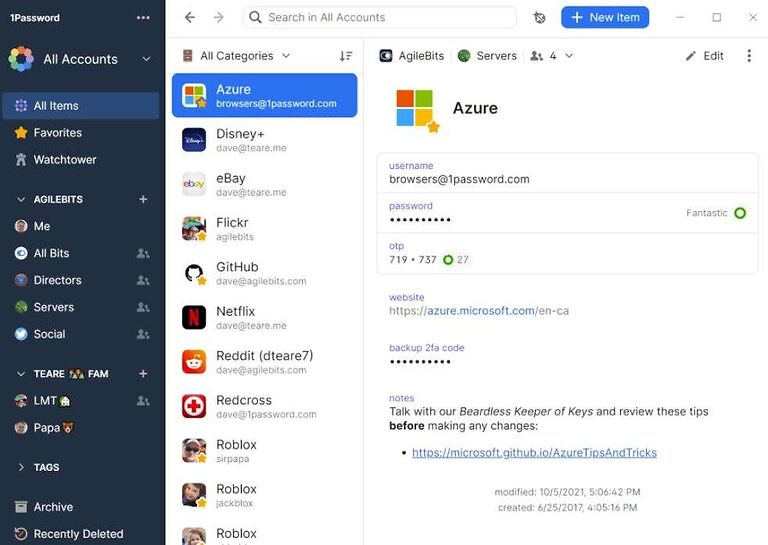 On the other end, 1Password's UI on most platforms looks masterfully modern and edges out its competitor with a superior user experience. However, this doesn't apply to all platforms 1Password is available on. For instance, while the app for Windows is an excellent example of modern design, the app for Chrome OS hasn't aged too well.
Password managers in action (summary)
So, if you're not particularly tech-savvy, you probably won't find Bitwarden's UI as user-friendly as it could have been. Also, working with Bitwarden wasn't exactly the easiest experience. Namely, auto-saving and auto-filling login credentials felt clunky and didn't work every time – as explained in our NordPass vs Bitwarden guide.
Also, business users are limited to 2GB of secure storage space, which might not be enough for most businesses. In contrast, 1Password's business users get 5GB of storage space per account.
While 1Password is a more polished product than its open-sourced counterpart, it's not all sunshine and rainbows. Firstly, the UI isn't consistent across all platforms and not all apps are equal in terms of functionality. For instance, it's not possible to share passwords with web browser extensions. So, you'll have to use the web app.
All in all, while both password managers are pretty easy to use, 1Password makes everything a bit easier for its users. However, neither of them is on par with popular beginner-friendly alternatives such as NordPass or Dashlane.
User interface and ease of use winner: 1Password
---
Security and encryption: Is 1Password or Bitwarden more secure?
Using a password manager doesn't come without certain security concerns. For instance, if a password manager you're using is compromised in a cyberattack, all your passwords will be too.
Nevertheless, all the best password managers utilize industry-standard encryption, a zero-knowledge policy, and 2FA. Thus, most cybersecurity specialists agree that they are indeed the best way to protect your passwords.
Both 1Password and Bitwarden get good grades when it comes to security, as we'll explore in succeeding chapters.
We'll check what encryption our contenders utilize, what type of authentication tools, and whether they've recently conducted any third-party security audits.
Encryption: Bitwarden vs 1Password
Both 1Password and Bitwarden are superbly secure as a whole. But which one has a superior encryption algorithm? Well, no one, since they are exactly the same.
To make sure all your sensitive data stays on the safe side of the internet, 1Password and Bitwarden utilize industry-standard 256-bit AES encryption. It encrypts your data before it leaves your devices. So, it shall be encrypted in transit between your device and the companies' servers, as well as at rest on their servers.
This type of encryption is being used by the US government to shield top-secret information, so you can be sure your sensitive data is being well taken care of.
As already mentioned, in addition to a master password, 1Password also adds a 128-bit Secret Key. This will make your master password considerably harder to crack by credential stuffing and other types of brute-force attacks.
Multifactor security
1Password offers its users two 2FA options. One includes setting up 2FA with third-party authenticator apps like Google Authenticator, Microsoft Authenticator, and Authy. The other allows you to utilize Duo Security and send push notifications to your mobile device for login confirmation requests.
Not surprisingly for open-source software, Bitwarden provides more two-step login options than 1Password. In addition to email and third-party authentication apps, Bitwarden also allows users to empower 2FA with YubiKey, and FIDO U2F security keys. However, these options are reserved for paid users only.
Free Bitwarden users can utilize 2FA with email and authentication apps only.
Secure data storage
We've covered this subject a bit earlier – in the "Premium features" section – so we're going to cut a long story short.
Like all popular password managers, 1Password and Bitwarden provide secure data storage to all paid users. With 1Password, personal plans include 1GB of storage space, while business users get as much as 5GB of storage. With Bitwarden it's 1GB of storage with personal plans and 2GB with business-focused packages.
It's also worth noting that 1Password permits users to choose between the USA, Canada, and the EU as the location of their data storage. By contrast, you can't choose the location of your storage with Bitwarden. It's the USA or nothing.
Third-party security audits
Commendably, both 1Password and Bitwarden were subjected to multiple third-party security audits and they aren't secretive about it all. Simply search through their official sites, and you'll find out everything about the audits in a couple of seconds.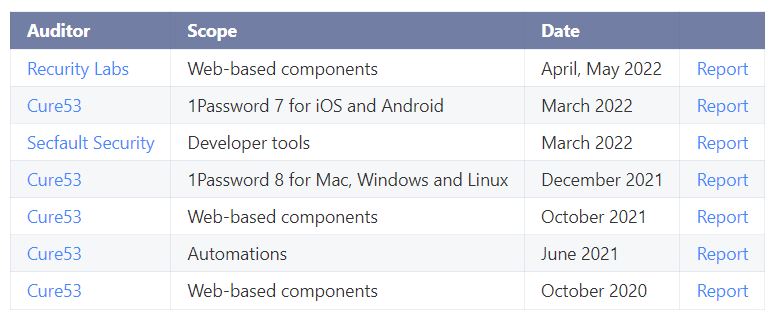 On 1Password's "Security Audits" page you'll find an in-depth report on all independent audits that were conducted between 2015 and today. As you can see in the table above, most of the recent audits were conducted by Cure53, a Berlin-based cybersecurity company that has also audited ExpressVPN and NordVPN. Also, 1Password is SOC 2 Type 2 certified.
Cure53 also audited Bitwarden in 2018 and if you want to check this report, together with others, you'll want to visit Bitwarden's "Compliance, Audits, and Certifications" page. Here you'll find everything about its security assessments carried out between 2018 and 2021. Also, you'll learn about the available codebase and additional security information.
Bitwarden is SOC Type 2 and SOC 3 certified.
Security and encryption winner: Bitwarden
---
Privacy policy: Is 1Password or Bitwarden more private?
Both of our contenders utilize zero-knowledge architecture. This means that your vault – and all your sensitive data inside it – is outside the reach of the companies. So, no one from these companies can see your private data.
However, this doesn't mean they don't collect some user data. This includes your username, email address, IP address, payment methods, and information about the devices you're using. As this is not all of it. If you want to dive into details, you can check 1Password Privacy Policy and also Bitwarden Privacy Policy.
Also, since both 1Password and Bitwarden are based in the USA (remember, one of the FVEY countries), they can be compelled to share your private information to comply with US laws and regulations, as we saw with IPVanish, a US-based VPN service.
On top of this, your information could be shared with other third parties, such as subsidiaries, affiliates, and business partners.
However, Bitwarden complies with the California Consumer Privacy Act (CCPA). This is, in fact, good news as these privacy laws should give customers more control over how their personal information is handled by companies. The CCPA also gives people living in California the right to have their data removed from the internet, as noted in our Incogni review.
It seems that both 1Password and Bitwarden come in the package with some potential privacy problems. So, choosing which is more private can't be as clear-cut as in our NordPass vs Dashlane guide.
Besides operating in a country with poor privacy laws, they also collect some personal data. However, after spending an eternity digging through both privacy policies, we found that 1Password collects slightly less personal data from its users.
However, if you want to block both password managers from picking up information about your IP addresses, you should pick up one of the best VPN services. Also, you could consider using Tor Browser, but it comes with some risks.
Privacy policy winner: It's a tie
---
Plans and pricing: Are 1Password and Bitwarden a good value?
It's time to take a deep dive into the plans and pricing territory as we did previously in our NordPass vs 1Password guide.
Firstly, if you're hoping to find freebies here, go and check Bitwarden's "Free" plan and skip 1Password altogether. You won't get anything for free with 1Password.
In contrast to 1Password, Bitwarden offers a forever-free edition. This allows its users to store unlimited passwords across unlimited devices and includes all the core functionalities to boot, just like we noted in the Roboform vs NordPass guide.
Now, let's get back to 1Password and check its plans.
1Password: Personal plans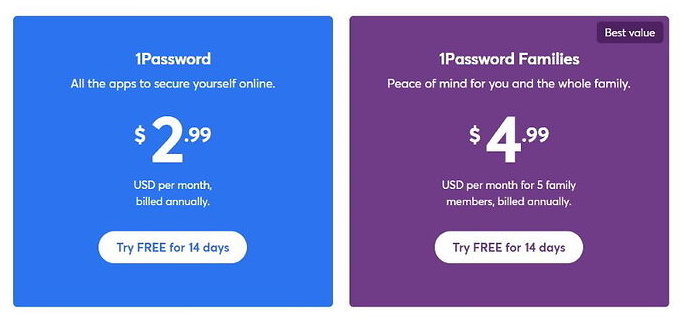 1Password's most pocket-friendly personal plan (titled "1Password") will cost you $2.99 per month and it can be billed annually. Thereby, it will come down to $35.88 per year, once it starts after a 14-day trial. If your free trial is running out and you don't want to continue using 1Password, make sure to cancel your subscription before it ends. There's no way to get a refund once it runs out. (This is the same case for VPNs with a free trial.)
The "Family" plan covers up to five family members and costs $4.99 per month, billed annually at $59.88, which is a pretty reasonable sum. It includes everything from the previous one, plus a management console for the family, more user accounts, and the ability to recover locked family member accounts. If you have a particularly big family, you can invite additional users to your plan for $1 per person per month.
1Password: Business plans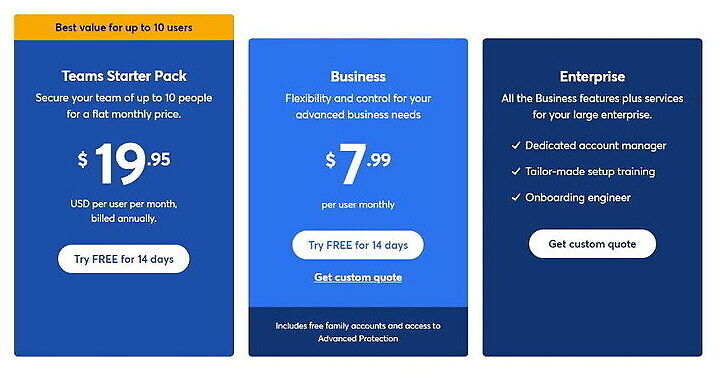 If you're here for a business-focused solution, 1Password offers three of them: "Teams", "Business", and "Enterprise".
The smallest one is "Teams" and it starts at $19.95 per month. It covers up to ten team members and supports up to five guest accounts for limited sharing. The "Business" plan is somewhat similar but richer in features as it is aimed at larger businesses. It'll set you back $7.99 per user per month and provide a rather impressive collection of features. These include custom security controls, an activity log for tracking any changes to the vault, and Watchtower reports for businesses.
If you're searching for a customizable business-oriented solution, you'll want to take a look at the "Enterprise" plan. Not surprisingly, you'll have to get in touch with the sales staff to get the pricing.
1Password: Additional pricing information
All personal and business plans besides "Enterprise" come with a 14-day free trial – no credit card information required.
Available payment methods with 1Password include all major credit/debit cards (including Visa, Mastercard, American Express, Discover, Diners Club, and UnionPay) and that's about it. No other ways to pay for your plan.
Now, let's have a look at Bitwarden's plans and pricing and how it compares to 1Password.
Bitwarden: Personal plans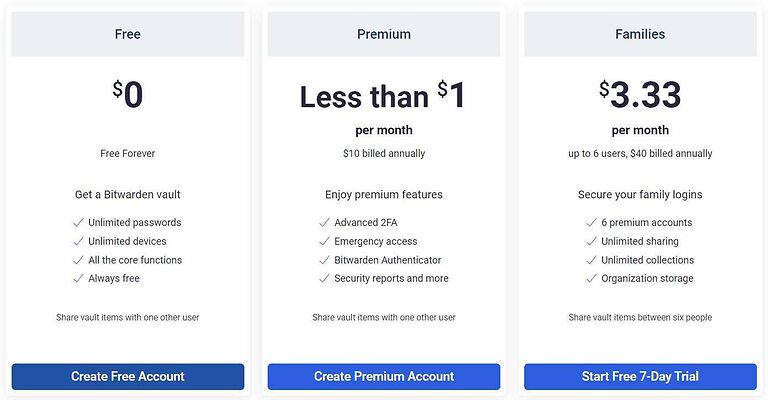 Apart from the freemium edition, Bitwarden also offers two personal ("Premium" and "Families") and two business plans ("Teams Organization" and "Enterprise Organization").
The "Premium" plan is much cheaper than the cheapest 1Password plan. It'll set you back a mere $10 per year, which is less than $1 per month. The "Families" plan supports up to six users and costs $3.33 per month which is $40 for a whole year. Again, pretty pocket-friendly pricing.
Bitwarden: Business plans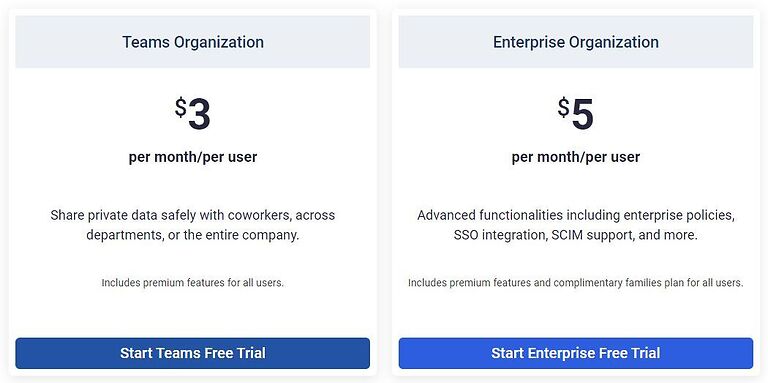 Bitwarden's business-focused plans are: "Teams Organization" and "Enterprise Organization" and both are billed per user. Both plans include some fine features such as event and audit logs, user groups, and a directory connector app.
And if you're running an enterprise with hundreds to thousands of users and finding the ready-made plans too limited, you're welcome to get in touch with Bitwarden's sales staff and set up a custom plan.
Bitwarden: Additional pricing information
7-day free trials are offered for "Families", "Teams Organization", and "Enterprise Organization" plans.
When it comes to payment methods, Bitwarden accepts all major credit/debit cards, electronic bank-to-bank payments (ACH), and Bitcoin (BTC). This gives Bitwarden an advantage in the way of accepting private payment methods.
Plans and pricing winner: Bitwarden
---
Customer support: Does 1Password or Bitwarden offer the best support?
While both our contenders offer several support options, they lack real-time customer support channels such as a telephone line and live chat. However, to be fair, both provide superb self-services including well-supplied help centers.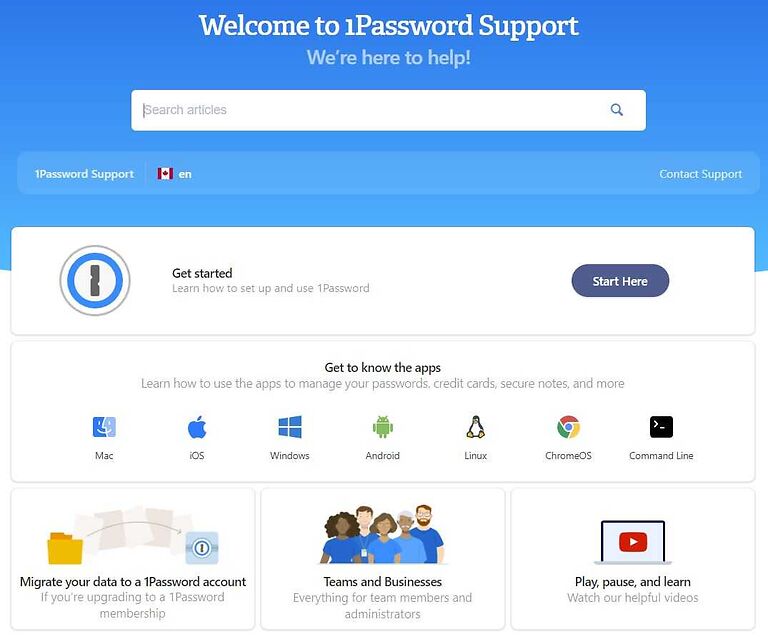 Your first stop with 1Password will likely be the so-called "1Password Support". It's a help center that holds together introductions to primary features and step-by-step guides. There are tons of guides here and they cover everything from signing up with 1Password to recovering your account.
The guides are available in six languages including German, Spanish, French, Italian, Japanese, and (of course) English.

Also, you are invited to contact the sales staff via phone in case you're interested in business solutions. However, there's no phone support for 1Password users. So, you've got three choices: to seek help via email, Twitter, or community forums.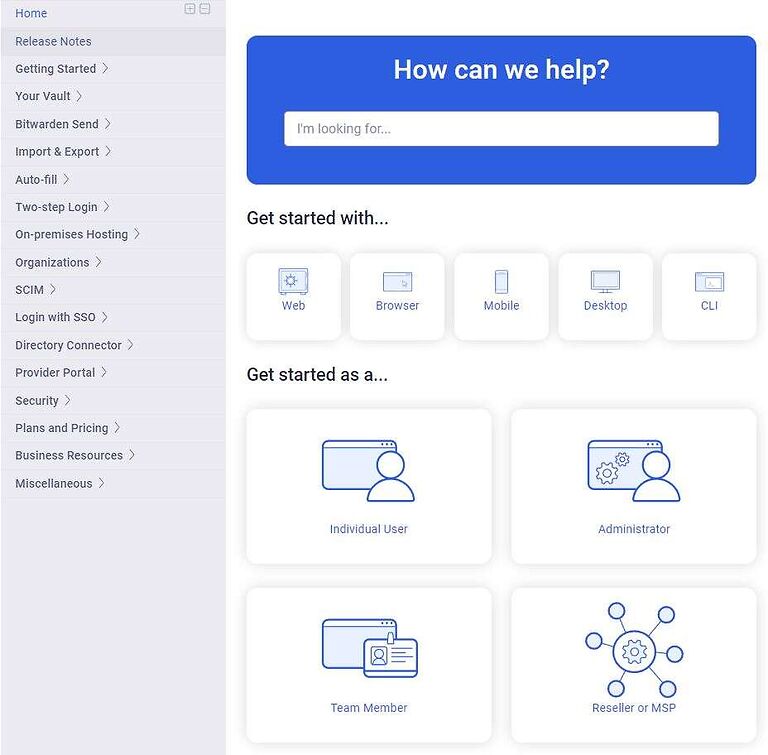 Bitwarden's knowledgebase looks better organized than the one from 1Password's help center and the guides themselves are exceedingly easy to understand and follow. Plus, you also get a learning center loaded with video guides where you can also attend weekly live "question and answer" sessions.
And if you're looking for a human touch – tough luck. Like its competitor, Bitwarden offers no real-time customer support. So, you'll have to find a helping hand via email, social media, or the community forum.
Note: If you want a password manager with 24/7 live chat support, check out our NordPass review, or give it a test with the coupon below.
Get 52% off NordPass + 1 months free >>
All things considered, both 1Password and Bitwarden have some superb self-support options but fail to impress when it comes to real-time support.
Customer support winner: It's a tie
---
Conclusion: Is 1Password or Bitwarden best?
All in all, both 1Password and Bitwarden are among the best password managers on the market today. So, you can't go wrong by opting for either of the two.
However, while it was a tough choice, Bitwarden emerged as the clear winner in the end.
If you still aren't convinced that Bitwarden is a superior choice, here's the run-through of all areas we've considered in this 1Password vs Bitwarden comparison guide:
Background check: It's a tie – both password managers are operating from the USA, a country with a pretty prying privacy policy. Also, both have a solid security track record.
Platforms availability: Bitwarden – it supports more browser extensions and also provides a CLI for several OS'.
Core and premium features: 1Password – while this wasn't an easy task, we went with 1Password as it offers more premium features like Travel Mode and Emergency Kit.
User interface and ease of use: 1Password – since it makes every single step a bit easier for its users.
Security and encryption: Bitwarden -while both password managers passed multiple independent security audits, Bitwarden's "Compliance, Audits, and Certifications" page instills more trust.
Privacy policy: It's a tie – although 1Password collects less personal information for its users, Bitwarden accepts BTC payments, so we'll call it a draw.
Plans and pricing: Bitwarden – in addition to paid plans, Bitwarden also offers a fine forever-free edition.
Customer support options – It's a tie – both contenders offer solid self-support options but should improve the real-time customer support.
If you're interested to see our separate hands-on reviews for both password managers, you can see our 1Password review and also the Bitwarden review.
1Password vs Bitwarden FAQ
Is Bitwarden better than 1Password?
Yes, we find Bitwarden a bit better than 1Password. It's not only a capable password manager but also a low-cost solution geared towards non-techies and tech-savvy users alike. Plus, it features a free edition of its product (while 1Password doesn't) and you can store an unlimited number of passwords and sync them across unlimited devices. However, if you're into premium features, 1Password is probably a preferable choice for you.


Were 1Password and Bitwarden ever hacked?
No, for all we know, neither 1Password nor Bitwarden was ever hacked. However, even if one of them happens to get hacked, worry not. All your sensitive data is fully encrypted and hashed before leaving your local device. So, even if hackers get their filthy hands on your data, they won't be able to do anything with it.


Is 1Password or Bitwarden better for mobile devices?
From our experience, 1Password and Bitwarden are just as effective for mobile devices. Their mobile apps are well thought out and easy to use. However, these apps are somewhat short on features. So if you want to see everything these two have to offer, you'll want to utilize the desktop apps too.


This 1Password vs Bitwarden comparison guide was last updated on January 3, 2023.