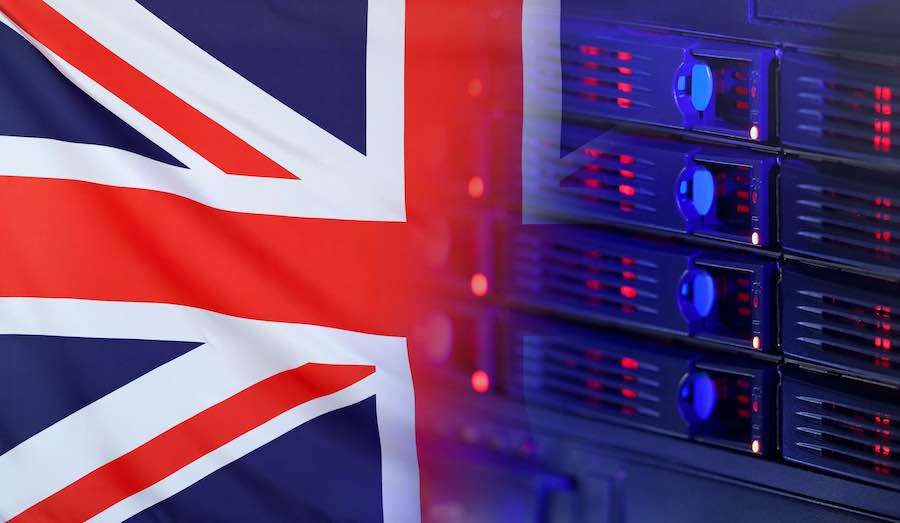 Encrypted communications app Signal is mulling an exit from the UK market in response to a new law threatening its core operational model, while E2EE email service provider Tutanota is taking the opposite approach, pledging to stay and help the British protect their communications from government scrutiny.
The law in question is the "Online Safety Bill," which is a proposed legislation in the UK that threatens to eliminate encrypted communications in the country by adding a backdoor for law enforcement agencies, and a new regulator, the Online Safety Commissioner.
While the UK government maintains that the law's aggressive provisions are required to protect vulnerable internet users like children, privacy advocates criticize the proposal for the impact it could have on free speech and privacy.
Signal to Exit
Signal's president Meredith Whittaker stated earlier this week that the proposed bill undermines people's right to communicate securely and privately, and encryption cannot work only for those who respect the law. "Encryption is either protecting everyone or it is broken for everyone," commented Whittaker.
Moreover, Signal's president said that if any backdoor exists on software, it will be targeted by malicious state actors who want to leverage it for their own intelligence collection purposes, so this approach will inevitably weaken secure communication products.
In conclusion, Whittaker said Signal would "absolutely, 100% walk" from the UK if the Online Safety Bill passes, forcing it to weaken the privacy of its users and betray their trust.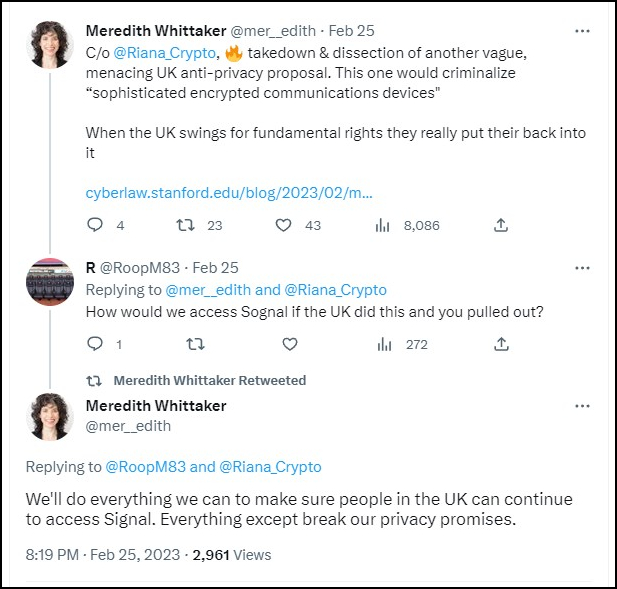 Tutanota to Stay
Today, Germany-based secure email service provider Tutanota published a post stating that they will not walk out of the UK, and they also do not plan to comply with any of the UK government's requests to backdoor their encryption.
"If Prime Minister Rishi Sunak and his government want to stop people in the UK from using strong encryption – like provided by our secure email service Tutanota – he must block access to Tutanota – just like Russia and Iran are already doing," stated Tutanota's co-founder Matthias Pfau in a strong message to the UK government.
"By doing so, the UK would put itself on the same level as authoritarian regimes like Russia, Iran, North Korea, and China, who are known for setting up Great Firewalls to limit their people's access to the internet and online services."
Pfau calls the decision-makers in the UK to reconsider their approach on the matter, warning them that there can be no safe backdoor reserved only for the good guys, and there can not be real security when it's punched even with good intentions.
The company criticized Online Safety Bill extensively in a dedicated post back in November 2022, developing several arguments against the various provisions of the law, as well as sending an open letter to UK's Prime Minister.
Tutanota's founder further warns that secure communications aren't threatened only in the UK. There are many politicians arguing in favor of encryption backdoors in the EU, USA, and Australia, too, lobbying for the implementation of associated laws.
Currently, the Online Safety Bill has been approved by the House of Commons in the UK's Parliament and is in the House of Lords stage, where the final decision is to be taken.
The law has not been passed yet, but it's on its way, but it might implement amendments that will lessen the adverse effects on private communications products.
Related Articles: