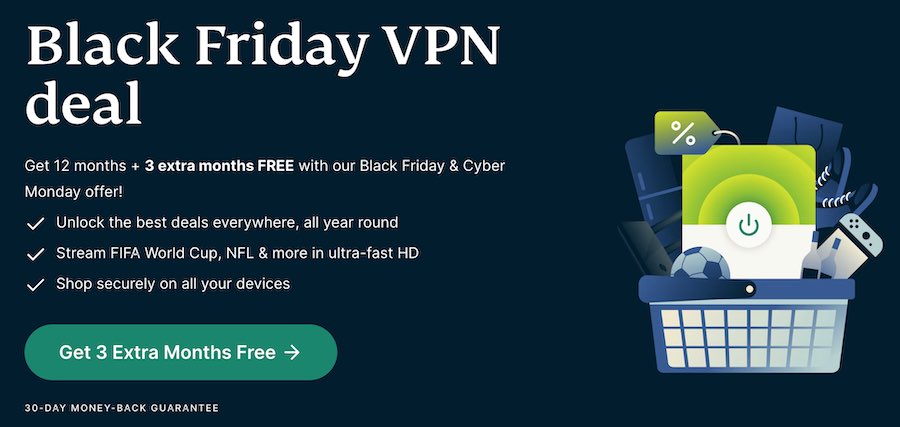 ExpressVPN is a premium VPN service that is used by many people around the world – but it's also on the expensive end of the price scale. Fortunately, you can get an excellent deal on ExpressVPN for Black Friday. In fact, this is the best time of the year to purchase a discounted ExpressVPN subscription.
For Black Friday and Cyber Monday 2022, you can grab three months free and a 49% discount on ExpressVPN. It's also good to keep in mind that every ExpressVPN plan comes with a full 30 day money-back guarantee. This gives you plenty of time to test out the VPN to make sure it fits your needs.
Here is the ExpressVPN Cyber Monday 2022 deal:
ExpressVPN Coupon:

Sign up for the 12-month plan and get 3 months added to your subscription for free.
(Coupon is applied automatically.)
In this guide, we will show you exactly how to get the best deals and discounts on ExpressVPN during Cyber Monday.
It's no secret that ExpressVPN is consistently ranked as one of the best VPN services across many websites. It simply performs at a level beyond most other VPN services.
We put ExpressVPN through a barrage of tests to check for any leaks, bugs, problems, or flaws. It performed very well and we posted all test results in our ExpressVPN review. Below you can see the ExpressVPN Windows app securing traffic without any IP address leaks or DNS leaks.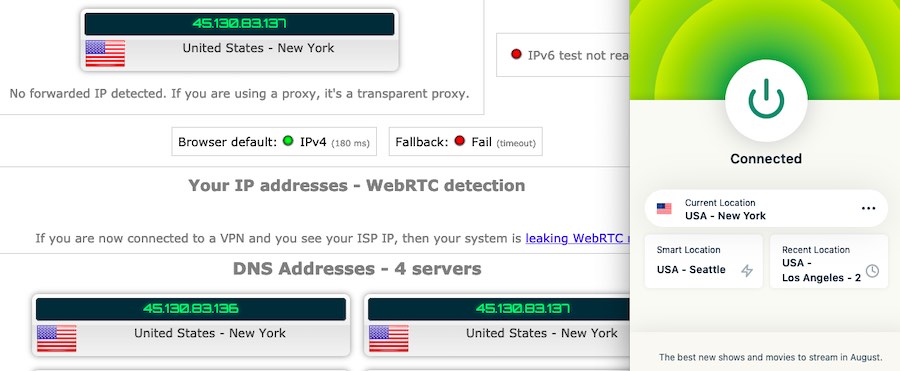 ExpressVPN is also one of the few VPNs that offer a dedicated app for VPN routers. This is useful because it allows you to easily switch server locations while also being able to selectively route certain devices or websites outside the VPN tunnel. And of course, using a VPN router is a smart way to easily extend the benefits of your VPN to all connected devices.
Before we go any further discussing the Pros and Cons of ExpressVPN, let's first cover the Black Friday and Cyber Monday savings for 2022.
Cyber Monday 2022 discount with ExpressVPN
For Cyber Monday 2022, ExpressVPN is offering the three months free deal, as we noted above.
To get this Black Friday / Cyber Monday 2022 deal, you need to click on one of the discount links on this page, which will automatically apply the savings. You can verify this on the checkout page, where you should see the three months free have been added on to the one-year deal, as you see in the screenshot below: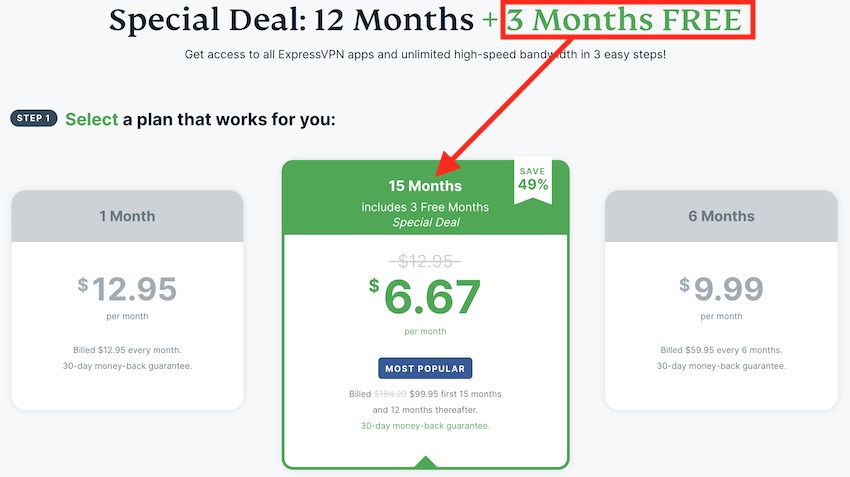 Note that the three months free coupon is only added to the one-year subscription plan, for a total of 15 months. In other words, to get the Cyber Monday deal, you will need to select the one-year plan.
We will also take a look at ExpressVPN Cyber Monday sales from previous years, to put this year in context. But first, let's look at the standard (non-sale) prices of ExpressVPN.
ExpressVPN regular prices (not the Cyber Monday deal)
Right now, the regular price on ExpressVPN is $8.32 per month with the cheapest rate being with the 12-month plan. Here you can see the regular (non-sale) prices of ExpressVPN: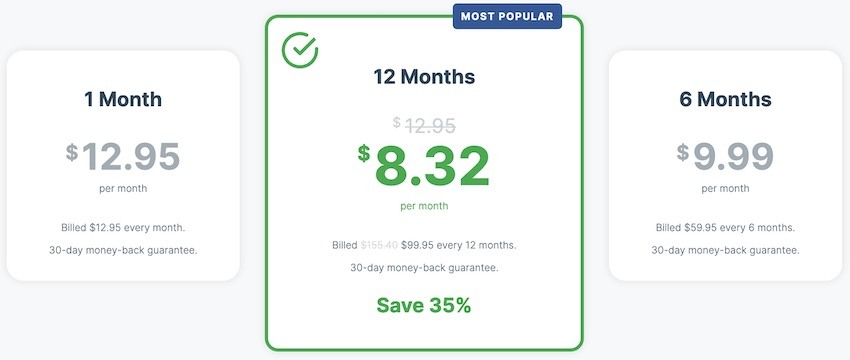 As you can see above, the non-discounted prices for ExpressVPN are rather high. The cheapest price you can get ExpressVPN for is $8.32 with the 12-month plan.
Fortunately, the Black Friday and Cyber Monday discount from ExpressVPN lowers these prices significantly, dropping the price to $6.67 per month with the 12-month plan (plus three months free).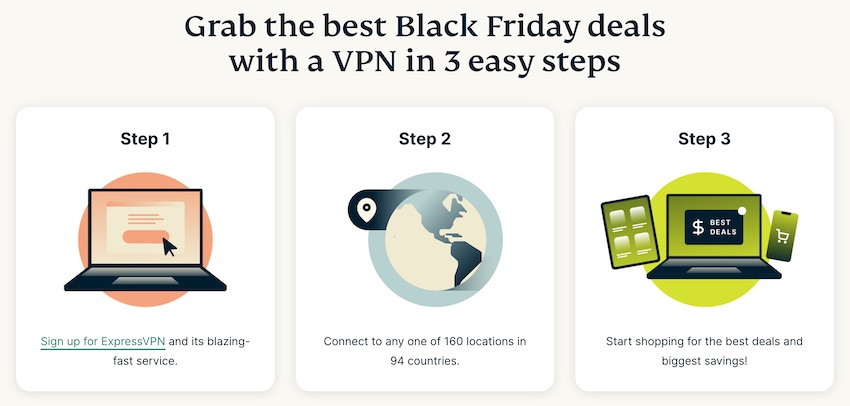 If you have been waiting around to buy ExpressVPN, now is the time to go for it and get the best savings possible.
Previous ExpressVPN Cyber Monday deals
To put ExpressVPN's Black Friday / Cyber Monday 2022 deal into context, we will take a quick look at previous Black Friday and Cyber Monday discounts.
Back in 2020 (last year), ExpressVPN had the same Cyber Monday discount. This gave you three months of ExpressVPN for free.
With this 2022 Cyber Monday deal for ExpressVPN, the prices are as follows when you accounted for the three months free coupon:
$6.67 per month (12 months + 3 months free)
$9.99 per month (6-month plan)
$12.95 per month (monthly plan)
We can see that the 2020 deal is the same as last year. So no surprises here.
Not all VPNs run the same deal every year. You can see that the NordVPN Cyber Monday deal is different from any other year in that they are giving away a free subscription on NordVPN and all bundled products (including NordPass and NordLocker).
Why choose ExpressVPN on Cyber Monday 2022?
ExpressVPN has a lot going for it and it continues to make advances over the competition. Here are a few reasons to consider ExpressVPN this Cyber Monday:
Fast – ExpressVPN is one of the fastest VPNs we have tested. It recently launched a new VPN protocol called Lightway, which offers faster speeds than OpenVPN and upgraded security.
Secure apps – ExpressVPN offers secure apps with built-in leak protection for Windows, Mac OS, iOS, Android, and even routers. You can even use ExpressVPN with streaming devices, including Smart TVs and gaming consoles.
Streaming support – ExpressVPN is an excellent VPN for streaming with full support for Netflix, Hulu, Disney Plus, and many more. It is the best VPN for Firestick and even offers an app for Firestick and Fire TV devices.
Large, secure server network – ExpressVPN has a large network of 3,000+ servers spanning 94 different countries. All servers utilize secure VPN protocols and encryption, while also running in RAM-disk mode to ensure no data can ever be stored on a server.
Split tunneling – ExpressVPN offers a split tunneling feature that allows you to route traffic outside the VPN tunnel for select devices, apps, or websites.
Audited – ExpressVPN has undergone an independent security audit performed by Cure53, as well as a no-logs verification audit by PWC Zurich.
One of the main drawbacks of ExpressVPN is that it has an above-average price tag. However, this Cyber Monday deal can ease the burden on your wallet. Take advantage of the deal before it's gone.
ExpressVPN support and refund policy
Looking for reliable support?
ExpressVPN offers 24/7 live chat support that is available directly through the website. Simply hit the chat connect button in the bottom-right corner of the website. We've tested support on many occasions and have found it to be prompt and professional. Additionally, they also offer numerous tutorial videos and support guides on their website.
Another great aspect of ExpressVPN is the refund policy. They give you a 30 day money-back guarantee. Simply cancel any time within the 30 day window and you will receive a 100% refund, no questions asked. This takes the risk out of testing the VPN.
Conclusion: Grab the best ExpressVPN Deal for Cyber Monday 2022
ExpressVPN is consistently one of our top recommendations as it does exceptionally well in all categories of testing. The main drawback is that it's not a cheap VPN, and instead has above average prices. Two cheaper VPNs that are also offering Cyber Monday deals are Surfshark and NordVPN.
But back to ExpressVPN.
If you want to give this VPN a shot, Black Friday and Cyber Monday 2022 is the perfect time to do so.
And if you want to see other discounts, then check out these Cyber Monday VPN coupon deals for the latest information.
To check out other dedicated VPN discount pages, see these: