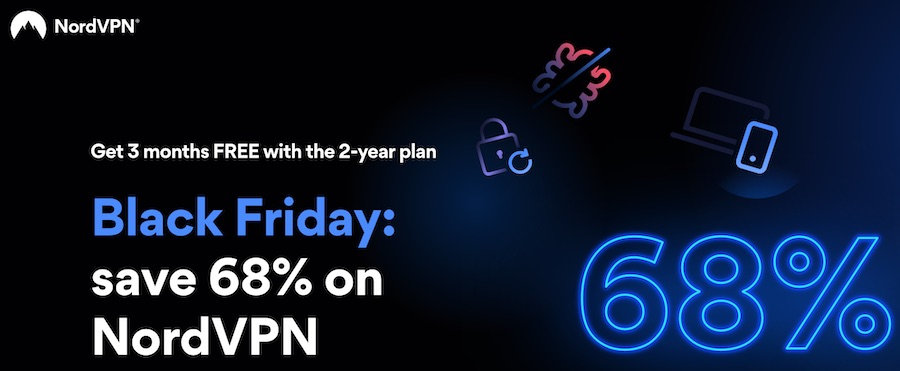 NordVPN is consistently rated as one of the best VPNs on the market – and Black Friday / Cyber Monday is the best time to save big on a NordVPN subscription. Fortunately, the NordVPN Cyber Monday 2022 deal is now live and this offers biggest savings all year.
For anyone who has been sitting on the fence, wondering if they should purchase a NordVPN subscription, now is the time to commit. And with a 30 day money-back guarantee on all plans, you can thoroughly test the VPN to make sure it meets your needs.
Here is the current NordVPN Black Friday / Cyber Monday deal available now:
NordVPN Cyber Monday Deal:

Get 68% Off NordVPN (drops the price to $3.19 per month) plus 3 months FREE:
(Coupon is applied automatically.)
Now let's dive deeper into the details of the NordVPN deal for Black Friday and Cyber Monday 2022.
NordVPN Cyber Monday 2022 Deal
Right now NordVPN is offering 68% off two-year plans, which is currently the best deal of the year.
The NordVPN Black Friday / Cyber Monday 2022 deal only comes with the two-year plan, as you can see below: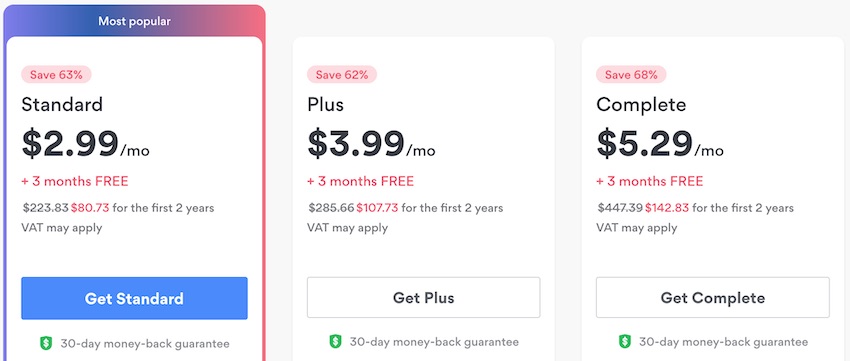 This added bonus sweetens the deal on an already low price for NordVPN.
Key features of NordVPN for the Black Friday and Cyber Monday Deal
If you are looking at the NordVPN checkout page for this Black Friday 2022 deal, you will see a few key features of NordVPN are highlighted:
Access over 5,500 servers spread across 58 countries worldwide
No-logs policy (audited twice)
Connect 6 devices at the same time
Of course, this is just a small snapshot of what NordVPN offers. We discuss more aspects of this service below and also in our NordVPN review.
This deal on its own would be great, but there's a hidden trick that offers you even more savings…
Bundle NordLocker and NordPass for the best Black Friday 2022 savings
In addition to the bonus gift we covered above, NordVPN is also offering an opportunity to bundle two other Nord Security products with your VPN subscription:
NordLocker – This is a secure cloud storage and file encryption tool (see our NordLocker review for details)
NordPass – This is a secure password manager (see the NordPass review for more info)
Bundling these products with your NordVPN subscription is an easy way to get the best savings on all products. This is because the prices for NordPass and NordLocker are discounted for Cyber Monday.
To take advantage of this offer, simply check the box for the respective product on the checkout page to bundle these products together.
If you have been considering purchasing one (or all) of these products, then now is the time to do so because you won't find prices these low until November of next year. And if you have been thinking about buying a secure password manager or secure cloud storage solution, then you'd be wise to test drive these two Nord products. They are both polished, secure, and very affordable.
Now that we've covered NordVPN's Cyber Monday 2022 deal, let's take a quick look at what makes NordVPN stand out from all of the other cheap VPNs on Cyber Monday.
Why purchase NordVPN on Cyber Monday 2022?
NordVPN is currently dominating the VPN market. They offer excellent features, secure apps, rock-solid encryption, a huge server network, and 24/7 access to all major streaming services.
And no, we aren't just blowing smoke here. We have thoroughly tested NordVPN and it currently holds the record as the fastest VPN service we have tested.
With NordVPN's implementation of the WireGuard VPN protocol, which is called NordLynx, you can get extremely fast speeds and the latest in encryption technology. Below is a speed test we ran using NordLynx (WireGuard) with a NordVPN server in Seattle. We hit 445 Mbps download speeds.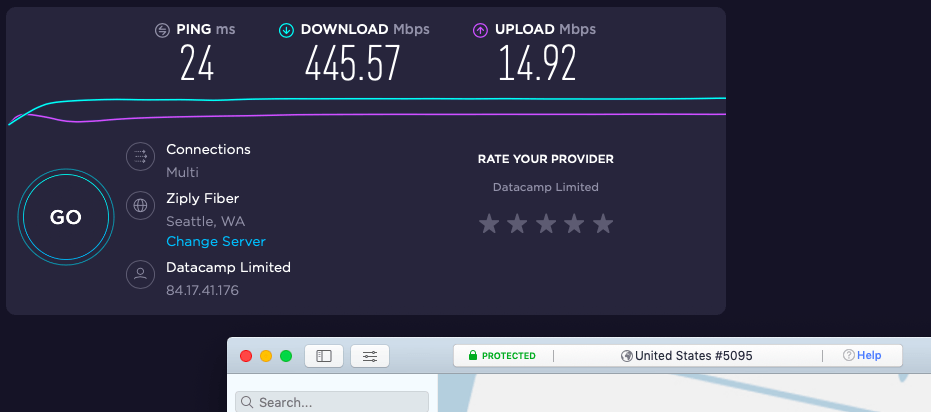 Ok, now let's recap previous deals sales with NordVPN.
Previous Cyber Monday discounts from NordVPN
Most VPNs do not have a separate designation for Black Friday and Cyber Monday. In other words, the deal for Black Friday simply carries over to Cyber Monday as one continuous deal.
We see that this holds true for Cyber Monday 2022 as well. That is to say, the Cyber Monday deal is an extension of the same Black Friday 2022 deal. It is all part of the same Cyber Month special, offering everyone the same great savings.
For comparison, below are the current NordVPN prices when you take advantage of Black Friday 2022 deal with the 68% discounted rate.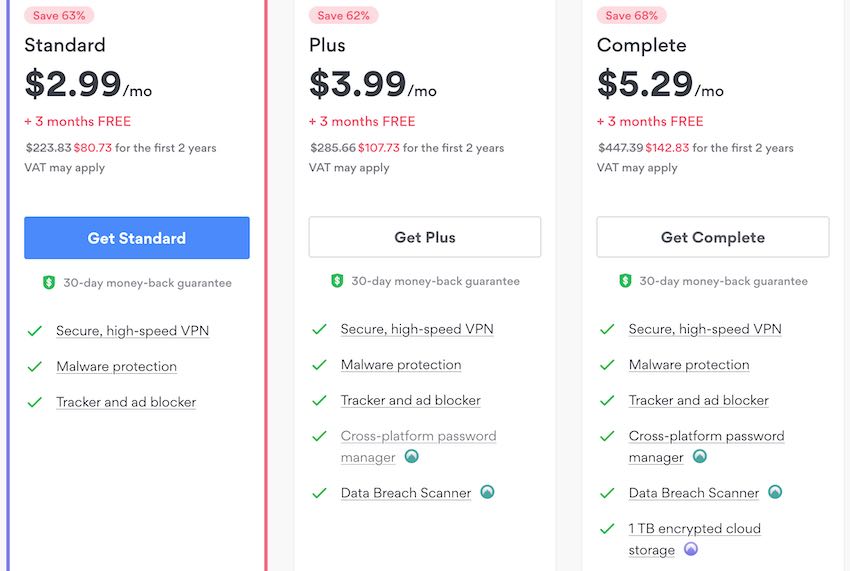 Right now, you can choose from 2-year, 1-year, or monthly plans. Note that these rates are pretty close to other competing VPNs with similar features, as we noted in the NordVPN vs Surfshark comparison.
With the current Black Friday 2022 deal, you have the best opportunity to grab the most savings on NordVPN and related products. If any of this changes, then we will update this page accordingly. But as it stands now, this is the best deal going.
NordVPN refund policy with the Black Friday Deal = 30 days
One great benefit with all Nord products is that you have a full 30 days to request a refund. As long as you are within this window, you will get a 100% refund on your purchase. This essentially acts like a free trial VPN because it allows you to test out the VPN risk-free for 30 days.
Prices for other Nord Security products on Black Friday 2022
Since we are already comparing prices with the VPN itself, let's now take a look at the cost of other Nord Security products.
NordPass has a limited Free plan, as well as a Premium plan that includes all features, active syncing, and up to six devices. The Premium plan is normally $3.19 per month.
NordLocker also has a basic Free plan with 3 GB of storage. The Premium plan is normally $3.99 per month and comes with an impressive 500 GB of storage.
Now that the Cyber Month sale is live, you can get some great savings on both NordPass and NordLocker. Below you can see the discounted prices when you bundle these products together with NordVPN:
Standard: This is just NordVPN at $3.19 per month
Plus: This is $3.99 per month for NordVPN + Password Manager
Complete: This is $5.29 per month for NordVPN + Password Manager (NordPass) + Encrypted Cloud Storage (NordLocker)
There are a lot of benefits to bundling these products. Namely, you'll get the best savings of the year. And as we noted earlier, all of these Nord products performed well in our tests for the reviews.
Overview of NordVPN for Black Friday shoppers
If this year is anything like the previous few years, we can expect lots of great deals on VPN services over the Black Friday / Cyber Monday time period. Simply put, you have lots of good options to choose from.
So if you can find lots of great VPN Black Friday and Cyber Monday deals, why should you go with NordVPN?
Here are some ways that NordVPN stands out from the crowd:
Strong encryption and security – NordVPN utilizes very strong encryption algorithms in combination with the OpenVPN, IKEv2, and WireGuard protocols. All NordVPN apps incorporate a kill switch to secure traffic against any data leaks.
Full streaming support – NordVPN is one of the best VPNs for Netflix with support for all major Netflix libraries. Besides Netflix, NordVPN also works well for BBC iPlayer, Hulu, Amazon Prime, and many other services.
WireGuard support – With NordVPN, you can easily utilize the WireGuard protocol in all NordVPN apps. Simply select NordLynx and you will enjoy the fastest VPN speeds together with advanced and upgraded encryption.
User-friendly apps – NordVPN boasts a huge selection of user-friendly and secure apps for all major operating systems. Whether you need a VPN for Mac, Windows, or Linux systems, or you want full support for your Android or iOS mobile devices, NordVPN has you covered.
CyberSec – The CyberSec feature will block ads, trackers, malware, and even phishing domains from infringing on your privacy and security. This is enabled directly in the VPN apps and is a great security feature.
Specialty servers – Another advantage with NordVPN is the large variety of specialty servers. These include double-VPN servers to encrypt traffic over two hops and Tor-over-VPN servers that encrypt your traffic with both the VPN and the Tor network. There are also P2P servers that make NordVPN the best VPN for torrenting, as well as obfuscated servers to get around VPN blocks and restrictions.
Browser extensions – NordVPN also offers browser extensions for both Chrome and Firefox browsers.
Huge global network – NordVPN currently has over 5,200 servers spread across 59 countries around the world. This gives you plenty of server options wherever you happen to be located.
Threat Protection – This will protect your computer from viruses, malicious websites, trackers, and ads.
Aside from all of the features listed above, NordVPN has also passed various third-party audits. For starters, NordVPN is one of only a handful of verified no logs VPN services that has been confirmed by external auditors on two separate occasions (in both 2019 and 2021). It has also undergone security audits conducted by Versprite. The security audits included both applications and all network infrastructure.
Lastly, NordVPN is a step above most other VPN servers when it comes to network security. They run all of their servers run in RAM-disk mode, which ensures no data can be physically stored on any server. You can quickly select a server from any country directly in the NordVPN apps.

To sum things up, there is a lot to like about NordVPN — and you can get more info about this service in our NordVPN review.
Conclusion: Grab the best NordVPN deal for 2022
Ok, so let's now wrap up this guide on Black Friday and Cyber Monday NordVPN deals.
In closing, we definitely think this is a service worth considering. NordVPN performs well in all major categories, while even beating out some other market leaders, as you can see in our ExpressVPN vs NordVPN comparison.
And don't forget that all plans come with a full 30 day money-back guarantee, as well as access to 24/7 live chat support. So take advantage of the NordVPN Black Friday sale – it only comes around once a year.
And if you want the best savings on all the other Nord Security products, then considering adding NordPass and NordLocker to your subscription of NordVPN. This gives you a full suite of cybersecurity tools for a phenomenal price tag.
You can't beat the prices when you use the discount link below:
Want to check out other options?
You can also browse these other VPN Cyber Monday deals for 2022.
And if you want to check out other dedicated VPN discount pages, see these:
This NordVPN Cyber Monday 2022 guide was updated on November 27, 2022 with new details. Stay safe and secure online this holiday season!