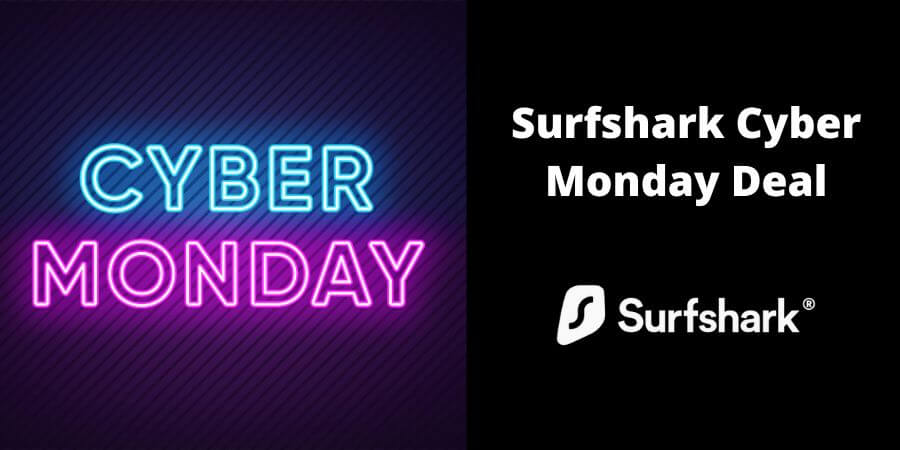 Surfshark is one of the newer VPNs on the market, having officially launched in 2018 — but it continues to grow in popularity. This VPN has a lot to offer users and the Surfshark Cyber Monday deal for 2023 is the best time of the year to sign up and save big on a subscription.
This year for Black Friday and Cyber Monday 2023, Surfshark is again offering an excellent deal. Right now you can get three months free when you purchase a two-year Surfshark subscription. This is the only Black Friday / Cyber Monday deal from Surfshark for 2023. It is the best savings available throughout the year.
Here is the Surfshark VPN Black Friday deal that is available now:
Surfshark Coupon:

Get 80% off Surfshark VPN (drops the price down to $1.99 per month) plus 5 months FREE:
(Coupon is applied automatically.)
We have thoroughly tested Surfshark and reported all of the results in our Surfshark review. Based on the solid performance, we are happy to recommend this VPN service to our readers.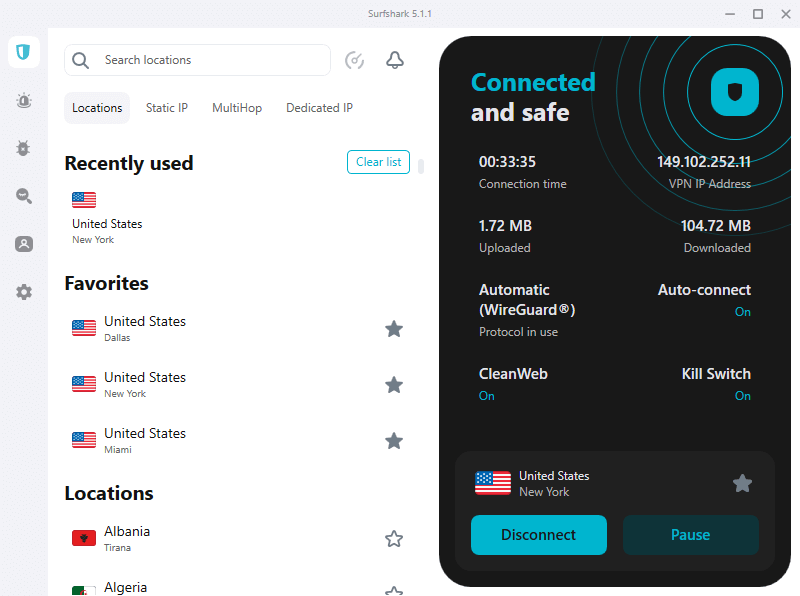 Ok, so now let's examine the pricing and what we can expect from Surfshark this year for Black Friday and Cyber Monday in 2023.
Cyber Monday 2023 with Surfshark VPN
This year, Black Friday falls on November 24, 2023. Meanwhile, Cyber Monday lands on November 27th. However, Surfshark has already started the Black Friday / Cyber Monday sale. You can take advantage of this deal below:
We have been following Surfshark VPN for the past few years. While the prices on this VPN are often low, the Cyber Monday deal offers the best discount throughout the year. In other words, now is the best time to buy a Surfshark subscription if you are looking to get the most savings.
Prices on Surfshark VPN with the Cyber Monday and Black Friday deal
Surfshark consistently offers excellent prices. In fact, it is probably the cheapest VPN that still provides a high level of quality and excellent performance.
Normally, the cheapest price you can get for Surfshark VPN is $2.99 per month with the two-year plan. When you add in the current Black Friday deal, this adds two months to your subscription for free. With the full deal, it comes out to only $1.99 per month, as you can see below.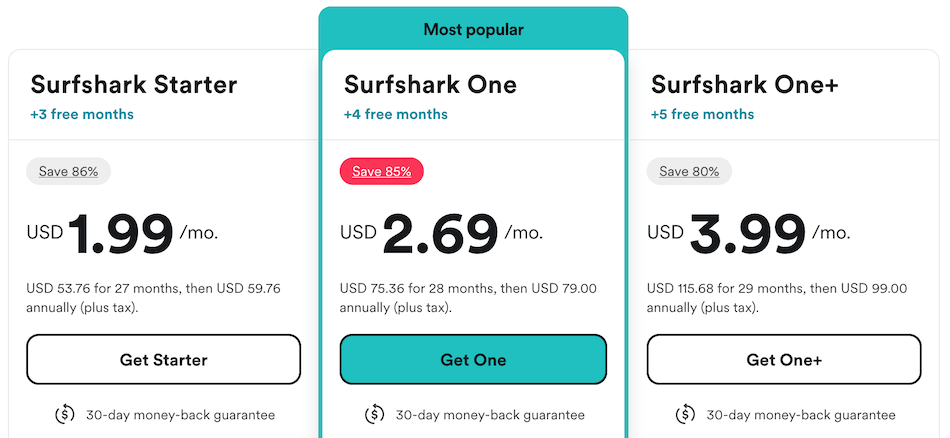 It's great to see that Surfshark is willing to drop prices even more for Cyber Monday, even though they already offer low prices.
30 day money-back guarantee on all plans
All Surfshark plans come with a full 30 day money-back guarantee. This allows you to test out the VPN risk-free for 30 days. If you decide to cancel any time in the 30 day window, you will get a 100% refund without any hassle. This basically makes Surfshark a free trial VPN if you cancel within the refund window.
Previous Black Friday and Cyber Monday discounts for Surfshark VPN
Even though Surfshark is a relatively new VPN service, they still offered a great deal for Black Friday and Cyber Monday last year as well.
Last year, Surfshark offered the same Black Friday and Cyber Monday deal, by adding on two months for free on top of a new VPN subscription purchase.
This year makes sense and conforms with Black Friday and Cyber Monday deals from years past.
Comparison to other Cyber Monday VPN deals
Surfshark is not the only top-rated VPN service that offers three months free.
As we see with the ExpressVPN Cyber Monday deal, they are also offering three months for free, added to the annual subscription. Unlike Surfshark, however, ExpressVPN does not offer any discounted two-year deals.
NordVPN is taking a different route by also allowing users to bundle NordPass and NordLocker with the VPN, for a very cheap price. However, they too are offering three months free just like ExpressVPN and Surfshark. So we can see this is a common theme among the top VPN providers.
See the NordVPN Black Cyber Monday Deal for more info. And if you are in the market for a password manager, you can check out the NordPass Black Friday deal.
Additional Surfshark add-ons
In addition to the VPN service itself, Surfshark also has other products you can bundle together. These include:
Surfshark Antivirus
Surfshark Search
If any of this catches your attention, you'll want to check out the bundle deals here. Bundling these services will save you a lot of money over purchasing them individually. And Black Friday and Cyber Monday are the best times of the year to do this.
Should you go with Surfshark VPN this Cyber Monday?
Surfshark remains one of the best VPN services on the market. If you have been considering a subscription to Surfshark, now is the best time of the year to go for it with the biggest savings available. Here are some of the ways Surfshark stands out from the crowd:
Unlimited connections – Surfshark is one of the few VPN providers to give you an unlimited number of connections with your subscription.
User-friendly apps – Do you want secure and user-friendly apps for all your devices? Surfshark has you covered, with support for Windows, Mac OS, Linux, iOS, and Android. They even have a VPN app for Firestick.
CleanWeb – The CleanWeb feature will block ads, trackers, malware, and phishing domains on your entire operating system. And it can easily be enabled directly in the VPN app.
Multi-hop – Surfshark offers double-VPN servers that encrypt traffic over two hops. This is a great feature for those wanting extra security.
Strong privacy – Aside from being a no-logs VPN provider, Surfshark is also based in a privacy-friendly jurisdiction, the British Virgin Islands.
Streaming – Surfshark is one of the best VPNs for streaming. They support all major Netflix libraries, as well as BBC iPlayer, Hulu, Disney Plus, and many more.
WireGuard – The WireGuard protocol offers the fastest speeds and latest encryption upgrades.
See all Surfshark VPN features here >>
The Surfshark server network is also noteworthy. They have over 3,200 servers in 100 countries. All servers are P2P friendly, which is great if you like to torrent files. Additionally, all Surfshark VPN servers are now running in RAM-disk mode, which makes it impossible for data or logs to be stored on any server.
Surfshark has a lot going for it. With our latest tests for the Surfshark review, we were able to get near 400 Mbps download speeds using the WireGuard protocol.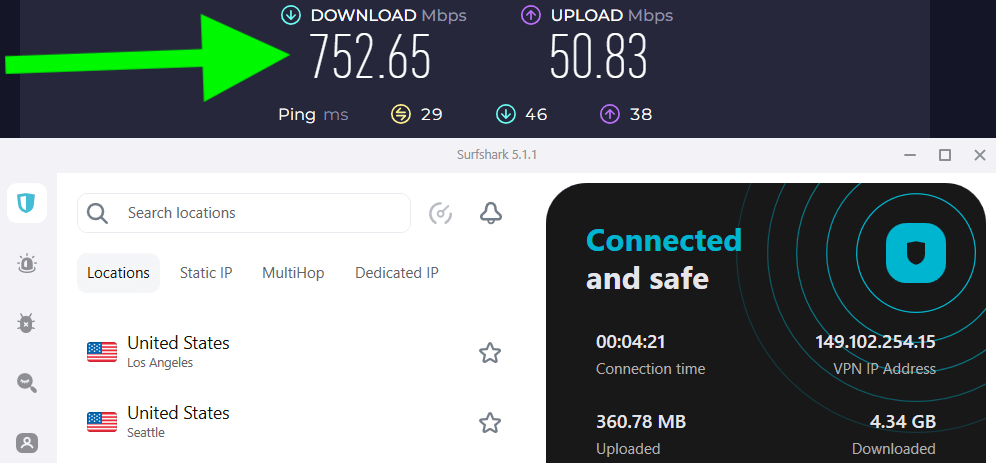 This is on par with, or even better than, some of the other premium VPNs we've tested, as noted in our ExpressVPN vs NordVPN comparison.
Even without the Black Friday and Cyber Monday discounts, Surfshark is still one of the best values you will find for a high-quality VPN. It packs a punch and delivers in all areas, while still being under $3 per month with regular pricing.
Now, when you consider the discount for Black Friday and Cyber Monday, it's clear that Surfshark is a hot buy. Take advantage of this Cyber Monday Surfshark VPN deal before it's gone for good.
Looking for other options?
We also have an overview guide on the best Black Friday VPN deals.
And like Surfshark, there are a few other VPNs offering Black Friday and Cyber Monday sales:
This Surfshark Cyber Monday Deal 2023 guide was last updated on November 27, 2023 with new details and information.