You can have too much of a good thing, and the case in point are password managers like 1Password and LastPass. On paper, they are both good and similar in what they provide you with, but we want to help you get the best value for your money depending on the fine points that set these two apart.
This is why we will put them on our scales as part of a head-to-head comparison. Our goal here is to see who comes out on top in the 1Password vs LastPass battle, just like what we did in our NordPass vs Bitwarden review.
Here are the key specs on each of these two password managers before we dive into the details of this comparison.
| | | |
| --- | --- | --- |
| | 1Password | LastPass |
| Website | 1Password.com | LastPass.com |
| Platforms | Windows, macOS, Linux, Android, iOS | Windows, macOS, Android, iOS |
| Browser extensions | Chrome, Firefox, Safari, Brave, and Edge | Chrome, Firefox, Opera, Safari, and Edge |
| Free version | No (14 day trial) | Yes |
| Encryption | AES 256-bit | AES 256-bit |
| Support | Email | Email |
| Price | From $1.50/mo. | From $3.00/mo. |
If you are in a hurry, spoiler alert: both 1Password and LastPass are competent providers and will give you a sense of security that you won't have to dig for as both solutions are highly intuitive and newcomer-friendly.
Another common point is the industry veteran status these providers share. 1Password has been peddling its goods since 2006 while LastPass is a veritable workhorse of privacy protection, whose reputation was slightly tarnished by several security breaches (scroll down to learn more).
Now, despite their similarities, we still have to give you our winner and the best starting point is our table with key criteria we will compare both providers against:
Background check
Platforms availability
Core and premium features
User interface and ease of use
Security and encryption
Privacy policy
Plans and pricing
Customer support options
Now it's time to get cracking and see who scores points in each round, starting with the background and reputation match.
1Password and LastPass: Background check and security incidents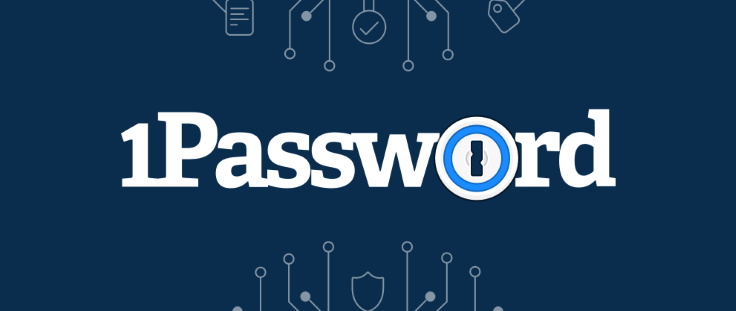 1Password was launched in 2006 as a macOS-focused solution that eventually spread out its wings to include major OS platforms, mobile systems, and browsers. The mastermind behind the project is AgileBits, a Toronto-based company in Canada. Now, this info may raise some eyebrows since it is bad news of sorts when it comes to privacy.
Why?
Well, 1Password's native Canada is a member-state of the Five Eyes Alliance (FVEY) which also includes the USA, the UK, Australia, and New Zealand. It's an alliance built around international intelligence gathering and the main reason why these countries are pretty lax when it comes to protecting the privacy of their citizens. As a Canadian provider, there's only as much that 1Password can offer you within the scope of the existing privacy regulations in its home country.
To its credit, though, 1Password has a clean slate when it comes to falling prey to cyber threats – there are no recorded or publicly known hacking attacks against it, which is a plus in our book.
Now let's examine LastPass.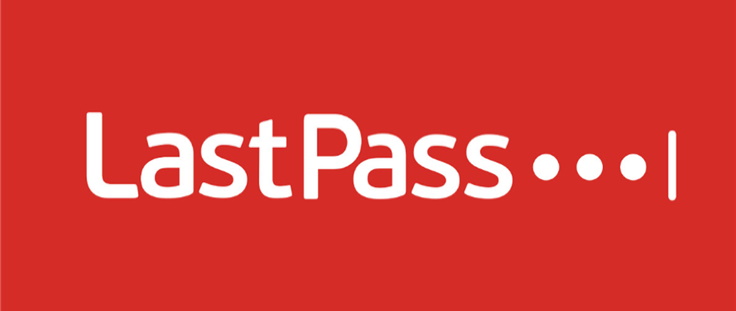 LastPass is only a tiny bit younger, having launched in 2008 as a cloud-first company. Moving beyond the cloud, the company also made a name for itself in the world of password managers.
Yet, just like 1Password, it's hampered by its country of origin and its allegiances – it is headquartered in the United States (Boston, Massachusetts). As noted above, the US is a key member of the Five Eyes Alliances which, is no friend to privacy protection.
Actually, the US authorities are well within their right to collect your private data, so LastPass is hardly an impenetrable defense of your stored information and you should keep this in mind.
Another more important thing is the rocky history LastPass had with security breaches, many of them well-publicized. These breaches took place in 2015, 2016, and 2017, and just when you thought that they managed to pull the plug on these – in August 2022. That's right. We're going on four breaches and counting. This was also a contributing factor to NordPass coming out on top in the LastPass vs NordPass comparison.
The attacks involved stolen password reminders, email addresses, and vanilla breaches of the corporate system, which does hurt the company's security record a bit and gives 1Password the upper hand over it in this round.
Background check winner: 1Password
---
1Password and LastPass: which supports more platforms?
Every self-respecting password manager has to support a broad range of platforms if it's going to survive a second in today's market. This encompasses both web browsers and operating systems as well as mobile and desktop platforms.
So, before you shell out for any of these two, you better check if the major platform/system you want to run them on is actually supported by the password manager you are after.
Here's our list of the supported platforms to help you get a clear overview of what you can expect from both 1Password and LastPass.
First, 1Password nowadays comes in two main flavors – its desktop/mobile app and browser extensions. As for the desktop app, it currently supports the following operating systems:
Windows (64-bit version of Windows 10 or up)
Linux (any version supporting snap 64-bit x86 or ARM processor and GNU C Library, glibc 2.28 or up)
macOS (version Catalina 10.15 or up)
Chrome OS
For the mobile version, you get support for:
Android (version 9 Pie or up)
iOS (version iOS 15.5 or up)


As for browser extensions, 1Password supports these:
Google Chrome
Mozilla Firefox
Microsoft Edge
Opera
Safari
Now, let's look at LastPass.
LastPass requires the following for the use of its web browser extensions:
Windows 8.1 or later
The two most recent major macOS versions with a 64-bit processor required
Linux
Chrome OS
LastPass is currently compatible with:
Google Chrome
Mozilla Firefox
Microsoft Edge
Opera
Safari
If you want to run its native desktop app, you have to have at least Windows 8.1. In early 2020, it stopped supporting its Mac app for desktops.
Finally, the LastPass password management app is available for Android and iOS.
So, both contenders come with a largely similar list of platforms they support. Now, that would be enough for a tie, were it not for the desktop app – 1Password simply supports more operating systems at the moment and is a winner in this category. However, in the NordPass vs 1Password comparison, it was NordPass that came out on top in this category.
Platforms availability winner: 1Password
---
Features: Is LastPass or 1Password better?
If you are after features, 1Password or LastPass will hit all the right checkmarks, making your choice even more difficult.
At the same time, you can rest easy knowing that your password will be rock solid, kept behind safe doors, and properly synced on any device you use them with.
Yes, after having them slug it out in the free features arena, LastPass emerges as a victor because it is the one to offer a truly free version. With 1Password, you get a 14-day trial which we can hardly call a free version, let alone a permanent one.
So, whatever feature it may hide under its hood, LastPass is a clear winner if you want to get your hands on a password manager for the first time and see if it is actually for you.
While LastPass's free option might be better for those who want to try out a password manager for the first time, you'll be happy to know that both contenders will offer largely similar functions, including:
Strong password generators
Robust password vaults
Rock-solid encryption
Secure data sharing
Autosave and autofill login
Automatic syncing across devices
Intuitive dashboards
Multi-factor authentication (MFA)
Next, 1Password and LastPass offer emergency access as a feature, with 1Password naming its one with a fancy name of the Emergency Kit.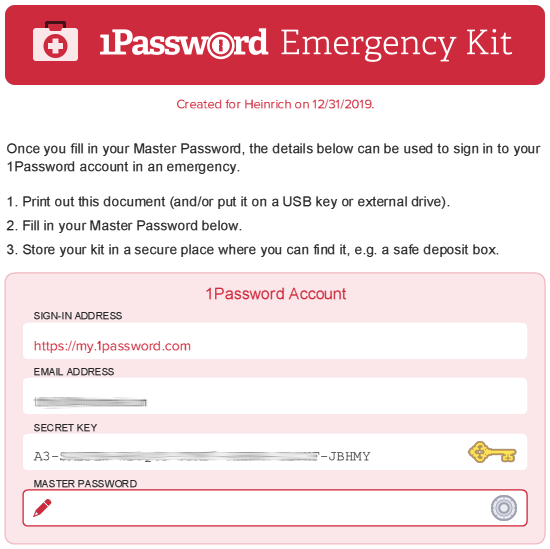 What you get for free with LastPass, however, includes the following:
Access your vault with LastPass Authenticator
Automatically sync passwords across all your devices
Store passwords, secure notes, addresses, credit card info, and bank accounts
Save and fill in passwords
Security Challenge tool
Securely share your data with those you trust
Secure your account with 2FA
Seek customer support from self-service options
Utilize a strong password generator
Use a secure password vault
Login without password
So, before we dig deeper into what these providers offer in their commercial versions, know that LastPass will get you covered permanently if you are not a particularly demanding customer. Compared to 1Password's free trial, it takes the crown in the core feature segment simply because you can have your cake and eat it, too.
Now, let's look into these features in more detail, with a tip. If you're mostly interested in what both 1Password and LastPass can offer in terms of security, make sure you scroll down to the "Security and encryption" section.
Importing/exporting passwords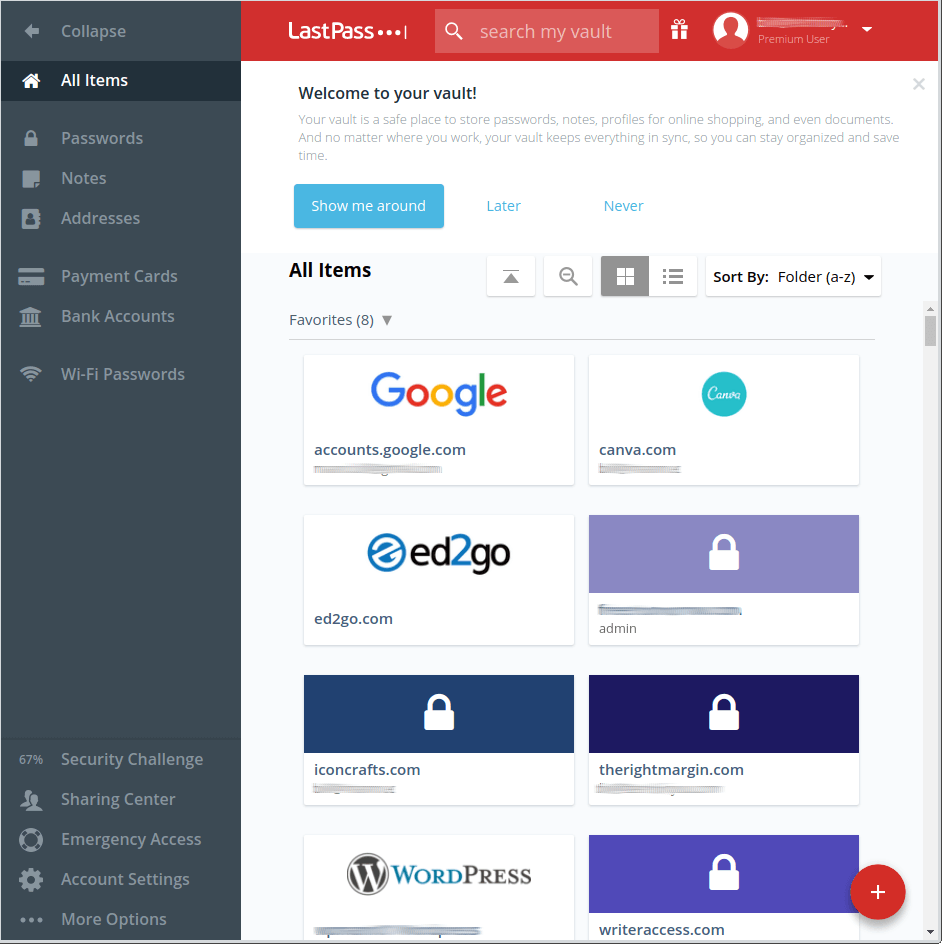 Let's start with 1Password first. First, it allows you to import your password data from the following platforms: Chrome, Firefox, Microsoft Edge, Brave, Safari, Dashlane, KeePass, KeePassX, Dashlane, LastPass, RoboForm, and Thycotic Secret Server.
Now, is that all, you may ask?
Well, yes, and you can see that the list is a bit basic, to say the least. Yet, it's interesting to see that it supports importing your password from LastPass, its direct competitor in our showdown.
While we are here mostly for passwords, it will also allow you to store more than just login credentials. You can also store personal notes, addresses, payment cards, bank accounts, and Wi-Fi passwords.
So, you can say that your options are slightly limited in this segment if you go after 1Password. On the other hand, the whole importing process went rather smoothly for us.
As for LastPass, it also supports importing your data from largely the same pool of platforms. They include Chrome, Firefox, Microsoft Edge, Opera, Safari, Bitwarden, Dashlane, KeePass, Keeper, 1Password, and RoboForm. Bear in mind that this process does not go as smoothly as we expected – yet, going to the LastPass support page helps a lot.
Auto-filling and capturing login information
Auto-filling and capturing information are supported by both password managers we look at in this comparison. This feature will make your logins smooth and fast with either 1Password or LastPass and the differences are really subtle.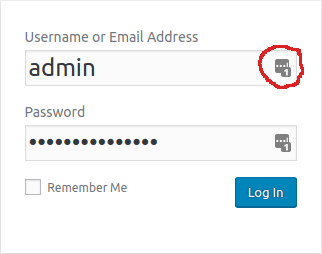 Both auto-save and auto-fill options will rid you of the need to copy/paste or type in your passwords when logging in. 1Password and LastPass are both good at memorizing stuff for you and their convenience is largely at the same level.
As long as their extensions are active you can log into sites without hassle. If the credentials are not available, you'll be shown a box with the prompt to add your credentials to the vault.
A caveat: some people report issues with launching LastPass's auto-filling and capturing feature, prompting LastPass to provide a dedicated page with a guide on how to resolve this issue. While this may be a minor issue, it's still worth keeping in mind if you are sensitive about these technical nuisances.
Random password generator
1Password and LastPass both come packaged with competent password generator features. Once you activate them, you won't have to come up with ludicrously complex phrases for your password, nor be forced to remember it.
With 1Password, you can create up to 100-character long passwords, which is quite good in this segment. You can also create pass-phrases that take the format of memorable passwords. Finally, 1Password also supports the easy creation of personal identification numbers (PINs).
OK, 1Password comes with a robust set of features in this segment, so what about LastPass?
Well, it loses a bit of steam in this round, as LastPass supports the creation of up to 50 characters for your password, which is half the character limit you have with 1Password.
Premium features
In addition to basic features, the comparison of 1Password and LastPass would not be complete without looking at the features that they hide behind the premium tag. In the case of 1Password, these are the features you get with both your trial and paid version. With LastPass, premium refers to the more advanced features that you may or may not need.
Let's start with LastPass' premium features:
In the case of 1Password, these are the features you get with both your trial and paid version. With LastPass, premium refers to the more advanced features that you may or may not need.
Let's start with LastPass' premium features:
1GB encrypted file storage
Emergency access
Dark web monitoring
A security dashboard
Priority customer support
Advanced MFA
Now, let's look at how these work in practice.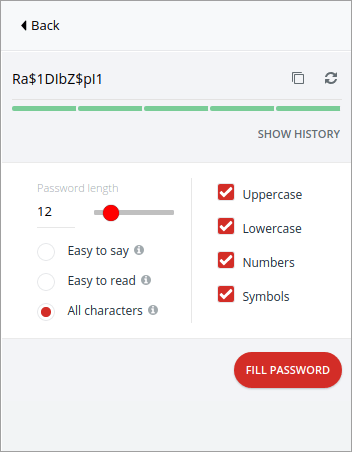 Emergency access
Emergency access is used to give another user full access to your information in case of an emergency.
LastPass for applications
LastPass for Applications (LastApp) is a Windows-based application that gives you access to your precious vault of stored passwords and data.
1 GB of encrypted file storage
This option will expand the available vault space from 50 MB to 1 GB, which is a neat feature.
Family manager dashboard
The LastPass Family plan supports registering up to six users for a single account. The Family Manager Dashboard acts as the control hub for this feature.
Team features
Going beyond the family scale, the LastPass Teams allows you to manage up to 50 users with a single account. You can set group-level policies and manage reporting from one place.
Enterprise features
LastPass wants to be a password manager for the entire enterprise. It offers automated reporting, easy onboarding, directory integration, identity federation (for easy logins), group management of users who come into and leave the corporate systems, enterprise-grade security for passwords, alert systems whenever data are in danger, zero-knowledge encryption (your vaults permit no unauthorized access), audit trails and compliance with SOC2, SOC3, C5, ISO27001, and GDPR.
So, LastPass will surely give 1Password a run for its money – let's see what it 1Password brings to the table.
Secure document storage
1Passwords offers 1GB of document storage per account with all personal plans and 5GB per account with its enterprise plans. When we say "documents", we mean "not only passwords", so you are well within your power to store your passport or a will here.
If you want to protect your family, 1Password will allocate 1GB per family member, as long as you stick to the limit of up to five members. If you want to add more, things are simple – pay a dollar a month.
Travel Mode
Whatever plan you go with, 1Password will treat you to its flagship feature – Travel Mode. It works like this: you designate a password vault as being safe for travel, prompting 1Password to get rid of all other vaults deemed "unsafe".
The vaults you designate as safe will be the ones used with the Travel Mode. If you have wanderlust, this Mode can be a boon. Your sensitive information will not be endangered by the inevitable border controls. In addition, you'll feel much safer on your travels – even if your devices get stolen, your data is still safe with you.
Have I Been Pwned
1Password wants to protect you from data breaches as well. The feature tasked with this is called the Have I Been Pwned data breach service. If your logins are compromised, this feature will sound the alarm, as well as let you know if your passwords are old, weak, or duplicate. We also noted this in our NordPass review.
Watchtower password strength checker
Watchtower is a feature built into 1Password. Its main function is to check the strength of your passwords for each site you use them to log into. It will save you a lot of time and offer you timely advice to get rid of weak passwords before it's too late.
The Watchtower can be easily integrated with Have I Been Pwned data breach tool to further empower your password management capabilities. In this case, Pwned will keep informing you about any of your passwords being compromised via potential data breaches.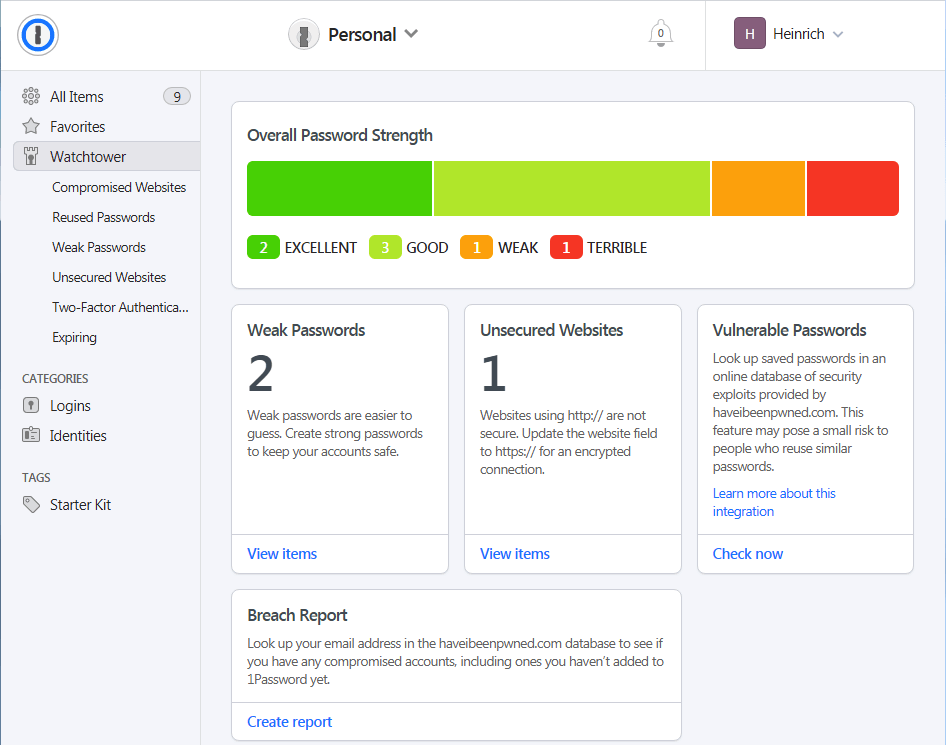 Advanced sync options
Password syncing options are always welcome, and if you like to keep your options open, 1Password will support you by not forcing you to use it for this purpose. In other words, you are free to utilize alternative options, including iCloud, Dropbox, a wireless LAN (WLAN) server, and a local folder.
Just make sure you check the requirements before you hit the sync button as these can vary widely among the alternatives.
So, who gets the laurels after we have glanced at the core and premium features of 1Password and LastPass? As explained above, if by "core" you mean "free", LastPass wins by virtue of offering a genuine freemium as opposed to 1Password's trial.
On the other hand, when it comes to premium features, the decision is tougher, but 1Password wins by a hair, with the knowledge that LastPass will also serve you well with whatever you throw at it.
Features winner: 1Password
---
User interface and ease of use: 1Password vs LastPass
Both 1Password and LastPass are highly intuitive in their design which is easily translated into smooth use even for beginners. To decide on a winner in this category, we'll have to look at three categories that affect our final decision: the initial sign-up, user interface design, and how easy it feels to work with a manager.
Sign-up and installation
No matter if you go with 1Password or LastPass, you'll be prompted to enter and verify your email address when you try to create an account. With 1Password, you will be required to supply your name as well.
Since 1Password offers no freemium, upon the expiration of a 14-day trial, you'll be prompted to give your credit card details. During the installation, 1Password will configure your Secret Key and Emergency Kit.
Secret Key is a password you'll have to enter whenever you use 1Password on a new device.
Emergency Kit can be downloaded in PDF form and stored in a safe location to be used in case of emergency. You can print it and place it in a deposit box, for example. The Kit will include your sign-in email address, the email address used to create your account, your Secret Key and account password, and the setup QR code.
User interface
With LastPass, you get a great browser interface. You can configure your items as a list or a set of tiles based on available templates that you can also set up yourself.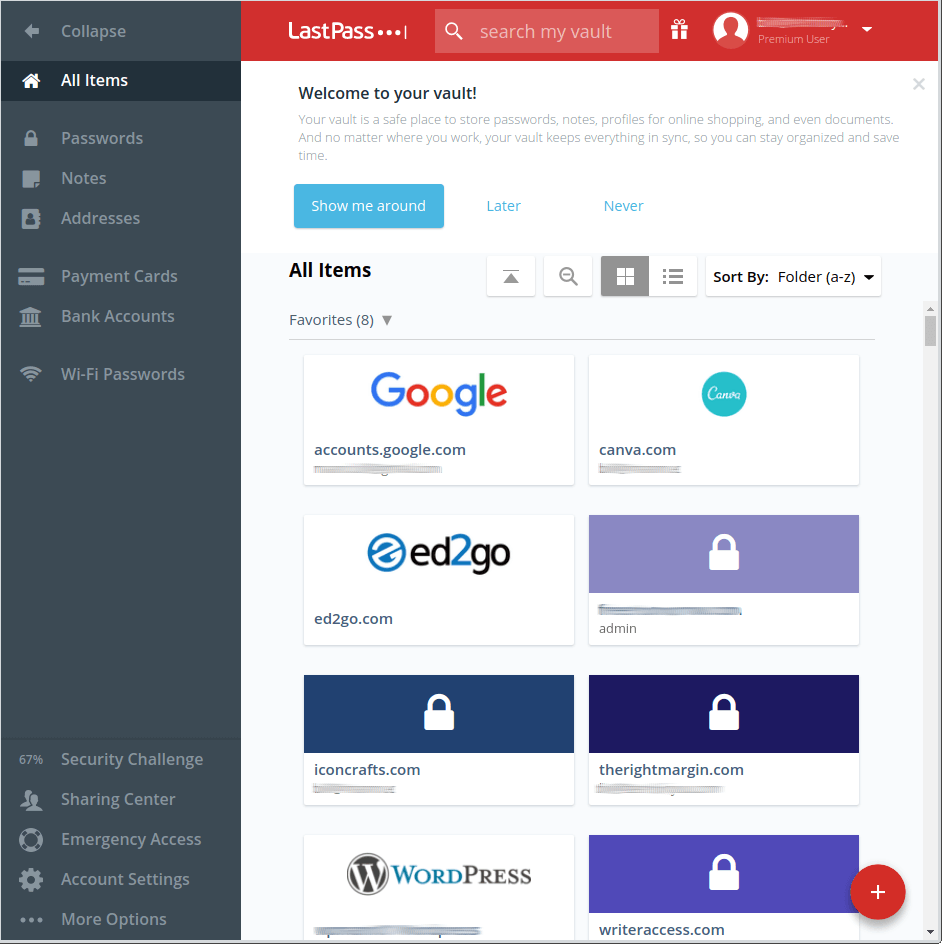 While LastPass goes for a folder-like system for its vault interface, 1Password gives you more flexibility in designing a vault after your own heart. In addition, entry management will also support tagging for even deeper customization.
Bear in mind that 1Password's apps don't keep the same appearance on all platforms, so it will take some time to get used to them.
On the other hand, 1Password's lack of chart-like organization of entries makes it easier on the eyes, while some aspects of LastPass' user interface look decidedly out of date.
The verdict?
While both managers are perfectly serviceable in terms of their functionality and design, 1Password tips the scales in its favor simply by offering more customization options paired with more visual bells and whistles.
The password manager in action
Let's get to the good news first: working with both 1Password and LastPass should be straightforward, even if you haven't used a password manager before.
Take, for instance, Last Pass. If you hover the mouse over various segments of its user interface, you'll be shown all options for that particular section. This means that you can easily check your vault's content and manage it as you like.
In addition, LastPass wants to help you get into things straight away by providing you with a dedicated setup guide that covers various topics such as app linking across devices, integrations, and the addition of new accounts.
Next, if you want to share folders (as opposed to items) with other users, LastPass will allow you to do so securely, by placing whatever you want to share in a designated folder. If you need to accommodate a larger number of users, this feature is a boon.
With 1Password, installation and use are just as easy, with a comparable number of clicks and largely similar features.
User interface and ease of use winner: it's a tie.
---
Security and encryption: Which one is more secure, 1Password or LastPass?
Both 1Password and LastPass easily meet industry standards in the field of security. Yet, 1Password wants to go beyond the call of duty in this one, while Last Pass is still plagued by its earlier incidents with breaches that prompted it to double down on its security.
With 1Password, your passwords and other data will be encrypted by using the AES-256 algorithm. Also, the keys will be generated from your Master Password.
This is where 1Password makes that one step further to add your 128-bit Secret Key with the Master Password in the encryption.
The result?
More entropy and in a good way, as your passwords will be harder to crack by applying brute force. So, you'll get peace of mind with 1Password when it comes to security.
Finally, with 1Password, you can go with 2FA with authenticator apps such as Microsoft Authenticator and Authy or make use of Duo Security for push notification authentications.
With LastPass, the situation is still a bit sore, considering its history with security breaches. Yet, if you decide to focus on today, LastPass will treat you to 256-bit AES encryption with PBKDF2 SHA-256 and salted hashes.
There's also industry-grade encryption, native implementation of the zero-knowledge policy, two-factor authentication (2FA), mobile biometric login, and regular third-party audits.
Based on what's found on the plate, you could say that things surely improved following the unfortunate accident from 2015 in which the hackers managed to steal account email addresses, password reminders, server per-user salts, and authentication hashes.
In 2017, there were reports that LastPass' Firefox and Chrome extensions were liable to shedding your passphrases if you visit a malicious website. Once again, the security hole was successfully plugged.
Finally, hackers went after LastPass in August 2022 but managed to take no customer data or access password data.
So, what we have in terms of security with LastPass is a layer-upon layer of moats built after each hacker attack. While its features sound good on paper, you'll have to decide for yourself if you want to give LastPass the benefit of the doubt when it comes to the security of your passwords.
Actually, you have two approaches to dealing with LastPass' security mishaps: you could say that LastPass went through numerous trials by fire and emerged stronger. Or, you can simply go with 1Password – our choice in this round.
Security and encryption winner: 1Password
---
1Password vs. Last Pass – Privacy
When it comes to privacy, know that 1Password will collect some of your personal data and that they may be required to share it with third parties and the authorities. This is not exactly their choice, but rather the consequence of their home country being part of the Five Eyes Alliance.
If you are interested in what they have to say on this, make sure you read their well-written Privacy Policy. In any case, you'll have to take their word for granted in terms of what data they gather about you as there is no way to check it yourself.
Still, you can rest assured that all information stored with 1Password is heavily encrypted and that they claim that they won't use your secret key and master password in any case.
The information 1Password will collect from you includes data on the purchased plan, used payment methods, log-ins, IP addresses, usage of storage space, and so on. 1Password also promises not to share your personal data with third parties, but take this with a grain of salt, since Canadian privacy laws override company policies.
LastPass also collects some of your personal data and may be required to share it with the law enforcement and other government authorities. Its Privacy Policy states that LastPass will collect various information and that this Policy should be enough of a guideline as to what is actually collected.
Still, your vault should be your safe haven, and that should be enough of a reassurance. If you still want even more anonymity, make sure you check out our guide on secure browsers and the best VPN services.
Third-party security audits
1Password is regularly subjected to independent security audits which they want you to know about. Information is available on 1Password's official website under the Security Audits tab. There, you will find info about all audits carried out from 2015 until now, with the more recent ones occupying more prominent place at the top. You can download them in the PDF format as well.
LastPass is also no stranger to independent audits. They are made available for your perusal on the company's official website. In these reports, you can even find accounts of the hacking attacks that LastPass went through, a testament to their transparency.
In 2020, LastPass underwent a security audit managed by Cure53 cybersecurity company which, apparently, detected some low-level vulnerabilities that were subsequently patched. In any case, both providers are transparent with their audits and you should feel that you are in the safe hands with either of them.
Privacy policy winner: It's a tie
---
Plans and pricing: Which one offers better value for money, 1Password or LastPass?
Now, let's see how 1Password and LastPass compare in terms of the plans and pricing.
1Password's cheapest personal plan will cost you $2.99 per month, billed annually, after a 14-day trial. You can cancel your subscription before the end of your free trial since you cannot get a refund once.
The "Family" plan supports up to five family members and costs only $4.99 per month, billed annually at $59.88. This plan includes everything from the previous one, plus a management console for the family, more user accounts, and the ability to recover locked family member accounts. You can also invite additional users to your plan for $1 per person/month.
1Password offers three so-called professional packages: "Teams", "Business", and "Enterprise". "Teams" starts at $19.95 per month and covers up to ten team members and support up to five guest accounts for limited sharing.
"Business" comes with more features for $7.99 per user per, including custom security controls, an activity log for tracking any changes to the vault, and business-focused Watchtower reports.
There's also the "Enterprise" plan but you'll have to get in touch with the sales department to get the exact price.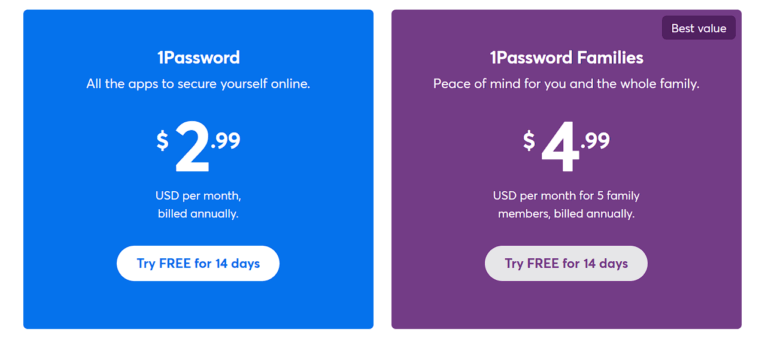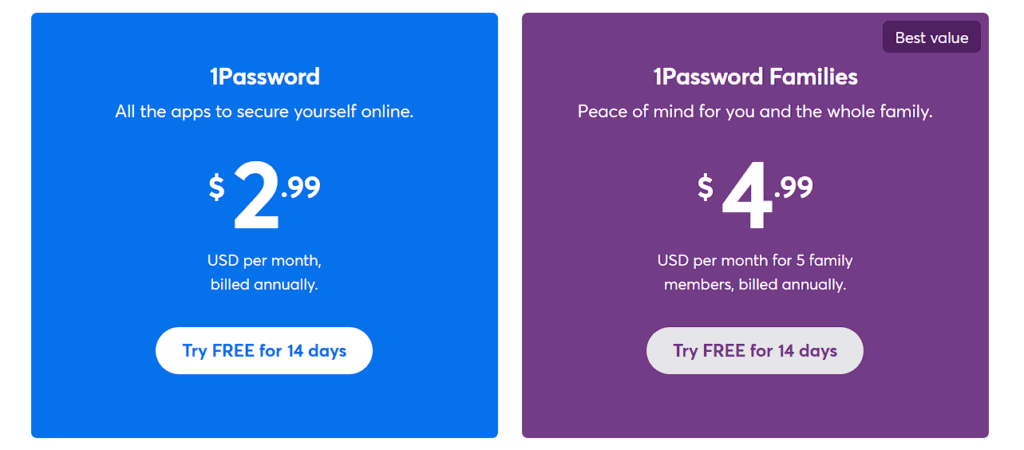 Finally, all plans apart from the "Enterprise" one come with a 14-day free trial that requires no credit card information.
Payment methods with 1Password include all major credit/debit cards, including Visa, Mastercard, American Express, Discover, Diners Club, and UnionPay.
As we said earlier, 1Password, unlike most popular password managers, lacks a free edition of its product.
Now, let's take a look at LastPass' plans and pricing and how it compares to 1Password.
With LastPass you get to choose between five different-sized password manager packages and they cover personal, family, and business accounts.
The "Premium" plan costs €2.90 ($2.85) per month on an annual billing. This plan gets rid of the limits of the free edition and adds to the mix some key features that almost justify the price: 1GB of encrypted file storage, dark web monitoring service, and advanced MFA options.
You'll also get an emergency access feature, so there's no need to panic if you get locked out of your account by accident.
Like with LastPass, the family plan (titled "Families") covers up to six users and mixes in all features from the previous plans at €3.90 ($3.85) per month when billed annually.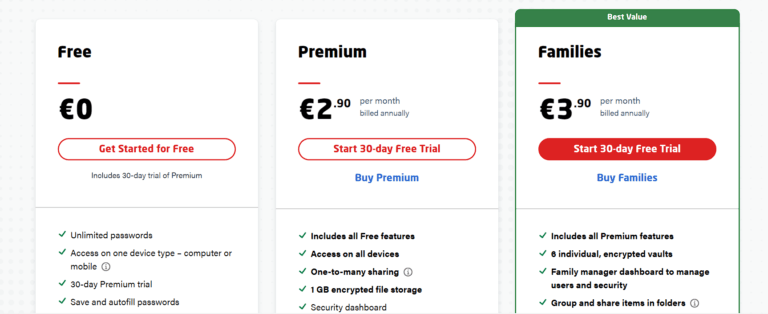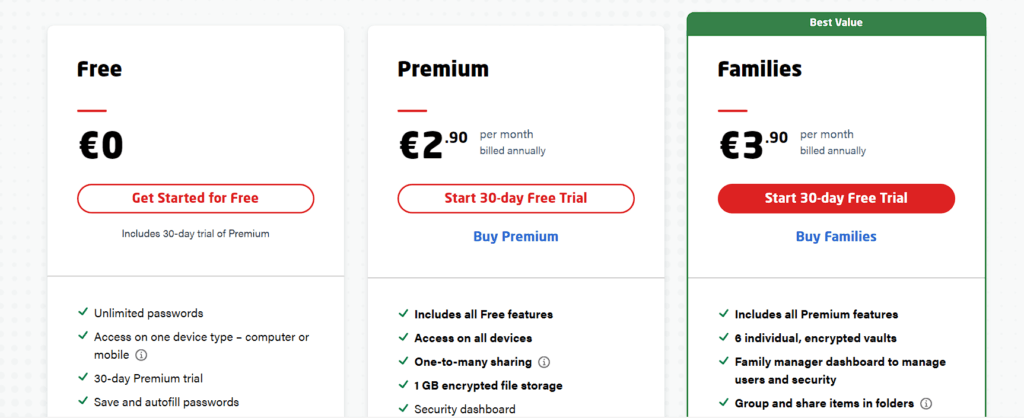 Business-focused plans are called "Teams" and "Business" and there are no custom plans available at the moment.
The "Teams" plan is great for teams and it can cover up to 50 users for €3.90 ($3.85) per month per user.
With the "Premium" and "Families" plans you're entitled to a 30-day free trial, while with "Teams" and "Business" packs the free trial will cover you for 14 days.
As for payment methods, LastPass accepts all major credit/debit cards. If you insist on using PayPal, you can purchase LastPass through iTunes or Google Play stores and link that to your PayPal account.
While it offers a freemium, there are no money-back guarantees with LastPass.
To sum it up, both 1Password and LastPass provide plenty of features with their plans on offer. However, since LastPass puts fewer restrictions on its free edition, we'll proclaim it the winner for this round.
Plans and pricing winner: LastPass
---
Customer support: Does 1Password or LastPass offer better support?
When it comes to customer support, both providers will do everything in their power to give you their best customer support through their channels.
Your first stop with 1Password will probably be its easy-to-use knowledgebase. It's packed with well-written how-tos with the most popular guides being highlighted under the search box.
There's also an option to get in touch with the customer support team via email, social media sites (Facebook, Twitter, Reddit, and so on), or on its community forums. This is not exactly a lightning-fast option as 1Password's support team will keep you waiting in some situations.
LastPass also offers a comprehensive knowledgebase that covers all the relevant topics. LastPass will also give you access to its Support Center, a FAQ section, and a community forum. The most popular topics are highlighted right below the search box, but you can also browse how-to guides split across three main categories ("Get Started", "Explore Features", and "Admin Tools").
If you want to get in touch with LastPass' technical team you can do it via email, but only if you're a paid user – so, there are no direct support channels for freemium users.
As you can see, neither of these password managers offers live chat support. You are stuck with playing the email and wait game.
Customer support winner: it's a tie
Note: If you want a password manager that offers 24/7 live chat support to help you with anything, check out NordPass here.
---
1Password vs LastPass: Who wins the day?
Password managers are a life-saver for all security-minded people online now, both in terms of their convenience and the safety they can offer.
The issue with picking out the best one for you have to do with picking the largely similar providers apart and getting the most out of every buck you put into them.
So, 1Password and LastPass are both great providers, so picking out a winner in this competition will really come down to winning a match by score points and not by straight knockdowns. We would be tempted to call it a tie, but that would be unfair at the end of this detailed review.
So, let's recheck our categories and pronounce the winner for each of them:
Background check: 1Password – no security incident associated with this one as opposed to LastPass which has a history of security breaches.
Platforms availability: 1Password, because it supports more operating systems
Core and premium features: 1Password, by a hair, and LastPass offers more with its free core edition.
User interface and ease of use: It's a tie – both providers offer user friendly and intuitive experience
Security and encryption: 1Password, as it suffered no security incidents in the past.
Privacy policy: It's a tie, as they both hail from the countries that make up the Five Eyes Alliance
Plans and pricing: LastPass – it comes with a freemium option, as opposed to 1Password's trial
Customer support options: It's a tie, both contenders offer what's considered an industry standard in customer support nowadays.
To summarize, 1Password was the winner in four categories, LastPass was the winner in one category, and three categories were tied. This makes 1Password the overall winner.
Now, you can see how hard it was to crown the winner in this case. Both providers will give you much value for whatever you decide to invest in them, and you have great previews of their capabilities in the form of LastPass' free version and 1Password's trial.
If you still want to check our individual hands-on reviews for both of these password managers, make sure you go through our LastPass review and 1Password review.
LastPass vs 1Password : FAQs
Has 1Password ever been hacked?
No, it hasn't, but LastPass has been hacked on several occasions. 1Password and LastPass implement "zero-knowledge" policy and will encrypt all your data before it reaches their servers, so even if they happen to get hacked, all of your data would remain safe and secure.


Is there anything better than LastPass?
It depends on your order of priorities, but its immediate competitor are NordPass, 1Password and others.


Is 1Password the same as LastPass?
They are largely similar in their basic intent, but they are different in some of their features.


What's better than 1Password?
It depends, but you could say that its direct competitors are NordPass, LastPass and others.


This LastPass vs 1Password comparison guide was last updated on November 21, 2022.