We ordered a Vilfo VPN router and spent a few weeks testing it for this in-depth review.
As the world becomes ever more aware of the importance of protecting your online privacy, people are installing VPNs in record numbers. But installing VPN clients on all your many internet-connected devices is a pain in the neck, even if your VPN provider offers clients for all your different devices.
And of course, there is the problem of what to do when you have more devices connected to the internet at the same time than your VPN subscription supports. Buy and manage another subscription to the same service? That's crazy.
Then you've got to manage everything. This device needs to be connected to the VPN, except when trying to connect to Netflix. That device needs to be off the VPN, except when you are logged into your bank account. The kid's laptop needs to shut down its internet connection at 10pm or he'll be playing Fortnite all night.
Life would be a lot easier if you only had to install the VPN once, and could monitor and manage all the options from one place.
This is the market that the Vilfo VPN router aims for. In this review we give this compact, powerful router a solid workout, to see if it can fill this niche. We'll give you the pros and cons of this Swedish router so you can decide for yourself if it can do what you need.
Are you ready to find out if there is a Vilfo VPN router in your future? Let's do it.
Vilfo VPN router overview
These are the key things we discovered about the Vilfo VPN router while testing it out in our home office.
Vilfo VPN router PROs:
Powerful enough to handle VPN encryption without slowing to a crawl
Fastest VPN router speeds we've recorded
Can group router users for efficient management
Dashboard with extensive monitoring capabilities
Split tunneling for flexibility of connections
Built-in support for many VPN services; manual support for any OpenVPN provider
Unlimited simultaneous connections with a twist
Built-in kill switch
Browser extension to bypass or force VPN connectivity
Live chat support
One year hardware warranty
Vilfo VPN router CONs:
Mediocre WiFi performance
Dual band support but only one band can be active
Vilfo VPN router interesting FACTs:
Vilfo VPN router and Vilfo AB (background info)
Built-in VPN server
Return policy
Setting up the Vilfo VPN router
We're going to look at the stuff we covered in the Overview. But first, we want to walk you through setting up the Vilfo router. While you have probably been using a router in your home and office for years now, few people have ever had to set one up themselves. So let's take a quick walk through setting up this router.
First, you need to order a Vilfo Router here.
Our router arrived within a few days, shipped via DHL from Sweden. Here are the basic steps for setup:
Remove the router from the box. (Attach the two included antennas if you plan on using WiFi.)

Connect the router to your modem using the enclosed ethernet cable.
Connect the power supply to the router and plug it in. Wait for three minutes to give the router time to power up. This router is very much like a small PC, and has to go through a boot up process just like your laptop or desktop computer does.
There are two ways to complete the setup process. One is easier but less secure; the other is slightly more complicated, but much more secure.
The easy way to set up the router is to connect your computer to the router through the WiFi network named VILFO. Once you are connected, open your web browser and go to admin.vilfo.com. This is easy, but it is less secure because the router's WiFi connection is completely unprotected until you complete the setup.
While the chance of someone happening to be in a position to spy on you as you setup your router is small, good security protocol avoids unprotected WiFi like the plague.
The more secure way to set up the router is to use an ethernet cable to connect a computer to one of the ports on the back of the Vilfo router, then open a web browser and browse to the IP address printed on the bottom of the router case. This is more secure because it doesn't use the WiFi connection at all.
Choose one of these approaches, then continue with the setup.
If you can't connect to the admin page, there may be an IP address conflict. Try disconnecting the router from the modem the connecting again. The Vilfo should tell you what you need to do to fix the problem (change the IP address of the Vilfo VPN router). We had to change the router's IP address from the pre-assigned value of 192.168.0.1 to 10.220.0.1 to fix the problem.
Follow the step-by-step instructions that appear on the screen. Since the Vilfo knows how to work with most popular VPNs, you will probably be able to connect it to your VPN account within seconds. Two of our top three best VPNs (ExpressVPN and NordVPN) are among those that your Vilfo router knows how to work with. Another of our favorites, Surfshark, is not built into the Vilfo VPN router as of today. We'll show you how to configure the Vilfo to work with Surfshark in a little while.
Select the radio frequency band the Vilfo will use for its WiFi connections. In the majority of cases, you can simply leave the router on its default Band setting.
Follow the instructions that appear on the screen to complete the setup process. While you can keep the default settings for most things, we urge you to set the router's encryption to WPA2-PSK and assign a password to protect your WiFi connection from creepy hackers and nosy neighbors.
To wind up the process, the Vilfo will ask you for your email address and the Vilfo License Key that's printed on the cover of the Vilfo Quick Start Guide that you should have found in the router box.
Before you are done, the router will also check the Vilfo servers to see if there is a newer version of the router's firmware, then download and install it automatically. If the router does download and install new firmware you will need to wait for that process to finish, then reconnect to the router like you did earlier.
Now that we've covered the basics of getting this beast set up, let's get into the meat of the review.
Vilfo VPN router PROs
The Vilfo VPN router has a lot of capabilities that set it apart from the typical home router. Here are the big points you should know about:
1. Powerful enough to handle VPN encryption without slowing to a crawl
While many home routers can either run a VPN client, or can be modified to run a VPN client by installing DD-WRT or other custom firmware, they all suffer from a similar problem. They aren't powerful enough to run the VPN client efficiently. That's because doing the encryption / decryption needed for a VPN client takes far more computing power than is necessary for a router's normal work.
As a result, installing a VPN client on most routers leads to an extremely slow VPN connection.
Unlike many other VPN routers, however, Vilfo comes with a powerful processor to give you the best performance. It has significantly more computing power than the typical router. This allows it to do the necessary computations without slowing you down. From their website:
OpenVPN is single core – which means encryption can't be offloaded by using multiple cores. That's why Vilfo uses an Intel® Celeron processor with a high frequency.
With the built-in OpenVPN client, Vilfo says their router can encrypt VPN traffic at up to 600 Mbps. and we also found the speeds to be excellent…
Fastest VPN router speeds we've recorded
So how fast is the Vilfo VPN router? In our tests with commercial VPN services, it was very fast.
I tested three different VPN services with Vilfo:
OVPN (from the same team that makes the Vilfo router)
NordVPN (one of the best all-around VPNs we've tested with the fastest speeds)
We found NordVPN to offer the fastest VPN speeds with Vilfo when using nearby servers in the United States. Also note that the Vilfo includes built-in support for NordVPN. This allows you to connect your VPN router and start encrypting all your traffic in a matter of seconds.
Below I'm getting 268 Mbps with the Vilfo VPN router while connected to a NordVPN server in Seattle. This is the fastest VPN router I've tested.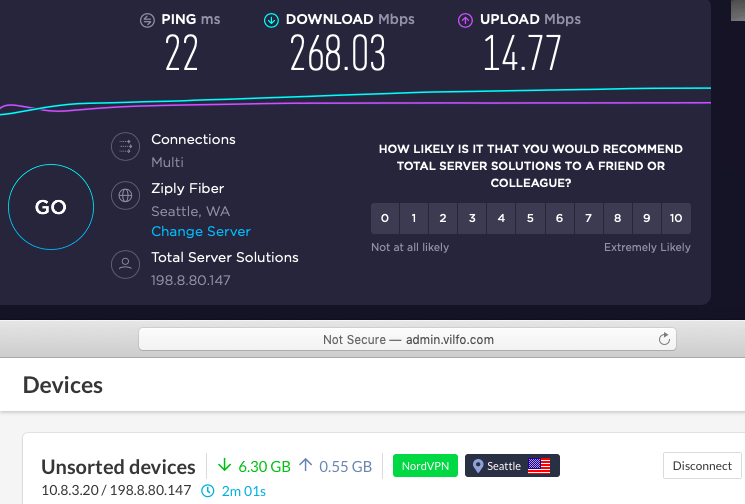 Most commercial-grade routers struggle to get anywhere near 100 Mbps when encrypting traffic with the OpenVPN protocol. With Vilfo, you can get upwards of 250 Mbps or more (assuming you are using a fast VPN service).
Fastest VPNs to use with Vilfo (or any VPN router)
Want the fastest VPN to use with Vilfo?
We'd recommend going with NordVPN and taking advantage of this coupon:
NordVPN's Cyber Deal is live:

Get 68% Off NordVPN with the coupon below plus 3 months FREE, no activation code needed:
(Coupon is applied automatically; 30 day money-back guarantee.)
You can also check out our NordVPN review for more info and test results.
One cheaper alternative would be Surfsarhk. This VPN performed well in tests for our Surfshark review. And it only $3.19 per month, it is one of the cheapest VPN services on the market that still delivers quality and performance.
Group user management and multiple simultaneous VPN connections
Normally when you have a VPN client on a router, every device connected to that router is forced to communicate through that VPN connection. But this isn't a very flexible way to go, and can cause problems.
For example, you might need certain of your devices to connect to the internet through the VPN tunnel, while others need to be outside the tunnel for reduced latency.
The Vilfo router can easily handle a situation like this. It allows you to divide your connected devices into groups. You control whether the computers in each group are connected to the VPN client or not. This feature is often called "split tunneling" when described by other VPN services.
You can also have multiple VPN clients active on the router at the same time and assign each group to use a different VPN client if that is what your situation requires.
Dividing your devices into groups also makes management of the devices easier. Put all of Junior's devices into one group makes it easy to find and monitor his activities without hunting through a huge list of devices trying to figure out which are his.
Put all your game consoles and Smart TVs into a separate group that runs outside the VPN tunnel to minimize latency.
Group all your company-related devices together to connect them to the company VPN while locked down at home due to a certain annoying virus.
While you assign VPN connectivity to devices at the group level, you still have much control over individual devices within a group. You can manually block a device's internet connection, allow it to temporarily bypass the VPN, view the device history, and total bandwidth consumed. You can also check the parental controls that are set for that particular device.
In short, Vilfo gives you tons of features and control options, all from a user-friendly dashboard.
Dashboard with extensive monitoring capabilities
The Vilfo VPN router has a complete dashboard that graphs all the important characteristics of your network.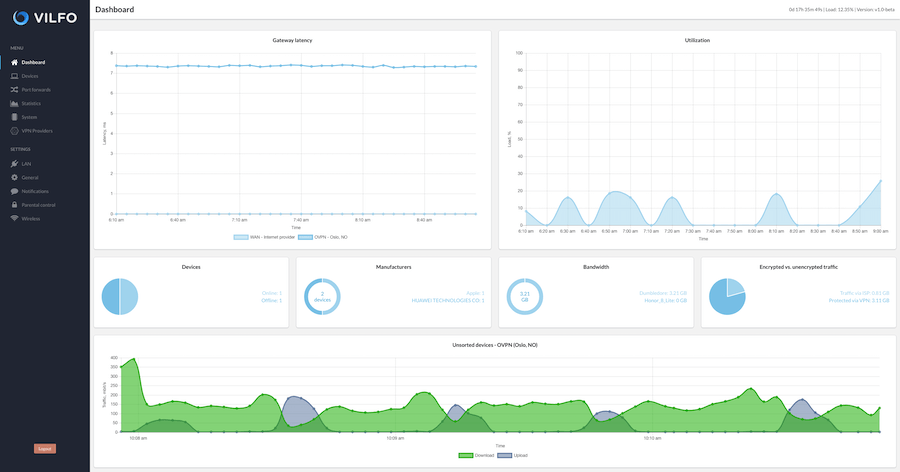 The graphs include:
Gateway latency — The latency of your ISP and each VPN provider.
Utilization — The loading of the Vilfo router's CPU over time.
Manufacturers — The router's best guess at the manufacturer of each connected device, based on the MAC addresses of the devices.
Bandwidth — The bandwidth consumed by the top three devices on your network.
Encrypted vs unencrypted traffic — Lets you know how much of your internet usage is unprotected by a VPN.
Real-time group bandwidth — Upload and download bandwidth for each connected group.
Split tunneling for flexibility of connections
As noted above, Vilfo has a great split tunneling feature.
This gives you several ways to bypass the VPN a device would otherwise use. You can temporarily disconnect a device from the VPN from the Devices window by clicking its Bypass button. You can also set a device to bypass the VPN tunnel for specific websites, IP addresses or port numbers by going to Settings, then the Bypass window. Once again, there are lots of options and features for you to utilize here.
Built-in support for many VPN services; manual support for any OpenVPN provider
As we mentioned previously, the Vilfo VPN router has built-in configuration information for most popular VPN services. At the time of this review, 25 VPN services were included.
You can see the current list on the Vilfo website here.
There's also this video that demonstrates how easy it is to use Vilfo with one of the built-in VPN services.
And remember that you can manually add any VPN provider that supports OpenVPN and publishes OpenVPN configuration information. Right now they are also working on implementing support for the WireGuard VPN protocol.
Unlimited simultaneous connections with a twist
Because the Vilfo hosts the VPN client instead of each device doing so, you can have an unlimited number of devices connected to any VPN simultaneously. The router will only count as one subscription with your respective VPN service, but you'll be able to connect as many devices as you'd like to the router.
The twist here is that you can have up to 10 separate groups of devices connected to the internet at one time. Each one of those groups could be connected to a different VPN service, giving you unlimited connections to ten VPNs simultaneously.
Built-in kill switch
The Vilfo VPN router has a built-in kill switch. The VPN kill switch ensures that no traffic leaks onto the internet through your ordinary connection if the VPN tunnel fails for any reason. If the connection is lost, all internet traffic for that connection is disabled until either the connection is restored or you manually disconnect the affected group(s) from the VPN.
The kill switch works for any VPN that uses OpenVPN and is controlled from the router's OpenVPN window. This is another feature you don't get with many VPN routers. However, most reputable VPN services offer kill switches with their VPN apps. You can see this, for example, in our Surfshark vs NordVPN comparison guide.
Browser extension to bypass or force VPN connectivity
This optional browser extension allows you to bypass the VPN tunnel for the current web page, or to force the browser to only connect to the site using the VPN. The extension is officially available for Google Chrome and Vivaldi, however we were able to use it on Chromium with no problems.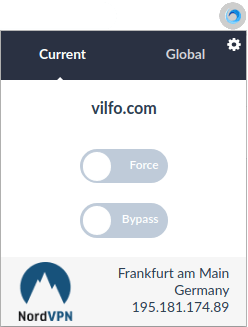 Note that you can install the extension with no special requirements, but you cannot use it until it is activated by the router administrator through the Extension page of the router.
Live chat support
Vilfo provides live chat support for the VPN router.
We asked a number of questions of the support team, and they have always been helpful and responsive. However, it is a small company, and they do not provide 24/7 live chat support like some VPN services, such as ExpressVPN and NordVPN.
One year hardware warranty
The company provides a one year warranty on the router hardware.

All sounds good.
Vilfo VPN router CONs
Here are the drawbacks we noticed while testing this router:
Mediocre WiFi performance
The primary goal for the development of the Vilfo VPN router was excellent VPN router functionality. While the router functions as a WiFi router, its performance in that role is not particularly impressive.
If you have a high-performance WiFi router, Vilfo themselves recommend that you set up the WiFi router as an access point for the Vilfo router to get the VPN power of the Vilfo along with the WiFi power of your existing router. This is easy to do, and Vilfo support can help.
Dual band support, but only one band can be active
Typical dual-band routers work on both the 2.4 GHz band and the 5.0 GHz band. They can transmit and receive on both bands simultaneously.
The Vilfo router likewise supports both bands. However, with their focus on VPN capabilities rather than WiFi performance, the Vilfo can only transmit and receive on one band at a time. You must select either 2.4 GHz or 5.0 GHz. The ability to use both bands simultaneously is another reason to configure your current router as an access point for the Vilfo router.
Vilfo VPN router interesting FACTs
Finally, let's touch on a few details that are neither pros nor cons of the Vilfo VPN router.
Vilfo VPN router and Vilfo AB (background info)
The Vilfo VPN router is one of those interesting products that came to life through an Indiegogo crowdfunding campaign. The router was created by the team of people who are behind OVPN, a VPN that has also done well in our testing.
Today, the Vilfo VPN router is owned by Vilfo AB. The company is located in Stockholm, Sweden, and the team consists of Alexander Koval, Nikolay Nizruhin, Andy Tsymbal, Tamas Szabo, Maximilian Holm, Ruben Rehn, and David Wibergh.
As we discussed in our OVPN review, Sweden isn't a horrible location for a privacy company, much better than the US or UK (Five Eyes countries).
"Home Pro" and "Home" subscriptions
Since we first did this Vilfo router review, the team has added the "Home Pro" and "Home" subscription options. So let's take a closer look. This image sums up the differences with each subscription.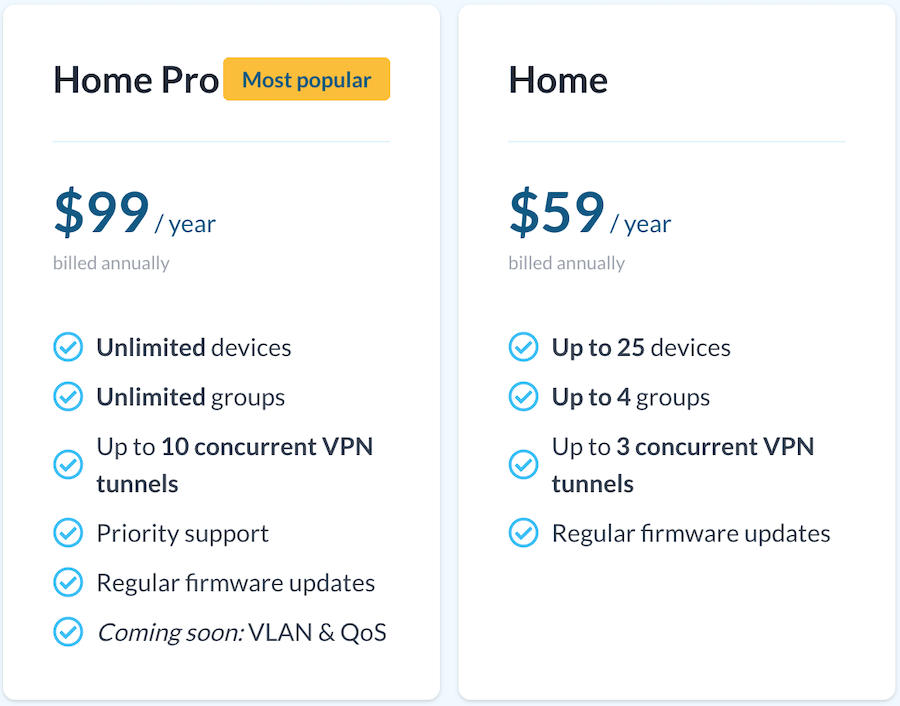 Do you even need to purchase one of these support subscriptions?
The answer is no, you do not need to purchase a subscription. On the Vilfo website, they specifically state,
When purchasing the Vilfo hardware, 1 year of Home Pro is included.

After the first year, a subscription is recommended to get the most of out of your Vilfo. Without a subscription, you'll be able to control 20 devices, use 2 groups and have 1 concurrent VPN tunnel.
Most people should be able to get by just fine without a subscription.
Built-in VPN server
In addition to hosting VPN clients for a wide range of VPN providers, the Vilfo router has a built-in VPN server. This internal VPN server offers a range of capabilities that might be of interest to you.
First, you can securely log into your network from anywhere in the world through the Vilfo VPN server. This could be extremely useful if you need access to something on the network while you are traveling.
Second, the Vilfo VPN server gives you access to the normal Vilfo administrative user interface so you can administer your network from anywhere on Earth.
Third, while connected to the Vilfo VPN server, you can use your normal VPN connections to connect to the internet as if you were still in the office.
Return policy
Vilfo allows you to try the router for 14 days. If you decide to return the device, you will be charged $30 for return shipping. For complete details on the return policy, check out the Returns section of the Vilfo website.
Connecting to a VPN service manually
Alright, we've already discussed the option to use Vilfo with one of the built-in VPN services. But now let's examine how to manually connect Vilfo to a VPN service.
While the Vilfo knows how to connect to a wide range of VPN services right out of the box, you may find that you need to use the router with a VPN service that isn't included. That's the situation we found ourselves in when it came to Surfshark.
Below we will demonstrate this process in our Surfshark VPN review.
Note that you will need to be able to log into the Vilfo router from this computer to be able to complete the process.
Go to the Surfshark website and log in to your account area where you can find all the information you need to set up a manual connection.
You'll find your Surfshark VPN credentials (you may be required to log in again) at the bottom of the page. These credentials are different than your login credentials, and make it possible to complete a manual setup. Record these credentials as you will need to use them later.
Decide which VPN server you want to connect to and find it in the list of servers on this page. Each VPN server has a unique configuration file. While the router can accept multiple configuration files for a given VPN service (Surfshark in this example), adding them is a bit of work.
Hover the cursor over the name of the VPN server you want to use. The page will give you the option of using either the TCP protocol or the UDP protocol. Surfshark recommends you use the UDP protocol since it is usually faster than TCP.
Click the protocol to download the configuration file for the VPN server you want to connect to.
Log into the Vilfo VPN router as you did previously.
Select VPN Providers in the Vilfo Menu.
Click the Custom provider Install button. The Upload OpenVPN configuration file dialog box appears.
Drag and drop the Surfshark configuration file into the dialog box. The Vilfo router opens a Custom provider page.

Edit the Credentials section by entering the Surfshark VPN credentials from Step 2 and click Update.
Edit the Provider details section, then click Update to make it easy to identify this VPN server in the future.
Edit the Regions section to reflect the real world location of the VPN server… and click Update. You can add additional VPN servers later in the Additional regions section of this page.
Select VPN Providers in the Vilfo Menu once again. You should see your new VPN provider listed like this:

Now just connect and you're good to go.
Vilfo VPN router review conclusion
The Vilfo VPN router is a powerful and flexible tool for anyone who wants or needs to protect multiple devices behind a VPN but doesn't want to deal with installing and maintaining VPN clients on everything that talks to the internet.
In particular, this router could be an excellent choice for someone who primarily needs wired connections to the internet, rather than WiFi. That's because the router's WiFi performance is pretty mundane, with even some ISP-provided routers offering better wireless range and speed. But as we noted above, it's easy to get around this issue by using your existing router as an access point, with Vilfo doing the heavy lifting for VPN encryption.
The Vilfo router impressed us with VPN speeds, features, usability, and customization options. It is arguably one of the best solutions in the VPN router space.
Check it out here: