OVPN is a VPN (Virtual Private Network) company that is very focused on protecting your online privacy. It isn't designed as a mass-market service. The OVPN network offers a small number of highly secure, high-end VPN servers in a select few data centers around the world. OVPN supports many devices, multiple VPN protocols (including WireGuard), strong encryption algorithms (including ChaCha20), and offers quite a few customization options, allowing more advanced VPN users to tweak the performance as desired.
In this OVPN review, we take a detailed look at the service. We'll discuss the special features of this VPN as well as see how it measures up in core VPN characteristics like security and privacy, speed, and the ability to view streaming content. By the time we are done here, you should have a good idea if this sophisticated VPN service will fit your needs.
| | |
| --- | --- |
| Website | OVPN.com |
| Based in | Sweden |
| Logs | No logs |
| Price | $4.22/mo. |
| Support | Email & Chat |
| Refund | 10 days |
Here's what we have learned as a result of our research and testing with OVPN.
+ Pros
Designed for maximum user privacy and security
Dedicated apps for Windows, macOS, Linux, Android, iOS, and support for other devices
No IP address or DNS leaks detected
Support for streaming and torrenting
Lots of configuration options
Monthly transparency reports
Multiple payment methods including anonymous payments
– Cons
Small server network with few locations
Above average prices
Additional interesting facts about OVPN
OVPN and OVPN Integritet AB (background info)
OVPN speed test results = average
Add-on features
Customer support
OVPN PROs
OVPN has a number of features that make it easy to see why it is popular. These positive points include:
Designed for maximum user privacy and security
OVPN has designed their system for maximum user privacy. In keeping with the current industry standards for protecting your privacy, they have a strict no-logs policy and 100% diskless servers across their network. OVPN is also a no logs VPN service, with a court case that verified their claims.
Their Privacy Policy is admirably short, and if we can be excused for paraphrasing, basically says,we keep no logs, none of our servers have disk drives for anyone to examine, so we have no confidential information about you to turn over to the authorities, voluntarily or by force.
The only exception is account and billing information. Even here, OVPN accepts both Bitcoin, Ethereum, Monero, and cash payments allowing you to set up a fully anonymous VPN.
Note: If you are curious about how anonymous payments work in practice, OVPN explains the process on their website.
On the network security front, OVPN has a seven-layer security model. It extends from the high level of physical security on their VPN servers in the data center, through the software that you install on your devices, to their browser extensions, and website, right up to insurance that will cover any legal fees necessary to fight against demands for user data by third parties.
For the purposes of this review, we note that OVPN supports OpenVPN on both UDP and TCP. They use very strong ciphers (such as AES-256 and ChaCha20), and algorithms supporting Perfect Forward Secrecy (PFS) to secure your data.
All available network adapters are automatically redirected through the VPN tunnel and use the OVPN DNS servers to ensure that there are no DNS leaks. OVPN actively monitors the DNS settings on every network adapter to prevent other installed software from changing the DNS servers, and their DNSCrypt support protects you from DNS spoofing attacks.
Dedicated apps for Windows, Mac OS, Linux, Android, iOS, and support for other devices
We were very impressed when we visited the OVPN Apps page. The list of supported operating systems and devices just goes on, and on, and on. OVPN also has dedicated apps for:
Windows
Mac OS
Linux (a full GUI app for Linux Ubuntu users!)
Android
iOS
In addition to the dedicated apps above, OVPN supports numerous other platforms as well. And as privacy-minded folks, we appreciate that they support Linux. And not just generically. They've got Ubuntu, Debian, Manjaro, FreeBSD, CentOS, Fedora, and even Raspberry Pi covered. Here is a look at OVPN's Android VPN app: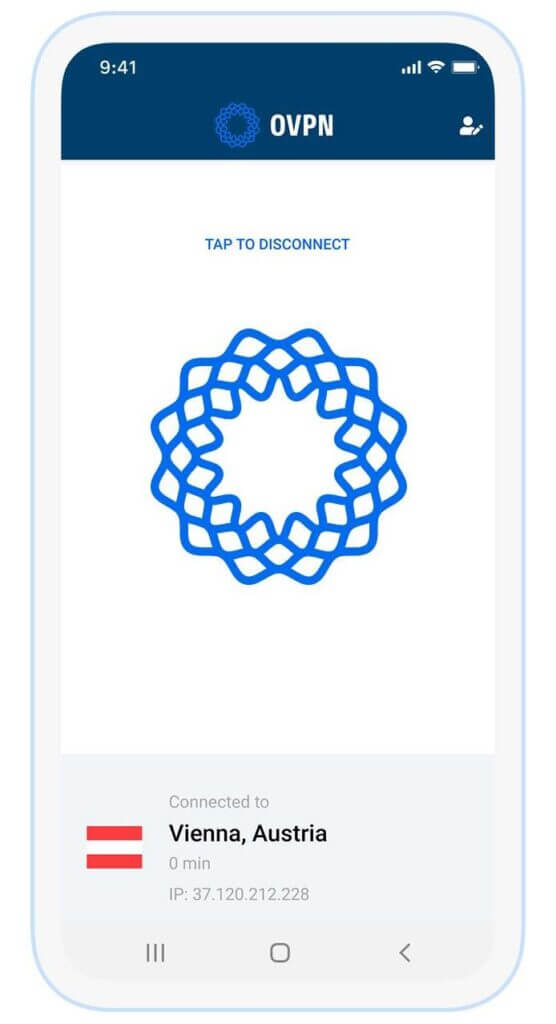 And it doesn't even stop there. They have guides for installing OVPN on nine different types of routers, along with a handful of other devices that we're not very familiar with.
OVPN browser extensions
OVPN also provides browser extensions for Firefox, Chrome, Vivaldi, and Opera. The extensions protect you from logging into suspicious websites without having the VPN activated. They also block WebRTC leaks, which can occur even when you are connected to a VPN.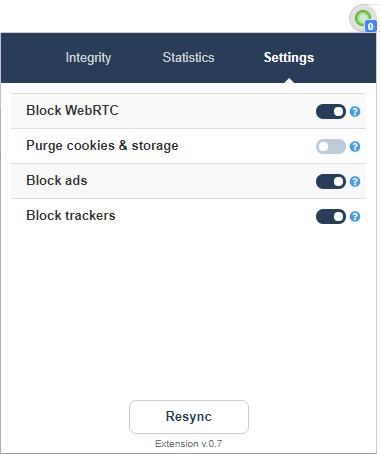 The extensions also have some nice additional capabilities, as they can block ads and trackers, as well as purge cookies and other unwelcome gunk that some websites might install on your device. You may want to keep it in mind if you need a VPN for Chrome.
No IP address or DNS leaks detected
We ran a subset of the OVPN apps through our standard VPN tests and didn't encounter any problems. All OVPN clients include a kill switch which is enabled by default. The kill switch disables your internet connection if the connection to OVPN is lost, ensuring that no unencrypted traffic is sent from your device.
Here are Windows VPN leak testing results with the default OVPN settings: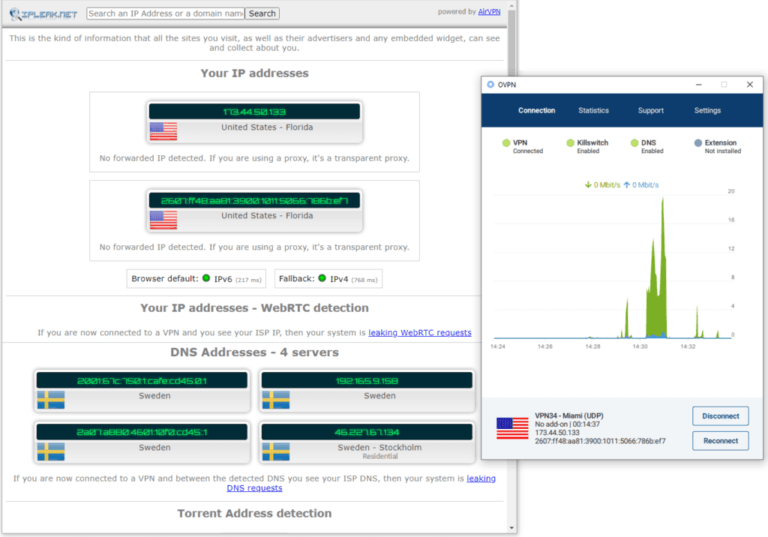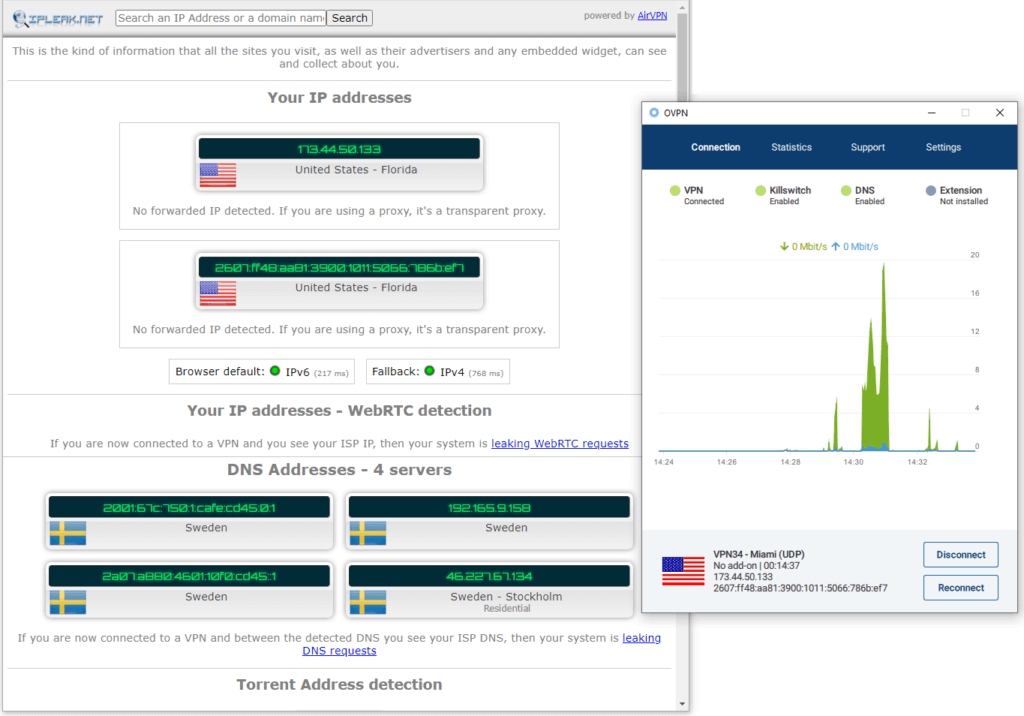 Leak testing OVPN is complicated by the fact that there are just so many combinations you could test. They support a massive number of devices, with multiple VPN protocols for each. In addition, their apps give you many options (see below) which could potentially spring leaks. The company itself warns that using the compression option could have security issues.
We have no reason to believe that there are any leaks in the various OVPN clients and configurations. But to reassure yourself, we recommend that you set up the exact OVPN configuration you want to use, then browse to https://ipleak.net to ensure that your specific setup is safe.
Support for streaming and torrenting
While it may not be as focused on streaming as other VPNs, OVPN offers basic support for some streaming services.
Limited streaming support
OVPN has an interesting approach to streaming. The OVPN client has a setting called Enable streaming services. When this is set and you try to connect to a streaming service, OVPN automatically sends all streaming-related traffic through the best server (a streaming-capable server) for the job. Non-streaming content continues to go through the normal VPN server.


According to the OVPN website, they currently can unblock Netflix USA, Germany, and Sweden. Additionally, this VPN can unblock Hulu, C More, TV4 Play, SVT Play, Viaplay, HBO Nordic, SF Anytime, and YLE Areena, and are working on unblocking more streaming services all the time.
Unfortunately, even with Enable streaming services set, we were not able to connect to BBC iPlayer while logged into the UK, or Amazon Prime while logged into the USA. While we would not consider OVPN to be the best VPN for streaming, it does offer basic support. You can also see other VPNs for BBC iPlayer here.
OVPN file sharing / P2P / torrent support
OVPN considers itself to be a provider of a service, rather than a regulator of that service. In other words, it isn't up to them to control what is sent through their servers.
As a result, OVPN file sharing / P2P / torrents on all their servers. This is a good option if you need a safe VPN for torrenting.
Lots of configuration options
OVPN gives you plenty of options to make it work exactly the way you want it to. Take a look at the Settings tab of the OVPN desktop client to see what we mean: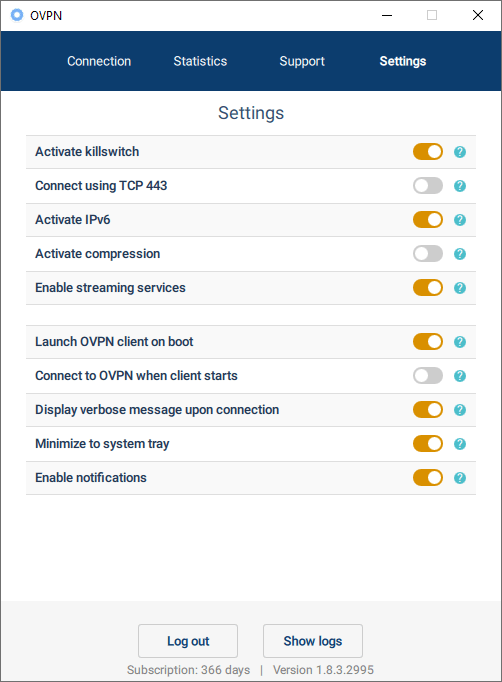 Beyond what you see here, you can choose to connect to a specific server with the app displaying the current load and ping time to simplify the choice.
Monthly transparency reports
OVPN wants their users to be informed and comfortable about what is going on with their service. To that end, they publish monthly transparency reports. They've been doing so every month since October 2014, which is really impressive if you ask us.
If you want to see the most recent transparency report, or are curious about what's been going on with OVPN for the past 5+ years, head on over to their Status and transparency reports list on their website.
Multiple payment methods including anonymous payments
OVPN has four available payment methods, one of which is totally anonymous, and one pseudonymous.
The standard payment methods are credit cards or PayPal as shown here: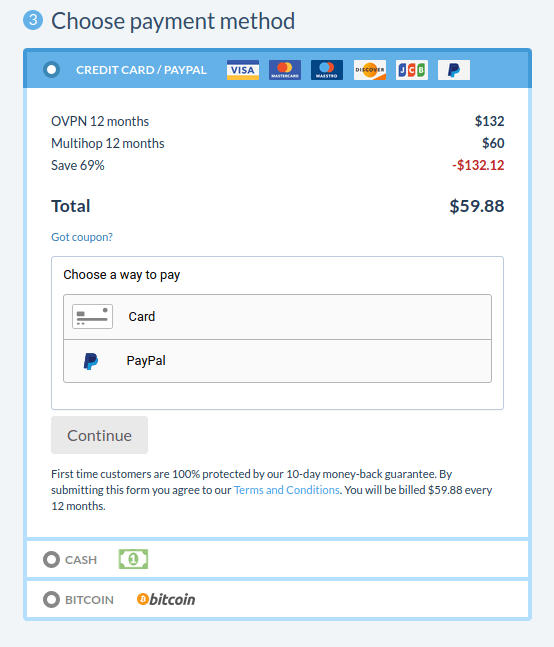 Cash is the anonymous payment method, meaning that you send cash in the mail it to the company in Sweden. Assuming you don't do anything crazy, like put your return address on the envelope, or hand the envelope to the postman directly in front of the camera, this payment method should be totally anonymous.
Bitcoin is another great payment option, although less anonymous than cash sent in the mail. However, there are Bitcoin mixing services, which should theoretically anonymize your Bitcoins. We discuss this more in our guide on How to Be Anonymous Online.
In addition to Bitcoin, OVPN also accepts Ethereum and Monero.
OVPN CONs
Here are the drawbacks we found for this OVPN review:
Small server network with few locations
OVPN has a small server network. At the time of this review, the server network consisted of 96 servers in 29 regions.
OVPN has a high-security philosophy that relies on a smaller number of high-quality, secure servers. The expansion of their network is determined by data center usage, with new servers added when a center reaches 60% capacity. This philosophy should provide users with faster connection speeds since it keeps server loading low. The approach contrasts with the strategies of most VPN providers but is in keeping with their priority of security and privacy above all else.
Colocated servers – Another benefit of OVPN's server network is that it consists of self-owned (colocated) servers. This puts all hardware under OVPN's control, rather than renting hardware from third parties. We see other VPNs moving in this direction, as we noted in the NordVPN vs Surfshark comparison.
Above-average subscription prices
While many VPNs are available for less than $4 per month, this is not the case with OVPN. Right now, the cheapest you can get the VPN is $4.99 per month as part of their 2-y (24-month) subscription. However, they do have a VPN Black Friday deal that rolls around once a year. Here is the current pricing table: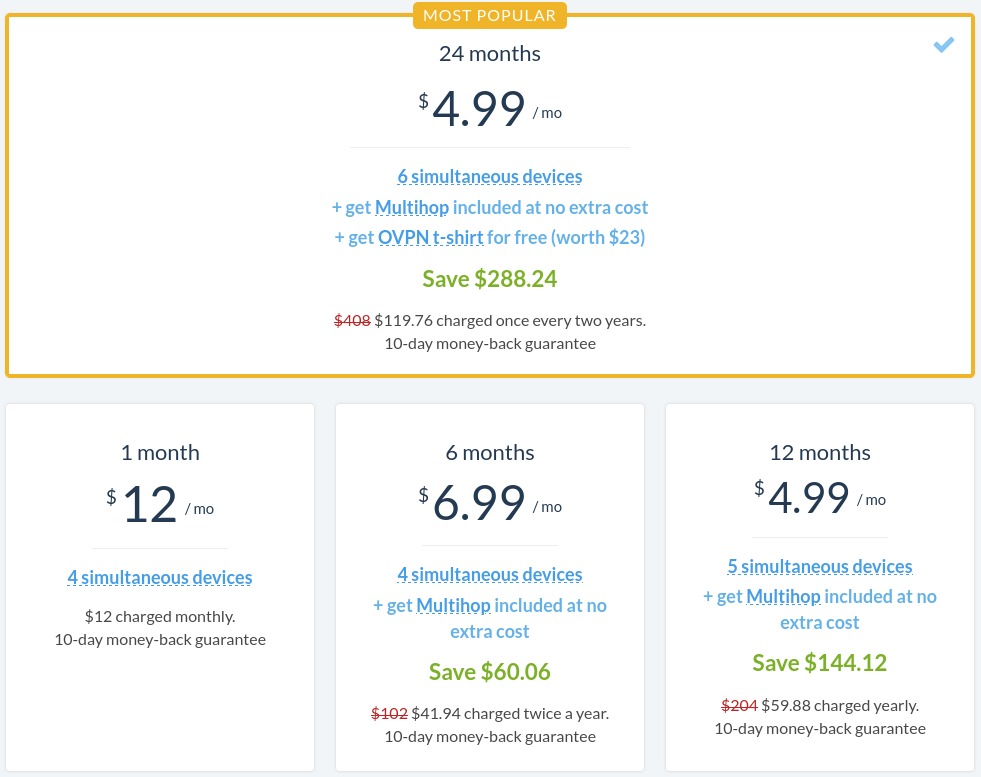 The company explains that they always use the latest hardware and keep the load on their servers low to save you from network congestion and other problems that can plague low-quality VPNs. As a result, OVPN is certainly not the cheapest VPN, but it is also not the most expensive.
We also like that the price plans aren't overly complicated. Some VPNs even restrict server locations and throttle speeds for lower-priced plans, as we noted in the ProtonVPN review.
Connections – By default, OVPN gives you 4 simultaneous connections. However, you can increase the connection number by being a subscriber for more years (or immediately upon renewing your subscription). Here is a more detailed explanation from their website:
In addition to these 4 devices, it increases by 1 for every year you've subscribed to OVPN. This means that by purchasing a one-year subscription, you will be able to connect 5 devices at the same time instead of 4.

The device increase is cumulative, which means that being subscribed for longer periods of time will increase your device counter even further. The increase also apply to monthly and biannual subscriptions. Once the cumulative subscription time surpass 12 months, it will increase by 1 for every 12 months you have been subscribed to OVPN.
Short money-back guarantee (10 days)
The OVPN money-back guarantee is a relatively short 10 days. In addition, you cannot simply log into your account and cancel your subscription. The full process goes like this:
The user must contact OVPN within 10 days of making the first payment by email or live chat for the money-back guarantee to be valid. For payments made in Bitcoin, the equivalent amount will be refunded, regardless of exchange rate fluctuations. For cash refunds, the user must visit OVPN's office to receive a refund.
If you want a VPN with a full 30-day money-back guarantee, then see the ExpressVPN vs NordVPN report, as these both offer 30-day refund windows.
OVPN interesting FACTs
Here are some interesting bits of information about OVPN that didn't easily fit into the Pros or Cons section.
OVPN and OVPN Integritet AB
OVPN is a product of OVPN Integritet AB, which is registered in Sweden. We weren't able to find much information about the company beyond its founding in 2014 and the launch of OVPN in 2015.
While Sweden isn't a horrible location for a privacy company like this one, it does have one big drawback. Sweden is a member of the 14 Eyes alliance, an international surveillance alliance. This drawback is balanced by the design of OVPN, which doesn't lend itself to the surveillance of users. No logs and diskless servers mean there is no information available anywhere in their system to track you.
OVPN speed test results
For this OVPN review, I ran speed tests with servers around the world. My baseline connection speed was about 500 Mbps and all tests were conducted from the United States.
First, I connected to the "Fastest Server" which the OVPN client selects for you based on your proximity to the server and the available bandwidth (server load). The app selected the Los Angeles, CA server, which gives me about 190 Mbps.

This is definitely not a bad speed test result for OVPN.
Next, I tested a server in Dallas, Texas, giving me about 143 Mbps:

Not, as good as before, but still not horrible.
Next up was New York, at 127 Mbps.
I also tested servers in Canada.
This test was on an OVPN server in Toronto, Canada, which gave me good speeds at 190 Mbps.

Finally, I ran a few speed tests with servers in Europe.
And this test was an OVPN server in the UK at 72 Mbps:

The last server I tested was in Frankfurt, Germany at 77 Mbps.

Overall, these are decent speeds, but OVPN is certainly not the fastest VPN I've tested.
With OVPN servers in the US and Canada, there was some variability in both upload speed and download speed. Servers in Europe were even further off my benchmark's speed.
Fastest VPN: If speed and performance are a top priority, then I'd recommend NordVPN with WireGuard. When using NordVPN with the WireGuard protocol, we were able to hit speeds up to 445 Mbps: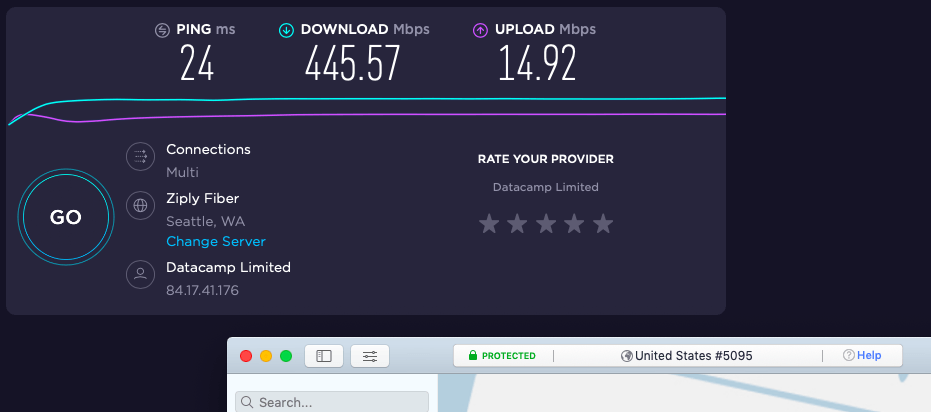 You can get more info about NordVPN with WireGuard here.
WireGuard support
OVPN is one of the few VPNs currently offering WireGuard support. They have been offering WireGuard support with their VPN since February 2020 and it is the default protocol in the Android and iOS apps.
We are big fans of WireGuard given all of the benefits it has over existing VPN protocols, especially in the area of performance. See our WireGuard vs OpenVPN report, where WireGuard outperformed OpenVPN by a large margin.
OVPN add-on features
OVPN offers two add-on features that might be important to you. These are Multihop and Public IPv4.
OVPN's Multihop is similar to Surfshark's MultiHop or NordVPN's Double-VPN, except that it can pass your traffic through two or more VPN servers, greatly increasing your privacy and security, while resulting in slower speeds thanks to all the additional steps between your device and whatever it is connecting to out on the internet. Multihop is automatically included in your OVPN subscription if you sign up for six months or longer.
Public IPv4 is a way to give you a dedicated IP address that is not shared with anyone else. Having a public IPv4 address is a necessity for certain use cases. If you have one of those use cases, you know it. You can get more information about the Public IPv4 option on the OVPN website.
Customer support
OVPN customer service can be reached through the contact form on the website, email, live chat, or Twitter. Note that the company does not provide 24/7 customer support like their larger competitors, which could adversely affect response time for urgent issues.
If you'd rather go with a VPN that offers 24/7 live chat support, you may want to consider Surfshark or ExpressVPN.
OVPN FAQ
Here are some of the most common questions about OVPN, along with the answers to those questions.

Where is OVPN based?

OVPN is based in Stockholm, Sweden. The Swedish jurisdiction of the company is not ideal, since Sweden is a member of the 14 Eyes surveillance alliance. This is somewhat mitigated by the fact that the company keeps no logs and all of its servers are diskless, reducing the possibility of collecting logs.


Is OVPN any good?

Yes, OVPN is a very good VPN service. However, it is a small service with a lot to offer to anyone whose main goal is excellent security and privacy. It is less of a fit for someone who needs a general-purpose VPN or who does a lot of streaming.


Is OVPN good for streaming?

OVPN offers basic streaming capabilities. The company claims that they can stream content from many services such as HBO Nordic and YLE Areena. But during our testing, we found that it could not stream content from BBC iPlayer or Amazon Prime video.


Is OVPN good for torrenting?

OVPN is a good VPN for torrenting and other P2P activities. The company puts no restrictions of any kind on torrenting and P2P activities. As long as you remember to turn on the kill switch, OVPN is a very safe torrenting service that will prevent your IP address from being exposed while you download content.

OVPN review conclusion
OVPN has a lot of advantages, like its dedication to protecting your online activity and the range of setup options it provides. However, it's not necessarily the best option if your main goal is a VPN for Netflix and other streaming services.
OVPN is an excellent selection if you are looking for a VPN mainly for security and privacy. It comes equipped with user-friendly apps (including a GUI client for Linux), multi-hop capabilities, top-tier encryption, and supports the WireGuard VPN protocol. You can take advantage of their 10-day money-back guarantee if you would like to test it out.
---
Alternatives to OVPN
Click the VPN name below to read our full review – or grab the discount for the best savings. All three of these VPNs have a 30-day money-back guarantee.
You can also check out our guide on the best VPN providers for other recommendations.
This OVPN review was last updated on January 27, 2023, with new info and test results.