Finding the fastest VPN can be a challenging task. After all, nearly every VPN on the market claims to offer the "fastest speeds" available. So how do you separate marketing slogans from real-world speed benchmarks?
To answer this question, we tested numerous VPN services using different VPN servers and protocols.
Our test results revealed three clear winners, with one coming out on top by a large margin. And while many VPNs offer good speeds in the 100 to 200 Mbps, we found that only three offered consistently fast performance on nearly all VPN servers tested.
When it comes to measuring VPN performance, the first thing we look at is raw download speed. This is the key metric to consider and it is also an important benchmark in all VPN reviews we do.
For our speed tests, we used a 500 Mbps baseline connection speed with a physical Cat7 ethernet cable to our test computer.
In assessing the fastest VPN, we examined four main areas that are all important for the best VPN performance:
Download speeds – This is where the rubber meets the road and we measure raw speed performance.
Connection speeds – Nobody wants to wait a long time for the VPN to establish a connection. Fast connection times (handshakes) are an important consideration with performance.
Consistency – We also want to see consistent performance where all servers offer fast and reliable speeds.
Fast and secure VPN protocols – There are many different VPN protocols available, but only a few offer the fastest speeds and top-notch security. In terms of performance and security, the best VPN protocol right now is WireGuard, and we'll explain why below.
In running numerous VPN speed tests, we also saw that one VPN protocol (WireGuard) massively outperforms other VPN protocols.
What is the fastest VPN?
Based on all of our tests, the fastest VPN right now is NordVPN with the WireGuard protocol.
It performed the best in our download speed tests, and connection speed tests, and offers consistently fast performance throughout its server network. NordVPN also supports the WireGuard VPN protocol, which we found to be about 58% faster than OpenVPN in our testing.
Let's examine the fastest VPN services in more detail:
NordVPN – The fastest VPN speeds in 2023
| | |
| --- | --- |
| VPN | NordVPN |
| Based in | Panama |
| Logs | No logs (audited) |
| Price | $2.99/mo. |
| Support | 24/7 live chat |
| Refund | 30 days |
| Website | NordVPN.com |
NordVPN takes the crown as the fastest VPN service we have tested here at Restore Privacy. It is a privacy-focused VPN based in Panama that performs very well in all categories — from privacy and security to streaming and torrenting. NordVPN is a verified no-logs VPN service, having passed third-party audits from PWC AG. It has also passed a security audit from Versprite, which included all apps and infrastructure.
We have tested numerous NordVPN servers from our US lab on a 500 Mbps internet connection. The results show that NordVPN is consistently fast with servers throughout the server network. In fact, it produced speed test results well over 200 Mbps in all locations, as you can see in the NordVPN review.
NordVPN download speeds: 445 Mbps
The fastest VPN download speed we were able to achieve is 445 Mbps. This was with a NordVPN server in Seattle using the WireGuard protocol.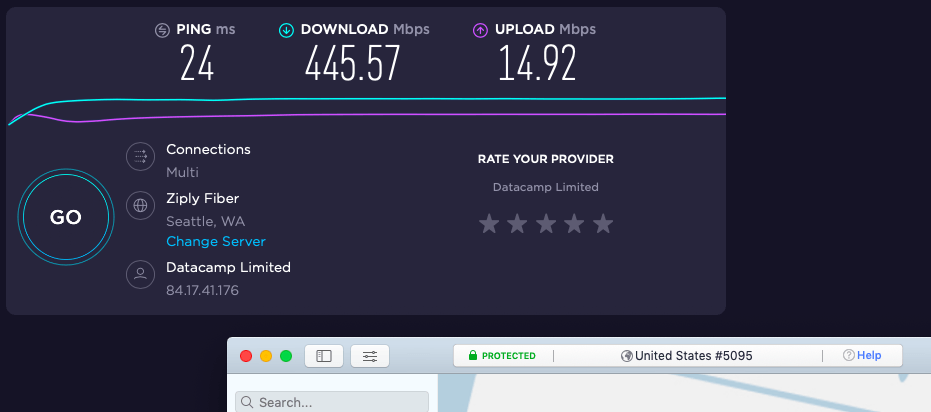 In other tests using the WireGuard VPN protocol, NordVPN gave us similar speeds. Even in long-distance speed tests, NordVPN was still able to give us 295 Mbps, such as with NordVPN servers in the UK.
NordVPN's server network is optimized for fast speeds
Even before NordVPN launched WireGuard support with the NordLynx protocol, it was making huge improvements in speed. Many of these improvements and optimizations were done on a network-wide level. Right now, the NordVPN network consists of 5,500+ servers in 58 countries.
Here are some of the ways that NordVPN's network is optimized for excellent speeds:
10 Gbps bandwidth channels – NordVPN is currently rolling out 10 Gbps servers in key locations to facilitate even faster speeds for all NordVPN users.
Colocated servers – NordVPN has deployed colocated (self-owned) servers to replace all rented servers from third parties. This is a huge hardware upgrade you won't find with most other VPNs.
Optimized VPN protocols – NordVPN has made multiple iterations to improve the performance of both WireGuard and OpenVPN on its network.
These network improvements, together with the WireGuard VPN protocol, give NordVPN a serious performance edge over other leading VPN services. For example, in the ExpressVPN vs NordVPN comparison, it beat ExpressVPN by a large margin in every location. The NordLynx (WireGuard) protocol also gave NordVPN an edge in the IPVanish vs NordVPN speed tests.
Aside from performance, NordVPN also delivers privacy and security features. One of our favorite features is CyberSec. This is a VPN ad blocker that filters ads, trackers, malware, and even phishing domains. It is easily enabled in the settings and provides instant protection for all browsers and apps on your operating system. NordVPN also has many specialty servers that are suited for different purposes:
Double VPN servers that encrypt traffic over two hops (rather than just one)
Obfuscated servers that hide VPN traffic as regular HTTPS encryption (this is ideal if you need a VPN for China or any other restricted network)
Tor-over-VPN servers that encrypt traffic through the Tor network in addition to the VPN server for extra anonymity
P2P servers that give you the fastest speeds for torrenting
Dedicated IP servers work if you are using the paid add-on to have a VPN with a dedicated IP address
This VPN also performs well for streaming, which is another task that often requires fast VPN speeds for HD streams. With support for 17+ Netflix regions, we rank NordVPN as the best VPN for Netflix. It is also a great VPN for streaming BBC iPlayer, Disney Plus, Hulu, Amazon Prime, and more.
Overall, NordVPN remains not on the fastest VPN we have tested, but it also holds the top spot on our list of the best VPN services.
+ Pros
User-friendly and reliable apps
Double-VPN and Tor-over-VPN servers
Passed numerous 3rd-party audits
Strong encryption standards with full support for WireGuard
Works with Netflix and many streaming sites
Threat Protection feature to block ads, trackers, and malware
Professional 24/7 live chat support
Consistently fast speeds
Dedicated RAM-servers with 10 Gbps bandwidth channels
– Cons
Big discounts only available with 2-year plans
NordVPN's Cyber Deal is live:

Get 69% Off NordVPN with the coupon below plus 3 months FREE, no activation code needed:
(Coupon is applied automatically; 30 day money-back guarantee.)
Also check out our NordVPN review for more test results and analysis.
---
Surfshark – Very fast VPN with a low price tag
| | |
| --- | --- |
| VPN | Surfshark |
| Based in | The Netherlands |
| Logs | No logs (audited) |
| Price | $1.99/mo. |
| Support | 24/7 live chat |
| Refund | 30 days |
| Website | Surfshark.com |
Surfshark is another VPN that fully supports the WireGuard VPN protocol and has been putting up seriously fast speed test results. This VPN is based in the Netherlands and did well in all of our tests for the review. Like our other top-rated fast VPNs, Surfshark is a no-logs service with an excellent track record. It offers secure apps with built-in leak protection for all major devices and operating systems.
On the speed front, Surfshark has a network of 3,200 fast servers located in 95 countries around the world. It now supports the WireGuard VPN protocol, along with OpenVPN and IKEv2 on certain devices. With VPN protocols, one drawback we noted is that WireGuard is not yet supported with Linux, but this is coming later in the year.
Surfshark VPN download speeds: 397 Mbps
Now that Surfshark supports WireGuard, it is competitive with the fastest VPNs. The best speed test result we got in the Surfshark review was 397 Mbps with a server in New York: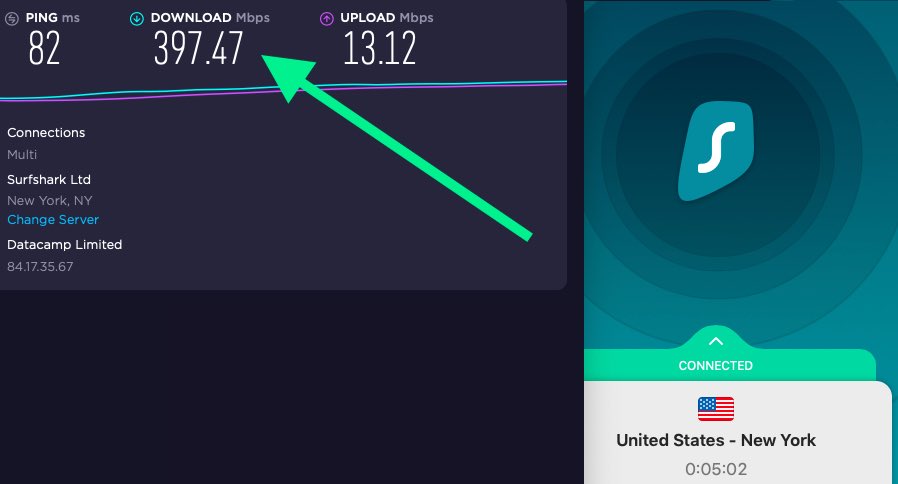 With download speeds of nearly 400 Mbps, Surfshark is competitive with the fastest VPN services. It is also consistently fast, with all servers we tested over 300 Mbps. And while it performs better than most VPNs on the market, it was beaten out slightly by NordVPN in the Surfshark vs NordVPN comparison. One benefit that NordVPN has is faster VPN speeds with the OpenVPN protocol in comparison to those of Surfshark.
Surfshark is also a fully-featured VPN service and has a lot to offer different types of users. On the privacy and security front, Surfshark delivers these features:
Camouflage mode to obfuscate VPN traffic
Double VPN servers for double encryption
CleanWeb feature to block ads, trackers, and malware
NoBorders feature to get around VPN blocks and censorship
Full streaming support for Netflix and other services
In addition to these features, Surfshark also has a few paid add-ons, such as a private search engine as well as an identity exposure alert tool called Surfshark Alert. Lastly, Surfshark is an excellent choice if you want a cheap VPN that performs at a premium level.
+ Pros
Unlimited connections
User-friendly apps for all devices and operating systems
CleanWeb feature to block ads, trackers, and malware
Works great with Netflix and many other streaming services
24/7 live chat support
Strong encryption and security features (audited)
– Cons
Limited support for VPN routers
Above average monthly prices
Surfshark Coupon:

Get 80% off Surfshark VPN (drops the price down to $1.99 per month) plus 5 months FREE:
(Coupon is applied automatically.)
See our Surfshark review here for more info.
---
VyprVPN – Reliable and fast VPN apps
| | |
| --- | --- |
| VPN | VyprVPN |
| Based in | US |
| Logs | No logs (audited) |
| Price | $5.00/mo. |
| Support | 24/7 live chat |
| Refund | 30 days |
| Website | VyprVPN.com |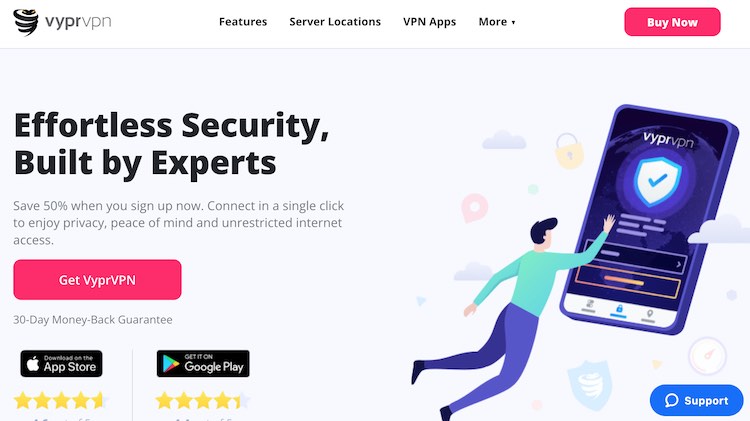 Next up on our list of the fastest VPNs is VyprVPN. VyprVPN is a Switzerland-based service with no logs and secure apps. Like our other fast VPN recommendations, VyprVPN also supports the WireGuard protocol and performed well in our tests.
One of the biggest differences we see with VyprVPN, in comparison to NordVPN and Surfshark, is that it is somewhat limited in features. For example, we do not find any specialty servers or VPN ad blocking with VyprVPN. It does, however, have a self-developed VPN protocol called Chameleon for obfuscation.
VyprVPN download speeds: 301 Mbps
VyprVPN delivers consistently fast speeds when you are using it with WireGuard. Below is the fastest VPN speed test result we got with VyprVPN on a server in Seattle.

VyprVPN does offer some streaming support, but it is rather limited. For example, it currently only supports three Netflix regions. Additionally, this is not the best VPN for Firestick because they do not have a dedicated app for this streaming device.
On the topic of apps, however, VyprVPN does have a good design. VyprVPN apps have a simple and clean layout, in many ways similar to Surfshark and ExpressVPN. The apps performed well in our tests with no crashes or bugs to report.
On the privacy front, there are a few drawbacks. For one, VyprVPN requires a full name for registration, while most other VPNs do not. There are also no cryptocurrency payment options.
+ Pros
Secure applications with strong encryption
Excellent speeds with all servers tested
Full WireGuard support directly in VPN apps
Chameleon protocol (obfuscation)
Entirely self-owned server network
User-friendly apps for many devices/platforms
Based in Switzerland with an audited no-logs policy
– Cons
Requires name for registration
No cryptocurrency payment options
Above-average prices
Fewer features than some other leading VPNs
Check out our VyprVPN review for more test results and info.
---
How to get the fastest connection speeds (handshake)
Another important consideration when choosing the fastest VPN is connection speeds. In other words, how fast the VPN is at establishing a connection, or the handshake.
While there are many variables that can affect the connection/handshake speed, one of the biggest factors is the VPN protocol. Based on our tests, WireGuard is the fastest VPN protocol to connect, with OpenVPN being the slowest and IPSec/IKEv2 falling somewhere in the middle.
Why having fast connection speeds is important
In testing out dozens of popular VPN services, I found that many VPNs suffer from slow connections. After hitting the "connect" button, I have seen some VPNs take up to 30 seconds or more to actually connect. Aside from the annoyance and inconvenience factors, this is also a serious waste of time, especially if you frequently switch VPN servers. Here is one example from the IPVanish review: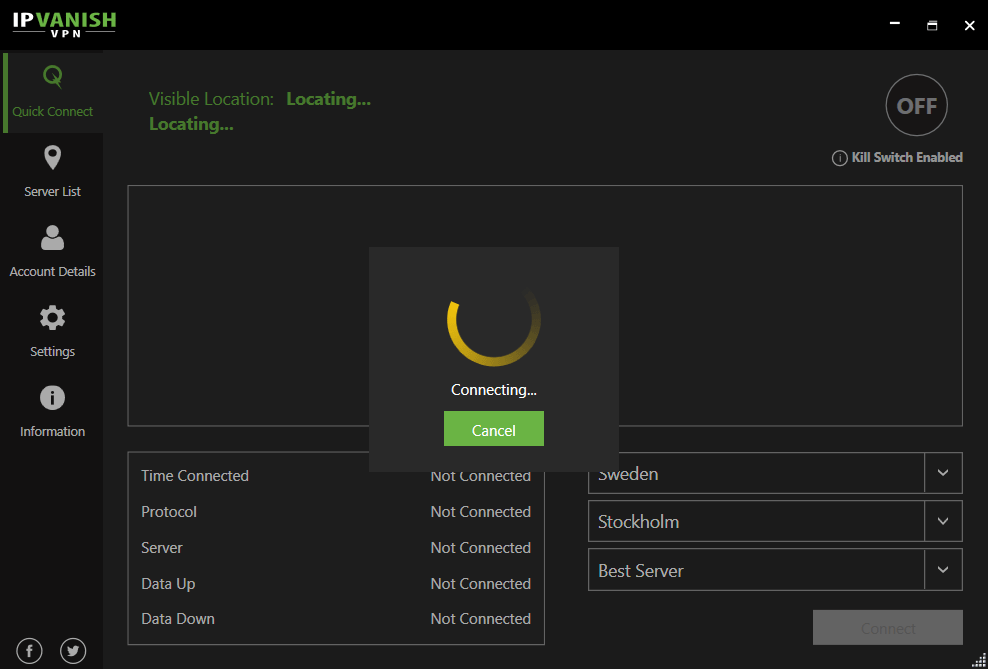 OpenVPN with most services, such as IPVanish above, can be slow to connect. In some cases, it can take 10 seconds or more to establish a connection.
So to get the fastest connections, you just need to subscribe to a fast VPN service that supports the WireGuard VPN protocol. Then after downloading the VPN app, go to the settings and select WireGuard as your protocol.
For example, here are the steps to selecting WireGuard in the NordVPN app via NordLynx: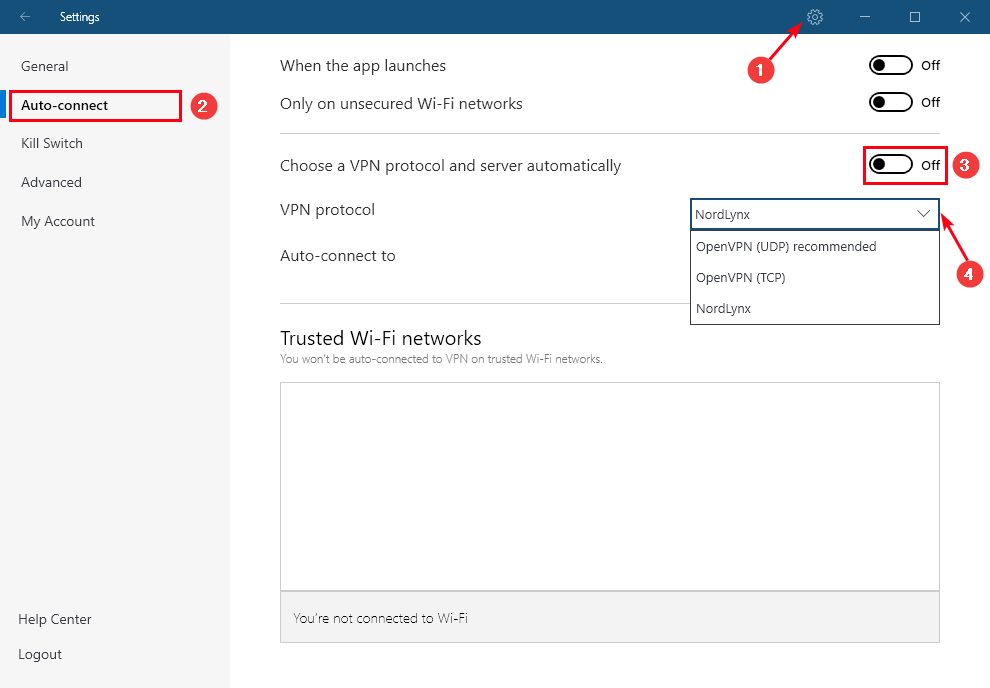 So now let's examine VPN protocols.
What is the fastest VPN protocol?
In our tests, WireGuard was the fastest VPN protocol, beating OpenVPN by about 58% across all servers.
In previous years, OpenVPN was considered the gold standard, offering good performance and solid security. But in terms of performance, OpenVPN comes with some drawbacks in comparison to WireGuard:
OpenVPN takes longer to establish a connection than WireGuard
OpenVPN has slower download speeds in comparison to WireGuard
OpenVPN is usually capped at about 150 Mbps on Windows machines due to issues with the TAP adapter.
In our WireGuard vs OpenVPN comparison, we found WireGuard to outperform OpenVPN in all servers tested. And on average, WireGuard was about 58% faster than OpenVPN (tested on a Mac OS, which is faster than Windows with VPNs). Here were our speed results comparing OpenVPN to WireGuard:
| | | |
| --- | --- | --- |
| City | OpenVPN Speed | WireGuard Speed |
| Seattle | 222 Mbps | 445 Mbps |
| Los Angeles | 226 Mbps | 304 Mbps |
| Chicago | 155 Mbps | 275 Mbps |
| New York | 222 Mbps | 280 Mbps |
But you don't need to take our word for it.
Below you can see benchmark speeds released by the WireGuard project. WireGuard outperformed OpenVPN by a huge margin, as you can see below.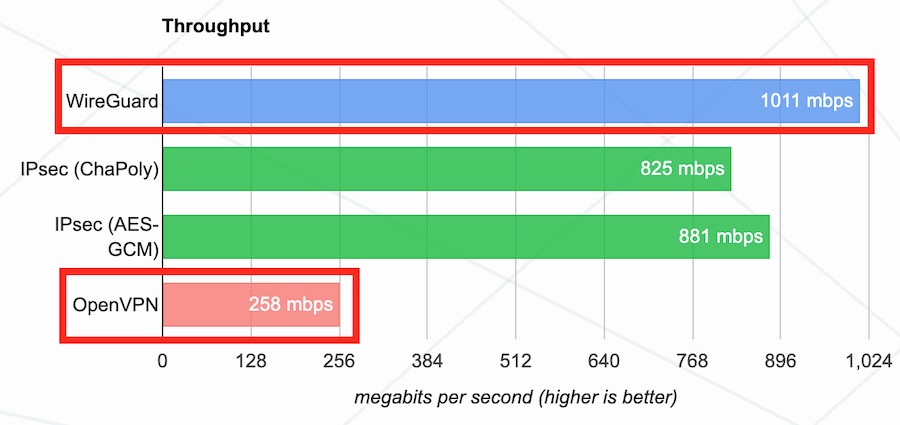 These results also match what we have observed in testing VPNs that support WireGuard.
Disclaimer: Not all VPNs that support WireGuard are fast. For example, we tested both CyberGhost and NordVPN in speed tests with WireGuard, but there was a huge speed difference. CyberGhost was much slower than NordVPN — but we also found it to have overloaded servers, which would limit bandwidth and overall speeds.
How to get the fastest VPN speeds
Ok, so enough talk, you want to have a fast VPN. Here is your checklist for getting the fastest VPN speeds right now:
Buy a subscription to one of the recommended VPNs above.
Install the VPN app for your device.
Go to the Settings area and enable WireGuard. (In NordVPN, this is called the NordLynx protocol.)
Connect to the closest recommended server. (Most VPNs will automatically select the best (recommended) server for a given region.
Enjoy the fastest VPN speeds possible.
That's about all there is to it.
What affects VPN speeds?
We have already discussed the importance of the following factors for getting the fastest VPN speeds:
Using a good VPN
Using a fast VPN protocol (WireGuard)
Using a server with enough bandwidth (no overloaded VPN servers)
We also recommended choosing the closest VPN server to your physical location. This will minimize latency and should give you the fastest VPN speeds. And if you are using a VPN for gaming, this is particularly important.
It's also worth noting that a VPN can never be faster than your baseline internet connection (from your internet provider). If you are on a budget plan with slow speeds, then you may want to call your ISP and upgrade to a faster line, because the VPN can't be faster than your baseline speed.
We also recommend using a wired ethernet connection. Sure, it may be a bit inconvenient, but a wired ethernet connection will be faster than WiFi and also more secure.
Lastly, if your machine or device does not have adequate processing power, then it may struggle with VPN encryption. This isn't an issue with most modern desktops, but it can be problematic with phones and routers. (See our VPN for Android guide for more information on performance with mobile devices.)
Why you should use a fast VPN
One drawback with VPNs is that they can slow down your baseline VPN connection speed. With a fast and reliable VPN, this problem will be greatly mitigated.
A slow VPN will seriously restrict your online activities, particularly for high-bandwidth activities:
Torrenting
Streaming videos
Streaming audio
Downloading or sharing large files
Even with regular web browsing, a fast VPN offers noticeable benefits.
Comparison table of the fastest VPN services
This concludes our review of the fastest VPN services. As a brief recap, here are the top three recommendations if you have a need for speed.
And remember that all three of these VPNs have a full 30-day money-back guarantee, which allows you to test speeds for yourself risk-free.

---

---

---
This review of the fastest VPNs was last updated on January 6, 2023.