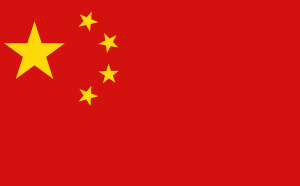 China is continuing with its heavy-handed censorship of the internet and blocking many popular websites. In order to get around these blocks and censorship efforts, you'll need to get a good VPN for China that still works.
Unfortunately, many VPNs in China are now blocked – even some that may claim to be the "best VPN for China" – thanks to China's deep packet inspection efforts. Thankfully, there are still a handful of VPNs that work very well in China, even with the latest round of censorship and VPN blocks that recently took place.
So what can you do with a VPN for China?
Easily break through the Great Firewall and access any online content you want.
Get around China's VPN restrictions by using obfuscation measures. (Even though China restricts most VPNs, it is still perfectly legal to utilize a VPN for personal use.)
Keep your data and browsing history secure, safe, and private from third parties. (China monitors all online activity, but a VPN will encrypt your traffic and conceal your activities online.)
Not another useless "VPN for China" guide – Having lived and worked in Shanghai, I personally know how frustrating Chinese censorship and the Great Firewall can be. I have researched and tested over 100 different VPNs over the past 4+ years, and I know the best ways to use a VPN in China. This guide will give you everything you need to know, with step-by-step instructions for each of the recommended China VPN services.
Best China VPN services – Here are the best VPNs that are still working in China:
Below in the VPN China reviews section we'll take an in-depth look at each of these providers, as well as covering step-by-step installation instructions.
Which VPN is best for China?
The best VPN for China that consistently works and gets through the Great Firewall is ExpressVPN. While it's not the cheapest option, ExpressVPN offers the best speeds, security, and up-time (in China) of all the VPN providers I've tested. ExpressVPN is offering a coupon for 49% off and three months free (applied on the checkout page).
A very close second for the best VPN in China is VyprVPN. It offers some of the best speeds and uptime in China, as well as very advanced obfuscation technology called the Chameleon protocol. One drawback with VyprVPN is that torrenting is not permitted on their network (copyright infringement). VyprVPN is currently offering a special 68% discount on select plans.
Now we will take an in-depth look at each of the best VPNs for China.
VPN China reviews
IMPORTANT: Before you get to China, be sure to download and install your VPN service on all the devices you want to use. This is because VPN websites will be completely blocked in China, therefore limiting your access and ability to any VPN provider.
If you are already in China and need a VPN, you can go to VyprVPN's mirror site here (not blocked in China) to get started and download all the software you need.
1. ExpressVPN China – Consistently works, excellent speeds ($6.67/mo)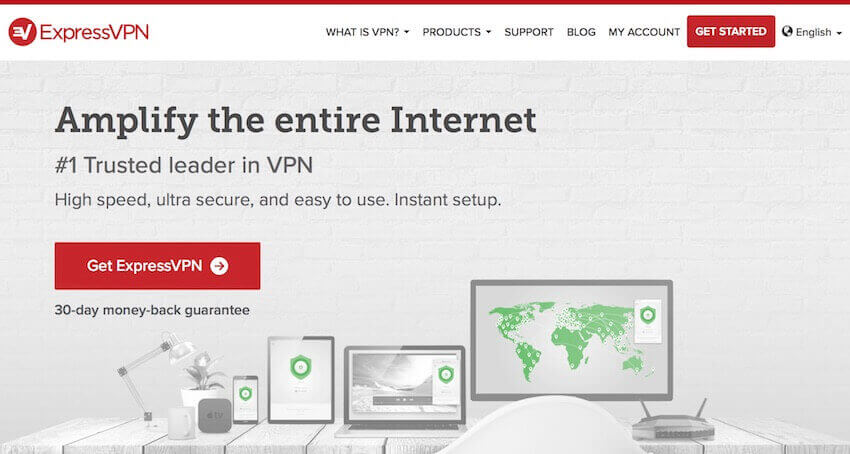 ExpressVPN is the go-to choice for people in China looking to easily get around censorship and also achieve great speeds. While it is slightly more expensive than other options, it remains the best solution for those in China who are looking for a fast, consistent solution to avoid all internet censorship. It is also currently the best VPN for Netflix, which also works for people in China.
Another advantage with ExpressVPN is that you can use their VPN on all types of devices – from computers and phones to tablets, routers, and TV boxes. Their customer service is also top notch with 24/7 live chat support and numerous information guides on their website here.
ExpressVPN allows all torrenting on all their servers and is one of the few no logs VPN services that have been proven in real life. Their applications utilize very advanced leak protection settings, which will secure your data from any leaks. The ExpressVPN apps also have a "Network Lock" feature to ensure all traffic is encrypted through the VPN, even if you are internet connection temporarily drops.
ExpressVPN Deal: ExpressVPN is currently offering a coupon for three months free and 49% off here (automatically applied on checkout page). Note that all ExpressVPN subscription plans come with a 30 day, no-hassle money-back guarantee.
How to use ExpressVPN in China
To use ExpressVPN in China, just follow these steps:
Go to the ExpressVPN website and sign up for a subscription.
Log in to your account and download the software for the devices you want to use with the VPN.
Open the ExpressVPN app, then enter the activation code (from your account page).
Now connect to one of the servers designated for China users (ask support which servers to use – not all servers will work from China) and then use the internet as normal.
Enjoy using ExpressVPN in China and unblocking all online content.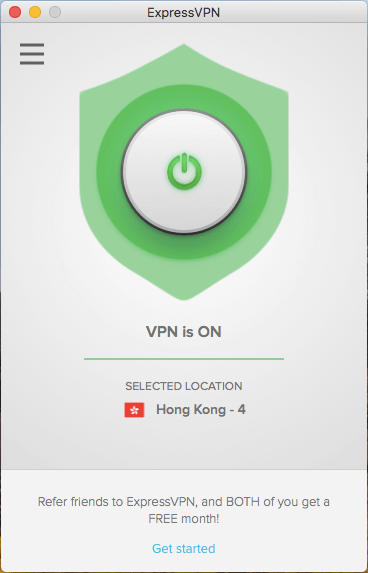 ---
ExpressVPN Coupon
Sign up for the 12 month plan, and get 3 months FREE (49% Off)
Get 49% Off ExpressVPN
(Applied on checkout page)
---
2. VyprVPN China – Fast and secure with the Chameleon protocol, ($4.17/mo)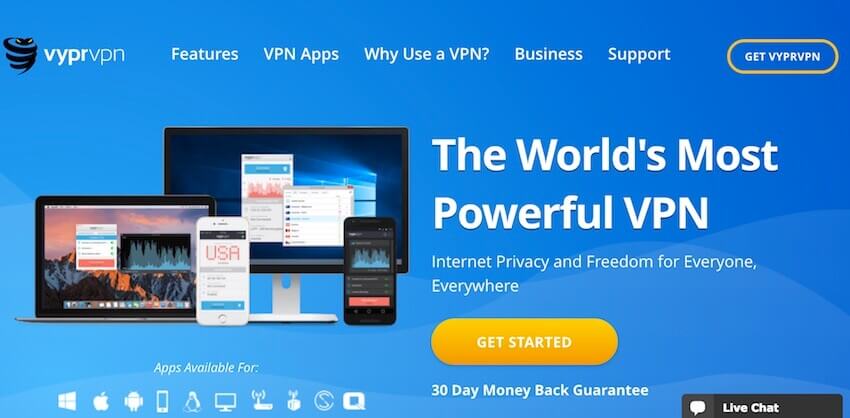 Another great China VPN that consistently works and offers great performance is VyprVPN. VyprVPN utilizes an advanced obfuscation method that they call the Chameleon protocol. This is a self-developed OpenVPN protocol that obfuscates all VPN traffic to look like regular HTTPS encryption. When you use the Chameleon protocol with the VyprVPN apps, you'll be able to easily get through the Great Firewall of China.
Another great aspect of VyprVPN is that they physically own every VPN sever in their network – in other words, no rented servers. This provides VyprVPN users with excellent security and also helps to ensure the best speeds. VyprVPN recently updated their network infrastructure and I've found the speeds to be excellent – see the VyprVPN review for test results.
VyprVPN offers great apps for Windows, Mac OS, iOS, Android, and routers. All VyprVPN subscription plans come with a 30 day money-back guarantee – get the most savings with VyprVPN's 68% off coupon here.
How to use VyprVPN in China
Here are step-by-step instructions on how to use VyprVPN in China:
Go to the VyprVPN website and sign up for a subscription – use this coupon to get the best savings. (If you are in China and the main website is blocked, go to the VyprVPN mirror site here.)
Download the VyprVPN apps for the devices you want to use.
After you download the apps and log in with your account credentials, go to VyprVPN Options/Preferences > Protocol > then select Chameleon for the VPN protocol. (This is the obfuscation/stealth VPN feature.)
Then connect to the fastest server, or pick a server location from the map.
Enjoy using VyprVPN in China and getting through the Great Firewall.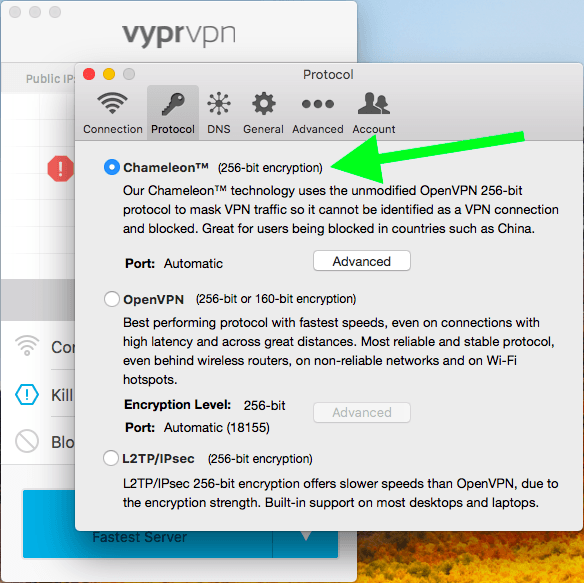 ---
VyprVPN Coupon
Get 68% Off VyprVPN's two-year plan.
68% Off VyprVPN >>
(Coupon is applied on checkout page)
---
3. VPNArea China – Great, all-around VPN for China ($4.92/mo)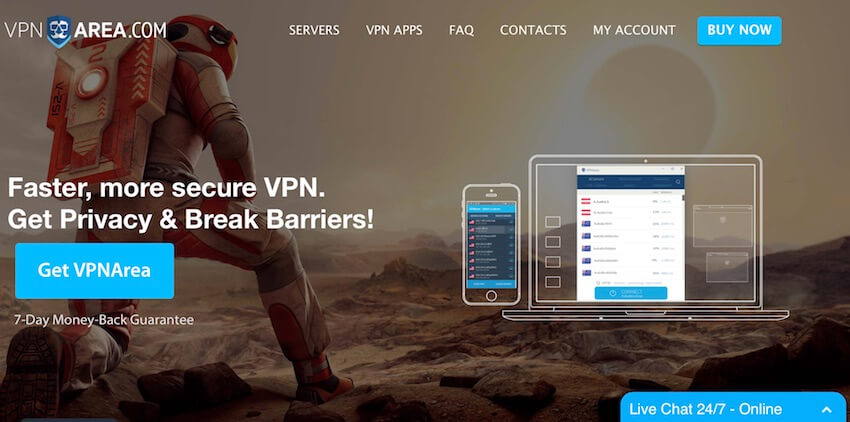 VPNArea is a no-logs, Bulgaria-based VPN provider that will get around censorship in China. It offers obfuscation (stealth VPN) for both Windows and Mac OS directly in the apps. If you are looking to stream Netflix or BBC iPlayer, VPNArea is also a great choice with dedicated Netflix streaming servers.
VPNArea also allows torrenting without any restrictions. The latest speed tests for the VPNArea review were excellent, as were all of the security tests with VPNArea's applications. Another great feature with VPNArea is their ad-blocking DNS servers and leak protection settings.
VPNArea offers 24/7 live chat support. Every plan comes with a 7 day money-back guarantee, and they also permit account sharing with six simultaneous connections per account.
How to use VPNArea in China
Here is how you can use VPNArea in China:
First go to the VPNArea website and purchase a subscription.
Download the VPNArea apps for the devices you want to use in China, then log in through the app using your account credentials.
Open the app then click Servers > Special > and select one of the "X-Stunnel" servers. The obfuscation protocol (Stunnel) will work automatically with any of these servers.
Once connected to one of the X-Stunnel servers, you will have full access to all websites that are blocked in China (and anything else).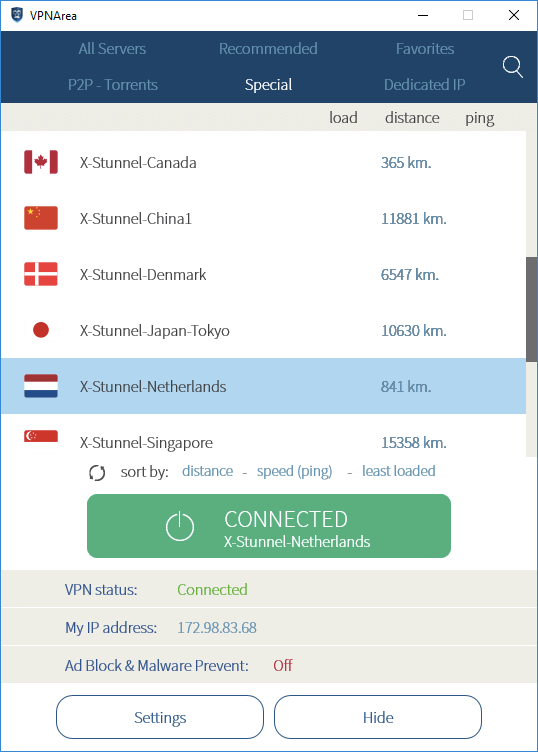 ---
---
4. NordVPN China – Reliable and user-friendly ($2.99/mo)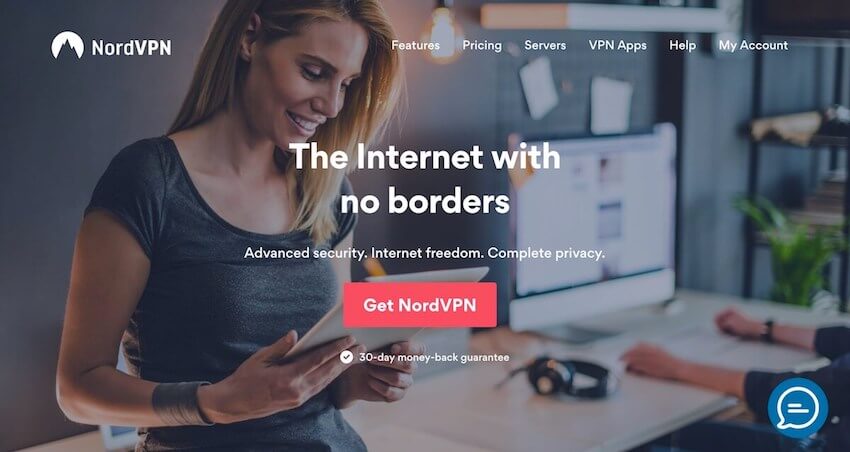 If you want a VPN that consistently works in China, but is not too expensive, NordVPN would be a good choice. NordVPN offers a large selection of apps for different devices and also allows up to six simultaneous connections. It works well with streaming Netflix and allows torrenting on all of its servers.
NordVPN also offers some great privacy features, such as ad-blocking, double-hop VPN servers, and full leak protection. NordVPN has a strict no logs policy and is based in Panama, which is an excellent jurisdiction for privacy.
NordVPN's obfuscation features (Stealth VPN) allow you to easily get through the Great Firewall and Chinese censorship. They also have a huge selection of servers in their network, giving you lots of choices in Asia or abroad.
How to use NordVPN in China
To use NordVPN in China, follow these simple steps:
Go to the NordVPN website and sign up for a subscription. (To get the best savings, use this 75% off coupon.)
Download the NordVPN apps for the devices you want to use in China.
Enter your login credentials in the app.
Enable the obfuscated servers by going to: Settings > Show advanced settings > "I know what I am doing" > Obfuscated Servers (toggle to On).
Now connect to one of the Obfuscated Servers by clicking on the Servers tab, then connecting automatically to the fastest server with one click, or manually select a server location.
Enjoy using NordVPN in China.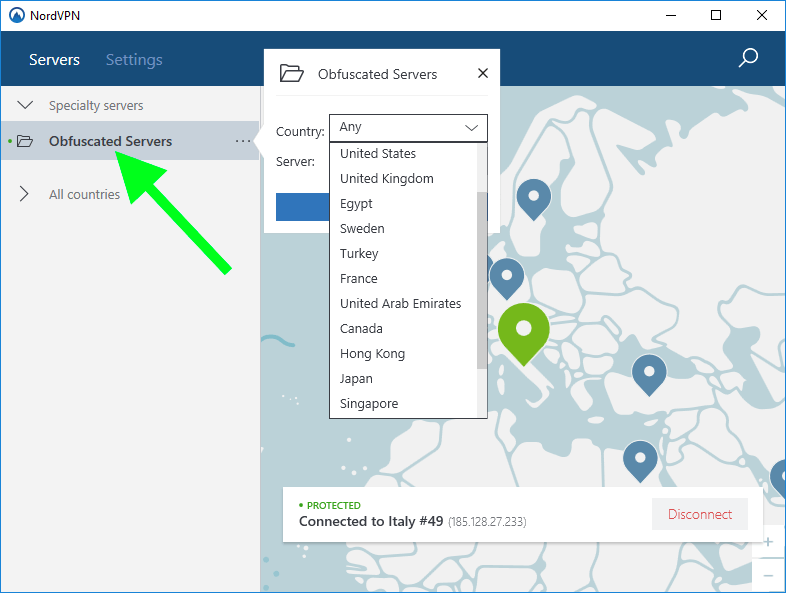 ---
Cyber Security Month Coupon
Get 75% off NordVPN for Cyber Security Month (drops the price down to only $2.99 per month)
Get 75% Off NordVPN Here
(Discount will be automatically applied with the link above.)
---
5. VPN.ac China – Fast and secure ($4.80/mo)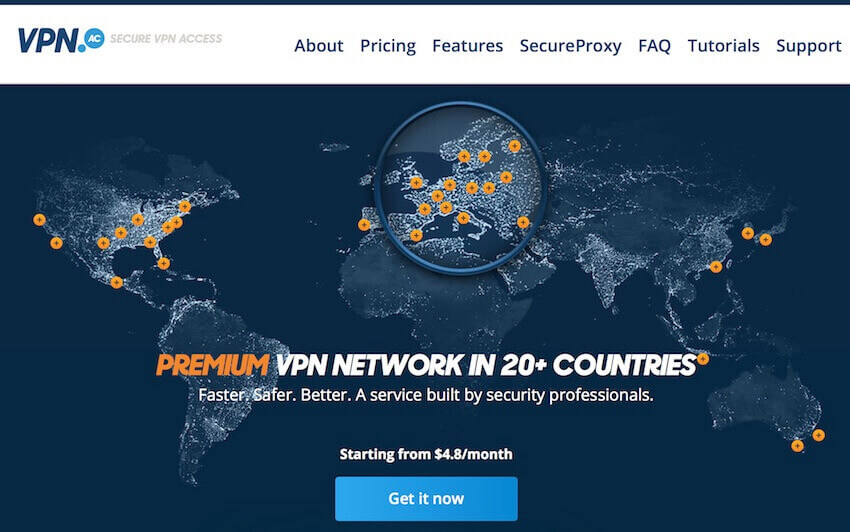 VPN.ac is a security-focused VPN that's based in Romania. It offers excellent performance and works very well in China, even when other VPNs are not getting through the Great Firewall. While VPN.ac does not have as large of a server network as ExpressVPN or NordVPN, their servers do offer great speeds.
For a smaller VPN provider, VPN.ac does well in many different areas, as explained in the VPN.ac review. The speeds are excellent and the apps have some great features. One minor drawback is that VPN.ac does keep basic connection logs for network security, but these are not activity logs and do not include any browsing history.
Overall, VPN.ac is one of the best VPNs for China you will find, even if you have never heard about this smaller provider before.
How to use VPN.ac in China
To use VPN.ac in China, just follow these steps:
Go to the VPN.ac website and select a subscription plan.
Download the apps for the devices you want to use in China, then log in through the app with your account credentials.
Within the application, go to ADVANCED > and then select "I am in China or other censored country" (toggle on).
Then click CONNECT and select one of the servers from the list called CHINA OPTIMIZED. After selecting one of the "China Optimized" server location, toggle the VPN connection to ON.
Enjoying using VPN.ac in China and having unrestricted internet.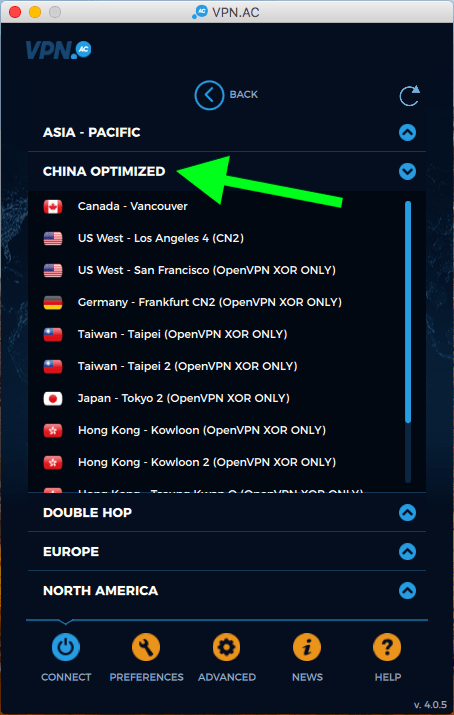 ---
---
I'm in China and need a VPN, but all sites are blocked
If you are already in China and need a VPN service, your best option is to go to VyprVPN's mirror site here to purchase a VPN subscription and download the software you need to get around the Great Firewall.
If you are not yet in China and can still access all the VPN sites, you will have an easier time getting everything setup and working properly. When you arrive back in China, simply start your VPN application and follow your VPN provider's instructions for getting connected when in China.
Some providers offer select servers for China users. These servers will utilize obfuscation (stealth VPN) to hide all OpenVPN traffic behind standard HTTPS encryption on port 443.
Will VPNs always get around the Great Firewall?
VPN restrictions in China always seem to be a cat-and-mouse game. While most VPNs are blocked and will simply not work in China, the ones on this page consistently defeat these blocks to get around the GFW without troubles.
Occasionally, the Chinese government will roll out a new round of restrictions, which may temporarily block some providers. Fortunately, with the China VPNs recommended on this page, a server network update will usually fix that problem in a few hours. Fortunately, these temporary blocks are quite rare and the VPNs in this guide consistently work well.
So while there are no guarantees, these China VPNs should work well, even with the latest round of blocks.
What about a free VPN for China?
Not only will free VPNs likely not work in China, they are also notorious for being malicious, dangerous, data collection tools. As explained in the free VPN guide, free VPNs are often used to collect data, which is then sold to third parties in order to monetize the "free VPN" software.
But even if you tried to use a free VPN in China, it most likely would not even work. The China VPN providers on this page have devoted tremendous resources into their network and software to defeat the Great Firewall of China. An out-of-the-box free VPN would surely fail, simply because these free VPNs do not offer obfuscation features. The OpenVPN traffic would immediately be blocked thanks to deep packet inspection (DPI).
Bottom line on all free VPNs: If something is free, then you are the product. (As an alternative to a free VPN in China, you can check out a free trial VPN.)
If your VPN is not working in China, do this…
Occasionally Chinese authorities will roll out a new method for blocking VPN traffic, which may temporarily block services in China.
Here are a few steps you can take if your VPN is not working in China:
Try a different VPN server
Try a different obfuscation method or VPN protocol (if your VPN supports it)
Try using a different port, such as port 443 (for HTTPS traffic)
If none of these tips are working and you still can't connect to your VPN in China, then simply reach out to your VPN provider for help. You can do this either through a direct email or via their website (if you can access it).
If you are completely stuck and locked out of everything, and you want a fast solution, you can check out VyprVPN's alternative page here to see if they are working and possibly use their services.
Can a VPN unblock sites in China?
Yes, a VPN is the best way to unblock websites in China and accessing the content you want.
When you connect to a VPN that uses a good obfuscation method, you can easily get around any blocks or Censorship that the Chinese government has in place. Here is how that works, with a diagram from VyprVPN:

Here are some of the sites in China that are currently blocked, but will be accessible with a VPN:
All Google websites (Google search, Gmail, Google maps, etc.)
Facebook
Youtube
Yahoo! Taiwan and Hong Kong
Mobile Wikipedia
Instagram
Twitter
Skype
Whatsapp
Tinder
Snapchat
BBC
For more, see Wikipedia's article on websites blocked in mainland China.
Are VPNs legal in China?
Yes, VPNs are perfectly legal in China. Nonetheless, the Chinese government is still working hard to prevent people from getting access to tools (VPNs) that can get around their censorship efforts.
In March 2018 Chinese authorities issued an ambiguous statement about the use of VPNs. Actions and policies of the Chinese government suggest that it is illegal for Chinese residents to create VPN services/companies inside China, which would be made available to others in China, but personal use of a VPN appears to be completely legal. We do not recommend using any Chinese-based VPN services.
In a move that angered many, both Apple and Google caved in to Chinese pressure and removed VPN applications from their app stores.
I have also not seen anything to suggest that it is illegal for people to bring VPN software with them into the country. Additionally, there are thousands of Chinese businesses that use VPNs for secure networking solutions, and this is also perfectly legal. But if you wanted to create your own VPN company based in Beijing that would help other Chinese residents evade censorship, that would probably be a bad idea.
Bottom line: Using a VPN in China for personal use is perfectly legal and very common. Using an offshore (non-Chinese) VPN with a good track record (all of the VPNs in this guide) will further protect you from any issues.
VPN for China conclusion
Despite the heavy censorship and restrictions that have been enacted in China, a VPN is a simple and easy solution that will consistently get through the Great Firewall and unblock content.
While a good VPN will cost a few dollars per month, it is a small price to pay for getting completely unrestricted internet and access to all your favorite sites.
Whenever you are using a VPN in China, be sure to only go with a safe, trusted, and reputable VPN provider. As we pointed out above, most of the VPNs on the market are not suitable to use because:
they are blocked in China
they may leak your data and expose your activities/identity to third parties
they may collect your data (browsing history) and sell this to third parties (the main problem with free VPN services)
Nonetheless, a good VPN is your key to an unrestricted, free, and private internet connection when you're in China. Below is a recap of the best VPN services for China based on my testing and research.
Stay safe!
Best VPN services for China
---
---
---
---
---
---
---
---