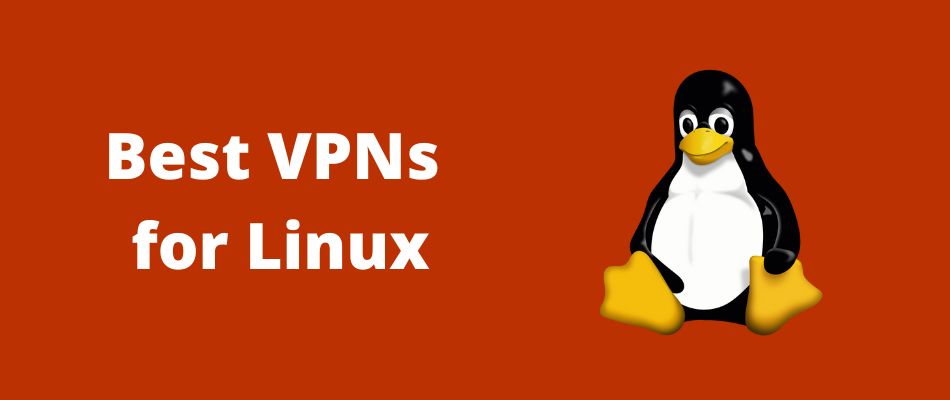 As a group, Linux users tend to be more concerned with security and privacy than most computer users. While Linux-based operating systems are considered to be more secure against things like viruses and malware, that security is only one part of the picture. Even if your system is secure against threats, you still need to protect your communications with the rest of the world. This is why you need a good VPN for Linux.
We're seeing the interest in VPNs for all operating systems, including Linux-based distros, spike in this brave new world of intense surveillance, often carried out by your own internet service provider, as well as social tracking measures. The trick is to find the best VPN for Linux based on your own unique needs and circumstances.
The VPNs in the table below passed all of our tests and met the criteria to be recommended:

---

---

---

---
---
No Linux VPN is perfect
As a Linux user, your choices are somewhat limited. There are fewer VPNs that support Linux than other top operating systems. And many of them provide at most minimal support, being hard to install and configure, as well as lacking some of the features that people on other operating systems enjoy.
One big pain point for using popular Linux VPNs has been their lack of graphic user interfaces (GUIs). It is definitely possible to configure and control services like NordVPN from the Linux command line interface. But it is a grand pain in the neck and not exactly user friendly. Happily, this is starting to change.
As you'll see in the following mini-reviews, more than half of the VPNs listed here have some form of Linux GUI. They may not have all the features implemented yet, and may only work on certain Linux distros, but this is definitely progress.
How this guide can help
In this Linux VPN guide, we've singled out what we consider to be the five best VPN for Linux users. While they are all different, our testing has shown that they reliably provide strong security and excellent privacy protection.
Note: As a Linux user, you are probably used to doing at least some of your work in the terminal. That's good, because Linux VPNs don't come with the kind of simple installers that Windows or Mac users enjoy. You'll need to be willing and able to use the command line to install and configure any of these top Linux VPNs.
Selecting the best VPN for Linux
Before we jump into the recommendations, let's first cover the criteria we used for choosing the best Linux VPNs. Each one had to meet the following criteria:
Passed all tests with no data leaks found (no IP address leaks or DNS leaks)
Good performance throughout the server network (speed and reliability)
Supports the OpenVPN protocol and strong encryption standards
Offers a money-back guarantee
Trustworthy and well-established VPN provider with a good track record
Located in a safe privacy jurisdiction (outside of Five Eyes countries, such as the US and UK) to keep your data safe
Given the varying capabilities of these VPNs we didn't try to rank them. For example, you'll find that NordVPN is excellent, and has a solid kill switch, but it doesn't have a GUI. While Surfshark is excellent and has a GUI but doesn't have a kill switch (yet).
And so it goes, with each VPN having its own unique mix of strengths and weaknesses. About the only thing they all have in common is that they all support Linux. We recommend you figure out which features are the most important to you, then read through all the mini-reviews and look for the service that is the best fit for your needs.
With all that said, here are our contenders for the title of the best VPN for Linux:
NordVPN – Best all-around VPN for Linux in 2023
| | |
| --- | --- |
| VPN | NordVPN |
| Based in | Panama |
| Logs | No logs (audited) |
| Price | $3.29/mo. |
| Support | 24/7 live chat |
| Refund | 30 days |
| Website | NordVPN.com |
I've been writing about VPN services for years, and I've long been impressed by NordVPN. They innovate hard, have a huge, huge network of VPN servers, and rank at or near the top in almost every category.
NordVPN delivers excellent security and privacy through solid apps that run on all the most popular devices. Their security uses an AES-256 cipher with HMAC SHA256 hash authentication, and DHE-4096 key exchange for Perfect Forward Secrecy (PFS). You get your choice of VPN protocols, including the industry-standard OpenVPN, and now also the WireGuard VPN protocol.
NordVPN is a verified no logs VPN provider, having passed a third-party audit of their logging policies performed by PWC AG in Zurich, Switzerland. Furthermore, NordVPN runs all servers in RAM disk without hard drives. This ensures no data can be stored on a VPN server and seized by third parties.
WireGuard yields impressive performance
Now, with the implementation of WireGuard, NordVPN consistently outperforms other VPNs. In the recent NordVPN vs ExpressVPN comparison, NordVPN was able to hit speeds of 445 Mbps with servers in the US. This makes it a great choice for any high-bandwidth activities, such as using a VPN for torrenting.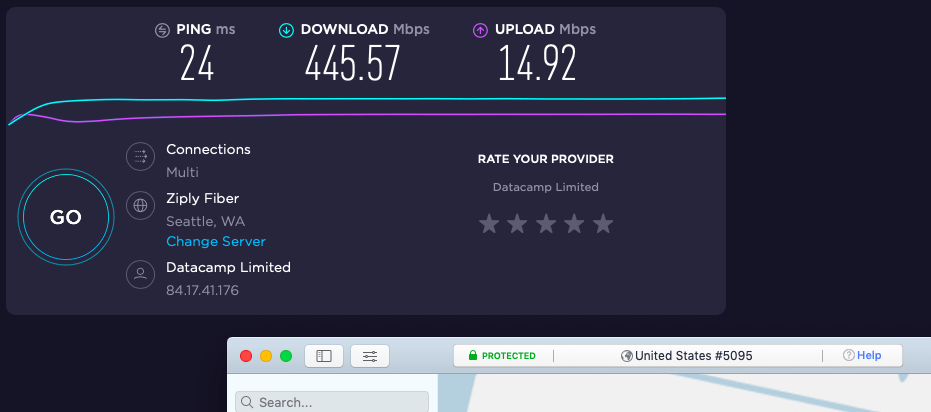 NordVPN is the fastest VPN for Linux we have tested so far.
On the innovation front, the service includes specialized features like double-VPN and Tor-Over-VPN servers. Their obfuscated servers disguise the fact that you are using a VPN for even more privacy, such as when you need to use the VPN in countries that normally block such services. Then there is CyberSec, a feature that blocks ads, stops trackers dead, and prevents connections from malware domains.
The NordVPN Linux app functions great, with no leaks or bugs whether we were testing their standard OpenVPN protocol or the new NordLynx protocol. NordVPN's network consists of 5,400 servers across 60 countries. Each of those servers runs on dedicated hardware. Even better, NordVPN is in the process of upgrading its entire network to run on self-owned (colocated) servers.
When it comes to price, you'll want to consider a long-term investment in NordVPN. Their pricing is skewed heavily in favor of their multi-year subscriptions. The two-year subscription comes in at only $89, or about $3.30 per month, making NordVPN one of the best cheap VPN services.
All NordVPN subscriptions come with a 30 day money-back guarantee. There is also 24/7 live chat support if you need help getting anything setup.
+ Pros
User-friendly and reliable apps
Double-VPN and Tor-over-VPN servers
No logs (audited twice)
Strong encryption standards with full support for WireGuard
Works with Netflix and many other streaming services
CyberSec feature to block ads, trackers, and malware domains
24/7 live chat support
Dedicated RAM-servers with 10 Gbps bandwidth channels
– Cons
No Linux GUI
Big discounts only available with long-term subscriptions
NordVPN's Cyber Deal is live:

Get 63% Off NordVPN plus an additional 3 months FREE:
(Coupon is applied automatically.)
See our NordVPN review for more info and test results.
---
Surfshark – Cheap and fast VPN for Linux, now with GUI
| | |
| --- | --- |
| VPN | Surfshark |
| Based in | The Netherlands |
| Logs | No logs |
| Price | $2.30/mo. |
| Support | 24/7 live chat |
| Refund | 30 days |
| Website | Surfshark.com |
In most of our VPN reviews, Surfshark comes in at #2, right behind NordVPN. Surfshark is based in The Netherlands and is a no-logs service with a lot to offer. It offers a native Linux VPN client that you control from the command line. Even better, Surfshark has a brand new GUI for Ubuntu and Debian-based distros that makes controlling the VPN in Linux a point and click operation.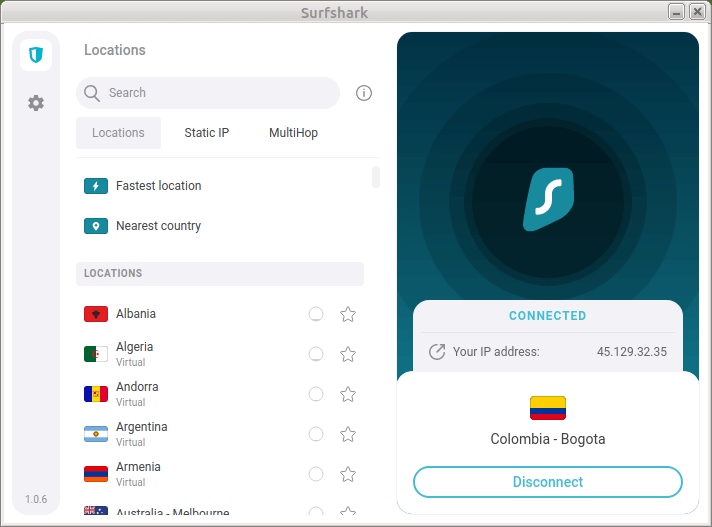 Advanced Surfshark features
Like NordVPN, Surfshark is rich in advanced security and privacy features. They offer a CleanWeb feature to block ads and trackers, double-VPN servers, and Camouflage mode to get around VPN blocks. Surfshark's WhiteLister is a split tunneling control similar to ExpressVPN.
Surfshark is also a great VPN for streaming, with access to 15+ different Netflix libraries, BBC iPlayer, Hulu, Amazon Prime, and more. They even offer a dedicated app if you want to use a VPN with Fire Stick. And unlike many services, which restrict or altogether block torrenting, Surfshark allows torrenting on all of their servers.
WireGuard support
Surfshark also supports the WireGuard VPN protocol on Windows, macOS, iOS, Android, and Linux. With WireGuard enabled, Surfshark is faster than almost all VPNs in speed tests, as you can see in the Surfshark vs ExpressVPN comparison.
Surfshark also offers plenty of value at only $2.30 per month with the coupon below. Add in the fact that Surfshark supports an unlimited number of simultaneous connections, and it's easy to see the value proposition. They also give you 24/7 live chat support along with a 30 day money-back guarantee on all plans.
Note: The Surfshark Linux app does not currently include a kill switch, but it is also in the works. If you want this feature, go with ExpressVPN or NordVPN instead.
+ Pros
GUI for Linux
Unlimited connections
User-friendly apps for all devices and operating systems
CleanWeb feature to block ads, trackers, and malware domains
Works great with Netflix and many other streaming services
24/7 live chat support
Strong encryption and leak protection features
– Cons
Limited support for VPN routers
No kill switch for Linux (currently in development)
Surfshark VPN Coupon:

Get 82% off Surfshark VPN (drops the price down to $2.30 per month) plus 2 months FREE:
(Coupon is applied automatically.)
See our review of Surfshark VPN for more info and test results.
---
ExpressVPN – A secure and reliable Linux VPN service
| | |
| --- | --- |
| VPN | ExpressVPN |
| Based in | British Virgin Islands |
| Logs | No logs (audited) |
| Price | $6.67/mo. |
| Support | 24/7 live chat |
| Refund | 30 days |
| Website | ExpressVPN.com |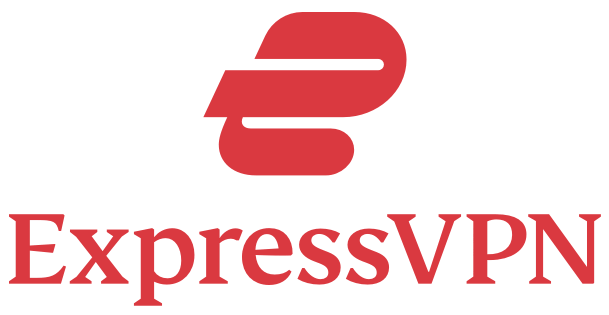 ExpressVPN is another great VPN for Linux you may want to consider. Offering solid performance along with strong strong security and industry-leading access to streaming media services, ExpressVPN continues to impress across the board. It is based in the British Virgin Islands and is an audited no logs VPN.
ExpressVPN's strong default security is built around an AES-256 cipher and a 4096-bit RSA key. Their support for the OpenVPN protocol extends to all their apps, including those for mobile devices. They have also released a self-developed VPN protocol called Lightway, which is similar to NordVPN's NordLynx. And to prevent your personal data from leaking onto the Internet if the VPN connection fails, ExpressVPN apps also have a Network Lock kill switch to secure your traffic.
Third-party security audit
ExpressVPN is one of the few VPN service providers that have successfully completed a third-party audit of their system, which verified their no-logs claims. A few years back, ExpressVPN added even more protection with TrustedServer, a diskless server design, similar to what we find with Surfshark and NordVPN.
Coming back to streaming media, we rate ExpressVPN as one of the best VPNs for Netflix. They give you access to many of the best Netflix regions on the planet.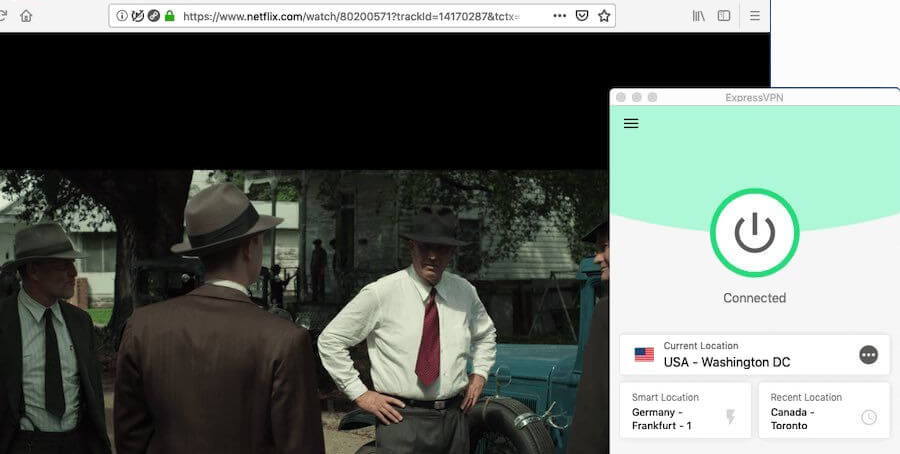 But you won't be limited to Netflix either. ExpressVPN's streaming technology also works with Hulu, Disney Plus, Amazon Prime, and more. They provide 160 server locations in 94 countries that are optimized for streaming a huge variety of content.
There are some drawbacks, however. ExpressVPN does not offer as many features as we see with some of our other top Linux VPNs. It is also above average with prices, but they do offer a coupon for three months free (below).
+ Pros
User-friendly and secure apps
Fast speeds throughout the server network
Split tunneling feature (for Mac OS, Windows, and routers)
Works with Netflix and most streaming services
24/7 live chat support
Passed independent third-party audits for security and no-logs
Very large server network
– Cons
No Linux GUI
Above-average prices
Fewer features than some leading VPNs
ExpressVPN Coupon:

Sign up for the 12-month plan and get 3 months added to your subscription for free.
(Coupon is applied automatically.)
See our ExpressVPN review for more test results and analysis.
---
OVPN – Sophisticated VPN with a native Linux GUI app
OVPN is small, highly-focused VPN company dedicated to protecting your online privacy. The OVPN network offers a small number of highly-secure, high-end VPN servers located in a select few data centers. It is also one of the few VPN providers that has a native Linux version of its desktop client.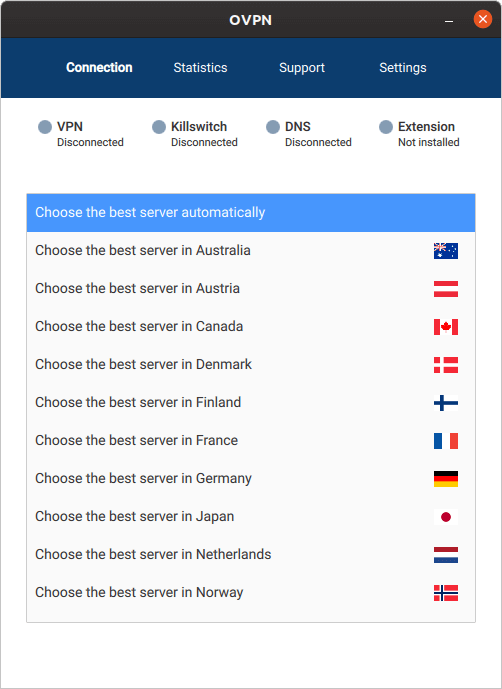 OVPN provides clients for many Linux distros. The desktop client is supported on some of them, while the CLI is supported on others. In some cases both are supported, giving you the option to decide how you want to control your VPN.
With all the possibilities, it is good to see that OVPN has provided installation and configuration options for all the various possibilities.
Designed for maximum user privacy
OVPN is designed to provide maximum user privacy. It is a no logs VPN service, running on diskless servers. The entire system is built on a seven layer cybersecurity model, which addresses everything from the physical security of the server locations to insurance that covers the cost of defending against third-party requests for OVPN user data.
Serious DNS leak protection
OVPN finds any available network adapters on your device and automatically redirects them through the VPN tunnel to the OVPN DNS servers to protect against DNS leaks. It also monitors the DNS settings on every network adapter to ensure that other software doesn't change the DNS servers, while their DNSCrypt support protects against DNS spoofing attacks.
+ Pros
Linux clients for Ubuntu and other Linux distros
Designed for maximum user privacy and security
Strong protection against DNS leaks
Streaming and torrenting supported
Highly configurable
Multiple payment methods
+ Cons
Small number of server locations
Above average prices with a short refund policy
You can learn more about this VPN provider in this full OVPN review.
---
VPN.ac – A good Linux VPN for high security
When VPN.ac describes itself on its website, you learn that the VPN is a service provided by Netsec Interactive Solutions, a Romanian cybersecurity company. Coming from that perspective, it probably isn't surprising that this is a security-focused VPN that uses state-of-the-art encryption algorithms for the best security and speed. This heritage might also explain why they keep no activity logs and their network runs on dedicated bare-metal servers connected to their own self-hosted, encrypted DNS.
SecureProxy split tunneling
VPN.ac also gives you a basic split tunneling capability. By installing their SecureProxy browser extensions to Chrome, Firefox, or Opera, you can do a basic division of traffic. Activate the SecureProxy without activating the VPN itself, and all browser traffic will go through the VPN, while all non-browser traffic will pass outside the encrypted VPN tunnel. In our testing, VPN.ac was solid, with no leaks of any kind.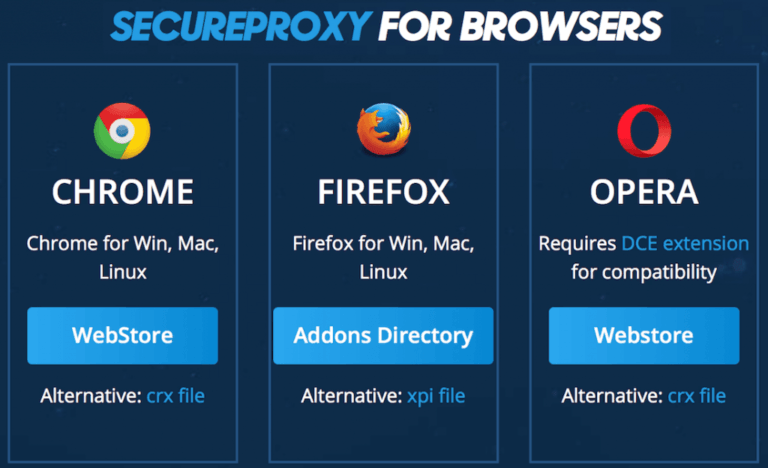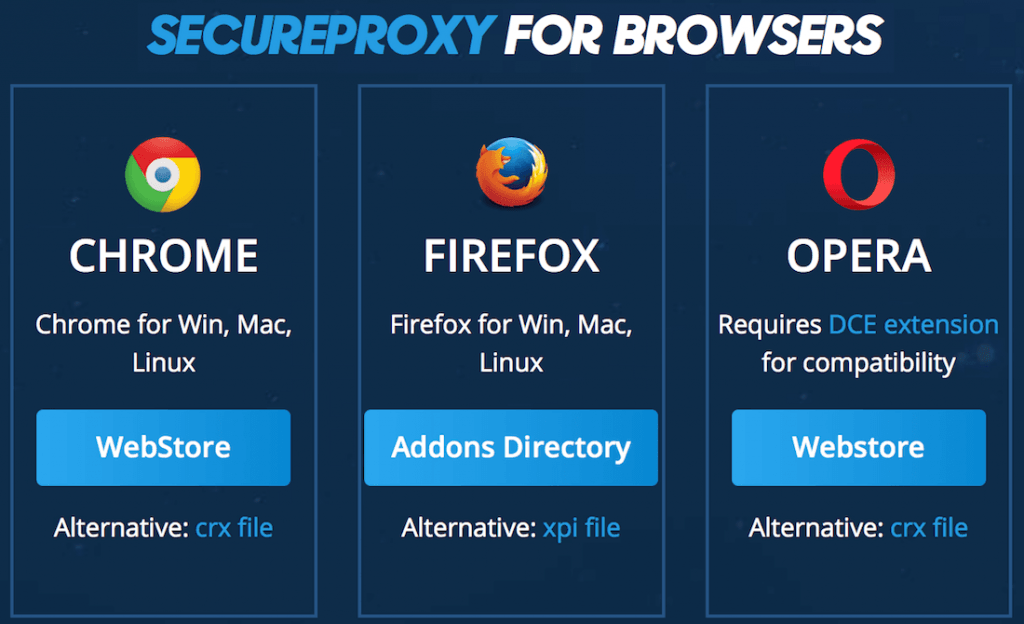 If you decide to give VPN.ac a try you will be venturing a bit deeper into the guts of Linux. That's because VPN.ac's Linux VPN client is still in testing. As of right now, if you want to take advantage of what VPN.ac offers on Linux machines, you'll need to do so using a stand-alone OpenVPN client connected to the VPN.ac network using the Linux Network Manager tool.
If you follow the instructions on the VPN.ac website, you'll end up with a quality VPN running OpenVPN with AES-256 bit encryption and 4096-bit RSA authentication. VPN.ac also supports the WireGuard VPN protocol for even better speeds.
+ Pros
Dedicated bare-metal servers with self-hosted encrypted DNS
Excellent speeds with plenty of available bandwidth
Multi-hop (double VPN) server configurations
Obfuscation features with many different encryption options
Secure proxy browser extensions
WireGuard VPN support
– Cons
No Linux GUI (currently in testing)
Limited support for streaming websites
Fewer features than other leading VPNs
Our VPN.ac review has more test results and info.
---
Do you need a VPN for Linux?
As a Linux user, you are already several steps ahead of the pack when it comes to security and privacy. But you still need a VPN for Linux. Here's why:
You need the protection a Linux VPN service can provide
No matter how secure your Linux distro is, and what additional steps you take to armor your system against viruses and malware, a standard Internet connection offers very little protection against today's threats.
Whether it is your ISP (Internet Service Provider), hackers, foreign spies, or your own government, there is a literal horde of people trying to extract personal information from your Internet connection. Your computer can't protect you against these attacks. Only a VPN can do that.
How a VPN protects you
A VPN (Virtual Private Network) provides both security and privacy for your interactions with the rest of the world. A VPN creates an encrypted connection from your device to its servers. This encrypted connection is called a tunnel. The strong encryption applied by the VPN client gives you security because it makes it impossible for anyone spying on the tunnel to gather any useful information. Unless they can break the encryption, all they will see is gibberish.
A VPN provides privacy by hiding information (your IP address) that could be used to identify your device or your physical location. Only the VPN service knows your real IP address, which is why using a no-logs Linux VPN is so important. Without logs, it becomes impossible for anyone to know where you have gone and what you have been doing while connected to the VPN.
A VPNs ability to replace your IP address with one of its own is key for access to content that would otherwise be inaccessible from your physical location. This is why it is good to use a VPN with servers located in many countries around the world.
Some VPNs also offer ad blocking, such as we see with NordVPN and Private Internet Access. While there are benefits to using a VPN with ad blocking, this feature is usually not supported with Linux.
What can your ISP see if you don't use a VPN for Linux?
Unless you take steps to protect your Internet connection, your ISP or mobile carrier will be able to log every website you visit. This can be disastrous if you live in a country that wants to control what you see and do online. Visiting the wrong website from the wrong country could result in your name showing up on some government list of troublemakers, or even a visit from local authorities.
Note: We have an in-depth report that details how internet service providers are logging everything you do online, and then sharing this data with a network of third parties. The solution of course is to use a VPN whenever you go online.
Why you don't want your ISP to track you
Even if the knowledge of where you go online doesn't result in a threat to your life and liberty, it can still lead to some unpleasant stuff. Many countries require local ISPs to keep records of everything you do online for months or even years. Why? They just want it in case they decide they need that information later. As much of the world descends into a nightmare of surveillance and control, the idea that your past internet activity could be held against you by some future government should scare you.
Every time you are going online, you are being watched. Protect yourself accordingly with a good VPN and other privacy tools.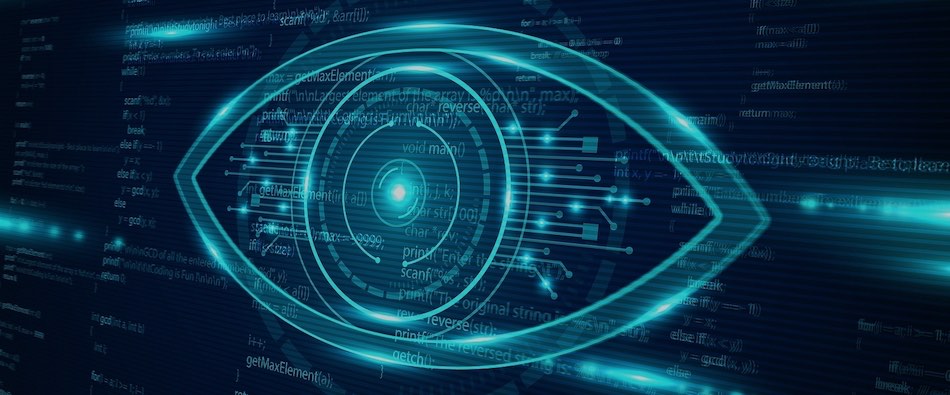 Meanwhile in the USA, Internet Service Providers have the legal right to log whatever data about your online activities they can, then sell it. To whom can they sell it? Apparently to anyone they want, without even asking your permission. How long has this been going on? Legally, since 2017. But it would be no surprise if it has been going on for far longer than that. (We cover these issues more in our guide on the best VPNs for USA.)
They spy on your DNS requests
One way an ISP can find out which sites you visit is by looking at your DNS requests. DNS is the system that translates human-readable Internet addresses (www.RestorePrivacy.com) into computer-readable Internet addresses (IP addresses, which look something like this: 45.79.181.19). When you use a typical ISP, they control your access to DNS. When your device sends a request to the DNS, the ISP logs that address, giving them a complete record of the sites you visit.
All of our recommended Linux VPN services encrypt DNS requests before your ISP can see them. VPNs send these requests to their own DNS servers, completely blocking the ISP from seeing where you go.
Are VPNs for Linux legal?
VPNs are legal most everywhere in the world. Businesses, in particular, rely on them every day to securely interconnect physical locations without the need to build physical infrastructure. Individuals use VPNs to protect online banking and other private activities. Even in repressive countries like China, VPN services are legal for basic privacy (but not to circumvent censorship efforts).
Limits on VPN legality
But you don't have a completely free hand to use a VPN in some parts of the world. Referring to China again, while VPNs are legal there, not all VPNs are legal there. The country has banned VPN services that do not follow the government's extensive censorship guidelines and receive official government approval to operate. See our China VPN guide if this is a concern to you.
Russia also tries to force VPN services to work with their state censors. Our Russia VPN guide has more on this. A few other repressive countries (mostly in the Persian Gulf region) have laws that explicitly ban using a VPN to evade their local censors.
Beyond that, VPNs are safe and legal to use throughout the world, but if in doubt, be sure to double-check your own laws.
Note: We are researchers, not lawyers, so treat this as simply our opinion, not legal advice.
Is it safe to use a VPN for Linux?
The best Linux VPN services are indeed safe to use.
At least that's so for normal circumstances. If your use case involves hacking the NSA or something equally insane, you cannot expect even the best VPN service to protect you.
Tip: See our guide on how to be anonymous online.
Why you should avoid VPNs based in your own country
Using a VPN service based in a different country is a smart move. When it comes to what people are up to online, countries are naturally most interested in the activities of their own citizens. And VPN services are required to obey the laws of the country they are based in. Put those two facts together and you'll understand why you don't want to use a VPN based in your country.
An example of why this is important
Let's say you are a citizen of Country A and the government of Country A wants information about your online activities. If you are using a VPN based in Country A, it will be relatively easy for the government to demand information on you.
If you are using a VPN based in Country B, it becomes much harder for the government of Country A to get the information they want. The VPN is controlled by the laws of Country B. Country A would need to persuade Country B to get the VPN to send over the data.
While getting data about you from a VPN in a different country is certainly possible, it isn't particularly practical, making it safer to use a VPN based in a different country.
How do I set up a VPN for Ubuntu and other Linux distros?
Ubuntu and Ubuntu-based distributions remain the most popular for Linux. Fortunately, it is easy to set up a VPN for Ubuntu. Depending on the VPN you are using, the exact instructions will vary. Due to the popularity of Ubuntu, however, many services give specific instructions for setting up an Ubuntu VPN.
This could be hard
Setting up a VPN for Linux can be harder than setting up one on other operating systems. That's because not all of the top VPNs for Linux have a simple app with a Graphical User Interface (GUI) like you find on their Windows or Android apps. For many Linux VPNs, you are stuck with a bunch of command-line interface (CLI) work in the Linux terminal. The process goes something like this:
Download the VPN's CLI app for your Linux distro.
Find the VPN app file in your Downloads folder and double-click it.
Log into the terminal.
Follow the CLI instructions provided on the VPN's website to install and configure the app.
Activate the VPN using the command-line instructions given on the website.
You will typically need to run a terminal command like, "sudo expressvpn status" to confirm that the VPN is connected and active.
However, if you go with one of our top picks, setup can be relatively simple. And all of our recommended Linux VPNs have setup guides and/or videos.
Linux VPNs for international TV and sports
Geo-blocking is a technique that controls the geographic regions where many international TV and sports streams can be viewed. While those streaming content providers have contractual reasons for geo-blocking their content, you may want or need access to content that you are blocked from in your current location.
Geo-blocking systems use your IP address to decide whether or not to give you access to the content. Part of the function of a VPN is to hide your actual IP address from the world. They do so by substituting the IP address of the VPN server you are using for your actual IP address. In other words, if you are in Berlin, and your connection is to a VPN server in New Jersey, it will look to the world as if you are in the United States instead of Germany.
Now imagine you want to connect to your US Netflix account, but you are currently in Berlin. If you try to connect normally, Netflix will block you. But if you connect to that VPN server in New Jersey, Netflix will think you are in the United States and give you access. Of course you'll still need to have your account so you can log on, but you will have the access you need, and not be blocked because you happen to be somewhere else at the moment. The same concept applies to other streaming services, as well as sporting events.
Another use of the location-shifting ability of your Linux VPN is to watch sports and other content that is not available in your current location. You could connect to a server in the opponent's country and watch the soccer match from the perspective of the visitors instead of your home team. Or you could log into a Mexican server and watch soap operas in Spanish to help you learn the language.
Used creatively, the best VPNs for Linux can turn you into a virtual world traveler, something we can all use during these Coronavirus lockdowns.
Conclusion: Use a good VPN for Linux in 2023
And that's it. We've done the leg work to bring you 5 great VPNs for Linux systems. Choose one and you will elevate your Internet security and privacy to a new level. And with all the news about security issues and hackers exploiting vulnerabilities, this is a wise decision.
However, installing a VPN isn't a trivial decision. You've got the summaries of the five Linux VPNs here, or you can read the respective VPN review for detailed analysis and test results. And don't forget that a VPN does not solve all problems. There are still numerous security threats that continue to plague internet users of all types.
Remember that all of our recommended Linux VPNs offer a money-back guarantee and give you anywhere from 7 to 30 days to evaluate their service, without risk.
We are optimistic that by the time you are done, you will have found a great Linux VPN for your unique needs.
This Linux VPN guide was last updated on May 3, 2023.