VPN.ac doesn't get a lot of attention, but this Romanian VPN provider offers some great features at a reasonable price — and it may be worth your consideration. In this updated VPN.ac review, we put this VPN under a microscope to see how well it compares with the best VPN services in all different categories.
This is a VPN that can compete with the big players, and it remains an affordable option for those on a budget. Let's begin with an overview.
This table highlights the key facts of VPN.ac.
VPN.ac overview
VPN.ac is a Romania-based VPN service with strong encryption, secure apps, and great performance. Their network consists entirely of dedicated bare-metal servers with self-hosted DNS and gigabit bandwidth channels. VPN.ac also provides you with unique encryption protocols, double-hop server configurations, and secure proxy browser extensions.
While VPN.ac earns high marks for the security and usability of its apps, we also uncovered some drawbacks. In particular, VPN.ac does not work with most streaming sites. It also offers fewer advanced privacy features than other leading VPNs.
+ Pros
Dedicated bare-metal servers with self-hosted encrypted DNS
Excellent speeds with plenty of available bandwidth
Multi-hop (double VPN) server configurations
Obfuscation features with many different encryption options
Secure proxy browser extensions
WireGuard VPN support
– Cons
Does not work well for streaming

Fewer features than other leading VPNs

Limited refund window (7 days)
VPN.ac price and refund policy
VPN.ac comes in about average on the pricing scale. The two-year plan will give you the best deal, at about $3.75 per month. This puts VPN.ac about on par with NordVPN, which also offers a discounted two-year rate, as we covered in the NordVPN review.
Below are the current prices from the VPN.ac website.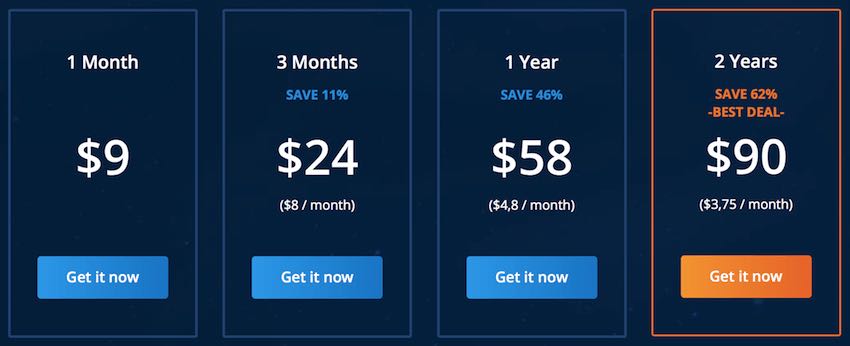 Overall, these prices are not too bad for a premium VPN service with secure applications. However, it's also not the cheapest VPN you will find on the market.
Want to test drive VPN.ac without committing to a long subscription?
Discounted one-week trial – VPN.ac also offers the option to get a discounted one-week trial subscription, which includes all features and full functionality. Simply go to the website and click on the FAQ tab, where you will see a link at the top to the trial plan. There are also other VPNs with a free trial you can consider as well.
Payment options – VPN.ac offers many payment options, including anonymous payment methods, such as Bitcoin and various gift cards:
PayPal
Bitcoin and various altcoins
Credit cards
Alipay
100+ US gift cards
Mobile/SMS options and more…
Refund Policy – VPN.ac provides a 7-day money-back guarantee, which they describe in their FAQ as follows:
Will you refund my order if I am not happy with your service?

Yes, absolutely: if you can't use our VPN service for technical reasons or you are not satisfied with it, we offer a 7-days full refund policy.

However, before asking for a refund, please tell us what's the problem that you are facing. In most cases, we can help and solve it.
The refund policy is clear and contains no hidden exceptions or bandwidth clauses. However, they do want to try and fix your problem/convince you to stay with them before they will give you that refund. In addition, most other VPN services offer a longer refund window. In fact, a 30-day money-back guarantee seems to be the standard among the best VPN services.
Company background and jurisdiction
VPN.ac was created by a team of network security professionals in 2012.
Company background
The VPN.ac team is transparent about the background of the company and their professional qualifications. From their website:
Each individual member of our team has over 14 years of experience in IT security, providing security audit and penetration testing services for both public and private customers, banks and military institutions.

Our experience in pentesting and security audit services is mainly what gives us an edge in keeping our infrastructure secure, because it is often the infrastructure implementation which is the weakest link of a VPN service.

Encryption/data security is something we are very familiar with, as a result of being a local supplier of some of most secure commercial encrypted storage devices, which are compliant with requirements for governmental and military use (FIPS 140-2 Level 3, Common Criteria EAL, NATO InfoSec, etc.)
They also provide the contact details and professional certifications of the parent company, Netsec Interactive Solutions, which is based in Sibiu, Romania.
Jurisdiction
VPN.ac falls under the jurisdiction and laws of Romania. Romania appears to be a solid jurisdiction when it comes to privacy. It is not a member of the 14 Eyes surveillance alliance or a close ally of any major spying regimes.
Being in Romania, VPN.ac is also able to ignore all DMCA complaints and get around copyright issues on its network. VPN.ac is a good option if you need a safe VPN for torrenting.
Private data is also protected in Romania, with data retention being officially declared unconstitutional by the Romania Constitutional Court in 2014.
VPN.ac apps and supported platforms
VPN.ac supports many different devices and platforms. They offer VPN applications (clients) for Windows, macOS, iOS, and Android.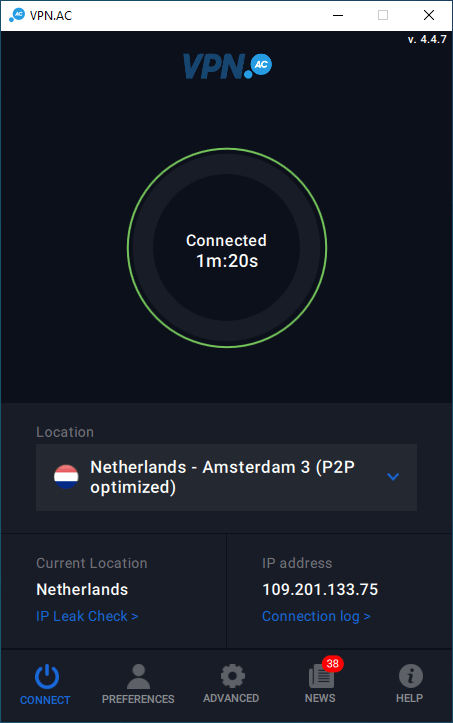 VPN.ac also has a Linux client for Ubuntu-based distributions, but this has not been updated since January 2020. If you need a Linux VPN we recommend you check out the options in our guide on the best VPNs for Linux.)
You can download the latest software directly from the website and also view the installation guides:

We will go into detail on the Windows, macOS, and Android clients below.
Simultaneous connections
VPN.ac allows up to 12 simultaneous connections per subscription. This is well above the 5 or 6 connections that most VPNs support. However, there is a catch. Within that overall limit of 12 simultaneous connections, you can have up to 6 connections that utilize the WireGuard protocol, and a total of 6 connections that use either OpenVPN or IPSec.
Note: There are a few VPNs that allow you an unlimited number of simultaneous connections (and don't put limits on how many connections can use a particular protocol at any one time). Check out our Surfshark review if you want to go that route.
Knowledge base – You can find many detailed guides in the VPN.ac knowledge base dealing with a variety of topics:
OpenVPN, IPSec/L2TP, IKEv2, WireGuard, and PPTP encryption protocols
Router installation guides
Secure proxy and Socks5 proxy setup
Online privacy tips
Troubleshooting guides
WireGuard integration
If you are interested in using a VPN on a router, VPN.ac is a decent choice. You can download the config files for your router in the member's area. Currently, VPN.ac is not integrated with the Vilfo router, but you can easily import the OpenVPN configuration files on this and other models.
VPN.ac encryption options
VPN.ac offers numerous encryption options. This allows you to select the best encryption strength depending on how much privacy and security you are seeking, while also optimizing performance.
The default encryption protocol is OpenVPN ECC (Elliptic Curve Cryptography). This provides a good combination of speed and security. The VPN.ac website further explains their different VPN protocols and encryption options:
PPTP: 128-bit MPPE (keep in mind that the protocol itself is broken so the encryption is pretty much useless per se)
L2TP/IPSec: 256-bit AES and RSA-2048 (with Maximum Strength Encryption enabled in manual setup or with our software)
OpenVPN 128-bit BF: 128-bit BF-CBC for the data channel, RSA 2048 for keys, and SHA1 HMAC (preferably to be used only on devices that do not currently support AES/custom OpenVPN settings, e.g. Synology NAS)
OpenVPN 128-bit AES: 128-bit AES-CBC for the data channel, RSA 4096 for keys, and SHA256 HMAC
OpenVPN 256-bit: 256-bit AES-CBC for the data channel, RSA 4096 for keys, and SHA512 HMAC
OpenVPN ECC: 128-bit AES-CBC for the data channel, Elliptic Curve using curve secp256k1 for keys, and SHA512 HMAC
OpenVPN XOR: 128-bit AES-CBC for the data channel, RSA 4096 for keys, and SHA512 HMAC
VPN.ac also now supports the WireGuard VPN protocol. Unfortunately, WireGuard is not built into the VPN.ac clients. This means that using WireGuard with VPN.ac will take some setup and can be cumbersome. If you want to use WireGuard easily with the VPN apps, we'd recommend going with NordVPN here.
Optimizing VPN.ac performance
Having different encryption options helps you to optimize performance with your VPN. Testing out different VPN protocols, encryption, and ports is a good idea if you are in an area where VPN use is restricted.
Reading through one of the privacy guides on the website, they make an interesting argument for using a 128-bit cipher over a 256-bit cipher with their software:
OpenVPN 256-bit AES is kind of overkill, rather use AES 128-bit. We don't expect anyone to go for AES cracking while there are weaker links in the chain, such as the RSA keys: how are they generated (good or poor entropy, online/offline generation, key storing on servers etc.). Therefore, AES-128 is a very good choice over AES-256 which is mostly used for marketing claims ("bigger is better").
Now we'll examine the obfuscation features.
Obfuscation to defeat network restrictions
VPN.ac offers an excellent lineup of obfuscation features, which allow you to break through network restrictions. This can hide VPN traffic, which may be getting blocked, as standard HTTPS encrypted traffic. Obfuscation usually entails a small performance tradeoff, but this can be minimal.
As a brief reminder, obfuscation features are necessary for countries such as China and Saudi Arabia, which implement censorship and strict network restrictions. We also covered this in our best VPN for UAE guide, which currently includes VPN.ac. Another use case for obfuscation is with work or school networks that block VPNs or implement other restrictions. There are also reports of internet service providers interfering with VPN traffic – another area where obfuscation may help.
Using obfuscation with VPN.ac is ver easy since the service offers different VPN protocols (OpenVPN XOR) and port selection options, as they explain on their site:
OpenVPN XOR is similar to OpenVPN 256-bit in terms of key strength and HMAC as the same are used, it is just the symetric cipher that is different, AES 128-bit being faster and less CPU intensive than AES 256-bit. We recommend to use it only when other OpenVPN types do not work, such as within networks that block other connections than outgoing over ports 80 and 443. Running OpenVPN XOR over port TCP-443 should by-pass most firewalls/web-filtering engines.
Implementing this in the application is very easy, simply select the OpenVPN XOR protocol, then select port TCP-443, and then you can connect to any server you want: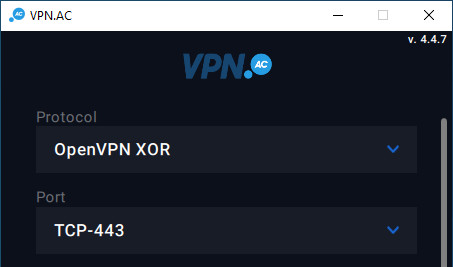 As an extra stealth VPN feature, VPN.ac also provides a lineup of servers that are generally configured for China or other restricted countries. These are labeled in the VPN.ac client as "China Optimized" servers.
Due to these features, VPN.ac is currently one of the best VPNs to use in China – and any other restricted networks.
VPN.ac secure proxy for browsers
VPN.ac provides secure proxy browser extensions for Firefox, Chrome, and Opera browsers. They describe the benefits of the browser extension as follows:
Strong encryption for all browsing activity using TLS (pure HTTPS traffic)
Stealth against Firewall/DPI (deep packet inspection): when inspected using DPI technologies, the connections using the SecureProxy don't trigger alerts the way a classic VPN would usually do
There is no need to tunnel all your PC traffic through the VPN: you can have the browser tunnel the traffic through our servers and all other traffic sent via your regular ISP connection. You can call it "a VPN inside the browser"
This is a great feature for people who don't want to encrypt all traffic on their computer via a VPN but seek a secure solution for browsing with more privacy. We discuss other browser extension options in our "Best VPNs for Chrome" guide.
DNS filtering (ad blocking)
Another great VPN.ac feature worth mentioning is DNS filtering. Like other ad-blocking VPNs, this new feature will filter out lots of bad stuff
Ads
Trackers
Malware and phishing domains
This feature can be accessed in the VPN app's settings area and is called SecureDNS. The feature is available with Windows, Mac, Linux, Android, and iOS apps.
Multi-hop VPN configurations
We've covered the benefits of multi-hop VPNs before. This feature adds a higher level of security and anonymity by putting two encrypted servers between you and the unencrypted internet.
Double-hop – VPN.ac currently offers 30+ double-hop VPN server configurations. This is a great selection when compared to other providers. Here are a few of the double-hop servers available:
Performance – With multi-hop VPN configurations, you can typically expect a performance reduction simply due to increased latency (the distance your traffic must travel).
I tested a transatlantic double-hop configuration from Germany to Canada and got nearly 82 Mbps, which is pretty good.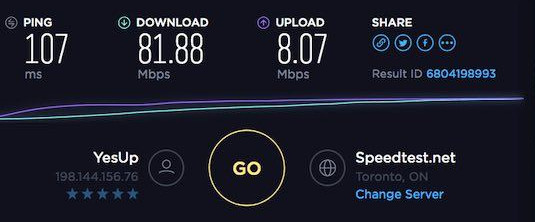 Overall the speeds were excellent throughout the server network. However, in our speed tests for the NordVPN vs ProtonVPN comparison, we also tested double-VPN speeds and found that NordVPN gets around 214 Mbps.
Self-configurable multi-hop – For those seeking a higher level of anonymity, one great option is a self-configurable multi-hop configuration. In other words, the server network and applications allow you to create your own unique multi-hop cascade. Perfect Privacy offers this with their Windows, Linux, and macOS clients.
VPN.ac for Windows
VPN.ac offers a great Windows client that I tested for this review. The VPN.ac Windows client also gives you access to a variety of different settings you can configure directly in the "Advanced" section, with VPN protocol and port selection at the top.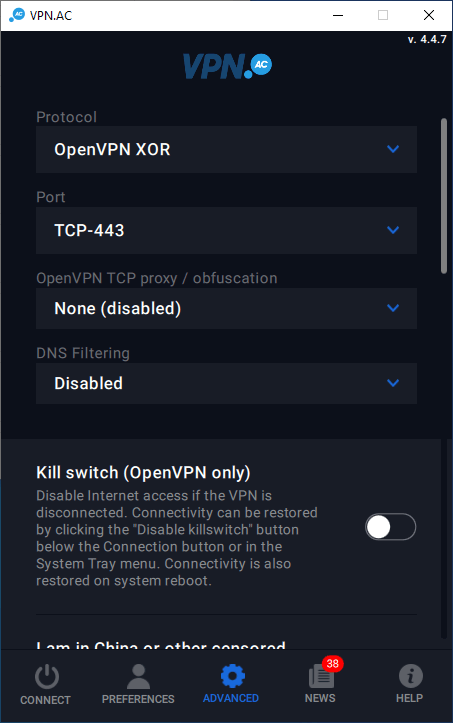 Overall I really like the new and updated client. It has a great layout, works well, and was very reliable in testing. It also gives you the option for light or dark mode.
If you need a VPN for Windows, this is a solid choice. We even rated it as one of the best VPNs for Windows.
VPN.ac for macOS
Just like with the Windows client above, the updated macOS client also worked well. Essentially it has the same layout, preferences, and features as the Microsoft Windows client.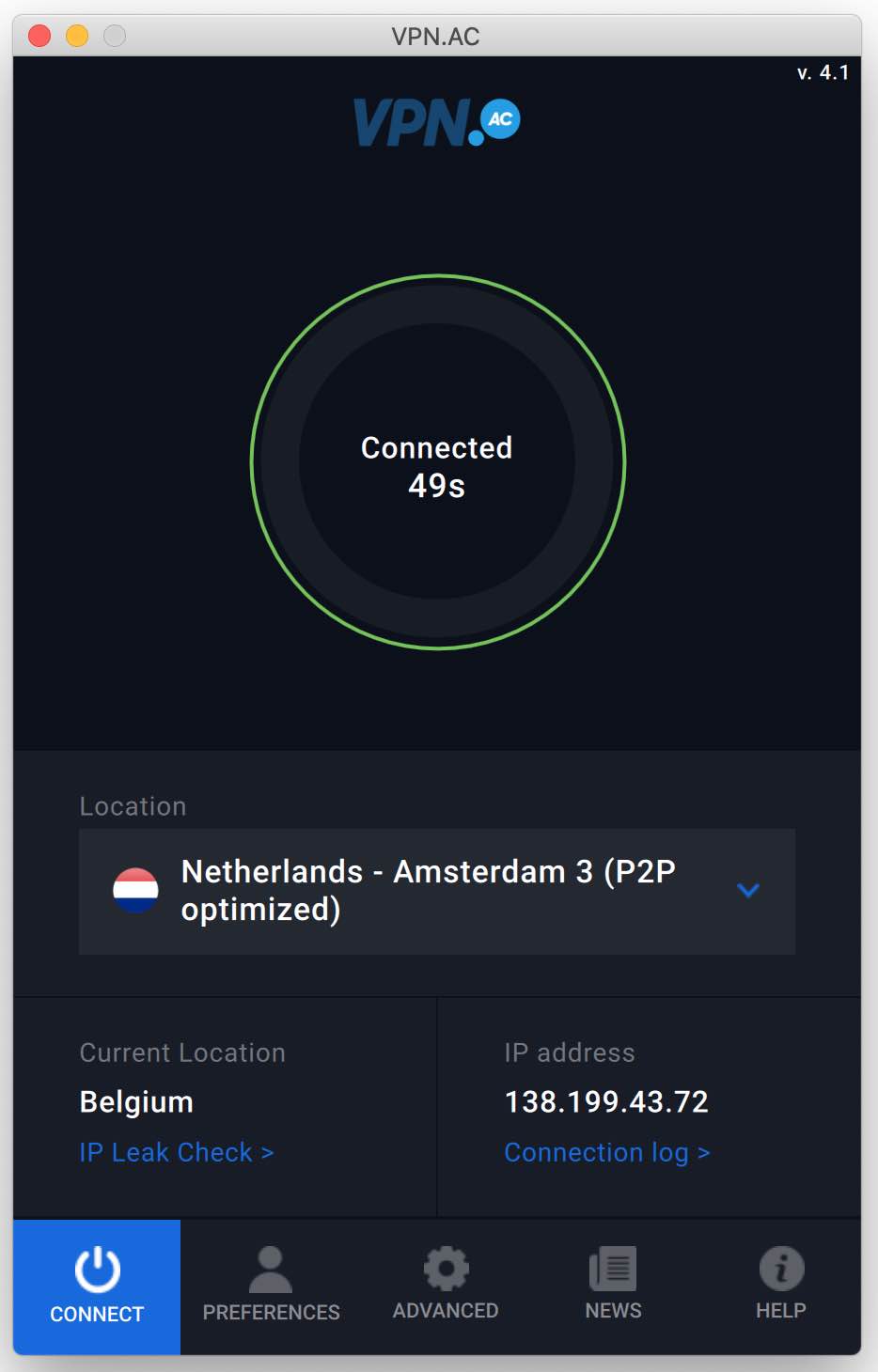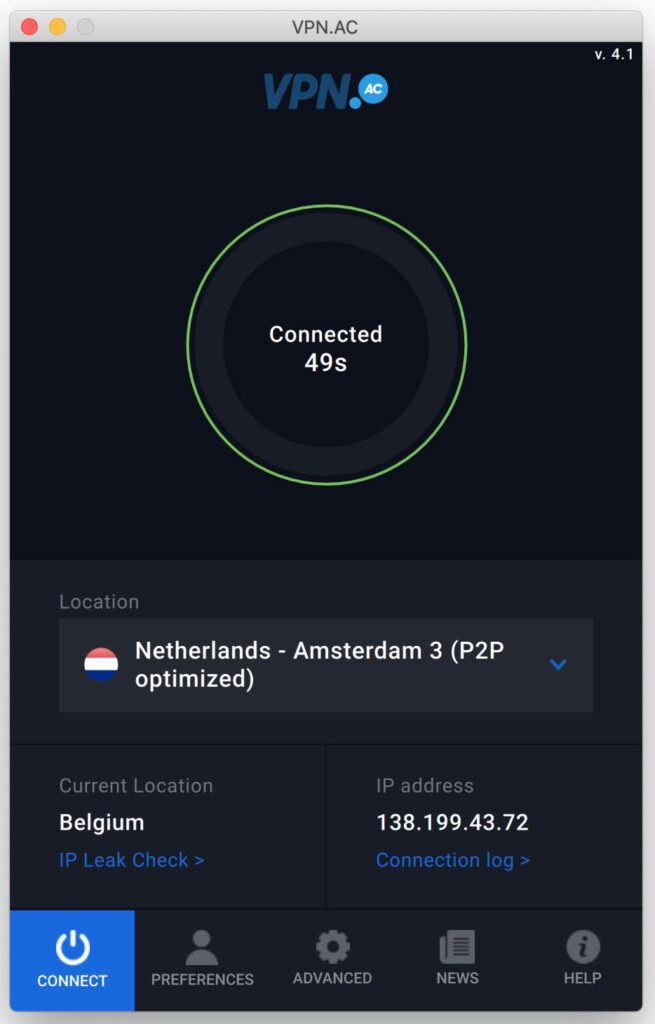 If you are needing a good VPN for Mac, VPN.ac would be on the short list of recommendations.
The VPN.ac macOS client provides all features, including:
Double-hop configurations
Obfuscation
Advanced leak protection and firewall settings (kill switch)
Running numerous tests on a MacBook Air did not identify any issues with the VPN.ac Mac client.
VPN.ac on Android
VPN.ac offers a fully-featured Android client that I also tested for this review.
Here is the VPN.ac Android client: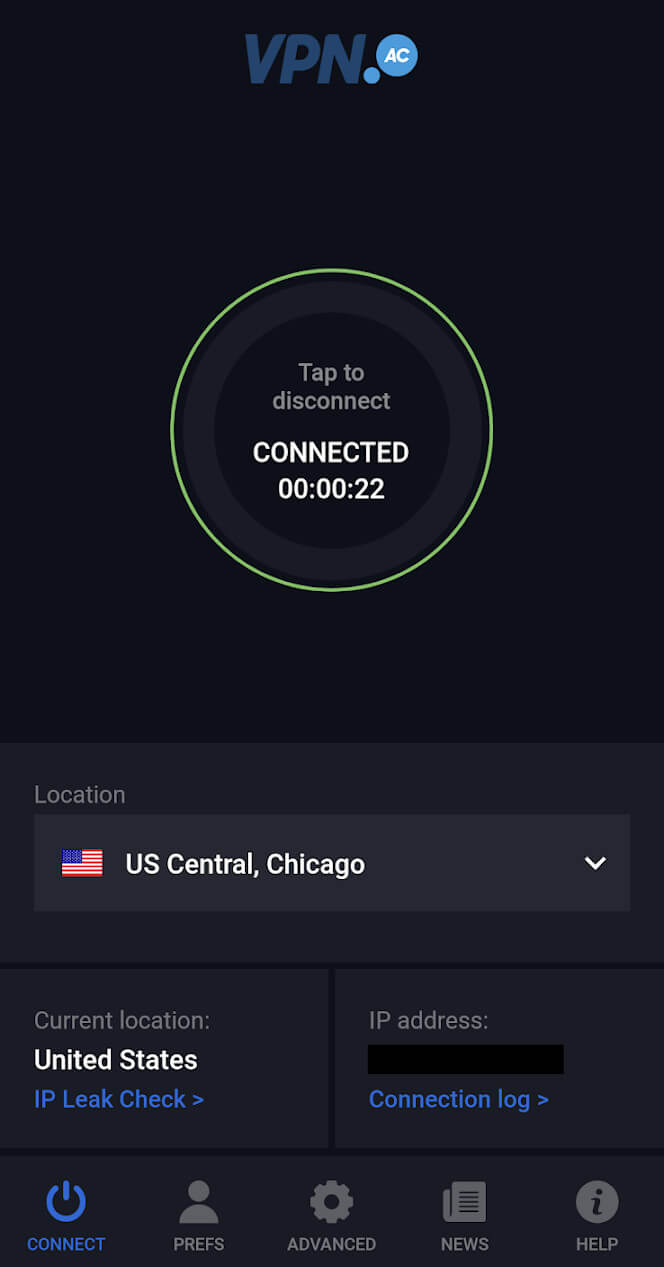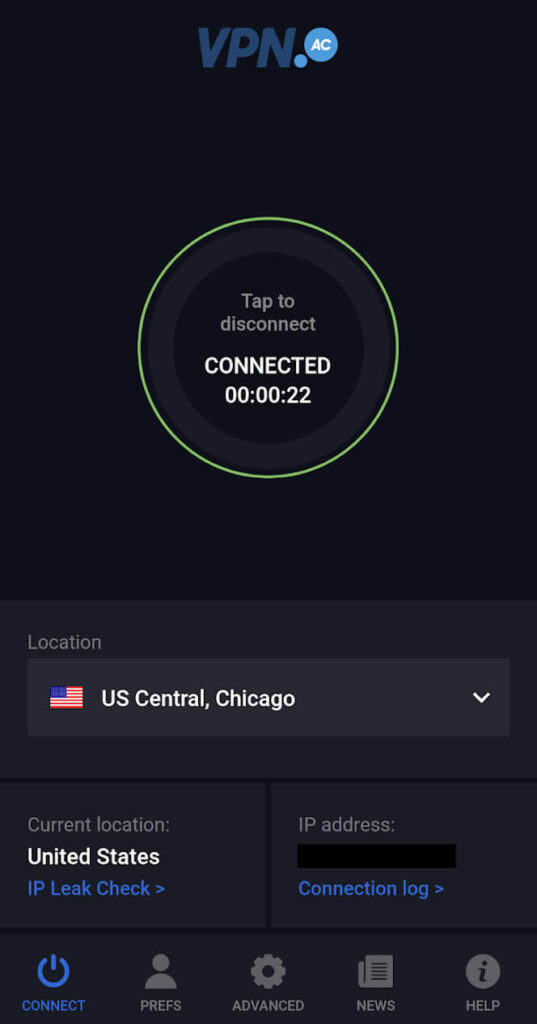 In testing out the Android client for the review everything worked well. I did not notice any bugs, crashes, connection problems, or leaks.
Extensive features for the Android app – While most VPN services offer Android clients that are somewhat limited, VPN.ac's Android client comes fully loaded with lots of great features.
It gives you all encryption options, all double-hop server configurations, and other advanced settings and preferences. It also made our roundup list of the best VPNs for Android, although it does not hold a top position.
VPN.ac on iOS (iPhone and iPad)
VPN.ac also offers a good iOS app that we tested for this review. It utilizes the built-in IKEv2 cipher, which is natively supported on iOS devices. This offers good security, no leaks, and is very stable. Here is the VPN.ac iOS app when tested with an iPhone (the VPN icon at the top confirms an active connection):
You can also confirm the function of the VPN app in the iOS settings. By choosing "Connect on demand" you will get a stable connection where all non-VPN (unencrypted traffic) will be blocked, and all internet will go through the VPN.
Alternative installation – Aside from using the VPN.ac iOS app, you can also manually configure your iOS device to use the IKEv2 config files for various servers. This is an app-free solution.
Does VPN.ac keep connection logs?
Previously, VPN.ac would keep connection logs for 24 hours. However, in 2021, they changed their policy to only keep basic connection logs while the VPN session is active. In other words, VPN.ac keeps no logs of their users, but basic connection logs are generated (and automatically erased) with each VPN session.
Here's the exact explanation of logs from the VPN.AC website:
Do you log/monitor my activity? What logs do you keep on servers?

No, we do not log/monitor any kind of user activity such as visited web-sites, emails, files transferred, instant messages, DNS queries etc.

We do, however, keep some connection logs (to our VPN service) for security and support purposes. These are kept for the time while a session is active and are removed shortly after disconnection.

Keeping these logs also help us in identifying potential attacks against our service, such as brute-force and even some MiTM attack vectors.
Overall this isn't too concerning in my opinion. They are clearly being honest and transparent about their policies, explaining their need for logs, and also how the data is erased automatically when the VPN session ends.
If you find these policies concerning, there are other no-logs VPN services to consider.
VPN.ac server network
VPN.ac's server network is both secure and fast, with a clear emphasis on server quality (dedicated bare-metal servers).
One of the biggest issues affecting speed is the number of people using the VPN server at a given time. Many VPNs oversell their services, resulting in congestion, slow speeds, and dropped connections.
You can see this is not the case with VPN.ac by looking at their server network bandwidth stats in real-time (see Nodes Status at the top of the website). Using and testing VPN.ac over the years, I've always found the bandwidth and performance to be good.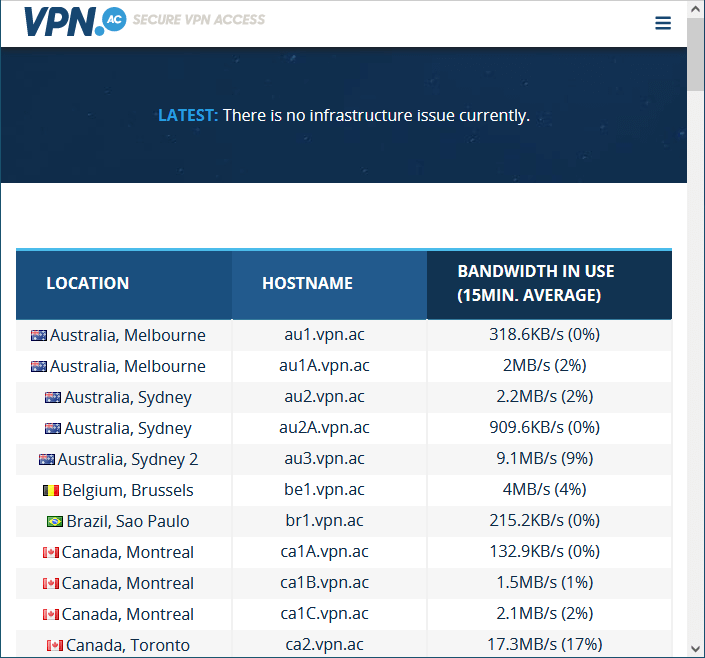 No virtual private servers (VPS) – Another important aspect when examining VPN servers is whether they're using virtual private servers (VPS), or dedicated (bare metal) servers for their VPN nodes. Here is VPN.ac's server explanation:
We use dedicated servers on our VPN nodes, mostly consisting of powerful E3 and E5 Xeons with hardware AES crypto acceleration. Running VPN gateways on VPS/cloud instances is a security risk. Moreover, running VPN nodes on dedicated hardware can be as 10x or even 20x times more expensive than running on virtual servers, hence the reason why we don't advertise 'hundreds' of locations but focus on fewer, where security is done properly and the bandwidth capacity is enough to ensure a fast and reliable service.
No fictitious server locations – I also tested a number of VPN.ac servers to verify their true locations. Every server I tested checked out.
If there is a drawback to the VPN.ac server network, it is size. While VPN services like NordVPN have servers in over 60 countries, VPN.ac has them in only 21 countries (32 if you are using their SecureProxy). If you need access to content in lots of different countries, or in "less-popular" countries, VPN.ac might not be right for you. In such a case, check out their server page to see if the countries you need are listed.
Does VPN.ac work well with Netflix and streaming?
Although they don't advertise it, VPN.ac does work with American Netflix on some servers – but you may need to ask support which servers to use. With that being said, there are other VPNs to use with Netflix that support numerous Netflix regional libraries around the world.
Using VPN.ac with other streaming services
VPN.ac is not the best choice for streaming. Their focus is on security and privacy. It is not a VPN for Disney Plus, BBC iPlayer, Hulu, or other services, simply because it often gets blocked by these websites.
Also, VPN.ac does not offer much support for streaming devices like gaming consoles or TV systems. Meanwhile, leading VPN services like ExpressVPN and NordVPN do support such devices. VPN.ac is also not a VPN for Firestick because it does not have a dedicated app.
VPN.ac speed test results
I ran all speed tests with VPN.ac using a 160 Mbps ethernet connection with the VPN.ac macOS client using the OpenVPN protocol. Overall speed tests were pretty good.
First up was a nearby server in Frankfurt, Germany: 131 Mbps

Definitely not bad, but also not amazing. I ran a few other tests with nearby VPN.ac servers, and the results were consistent.
This is the result for a VPN server in Finland, over 122 Mbps

With nearby servers in Europe, VPN.ac gave me pretty consistent speeds around 120 to 130 Mbps. Not great, but also not horrible.
Long-distance server speed tests
Next, I tested VPN.ac servers in North America. Again, the speeds were decent, but not exceptional.
First up was a server in New York, over 107 Mbps

Not bad, but I've gotten faster speeds with other VPNs.
Next up was a server in Chicago, just under 54 Mbps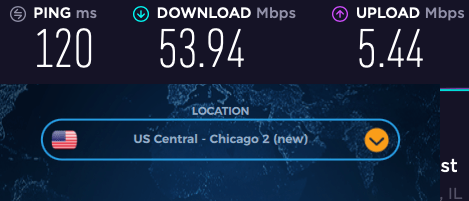 Again, this is not great. VPN.ac lags behind other leading VPNs in the speed category. Other servers I tested in the US and Canada offered similar performance, between 70 and 100 Mbps.
Conclusion on VPN.ac speed and performance
VPN.ac offers consistent speeds, but it's certainly not the fastest VPN we have tested.
If getting the maximum speeds is important for you, I'd recommend going using NordVPN with the WireGuard protocol.
For comparison, below I'm using NordVPN with the WireGuard protocol on a US server and getting about 445 Mbps: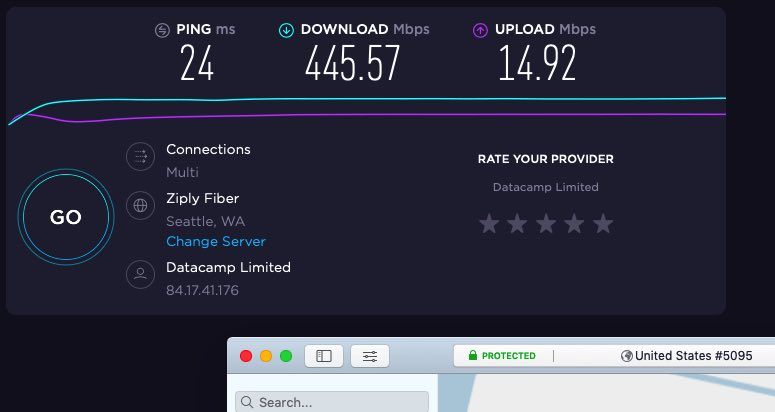 These tests were conducted from our US lab, which has a higher connection speed. Still, you can see a large performance difference.
Learn more about WireGuard with NordVPN here >>
Privacy and security with VPN.ac
I tested the Windows, macOS, and Android clients using the basic VPN test procedures to identify problems or leaks. VPN.ac passed with flying colors.
Below are some tests with a server in Norway. Notice, my DNS requests are being picked up by three different secure servers in VPN.ac's network. The IPv4 address matches the server, IPv6 is blocked, and there are no leaks to be found: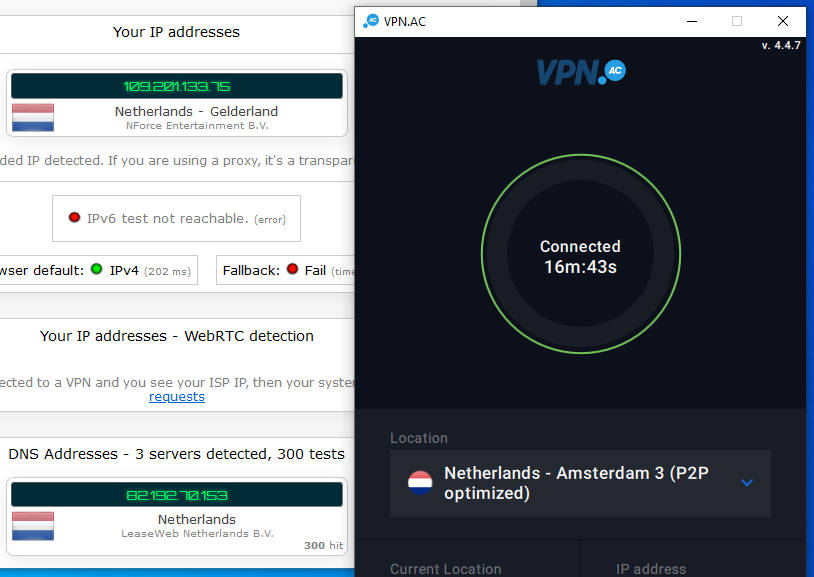 As you can see from these test results, VPN.ac offers high-quality applications that are secure and will protect your privacy.
DNS leak protection
VPN.ac does a great job of ensuring there are no DNS leaks by using their own secure DNS resolvers. From their website:
We protect DNS queries against MitM hijacking and snooping, wiretapping. We have our own, private DNS resolvers outside of US and UK. All DNS queries sent by VPN users are forwarded by our VPN servers to the private resolvers, through encrypted tunnels.

We are using an unique and clever way to overcome this risk [of 3rd party DNS resolver monitoring], by running a query generator service on each DNS resolver. Specifically, We are generating over 10 million DNS queries to existing domains each day. Those queries are generated randomly, at a high rate, and are mixed with the DNS queries of our customers. Basically, we are generating "noise" and it's virtually impossible to match a user's DNS queries within the "flood" of queries sent by us to DNS root servers directly. Therefore, if a 3rd party is ever going to wiretap our DNS resolvers, it will be totally ineffective.
Attention to issues such as server quality and securing DNS queries has a major impact on your privacy and security. Using private DNS resolvers is something that most leading VPNs are now doing, including industry leaders like NordVPN and Surfshark.
Website and support (no live chat support)
The VPN.ac website is informative and straightforward. It includes:
Useful VPN information
Privacy and security tips
Server status page
Detailed setup tutorials for different devices and platforms
Email support
The support team is also top-notch based on all my interactions with them. They do not outsource support and handle all requests internally with their own professional staff. However, there is one drawback: no live chat support is available.

Support is handled through tickets (email) and reply times were fast with all my inquiries (under 24 hours). If you want access to 24/7 live chat support consider some alternatives like NordVPN, as well as ExpressVPN or Surfshark.
VPN.ac FAQ (Frequently-Asked Questions)
Here are some frequently asked questions about VPN.ac:

Is VPN.ac safe?

VPN.ac is safe to use. It is secure and the Romanian government does not impose any data retention or other onerous requirements on VPN services.


Does VPN.ac work for streaming?

Based on our testing, VPN.ac does not work very well for streaming.


Does VPN.ac work for torrenting?

VPN.ac is a good VPN for torrenting. It is secure, and its Romanian jurisdiction is not affected by copyright laws like the DMCA.


Does VPN.ac work in China?

VPN.ac does work for China thanks to their special "China optimized" servers.

VPN.ac Review Conclusion
VPN.ac, a hidden gem in the VPN market, is not widely known, due largely to its minimal marketing efforts. But this is an advanced VPN service, built on a dedicated premium server network, that delivers both security and performance.
Although VPN.ac may not be a household name, this quality service could be a perfect fit for your needs. Click the button below and choose the two-year plan to get a massive discount on the monthly rate. All their subscriptions are backed up by 7-day money-back guarantee. The company also offers a one-week trial for just $2.
Alternatives to VPN.ac
Click the VPN name below to read our full review – or grab the discount for the best savings. All of them offer excellent performance and a 30-day money-back guarantee.
NordVPN review (with a 69% discount coupon)
Our best VPN list has other recommendations. And if you want to see how well VPN.ac stacks up against other VPNs, see our VPN reviews page. Some of our other popular reviews include:
If you have used VPN.ac, feel free to share your honest review (good or bad) below.
This VPN.ac review was last updated on July 8, 2023, with new information.