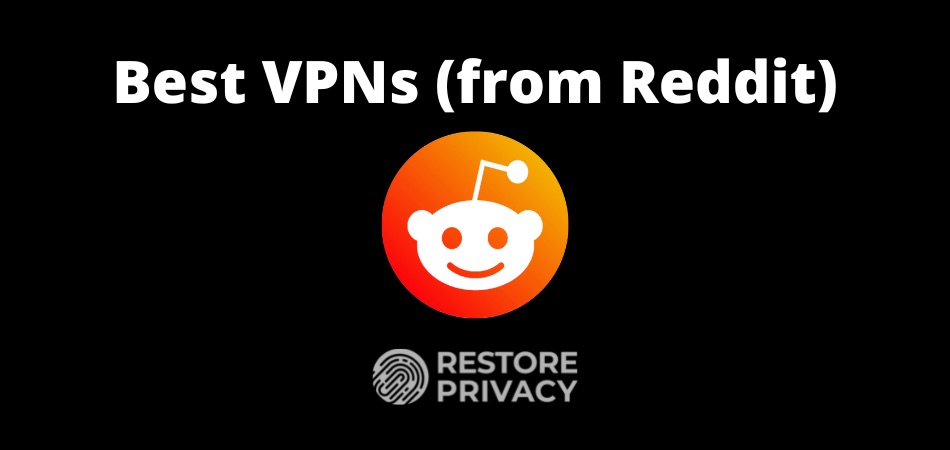 This guide examines the best VPNs according to Reddit users in June 2023. While opinions can vary, there are still some VPNs that remain popular with the Reddit crowd.
Let's face it. We live in confusing times and finding accurate information online can be challenging — especially when the topic is a VPN (virtual private network). While there are some great resources, Reddit remains a popular place when seeking out information from other real users. And that is exactly our focus today: what are the best VPNs according to Reddit?
Before we dive into the details, let's face some facts. Not everyone on Reddit agrees about the best VPN.
When it comes to the best VPN, opinions on Reddit vary!
Reddit is an open communication platform that allows anyone to share their opinions with the world. And just like with politics, opinions with VPN services can vary considerably. In short, the best VPN for Reddit all depends on who you ask.
There is no clear consensus. Different people recommend different VPN services on Reddit — just like any other venue for that matter.
With that being said, there are some clear winners. These are the VPNs that we find frequently recommended by Reddit users. And these are the VPNs that we will be focusing on today.
1. NordVPN – Recommended by many Reddit users in 2023
| | |
| --- | --- |
| VPN | NordVPN |
| Based in | Panama |
| Logs | No logs (audited) |
| Price | $3.29/mo. |
| Support | 24/7 live chat |
| Refund | 30 days |
| Website | NordVPN.com |
It's no secret that we at RestorePrivacy like and personally use NordVPN. But this article is not about us, it's about what real Reddit users think is the best VPN service right now.
Overall, NordVPN gets recommended by many Reddit users and is probably the most highly-visible VPN we find on our list today. This VPN has many features going for it. It's a no logs VPN based in the privacy-friendly jurisdiction of Panama and also works great for streaming. Couple that with the fact that it offers excellent apps for all types of devices, and you have a winning recipe.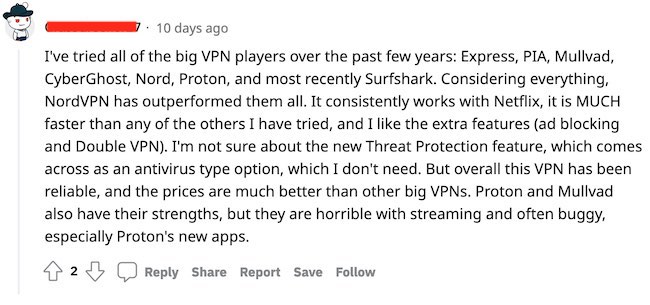 Combing through Reddit, I have seen some criticisms of NordVPN. These often stem from the fact that the VPN utilizes advertising and other promotional means to reach a wider audience and acquire customers. However, in a competitive market such as the VPN world, customer acquisition is crucial if you want to survive.
Based on comments I have seen on Reddit, NordVPN typically performs well as a VPN for Netflix and streaming. It is also a VPN that works with BBC iPlayer, as we have also verified in our own tests.
Below is the NordVPN app we tested out on a Windows laptop. It performed well in all VPN tests for the review.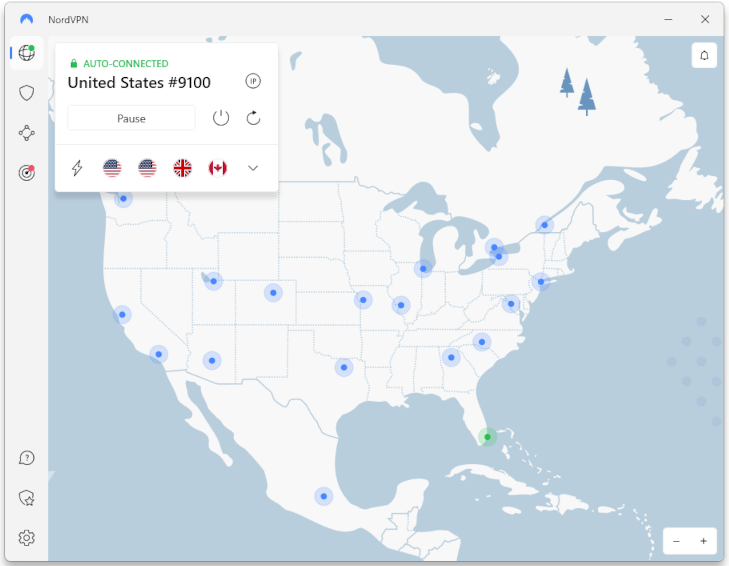 We have a NordVPN review where we dive deep into test results and analysis if you want more info. Here are the pros and cons of NordVPN that we identified in the review.
+ Pros
User-friendly and reliable apps
Double-VPN and Tor-over-VPN servers
No logs (audited twice)
Strong encryption standards with full support for WireGuard
Works with Netflix and many other streaming services
Threat Protection feature to block ads, trackers, and malware domains
24/7 live chat support
Dedicated RAM-servers with 10 Gbps bandwidth channels
– Cons
Big discounts only available with long-term subscriptions
And to get the best savings, use the coupon below.
NordVPN's Cyber Deal is live:

Get 63% Off NordVPN plus an additional 3 months FREE:
(Coupon is applied automatically.)
---
2. OVPN – A Swedish VPN recommended by Reddit
Next up on our list is OVPN, a rising VPN that operates from Sweden. This VPN is not as well-known as others, but we're noticing that many people are recommending it lately on Reddit. That's because OVPN delivers a very polished VPN for many different types of use cases, from streaming to general privacy and security.
Here was one recent review of OVPN that highlights why some consider it the best VPN discussed on Reddit.
We concur with the sentiment in the Reddit VPN post above. If you need the best VPN for torrenting, you'll want one that is fast and also secure.
In terms of streaming, OVPN is also catching up to the competition. We've seen reports that it is now working with Netflix and some other streaming services. However, there are some people who report it's not working well with some streaming services. So once again, the VPN reviews on Reddit can vary depending on who you ask.
Check out our OVPN review here for test results and analysis.
+ Pros
Designed for maximum user privacy and security
Dedicated apps for Windows, Mac OS, Linux, Android, iOS, and support for other devices
No IP address or DNS leaks detected
Support for streaming and torrenting
Lots of configuration options
Monthly transparency reports
Multiple payment methods including anonymous payments
– Cons
Small server network with few locations
Above average prices
---
3. Surfshark VPN – An affordable and reliable VPN (based on Reddit)
| | |
| --- | --- |
| VPN | Surfshark |
| Based in | The Netherlands |
| Logs | No logs |
| Price | $2.30/mo. |
| Support | 24/7 live chat |
| Refund | 30 days |
| Website | Surfshark.com |
Now we are going to take a look at Surfshark VPN. This is another VPN that is popular with the Reddit crowd. And while it may not be the top VPN according to every Reddit user, this service is still getting lots of good attention.
One of the best things going for Surfshark is that it's a great value. For one, Surfshark gives you unlimited connections with your subscriptions (most VPNs limit you to around six simultaneous connections). Second, Surfshark is loaded with premium VPN features. It offers an ad blocking VPN feature, as well as double VPN servers, WireGuard, and full access to streaming services.
Many people on Reddit are recommending Surfshark as the best VPN for streaming, as you can see below:

Here another satisfied user of Surfshark VPN on Reddit:

Like these users discussing Surfshark VPN, we have also found it to work well with numerous streaming services in our own tests. It is a great VPN for Amazon Prime, Netflix, Hulu, BBC iPlayer, and more. Surfshark also has excellent apps for all types of devices, including streaming devices. For example, they offer a dedicated app if you need a VPN for Firestick or Fire TV.
We have a full Surfshark VPN review if you want more details and analysis.
+ Pros
Unlimited connections
User-friendly apps for all devices and operating systems
CleanWeb feature to block ads, trackers, and malware
Works great with Netflix and many other streaming services
24/7 live chat support
Strong encryption and security features (audited)
– Cons
Limited support for VPN routers
Average OpenVPN speeds (use WireGuard)
---
4. Mullvad – Great VPN according to Reddit (but not for streaming)
Mullvad is another VPN out of Sweden that is a popular VPN on Reddit. While it may not be as widely recognizable like ExpressVPN and NordVPN, it remains a popular VPN recommendation on Reddit — but like everything, it has both pros and cons. So let's take a closer look.
For starters, Mullvad is an excellent, privacy-focused VPN service with a great track record. This was one of the first providers to fully support the WireGuard VPN protocol. Based on everything we have seen, this gives Mullvad excellent performance and fast speeds. It is also a no logs VPN and has not suffered from any kind of data security scandal since its inception.
While many privacy and security enthusiasts on Reddit recommend Mullvad, it is also known to have problems with streaming.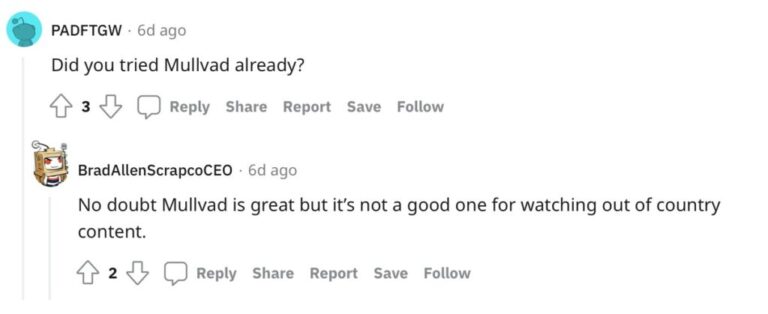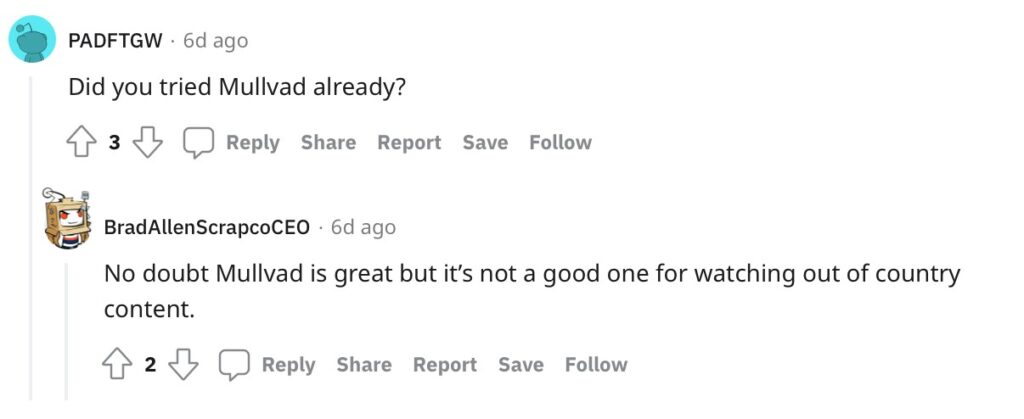 Despite some of these drawbacks with streaming, Mullvad is recommended by as the top VPN by many people on Reddit. In terms of price, Mullvad is above average at €5 per month (about $5 per month) with no discounts for long-term subscriptions (definitely not a cheap VPN).
As we noted in the beginning of this article, opinions on Reddit can really vary when it comes to VPNs — or anything else for that matter. And while many people on Reddit recommend Mullvad as one of the best VPNs, it's still not a great choice for everyone.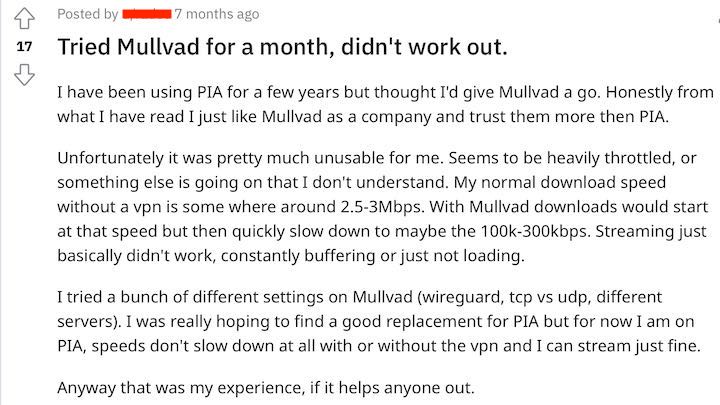 As we noted in the beginning of this Reddit VPN guide, different people will recommend different VPN solutions. While Mullvad remains one of the most popular VPNs on Reddit, it's not a perfect fit for everyone. Nonetheless, if you want a secure, privacy-focused VPN that fully supports WireGuard, Mullvad is worth considering, even if it's not as popular as NordVPN and Surfshark.
M
+ Pros
Reputable, privacy-focused VPN
Apps for Windows, Mac OS, Linux, Android, and iOS
Anonymous payment options
Good track record
– Cons
Does not work well with streaming

Above average prices

Users report issues with speeds
---
5. TorGuard – Reputable VPN service with a good track record
TorGuard is another great VPN service that we often see recommended by users on Reddit. It is different from the other recommended Reddit VPNs in that it is based in the United States. The US is not a great privacy jurisdiction and is a member of the Five Eyes surveillance alliance. Over the years we have seen various privacy-focused business that have been forced to log user data based on government requests.
TorGuard is also popular if you need a VPN for torrenting. However, a court case based on a copyright claim has forced TorGuard to block all torrenting on its US servers indefinitely. We have seen similar court cases affect other US-based VPN services. We discussed the situation more in our NordVPN vs TorGuard guide.
In terms of Reddit VPN recommendations, TorGuard continues to be one of the top VPN choices, despite some of the drawbacks we noted earlier. It has a popular following on Reddit and other online forums.

The Reddit post above mentions having success with TorGuard's "streaming IP" option. This may be a good solution if you need a VPN for streaming — but it comes with a price. For one, the streaming IP option will be an extra $7.99 per month. This is a very steep price to pay on top of your existing VPN subscription.

Some Reddit users also report that TorGuards streaming IPs do not always work. This seems to be a recurring issue with people who want a VPN for Netflix and streaming content from overseas locations, such as Japan.

Indeed, streaming with a VPN can always be hit or miss. As the Reddit user above describes, IP addresses are frequently getting blocked by various streaming services. Some people purchase a VPN with a dedicated IP, but this may or may not work for streaming. There are many factors to consider.
If you are considering going with TorGuard, you can read their privacy policy here, as you may be concerned with the US jurisdiction and privacy issues. Here are the Pros and Cons we found in testing out everything for the TorGuard review.
+ Pros
Strong encryption and secure VPN protocols
3,000+ servers in 50+ countries
Support for Windows, Mac OS, Linux, Android, iOS, browsers, and routers
No IP address or DNS leaks detected
Multiple payment methods including Bitcoin
Pre-flashed VPN routers available
Additional features to customize your experience
– Cons
Buggy/clunky VPN apps
Slow speeds
Privacy concerns (US jurisdiction)
Limited streaming support, unless you pay extra for "Streaming Bundle"
Limited refund window with many exceptions
---
Now that we have covered the top VPN services according to different users on Reddit, let's cover some popular topics involving Reddit and VPN services.
Should you really trust the opinion of random strangers on Reddit when it comes to choosing the best VPN?
Many people who set out to find the best VPN based on reviews online come away confused. The reason for this is that there is a lot of conflicting advice online. Making matters worse, we have even wrote about how some VPNs also own review websites that rank their own products above others. This, of course, is a conflict of interest that can leave people doubting anything they read online.
Enter the world of Reddit VPN recommendations. On the one hand, Reddit generally appears to be a place where you can find authentic reviews from real people. We noted some of those in our guide above.
However, there is a problem. Reddit users are anonymous. This means that anyone can post nonsense on Reddit and there is no verification or quality control mechanism, aside from other Reddit users downvoting posts and comments. That's about it.
There is also the question of bots. The issue has surfaced recently with other social media platforms, such as Twitter. The fact is, bots are made to comment and interact with other users. How do you know whether you are interacting with a real human or a bot? Well, on Reddit, bots are oftentimes marked as bots. However, there are also probably users that appear real, but are actually just bots.
So ultimately, you need to proceed with caution when trying to find the best VPN based on user opinions on Reddit. Opinions can vary and there is very little you can do to verify the authenticity of any comment or post.
What is the best free VPN according to Reddit?
The consensus around using a free VPN on Reddit is not good — and we here at RestorePrivacy would agree.
While there are a select few limited of these VPNs that are reputable and safe, such as with Atlas VPN and PrivadoVPN, most other "unlimited free VPNs" should be avoided. Both Atlas VPN and PrivadoVPN use the freemium business model, which is different from unlimited free VPNs.
The reason for this is simple. Running a VPN service is not free. There are regular recurring costs with renting servers, developing apps, updates, customer service, and more. So how does the company pay for their VPN if they don't charge users for it?
This Reddit user understands the business model of free VPN providers, which profit by collecting and selling user data to third parties.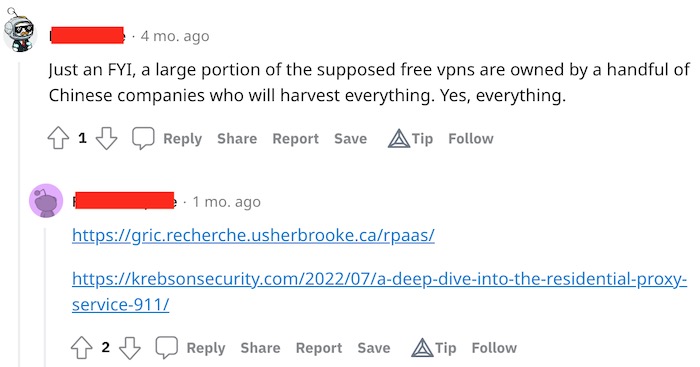 Indeed, trusting a random VPN (free or paid) to handle all of your internet traffic and private data is risky business. One study even found that over 80% of the apps from these no-cost VPNs leak user data. Additionally, around 40% also contained malware. The same can be said about Chrome VPN extensions that are 100% free.
Are there exceptions to the free VPN rule?
Yes, there are a few exceptions. These exceptions are the VPN providers that offer freemium pricing. In other words, these VPNs offer a limited/restricted free version, as well as full paid versions that have more features. We see the same freemium pricing model with other apps and services, and this is generally safe.
Reddit VPN FAQs
Is a VPN worth it according to Reddit?
In today's world, where internet service providers can record everything you do and sell it to advertisers, a VPN is certainly worth it for basic online privacy. And even if you do not value online privacy and you don't mind your data being collected and sold to the highest bidder, a VPN still has some serious advantages.

A VPN will allow you to unblock content from around the world. This is useful if you are looking to change Netflix regions or access streaming content from other countries or locales. Additionally, a VPN is crucial if you enjoy torrenting or file-sharing to protect yourself online.


What is the most trustworthy VPN?
The answer to this question really depends on who you ask and what factors you consider to contribute to trust. Ultimately, we are looking for a VPN that has a good track record, does not log user data, is based in a safe jurisdiction, and offers secure and reliable apps. The top three VPNs recommend above all meet that criteria. Once again, however, trust is difficult to define and all comes down to your own opinion


Can a VPN be hacked?
Yes, a VPN that does not use secure protocols, apps, and infrastructure can be hacked and exploited by different third parties. In some cases, governments can simply go and retrieve an unsecured server, thereby hacking the VPN and getting access to user data. However, if a VPN is using strong encryption and secure infrastructure, there is very little risk that it can be hacked. This is why you want to use a good VPN with a strong track record.


What is the most trusted VPN?
With VPNs, trust can be very slow to be established, and lost in a short amount of time. Many VPNs bolster trust by undergoing third-party audits. One example of this is with NordVPN undergoing a security audit that examined its infrastructure and apps. NordVPN has also undergone three separate audits to verify its no-logs status. Due to the numerous third-party audits and NordVPN's leading status in the VPN marketplace, it is arguably the most trusted VPN today.
Conclusion on the best VPNs based on Reddit in 2023
We started out this Reddit VPN guide by telling you that opinions on Reddit can really vary, especially when it comes to finding the best VPN.
That simple statement also holds true for the internet in general where you can find all types of different opinions on matters, topics, news, current events, and more.
So let's conclude this Reddit VPN guide with some basic advice. A VPN is an important and useful tool that everyone should be using today — but you can't choose just any VPN. It's good to do your own research and go with a trusted provider.
If you are tight on money, there are some cheap VPNs that you can consider. These VPNs will be under $4 per month. And with most things continuing to increase in price, who doesn't want to save some money, right? There are also some good VPN coupons you might want to consider.
Finally, once you settle on a VPN, you will want to test it out to make sure it meets your needs. We have a VPN test guide that can help you with this. And it's always good to regularly test your VPN to make sure it isn't leaking or malfunctioning in any way.
That's all for now — stay safe and secure online.
This best VPN Reddit guide was last updated on June 1, 2023.