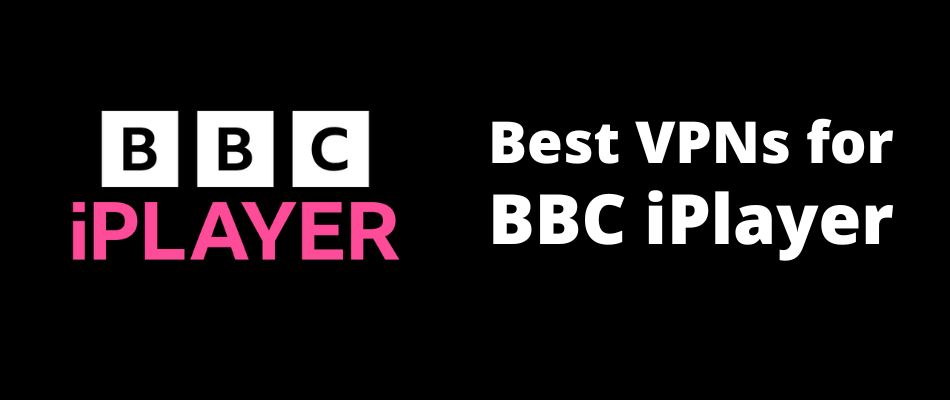 The UK's BBC (British Broadcasting Company) is known around the world for the quality of its programming. They provide a large selection of content, completely free of charge to those in the UK. Fortunately, you can use a VPN for BBC iPlayer to get quick and easy access.
Like so many other streaming websites in today's world, access to BBC iPlayer content is geo-blocked. BBC iPlayer uses geo-blocking technology to ensure that their content is only available to viewers located in the UK, or those with a UK IP address (wherever you are located). Fortunately, you can get access to geo-blocked iPlayer content, without having to physically travel to the UK with a good VPN service.
UPDATE: Our latest tests show that most VPNs are blocked by BBC iPlayer and will simply not work (see specific examples further below). Even some industry veterans are not working well with BBC iPlayer at this time. Therefore we are only recommending these three VPNs that still work for accessing BBC iPlayer based on our latest tests:
NordVPN – This is the best VPN that consistently unblocks BBC iPlayer from anywhere, with extremely fast speeds and premium streaming apps for all devices. 63% off coupon here >
Surfshark – Surfshark is a budget-friendly VPN service with good apps and fast speeds that consistently works with BBC iPlayer.
ExpressVPN – This VPN is fast and reliable VPN for accessing BBC iPlayer, but it is also a bit more expensive.
When you use one of these three VPNs, you will be able to virtually appear to be in the UK, even when you are on another continent. This gets you around the BBC geo-blocking and gives you instant access to the service. We'll explain this more in our FAQ section below.
Here are the topics we'll cover in this guide:
The best VPNs for BBC iPlayer
VPNs that do NOT work well for BBC iPlayer
BBC iPlayer VPN FAQs (Frequently Asked Questions)
Conclusion and discounts
Note: While iPlayer content is available to people who are (or appear to be) in the UK, since late 2016, users must also have a UK television license and be able to enter a valid postcode to get full access to the streaming media on the site. But as of right now, there is no verification process for having a UK television license, and you can enter any UK postal code to get instant access.
Ranking the best VPNs for BBC iPlayer
Here are the criteria to join our list of the best VPNs for accessing BBC iPlayer, wherever you are located:
The ability to evade BBC iPlayer geo-blocking (and not get blocked).
Connection speeds sufficient for HD video streaming.
A large network of fast, reliable VPN servers with many locations in the UK.
Apps for computers, mobile devices, and other systems so you can access BBC iPlayer content wherever is convenient for you.
Consistent, reliable performance across all supported devices and all the VPN servers in the network.
24/7 technical support to quickly help you with any VPN or streaming issues.
Extra credit if the VPN can get around the geo-blocking on other top streaming services such as Netflix and Amazon Prime Video.
Using the criteria listed above, here are the best VPNs for BBC iPlayer:
NordVPN – Best VPN for BBC iPlayer in 2023
| | |
| --- | --- |
| VPN | NordVPN |
| Based in | Panama |
| Logs | No logs (audited) |
| Price | $3.29/mo. |
| Support | 24/7 live chat |
| Refund | 30 days |
| Website | NordVPN.com |
NordVPN is currently one of the best VPNs on the market and a solid choice when it comes to defeating the BBC iPlayer geo-block. This may have something to do with the fact that NordVPN has over 400 servers in the UK, meaning you have many server options for breaking past any obstacle BBC iPlayer puts in your way. All in all, NordVPN runs an enormous network of 5,500 fast VPN servers, strategically located in 60 countries.
Is the NordVPN network fast enough to stream HD video? Without a doubt. This is the fastest VPN network we have ever tested. In one of our recent speed tests for the NordVPN vs PIA comparison, we saw a download speed of 445 Mbps on our 500 Mbps internet connection. That's more than enough speed for streaming, torrenting, gaming, videoconferencing or pretty much anything you might want to do.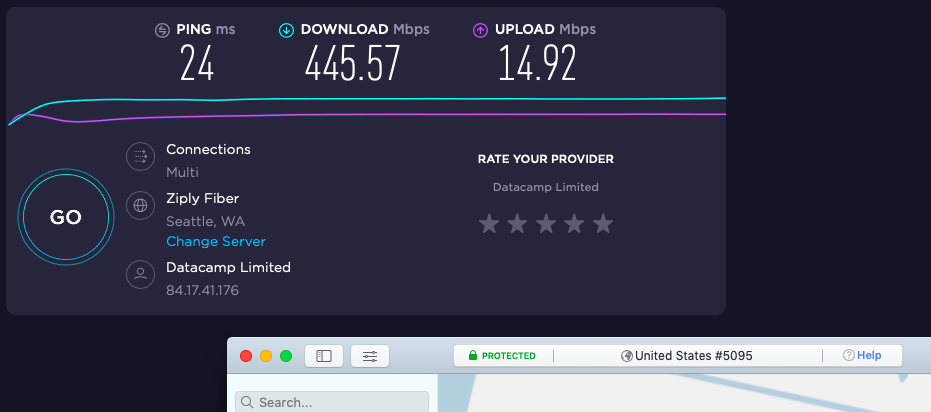 This level of performance is great if you need a fast VPN for torrenting, or any other high-bandwidth activities.
NordVPN has a big edge with network performance over the competition. They offer the NordLynx protocol in all of their VPN clients. NordLynx is a custom implementation of the highly-regarded, highly-secure, and high-speed WireGuard VPN protocol. NordVPN's network is entirely composed of RAM-disk servers (no hard drives), which ensures no logs can ever be stored on the server. Lastly, they are now deploying self-owned (colocated) servers in all locations. These will replace all rental servers, which is what most other VPNs still use.
NordVPN also has apps for specialty streaming devices. It is a great VPN for Firestick with a dedicated app in the Amazon Store. NordVPN also works well with Smart TVs, gaming consoles, and all other standard apps, including Windows, Mac OS, Linux, Android, iOS, plus Chrome and Firefox browser extensions. Below I am using NordVPN to watch BBC iPlayer with a UK server: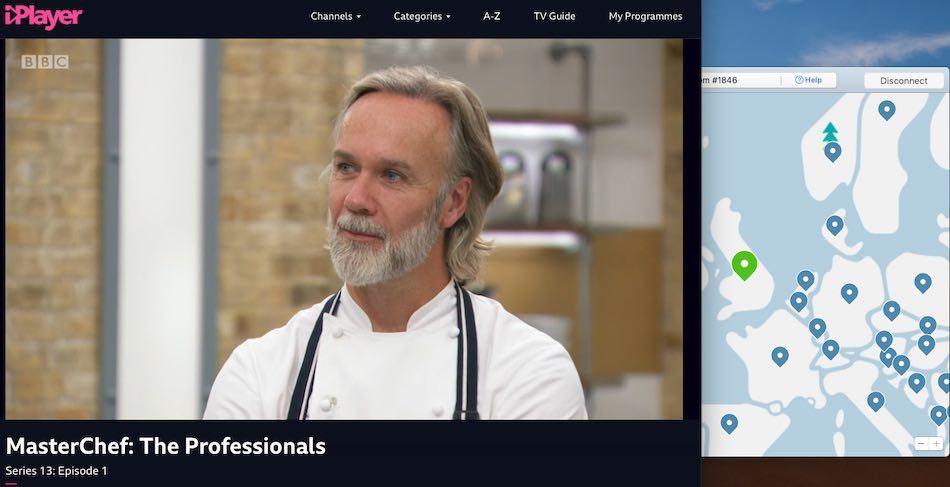 Beyond all that, NordVPN is one of the VPN services we like best. They are a no-logs service based in Panama, which is a great jurisdiction for privacy with no data retention issues. The server network and security have been audited by Versprite. Additionally, NordVPN has passed a no-logs audit that was conducted by PWC AG, which has now audited both NordVPN and ExpressVPN.
While we are on the subject of privacy and security, you should know that NordVPN offers some of the most advanced VPN capabilities, including:
CyberSec – A feature that blocks ads and trackers, while also protecting you from domains known for hosting malware or phishing scams.
Double-VPN servers – Encrypt your internet traffic twice by passing it through two NordVPN servers one after the other, providing perhaps the tightest security in the VPN industry.
Tor-over-VPN servers – Send your encrypted NordVPN traffic through the Tor network to make it extra difficult to track your online activities.
Obfuscated servers – Make your VPN traffic look like boring old HTTPS encrypted traffic so snoops or censors won't even know you are using a VPN. And don't worry, your traffic remains encrypted, it is simply packaged to look innocuous and conceal the VPN. This feature can come in handy if you need VPN for UAE, China, or other repressive countries.
While NordVPN is reliable and easy to use, it is comforting to know that their Customer Support department gives you 24/7 live chat support. This is exactly what you want when you need to get logged into BBC iPlayer right now, or if you have some sort of technical issue you need help with.
If you like what you are reading about NordVPN, you can test the check out of the service without risk thanks to their 30 day money-back guarantee.
Additional streaming services unblocked: Beyond BBC iPlayer, NordVPN unblocks Netflix (US, UK, Canada, France, Germany, Netherlands, Spain, Japan, Australia, India, Italy, and possibly other regions), Amazon Prime, Hulu, HBO, and many more.
+ Pros
User-friendly and reliable apps
Double-VPN and Tor-over-VPN servers
No logs (audited twice)
Strong encryption standards with full support for WireGuard
Works with Netflix and many other streaming services
Threat Protection feature to block ads, trackers, and malware domains
24/7 live chat support
Dedicated RAM-servers with 10 Gbps bandwidth channels
– Cons
Big discounts only available with long-term subscriptions
NordVPN's Cyber Deal is live:

Get 63% Off NordVPN plus an additional 3 months FREE:
(Coupon is applied automatically.)
Want to learn more? Check out our full NordVPN review.
---
Surfshark – A low-cost VPN that works with BBC iPlayer
| | |
| --- | --- |
| VPN | Surfshark |
| Based in | The Netherlands |
| Logs | No logs |
| Price | $2.30/mo. |
| Support | 24/7 live chat |
| Refund | 30 days |
| Website | Surfshark.com |
Despite being a relative newcomer, Surfshark has grown into one of the most impressive VPN services around in just the past few years. This VPN excels in all areas, from privacy and security to streaming BBC iPlayer and other media outlets with a large network of fast servers. Surfshark offers three server locations in the UK that consistently worked for BBC iPlayer in our tests.
Overall, Surfshark's network includes 3,200+ VPN servers in 95 different countries. They run all servers in RAM-disk and are a trusted no-logs VPN provider. And now that Surfshark supports the WireGuard VPN protocol, speeds are excellent. It even beat out ExpressVPN in speed tests for the ExpressVPN vs Surfshark comparison. Here was a speed test with a Surfshark server in New York using the WireGuard protocol: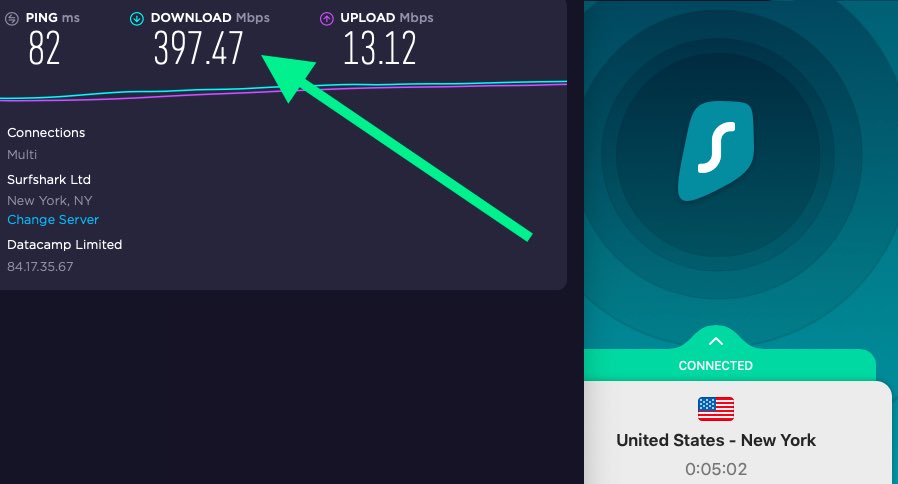 As we alluded to previously, Surfshark offers a large selection of quality apps for most any streaming device you want. Whether you need a VPN for Android, iOS, desktop, or, gaming consoles, or other devices, Surfshark has you covered. They also offer Trust DNS, a free browser extension that works with the rest of their server network to simplify switching DNS services.
But since evading geo-blocks is only part of a VPN's daily work, you'll be happy to know that Surfshark easily handles all the expected VPN tasks. Cure53, a German cybersecurity firm, gave Surfshark high marks in an independent security audit. Likewise, in our own tests, we found Surfshark to work perfectly, without any issues. Below we are streaming BBC iPlayer with a Surfshark server in London: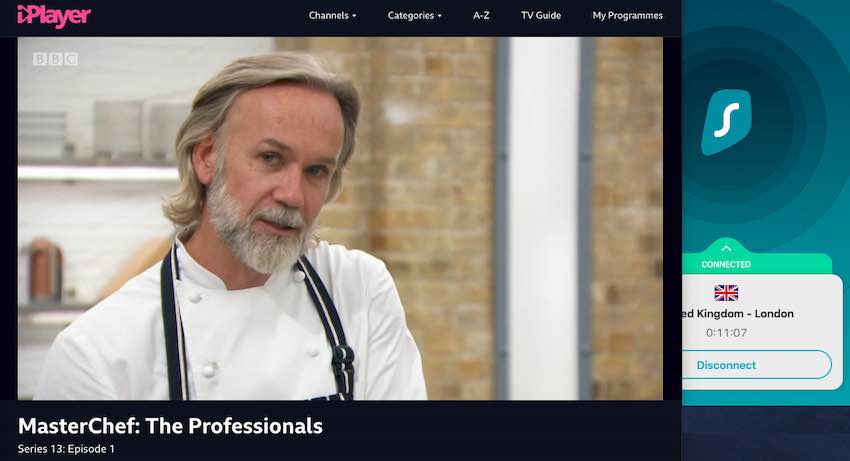 Surfshark is no slouch when it comes to advanced and specialized VPN services. They offer several, some of which are similar to those offered by NordVPN:
CleanWeb – This blocks trackers, ads, and malware domains
MultiHop – A network of double-VPN servers to encrypt traffic twice.
Camouflage mode – This will conceal VPN traffic to look like regular HTTPS encryption and get around VPN blocks.
As we noted in the Surfshark vs NordVPN comparison, there are some similarities with security features. But here are two areas where Surfshark really stands out:
Unlimited simultaneous connections – In an industry where supporting 5 or 6 simultaneous connections to the network is the norm, Surfshark gives you unlimited connections. Got seven kids who all want to stream video at the same time? No problem. Your internet connection might fall over, but Surfshark can handle the load.
A very low price – Surprisingly, Surfshark has an incredibly low subscription price and is one of the best options in the 'cheap VPN' category. If you use the discount coupon below, you will be able to get all the premium benefits of Surfshark, at a price you would expect from some stripped-down service.
In the area of customer support, this VPN also stands out. They offer 24/7 live chat support and a 30 day money-back guarantee. Color us impressed.
Streaming services unblocked: Beyond BBC iPlayer, Surfshark unblocks Netflix (US, UK, Australia, Canada, Singapore, Italy, South Korea, Germany, Japan, Norway and working on more), Amazon Prime, HBO, Hulu, SlingTV, and more.
+ Pros
Unlimited connections
User-friendly apps for all devices and operating systems
CleanWeb feature to block ads, trackers, and malware
Works great with Netflix and many other streaming services
24/7 live chat support
Strong encryption and security features (audited)
– Cons
Limited support for VPN routers
Average OpenVPN speeds (use WireGuard)
To learn more about Surfshark, check out our full Surfshark review.
---
ExpressVPN – Secure and reliable VPN for unblocking BBC iPlayer
| | |
| --- | --- |
| VPN | ExpressVPN |
| Based in | British Virgin Islands |
| Logs | No logs (audited) |
| Price | $6.67/mo. |
| Support | 24/7 live chat |
| Refund | 30 days |
| Website | ExpressVPN.com |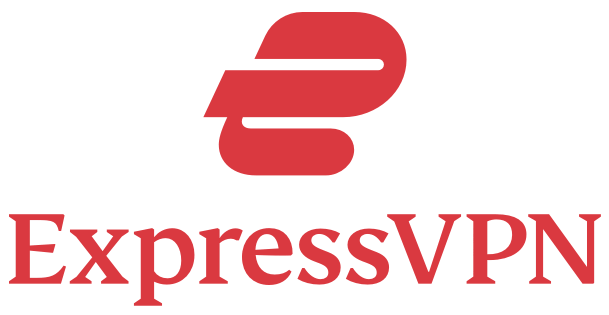 Next up on our list of the best VPNs for BBC iPlayer is ExpressVPN. This is a well-known VPN provider that does exceptionally well with unblocking BBC iPlayer and other content. ExpressVPN has three main locations for server clusters in the UK, which provide consistent access to watch BBC iPlayer, wherever you happen to be located.
As their name implies, ExpressVPN is fast. Their high-quality network of VPN servers has more than enough speed to stream HD video from iPlayer without buffering or stuttering. This network spans across 94 countries, with excellent speed results in all the locations we tested.
ExpressVPN clearly puts a lot of effort into their VPN apps. They have virtually any system you might want to stream videos on and those apps are all high-quality, with a consistent look and feel. Here is the Windows VPN app that we tested for streaming: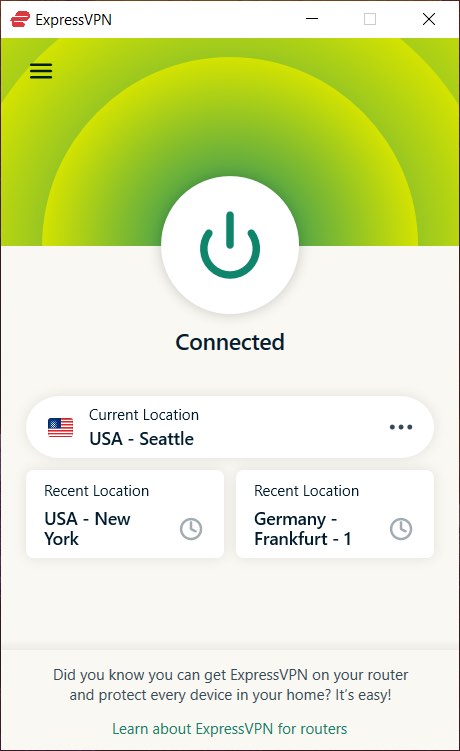 But sometimes a full VPN client isn't the right answer. Even in situations like this, ExpressVPN still has you covered with their MediaStreamer smart DNS service. This will allow you to use the VPN service on Smart TVs, for example, and gain access to BBC iPlayer and your favorite streaming content.
For this guide, we tested out ExpressVPN on a Macbook Pro. We connected to the Docklands server location in the UK and then signed in to BBC iPlayer. As you can see below, everything worked perfectly in our tests. ExpressVPN unblocks BBC iPlayer without any problems at all.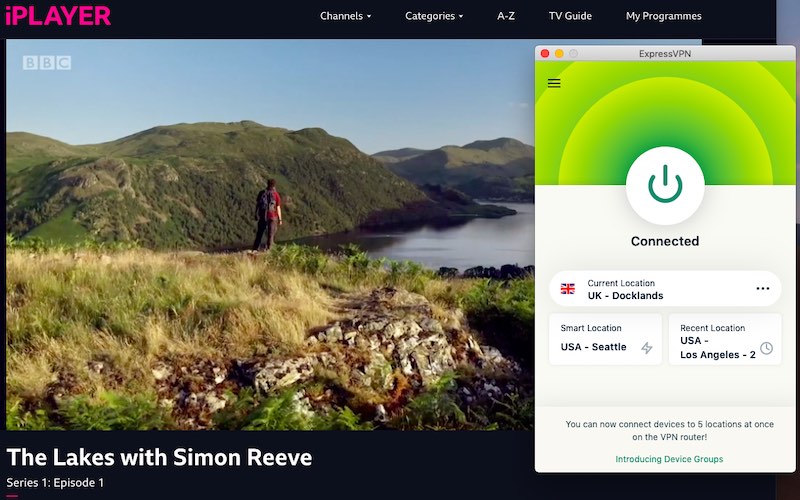 Meanwhile, the company's location in the privacy-friendly British Virgin Islands (BVI) means they are extremely unlikely to get pressured to give up personal data on you. And with their fleet of diskless bare metal servers, there are no logs to surrender, not even any hard drives to be analyzed.
And if by some chance you do have a problem connecting to iPlayer or something else goes wrong, ExpressVPN has an excellent Customer Support department. Their 24/7 live chat support can get you up and running again quickly, day or night.
Sound good? You can try ExpressVPN without any risk since the company gives you a 30 day money-back guarantee.
Streaming services unblocked: Beyond BBC iPlayer, ExpressVPN unblocks Netflix (US, UK, Canada, Australia, France, Italy, Japan, and Germany, along with other non-English-speaking regions), Amazon Prime, ESPN, HBO, Hulu, Disney+, SlingTV, and more.
+ Pros
User-friendly and secure apps
Split tunneling feature (for Mac OS, Windows, and routers)
Works with Netflix and most streaming services
24/7 live chat support
Passed independent third-party audits for security and no-logs
Very large server network
– Cons
Above-average prices
Fewer features
Average OpenVPN speeds (use Lightway)
Check out our ExpressVPN review here for more info.
---
VPNs that do NOT work well with BBC iPlayer
Let's cut right to the chase here. There are very few VPNs that consistently work with BBC iPlayer. Here are a few that we do not recommend using for this case:
Private Internet Access blocked
Private Internet Access (PIA) is a popular VPN that we have been reviewing for years. Unfortunately, in our latest round of tests for the Private Internet Access review, we found some problems. One of those problems was that PIA was getting blocked by many popular streaming services, including BBC iPlayer.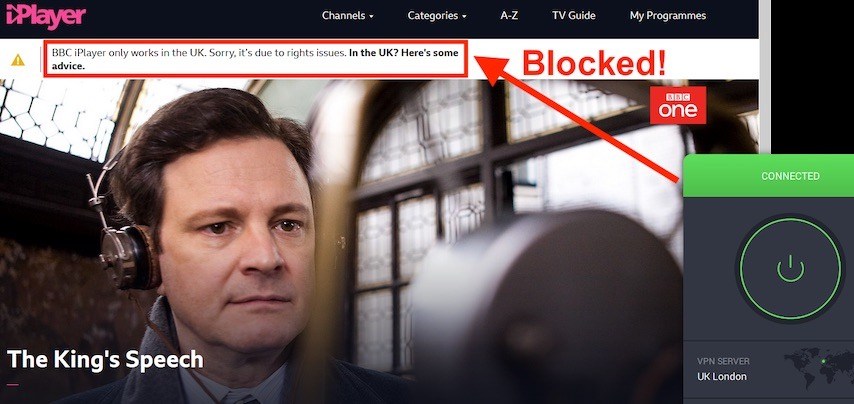 PIA was also having problems with other streaming services, but that's another story…
IPVanish not working well at unblocking BBC iPlayer
IPVanish is another popular VPN service that is based in the United States. While it may work alright in some use cases, it did not do well with streaming in our tests. Not only were speeds inconsistent, we found it to be blocked by BBC and other streaming sites. This is discussed more in the IPVanish review.
Note: Another reason that we do not recommend IPVanish is that it has a bad track record. A few years back, we broke the story of IPVanish logging user data and providing this to the FBI, all while claiming to be a "zero logs" VPN.
For speeds, IPVanish also does not do that well. We tested this out in the IPVanish vs NordVPN comparison and found it to be quite slow, simply because IPVanish does not support the WireGuard VPN protocol.
CyberGhost gets blocked by BBC iPlayer
CyberGhost is another popular VPN — but it has some issues. For one, we found speeds to be very inconsistent. You can really see this in our NordVPN vs CyberGhost comparison. We also found CyberGhost to be getting blocked with two popular streaming services: BBC iPlayer and Netflix.
Aside from the performance and streaming problems, CyberGhost is also now owned by a company that makes malware. The parent company, Kape, has a very troubling history, which we explained more in the CyberGhost review.
Best VPNs for BBC iPlayer – FAQ
Here is a collection of common questions people have related to using a VPN with BBC iPlayer.
How does a VPN make BBC iPlayer think I am in the UK?
To answer that question, we first need to talk about how BBC iPlayer knows where you are in the world.
There are various ways to find a device's physical location, particularly for mobile devices with their built-in GPS receivers. However, the most common way is to look at the device's IP address.
Everything connected to the internet is assigned a unique IP address, which identifies your device and the general area where your device is located. If your IP address isn't located in the UK, then you will be blocked from accessing BBC iPlayer, and get something like this:


This was the message I got when connecting from my location in the US. Fortunately, a VPN allows you to hide your IP address — your real IP address that is — and gain access to media around the world.
In most cases, your IP address doesn't pinpoint your exact location, but for geo-blocking, it doesn't have to. BBC iPlayer only needs to know if you are located in the United Kingdom or not. And knowing your IP address is sufficient for that.
When you use a VPN to connect to the iPlayer website, your computer first connects to a VPN server located somewhere in the UK. The VPN server now knows your device's IP address. And by looking at the header of messages from your device, it knows the IP address of the website you want to connect to (BBC iPlayer in this case). So the VPN server replaces your IP address and location with the VPN server's IP address and location.
When you access the BBC iPlayer page when connected to a UK VPN server, you will appear to be in the UK. Access granted!
How do I access BBC iPlayer with a VPN?
Here's how to use a VPN to get connected to BBC iPlayer from anywhere in the world.
Step 1: Get a VPN that can unblock BBC iPlayer
Get yourself a VPN with the ability to unblock BBC iPlayer. Here are the ones we recommend:
NordVPN (63% off coupon)
Surfshark
ExpressVPN
Go ahead and sign up for one now. We're not going anywhere.
Step 2: Install the VPN on your device(s)
Follow the directions on the VPN website to download and install it on your device. Make sure you get the correct app(s) for the device(s) you have. If you need any help with installation, simply open up a chat window with Surfshark or NordVPN.
Step 3: Connect to a UK VPN server
Run the VPN app you just installed and then connect to a VPN server in the UK. All of our recommended VPNs make it easy to select a specific country. In the case of BBC iPlayer, that country you need is the United Kingdom (UK). Regardless of which streaming service you want to work with, you always want to choose a VPN server in the same country as the streaming service. If you are trying to connect to a service like Netflix that has regional libraries, you should choose a server in the same country as the library you want access to.
Step 4: Log in to BBC iPlayer as normal
Now that you are connected, you can log into your BBC iPlayer account normally. iPlayer's defenses should see you as a legitimate user in the UK and not try to block you.
Do you need a VPN to watch BBC iPlayer?
Unless you are physically present in the United Kingdom, you will need a VPN to use BBC iPlayer.
With that being said, even if you do live in the UK, you should still be using a VPN to protect your privacy online. As we noted in our guide on the best UK VPNs, there is very little privacy remaining in the UK. This is because telecoms are forced to record the browsing history of all users and pass this data on to government agencies. A VPN encrypts and anonymizes your traffic, thereby preventing your ISP from seeing what you're up to online.
Conclusion on VPNs for BBC iPlayer in 2023
The war between streaming media services like BBC iPlayer and VPN services shows no sign of abating. That's why finding a VPN with a good track record of unblocking BBC iPlayer is so important. After all, if the VPN is not working well, you won't be able to watch BBC iPlayer either way.
We recommend the VPNs in the table below because they stand out in our ranking criteria, namely:
Excellent performance throughout the server network
Full ability to unblock BBC iPlayer with a good selection of UK VPN servers
Secure and reliable VPN apps for all major streaming devices and operating systems
Good track record
24/7 live chat to help you out if there are any issues
Low prices
Never hesitate to contact customer support if you can't unblock BBC iPlayer. If anyone can help you quickly get access to the content you seek, it will be them.
Beyond the iPlayer-specific benefits, these best VPNs for BBC iPlayer will work for many other streaming situations. Whether you need a reliable VPN for Netflix or a VPN for Amazon Prime, these VPNs will do the trick.
Before you go, remember, if you are on a tight budget, you could also consider using one of these VPN coupons to save on the price. Our guide includes all of the coupons in this article, plus more.
This article on the best VPN for BBC iPlayer was last updated on January 4, 2023.