VyprVPN was previously one of the most popular VPNs in the world, but today, it gets a lot less attention. Is it still a premium service, or is this VPN falling behind? This VyprVPN review will answer all of your questions.
VyprVPN is a Switzerland-based VPN service that has undergone some big changes and improvements over the past few years. In this update to our VyprVPN review, we look at how VyprVPN performs and compares to the competition. Specifically, we tested out VyprVPN to answer these questions:
Does VyprVPN offer good performance throughout the server network (speed and reliability)?
Are VyprVPN's apps secure (no leaks)?
Does it work with Netflix and other streaming services?
Is VyprVPN a good value for the money considering all the latest test results?
All of these questions are answered in this VyprVPN review, with screenshots below to verify the results.
Here's an overview of the pros and cons before diving into the details:
+ Pros
Secure applications with strong encryption
Excellent speeds with all servers tested
Full WireGuard support directly in VPN apps
Chameleon protocol (obfuscation)
Entirely self-owned server network
User-friendly apps for many devices/platforms
Based in Switzerland with an audited no-logs policy
– Cons
Requires name for registration
No cryptocurrency payment options
Above-average prices
Fewer features than some other leading VPNs
Many people want to know if VyprVPN is fast. So let's kick this review off with some speed tests.
VyprVPN speed tests
For this VyprVPN review, we ran all tests on a 500 Mbps connection from our location in the US. We tested VyprVPN servers in the US, Canada, and Europe.
First, we'll examine the VyprVPN results with the WireGuard protocol since it is generally much faster than OpenVPN.
Here was a VyprVPN server in Seattle: 301 Mbps.

At just over 300 Mbps, this is an excellent test result. Seattle was the fastest server location in this round of testing. Notice also that the ping is low because I'm not far from the VPN server, which helps explain the excellent performance. Choosing a low-ping server is important if you are using a VPN for gaming.
Next, we have a VyprVPN server in Los Angeles: 235 Mbps.

These are still great VPN speeds, although not as fast as with the server we tested in Seattle.
The last US server I tested was in New York: 210 Mbps.

We can expect slower speeds as latency (ping) increases with servers further away. And at over 200 Mbps, this is still pretty darn good.
I also tested a VyprVPN server in Toronto, Canada: 246 Mbps.

With these results, it looks like VyprVPN will give you fast speeds if you need a VPN for Canada.
The last server I tested was in the UK: 223 Mbps.

Despite the long distance between me and the VPN server (high ping), these are still solid speeds for UK VPN servers.
For comparison, I also ran some tests with the OpenVPN protocol. The test results with OpenVPN were quite a bit slower than WireGuard:
Seattle = 47 Mbps
Los Angeles = 53 Mbps
New York = 24 Mbps
In other WireGuard vs OpenVPN tests, we also found OpenVPN to be slower than WireGuard on all servers tested.
Overall, VyprVPN delivers good performance with the WireGuard VPN protocol, which you can use on Windows, Mac OS, Android, and iOS. While it is not the fastest VPN we have tested, the results are still pretty good in comparison to most other VPNs.
Is VyprVPN reliable?
VyprVPN did pretty well in the reliability category:
Connections were stable and the speeds were good.
No issues with application bugs or timed-out connections.
Consistent performance throughout the day on all servers tested.
We also compared speeds and reliability in our VyprVPN vs NordVPN comparison, with NordVPN coming out on top with speeds in all locations tested.
Now let's examine cost.
How much does VyprVPN cost?
VyprVPN prices have bounced around a lot in the last year or so. When they made major updates to the service last year, the price went up considerably. But now it is back down, at least if you use our discount coupon:
VyprVPN Discount

Get 50% off your VyprVPN 12-month subscription with the coupon link below:
(Coupon is applied automatically.)
Here's a breakdown of VyprVPN prices: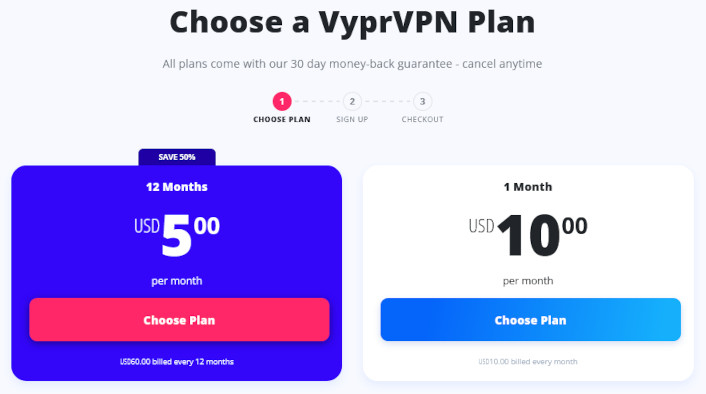 VyprVPN offers different payment options, including all major credit cards, PayPal, and Unionpay. Unfortunately, there is no option to pay with Bitcoin or other cryptocurrencies at this time.
While they have brought the prices back down into a reasonable range, VyprVPN is not a good option if you are looking for a cheap VPN service.
Refund Policy – All VyprVPN plans come with a 30-day money-back guarantee, which is the best you will find in the VPN industry. This is comparable to other leading VPN companies, such as NordVPN and Surfshark.
Signing up – When going through the signup process, one thing we noticed is that VyprVPN requires a name to create an account.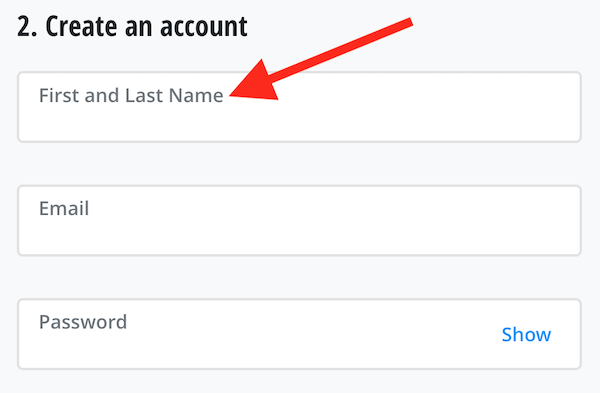 Most VPNs only require a valid email address and some form of payment method. Usually, with most payment methods, your name is used for registration anyway. And if you are concerned about the name for registration, remember that VyprVPN is an audited no-logs VPN service. Therefore it would be impossible to match up user activity with specific accounts (and names) in any event.
Additionally, I followed up with VyprVPN staff who explained that the name requirement is not a strict requirement. My takeaway from this is that there is no verification for the name you enter into the box. In other words, you can probably enter any name and sign up as normal for the VPN.
Does VyprVPN offer a free trial?
VyprVPN does not offer a free trial. They did offer a three-day free trial a few years ago, but that offer has been discontinued.
Today, all VyprVPN plans come with a full 30-day money-back guarantee. This allows you to test out the VPN risk-free and cancel anytime within 30-days to get a full refund.
There are other free trial VPNs – if that's what you're looking for.
Note: You may also want to check out Black Friday and Cyber Monday VPN deals. Some of the best deals right now include:
VyprVPN apps and supported platforms
VyprVPN offers VPN apps for a large number of devices. For this VyprVPN review, I tested the different applications with Windows, Mac OS, and Android. Everything worked well without any problems to report.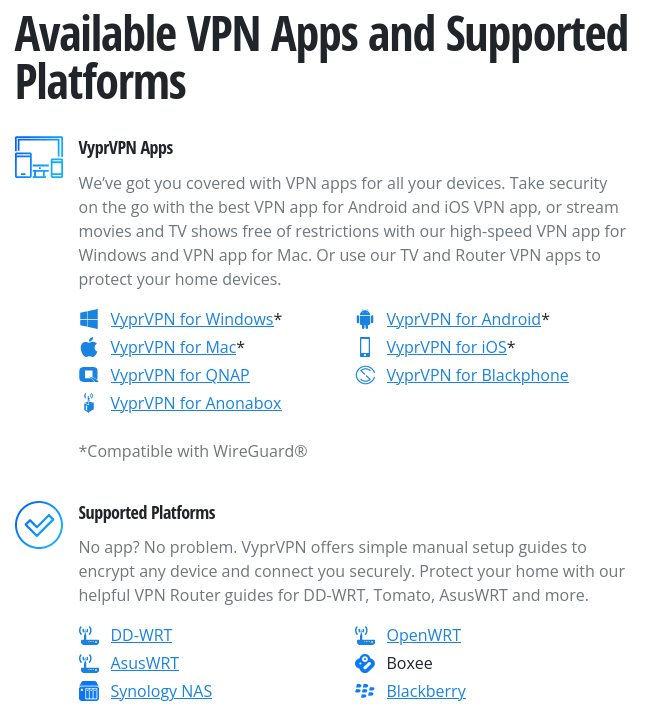 As you can see in the figure, VyprVPN has apps for quite a few operating systems and platforms. At the time of this review, the four most important apps (for Windows, Mac, iOS, and Android) all support the super fast and secure WireGuard protocol.
Right now, there are not too many VPNs that support WireGuard. So kudos to Golden Frog and the VyprVPN team for being one of the first services to bring WireGuard to regular users.
In our WireGuard vs OpenVPN speed tests, we found that WireGuard was about 58% faster than OpenVPN across the servers we tested. This was true for VyprVPN as we saw earlier. The great speed of WireGuard adds a lot of value to VyprVPN, as you can see in the speed tests above.
How many connections do you get with VyprVPN?
All VyprVPN subscriptions come with 10 simultaneous connections. They used to support up to 30 simultaneous connections, but have recently cut back to 10. While 30 simultaneous connections would obviously be better for VyprVPN users, 10 simultaneous connections is still a lot better than the 5 or 6 connections most VPNs support.
Below is the Mac OS desktop app that we tested for this review. The latest release is a big improvement over previous versions.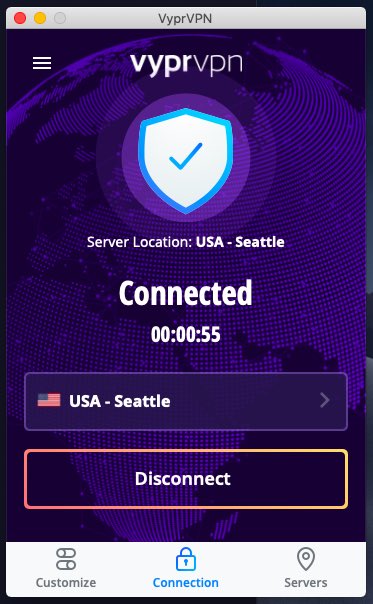 The VyprVPN apps all have a similar design. Switching servers, customizing the app preferences, and switching protocols are all very easy and intuitive. The kill switch effectively blocked traffic in our tests when the VPN connection was interrupted.
VyprVPN Android and iOS
Many people want a VPN that will perform well on mobile devices.
VyprVPN offers both an Android app as well as an iOS app.
Here is a quick look at the Android app (left) when connected to a server in the Netherlands. On the right are the leak testing results (no leaks).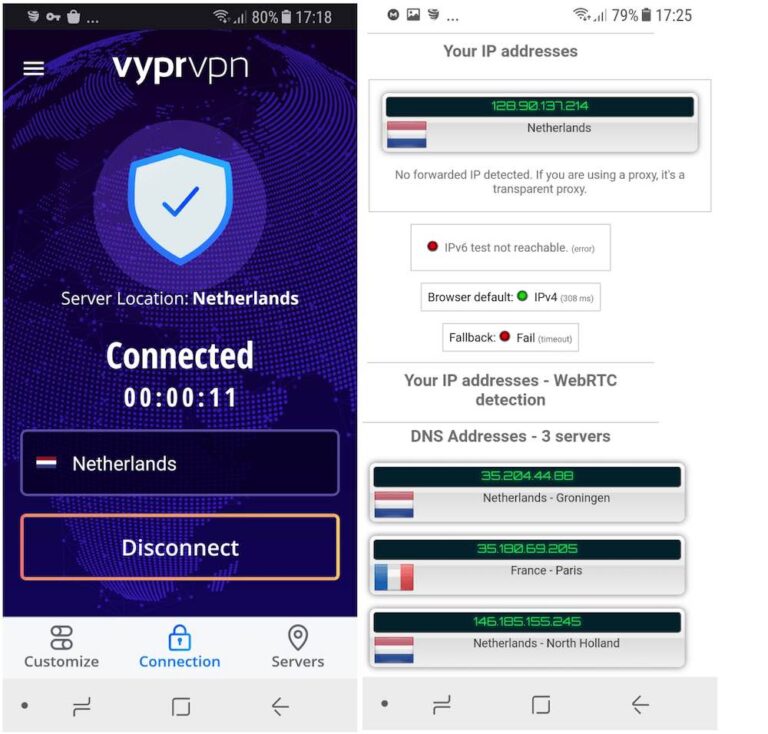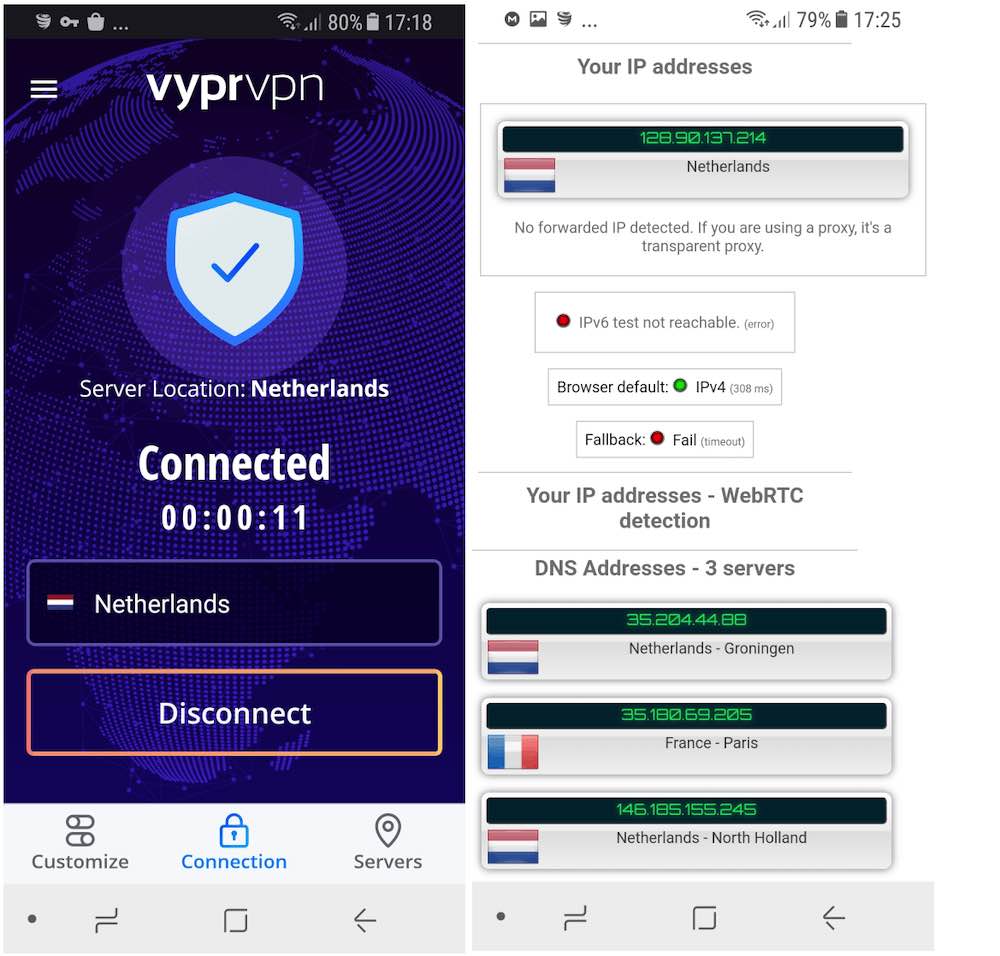 Another great feature of the Android client is Connection Per App. This is the ability to selectively route apps on your device through the VPN on a per-app basis. This is often called a "split tunneling" feature.
Kill switch tests – In the past we saw complaints about the reliability of the Android app's kill switch. In response to those complaints, we specifically ran a series of kill switch tests. The VyprVPN Android kill switch worked perfectly for us.
VyprVPN privacy and security tests
VyprVPN did well in all privacy and security tests.
I ran the Windows, Mac OS, and Android apps through some basic VPN tests to check for:
DNS leaks
WebRTC leaks (which affects Firefox, Chrome, and Opera browsers)
Kill switch (to see if it is properly blocking all traffic when the VPN connection drops)
Some users are wondering about IPv6 and how VyprVPN handles this since they officially do not support IPv6. My tests found VyprVPN to effectively block IPv6 (no IPv6 leaks). Additionally, VyprVPN has implemented IPv6 blocking since version 2.7.8 released in October 2015:
IPv6 traffic is now blocked while connected to the VPN and while Kill Switch is enabled
VyprVPN Windows app – Testing a server in Denmark with the new Windows app (no leaks were found):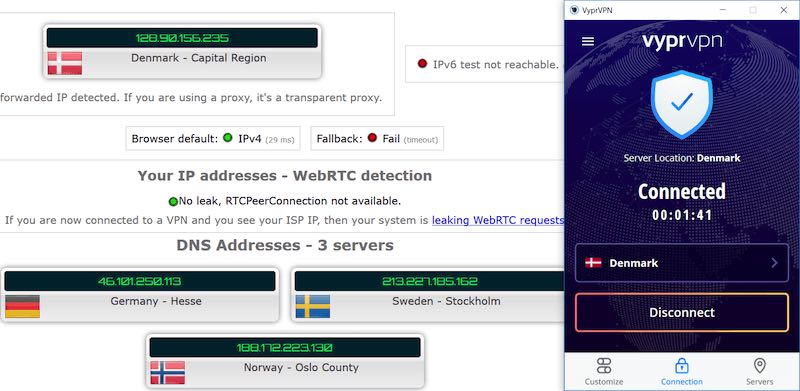 Above you can see that the VyprVPN server is providing me with an IPv4 address, my real IPv6 address is blocked, and DNS server requests are being handled by three different VyprVPN DNS servers. This is a good VPN for Windows that will keep your traffic secure.
Just like with the Windows app above, we also did not find any leaks or problems with the VyprVPN Mac OS app.
VyprVPN passed all privacy and security tests:
No IPv4 leaks
No IPv6 leaks
DNS requests secured (no DNS leaks)
Kill switch works well (all non-VPN traffic blocked)
VyprVPN for streaming and Netflix
This is another place where VyprVPN brings extra value to the party. Successfully connecting to streaming services like Netflix is a challenge most VPNs can't meet. Even so, VyprVPN continues to work with Netflix. Not only that, but they have managed to add several more Netflix regions to their repertoire.
That being said, you will most likely need to check with VyprVPN support to find the exact server(s) you should use to connect to US Netflix. See our guide on Netflix VPN services for additional information and streaming tips.
Due to VyprVPN's good speeds and premium network, it is also a solid choice for other streaming services as well. At the time of this review, VyprVPN was able to stream: numerous Netflix regions, BBC iPlayer, Amazon Prime Video, and more. It's also one of the best VPNs for Disney Plus.
Here are the streaming services currently available for US users:


Note: We have seen some complaints on different Reddit best VPN groups that claim VyprVPN can be hit or miss with Hulu. Last we checked in our tests for the best VPN for Hulu guide, it was working fine.
Obfuscation with the Chameleon protocol
VPN blocking is a growing problem in much of the world, especially where governments or institutions do not want people using VPNs to evade restrictions and censorship.
This is especially the case with:
China, Turkey, Russia, Iran, and other Middle Eastern countries
Universities and schools
Corporations (work networks)
VyprVPN offers an excellent obfuscation feature to defeat VPN blocking called the Chameleon protocol. This will help you get around VPN blocks, such as if you need a VPN for UAE.
The Chameleon protocol is a self-developed OpenVPN protocol with 256-bit encryption that blends in with regular internet traffic to defeat restrictions and blocking. It does this by encapsulating OpenVPN traffic behind regular HTTPS encryption. We also see similar obfuscation (or Stealth VPN) features with NordVPN and ProtonVPN.


Using VyprVPN with this protocol is a great choice if you need a VPN for China or any other restricted network situation, such as school or work networks.
At this time, VyprVPN does not have any double-VPN servers. There are other VPNs with this feature, however, as we see with Surfshark and Proton VPN.
VyprVPN no logs policy
VyprVPN is officially a no logs VPN that has been audited and verified by an independent third party. In years past, VyprVPN kept connection logs for 30 days. However, a few years back they completely changed their policies to become a completely no-logs VPN, while also going through an audit for verification.
VyprVPN's privacy policy also outlines and clarifies their position on logs:
VyprVPN is a zero log VPN Service. We do not record or retain any data when you use the VyprVPN Service.

We engaged a respected security firm to audit our zero-log policy so users have third party validation of our logging policies.
We do not log a user's source IP address (typically assigned to the user by their ISP).
We do not log the IP address assigned to the user when using VyprVPN.
We do not log connection start or stop time.
We do not log a user's traffic or the content of any communications.
We are network neutral. We do not discriminate against devices, protocols, or application.
We do not throttle or rate limit your Internet connection.
If you want more information on their logging policies, see the VyprVPN website here. We also see other VPNs, such as Private Internet Access and NordVPN, that also undergo third-party audits.
The no-logs policy, secure apps, self-owned network of servers, and Switzerland jurisdiction make VyprVPN a solid choice for privacy-focused users.
Can you use VyprVPN for torrenting?
Yes, VyprVPN now allows torrenting on all servers in its network.
Torrenting is another area where VyprVPN has updated and changed its official policy. In the past, VyprVPN discouraged torrenting and any form of copyright infringement through downloading/sharing on their network. However, this has all changed.
Today, VyprVPN is a torrenting-friendly VPN. They do not log any user data and also allow torrenting on their network.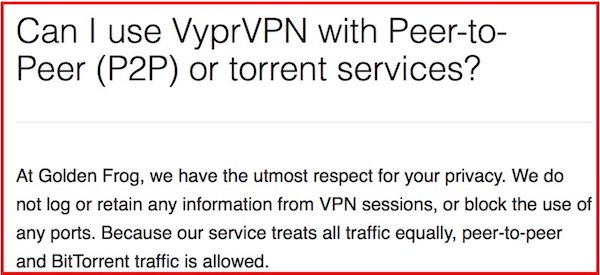 Just to be certain, I clarified VyprVPN's torrenting policies with one of their representatives, who had this to say to me via email:
Non-logging prevents VyprVPN from knowing who downloaded what and when. In order to protect the privacy of our users, we do not log the IP address used by any user. If the copyright holder only provides an IP address as identifying information then it is impossible for us to associate a DMCA notice with any of our users.
The official Terms of Service include a clause about copyright infringement, but this could not be enforced without logs. Therefore VyprVPN is now a good choice for those who want to torrent with a VPN.
Self-owned VPN server network
Most VPNs rent servers from various data centers around the world. This is standard practice in the industry.
VyprVPN, however, has chosen to only use their own servers, which they deploy around the world. In other words, VyprVPN utilizes only their own servers for the VPN network.
Most recently, VyprVPN has conducted major upgrades to many of their servers, including those in Amsterdam, Hong Kong, and Zurich, among others. These upgrades should help VyprVPN deliver fast streaming content to users around the world now that they are capable of streaming more and more major services.
Does VyprVPN utilize virtual server locations?
In our study of virtual server locations, we found that VyprVPN does utilize virtual server locations in many regions. What this means is that VyprVPN does not actually have physical servers in all the locations it claims. Instead, a server that is advertised as being located in Brazil, for example, might actually be in Miami.
There are other good VPNs that utilize virtual server locations, such as ExpressVPN and Surfshark, for example. However, there is one noteworthy difference in that VyprVPN does not publicly disclose whether a location is virtual or physical.
While virtual locations do not necessarily present a security issue, they may affect people who are trying to avoid servers in specific locations.
Does VyprVPN offer any static IP VPN servers?
We see many VPNs now offering a static or dedicated IP option. Using a VPN with a static IP can be advantageous in some use cases. For example, if you need an IP address for a server or networking setup, this can be useful. Some people also just want their own IP to avoid captcha authentication issues.
Unfortunately, VyprVPN is not a VPN with static IP addresses. This option is not available at this time and there does not appear to be any plans for adding it. If you want a VPN with a static IP, you could instead try NordVPN or TorGuard.
VyprVPN routers
One trick to using a VPN on many devices, without exceeding your connection limit, is to use a VPN on a router. The router will count as one device, but it will extend the protection and benefits of a VPN to every device that connects to the router.
I tested out VyprVPN on an Asus router and found it to perform well.
VyprVPN router app
VyprVPN also offers a VPN router app that simplifies the installation and setup process. One advantage of their app is that it lets you easily select how each device on your network connects – either through the VPN or your regular (unencrypted) connection.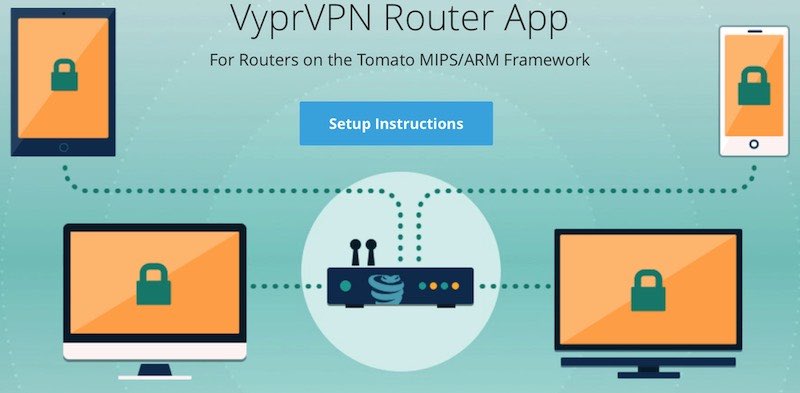 Three other benefits of the VyprVPN router app are:
The ability to switch between different VPN protocols, including PPTP, OpenVPN (160-bit & 256-bit), and Chameleon.
The ability to connect to different servers in the network.
Full protection from VyprDNS for all of your DNS requests.
Note: VyprVPN's router app runs on Tomato firmware, therefore it can't be used with all routers.
For an overview of VPN routers and all the different firmware options, see our main VPN router guide.
VyprVPN FAQ
Here are some of the questions that we came across while researching VyprVPN for this review:
Is VyprVPN good for gaming?

Yes, VyprVPN is good for gaming. Thanks to its WireGuard support it is faster than most VPNs and has a lower Ping. Put those together and you get a very good VPN for gaming.


Is VyprVPN good for torrenting?

Yes, VyprVPN is a good VPN for torrenting. Once upon a time, the company discouraged VyprVPN users from torrenting. But they have since changed their minds. Today you can torrent on all VyprVPN servers. Since VyprVPN is a secure service that keeps no logs, it has become a good VPN for torrenting.


Does VyprVPN have obfuscation?

VyprVPN does have obfuscation. The company developed their own obfuscation system called the Chameleon protocol. By making your VPN traffic look like standard HTTPS traffic, this protocol evades detection by most internet censoring systems. This makes it an excellent VPN for China and other locations that try to block VPN traffic.


Does VyprVPN work with Netflix?

If the question is, can VyprVPN unblock Netflix, the answer is yes it can. They are able to unblock a number of Netflix regional libraries, although you may need to check with VyprVPN Support to find out which specific servers to use for a particular region. With its excellent speed, VyprVPN can stream HD video over any decent internet connection.


The characteristics that make VyprVPN a very good VPN for Netflix also make it a very good VPN for streaming content from other services such as Amazon Prime Video, HBO Now, ESPN Plus and many others.


How do I get VyprVPN for free?

You cannot get VyprVPN for free. Several years ago, the company did offer a three-day free trial, but that has been discontinued. While you can't get VyprVPN for free, they do offer a 30-day money-back guarantee, giving you a riskless way to test the service for a month.


VyprVPN review conclusion
Overall VyprVPN is a high-quality, fast, secure VPN that performed well in testing for this review. It offers a great lineup of applications that are user-friendly, secure, and reliable. The live chat support is also helpful if you need assistance getting anything set up.
Now that VyprVPN is officially a no-logs VPN service, and has been publicly audited, it is even better for privacy-focused users than before. This moves it into the elite group of third-party audited, no-logs VPNs alongside products like NordVPN and ExpressVPN, the two most popular VPN services. And let's not forget their support for the new WireGuard protocol, an achievement that puts them in the elite group of early WireGuard supporters.
VyprVPN is a very good value, and the reduced prices below, along with their 30-day money-back guarantee make it an even better value.
VyprVPN Discount

Get 50% off your VyprVPN 12-month subscription with the coupon link below:
(Coupon is applied automatically.)
Alternatives to VyprVPN
Click the VPN name below to read our full review – or grab the discount for the best savings. All three of these VPNs have a 30-day money-back guarantee.
NordVPN review (with a 69% off coupon)
You can also check out our guide on the Best VPN services for other recommendations.
Related Articles:
If you have used VyprVPN, feel free to share your honest review (good or bad).
This VyprVPN review was last updated on May 2, 2023.