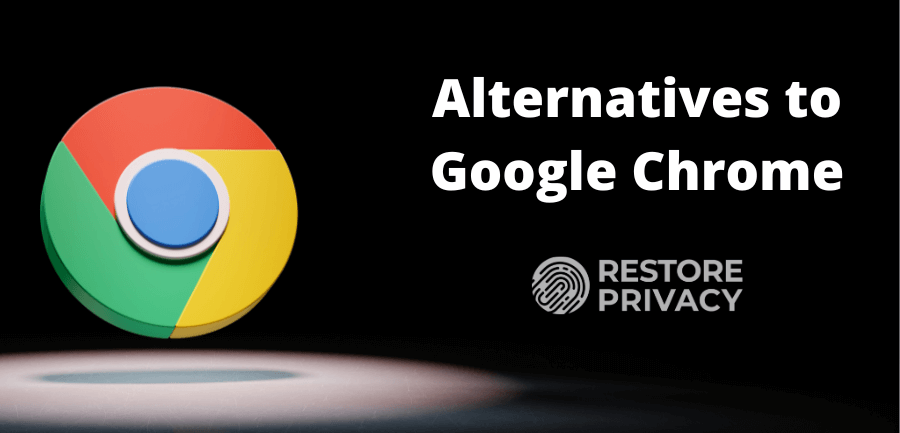 Although Google Chrome is one of the most popular browsers available, its privacy and security issues have put it under scrutiny for one too many times. The browser's parent company is now facing lawsuits and concerning user privacy and extensive data collection. So what better time than now to examine the best alternatives to Chrome!
However, despite the backlash and lawsuits, the browser keeps developing various methods to collect user information. The newest method that Google has introduced is the Privacy Sandbox feature, which, according to some, has made the browser an ad delivery program, ultimately collecting more user information. In simpler terms, if you are still using Googe, you are giving away personal bits of your data to the browser to sell to third-party advertisers such as:
Your browsing history
Your search history
Login credentials
Your IP address and location
Information on your device
Along with sharing this information, you welcome third-party trackers to feed off your interests, likes, and dislikes. Now, if you value your privacy and want to stay secure online, this guide is for you. We have found several effective solutions and tools to browse the internet safely, and in this guide, we will discuss them with you, such as:
Why do you need Chrome Alternative browsers?
How to choose a good, safe browser as an alternative to Chrome
Why do you need privacy browsers?
How do you choose the best browser as a Chrome alternative?
When choosing an alternative to Google Chrome, selecting a browser that offers optimum privacy and security to its users is crucial. However, finding a reliable browser is problematic since several browsers are available, each with sneaky privacy policies. We have compiled our list of safe browsers after considering the following factors:
Privacy policy: Look for a browser that is strict about not collecting personally identifying user data.
Security features: An excellent private browser should have built-in features such as ad blockers, anti-tracking tools, and encryption.
Open-source: An open-source browser lets anyone view the source code and identify potential security vulnerabilities.
User interface: The user interface should be easy to navigate and use. This will help ensure you can fully utilize the browser's features.
Compatibility: Make sure the browser you choose is compatible with all or at least most of the available operating systems, specifically Windows, macOS, Linux, iOS, and Android.
Fast Speeds: the browser must provide fast speeds to ensure a smooth and reliable online experience.
Customization: it is best if the browser has customizable security levels to allow users to adjust the security they need.
Security History: it is best to examine whether the browser has previously been compromised and what measures it took to regain users' trust.
These are some of the most important factors to consider while choosing a reliable alternative to Chrome, as they help pick out a safe and secure privacy browser.
Remember that Incognito / Private browsing mode is not very private (use a VPN)
When you opt for "private" or "incognito" surfing in your browser, it's important to note that your actual IP address and geographical location are still visible to every site, ad, and tracker that loads in your browser. In addition, your internet service provider (ISP) can see all your actions. Especially in the United States, ISPs log everything you do online and share this data with numerous other entities. This is why it's essential to use a reliable VPN for basic digital privacy.
The most effective way to ensure real privacy while concealing your actual IP address and online activities is to use a secure browser in combination with a reliable VPN. This provides protection at both ends of the line, and in the middle as well.
The secure browser will shield you as described in this article, while the VPN will safeguard your identity by hiding your actual IP address and location. The VPN will also encrypt your traffic so your ISP (and any other nosy entities out there) cannot see your online activities. Here are our top three recommendations from the best VPN list that we have tested and reviewed.
NordVPN: A fast, secure, audited VPN with advanced privacy features, built-in ad blocker, and a strict no-logs policy, based in Panama (see the 69% off coupon).
Surfshark VPN: A no-logs VPN service with a large lineup of privacy and security features, based in The Netherlands.
ExpressVPN – This is a secure and reliable VPN that boasts some great privacy features and also works well for streaming. It is based in the British Virgin Islands.
Ranking the top alternatives to Google Chrome
With data collection measures getting more intrusive over time, it is crucial to find reliable alternatives that would help ensure a safe browsing experience. But with the Internet brimming with privacy browsers claiming to be the best, we have filtered a list of the top eight browsers that can serve as reliable alternatives to Google Chrome.
1. Brave browser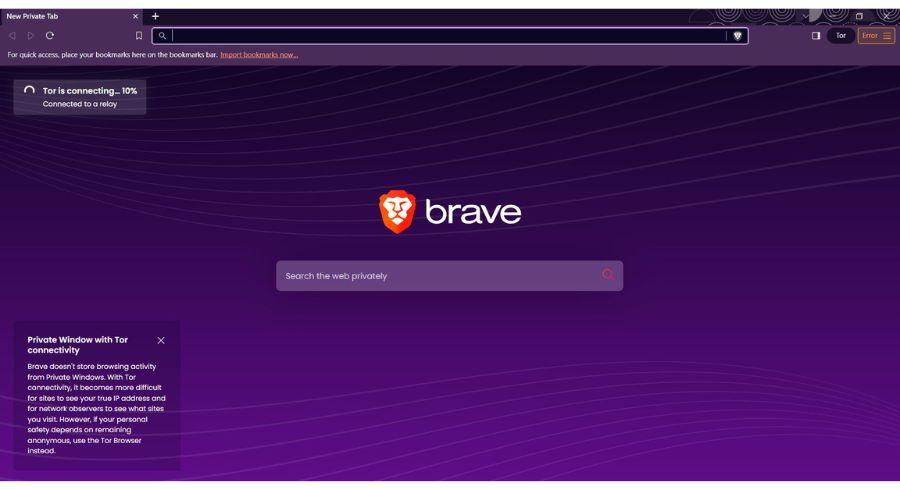 One of the most secure browsers available, Brave is a reliable alternative to Google Chrome. Developed by Brandon Eich, one of the former developers of Mozilla and the creator of JavaScript, Brave is a Chromium-based browser that promises its users the utmost privacy and security by default.
Although the browser is based on open-source Chromium, it is adequately configured to ensure privacy to its users, comes with several exceptional features, and promises not to store user information. The browser helps provide a secure browsing experience, such as built-in ads, tracker blocker, and script blocker. Apart from that, Brave also blocks all third-party storage and comes with built-in browser fingerprinting protection and fingerprint randomization features for added security. Also for added privacy, the browser comes with built-in Tor compatibility and a VPN.
Apart from offering robust privacy to its users, what makes the Brave browser particularly unique is that it is easy to use and has most of its privacy features on default. Therefore, it makes the browser ideal for even new and tech-savvy users. The browser works compatible with all Chrome extensions, making it a reliable alternative to Chrome. Here is a brief overview of everything the browser has to offer:
A built-in access to the Tor network, a feature that allows you to access the Dark Web by simply opening a new window with Tor. We have discussed this feature in detail within our How to Access the Dark Web Safely guide.
It has a dedicated private search engine called Brave Search, which comes pre-installed within the browser by default. The search engine has an AI-powered summarizer to provide fast and reliable results.
An RSS news reader called Brave News.
A default password manager
A cookie content blocker that somewhat helps you bypass the hassles of having to accept or reject cookies each time you visit a new sites
A built-in cryptocurrency wallet called the Brave Wallet.
By default, HTTPS encryption everywhere
A built-in VPN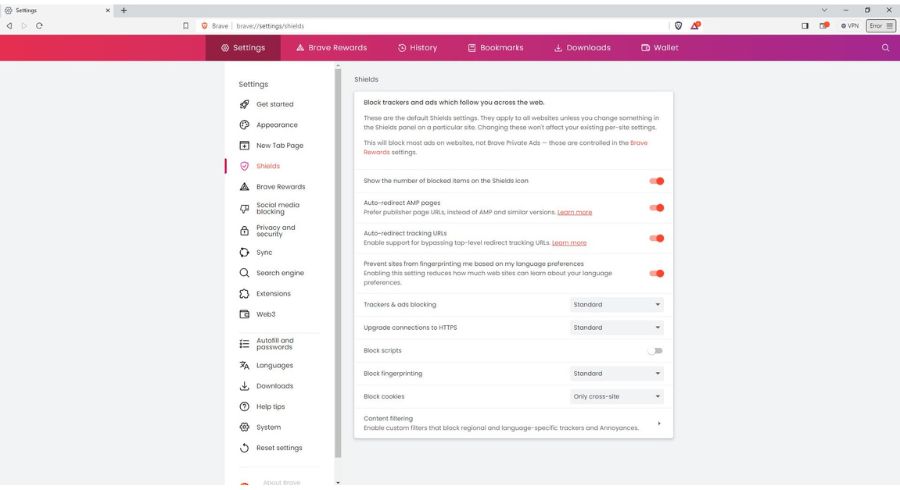 However, despite these privacy features, the browser has received criticism over a few issues; specifically, its ads program allows users to "view non-invasive ads without compromising your privacy." While for many, this may sound intrusive, this is a secure way for the browser to earn revenue. The browser has also previously faced criticism when it was caught injecting affiliate links when a user would type Binance in the address bar. However, the issue was soon resolved. Recently, the browser has been under fire for allegedly selling copyright data for AI training. In response to these allegations, the Brave head of Search Pujol stated that all the data supplied for AI training is only attributed to the content URL, meaning user privacy stays intact.
Besides these few cons, Brave is a reliable and secure alternative to Chrome. You can browse its other privacy features here.
Highlights:
Easy-to-use user interface
By default, HTTPS encryption
Compatibility with Tor browser
Dedicated cryptocurrency wallet
Default AI-powered search engine
Built-in VPN option
Cookie blocker
Built-in script, tracker, and adblocker
Built-on browser fingerprinting protection
Default password manager
Check out the Brave browser here >>
---
2. Firefox
One of the oldest and most secure browsers available, Mozilla Firefox is a reliable browser to use as an alternative to Chrome. The browser has been around for the past 13 years, is customizable, easy to use, and promises robust privacy and security features.
Firefox is built on a Quantum engine, specifically designed for the browser, from scratch to ensure a fast and secure browsing experience. It receives regular monthly updates, which help the browser remain fast, light, and secure. However, fast speeds are not the only reason Firefox is a better browser than Chrome. The Firefox browser also has several privacy and security features, such as HTTPS encryption and the Enhanced Tracking Protection feature that blocks trackers and malicious scripts. Here is an overview of everything that the browser has to offer:
Total cookie protection to prevent cookies from tracking you.
Built-in adblocker.
HTTPS encryption for security.
DNS over HTTPS feature for encrypted DNS.
Default browser fingerprinting protection.
Social media blocking.
Apart from providing these privacy and security features, Firefox showcases its dedication to online privacy and security through its independent security audits. The browser has been rated as the most secure browser by the German Cybersecurity Agency. Moreover, Firefox also has its open-source quantum engine for bug bounty hunters through a special program, which further contributes to the security this browser ensures.
Another great benefit of Firefox browser is its customization options ranging from Standard, strict, or custom. While most security features are not enabled by default, such as telemetry and tracking that need to be disabled manually, the browser is open to customizations. Also, it supports most of Chrome's extensions, making it a reliable alternative. Also, its most privacy features can be easily upgraded and customized, as explained in our Firefox privacy modification guide.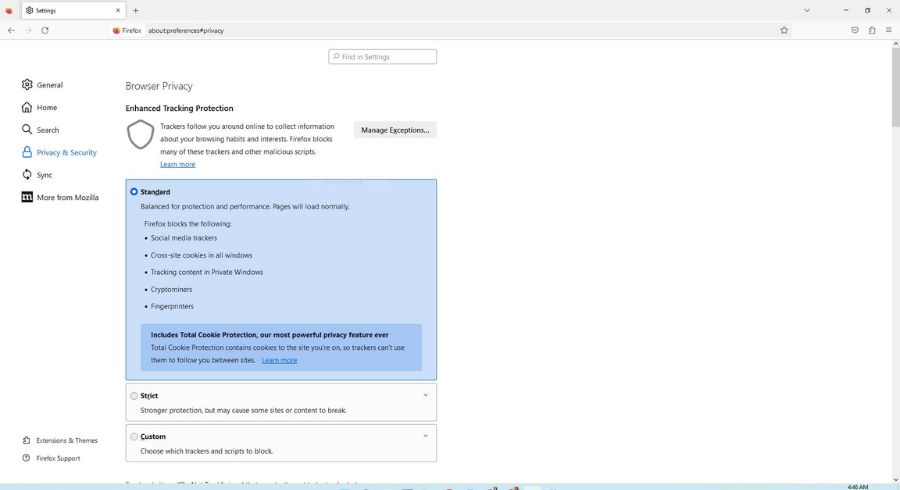 While the Firefox browser is an excellent option for anyone who needs more privacy and security, there are a few cons to remember before shifting to the browser. For starters, while Firefox is fast and customizable, often most websites fail to work well with it. Apart from that, the browser takes up more RAM usage than Chrome. Also, anyone who is an avid user of Google products like Google Docs will have trouble using Firefox as they don't work very well with the browser, or they could shift to a Google alternative to Gmail and remain secure.
Highlights:
Total cookies and tracker protection
Built-in adblocker
Easily customizable
Compatible with Chrome extensions
Fast speeds
Independently audited
Open source
Check out the Firefox browser here >>
---
3. Tor Browser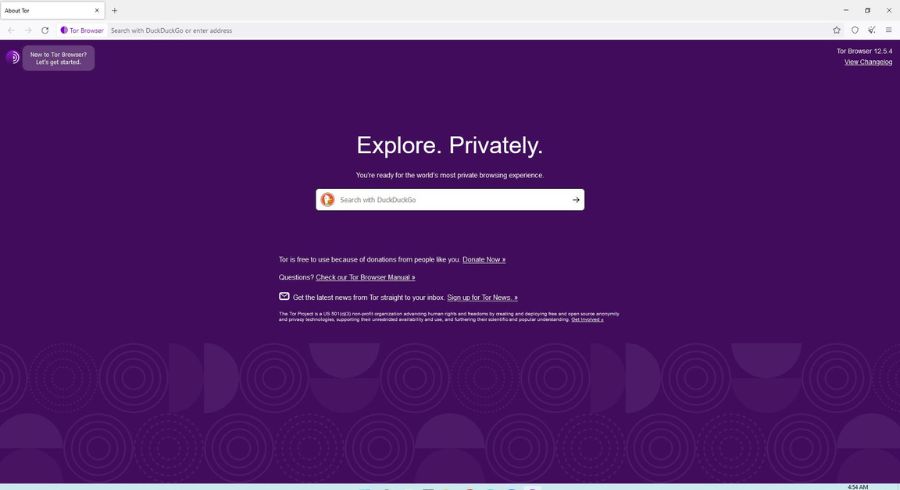 Developed by the US Naval Research Center, the TOR browser, or the The Onion Router Project, is one of the most secure alternatives to Chrome. The browser is a more hardened or private version of Firefox, customized to run on the Tor network, and was solely built to provide anonymity and privacy to US intelligence agents.
The browser comes with a range of privacy and security-focused features and, by default, works in the private browsing mode, offering protection against browser fingerprinting and third-party cookies. Also, by default, the browser deletes your browsing data after each session. However, anyone who needs more online privacy can enhance security and choose a higher level of protection by clicking on the onion icon and then clicking on the "select security settings." It also allows you to remain private by masking your IP address with a pseudo one. Here is a brief overview of Tor features:
Customizable privacy and security settings
Provides layers of encryption
Hops data from node to node to prevent trackbacks
Blocks third-party cookies and browser fingerprinting
Default private browsing mode
Hides IP address
One exceptional feature of Tor that makes it a better browser than Chrome is the layers of encryption it provides. Since Tor was initially designed to enable online privacy, the browser works by encasing your online data into layers of encryption (quite like an onion) at the entry node to prevent online surveillance and snooping. After that, the browser hops the data from node to node, where each layer of encryption is layered off till the information reaches the final exit node. The information goes off unguarded from the exit node, but this hopping from node to node prevents anyone monitoring the exit node from knowing where the data originated from.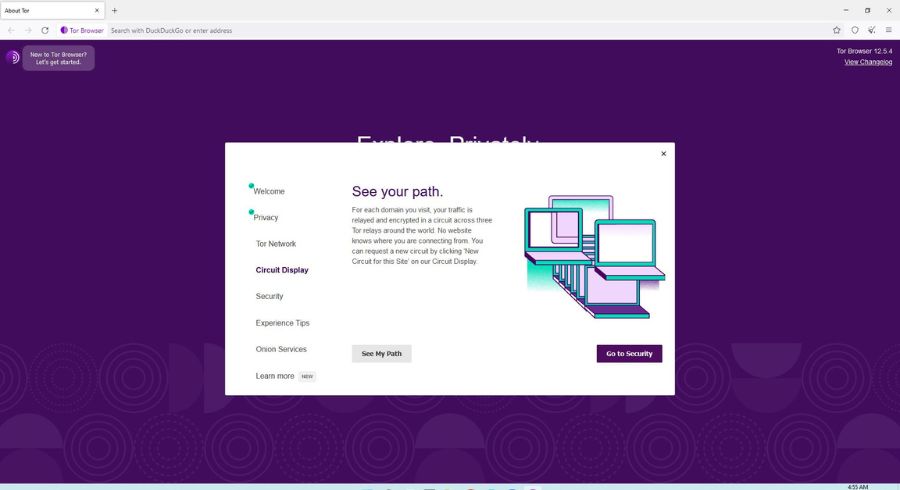 Although Tor does offer exceptional privacy and is still infamously used today specifically for anyone who needs to access the Dark Web, the browser is now somewhat plagued with issues. Since it hops data from node to node, the browser provides frustratingly slow speeds. Moreover, since Tor is an open-source project running on donations, any nodes can be malicious or compromised, primarily because the US government still funds it. Also, since the browser strips all the layers of encryption after the exit node, the data remains vulnerable to spying. Apart from that, since Tor is associated with the Dark Web, most websites block Tor IP addresses, and ISPs throttle Tor user's connection speeds.
Therefore, the best way to use Tor is with a reliable VPN to encrypt your traffic and hide your IP address. Another option is to turn off the Tor browser with the Tor network to turn it into a regular privacy browser.
Highlights:
Default private browsing mode
Prevents browser fingerprinting
Blocks trackers and third-party cookies
Offers layers of encryption
Prevents tracking and surveillance
Check out the Tor browser here >>
---
4. Ungoogled Chromium browser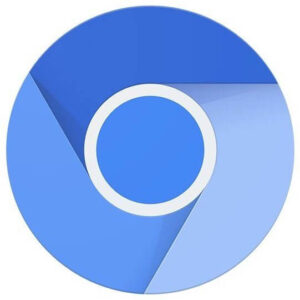 The Ungoogled Chromium browser is an open-source project, almost a complete replica of Google Chrome, except for privacy and security issues. The browser is managed by a group of developers and promises to provide the utmost privacy and security to its users. While the browser promises its users privacy and security, it is tricky to configure and install and requires technical knowledge.
The web browser promises a Chrome-like experience without compromising privacy or depending on Google web services and binaries. While running the browser, it removes all background requests at any Google web service. Moreover, the browser also does not have any premade binaries from the Google source code. Still, instead, it allows the user to replace those binaries with alternatives, called contributor binaries, where possible.
The browser is compatible on all platforms, including Linux distributions, macOS, and Windows. Here are all the features that the browser provides. The web browser is currently available for download on GitHub.
Highlights:
It is a secure open-source project
The browser does not rely on Google services
Cross-platform compatibility
More challenging to use and configure
Check out Ungoogled Chromium here >>
---
5. LibreWolf


A custom and independent version of Firefox, LibreWolf is one of the most reliable privacy browsers available. The browser is solely built to provide users privacy, security, and freedom and promises increased protection against tracking and browser fingerprinting techniques.
The LibreWolf browser is an open-source project run through a community of contributors. It is based on an easy and Docker-based build process, allowing anyone to build from the source without local dependencies within a few steps.
Additionally, since the browser is a fork of Firefox, its UI is easy to use and customizable, allowing users to control the privacy and security settings easily. The browser aims to provide ultimate browsing freedom by turning off anti-freedom features like DRM and removing all the telemetry, including crash reports, studies, personalized recommendations, and data collection. Some of the main features of the browser are as follows:
By default, HTTPS-only mode.
Strict negotiation rules for TLS/SSL
By default, it turns off scripting in the built-in paragraph reading.
Default protection against IDN homograph attack
An optional firewall extension that can be disabled manually
By default, it clears disk cache, temporary files, and browsing data when closing.
On default, it has WebGL, a strong fingerprinting vector disabled
Promises Total Cookie Protection
Only uses privacy search engines like DuckDuckGo and Searx.
By default, it comes with uBlockOrigin, installed with a custom default filter list that enhances tracking protection against ads and trackers.
It also aims to evade censorship issues and even has Google Safe Browsing disabled to prevent Google from controlling any aspect of the internet. LibreWolf's commitment to privacy is also evident with the browser's promise to never collect and store user's information. Moreover, it stays current with the latest security patches it receives through Mozilla, ensuring the utmost security for its users. You can explore its features here.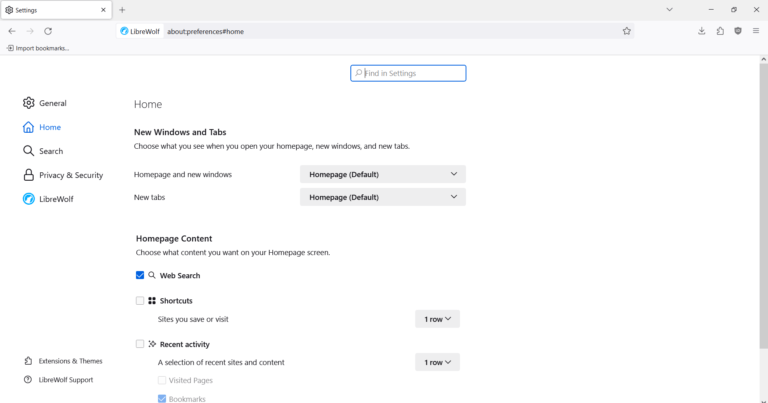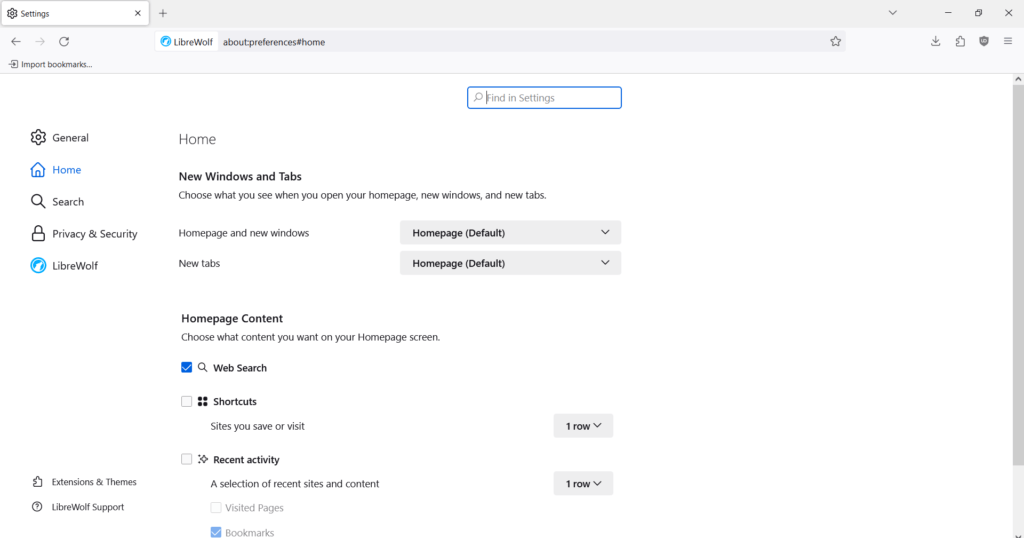 However, all this privacy by LibreWolf comes with a few downsides. The browser is not customizable and does not allow users to install many extensions. Also, since it has most Google services disabled, anyone who uses Gmail and Google services might have issues using the browser.
Highlights:
By default, HTTPS mode
Only uses private search engines
Total cookies, ads, and tracker protection.
By default comes with UBlock Origin installed
Default protection against IDN homograph attacks
Users can't install many extensions
Check out LibreWolf browser here >>
---
6. DuckDuckGo browser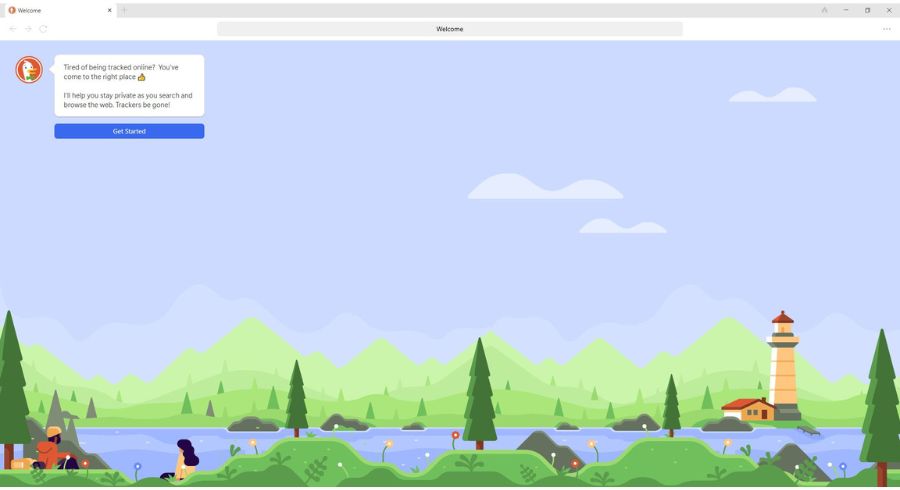 One of the most popular privacy browsers and search available, DuckDuckGo has long since proven itself a reliable alternative to Google Chrome. The browser has several privacy and security features and promises a reliable and secure online browsing experience.
The best thing about the DuckDuckGo browser is its built-in private search engine that doesn't track users or share their search history with third parties. The browser has long since marketed itself as a Google alternative that promises never to track searchers or browser history. It comes with built-in ad blocker and tracker protection along with several other security features such as:
By default, the browser has cookies, tracker, and fingerprint tracking protection.
It also has built-in link tracking, Referrer tracking, and Social content tracking protection.
On Android, it provides app-tracking protection.
It has built-in Global Privacy Control to help users opt out of websites selling personal information.
Offers email protection, which hides your email with a unique @duck.com address when signing up for things online, that forwards content to existing email after removing trackers.
Despite these promises by DuckDuckGo, the browser has been under fire for tracking issues in 2022. The event resulted from some deal the company had made with Microsoft, which allowed trackers on the DuckDuckGo browser. When the news came to light on Twitter, the browser faced backlash from the privacy community. However, it regained trust after it announced an agreement with Microsoft to block the trackers.


The browser is currently available for use on macOS, iOS and Android. It also offers a browser extension for all browsers and has recently launched a beta version of Windows, which can be downloaded here.
Highlights:
Comes with a built-in privacy search engine
Default link tracking protection
Built-in global Privacy Control
Default app tracking protection
Enhanced tracker, cookie, and browser fingerprinting protection
Check out DuckDuckGo browser here >>
---
7. Mullvad browser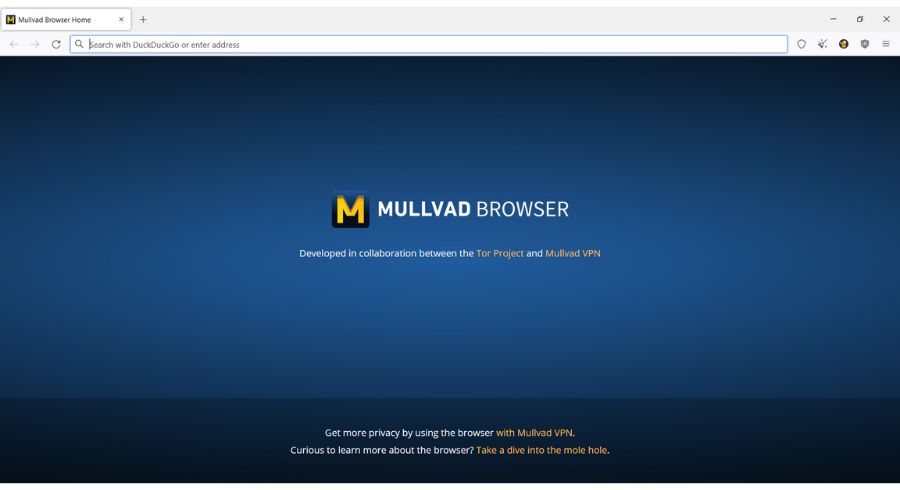 The Mullvad browser is a product of Mullvad VPN, a well-regarded VPN service that made our list of the best VPNs. is for anyone who wants ultimate browser privacy without using a VPN or the Tor+VPN combination we discussed earlier. The privacy-focused browser is built in collaboration with The Tor Project. Still, unlike the onion browser that connects to a decentralized onion network, the Mullvad browser connects to a VPN. The Mullvad VPN company owns the browser, which "promises to free the internet from mass surveillance."
True to its slogan, the VPN browser offers several exceptional privacy and security features, such as a default private browsing mode that blocks cookies and trackers. Moreover, to mitigate browser fingerprinting issues, the browser creates a similar fingerprint for all users by modifying and disguising various identifying things for each user, such as timezone, fonts, browser window size, keyboard layout, language, etc. Some of the other ways that the Mullvad VPN browser ensures security are as follows:
Private browsing mode by default
Uses letterboxing to disguise fingerprinting
Allows security level to be customized based on standard, safer, and safest mode
Disables JavaScript by default
Uses privacy search engines by default
A new identity button feature that prevents subsequent browsing activity from being linked to the user.
It has a private search engine, Mullvad Leta, which provides Google results without tracking issues.
Offers by default First Party Isolation feature that isolates cookies in separate containers by default, preventing tracking.
Default UblockOrigin and NoScript extension integration to block tracking.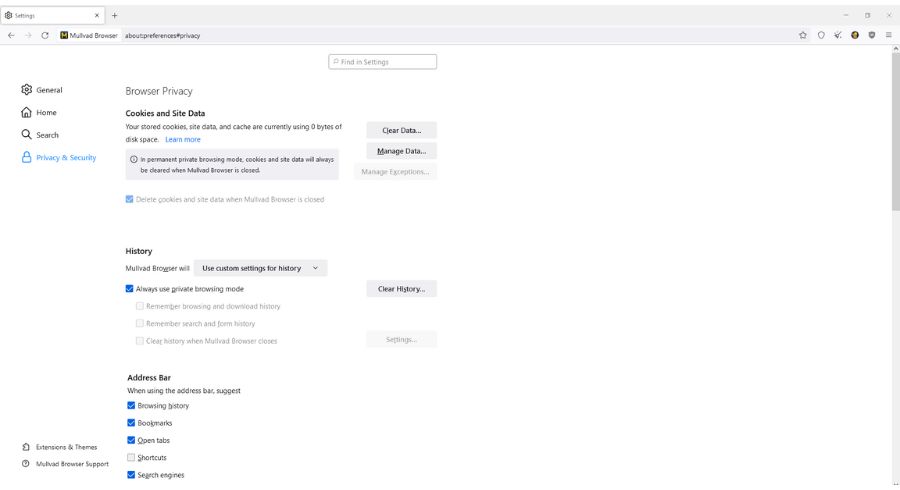 While the browser offers robust security and privacy to its users, there are a few cons to using the VPN browser, amongst which is that it requires constant login to sites per session. Moreover, while the browser is secure, using it alongside the VPN ensures more robust privacy is best.
Highlights:
Prevents tracking by isolating cookies
Security features are customizable
By default, tracker blocking.
By default, it blocks fingerprinting through letterboxing.
Offers a private search engine by default
Check out the Mullvad browser here >>
---
8. Waterfox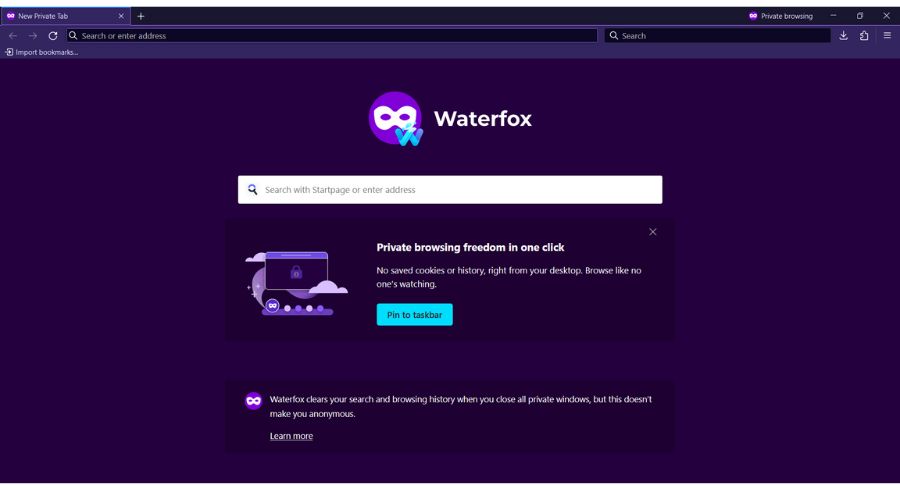 Like LibreWolf, Waterfox is another browser that is the fork of Firefox, which means it gets all the recent privacy and security updates from Mozilla. The browser promises to be a "fast and private" web browser with a simple and easy-to-use interface.
Waterfox offers users basic privacy and security features such as a default built-in tracker and cookie protection. It also provides an Oblivious DNS feature, which helps users maintain anonymity by making it hard for ISPs to track their website connections. Furthermore, Waterfox has most of the Telemetry disabled, which allows users to remain private. Here is how the Waterfox browser helps keep you secure:
Offers default enhanced tracker protection
It comes with a default private browsing mode
Security is custom, sizeable through various levels
By default, HTTPS encryption.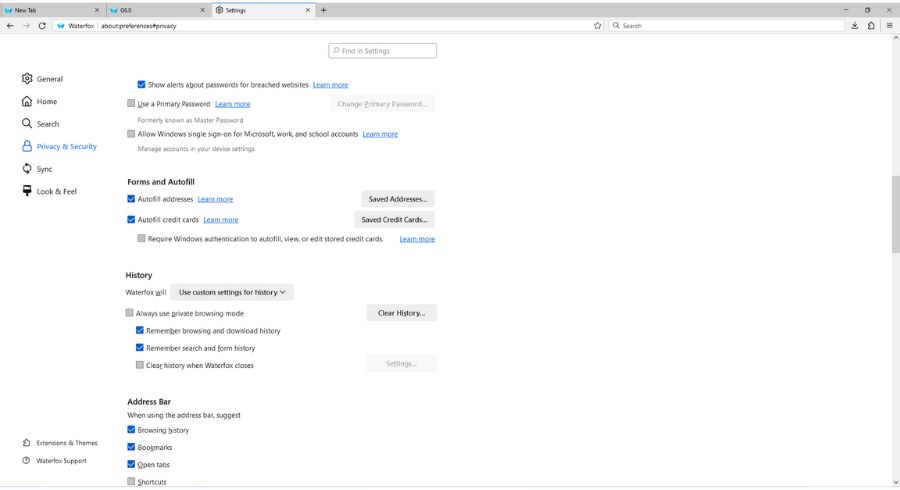 Along with this privacy and security feature, it is essential to note that in 2020, the browser developer sold it out to a pay-per-click ad company called System1. However, in July 2023, news broke on the Waterfox blog that the browser is independent again. Therefore, the browser is a trusted and reliable alternative to Google Chrome. It offers a cross-platform options, and when downloading it, users can choose custom options for the installation process.
Highlights:
Blocks trackers and cookies on default
Default private browsing mode
Oblivious DNS feature for anonymity
Receives Firefox updates
Check out Waterfox browser here >>
---
What are the privacy and security issues with Chrome?
Google Chrome is one of the most popular browsers in use today. While the browser is easy to use and offers a convenient online browsing experience, it does not do so well when it comes to privacy.
That is primarily because the browser is one of the largest data collection tools for advertising and generates billions of dollars from selling user data. In 2022, Google was forecast to generate 168.44 billion US dollars. Advertising and data collection go hand in hand. It's also noteworthy that Google has faced various lawsuits revolving around privacy issues:
However, despite these lawsuits, Google Chrome puts on a facade of maintaining user privacy and security by offering a private mode called "incognito." However, even that has come under scrutiny for allowing Google to track users.
Why do I need to use a secure and private browser?
The modern world thrives on gaining personal information as it helps create better text ads, leading to better business revenues. With browsers being the crucial middle-man for internet use, most advertising companies use them as data collection tools. Furthermore, your browser contains lots of private information about you, as we noted above. So, to ensure a safe online browsing experience, it is crucial to use a secure and private browser.
A secure browser helps protect sensitive data and personal information from potential cyber threats such as hackers, phishing attempts, and malicious websites. It provides features like built-in security protocols, robust encryption, and real-time threat detection to safeguard your online identity.
Additionally, a secure browser enhances your privacy. It prevents intrusive tracking technologies like cookies and third-party scripts from monitoring your online behavior. This shields your personal information and ensures a more private browsing experience. Also, secure browsers do not track or sell your personal information to advertisers and help ensure online data privacy.
Final Words on Google Chrome alternatives
Google Chrome continues to evolve in finding new ways to collect and sell user data to third-party users. To top it off, the browser is often a victim of hack attacks and security exploits. Amidst this, the safest option is relying on alternate privacy browsers.
Fortunately, several good and secure browsers are available to choose from per your unique needs. Since this is a personal decision, we can only guide you by providing suggestions for good laterites and highlighting crucial security features to look out for.
If you value the need for utmost online privacy and security, using any Chrome Alternate you choose with a reliable VPN is crucial. While the browser will ensure safety from cookies, trackers, and browser fingerprinting, a VPN helps you remain anonymous by hiding your IP address and encrypting your online data traffic.
But make sure you use a reliable VPN and not one of the free VPNs with poor encryption and a shady log policy. Only then will you be able to ensure a secure, safe, and private online browsing experience for yourself.
Further reading: