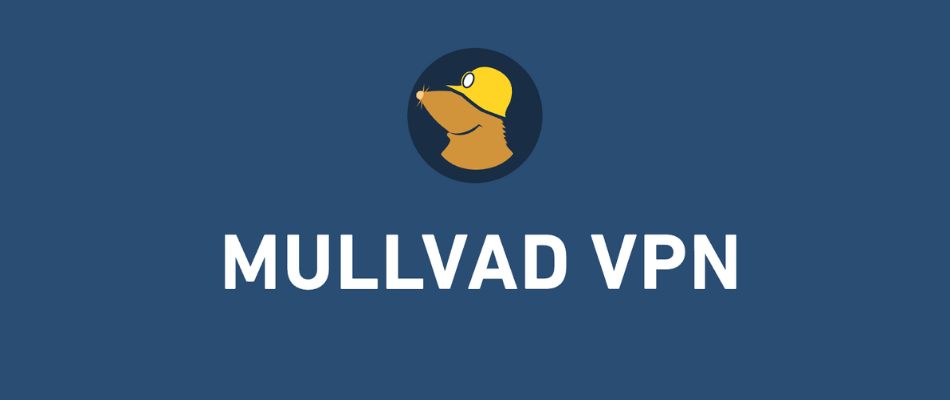 In a world where online privacy is a growing concern, the need for a reliable and secure VPN service is undeniable. Mullvad VPN, a Swedish-based provider, has caught the attention of privacy-conscious users for its robust security features and simple pricing model. So, is Mullvad VPN the ultimate solution for your digital security needs? Let's dive into this comprehensive Mullvad VPN review to examine the test results and get an answer!
We'll explore Mullvad VPN's features, performance, pricing, streaming capability, apps, and more, as well as discuss potential VPN alternatives. Read on to uncover the truth behind this privacy-focused VPN and determine if it's the right choice for you.
Mullvad VPN Overview
| | |
| --- | --- |
| Website | Mullvad.net |
| Based in | Sweden |
| Logs | No logs |
| Price | $5.44/mo. |
| Support | Email |
| Refund | 30 days |
Mullvad VPN AB is a well regarded Swedish-based provider that places a strong emphasis on privacy and security. It is a popular VPN provider among privacy-conscious users, similar in many ways to Proton VPN.
I found that setting up a Mullvad VPN account is simple and straightforward – no personal information is required. After registering, you will get a unique 16-digit account number that serves as both username and password. Although the design of their desktop app may seem outdated, Mullvad VPN offers a wide range of server locations for good performance. With the ability to connect up to 5 devices simultaneously, Mullvad VPN is designed to cater to users who prioritize privacy and security (but not streaming).
+ Pros
Strong privacy and security features
Dedicated apps for Windows, macOS, Linux, Android, and iOS
No IP address or DNS leaks detected
Audited
Accepts private payments
– Cons
Smaller server network
Above average prices
Captcha issues affect usability
Does not work well for streaming
Security and Privacy Features
Mullvad VPN is committed to protecting its users, offering a range of security features. Some of the features we tested out for this Mullvad VPN review include:
WireGuard and OpenVPN protocols

SOCKS5 proxy

Kill switch

Split tunneling

IPv6 support

Multihop
DNS content blocker
We will examine each of these features in detail to understand how they enhance the security and privacy of Mullvad VPN's users.
Tunneling Protocols
Mullvad VPN supports both WireGuard and OpenVPN protocols, providing users with secure and fast connections. OpenVPN is a reliable and established protocol known for its speed and versatility across devices.
On the other hand, WireGuard is a modern and lightweight protocol designed to deliver speed, security, and ease of configuration. By offering both protocols, Mullvad VPN caters to a wide range of user preferences and ensures optimal security.
In the Windows VPN app I tested with Mullvad, it is easy to select the VPN protocol, as you can see in the screenshot below.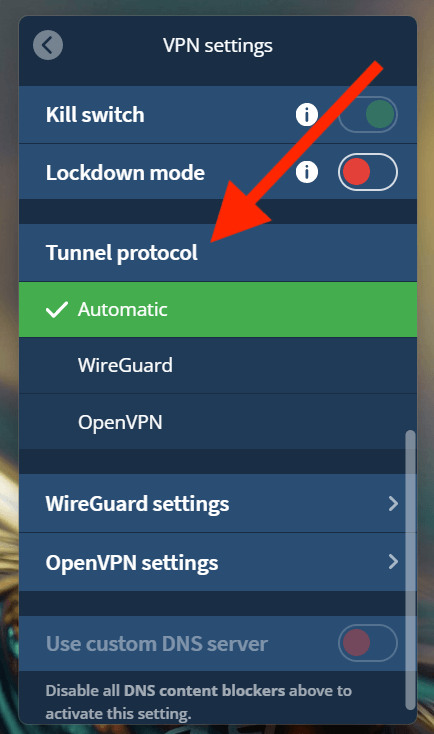 Selecting "Automatic" will allow the VPN client to choose the best protocol based on your network and operating system. Mullvad was one of the earliest adopters of the WireGuard VPN protocol.
SOCKS5 proxy
The SOCKS5 proxy in Mullvad VPN offers an additional layer of encryption and can be set up in the browser of your choice. It's important to note that this is simply a browser-based proxy, not an additional VPN server.
Although activating the SOCKS5 proxy requires manual steps, instructions can be found on Mullvad's official website.
VPN kill switch
The VPN kill switch is an essential security feature in Mullvad VPN that automatically blocks internet access if the internet connection drops, specifically the VPN connection. This ensures that your data remains private and secure, even during unexpected connection interruptions.
The kill switch is enabled by default and cannot be deactivated, offering users peace of mind when using public Wi-Fi or other unsecured internet connections.
Mullvad's "Lockdown mode"
Within the kill switch settings, you also have the option to enable "Lockdown mode" for more protection. Mullvad describes Lockdown mode as follows:
With Lockdown Mode enabled, you must be connected to a Mullvad VPN server to be able to reach the internet. Manually disconnecting or quitting the app will block your connection.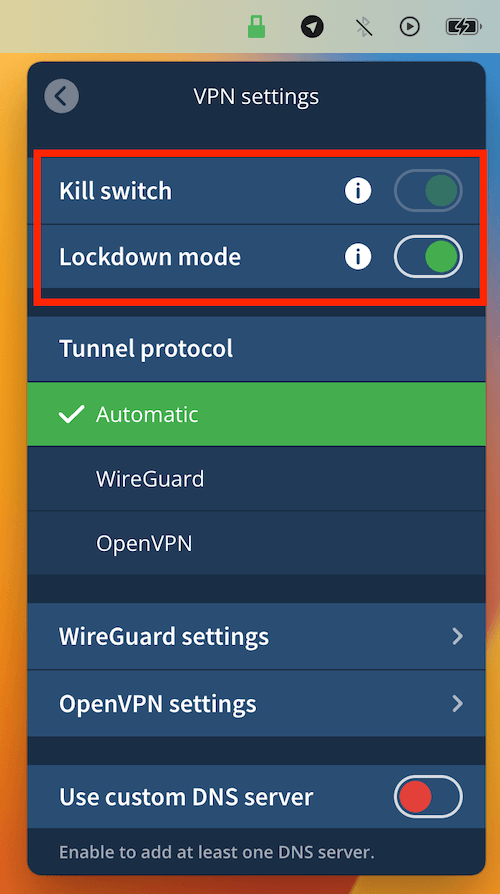 Above you can see the Kill switch enabled by default, and Lockdown mode toggled on. Both the kill switch and the advanced "Lockdown mode" feature performed well in tests for this review.
Split tunneling
Split tunneling in Mullvad VPN allows you to choose which apps bypass the VPN connection, providing you with more control over your online activities. This feature is available in Mullvad's native app for Android, Windows, and Linux, but not on iOS and requires a more technical setup on macOS with OpenVPN.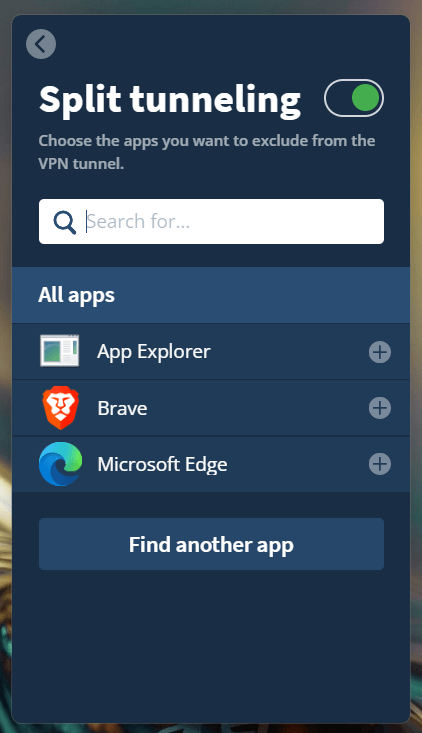 By offering a split tunneling VPN feature, Mullvad VPN users can tailor their VPN usage to suit their specific needs. The split tunneling feature performed fine in our tests for this review.
IPv6 Support
Mullvad VPN provides full IPv6 VPN support, ensuring compatibility with the ever-evolving internet infrastructure. IPv6 is the most recent version of the Internet Protocol and offers a much greater address space than IPv4, allowing for an essentially limitless number of IP addresses. This enables end-to-end datagram transmission across multiple IP networks, making it easier to manage your IP address.
As you can see in our screenshot below, enabling IPv6 is easy to do directly in the VPN settings.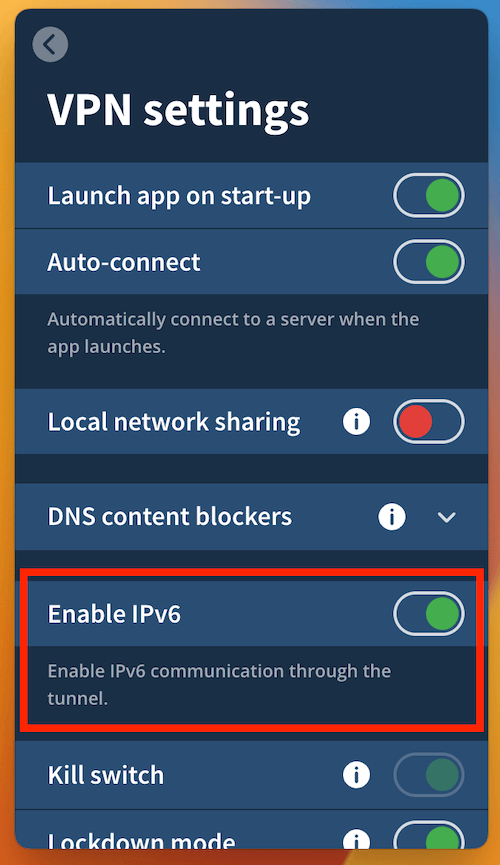 Although there may be some compatibility issues due to the novelty of IPv6, Mullvad VPN's support for this technology demonstrates its commitment to future-proofing its service.
Multihop
Mullvad VPN's Multihop feature allows you to route your internet traffic through multiple VPN servers, which significantly boosts your security by adding an additional layer of end-to-end encryption. Even if one server gets compromised, your privacy remains protected. Multihop also makes it more difficult to track your incoming and outgoing traffic and even has the potential to improve latency.
DNS content filtering
Mullvad's DNS content filtering feature is useful for effectively blocking out certain types of content via the VPN's DNS servers. This allows you to simply enable the feature on the VPN, and block ads, trackers, malware domains, gambling, and adult content. Each category can simply be toggled on and off in the VPN settings, as you can see below.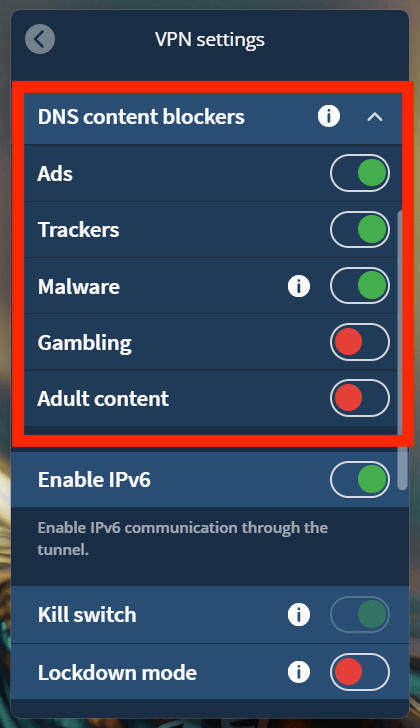 Using a VPN with ad blocking is a fast and efficient way to improve your browsing experience. We see more and more VPNs incorporating this type of feature into their service. Two examples of this are CyberGhost and NordVPN.
Mullvad VPN performance
Mullvad VPN is known for its fast connection speeds and reliable performance, especially when using the WireGuard protocol. With that being said, in our speed tests for this Mullvad VPN review, performance was not always consistent. Some servers were fast, others were average.
Their extensive server network, combined with their commitment to physical server locations, should help with performance. In the following subsections, we'll explore the speed test results and server locations in more detail.
Mullvad speed test results
Anyone who uses a VPN for gaming will prioritize speed. The same can be said if you need a VPN for streaming. After all, nobody wants bandwidth issues while gaming or watching a movie. All of the Mullvad VPN speed tests for this review were conducted on an upgraded 1 GB connection.
Within the Mullvad client, we enabled the "Automatic" protocol option, thereby allowing the app to select the fastest and best protocol.
The first Mullvad server we tested was the fastest location in Seattle at 384 Mbps download speeds:

While this was an excellent speed test result, not all Mullvad servers were this fast in our tests.
Next up was a Mullvad server in Los Angeles with speeds around 125 Mbps:

The last US server we tested was in New York, which gave us speeds of around 87 Mbps:

You can see that the servers get progressively slower in our tests. The final server tested was in London, with speeds around 62 Mbps:

Overall, these are not great speed test results. Even by manually selecting the WireGuard protocol, there was not a huge difference in speeds. For comparison, both NordVPN and Surfshark achieved faster speeds in these server locations.
Mullvad captcha problems
After testing Mullvad over a period of weeks for this review, I noticed a constant issue. That was the recurring problem of running into captcha authentication tasks on various websites. Here is one example when connected to a Mullvad server in the US: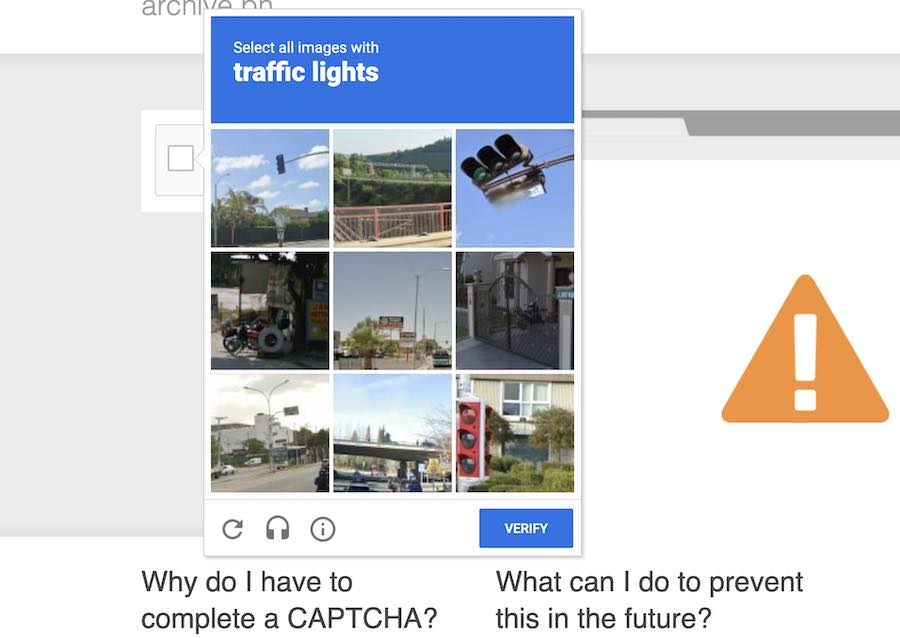 The regular captcha issues are a serious inconvenience when accessing some websites and services.
In my situation, the daily captcha issues proved to be a serious usability hurdle that would deter me from using the service long term. Looking online, I'm not the only one who has been running into this problem lately: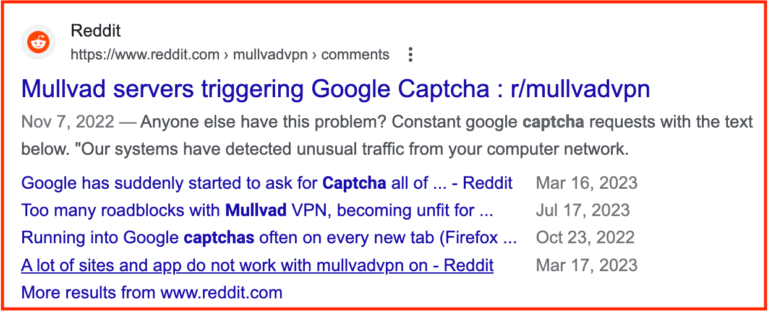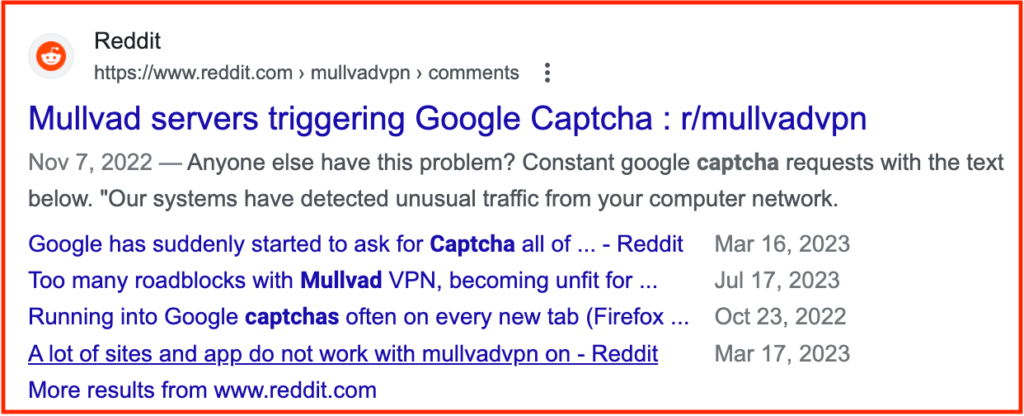 Mullvad states on its website that utilizing a SOCKS5 proxy may help to mitigate captcha issues.
Mullvad VPN server locations
Mullvad VPN offers a limited number of server locations, with servers in 43 countries worldwide. While this may seem restrictive compared to other VPN providers with larger networks, Mullvad VPN's focus on physical server locations ensures fast and secure connections across its network.
Looking at other top VPN services, we can see that both NordVPN and ExpressVPN have a larger server network. Like Mullvad, NordVPN also uses only physical server locations. Meanwhile, we see ExpressVPN and Surfshark utilizing some virtual server locations.
Despite the limited number of servers, Mullvad VPN's commitment to maintaining physical server locations ensures fast and secure connections across its network.
Streaming and Torrenting Capabilities
Many people are using VPNs for streaming. Whether it is using a VPN for Amazon Prime or a VPN for HBO Max, the use case for streaming remains strong. So how does Mullvad do when put to the test?
Mullvad VPN offers the following features:
Supports torrenting on all of its servers, providing fast and smooth file-sharing experiences

Struggles with streaming platforms like Netflix and BBC iPlayer
We will evaluate the specific streaming services accessible through Mullvad VPN and its performance in P2P file sharing to get a clear picture of its real-world capabilities.
Mullvad with Netflix and other streaming services
In our tests for this review, Mullvad did not perform well for streaming. The biggest use case is probably Netflix. Every day, people all over the world use a VPN for Netflix. Unfortunately, in our tests, Mullvad was consistently blocked by Netflix, as you can see below.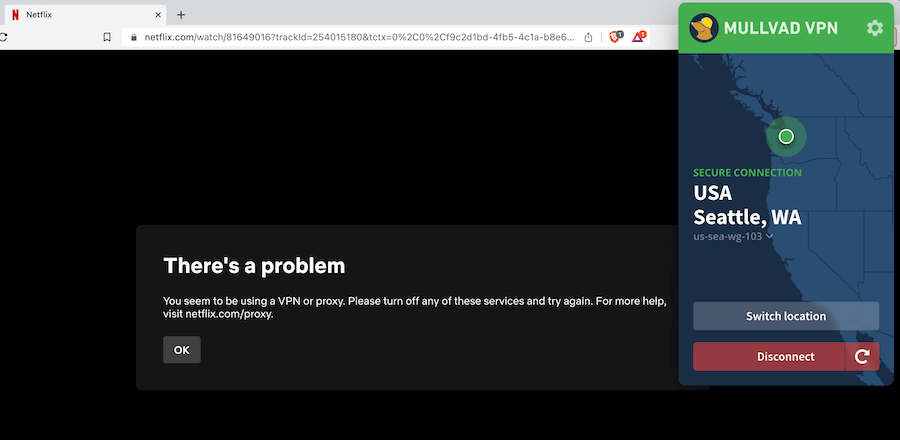 Similarly, we also found Mullvad to be blocked with BBC iPlayer. Using a VPN for BBC iPlayer is another popular use case for streaming.
Of course, we were not able to test every single Netflix region with Mullvad to verify if it was working. That said, in all the US servers we tested, Netflix was blocked and generated the "VPN or proxy" error message you see above. Others on Reddit have also complained about Mullvad not being a good VPN for Hulu or streaming in general, as you can see below.


Similarly, other Reddit users suggest other VPNs for streaming, such as ExpressVPN and NordVPN: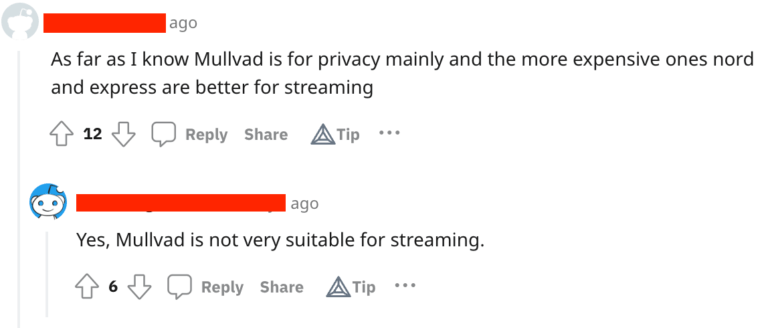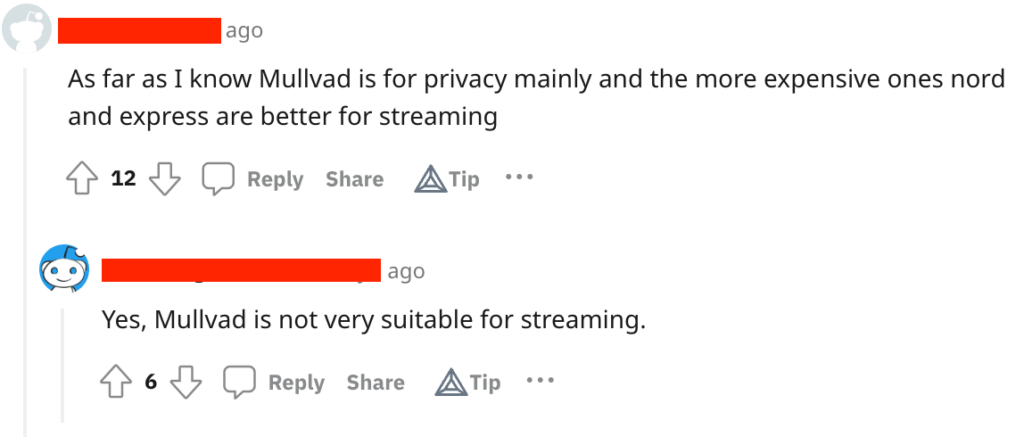 Now we'll see how Mullvad performs for torrenting.
Torrenting with Mullvad VPN
Just like with streaming above, torrenting (or P2P file sharing) is another very popular use case with VPNs. Fortunately, this is a category where Mullvad performs better.
Mullvad VPN allows torrenting on all servers, providing fast and smooth file-sharing experiences. With its kill switch and secure VPN apps, Mullvad VPN ensures a safe and efficient P2P file-sharing experience for its users.
However, there is one other issue to consider. Recall above that Mullvad's speeds can be inconsistent, based on our tests. Therefore Mullvad may not be the best VPN for torrenting, particularly if you want fast file transfer speeds.
Mullvad VPN Pricing and Plans
Mullvad VPN offers a simple, fixed pricing plan. Pricing with Mullvad is really straightforward. It costs 5 Euros per month (about $5.44 USD), regardless of the subscription plan you choose.


They accept a variety of payment methods, including anonymous options like cryptocurrencies, providing users with the flexibility to choose their preferred payment method.
While Mullvad VPN does not have a free trial VPN offer, they may provide 3-hour trial accounts, allowing users to test the service before committing to a subscription. And to be fair, $5.44 per months is certainly more expensive than other popular VPN services, such as CyberGhost and NordVPN. However, it is about on par with ProtonVPN and ExpressVPN.
For those who find this to be a bit expensive, there are other options to consider, such as these cheap VPN services that are all under $4 per month.
Mullvad VPN is a "no logs" service
Mullvad VPN's commitment to user privacy is evident in their no-logging policy. They do not keep logs of user activities, ensuring that your online habits remain private and secure. This is a crucial feature for users who prioritize privacy and security in their VPN service.
The ability to pay for your account with an anonymous payment method further demonstrates Mullvad VPN's dedication to user privacy.
Similar to NordVPN and Surfshark, Mullvad also runs all of its servers using RAM memory (no hard drives). This ensures no data can be stored on any server. It has also been audited to ensure it is a true no logs VPN.
Platform Compatibility
Mullvad VPN offers a client (app) for the following platforms:
Windows

Mac

Android

iOS

Linux
This ensures compatibility across a wide range of devices. While there are some minor differences in features and user interfaces between platforms, Mullvad VPN maintains a consistent user experience across its apps.
We will delve into the features and performance of each app to thoroughly understand Mullvad VPN's platform compatibility.
Mullvad Windows
The Mullvad Windows app includes features like DNS content filtering, kill switch, and split tunneling, providing users with a secure and customizable VPN experience.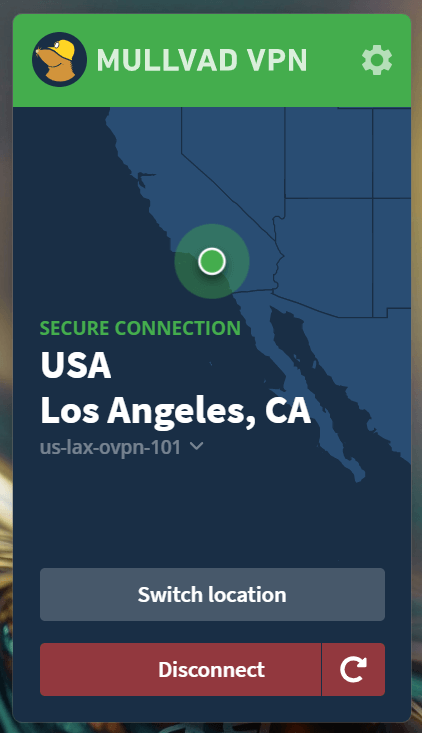 Its user-friendly interface ensures that even novice VPN users can navigate the app with ease. Overall, Mullvad's Windows VPN app performed well in our tests for this review.
Mullvad on macOS
We also tested out Mullvad's VPN app for macOS for this review. Overall, it performed well without any issues. It is nearly identical to the Windows app.
Mobile Apps
Mullvad VPN's mobile apps support the WireGuard protocol, providing fast and secure connections on the go. With a user-friendly experience, Mullvad VPN's mobile apps are suitable for users of all levels of technical expertise.
Mullvad Android
The Mullvad Android app includes split tunneling, auto-connect, and local network sharing options, providing users with a customizable and secure mobile VPN experience.
Its user-friendly interface ensures a seamless experience for Android users. Below is a screenshot of the Android VPN. You can see it looks nearly identical to the desktop apps, without the geographic map server selection, however.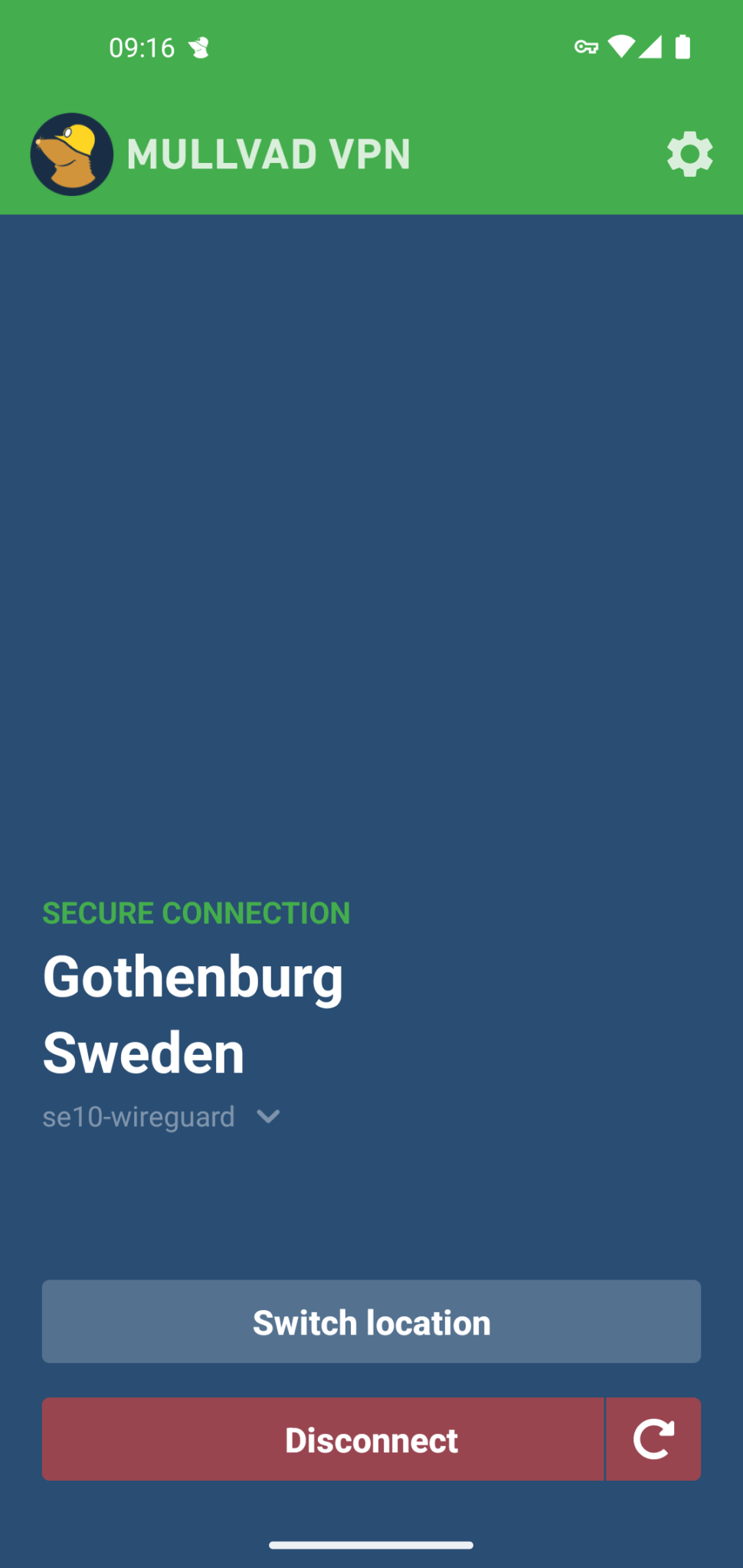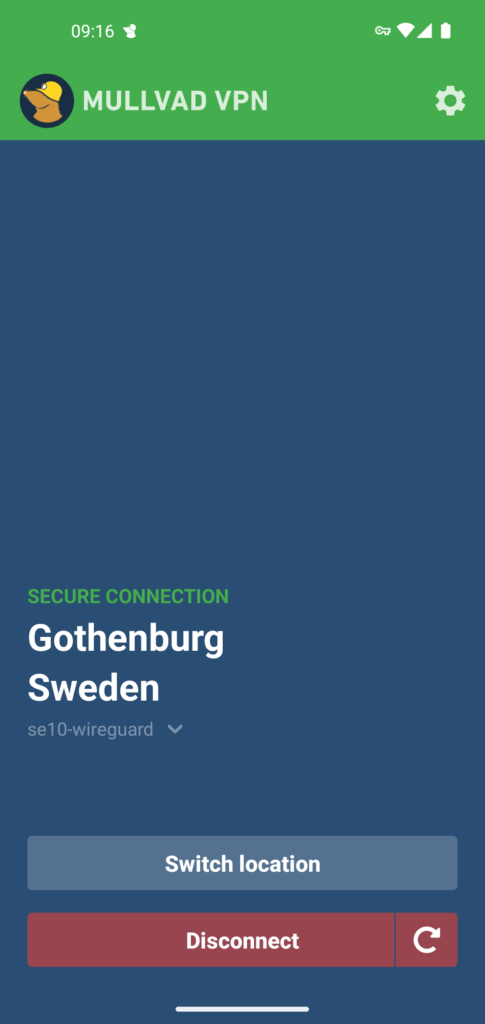 You can see other VPNs for Android here.
Mullvad iOS
The Mullvad iOS app now has a much-improved look. However, it does not have certain features like a kill switch and advanced network settings. Despite these limitations, the app remains a viable option for iOS users seeking a secure and private VPN experience. There are also other great VPNs for iPhone and iPad to consider as well.
Mullvad on Linux
Mullvad is also a decent choice to consider if you need a Linux VPN app. Mullvad still supports Linux via the CLI. You can get detailed instructions here.
Customer Support and Resources
Mullvad VPN offers email support and extensive guides on their website and subreddit, providing users with helpful resources for troubleshooting and setup. However, they lack live chat support, which may be a drawback for users who prefer real-time assistance.
If you want a VPN with live chat support, you may want to consider some of the alternatives in our best VPN list.
Mullvad VPN Alternatives
For users seeking alternatives to Mullvad VPN, some popular options are:
NordVPN

Surfshark VPN

ExpressVPN

ProtonVPN
Each of these VPN providers offers unique benefits, catering to different user preferences and requirements.
We will examine each of these alternatives in detail, emphasizing their key features and differences with Mullvad VPN.
NordVPN
NordVPN is a popular VPN provider with more servers, faster speeds, and much better streaming capabilities compared to Mullvad VPN. In terms of privacy and security, NordVPN even offers a more robust content filtering and anti-malware solution with the Threat Protection feature.
NordVPN is an excellent alternative for users who value a large server network and the ability to unblock a wide range of streaming sites. Additionally, NordVPN is significantly cheaper with the coupon below:
NordVPN's Cyber Deal is live:

Get 68% Off NordVPN with the coupon below plus 3 months FREE, no activation code needed:
(Coupon is applied automatically; 30 day money-back guarantee.)
See our in-depth NordVPN review for more test results and info.
Surfshark VPN
Surfshark VPN is another competitive option to consider. It performed well in our Surfshark VPN review and offers the following features:
Budget-friendly alternative to Mullvad VPN

No logs policy (audited)

Secure protocols

Unlimited simultaneous connections
This makes it an attractive option for users seeking a more affordable VPN service without compromising on security and privacy.
Check out Surfshark VPN here >>
ExpressVPN
ExpressVPN is a premium VPN provider and is even more expensive than Mullvad. It offers the following features:
RAM-based servers

Fast speeds

Ability to unblock streaming sites

Ability to work in China
Although it may come at a higher price point than Mullvad VPN, ExpressVPN offers advanced features and performance for users who prioritize speed and global server coverage.
It has over 3,000 servers in 94 countries and its RAM-based servers provide reliable performance. See our ExpressVPN review for more information.
ProtonVPN
ProtonVPN is a security-focused VPN provider with a strong commitment to privacy, advanced features, and a versatile pricing plan. Developed by the CERN scientists behind ProtonMail, ProtonVPN is a reliable alternative for users who value a VPN service with a strong emphasis on security and privacy.
See our ProtonVPN review to learn more, or check out the Proton VPN website here.
Mullvad VPN review conclusion
In conclusion, Mullvad VPN is a reliable and secure VPN provider with a strong focus on privacy. Its unique account setup process, combined with its robust security features and no-logging policy, make it an attractive option for users who prioritize online privacy.
While it shines in some areas, you should not discount some of the negative aspects that come with Mullvad. These include average speeds, poor support for streaming, a small server network, and captcha issues that get in the way of usability.
Frequently Asked Questions
Is Mullvad a trusted VPN?
Mullvad is a trusted VPN with strong security features, no logs, and the latest technology to make sure your internet traffic is secure.
It has been embraced by privacy-minded users as one of the best VPNs on the market, offering a feature set with both security and convenience features.
Is NordVPN better than Mullvad?
Overall, NordVPN is a clear winner over Mullvad when it comes to price, features, device support, and security. Furthermore, its streaming capabilities provide an additional benefit, making NordVPN the ideal choice for users looking for an all-around superior VPN.
Is Mullvad really anonymous?
No VPN can make you completely anonymous online. That said, Mullvad is a secure VPN with increased privacy and anonymity features such as the option to pay with cash or cryptocurrency. Furthermore, Mullvad has also passed various third-party audits, lending to its credibility.
Can I use Mullvad in the USA?
Yes, you can use Mullvad in the USA – our testing has shown that there is no significant decrease in internet speed when connecting to Mullvad servers in the U.S.
What is Mullvad VPN's focus?
Mullvad VPN's focus is on offering robust privacy and security features to users with a transparent pricing model.