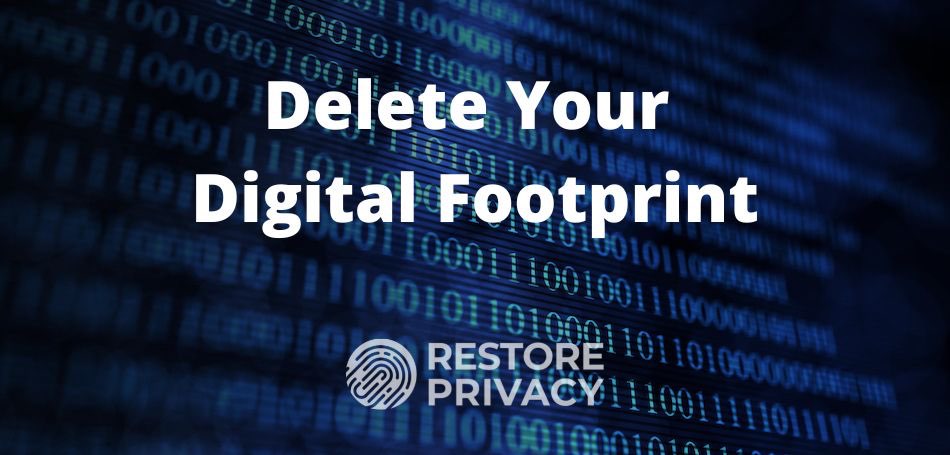 Preserving your privacy online is more difficult than it used to be. Today, virtually every website and online service you use works hard to record data about you and your online activities.
As Clive Humby, the British Mathematician once said, "Data is the new oil." Indeed it is and we're all suffering the consequences of that as various shadowy third parties collect, sell, and broker our private data online.
Fortunately, there are a growing number of solutions to these problems. Today, we're going to look at how you can easily delete and/or minimize your online digital footprint in 2023. But first, let's cover some basics.
What exactly is a digital footprint?
A digital footprint is a term used to describe the trail of data you leave behind as you use the internet. The information included in your digital footprint is things like a list of all websites you visit, the information stored in all the cookies that websites and services drop on your devices, copies of the information you submit online, and even details about the specific device you are using and the software that runs on it.
If you are like me, the idea of strangers capturing our digital footprints must seem like a massive violation of privacy. But most of the world either accepts this situation as it is, or is simply oblivious to what exactly is going on behind the scenes.
Fortunately for us, there are still a few rebels who resist. And they have created tools and techniques that the rest of us can use to defend ourselves against those who collect, compile, barter, and sell our private data.
Before you set out to regain control of your online privacy, take a moment to consider the top data removal services at your disposal. You can also learn about various strategies, including the intriguing possibility of deleting yourself from the internet and ensuring a more controlled digital presence.
Swamped by junk emails and spam? Immerse yourself in our comprehensive guide, unveiling impactful techniques to significantly cut down on unwanted emails and restore harmony to your inbox.
Likewise, if you're fed up with the incessant irritation of robocalls, our detailed guide on stopping spam calls and robocalls holds the remedy you require.
Why should you erase your digital footprint?
With the information contained in your digital footprint, governments, companies, and even individuals can see what you do online. This information is extremely valuable to companies that want to sell you things, governments that want to spy on your every action, employers who want ever greater control over their employees, and various cybercriminals of all sorts who can use it to break into your accounts, and even steal your identity.
Once the information in your digital footprint gets captured by any of those entities, you have lost control over what happens to it. Those who possess it can use it themselves, or sell it to others. Hackers can steal it. Governments can use it to reward 'good' citizens and punish 'bad' ones. There is no end to the ways that your personal information, gleaned from your digital footprint, can come back to haunt you.
Familiar with Whitepages? This popular online directory compiles public records and contact information into a searchable database, often containing personal details like addresses and phone numbers. To remove your data from it, check out our guide on opting out of Whitepages.
How to delete your digital footprint in 3 easy steps
If you agree that controlling your digital footprint is important, then keep reading. The rest of this article covers things you can do to eliminate your digital footprint, or at least reduce its size.
1. Force data brokers to remove your data from the internet
While there are many ways that your data can be captured while you are online, most of that information eventually ends up in the databases of data brokers (also known as info brokers and similar terms). Data brokers make their money by selling information about you. And boy do they know a lot about you. Back in 2014, CBS News reported that Acxiom, the largest data broker at the time, had on average, 1,500 pieces of information on more than 200 million Americans.
Certain jurisdictions around the world have laws that put some limits on the activities of data brokers, but trying to get results from hundreds or thousands of data brokers across multiple worldwide jurisdictions is a job that is far beyond most of us.
Addressing this pressing concern, numerous online data removal services have emerged, committed to combating data brokers and assisting individuals in taking control of their personal information
One of the recent additions to this field is Surfshark, which rolled out a new service called Incogni. Given a minimal amount of information from you, Incogni sends data removal requests to over 100 data brokers, demanding that they remove your data from their database (assuming they have your data).
Incogni's Dashboard provides a high-level view of what's going on, while their Detail view page gives you information about each data broker that they have contacted on your behalf. We have thoroughly tested the service for our Incogni review, and overall it performed well. Here is a screenshot from the dashboard in our tests: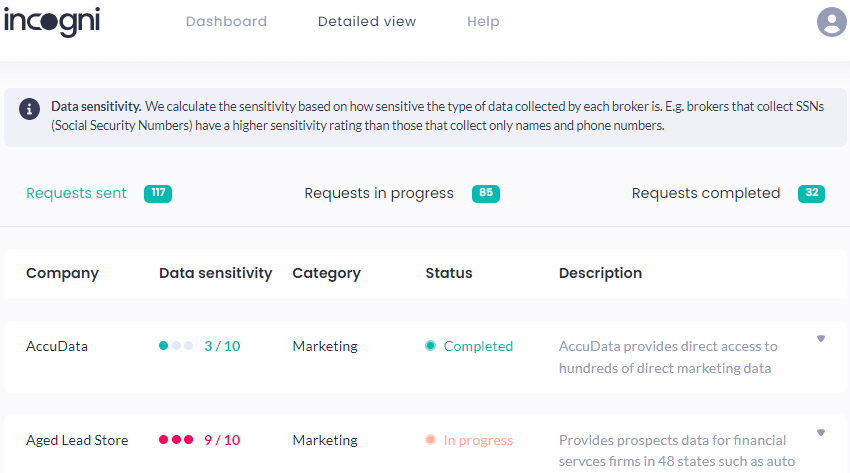 Incogni works with an ever-growing list of data brokers to remove your data based on the data protection laws that affect them. And while most of Incogni's competitors work only with US-based data brokers, Incogni works with brokers in the United States, England, and the European Union.
Getting your data removed from a data broker's database can take weeks or months, so Incogni monitors what's happening, and sends you regular "data removal progress reports." If a conflict arises between Incogni and a broker, the service will take the complaint to the relevant consumer protection agency on your behalf. Incogni even resubmits removal requests as necessary to ensure your data doesn't get reacquired by a data broker in the future.
I've been using Incogni for a few months now. Here's what one of my recent reports looked like: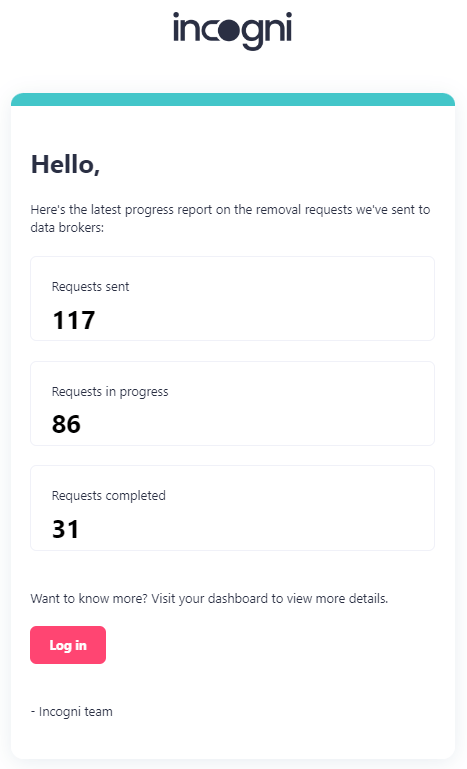 Note: You can find out more about how Incogni helps remove your digital footprints from the internet in our complete Incogni review. Curious about how Incogni stands against similar services? Delve into our comparison guides, Incogni vs DeleteMe and Incogni vs Privacy Bee, for an insightful comparison.
If you value an easy-to-use interface and detailed removal reports, our Optery review, DeleteMe review, and our Privacy Bee review are a must-read.
Incogni Black Friday Deal is live:

Get 55% off Incogni with the discount link below:
(Coupon is applied automatically; 30 day money-back guarantee.)
2. Delete digital footprints from your existing accounts
While it may sound like closing the barn door after the horses are already gone, it really does help to clean up your existing accounts. There are always new players in the data collection game and cleaning up your existing stuff isn't hard to do.
For most people, the place to start is by locking down your social media accounts so they aren't viewable to the world. If you look at your privacy settings, you'll likely find that your posts and photos and whatnot are accessible by almost anyone. Changing the settings to prevent anyone other than your friends from reading about your wild exploits in Cabo, or your latest medical problem will make life much harder on anyone trying to snoop into your life.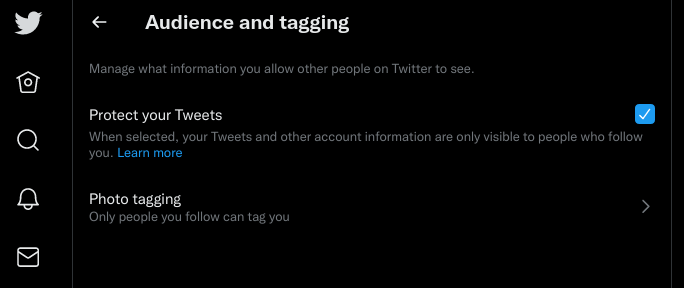 Check to see if you have compromised accounts
Once you have your social media sorted out, you might want to check to see if any of your accounts have been compromised. Unfortunately, with corporate databases being hacked all the time, most of us have been victims of this more than once.
A good tool to use here is called Have I Been Pwned. Enter an email address and it will tell you if that address appears in any compromised databases. If the site finds any compromises, you should log into the affected site and change your password there.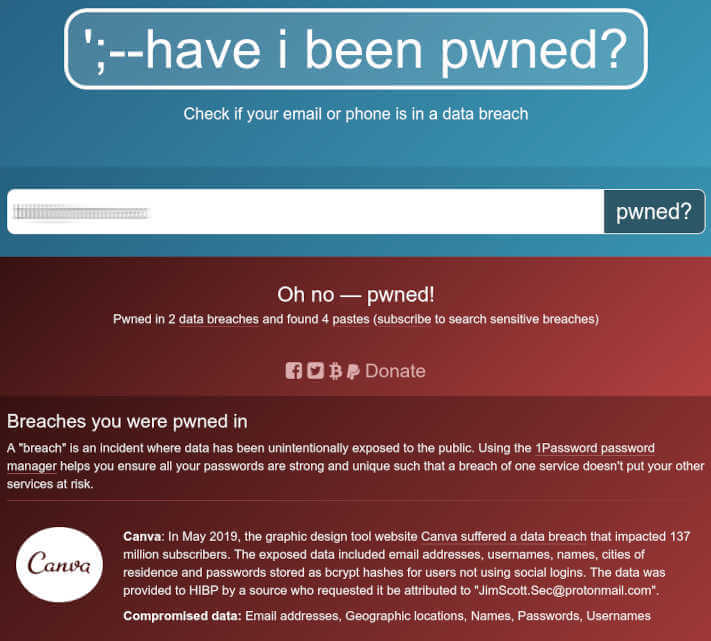 It also wouldn't hurt to click the Notify me tab at the top of the page to get notified the next time your email address gets exposed by some hacker.
Ready for one more cleanup job? This one will clean up your Inboxes, getting rid of annoyingly persistent emailers, spam, and phishing messages, without the senders being any the wiser. Since senders can often see who opens their messages, getting rid of the excess messages altogether eliminates one more bit of data snoops can record.
The general drill is simple: unsubscribe from any mailing list you no longer want to read, and set up rules to deal with the rest of the junk. Unsubscribing from legitimate mailing lists you no longer read usually just takes a second (click the unsubscribe link) and is the polite way to go.
But do not unsubscribe from spam emails. Instead of unsubscribing create a rule that redirects spam messages to your email program's Spam or Trash folders. The reason you should not unsubscribe to these kinds of messages is simple.
When you unsubscribe from a mailing list or other message, you are sending a message to them, telling them that you don't want to receive their messages any longer. But the fact that you unsubscribed tells the sender that your email address is an active one. That you are there at least looking at the messages that arrive.
The fact that there is someone monitoring a particular email address is itself a bit of valuable information. What it tells spammers and phishers is that your email address is a good target for more of their junk mail. If you unsubscribe from a message sent by a spammer, the most likely result is a massive flood of more spam and phishing messages from the spammer. You'll also likely get blasted by other spammers, who paid the first for the information that there is a real live human monitoring your email address.
The solution is simple: create an email rule for each address sending you 'bad' email messages. Have the rule discard the bad messages as soon as they arrive. This way you will never see the junk, and the sender of the junk won't know that there is a person monitoring your email address.
3. Avoid leaving digital footprints in the future
Now that you have put in the effort to delete digital footprint information from the internet, you should reduce the number of footprints you leave going forward. That's pretty self-explanatory, so we won't go into further details
Have you come across doxxing? It's the malicious act of revealing private information online to cause harm or harassment. Explore our guide for essential tips on preventing doxxing and safeguarding your private information.
Let's finish this up with a big list of little (and not-so-little) things you can do to reduce your digital footprint.
Other tips for restoring digital privacy
You could spend a lot of time trying to plug every hole in your defenses, but you don't have to. Anything you can do helps, so check out these tips for keeping your digital info safe in this crazy, nosy world:
That's all for now. We'll continue testing out these types of privacy tools, conducting reviews, and updating our guides accordingly.
This how to delete your digital footprint guide was last updated on November 16, 2023.