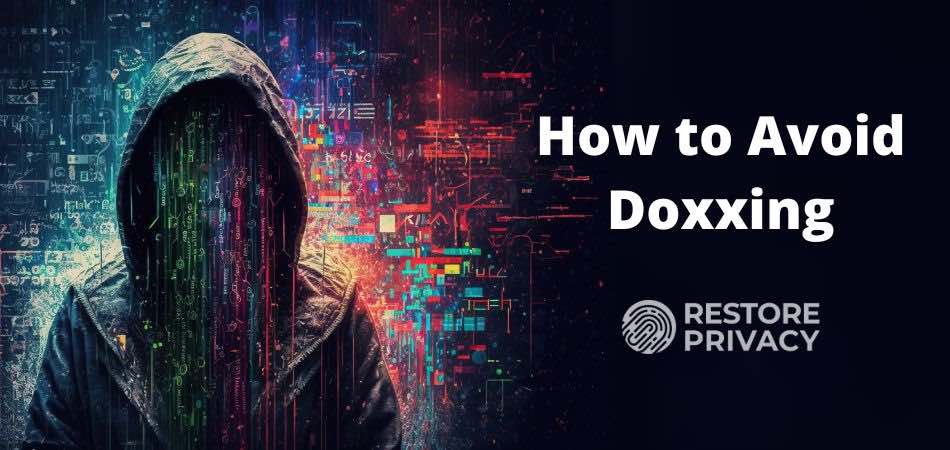 In this tech-savvy era, where everything seems to be a click away, we must be extra cautious about safeguarding our personal information. With the rise of online activity due to the pandemic, we've seen an increase in online hate speech, leading to serious real-world consequences. For example, the UK Safer Internet Centre reported a 225% increase in online hate speech incidents in the UK last year. This highlights the need to protect our personal information and our online presence.
Have you ever heard of doxxing? It involves someone splashing your personal information all over the internet without your consent, constituting a form of online harassment. If it sounds scary, and it should.
Doxxing can lead to some pretty severe consequences, like identity theft, cyberstalking, and even real-world harassment. Imagine having your home address, phone number, or even your favorite ice cream flavor out there for anyone to see. Far from being perfect, if you care about your online privacy.
But how can you tell if you've been doxxed? Well, you might start getting strange emails, or find your personal information popping up in unexpected places online. If you notice anything like this, it's time to take action.
Fortunately, this simple step-by-step guide is here to help you understand doxxing, its potential dangers, and how to fortify your online presence against it.
Key Takeaways
Understand the dangers of doxxing and take proactive steps to protect yourself against it.
Strengthen privacy settings, use pseudonyms, enable multi-factor authentication and audit your digital footprint regularly.

Request removal from data broker websites, document any evidence of doxxing, and seek support to address the incident.

Utilize a data removal service like Incogni to remove your private information from the internet, especially on third-party data broker websites.
Deleting yourself from the internet entirely is a drastic step. It involves systematically erasing personal data from social media, public databases, and online platforms. Many people do this to steer clear of doxxing and protect their private information from being misused.
Understanding doxxing and its dangers
Doxxing is a crafty tactic that involves the public release of someone's personal information without their permission. Consider doxxing as an unwanted spotlight thrown on you, leading to distressing outcomes like identity theft, stalking, and swatting. This malicious practice has been around for decades, with examples ranging from the 1997 doxxing of abortion providers in the US to the more recent 2013 Boston Marathon bombing, where several innocent individuals were falsely accused and doxxed.
The harsh reality is that doxxing can target anyone, regardless of age or profession. The motivations behind these attacks are as varied as the people who carry them out, ranging from personal vendettas to opposing viewpoints. Doxxers employ a range of techniques to gather information, including accessing public records, search engines, and even dark web sources.
The dangers of doxxing are real and severe. One day, you're living your life, and the next, you're dealing with the fallout of having your personal information scattered across the internet. It's not just about the immediate shock and fear, either. Doxxing can result in long-term psychological stress, reputation damage, and even physical harm if misused.
In short, doxxing can cause severe damage, making it crucial to guard your personal information.
Buried under a heap of junk emails and spam? Delve into our comprehensive guide, presenting powerful techniques to slash unwanted emails and bring serenity back to your inbox.
Steps you can take to prevent doxxing
There are several steps you can take to shield yourself from doxxing. These include strengthening your privacy settings, choosing unique usernames and pseudonyms, and putting multi-factor authentication into action.
Let's dive deeper into each of these strategies, shall we?
Strengthen your privacy settings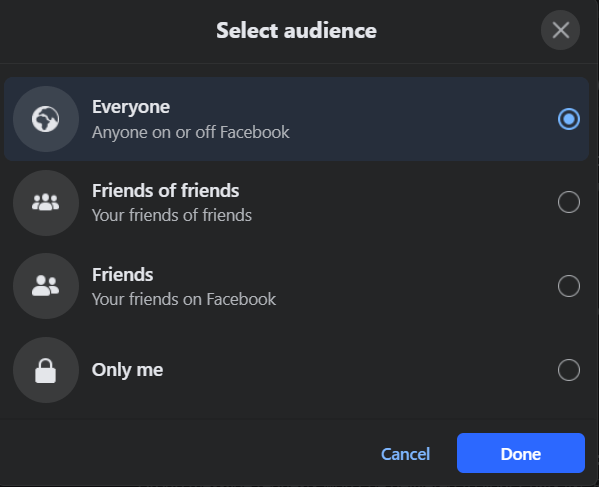 One of the simplest and most effective ways to guard against doxxing is to beef up your online privacy settings. This means tweaking the settings on your online accounts to limit who can see your private information. Think of it like putting up a digital fence around your online life. This includes making your Facebook profile private, ramping up your Instagram privacy settings, and giving a second look at any other online accounts you have. Keep in mind, doxxers can use even the smallest details to create a detailed picture of you.
In addition to putting up this digital fence around your social media accounts, it's important to be careful about what you share on online forums and public networks. This means not using your real name, home address, phone number, and other sensitive information. To add another layer of protection, try to avoid sharing personal information on social media platforms. Plus, always keep a watchful eye on your personal accounts.
Use unique usernames and pseudonyms
Using different usernames and pseudonyms for each online account is a smart way to add a layer of obscurity. It makes it more challenging for doxxers to link your accounts together. This doesn't just help to mitigate the risk of doxxing, but it also adds a fun element of creativity to your online presence. After all, who doesn't love a witty alias?
By complicating the process of connecting accounts and gathering information, you're essentially throwing a spanner in the works for anyone trying to dig up dirt on you. When it comes to creating secure usernames, try to avoid the obvious. For instance, using your name or the beginning of your email address is a no-go. And remember, never reveal personal information within the username itself.
If you're stuck for ideas, don't worry. There are plenty of easy-to-use online username generators that can help you create unique and secure usernames. Sites like SpinXO, Jimpix, and Name Generator 2 are just a few examples. So go ahead, get creative, and add that extra layer of protection to your online accounts.
Create hard-to-crack passwords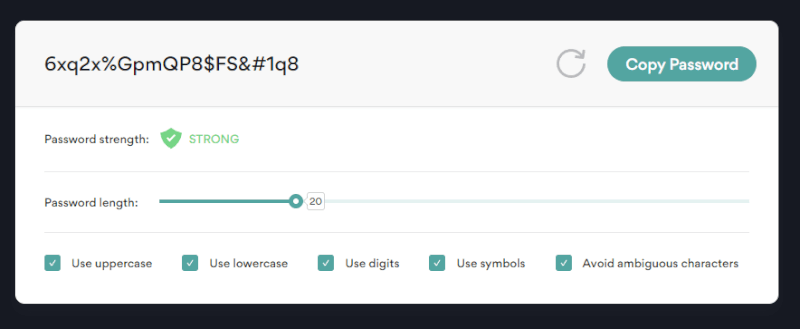 When it comes to your online security, creating strong, unique passwords is your first line of defense. A strong password is like a sturdy lock on your digital life, keeping unwanted intruders out. So, how do you create a password that's as tough as a digital deadlock?
Firstly, avoid using obvious information like your name, date of birth, or 'password123'. These are easy targets for doxxers. Instead, opt for a mix of uppercase and lowercase letters, numbers, and special characters. A strong password should be at least 12 characters long. Consider using a phrase or a sentence that's easy for you to remember but hard for others to guess.
But keep in mind, using the same strong password for multiple accounts can compromise your security. That's where password managers come into play.
Some of the best password managers, such as NordPass, Bitwarden, and 1Password, are like digital vaults that generate, store, and fill in unique passwords for your online accounts. They encrypt your passwords, meaning only you can access them. This way, you only need to remember one master password – the one that unlocks your password manager.
Let's look at the benefits of using a password manager:
Generate and store unique passwords for each account: Password managers can automatically generate strong, unique passwords for each of your accounts, so you don't have to.

Maintain your online privacy: By storing your passwords securely, password managers help maintain your online privacy, preventing doxxers from gaining access to your accounts.

Shield you from potential phishing scams and other cyber threats: Password managers can recognize the sites where you have accounts, and they won't autofill your password on a different site. This helps protect you from phishing scams, where doxxers create fake versions of real sites to trick you into entering your password.
Remember, while password managers significantly enhance your online security, they are not a silver bullet. It's still essential to use strong master passwords, enable multi-factor authentication, and keep your devices secure.
You can also check out our reviews of the best password managers:
Implement multi-factor authentication

Multi-factor authentication (MFA) is an essential tool for enhancing online security. Imagine it as a bouncer at the door of your digital life, asking for not just one, but multiple forms of ID before letting anyone in. It requires additional elements to authenticate your identity, such as an SMS confirmation, a code from an authentication app, or a prompt from a browser extension. It's like a secret handshake that only you know.
Implementing MFA through apps or extensions adds an extra layer of protection to your accounts. It also gives you peace of mind.
For more practical tips, explore our guide on how to use two-factor authentication.
Other steps you can take to protect your online activities
Besides MFA, you can employ other security measures to safeguard your online activities. These steps can make it more challenging for potential doxxers to access your personal information.
One such measure is using one of the most secure virtual private networks (VPNs). By encrypting your internet connection, a VPN can shield your IP address from prying eyes and keep your online activities under wraps. It's like having your very own secret passageway on the internet, keeping you safe from potential cyber threats.
Have you ever thought about using anti-virus and anti-spyware software? These tools act like your personal digital bodyguards, protecting your devices from harmful software that could compromise your security.
And let's not forget about firewalls. It acts as a barrier between your device and the internet, blocking unwanted traffic to secure your data.
Last but not least, consider using one of the top secure browsers. Designed to protect your online privacy, these browsers block third-party cookies, trackers, and ads. They function as a private jet for your internet journey, enabling you to browse without being tracked.
Noticing a rise in spam calls, emails, or unauthorized disclosures of private details could hint at potential doxxing. If you're tired of endless robocalls, our in-depth guide on stopping spam calls and robocalls presents an effective solution.
So, as you can see, protecting yourself from doxxing doesn't have to be a daunting task. Armed with the right tools and knowledge, you can confidently navigate the digital realm and even take steps to delete your digital footprint.
How to protect your online presence
Securing your online presence is a bit like playing a never-ending game of hide and seek. It involves regularly checking your digital footprints, using tools like Google Alerts to keep an eye on your personal data, and being careful about what you share online, especially on public networks.
If you're ready to learn more about these strategies, let's dive in.
Regularly audit your digital footprint

Regularly checking your online posts, comments, and profiles is a smart move to lessen the risk of doxxing and keep your privacy intact. To perform a thorough digital footprint audit, you can:
Use social monitoring tools such as Hootsuite or Reputology to get a bird's eye view of your social media presence.

Conduct a Google search of yourself – you might be surprised by what you find.

Set up Google Alerts to keep tabs on any mentions of your name or personal information online.
Once you've spotted publicly available information about yourself, jot down any pieces that require immediate attention and record the information and its source. Be sure to remove or hide any personal information that potential doxxers could use.
Monitor your personal data with Google Alerts

Google Alerts is a free tool that can be your personal guardian on the web, watching out for any mentions of your name or other personal details. When it spots something, it'll let you know, allowing you to stay in control of your online presence and act swiftly if your privacy is compromised.
Setting up Google Alerts for personal data monitoring is as easy as it gets. Here's how you can do it:
Head over to the Google Alerts page.

Type in your search terms, such as your name or other personal details.

Choose your preferences, like how often you want to receive alerts and from which sources.
With Google Alerts, you can:
Stay on top of any instances where your personal information pops up online.

Take immediate action to request its removal.

Keep an eye on the dark web for potential threats to your privacy.
All in all, it's a small step that can make a big difference in protecting your privacy.
Limit information shared on public networks
When you're using public networks, such as Wi-Fi networks that are open to everyone, you're exposing yourself to potential risks.
These networks are often not secured, which makes them susceptible to data interception. To minimize the risk of doxxing, it's important to limit the amount of personal information you share on these networks. Be especially cautious with the network sharing functionality that might reveal your full name, address, phone number, or other sensitive information.
How to deal with data brokers and unwanted exposure
Data brokers are organizations that aggregate and distribute personal data, which can contribute to unwanted exposure and doxxing threats.
To address this issue, you can request removal from data broker websites and utilize data removal services.
Request removal from data broker websites

Want to keep your personal information safe from data brokers? The first step is to reach out to them and ask them to remove your details from their databases. You can check if your information is on data broker websites like People Finder and Whitepages.
Remember, every data broker is different. The process to remove your information might be different for each one, and you may need to provide some additional details or documents to confirm your identity and complete the removal process. It might seem like a bit of a hassle, but it's a crucial part of protecting your privacy online.
You can follow our straightforward, step-by-step guide to opt out of Whitepages.
Utilize data removal services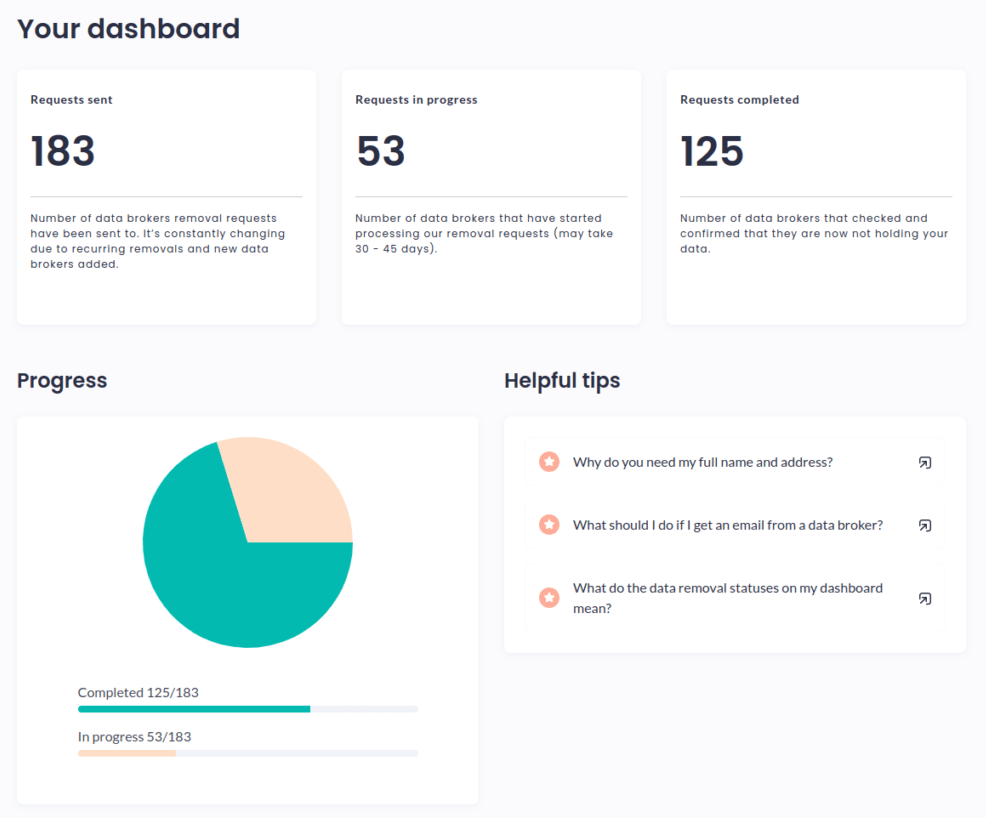 Data removal services act as your personal online cleanup crew. Their job is to hunt down your personal info that's scattered around the internet, ask for it to be removed, and keep an eye out to make sure it doesn't reappear. They're also a godsend if you're worried about doxxing.
Incogni is one of the best data removal services as it takes your online privacy seriously. With a one-year subscription, which is currently available at a 50% discount (at $6.49 per month), subscribers can keep their data off the market. Using such privacy-focused tool is a crucial step towards protecting your personal information from being used or misused for marketing, recruitment, financial and health assessments, or even further scams and phishing attempts.
Incogni identifies data brokers that are likely to have your sensitive information, such as your social security number, physical address, phone number, or email address. Once these potential data brokers are listed, Incogni leaps into action, sending out removal requests to delete your personal data from their databases.
But Incogni's job doesn't stop there. Even after your information has been deleted, Incogni continues to send data removal requests regularly to these brokers. This is because these data brokers have a tendency to collect your information again after some time, and Incogni ensures that your data remains off their radar.
Throughout this process, Incogni keeps you in the loop. Users can monitor the progress of these operations through their personal Incogni dashboard. It provides updates on potential databases found, requests sent, and requests completed, making it easy for users to keep track of how their data is being protected.
In short, data removal services are super handy if you're dealing with a ton of personal data spread across the internet, or if you simply don't have the time or the tech skills to do it yourself.
Incogni Black Friday Deal is live:

Get 55% off Incogni with the discount link below:
(Coupon is applied automatically; 30 day money-back guarantee.)
If you're eager to learn more about Incogni, check out our hands-on Incogni review. Considering its competitor? Don't overlook our comprehensive DeleteMe review for an in-depth analysis.
For a detailed comparison of Incogni with similar services, delve into our comparison guides: Incogni vs DeleteMe and Incogni vs Privacy Bee.
If you value an intuitive interface and comprehensive removal reports, our Optery review and our Privacy Bee review offer valuable insights.
How to respond to a doxxing incident
If you've been doxxed, swift and decisive action is essential to mitigate potential damage and recover from the incident. Here's a step-by-step guide on what to do:
Document the incident: Record any evidence such as when and where the doxxing occurred, the source of the doxxing, and any other relevant details.

Secure your accounts: Immediately change your passwords, enable multi-factor authentication, and review your privacy settings on all of your accounts.

Seek support: Reach out to family, friends, and professionals who can provide emotional support and guide you through the necessary steps to address the doxxing incident.

Delete personal information: If someone has posted your personal information online, take steps to remove it promptly.

Contact authorities: If necessary, contact the police and consider legal action.
So, take these steps into account, stay vigilant, and ensure your online world remains a safe space.
Legal aspects of doxxing
The legalities of doxxing can vary from country to country. When it comes to illegal activities related to doxxing, these often include crimes like stalking, harassment, or identity theft. Some places, such as the United States and Hong Kong, have specific laws against doxxing. For instance, the Interstate Doxxing Prevention Act in the US and the 2021 anti-doxxing legislation in Hong Kong.
If doxxing crosses into criminal activities, the person doing the doxxing can face charges like:
Stalking

Harassment

Identity theft

Incitement to violence
Understanding the legal aspects of doxxing and reporting any incidents to the right authorities is really important for your protection.
How to not get doxxed FAQ
Can you prevent being Doxxed?
Yes, you can certainly take preventive steps to protect yourself from doxxing. The first and foremost strategy is limiting the amount of information available about you online. You can achieve this by regularly auditing your digital footprint and removing or hiding any personal information that potential doxxers could use.
You should also consider setting your social media posts to "friends only" to limit who can see your personal information. Using a VPN is another effective way to safeguard your online activities and maintain anonymity. Lastly, avoid revealing personal information such as your real name, home address, or phone number on public networks.
What is the difference between doxxing and swatting?
Doxxing and swatting are both malicious practices, but they differ in their nature and impact. Doxxing involves the act of collecting and disseminating someone's personal information without their consent, often leading to harassment and violation of privacy.
On the other hand, swatting is the act of making a false report to the police, usually of a serious nature like a hostage situation, to draw a SWAT team or other heavy police response to a specific location (often the victim's home). So, while doxxing can lead to swatting, they are different in terms of their execution and the nature of harm they cause.
How can I tell if I've been doxxed?
There are several signs that might indicate you've been doxxed. You may start receiving unsolicited emails or messages from unknown sources, or find your personal information posted online without your consent.
Another sign is being contacted by someone who knows personal details about you that you haven't shared publicly. If you notice an increase in spam calls or emails, or if people are reaching out to you referencing information that should be private, these could be indicators of doxxing.
It's also possible to discover you've been doxxed if you see your personal information appearing on websites or forums where you didn't post it.
Is doxxing always illegal?
Doxxing and its legality can be a bit of a gray area, and it tends to change depending on where you are in the world. For instance, some countries don't have specific laws against doxxing, but if it involves nasty stuff like stalking, harassment, or identity theft, then it can definitely cross into illegal territory.
Let's take the US as an example. There are no federal laws that directly target doxxing, but if it's used to harass or threaten someone, then various state and federal laws can step in to deal with the issue. On the flip side, places like Hong Kong have decided to tackle doxxing head-on with explicit laws against it, and breaking these laws can lead to some pretty severe penalties, including time behind bars.
Even in places where doxxing isn't explicitly illegal, victims can potentially fight back by suing for damages under civil causes such as defamation or invasion of privacy.
Conclusion: Staying safe in the digital world
Staying safe in the digital world might seem like a daunting task, but it doesn't have to be. By staying alert and taking proactive steps, you can effectively safeguard your personal information and enjoy your online activities with peace of mind. Here's a quick recap of the strategies we've covered in this guide to help you minimize the risk of doxxing and other cyber threats:
Strengthen your privacy settings: Make sure your social media profiles and other online accounts are as private as they can be.

Use unique usernames and pseudonyms: Mix things up with different usernames for each account. It's a simple way to make it harder for doxxers to connect the dots.

Create hard-to-crack passwords: Use a password manager to create and store strong, unique passwords for each of your accounts.

Implement multi-factor authentication: Add an extra layer of security with multi-factor authentication.

Regularly audit your digital footprint: Keep an eye on where your personal information is showing up online and take steps to remove or hide it.

Request removal from data broker websites: Reach out to data brokers and ask them to remove your personal information from their databases.

Use professional data removal services: Consider using a privacy-focused service such as Incogni and DeleteMe to clean up your online presence. The best option for this is Incogni.

Monitor your personal data with Google Alerts: Set up Google Alerts for your name and other personal details to keep tabs on where your information is popping up online.

Limit information shared on public networks: Be mindful of what you share, especially when using public Wi-Fi networks.
Remember, safeguarding your personal information is a continuous process. The digital landscape is constantly changing, and staying updated and adaptable is key. Doxxing is a serious form of online harassment, but with the right knowledge and tools, you can significantly reduce the risk and maintain a safe and secure online presence.
This guide on how to prevent doxxing online was last updated on November 17, 2023.