Have you ever wondered what it would be like to erase your digital footprint and regain control over your personal information? Although the thought may seem daunting at first, removing yourself from the internet comes with major benefits, including improved privacy and data security, reduced exposure to online threats, and a superior sense of control over your digital identity.
Meanwhile, in today's ever-evolving digital age, maintaining control over our online presence has become more challenging than ever. Identity theft is a critical issue that impacts individuals worldwide, not just those in the US. According to Identitytheft.org, the frequency of identity theft incidents has escalated over recent years, making it a significant concern for many.
Meanwhile, the internet can feel like a labyrinth, with personal information scattered across numerous websites and databases. So, whether it's protecting your privacy or curating your digital footprint, the need to manage your online identity has become a serious concern.
However, fear not. With this simple step-by-step guide, you can learn how to effectively remove yourself from the internet, reclaim control over your digital identity, and protect your online privacy.
Now, let's embark on this journey and uncover the secrets to effectively removing yourself from the vast and sometimes overwhelming expanse of the internet.
Key Takeaways
Protect your private data from identity theft by cleaning up your digital footprint.
You can take steps to limit online presence, such as deactivating social media accounts and deleting shopping and dating profiles.
Using good privacy tools to keep your data safe is essential, including a good VPN and data removal service like Incogni.
embrace digital minimalism for superior control over online reputation and security.
Ultimately, protecting your personal data involves more than merely keeping your secrets. It's about taking charge of your information, deciding who can access it, how much you wish to share, or completely erase your digital footprint.
Data brokers and identity theft: What are the risks of having your personal information available on the Web?
In the digital age, data brokers act as information collectors, constantly accumulating and selling personal data from a variety of sources, including social media and other online platforms. This information, unfortunately, can be used to monitor your online activities, subject you to targeted advertising, and even place you at risk of identity theft. Some individuals, particularly those in law enforcement or victims of harassment, may find themselves especially vulnerable to these risks.
Data brokers acquire information from both public sources and from companies that legally share personal data. These companies often have privacy policies that allow for the sale or transfer of personal data. This means your personal information could be in the hands of countless data aggregators without you even realizing it, let alone giving your consent.
Having your personal information out there can lead to serious cyber risks. It makes you an easy target for hackers and scammers who might try to steal your identity or trick you into giving them money. Once your info is out, it's harder to keep it private, which could lead to strangers knowing too much about you or even trying to bother you.
So the risks aren't just hypothetical – they're very real and require immediate action to regain control over your personal data.
What are the benefits of scrubbing up your digital footprint?
Cleaning up your digital footprint comes with a whole host of perks. For starters, you'll enjoy enhanced privacy – it's a bit like having a secret identity, but online.
Next up, you'll see a decreased risk of identity theft. Think of it as having an invisible shield protecting you from the villains of the cyber world.
You'll also gain improved control over your online reputation. It's a bit like being the director of your movie, where you get to decide how the world sees you. Another bonus is the ability to manage old accounts.
By removing your personal information from the internet, including people search sites, you can protect your privacy and take the driver's seat in controlling your data.
Now, you might be thinking, "This sounds great, but it also sounds like a lot of work." Don't worry. There are various services like Incogni, DeleteMe, and Optery that specialize in account deletion and personal information removal from websites.
While the cost may vary, typically ranging from $7 to $25 per month, the benefits of privacy protection are well worth the investment. Data removal services, with their expertise and dedicated focus, can effectively navigate through the complex process of data deletion, ensuring a thorough and efficient removal of your personal information from various online platforms.
When deciding on a course of action, consider factors like the extent of your privacy concerns, the time and effort you're ready to invest, and the cost of maintaining your privacy. It's all about finding the right balance that works for you.
Before you begin your journey to restore online privacy, take a moment to consider the top data removal services available today.
The first step: Deleting social media and other online accounts
The journey to disconnecting yourself from the internet begins with a crucial step – eliminating your social media accounts and other online profiles.
These profiles, which might include online shopping, dating, and, of course, social media sites, are the primary contributors to your digital footprint. By deleting these accounts, you can significantly reduce the data that companies can collect about you. This, in turn, prevents your social profiles from popping up in Google searches and minimizes the risk of data breaches.
So, how do you go about deleting these accounts? Here's a general guide:
Log into each of your social media, online shopping, and dating accounts.

Navigate to the account settings or profile settings section. This is usually located in the top right corner of the website or app.

Look for options like "Delete Account", "Deactivate Account", or "Close Account".

Follow the prompts to delete your account. This may involve confirming your password and acknowledging that you understand the consequences of deleting your account.

Repeat these steps for each of your accounts.
Remember, the aim is to limit the amount of personal information that is available about you online. By following these steps, you are taking a significant stride towards reclaiming your online privacy.
Deactivating Facebook, Twitter, Instagram, and beyond
Deactivating your Facebook, Twitter, and Instagram accounts is an effective way to limit your online presence and protect your personal information. Here's how to do it: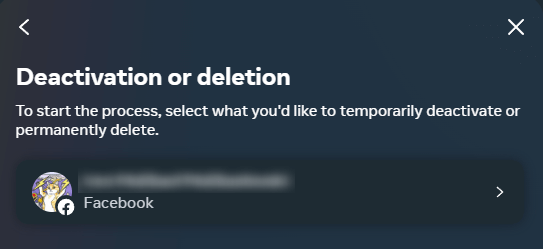 Facebook: Navigate to Settings & Privacy, then Settings and select Your Facebook Information. You can then click on Deactivation & Deletion to deactivate your Facebook account.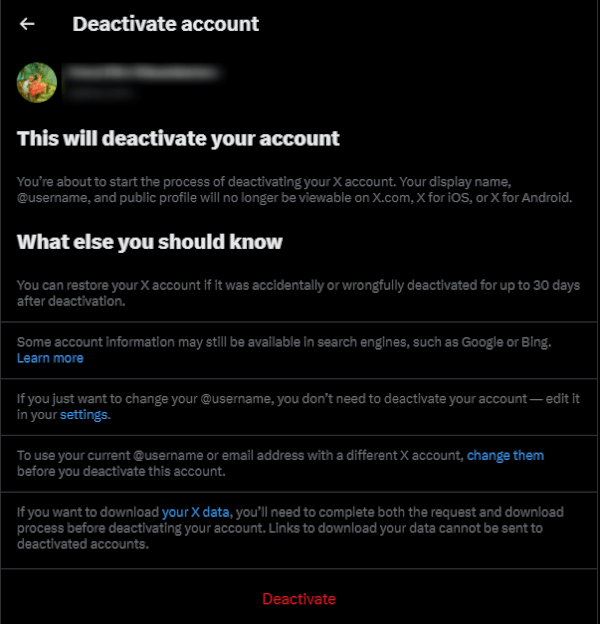 Twitter: Go to the Settings and Privacy tab and select the option to deactivate the account.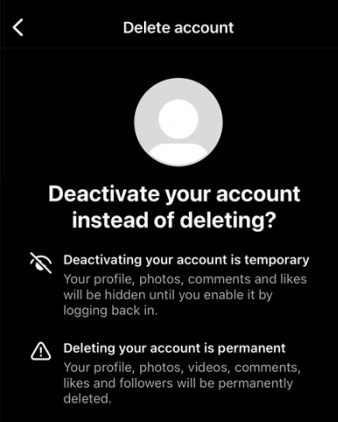 Instagram: Log in and go to the request deletion page, provide a reason for deletion, re-enter your password, and the delete account option will become available.
It's also important to manage your privacy on these platforms and take proactive measures to protect your personal data. Here are some steps you can take:
On Facebook, you can limit location data collection by turning off the Location tab.

On Twitter, disable the option to include location data in tweets and restrict searches of email and phone numbers to connect to your profile.

For Instagram, make your account private by navigating to your profile, selecting Settings, accessing Account Privacy, and enabling the Private account option.
Remember, your online security is in your hands, so take the necessary steps to protect your personal information.
Removing online shopping and dating profiles
Deleting online shopping and dating profiles can further decrease your digital presence and minimize the chances of your personal information being mishandled. For example, to delete accounts like your eBay email account, you can follow these steps:

Log in to your eBay account.

Access the Account Settings or Account Information section.

Locate the option to close or delete your account.

Follow the prompts provided.

Confirm your decision to delete the account. Once your account is closed, eBay will send you an email notification.
Remember, it's crucial to ensure the removal of personal data when deleting an online shopping profile. It can be done by following the easy-peasy steps we've laid out earlier in this guide.
Concerned about your personal information on Whitepages, a widely-used online directory? Our detailed guide provides easy step-by-step instructions to opt out of Whitepages, ensuring your data gets removed from their database.
Likewise, if junk emails and spam are overwhelming your inbox, check out smart strategies in our guide designed to drastically reduce and manage these unwanted messages.
Erasing your digital footprint: Opting out of data broker sites
Opting out of data broker sites is an essential step toward erasing your digital footprint. What are data brokers, you ask? Well, they are companies that make a living off collecting and selling personal information about individuals like you and me. Therefore, it's super important to say "no, thank you" to their data collection practices. This way, you're taking a big leap in protecting your privacy and reducing your risk of identity theft.
Now, when it comes to opting out of these data brokers, there are two main routes you can take. You can either roll up your sleeves and do it yourself or you can let third-party services handle it for you.
A do-it-yourself approach to data removal
The hands-on approach to data removal has its own set of pros and cons. On the positive side, it allows you to maintain direct control over the process and be fully aware of where and how your data is being handled. On the downside, it can be time-consuming and requires a certain level of technical knowledge to navigate through various platforms and procedures.
This approach entails:
Reaching out to data brokers directly via email or pre-made forms to opt out of their data collection practices.

Maintaining oversight of the process.

Investing time and effort into ongoing maintenance to ensure your information remains off these sites.
Remember, even after opting out, ensuring that your data is completely purged from their systems and hasn't been transferred elsewhere can be challenging.
Feeling uneasy about 'doxxing'? This damaging act exposes private info online, often with harmful intent. Explore our guide on preventing doxxing to safeguard yourself.
Use a third-party data removal service
You can seek help from third-party services for data removal, which may save time and effort, however, their effectiveness can vary. Reputable third-party data removal services include:
Incogni: known for its straight-to-the-point data removal and user-friendly interface (with a 55% off coupon)
DeleteMe: a popular choice due to its comprehensive service and a strong commitment to seamless user experience.

Privacy Bee: a service that stands out for its commitment to ongoing protection and regular privacy check-ins.

Optery: a service known for its straightforward, no-nonsense approach to data removal.

HelloPrivacy: a newcomer in the field, but already gaining a reputation for its efficient and reliable service.
These services offer expertise, convenience, and efficiency, but their costs, privacy concerns, and limitations should be taken into consideration when deciding whether to use them.
Let's take a closer look at how data removal services operate, using Incogni as our example. With an annual subscription available at a discounted rate of $6.49 per month, it's a fantastic choice for those eager to safeguard their personal information.
Incogni identifies data brokers that might have your personal information, like your social security number or email address. This information can be used for marketing, recruitment, financial decisions, and unfortunately, sometimes scams.
After this, Incogni sends out removal requests to these data brokers to delete your personal data. But it doesn't stop there. Incogni continues to send out removal requests on a regular basis to ensure that your personal data stays off these data broker sites.
To determine the best option for your needs, research and compare different providers, keeping in mind factors such as cost, effectiveness, and the level of service provided.
To determine the best data removal services for your needs, research and compare different providers, keeping in mind factors such as cost, effectiveness, and the level of service provided.
If you want to take a deeper dive into each of our top pick, you can check our Incogni review, Optery review, DeleteMe review, and also Privacy Bee review.
If you're interested in seeing how Incogni compares to other services like DeleteMe and Privacy Bee, check out our comparison guides: Incogni vs DeleteMe and Incogni vs Privacy Bee.
Clean up your digital history: Google and other search engines
Controlling your visibility on Google and other search engines is a crucial step in your quest to disappear from the internet.
This process involves requesting the removal of personal information from search results and tweaking privacy settings on various platforms. You see, even the big players like Google can sometimes be a bit too nosy, storing your search histories and personal data, which can potentially compromise your privacy.
Fed up with the relentless stream of robocalls? These automated interruptions can be a hassle. Check out our guide on stopping robocalls for real-life tips to regain control of your phone.
By undertaking this step, you're adopting a strategic stance against the digital world, further minimizing your online presence and safeguarding your personal information.
Requesting removal from Google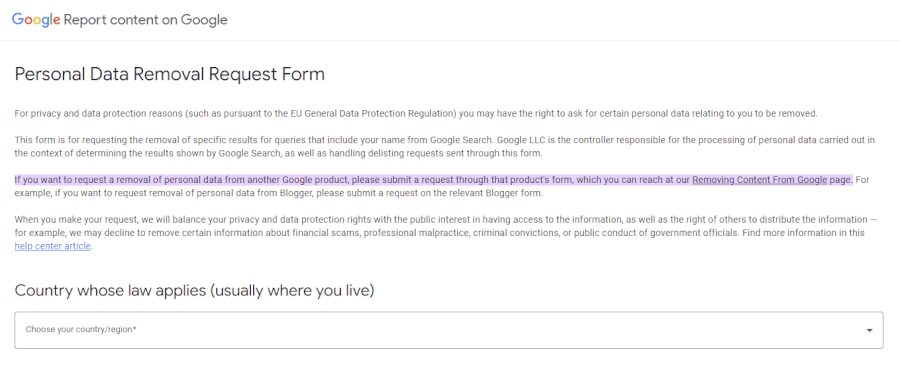 Requesting removal from Google is a step in the right direction to tone down your online presence, but it doesn't give you a 100% guarantee that all your personal information will vanish into thin air. Google might consider removing personal information that could lead to serious problems like identity theft, financial fraud, or other specific harms. For instance, they may remove non-consensual explicit or intimate personal images, involuntary fake pornography, and images of minors.
If you're a resident of the EU, you can submit a form to request removal. You'll need to provide the relevant URLs, the search queries that lead to them, and a clear explanation of why Google should accept your request. But keep in mind, that Google can say "no" for a variety of reasons, such as technical issues, duplicate URLs, or if the information is considered to be "strongly in the public interest".
Managing privacy settings on other search engines
Along with Google, there are a bunch of other search engines where you can tweak your privacy settings to make your online presence a bit more low-key. Here are a few you might want to check out:
Bing – This is Microsoft's own search engine. It offers loads of search services, like web, video, image, and map searches.

DuckDuckGo – This one's a cool choice because it really respects your privacy. It doesn't profile its users and shows everyone the same search results for a given search term.

Startpage – This search engine is all about protecting users' privacy. It doesn't collect, share, or use personal data and offers anonymous Google search results.

Searx – An open-source, privacy-respecting search engine that pulls results from more than 70 search services.

Qwant – This is a French search engine that respects your privacy and also has a social approach to discovering and sharing.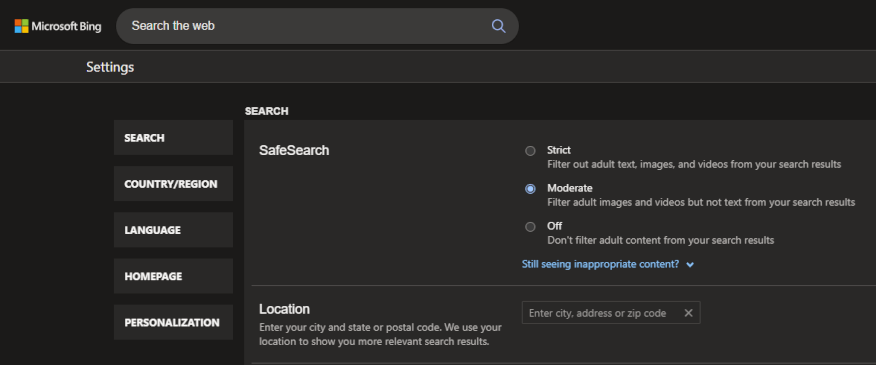 For example, if you want to manage your privacy settings on Bing, just follow these steps:
Click on the icon in the top right of the Bing.com window.

Select Settings and More.

Pick your SafeSearch preference: Strict, Moderate, or Off.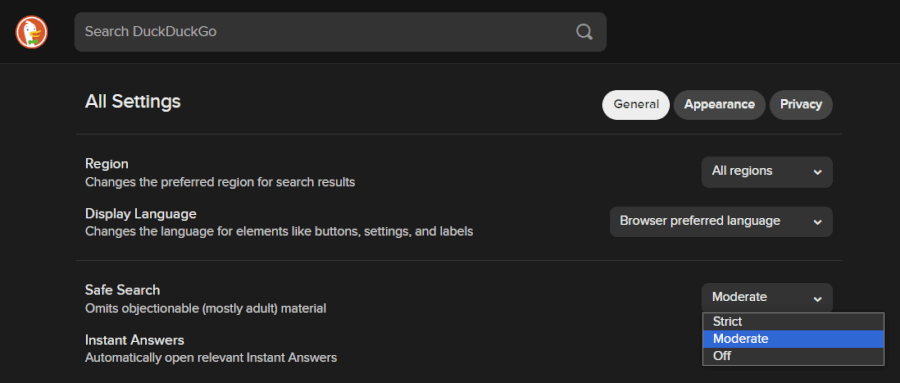 For DuckDuckGo, it's just as easy:
Switch on the Safe Search option to filter out explicit content.

Turn on the Global Privacy Control (GPC) option to signal your preference for privacy on sites you visit.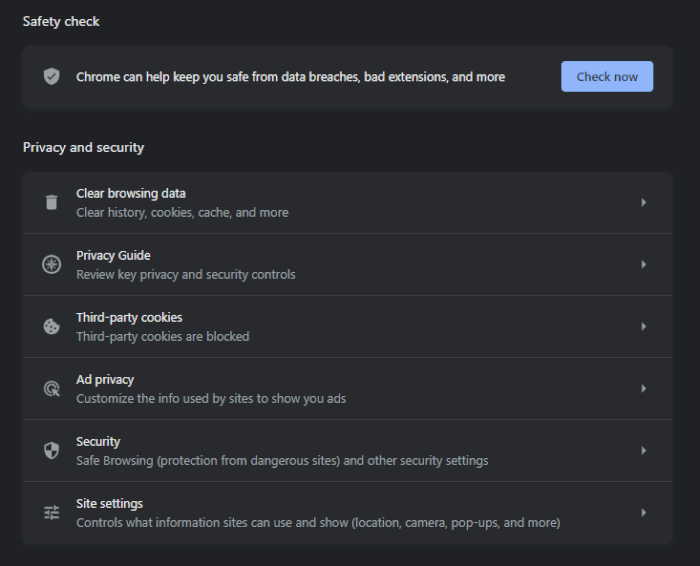 And for Google search, here's what you need to do:
Adjust privacy settings.

See how your Google search results change.
By following these simple steps, you can play hide and seek with your online presence.
Protecting your privacy: Privacy-focused tools and strategies
Adopting privacy-focused tools and strategies like using a VPN and practicing digital minimalism can bolster your privacy and shrink your digital footprint. By implementing these strategies, you can further limit your online presence, protect your personal information, and gain more control over your digital life.
Utilize a VPN for enhanced online privacy
Have you ever felt like you're being watched while browsing the internet? That's where a virtual private network (VPN) comes into play. It acts as your personal bodyguard in the digital world, ensuring your online activities remain your business and your business alone.
Here's how a VPN works its magic:
It scrambles your web traffic into a code that's hard to crack, keeping prying eyes at bay.

It plays hide and seek with your IP address, making it difficult for websites to track your online movements.

It says "No!" to personalization and targeted advertising based on your browsing habits.
In essence, using a VPN is like having a secret identity online. It's an effective way to protect your online privacy and security.
Looking to bolster your online security with a VPN? Our guide reviews top VPN services, exploring their features and reliability.
Select a privacy-focused web browser as your secret weapon
Now that you've got your VPN set up, let's talk about another tool you can add to your privacy toolkit – privacy-focused web browsers.
Unlike regular browsers, these privacy-focused ones take extra measures to ensure your online activities remain confidential. They do this by:
Blocking third-party trackers, so websites can't keep tabs on what you're up to.

Offering additional privacy features like cookie management, which controls how websites remember you.

Providing ad-blocking features, so you're not bombarded with annoying ads that also track your online behavior.
So, if you're looking to enhance your online security and keep your browsing habits private, the top privacy-focused secure browsers should be your go-to.
Add an ad blocker into your privacy arsenal
Ad blockers are software tools that help protect your online privacy. They work by blocking scripts, pop-ups, and third-party ad trackers that can invade your privacy when you visit a website. This not only enhances your privacy but also improves your browsing speed and performance.
There are many great ad blockers available, such as Adblock Plus, uBlock Origin, and Ghostery. Some are more aggressive in their blocking techniques, while others offer more customizable options.
Pairing them with other top-tier privacy tools, like VPNs, can provide a more comprehensive shield against digital intrusions.
Pick out a password manager for secure online credentials
As you navigate the digital world, your online accounts require robust passwords – the keys to your digital identity. However, managing a myriad of complex passwords can be a daunting task. This is where a crucial tool comes into play – a password manager.
Password managers act as a secure vault, storing all your passwords in an encrypted format. They generate and remember complex passwords for all your accounts, thus you only need to remember one master password to unlock your password vault.
Here's how a password manager operates:
It generates strong, unique passwords for each of your online accounts.

It securely stores all your passwords in an encrypted vault.

It auto-fills your passwords when you sign in to websites, so you don't have to remember them.
By using a password manager, you're not only simplifying your digital life but also bolstering your online security. Some of the best password managers include NordPass, 1Password, and Bitwarden, known for their robust security features and user-friendly interfaces. Therefore, consider investing in a reliable password manager to take the burden of remembering all your passwords off your shoulders.
Also check out our password manager reviews and comparisons:
Embrace the philosophy of digital minimalism
Digital minimalism is a philosophy that encourages the mindful use of technology, limiting distractions and enhancing focus and mental health. By deliberately reducing your online presence and limiting the amount of personal information available online, you can shield your privacy and restrict the data that is gathered and stored about you.
The practice of digital minimalism offers numerous benefits, some of which are:
Reduced stress levels: Less digital clutter means less digital stress.

Increased productivity: With fewer digital distractions, you can focus better on your tasks.

Enhanced online privacy: By limiting your digital footprint, you reduce the amount of personal information that's available to data brokers, advertisers, hackers, and other online entities.

Improved digital security: With fewer accounts and less online activity, there's less chance of your data being compromised in a data breach.

Control over personal information: Digital minimalism gives you more control over what personal information is shared online, allowing you to decide who has access to your data.
Consider US and EU privacy laws
It's a smart idea to familiarize yourself with the privacy laws in your region, as they can provide a helpful roadmap for navigating the process of disappearing from the internet and asserting your privacy rights.
In the US, the California Consumer Privacy Act (CCPA) is a landmark piece of legislation that gives residents additional options for safeguarding their data and controlling how it's used. The rights granted by the CCPA include:
The right to request companies to delete personal data upon request. This means you can ask a company to remove your personal data from their records.

The right to obtain a copy of personal data entitles you to see exactly what personal data a company has collected about you.

The right to decline to sell personal information. So, if a company sells personal data, you can opt-out, preventing your data from being sold to third parties.
Across the Atlantic, in the EU, the General Data Protection Regulation (GDPR) provides similar rights to individuals. This regulation gives EU citizens the right to request the deletion of their private data from a company's records. This is often referred to as the 'right to be forgotten'.
By being aware of these laws and utilizing them effectively, you can take control of your personal information and protect your privacy. Knowledge is power, and in this case, it's the power to protect your personal data and maintain your online privacy.
So, whether you're in the US or the EU, it's worth taking some time to understand the privacy laws that affect you. This understanding will arm you with the tools you need to take control of your digital footprint.
How to remove yourself from the internet FAQ
Can I completely remove myself from the internet?
While it's challenging to completely erase your digital footprint, you can significantly reduce your online presence. This involves deleting your social media accounts, opting out of data broker sites, and removing your information from public databases. However, some information like news articles, public records, or old posts on other people's social media accounts might be out of your control. So, while total internet anonymity is tough to achieve, taking steps to manage your online information can greatly increase your privacy.
Can data brokers collect my data without my permission?
Unfortunately, yes. Data brokers often gather information from public records and online activities without explicit consent. They collect data from various sources like social media, websites, and other platforms where you've shared your information. They can also acquire information from companies that have legal permission to share personal details. This is why it's important to be mindful of the information you share online and to regularly review and update your privacy settings.
Can I delete my information from data broker sites without paying for a service?
Absolutely! You can manually opt out of many data broker sites by directly contacting them and requesting data removal. This process can be time-consuming and sometimes complex, as procedures differ from one site to another. Alternatively, you can use third-party services that specialize in data removal. These services can save you time and effort, but they usually come with a fee. Always consider your personal needs and resources when deciding between a DIY approach or hiring a professional service.
Remove yourself from the internet right now
Taking back control of your digital life and safeguarding your privacy is a necessity in today's interconnected world.
By disconnecting from the internet, you can significantly reduce your digital footprint, lower your risk of identity theft, and regain control of your personal data. For this, you'll want to delete social media and online accounts, out of data broker sites, manage your presence on online searches, and adopt privacy-focused tools and strategies.
While it may seem like a daunting task, the benefits of a more private and secure online experience are well worth the effort. So, embrace this journey towards digital freedom and start removing yourself from the internet today.
This how to delete yourself from the internet guide was last updated on November 17, 2023.