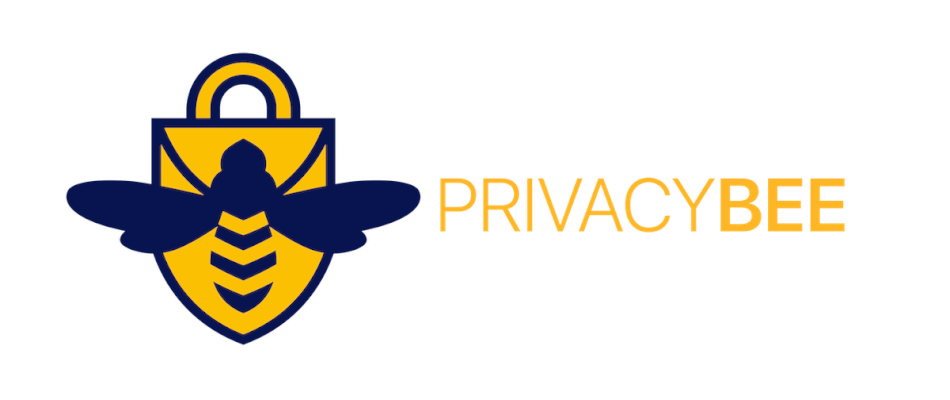 In today's digitally-driven world, where information acts as currency, the need to safeguard our personal data has never been more critical. All our online activities generate a wealth of sensitive information, from personal details to financial records, and this treasure trove of data is an appealing target for cybercriminals, advertisers, and data brokers alike.
As more and more personal information is stored and shared online, the risk of identity theft, data breaches, and other cyber threats increases.
Data removal services, such as Privacy Bee, are here to help individuals and organizations regain control over their digital identities. They offer a shield against the incessant tide of data accumulation and the intrusive gaze of prying eyes. Busy as a bee, Privacy Bee works tirelessly to protect its members' private data while employing an array of tools, including round-the-clock monitoring, comprehensive personal data removal, and a convenient privacy browser extension.
While its one-and-only plan is on the pricier side, it's worth the cost as Privacy Bee is a strong ally in the realm of digital privacy. However, is it the ultimate solution to safeguarding your online privacy? To find out, let's dive deeper into our Privacy Bee review.
Key Takeaways
Privacy Bee offers comprehensive data removal services to protect users' personal information from a wide variety of online threats.

Its core features include risk assessment, dark web monitoring, marketing list removal, and a browser extension for tracker blocking.

Despite higher prices than other privacy protection services, Privacy Bee is a secure option with strong security measures and 24/7 customer support.

It offers a free privacy evaluation, allowing you to test their services before committing.
Let's take a look at the pros and cons of choosing Privacy Bee to safeguard your online privacy.
Pros+
Active Do Not Track browser extension for data privacy

Comprehensive data broker coverage

Family-friendly option

Free privacy evaluation for everyone

Focused data breach detection

Risk assessment features for free

Industry opt-outs (like junk mail)

Simple-to-understand report
Cons-
Can't remove your data from all sources

More expensive than some other privacy-protection services

Focuses on the US market only
Privacy Bee feature summary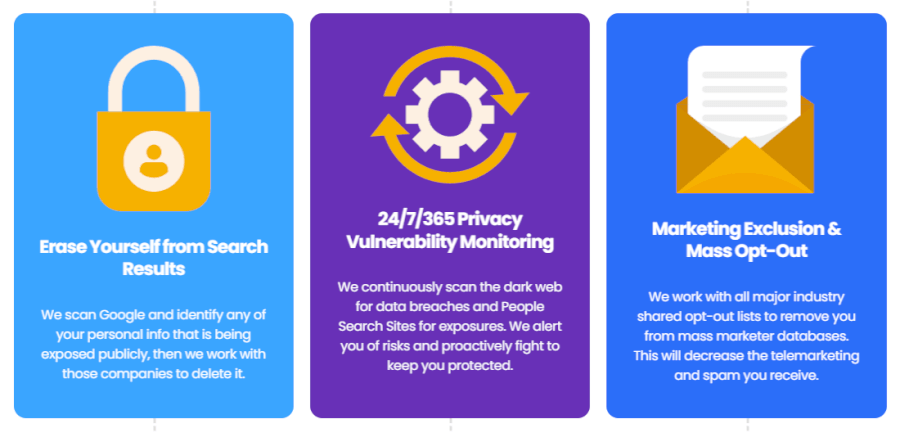 Privacy Bee prides itself on a wide array of features designed to protect your personal data. These include:
Data broker removal: Privacy Bee offers data broker removal services, allowing you to eliminate your personal information from various online data broker databases, enhancing your online privacy.

Risk assessment: It provides a risk assessment feature that evaluates your online exposure, helping you evaluate the extent of your privacy risk and identify areas that need attention.

Exposure dashboard: This dashboard offers a centralized view of your online presence, making it easier for you to understand where your personal data is visible and take steps to eliminate potential risks.

Marketing list removal: Privacy Bee assists in removing your information from marketing lists, reducing the influx of unwanted emails and advertisements.

Dark web monitoring: The service includes dark web monitoring, which tracks instances of your exposed personal information on the dark web, alerting you to potential security breaches.

Active Do Not Track browser extension: Privacy Bee's browser extension, Active Do Not Track, empowers you to take control of your private data's usage by numerous companies.
With these tools at your disposal, you can confidently tackle the challenges presented by the biggest data broker companies. To further enhance your online privacy, it's worth exploring one of the best VPN services currently available in the market.
VPNs are an excellent tool to drastically increase your digital privacy. A VPN will fully encrypt your online traffic and also hide your IP address and location. The top VPN services we have tested are NordVPN, Surfshark, and ExpressVPN.
Company history, success rate, and reputation: Can we trust Privacy Bee?

In an era where our lives are increasingly intertwined with the digital landscape, safeguarding our personal information has become a critical concern. Identity theft and data breaches loom as ever-present threats, with the potential to wreak havoc on our finances, emotional well-being, and overall security. It is in this challenging digital terrain that Privacy Bee emerges as a steadfast protector of your online privacy.

Founded in 2020, Privacy Bee has swiftly established itself as a trustworthy player in the realm of data removal services. Their headquarters, situated in the vivid tech hub of Atlanta (Georgia, the USA) serves as the epicenter of their operations. With a team comprising 50-60 skilled professionals, Privacy Bee shows commitment to keeping personal information private.
Like with many similar companies, not much is known about Privacy Bee's background. Nevertheless, numerous user reviews and our own experience stand as a testament to its trustworthiness.
To gain mastery over your online presence, you can check out our curated list of top data removal services, providing superb solutions for data privacy and removal.
How does Privacy Bee work?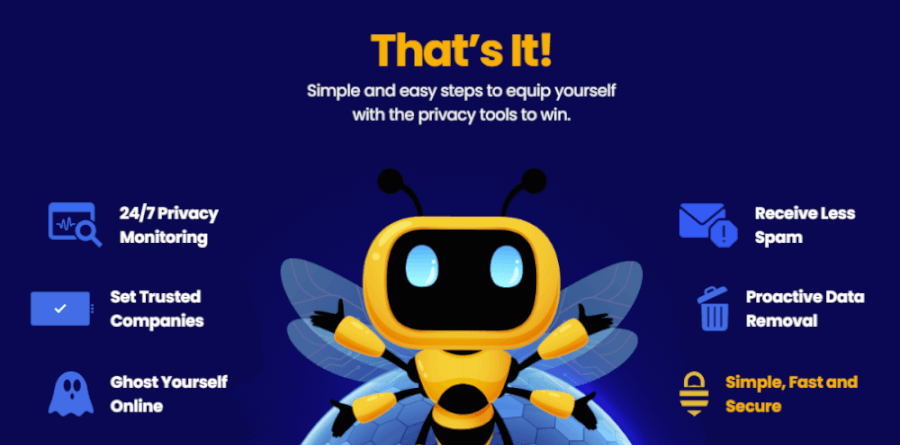 Privacy Bee operates on a straightforward yet highly effective premise. It invites you to regain control of your online privacy by identifying and erasing your personal data from data brokers and various online sources.
It's important to highlight that while you can try manually deleting your presence from the internet, opting for a data removal service is a more thorough and effective solution.
The data broker disentanglement
Privacy Bee's core mission is the disentanglement of your personal data from the intricate web of data brokers and online sources. This process begins with a scan of hundreds of data brokers, scouring their databases for any trace of your personal information. Once identified, Privacy Bee proceeds to take decisive action on your behalf, submitting removal requests to these data brokers.
Building the opt-out database
Daily, Privacy Bee continues to expand its database, comprising companies that honor privacy opt-out requests. This database serves as a valuable resource, centralizing the companies that respect your privacy preferences.
Streamlined opt-out process
Privacy Bee's approach to online privacy protection is remarkably user-friendly. It places the power of choice in your hands by presenting you with a dashboard featuring a curated selection of companies for opt-outs. You can easily review and select the companies you wish to opt-out from, and Privacy Bee takes it from there.
Expert handling and monitoring
Once you've made your choice, Privacy Bee assumes the responsibility of submitting opt-out requests to the chosen companies on your behalf. What sets Privacy Bee apart is its meticulous monitoring of these requests. If, for any reason, a company fails to confirm removal, Privacy Bee initiates follow-up procedures, ensuring that your privacy preferences are respected.
As we dig deeper into our exploration of Privacy Bee, we will uncover the ins and outs of its operations, check the effectiveness of its methods, and offer insights into the benefits it provides.
First steps: How to get started with Privacy Bee?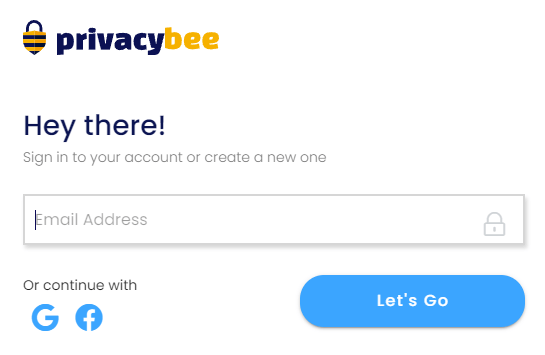 If you're thinking about using Privacy Bee, the first thing you'll be asked to do is share a bit of personal information. This information helps Privacy Bee track down where your data is on the internet. Plus, if you want to safeguard your family members, it's child's play. You just have to provide their first and last names, along with their email addresses.
To sum it up, here's the info you'll have to surrender to sign up with Privacy Bee:
Your full name

Email address

Phone number

Date of birth

Physical address
To start your free evaluation with Privacy Bee, go straight to their official site and click on the "Free Privacy Evaluation" button on the landing page – the big, yellow one, you can't miss it. Here, you can also choose to sign in via your Google account or Facebook.
It signifies the start of reclaiming authority over your online privacy and embarking on the journey to eliminate your digital footprint.

In either case, you'll be asked to provide pretty much the same amount of personal information. After this, you'll be carried to Privacy Bee's intuitive and insightful dashboard.
Features and benefits: What do you get with Privacy Bee?

With a robust set of tools in its arsenal, including proactive data privacy, data broker removal, and vulnerability monitoring, Privacy Bee appears to be a competent companion in the quest to protect your sensitive data and online privacy.
Now, let's go through the highlights of its comprehensive suite of features created to raise your online privacy and reduce the risk of identity theft and data breaches.
Risk assessment and exposure dashboard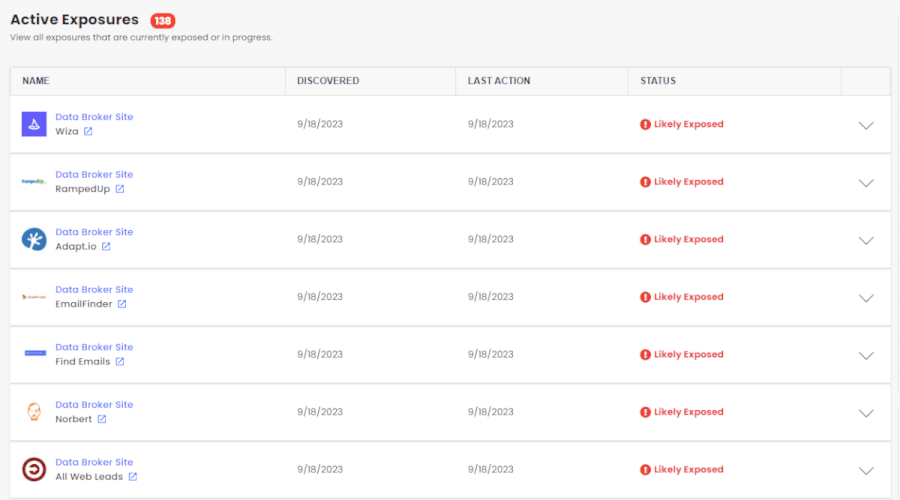 Privacy Bee offers a user-friendly risk assessment and exposure dashboard that gives you a clear picture of your personal data exposure. It feels like having a digital security checkpoint right at your fingertips.
With the privacy risk score feature, you'll receive a numerical score that reflects your online privacy risk. It takes into account active privacy risks, any vulnerabilities that may have been exposed, and the proactive steps you've taken to protect yourself.
The exposure history report provides a straightforward summary of any sensitive data exposures that have been detected. It's your way of staying informed about your digital footprint and knowing when and where your information might be at risk.
For those in search of simplicity, Incogni stands out with its exceptionally user-friendly dashboard. Explore our guide on Incogni vs Privacy Bee guide for a thorough side-by-side analysis.
Marketing list removal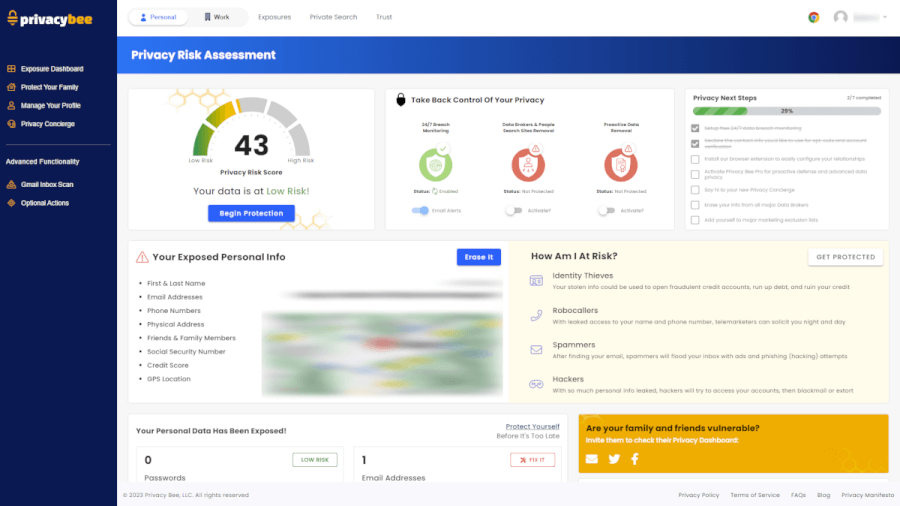 Privacy Bee's marketing list data deletion feature lets you take charge of your Inbox by:
Saying goodbye to those unwanted marketing emails and ads

Regaining control of your inbox

Declutter your life from excessive junk mail
By simply opting out of these lists, you can take back control of your email and minimize the daily avalanche of unwanted messages.
Privacy Bee goes a step further with industry opt-outs which allow you to opt out of sharing your information with common marketing companies, credit pre-screen offers, and directories. It's an added layer of privacy protection that gives you more control of your personal data.
If you're in search of a reliable service offering comprehensive reports, consider DeleteMe. Take a deep dive into its features with our detailed DeleteMe review, and don't miss our Incogni vs DeleteMe guide for a comprehensive comparison.
Dark web monitoring

One of the cornerstones of Privacy Bee's services is its dark web monitoring feature. This powerful tool empowers you to keep tabs on the mysterious corners of the internet, where personal information can sometimes end up.
By offering this service, Privacy Bee keeps a watchful eye on the dark web and notifies you if any of your personal data happens to surface there. This proactive approach means you can take swift action to safeguard your information before it falls into the wrong hands.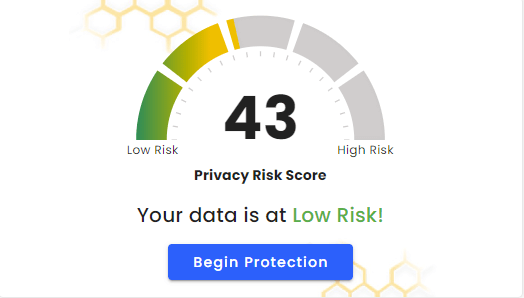 For those who want to stay ahead of potential threats and ensure their personal information remains safe and secure, dark web monitoring is an invaluable resource. Plus, there's a privacy risk score tool that's tailored specifically to you. This score emerges from a meticulous analysis of active privacy risks, uncovered vulnerabilities, and the proactive steps you've personally taken.
Note: There are many tools available today for dark web scans and dark web monitoring. We also see these built into popular VPN services, such as with NordVPN and Surfshark.
Browser extension for tracker blocking

Privacy Bee's browser extension for tracker blocking is a must-have for anyone who wants to boost their online privacy. This nifty tool puts a stop to those sneaky trackers that try to gather your data, making sure your online activities stay private and out of reach for third parties. Plus, it's available for both Chrome and Firefox, so you can enjoy enhanced privacy protection regardless of your preferred browser. Also, the extension is completely cost-free for everyone.

With the help of this extension, you can rein in those trackers and regain control over your digital footprint. It's a key part of Privacy Bee's complete privacy protection package, helping you safeguard your online presence like a pro.
If you are looking for the best ad blockers, you may want to consider using browser extensions like uBlock Origin. Just before to do your research before installing browser extensions and go with a reputable solution.
If you're wondering what are the most secure web browsers around, you could check out our top secure browsers that can protect your privacy today.
Email inbox scan

With Privacy Bee's handy email scan feature, you can regain control over who has access to your contact information. This feature performs a thorough scan of your email mailbox, identifying the companies you regularly interact with. Once it pinpoints these contacts, it allows you to specify which companies should have access to your contact information. This way, you can decide who gets to reach out to you.
Currently, Privacy Bee offers email scan functionality exclusively for Gmail email addresses. But don't worry if you use Yahoo or Outlook – Privacy Bee has plans to roll out support for these platforms soon.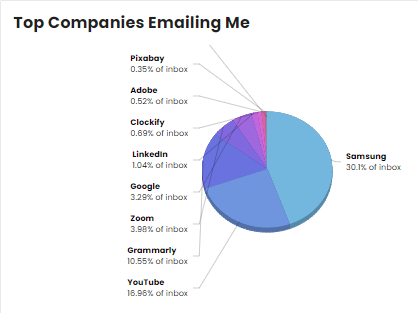 While Privacy Bee doesn't divulge all the nitty-gritty details about how their email service works before you set it up, getting started is a breeze. To set up the email scan feature, you'll need to enable IMAP with your email service provider and follow a few additional steps to get it all set up. Once you're up and running, you'll have the power to decide who stays in your email contacts list.
If you're worried about the security of your email service, you should check out the best private and secure email services.
If the endless flood of spam is causing inbox chaos, explore our guide on how to reduce junk email and spam. You'll discover smart strategies to declutter your inbox and take back control of your email experience.
Data brokers covered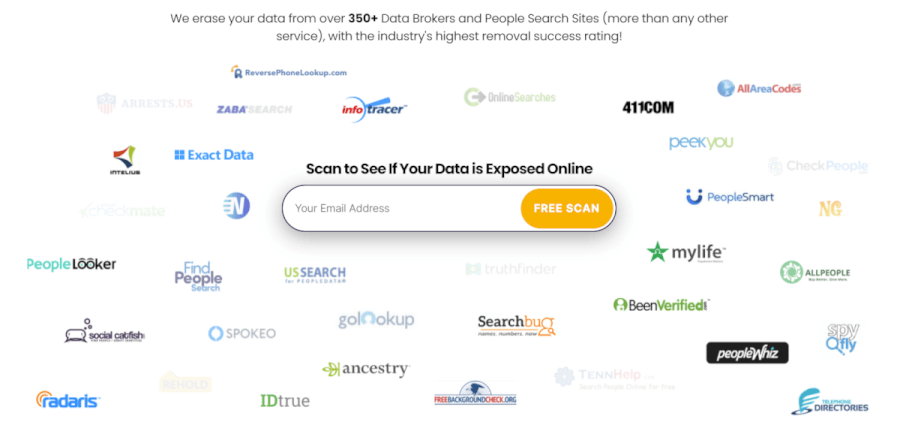 Have you ever Googled yourself? It's a common curiosity in today's digital age. However, what you may not realize is that the results often reveal a startling truth – your sensitive information is being broadcasted to the world by numberless data brokers and people search sites.
Privacy Bee goes above and beyond, erasing your data from over 350+ data brokers and people search sites. This extensive coverage sets Privacy Bee apart from many other services in the industry. However, although they claim to cover more data brokers than any other service, that's actually far off the mark. DeleteMe covers over 750 data brokers is considerably more than 350.
Fortunately, Privacy Bee doesn't just stop at removal, they empower you with information about it. If you're using the premium plan, Privacy Bee swings into action, working diligently to remove your information from each of these data brokers. But what if you're not a premium member?

Privacy Bee doesn't leave you in the dark. Even without premium membership, you can click on each of the data brokers listed on the dashboard to access details about how to remove your personal data online.
Additional optional actions

One of these actions allows you to blur the image of your house on Google Street View and Apple Maps. While you might not have initially considered this a privacy concern, it's a thoughtful feature that puts you in control of how your home is displayed online.
Blurring your home's image on Google Street View and Apple Maps is a simple yet effective way to enhance your online privacy. It ensures that your residence remains discreet and not easily identifiable to anyone browsing these popular mapping services.
However, it's critical to note that once you choose to blur your house, the action is permanent and cannot be undone.
At the same time, if the never-ending frustration of robocalls is getting to you, discover effective strategies in our in-depth guide on stopping spam calls and robocalls.
Privacy Bee's security measures and privacy policy: Is Privacy Bee safe to use?
Privacy Bee has implemented effective and sensible technical and organizational security measures to safeguard personal data.
Ensuring data transmission security
Privacy Bee places a strong emphasis on the security of your data transmission. They take reasonable security measures, such as employing Secure Socket Layer (SSL) encryption when you transmit sensitive data like your password. While these measures are in place to safeguard your information, it's important to note that no internet transmission can be guaranteed to be 100% secure.
Privacy Bee acknowledges this reality and advises users accordingly. They are forthright in stating that they cannot ensure or warrant the absolute security of any information you transmit to their websites. Thus, users must remain vigilant and cautious when sharing sensitive data online.
Protection of your sensitive information
Privacy Bee's core mission is to remove your personal information from the internet, but what about the information you entrust to them? According to their privacy policy, Privacy Bee upholds a strict policy of not sharing any personal information with external data brokers. This commitment to data privacy is a reassuring aspect of their service. While they work diligently to erase your digital footprint, they take care not to compromise the data you've provided to them.
Familiar with doxxing? It's the act of maliciously revealing private information online, aiming to harm or harass. Explore our guide on avoiding doxxing to secure your personal information.
Security measures and encryption
Privacy Bee employs several security measures to protect user data. They utilize SSL, which is a fundamental security protocol that encrypts data transmitted between users and their websites. Furthermore, they make it a practice to encrypt all databases housing user information. While they don't explicitly specify the encryption method used, they assure users that it is under cybersecurity best practices.
Privacy Bee's privacy policy
At Privacy Bee, safeguarding your personal information is paramount. They uphold a strict policy of neither renting nor selling your personal data to any third parties, ensuring your privacy remains intact.
Privacy Bee's comprehensive privacy policy ensures that your personal information is protected and not disclosed to external data brokers. This policy signifies their unwavering commitment to user privacy and data security. When you engage with Privacy Bee, your data is treated with the utmost care.
If you want to find out more, you can check Privacy Bee's privacy policy for yourself. Also, don't fail to take a look at Privacy Bee's privacy manifesto as well.
Tired of your personal information circulating on Whitepages, jeopardizing your privacy? Our guide not only provides step-by-step instructions on how to opt out of Whitepages but also explains why it's crucial to reclaim control over your data in order to protect your online privacy.
Customer support: What sort of help do you get with Privacy Bee?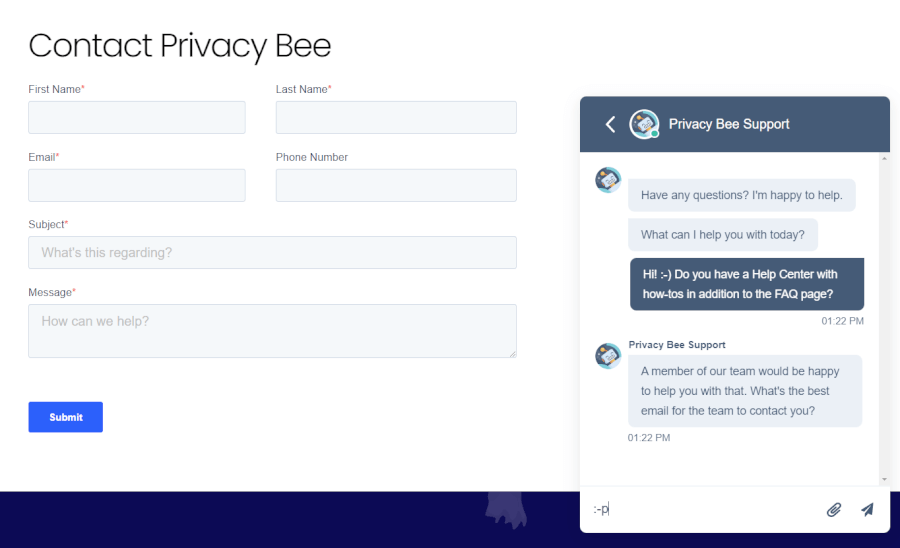 When it comes to your privacy, having access to reliable customer support is pivotal. Thankfully, Privacy Bee provides multiple contact options to cater to your preferences. You can reach out to their support team through a phone number or by using the contact form on their website. If you opt for the contact form, simply provide your details, and they'll get back to you as soon as possible.
Additionally, Privacy Bee features a chatbot on their website, which can be a convenient way to seek help. However, it's important to note that engaging with the chatbot will prompt you to provide your email address.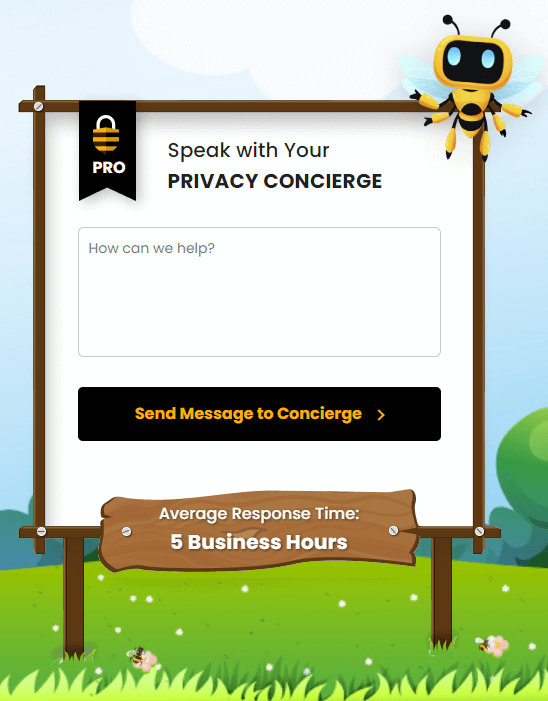 For paid subscribers, Privacy Bee offers an exclusive support feature called the "Privacy Concierge" which allows you to access expert support for any privacy-related questions or concerns you may have.
In addition to direct contact options, Privacy Bee provides email support and maintains an active blog brimming with step-by-step guides. We couldn't find a standard knowledgebase but the blog did the trick for all our issues and concerns.
Plans and pricing: Choosing the right option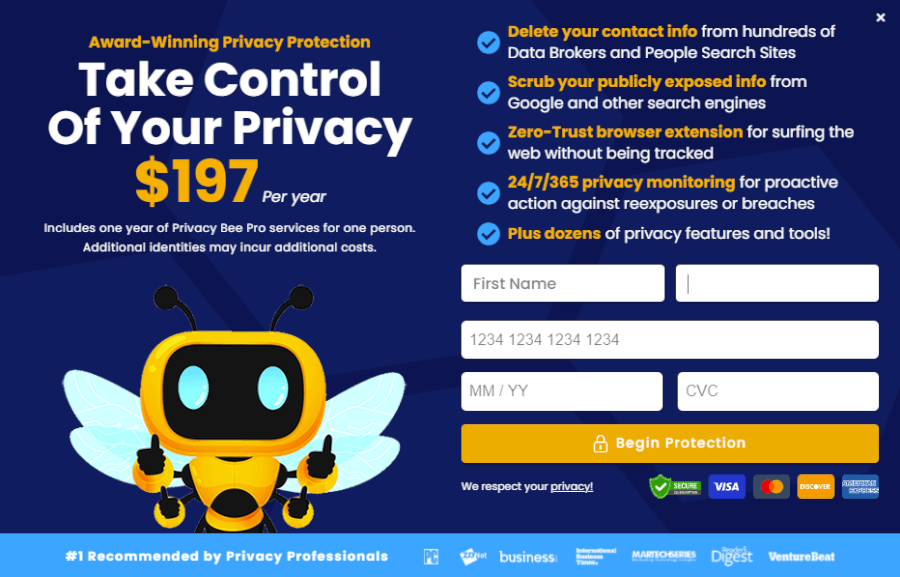 For those curious about their privacy risk but not ready to commit to a paid plan, Privacy Bee offers a free risk assessment. This assessment provides insights into the extent of your online privacy exposure. It's a superb starting point for understanding your digital vulnerabilities. Additionally, it provides the ability to indicate trusted and untrusted sites, helping you make informed decisions about your online interactions.
However, if you're looking to take more meaningful action to protect your privacy, you'll need the premium Pro membership which comes at $197 per year. With it, you gain access to an array of features, including the removal of your personal information from data brokers. Being a family-friendly choice, Privacy Bee lets you add family members to your premium account.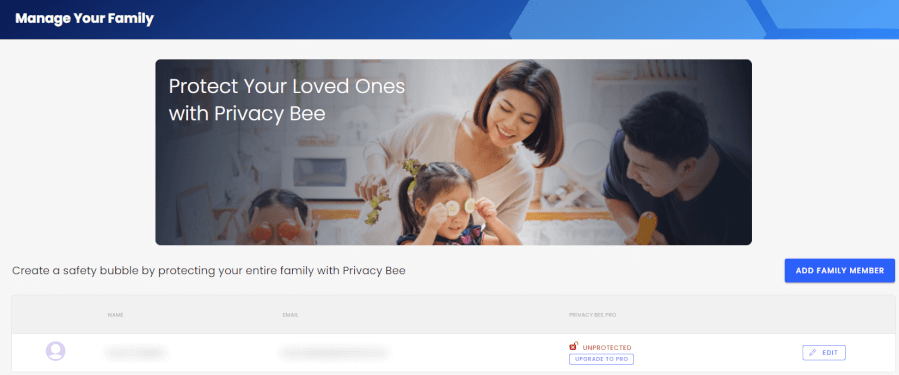 While Privacy Bee's commitment to privacy is clear, it's important to note that it doesn't offer a money-back guarantee.
Competition: What are the best alternatives to Privacy Bee?
When it comes to safeguarding your personal information online, Privacy Bee faces competition from services like Incogni, Optery, and DeleteMe. Each has its own approach to strengthening online privacy and preventing data breaches.
While Privacy Bee allows you to control your personal data, Incogni takes an extra step by ensuring compliance with regulations like the California Consumer Privacy Act (CCPA) and the General Data Protection Regulation (GDPR). This legal compliance compels data brokers to erase your personal information from their databases, offering greater peace of mind regarding your data.
Privacy Bee employs automated data removal requests to a wide range of companies, which can include those that might not have your data. DeleteMe, on the other hand, maintains a human element in its approach. Privacy experts at DeleteMe specifically locate sites where your data is publicly accessible and remove it, ensuring a more precise and efficient data removal process.
Moreover, Privacy Bee prides itself on erasing data from over 350+ data brokers and people search sites. Meanwhile, DeleteMe claims to cover over 750 data brokers but falls short on its promises.
Optery is another player in the personal data removal field, offering a range of plans, including a free edition. While Privacy Bee focuses on data broker removal and proactive scans for privacy violations, Optery places a strong emphasis on finding data brokers holding your data and assisting with its removal or guiding you through the opt-out process. Both services aim to locate and remove your personal data online, but Optery's pricing structure is a bit more budget-friendly.
If you wish to learn more about the competition, take a look at our Incogni review, DeleteMe review, and Optery review.
Privacy Bee FAQ
Why do I need to provide my personal information to create a Privacy Bee account?
Privacy Bee needs to identify you before making requests on your behalf. However, rest assured, your information is encrypted following industry best practices and will never be sold, shared with third parties, or distributed beyond what's necessary for these requests.
How does Privacy Bee work?
Privacy Bee compiles privacy opt-outs from across the internet, creating a growing database of companies. These companies are then presented in a simple-to-understand dashboard, allowing you to select those for opt-outs yourself.
Privacy Bee handles the submission of these requests on your behalf and actively monitors them. If a company hasn't confirmed removal, they follow up. It's a hands-off process where you won't need to take any action. Additionally, Privacy Bee includes opt-outs for major data brokers, helping cut off the flow of your data.
What security measures does Privacy Bee use to keep my data safe?
Stating that your safety is its top priority, Privacy Bee enforces SSL site-wide, enhancing security and reducing the risk of data breaches on its end. All its databases are encrypted according to cybersecurity best practices. Also, it never sells user data. Its payment system uses a third-party service that tokenizes payment information, so your data isn't stored anywhere.
How do I know if my personal data is really deleted?
Regrettably, there are no nationwide privacy laws or standards for data deletion, which means that there isn't a foolproof way to confirm if a company has complied with your data privacy request. However, you can monitor your data for breaches. If a company experiences a data breach and your information is exposed to identity theft risk, it serves as a clear indication that it didn't fulfill your request.
Privacy Bee review conclusion: Is Privacy Bee worth the cost in 2023?
Privacy Bee comes forth as a compelling solution for individuals seeking a simple way to protect their personal information in 2023. With its comprehensive feature set, competitive pricing, and unwavering dedication to user privacy, Privacy Bee positions itself as a reliable and trustworthy data removal service.
Though it may be more expensive than some alternatives, the added value of covering more data brokers and bonus privacy features makes it a cost-effective choice for safeguarding your private information. So, if you're looking to minimize the risk of identity theft and breaches, Privacy Bee is a superb choice to consider.
Now, let's take a look at the highlight of our Privacy Bee review:
Privacy Bee excels at data broker removal, enabling you to scrub your sensitive information from various online data broker databases, bolstering your online privacy.

Its risk assessment feature provides a clear evaluation of your online exposure, allowing you to assess your privacy risk and pinpoint areas that need attention.

The exposure dashboard offers a centralized view of your online presence, simplifying the process of identifying where your data is visible and addressing potential risks.

Privacy Bee aids in the removal of your information from marketing lists, reducing the deluge of unwanted emails and advertisements in your inbox.

Dark web monitoring ensures you stay vigilant, tracking instances of your exposed personal data on the dark web and alerting you to potential security breaches.

·Privacy Bee's browser extension, Active Do Not Track, empowers you to regain control over the usage of your private data by numerous companies.

It offers a free privacy evaluation for every user, regardless of their subscription level.
In conclusion, Privacy Bee equips you with the tools needed to protect your online identity, reduce the risk of identity theft, and bolster your defenses against data breaches. It's a comprehensive solution tailor-made for those who understand the importance of safeguarding their digital lives.
This Privacy Bee review was last updated on November 14, 2023.