Since we're living in a world where information flows freely and data privacy concerns loom large, the quest to safeguard personal information has never been more critical. As we write, countless data brokers collect and sell your personal information, making it challenging to maintain privacy.
But what if there was a solution? DeleteMe emerges as a beacon of hope for those who seek to regain control over their online identities and protect their private data from prying eyes.
At its core, DeleteMe is a straightforward data removal and privacy service that simplifies the tiresome task of cleaning up and safeguarding personal information online. However, this pursuit of privacy often comes at a cost, and DeleteMe is no exception.
Some may argue that the service appears a bit pricey when compared to a range of similar offerings. After all, why pay for something that you could potentially handle yourself? Yet, the value proposition of DeleteMe becomes evident when one considers the countless hours that would otherwise be spent requesting opt-outs from a multitude of data brokers. By entrusting DeleteMe with the task of data removal, users can reclaim those hours and redirect them toward pursuits that truly matter.
However, is DeleteMe a worthy investment for stronger privacy and security? Let's find out in our comprehensive DeleteMe review.
Key Takeaways
DeleteMe's features encompass comprehensive privacy reports and handy tools like email and phone masking.

While DeleteMe offers various data removal services, it may fall short in terms of ensuring robust privacy protections.

With comprehensive coverage, DeleteMe ensures that your personal information remains protected across various corners of the internet.

While DeleteMe doesn't provide a free plan, it does offer a complimentary scan to check if your personal information might appear in Google search results.
Now, let's take a look at the pros and cons of using DeleteMe:
Pros +
Convenient opt-out handling

Custom requests available

Email and phone masking features

Multiple support channels such as email, live chat, and web contact form

Provides how-tos for free do-it-yourself removals

User-friendly interface
Cons –
No round-the-clock customer support

No free trial or free tier

Privacy policy concerns

Sharing your private information with third parties in an anonymized form
DeleteMe feature summary
DeleteMe offers a fine range of features to empower users in their quest to safeguard their online privacy.
Data removal service: DeleteMe can effectively remove your private information from data broker websites, reducing your online exposure.

Detailed privacy reports: These will give you insights into the status of your data removal requests and the data brokers covered.

User-friendly dashboard: It ensures you'll stay informed about the progress of their data removal efforts.

Email masking: The service provides email masking to shield your email addresses from prying eyes.

Phone masking: DeleteMe's phone masking feature safeguards users' phone numbers, adding an extra layer of protection.

Payment card masking (coming soon): You can trust DeleteMe to protect your payment card information, enhancing your online payment security.
These integrated privacy tools can give you the power to maintain your privacy while engaging with others on the internet, ensuring your sensitive information remains secure.
Company history, success rate, and reputation: Can we trust DeleteMe?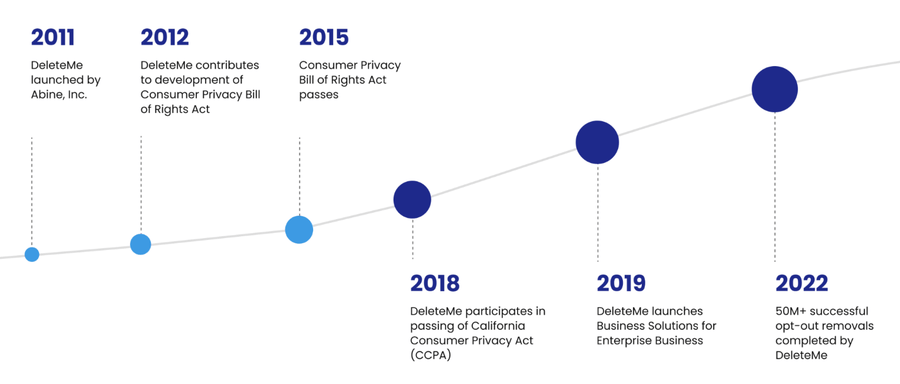 DeleteMe, the brainchild of Rob Shavell, Andrew Sudbury, and Eugene Kuznetsov, saw the light of day in 2010 under the ownership of Abine, Inc. While DeleteMe enjoys a generally positive reputation, it hasn't been without its fair share of criticism. Some reviews have hinted at it falling behind its competitors and making deceptive marketing claims. Nonetheless, DeleteMe has carved out a niche for itself as a go-to service for those looking to scrub their personal information from data broker websites.
Initially focused on American data brokers, DeleteMe has spread its wings to serve users in various countries. Today, it extends its helping hand to individuals not only in the US but also across borders, including the UK, Canada, Germany, Italy, and Australia.
Despite its reputation, concerns linger regarding DeleteMe's privacy policy and the rising competition from more advanced alternatives. So, before entrusting DeleteMe with your data removal needs, it's essential to carefully evaluate its pros and cons.
To take control of your online presence, explore our hand-selected list of the best data removal services, offering effective solutions for data privacy and removal.
How DeleteMe works: A step-by-step guide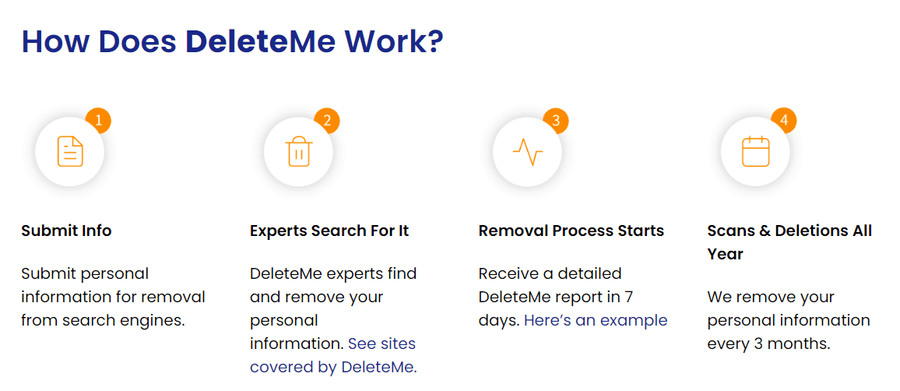 To kick things off with DeleteMe and start regaining control of your online privacy, follow these straightforward steps:
Sign up: Begin by signing up and providing your personal information. DeleteMe uses this data to identify and remove your private information from data broker websites.

Search and match: Once you've filled out the form, DeleteMe initiates a search across data broker sites to locate personal information associated with your account.

Opt-put request: If a match is found, DeleteMe takes action by contacting the data broker and sending an opt-out request. This ensures your information is taken off the website.

Privacy report: Within a week of creating your account, DeleteMe sends you a privacy report. It details where your data was discovered on broker sites and the status of removal requests.

Limited power of attorney: To further facilitate the removal process, DeleteMe may request limited power of attorney. This allows DeleteMe to reach out to data brokers and submit removal requests on your behalf.

Identity verification: To verify your identity, you may need to submit a copy of your ID, driver's license, or similar identification document. Don't worry, sensitive information like your photo and ID number can be blurred out.

Custom removal requests: This feature empowers you to submit a custom request if you come across your information on a broker site. This gives you control over the removal process and can address any specific concerns you have about your online presence.
Although you can attempt to delete yourself from the internet manually, utilizing a data removal service proves to be a more effective and comprehensive solution.
First steps: How to get started with DeleteMe?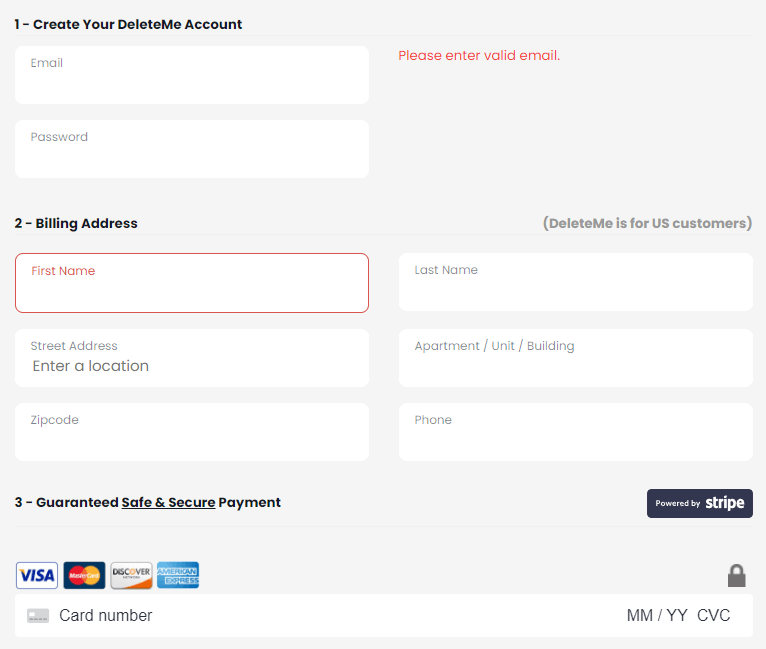 To begin your journey with DeleteMe, you'll need to provide some basic personal information. This information is used by DeleteMe to search for and remove your data from data broker websites. The details you'll need to share include:
Your name

Phone number

Email address

Physical address
You can also include alternative names, numbers, and emails, with a maximum of five for each category. While it's optional, sharing information about your employer can help improve the accuracy of the search.
Once you've provided this essential information, DeleteMe will swing into action. It will start the data removal process by scouring data broker websites for any personal information linked to your account. DeleteMe will also take care of submitting opt-out requests to these websites on your behalf.
Within just one week of signing up, you'll receive your first privacy report from DeleteMe. This report will give you the lowdown on where your data has been discovered on broker sites and provide updates on the progress of your removal requests. This marks the beginning of reclaiming control over your online privacy and kickstarting the journey to erase your digital footprint.
Features and benefits: What do you get with DeleteMe?
Armed with a powerful set of tools, DeleteMe emerges as a capable ally in your mission to safeguard your sensitive data and online privacy. Now, let's explore the key features of its extensive toolkit.
Impressive data broker coverage (Or is it?)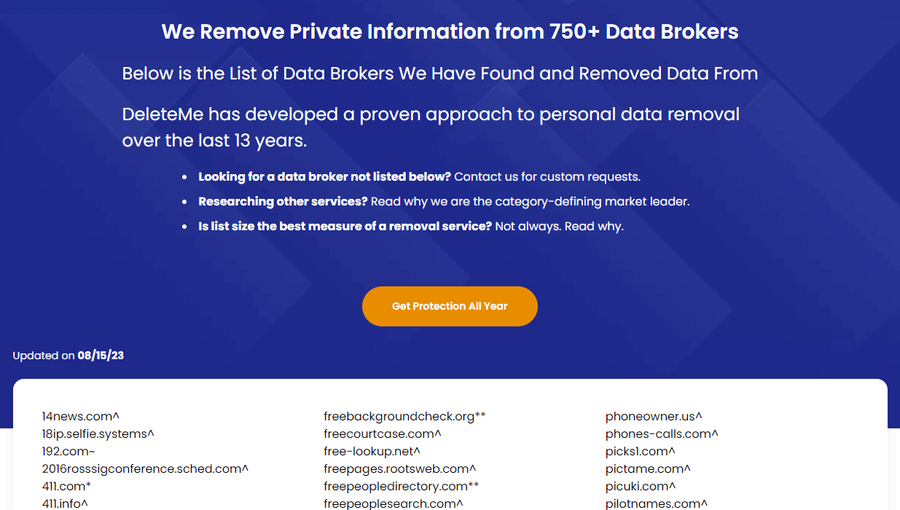 DeleteMe advertises its service as covering over 750+ data brokers, promising comprehensive protection of users' personal information. However, a closer look reveals that a significant portion of these data brokers falls under the category of "custom requests."
When we visit DeleteMe's "Sites We Remove From" page, the headline proudly boasts coverage of 750+ data brokers. Yet, tucked away in the fine print at the bottom of the page lies the crucial distinction. The absence of sorting and filtering options on this page makes it challenging for everyday users to gain a clear understanding of DeleteMe's actual coverage.

Not to boast, but we've read the fine print and handled the numbers so you don't have to. The standard one-person plan takes on around 60 data brokers, while the business or VIP plans add another 40 to the mix. If you're dealing with international data brokers, that's an additional 25. The real kicker? There are about 625 data brokers hiding in the realm of custom requests.
So, the reality is that DeleteMe's extensive list of data brokers includes a substantial number that require users to submit custom removal requests. This means that while DeleteMe does offer protection for these data brokers, users must take the initiative to request removal individually. As a result, the level of coverage advertised may not be as comprehensive as it appears at first.
Easy-to-use dashboard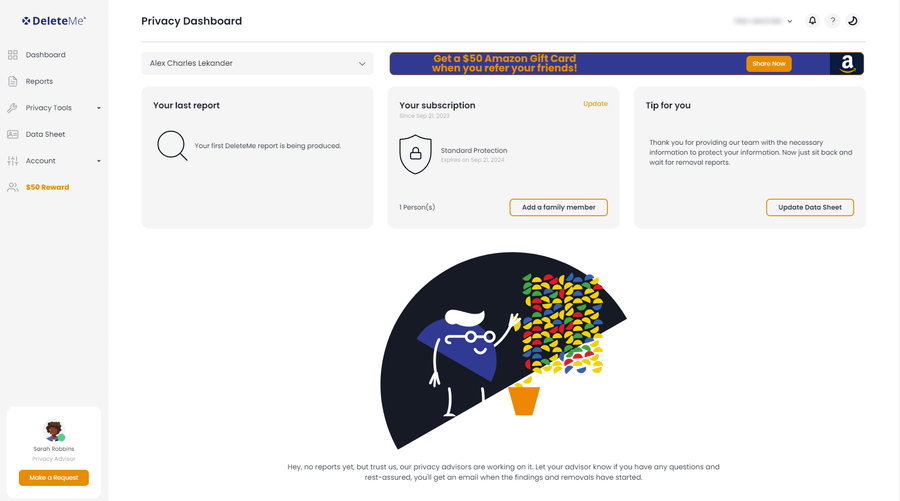 DeleteMe offers a user-friendly dashboard that simplifies the process of managing your online privacy. Its interface seems to be designed with simplicity in mind, ensuring that users can easily navigate through their personal information and subscriptions.
When you log in to your DeleteMe account, the dashboard provides a snapshot of your recent activities and subscription details. You'll also find any queries from DeleteMe regarding potential personal data concerns, allowing you to stay informed and take action promptly. On the left-hand side, you'll discover tabs that grant you access to advanced features and the ability to edit your account details as needed. Despite its simplicity, the dashboard covers all the critical areas you need to manage your privacy effectively.
If you're seeking simplicity, Incogni is another service with an incredibly user-friendly dashboard. For a detailed comparison between these services, explore our guide on Incogni vs DeleteMe.
Exhaustive privacy reports

DeleteMe's commitment to safeguarding your online privacy goes beyond data removal. One of its standout features is the provision of comprehensive privacy reports. These reports serve as your window into the progress of data elimination, offering valuable insights into your online presence.
These include details such as the number of listings reviewed, the number of matching listings successfully removed, and any pending removals still in progress. This transparency ensures that you're always in the know about the status of your data removal requests.
Moreover, DeleteMe's privacy reports provide valuable insights about the data broker sites where your personal information has been discovered. They specify the type of information posted and even give you an idea of the average time it takes for removals to be completed.
If you're looking for a comparable service with straightforward reports, Privacy Bee is another excellent choice. Dive into the details with our Privacy Bee review, and for a comprehensive comparison with Incogni, explore our Incogni vs Privacy guide.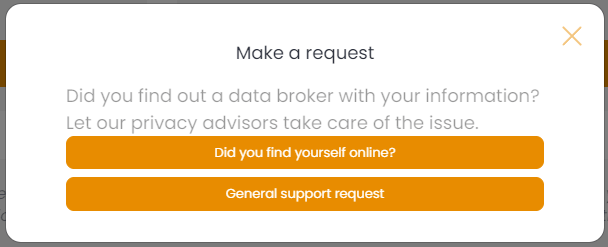 Custom removal requests
Custom removal requests feature marks a significant improvement to DeleteMe's services, allowing users to take control of their online privacy like never before. With it, you can submit personalized removal requests directly from your DeleteMe dashboard.
Anytime you discover your private data listed online, regardless of the website, DeleteMe's privacy advisors will swing into action. They will investigate the situation and determine whether they can remove the information on your behalf or provide you with clear instructions on how to remove it yourself.
We should note that new users will need to wait until after receiving their first DeleteMe privacy report before gaining access to the custom removal Request feature.
Looking for an alternative data removal service that caters to custom removal requests? Optery's premium plans provide just that. Dive into our comprehensive Optery review to discover a reliable and secure solution.
Email, phone, and payment card masking

One of the most effective ways to protect your privacy is by not sharing your private information unless necessary. DeleteMe makes this easier by providing masking, a feature that allows you to create a fake email address, phone number, and credit card details. With these false credentials, you can sign up for services that typically require personal information, all while keeping your actual details concealed.
Email masking
With email masking, DeleteMe generates an email address hosted on its servers, capable of receiving registration confirmation emails on your behalf. You have the flexibility to decide whether you want all emails sent to this address forwarded to your private one. This way, your real email remains shielded from prying eyes, enhancing your online privacy.
This is a great alternative to using a temporary burner email address.
If you're drowning in a sea of junk email and spam, our guide on how to massively reduce junk email and spam offers smart strategies to declutter your inbox and regain control of your email experience.
Phone masking
Phone masking functions similarly to email masking, offering you an extra layer of privacy. DeleteMe provides you with disposable or "burner" phone numbers that you can utilize when registering for websites or services. By using these masked phone numbers, you shield your actual phone number from spam callers and potential scammers.
However, we must note that, due to restrictions from most US carriers, forwarding short-code messages for verification isn't typically supported with masked phone numbers.
If spam calls are rubbing you the wrong way, it's high time to find out how to recognize phone scams and stop spam calls once and for all. Likewise, if the persistent annoyance of robocalls is wearing you down, explore our in-depth guide on stopping spam calls and robocalls.
Card masking (coming soon)
With card masking, DeleteMe introduces a unique approach. It creates a virtual card that you can fund and use as a payment method without exposing your real payment card details. This extra layer of protection ensures that your financial information remains confidential when making online transactions, providing you with peace of mind in this digital world.
If you want to enhance your online privacy even more, consider utilizing one of the best VPN services. It can protect your online privacy and data from prying eyes and also allow you to securely access websites and content that might otherwise be restricted.
Free scan report

DeleteMe provides you with an appealing option, a free scan of over 40 data broker sites. To access this feature, you only need to provide your first and last name, along with your city and state of residence.
As one would expect, this free scan isn't exactly the comprehensive data check it appears to be at first. You'll get a blurred-out rendition of specific personal information, making it challenging to discern exactly what, if anything, had been exposed on data broker sites. Rather than providing a detailed overview of your online presence, it seems this feature is more of a teaser to pique your interest in signing up for DeleteMe's paid service.
If you're tired of your personal information being publicly available on Whitepages, a platform that aggregates and publishes personal contact details, our guide on how to opt out of Whitepages provides step-by-step instructions to remove your data from their database.
DeleteMe's security measures and privacy policy: Can you trust DeleteMe?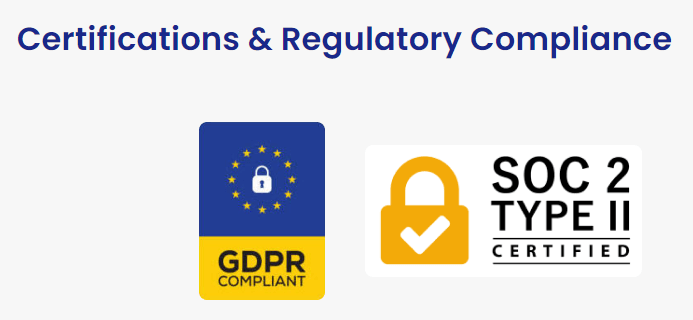 DeleteMe prioritizes security, employing rock-solid security practices to protect personal data from modern cybersecurity threats. This service goes the extra mile to ensure robust data security.
Regulatory compliance and regular audits
Since 2021, DeleteMe has complied with AICPA SOC 2 Type 2 requirements, which means its security measures have been rigorously tested and verified. But it doesn't stop there, DeleteMe conducts frequent internal and external audits to make sure its security policies and procedures are rock solid. We also see this practice with VPN services, such as ExpressVPN and NordVPN.
When it comes to data security, DeleteMe isn't just meeting the bare minimum. It's all about keeping up with the latest in cybersecurity threats. That's why DeleteMe maintains privacy compliance with the GDPR and adheres to consumer data security and privacy laws passed by US states.
Robust data protection
When it comes to safeguarding your personal information, DeleteMe doesn't cut corners. For starters, DeleteMe employs state-of-the-art encryption protocols to ensure your personally identifiable information (PII) stays secure. They use the ultra-secure 256-bit AES encryption, a standard trusted by government agencies and financial institutions worldwide. Your data is shielded during transit and while at rest with TLS 1.2 encryption, providing an impenetrable layer of protection.
DeleteMe also implements strict access controls, multi-factor authentication (MFA), and role-based access. This means only authorized personnel can access sensitive data, and even then, they must go through layers of authentication.
If you're wondering how to set up MFA for some of the services you're using, check out our step-by-step MFA guide.
Continuous threat monitoring
To ensure solid security for its users, DeleteMe employs a comprehensive system of continuous threat monitoring. This approach helps safeguard your personal information and online privacy. DeleteMe harnesses advanced threat detection tools and intrusion prevention systems. These technologies constantly scrutinize network traffic for any unusual or suspicious activity. By proactively identifying potential threats, DeleteMe boots its ability to protect your sensitive data.
In addition to that, the DeleteMe team conducts real-time analysis of logs and alerts. This diligent monitoring enables them to promptly recognize and respond to any security incidents that may arise. Timely detection is crucial in mitigating potential risks and ensuring your data remains secure.
To provide round-the-clock protection, DeleteMe operates a security operations center (SOC) along with a managed detection and response (MDR) platform. This means that security experts are continuously monitoring for threats, day and night.
Ever heard about doxxing? It's a malicious act of publicly revealing private information about an individual on the internet, often with the intent to harm or harass. To safeguard your personal information from it, explore our guide on how to avoid doxxing.
DeleteMe's privacy policy
DeleteMe takes your privacy pretty seriously, and its privacy policy reflects its commitment to safeguarding your personal information.
First and foremost, DeleteMe does not sell any personal information you provide to its service. However, it's essential to note that DeleteMe may need to share some of your information with data brokers to fulfill opt-out requests effectively. While DeleteMe can't control what these third parties do with your data, it strives to maintain your privacy.
Although DeleteMe collects a substantial amount of information, it typically doesn't share your personal information with third parties without your consent. However, there are specific situations outlined in DeleteMe's privacy policy where your information could be shared without your consent, such as complying with certain government requests as required by law.
DeleteMe states in its policy that it may sell your data in an undefined "sale of assets" which raises a red flag for us. While we can only speculate about the exact scope of this phrasing, it's worth noting that DeleteMe may also share your data in an anonymized manner, which can be a deal-breaker for privacy-focused users.
If you want to learn more, check DeleteMe's privacy policy and terms of use.
Customer support: What sort of help do you get with DeleteMe?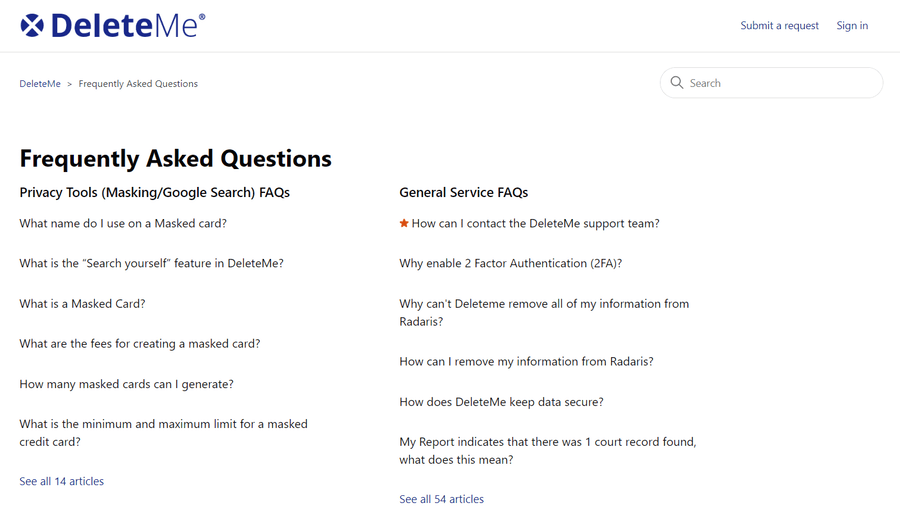 DeleteMe prides itself on providing responsive customer support to assist users with their privacy needs. The service offers phone, live chat, and email support during specific time slots (Monday to Friday, 9 AM to 8 AM, ET). If the live chat team is offline, you can fill out a form with your name, email address, and message, and they will respond to you when they're available.
The good news is that during these support hours, DeleteMe's customer support team is quite prompt in addressing user inquiries. When we tested DeleteMe's customer service and received an email response within an hour of submitting a support ticket. This is especially beneficial for users located in different time zones who may find it challenging to engage with live chat support during open hours.
DeleteMe offers an additional resource in the form of a knowledge base with a FAQ section. However, it's worth mentioning that this knowledge base is relatively sparse and stingy on in-depth information.
Plans and pricing: Choosing the right option
DeleteMe offers a range of four pricing plans to fit different needs, allowing you to choose the one that aligns with your preferences and budget. Although DeleteMe's price may be higher than some competitors, it's essential to weigh the value it offers in return for your investment. Plus, DeleteMe provides flexibility in its payment options, allowing you to subscribe either annually or every two years.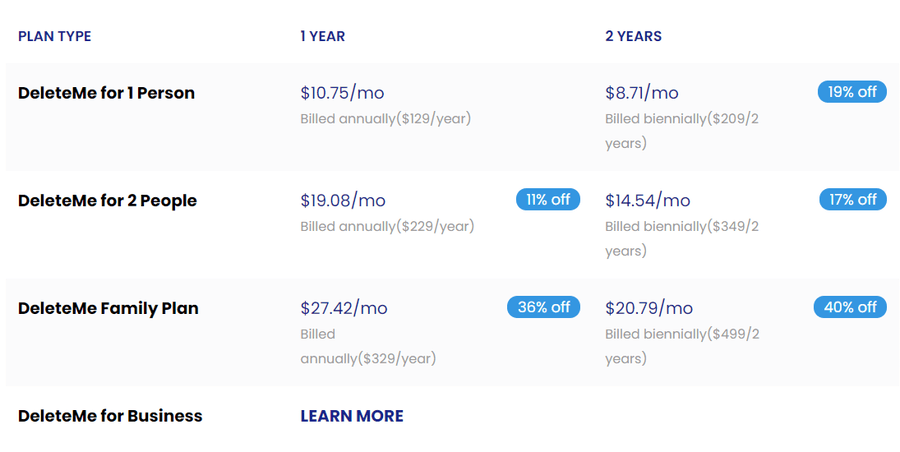 For those looking to protect their personal information, the standard one-person subscription costs $10.75 per month when billed annually, which is equivalent to $129 per year. This plan covers all major data broker sites and includes public Google-able listings removed within days, as well as new opt-outs added all year at no additional cost.
The next is the two-person plan and it goes for a yearly subscription of $19.08 per month ($229 per year). For families seeking comprehensive online privacy protection, DeleteMe's family plan is available. The annual subscription costs $27.42 per month, equivalent to $329 per year.
DeleteMe even offers customized plans for businesses, ensuring that every company's unique privacy needs are addressed adequately. To get a quote for a corporate plan, you'll have to reach out to DeleteMe directly.
DeleteMe doesn't offer a free trial or a free tier, but they do have a fairly flexible refund policy. If you change your mind before your first privacy report is ready, you can request a full refund with no questions asked. After your first report is completed, they provide a pro-rated refund based on the time remaining in your current subscription if you decide to cancel. This means you can try DeleteMe with peace of mind, knowing you have options if it doesn't fully meet your needs.
If you're seeking an affordable yet powerful alternative to DeleteMe, dive into the details of Incogni in our thorough Incogni Review.
Competition: What are the best alternatives to DeleteMe?
While DeleteMe offers several features to help you take control of your online presence, it's worth exploring alternative options that may offer better value and stronger privacy protections.
One such alternative is Optery, which stands out with its pocket-friendly and transparent pricing and advanced scanning tools. However, it's data broker coverage isn't as broad. On the other hand, Optery's premium subscription offers unlimited custom requests, giving you more control over the data removal process.
Meanwhile, Privacy Bee provides users with a convenient browser extension for identifying and flagging untrusted websites, streamlining the data removal process. In contrast, DeleteMe prioritizes a human touch in its operations. Moreover, Privacy Bee offers a free version of its service, setting it apart from DeleteMe's offerings.
In the showdown between Incogni and DeleteMe, Incogni comes out as a clear victor. It offers a more budget-friendly option, broader accessibility worldwide, automatic recurring data removal requests, and reaches a significantly larger number of data brokers compared to DeleteMe.
DeleteMe FAQ
Does DeleteMe actually work?
Yes, DeleteMe does a solid job cleaning up your personal information from lots of data broker sites. It's committed to playing by the rules and keeping your privacy intact. However, it's important to note that it can't completely wipe out your online presence due to legal restrictions preventing the removal of data from government websites.
When will I receive my first DeleteMe report?
When you join DeleteMe, you'll get your first privacy report in roughly seven business days. It should show where it's located your data and outlines the steps it'll take to delete it. You'll continue to receive these reports every three months for the duration of your subscription, with the possibility of slight delays in some cases.
Does DeleteMe sell my information to third parties?
According to its privacy policy, DeleteMe takes steps to protect your sensitive data by transforming it into an anonymous form. However, it's important to note that, in certain circumstances, DeleteMe may share this anonymized data with third parties like government agencies.
DeleteMe review conclusion: Is DeleteMe worth the cost in 2023?
As we wrap up our DeleteMe review, it's vital to balance the service's advantages and disadvantages.
DeleteMe offers various features and benefits, including privacy reports, data removal from data brokers, and additional privacy tools like email and phone masking. However, concerns about its privacy policy and competition from more advanced alternatives may make it less appealing for users seeking robust online data removal in 2023.
Before drawing a conclusion about DeleteMe, let's go through the highlights of our review:
DeleteMe simplifies the process of removing your personal information from data broker sites, saving you time and effort.

You can submit custom removal requests, which gives you more control over the data removal process.

DeleteMe offers email and phone masking to protect your contact information when signing up for services online.

It offers guidance on how to remove personal information from some sites independently, empowering users with knowledge.

Some users have raised concerns about DeleteMe's privacy policy, particularly regarding the sharing of anonymized personal information.
In summary, DeleteMe offers a solid service for those looking to regain control of their online presence. With its user-friendly interface, comprehensive data removal tools, and additional privacy features, DeleteMe can help you protect your personal information from data brokers. However, concerns about its privacy policy may make it less appealing for privacy-focused users.
This DeleteMe review was last updated on November 14, 2023.