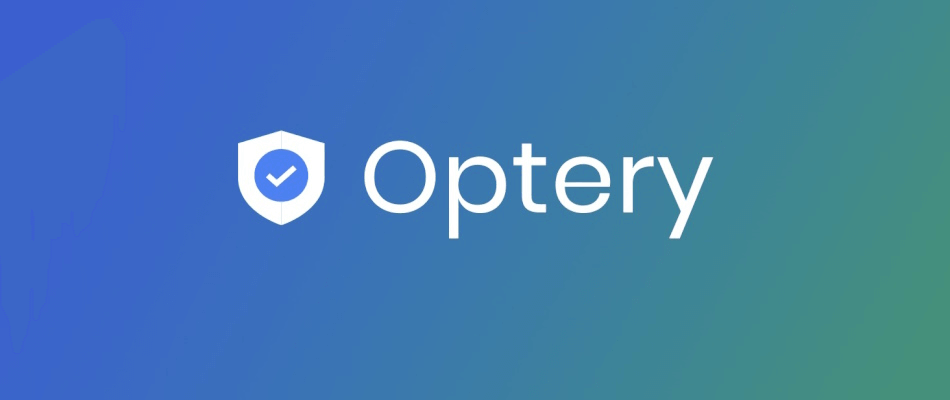 In today's digital age, protecting your personal information is more important than ever before. All your online activities, from the websites you visit to the products you purchase, leave behind traces that data aggregators avidly collect. They transform these bits and pieces into comprehensive profiles, which they then market to the highest bidder. That's how advertisers seem to know everything about you.
But fear not, there's a shield for your digital identity – a data removal service called Optery. With it, you get access to a free account, a powerful ally in your battle to protect privacy. Optery searches through the online landscape for data broker sites housing your precious information and helps you erase your data from these sites.
For those seeking the pinnacle of convenience, there's a premium, paid subscription that offers automating the opt-outs and in-depth removal reports as proof.
While Optery's premium plans are slightly pricier than some of its competitors, its intuitive interface and robust removal reports are worth every penny.
Now, let's delve into the world of Optery, and its features, and learn how it can help protect your online privacy from from data brokers and people search sites.
Key Takeaways
Optery can be your ally in safeguarding your privacy from identity theft, fraud, and phishing threats in the digital realm.

This platform provides automated data removal, a user-friendly interface, the flexibility of custom requests, and comprehensive coverage spanning over 270 websites.

With a success rate exceeding 95%, Optery incorporates advanced security measures and has earned accolades for its unwavering commitment to delivering trustworthy and reliable services.
Let's take a look at the pros and cons of choosing Optery to protect your online privacy.
Pros +
30-day money-back guarantee with all plans

Automation with paid plans

Comprehensive data removal

Detailed removals reports

Intuitive and easy-to-use interface

Premium plan offers custom removals
Privacy protection

Step-by-step opt-out guides
Cons +
Dependent on data brokers

The number of data broker websites can be overwhelming

Paid subscription is pricier than with some competitors

Limited free features
Optery feature summary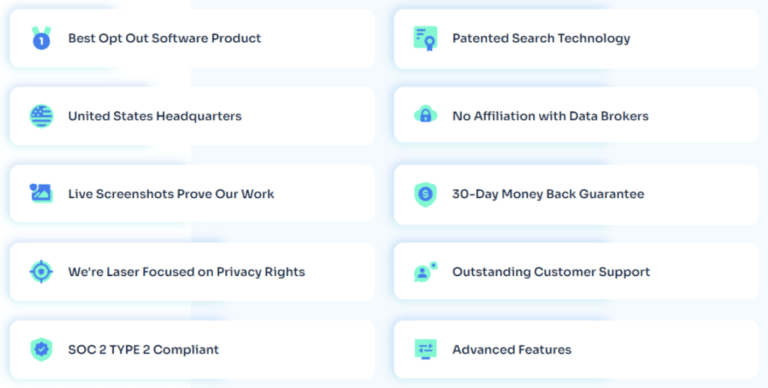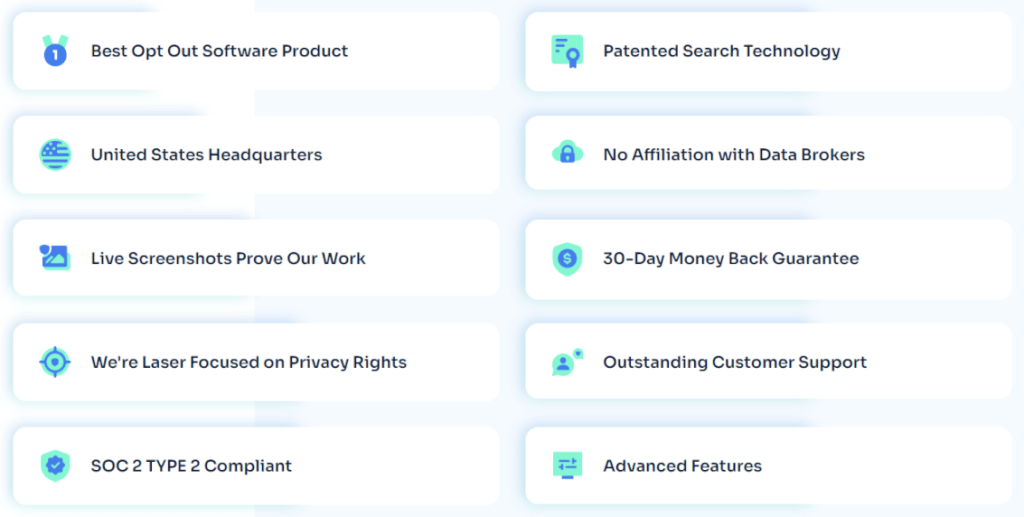 Optery offers a superb suite of features created to empower you to reclaim ownership of your personal data. Among the key features are:
Automated data removal: Optery streamlines the data removal process, enhancing control over online privacy.

Data broker detection: With Optery, identifying the data brokers in possession of your information becomes a straightforward task.

User-friendly interface: Optery's interface is intuitive and user-centric, ensuring ease of use for everyone.

Removals report: The service provides a detailed Removals Report, assuring you that your data has been effectively deleted.

Custom removal requests: Optery offers the flexibility to tailor removal requests to your specific needs.

Extensive data broker coverage: The service covers an extensive network of data brokers, ensuring thorough data removal.
Equipped with these features, you can confidently tackle all the challenges posed by data broker companies and effectively delete your digital footprint.
To elevate your online privacy even more, consider utilizing one of the best VPN services available. A VPN will encrypt your internet traffic and also hide your IP address and location.
Company history, success rate and reputation: Can we trust Optery?

Optery serves as a personal data removal service, aiding users in safeguarding their online identity by eliminating personal information from data brokers and people search sites. Founded by Lawrence Gentilello, a tech visionary with a strong background in technology and data management, Optery has evolved into a powerful tool for data privacy protection.
The company was founded in 2020 and it's currently headquartered in the San Francisco Bay Area (California, USA). Although more information about it isn't widely available, Optery has established itself as a reliable and secure data removal service. With a success rate of greater than 95%, Optery is one of the most dependable data removal services available. This is because it sends official removal requests to data brokers on behalf of users, ensuring their personal information is removed from the internet.
When it comes to reputation, Optery shines thanks to its:
Reliable and secure data removal services

Prudent handling of personal information

Robust security measures and privacy policies
Optery's commitment to reliability, security, and privacy has made it a trusted choice for users looking to protect their personal information effectively.
Swimming in a sea of junk emails and spam? Dive into our comprehensive guide on how to massively cut down on unwanted messages, offering effective strategies to declutter your inbox and bring order back to your email routine.
To make sure you're making impossible-to-crack passwords and protecting them too, you can bring into play one of the best passwords managers around.
Data removal process: How does Optery remove your personal information from the internet?
Optery's data removal process involves identifying personal information on data broker sites, sending opt-out requests, and monitoring for data reappearance. This comprehensive approach guarantees the effective elimination of your personal information from the internet, ensuring its ongoing protection.
Optery also offers detailed removal reports that include "before" and "after" snapshots of where your private information was once publicly available through data brokers. This transparency provides concrete evidence of the progress and success achieved in the data removal process. With such transparency, users can place their trust in Optery's data removal process and its commitment to safeguarding their online privacy.
You can empower yourself in the digital realm by exploring our meticulously compiled list of leading data removal services.
Data monitoring and reappearance removal: How does Optery prevent data reappearance?
Optery doesn't simply halt at removing your personal information from data brokers – it also guarantees long-term privacy protection through constant monitoring of data brokers for any reappearance of personal data. This ongoing vigilance implies that if your personal information resurfaces on a data broker site, Optery will promptly take action to remove it once more.
Optery mitigates the risk of:
Identity theft

Fraud

Phishing

Spam calls

Unwanted emails
Furthermore, Optery offers tools and resources for individuals to tidy up their own information. This proactive approach to privacy protection highlights Optery's commitment to keeping your personal information secure on the internet.
With cybercrime on the rise, you want to protect your private information even when you're doing something as simple as casually browsing the internet. For that, you can choose one of the most secure web browsers that protect your privacy.
Also, delving into strategies for deleting yourself from the internet is a definite step toward securing your sensitive data and online privacy.
Data broker opt-outs: How Optery helps you to opt out of data broker services?
Optery streamlines the data broker opt-out procedure by automating removals and offering extensive data broker coverage. Optery manages the opt-out process, guaranteeing the removal of your personal information from data broker sites. This gives you peace of mind and more control over your online privacy.
With coverage of more than 270 data brokers (the number of sites depends on the plan you purchased), Optery can eliminate your home address, phone number, email address, and other sensitive information from the internet. This rather comprehensive coverage instills confidence since we trust that Optery can protect our personal information from a wide array of data brokers and people search sites.
First steps: How to get started with Optery?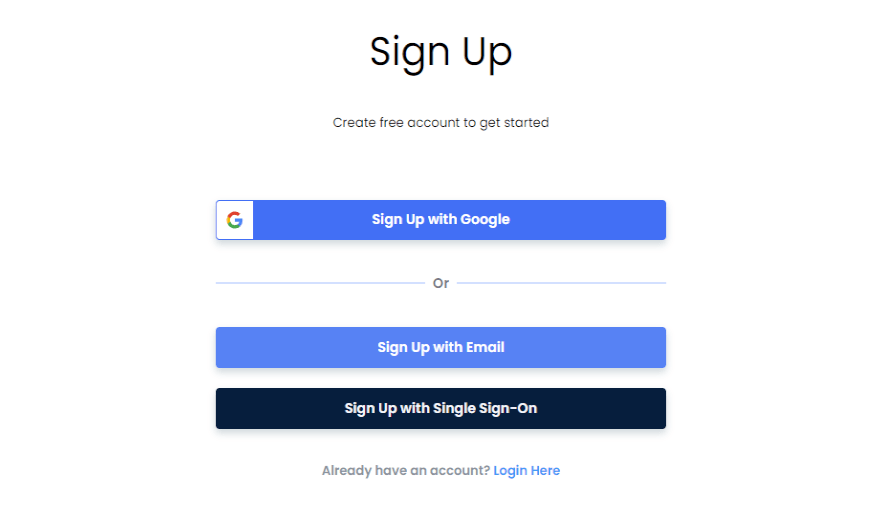 To kick things off with Optery, you'll want to sign up, and there are three ways you can do this. You can sign up via your Google account, via your email address, or utilize a single sign-on option for enhanced privacy.
In either case, you'll have to surrender some of your personal information including:
First and last name

Email address

Country and city of residence

Password

Year of birth
In addition to this, you can also add your full date of birth and your middle name or middle initial. While this can seem pretty prying at first, Optery requires all this information to accurately identify you and locate your private info on data broker websites.
Once you've signed up for an Optery account, you can start using the service to monitor your online privacy and submit removal requests to data brokers.
We should note that there's currently little to no value in the Optery solution for users outside the USA. However, If you reside outside of the USA and still wish to sign up, Optery will keep your information on record and notify you as soon as its service becomes available in your country.
Looking for another easy and secure way to protect your private data? Incogni, a data removal service, simplifies the process like no other. Dive into the details with our comprehensive Incogni review.
Features and benefits: What do you get with Optery?
Now, we delve into the heart of Optery and explore the wide variety of features and benefits it offers. Thanks to them, you can regain control over your personal data and enjoy enhanced online privacy.
Automated data removal process
Optery's automated data removal process stands as a testament to its user-centric approach to safeguarding online privacy. That's what sets Optery apart from its competitors – its commitment to offering a hassle-free experience while keeping your digital life secure. Optery also provides a free account option, allowing users to access basic features and initiate removal requests to specific data brokers without any financial burden.
The core of Optery's service is its automation. Once you've submitted your removal requests, Optery takes charge of continuously monitoring data broker sites and ensuring the permanent removal of your personal information. This means you don't have to constantly check and recheck these sites – Optery does the work for you.
Data broker detection
Optery's data broker detection feature is a vital component of its service, setting it apart from many others. This innovative capability allows Optery to conduct comprehensive searches across data broker profiles and extend its reach recursively. By identifying the extent of data broker involvement and providing clear instructions on how to remove personal data, Optery can help you regain control over their information and protect your online privacy.
User-friendly Interface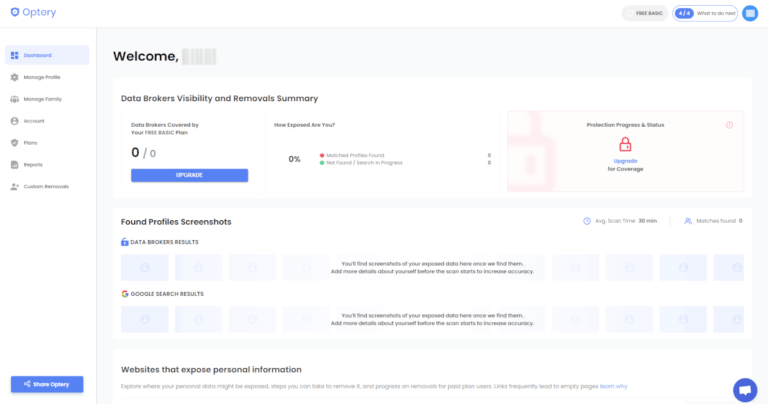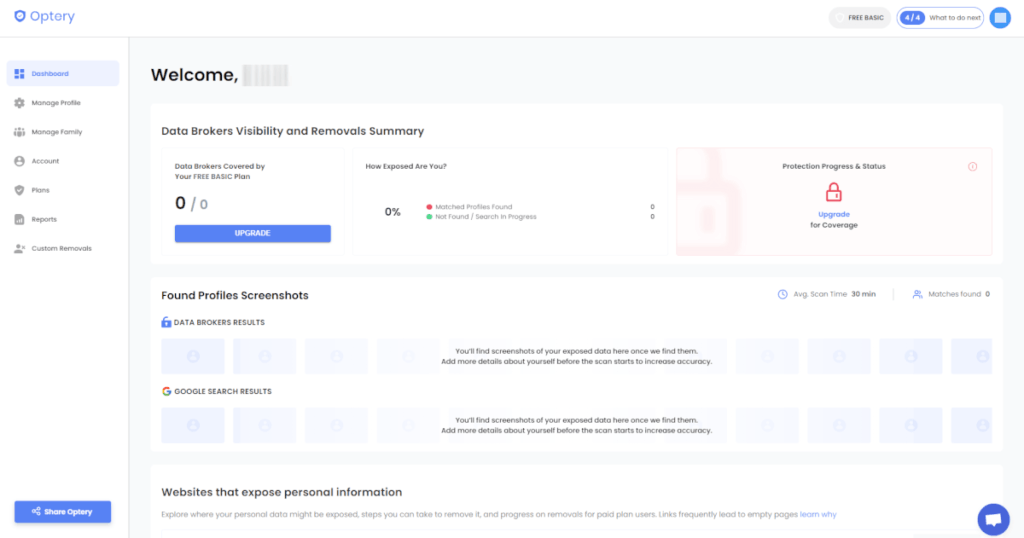 Optery's intuitive user-friendly interface makes it easy for users to navigate and manage their privacy settings. With a clear layout and intuitive design, users can effortlessly monitor their removal requests, view the progress of each request, and manage their account settings. This seamless user experience ensures that even if you're not particularly tech-savvy you can confidently use Optery to protect your online privacy.
Much like Optery, DeleteMe boasts a straightforward dashboard, keeping you updated on the strides made in removing your data. Explore our detailed DeleteMe review for more insights.
Removals report
Optery provides removal reports that include 'before' and 'after' screenshots showing where your private information was previously posted by data brokers and how it looks after removal. These reports offer concrete evidence of the progress and success of the data removal process. They also instill confidence in Optery's ability to safeguard users' online privacy.
By offering tangible proof of its effectiveness, Optery sets itself apart from other data removal services.
Custom removal requests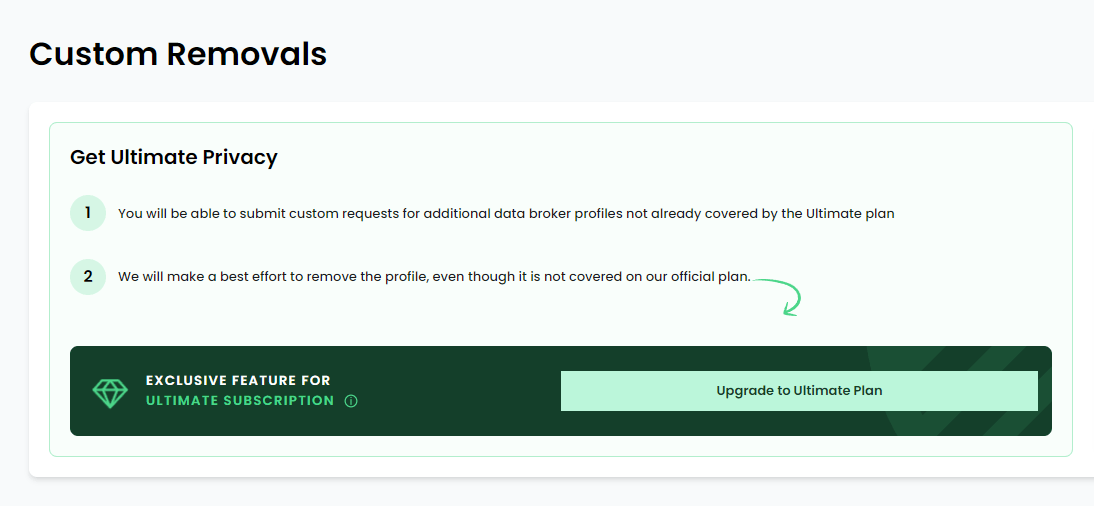 Optery understands that not all data brokers and people search sites are covered in their standard service. To accommodate users who require the removal of their personal information from websites not included in Optery's standard coverage, Optery offers the option for custom removal requests.
This feature demonstrates Optery's commitment to helping users achieve comprehensive online privacy protection and ensures that no stone is left unturned in the quest to safeguard your personal information. By allowing users to request removal from sites beyond their standard coverage, Optery also shows flexibility and a dedication to meeting individual privacy needs.
Extensive data broker coverage


Optery goes above and beyond in its commitment to safeguarding your personal information. With coverage spanning over 270 data brokers and people search sites, it provides a comprehensive shield for your online privacy. This extensive coverage means that you can trust Optery to safeguard your personal information from a wide array of data brokers and people search sites.
If you want to check out all the sites that Optery covers, go to the "Sites We Cover" section from the landing page and search through the lengthy list. Fortunately, if you know what you're looking for, there's a search box that will save you tons of time.
If you're seeking a service with more extensive data broker coverage, Privacy Bee shines by removing your data from over 350 data brokers. Dive into our Privacy Bee review for a closer look.
PCMag Editors' Choice privacy tool


Optery's exceptional track record and effectiveness in protecting user privacy have earned it the title of an Editors' Choice-winning privacy tool. This recognition underscores the quality and dependability of Optery's data removal service, affirming its dedication to empowering users to reclaim control over their personal information.
Optery's security measures and privacy policy: Is Optery safe to use?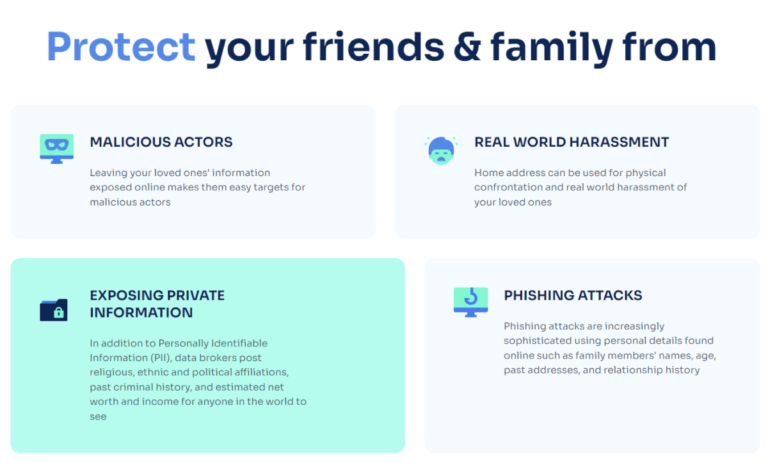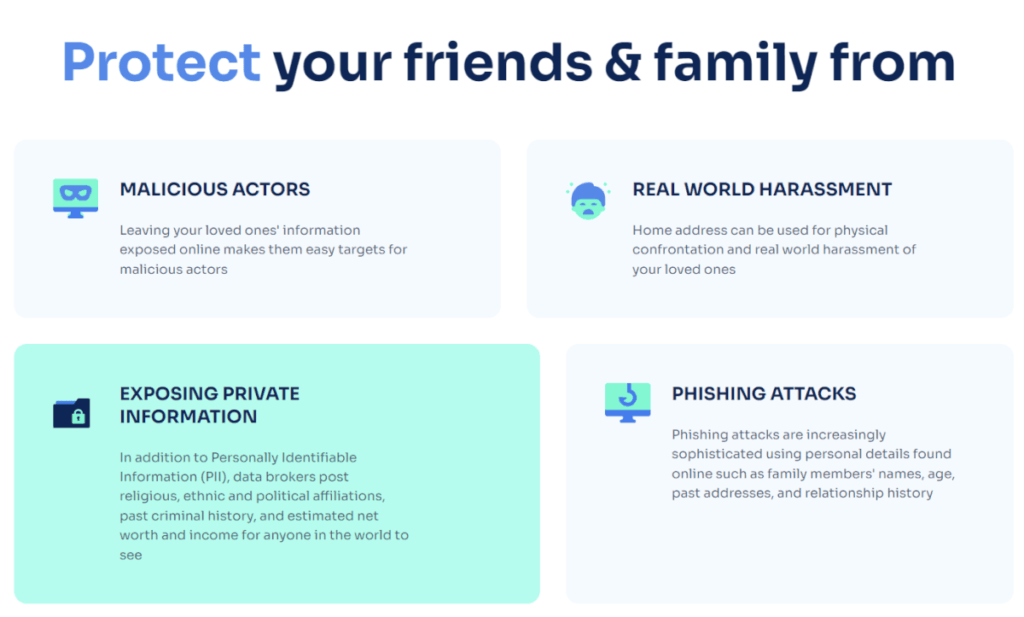 Optery takes your data security seriously. It puts in place strong security measures and a strict privacy policy to keep your information safe. This includes strong encryption and access control, showing their commitment to handling your data with top-notch security and compliance standards.
Now, let's check some of Optery's security measures implemented to safeguard your information.
World-class infrastructure hosted in the USA
Optery's products are hosted on top-notch infrastructure, provided by Amazon Web Service (AWS), in separate, access-controlled environments. This is excellent news since AWS is well-known for its state-of-the-art security standards and facilities. It adheres to the latest industry security standards and has received multiple certifications and reports, including ISO 27001/27017/27018 and AICPA SOC 1, SOC 2, and SOC 3 (SSAE 16/ISAE 3402). This partnership ensures that your data is hosted in a highly secure environment.
Data encryption
All user data in transit, including usernames and passwords, is encrypted using the transport layer security (TLS) v1.2 protocol (HTTPS / SSL) to prevent any unauthorized access or interception. Since TLS encryption isn't the strongest option around, it could raise a few red flags for some users.
Fortunately, for data at rest, Optery employs encrypted database instances at Amazon, utilizing the industry-standard AWS RDS with an advanced encryption standard (AES) 256-bit encryption algorithm. However, encryption keys and encrypted data are stored separately using AWS' key management system (KMS). User account passwords are also encrypted using the PBKDF2 algorithm with a SHA256 hash.
Strong password policies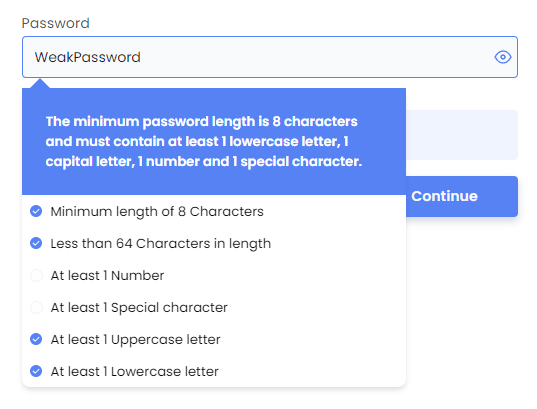 Optery enforces strict password policies to enhance security. This means that users are not allowed to use easily guessable or otherwise weak passwords. They must meet specific criteria, including being a minimum of eight characters long and containing at least one number, symbol, and both uppercase and lowercase characters. This approach seriously reduces the risk of unauthorized access to your account.
Since passwords are still the main way we protect everything on the internet, you should know how to create strong passwords today.
Curious about doxxing? It's the malicious exposure of private information online, often to harm or harass. Our guide on how to avoid doxxing provides essential tips to protect your personal information.
Multi-factor authentication


Optery offers multi-factor authentication (MFA) and 2-step verification (2FA) for all user accounts, adding an extra layer of security. While adding MFA / 2FA is optional, it is highly recommended. It can protect your account from unauthorized access, even if your password is compromised.
To set up MFA / 2FA, you need to install an authenticator application on your mobile device, such as Google Authenticator or Authy. This app generates a new six-digit time-based one-time passcode (TOTP) every 30 seconds. You'll need to enter this passcode during login, providing an additional verification step to ensure the security of your account.
These security measures underscore Optery's commitment to protecting your data and online privacy. If you're not sure how to use two-factor authentication, it's high time to learn it.
Optery's privacy policy
In addition to its security practices, Optery's stringent privacy policy outlines its commitment to protecting user data and maintaining user privacy. It doesn't engage in selling or renting personal information to third parties or maintain financial relationships or affiliations with data brokers. As a registered user or paying customer, you have full control over your personal data, with the ability to request disclosure or deletion at any time.
While Optery uses third-party vendors to enhance service delivery and marketing, It's committed to upholding data privacy rights, including those mandated by the California Consumer Privacy Act (CCPA) and the California Privacy Rights Act (CPRA), regardless of your location. Additionally, Optery has a GDPR policy in place to meet the requirements of European Union residents.
If you're eager to learn more, check Optery's privacy policy in plain language and take a look at Optery's statement on data security.
If you're fed up with your personal details circulating on Whitepages? This guide on how to opt out of Whitepages offers step-by-step instructions to scrub your data from their database.
Likewise, if you're tired of the never-ending nuisance of robocalls? Our in-depth guide on stopping spam calls and robocalls is your solution.
Customer support: What sort of help do you get with Optery?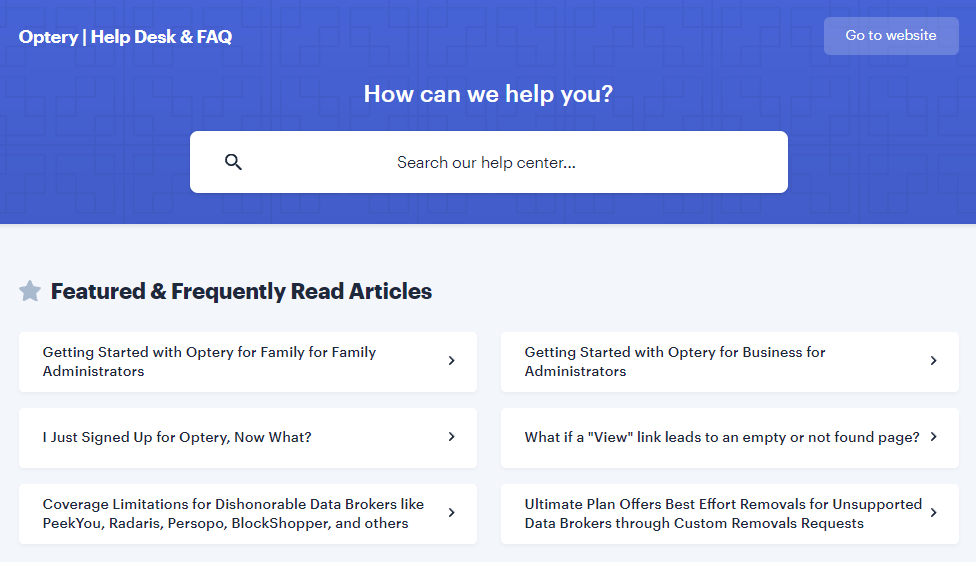 Optery offers solid customer support, offering various channels for assistance, including step-by-step guides, a help desk, and a live chat feature. While the live chat may sometimes have slower response times, the help desk and guides provide valuable resources for users seeking help with Optery's data removal services.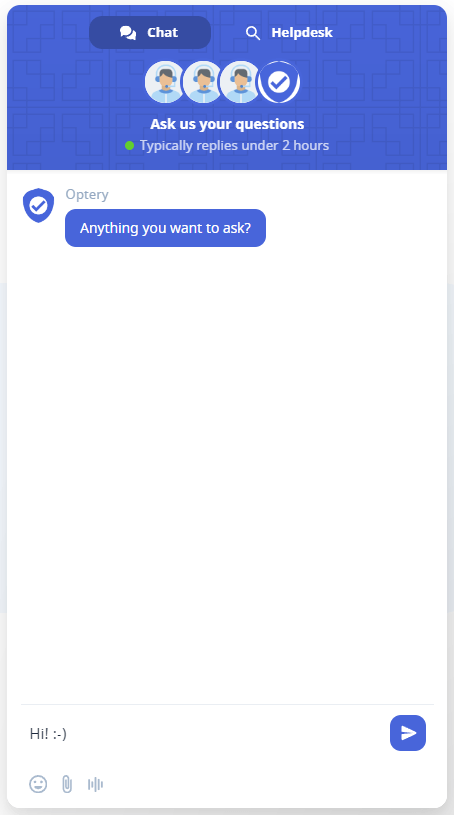 Moreover, Optery extends customer support via email and social media, ensuring users have multiple ways to get a helping hand with any service-related concerns.
Plans and pricing: Choosing the right option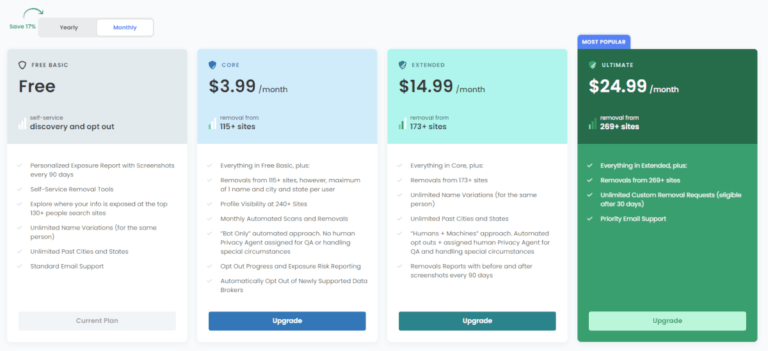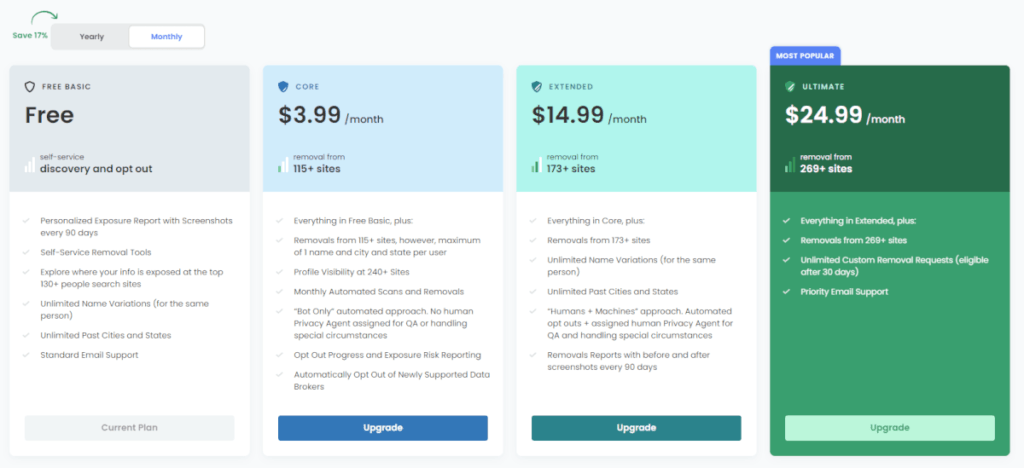 Optery has a plan for pretty much everyone. There are four plans available for individual users. It starts with the forever-free tier called Free Basic, which provides self-service opt-outs. Next is the Core plan, priced at $3.99 per month (on a monthly billing cycle), offering removal from over 110 sites, profile visibility at 270 sites, monthly automated scans and opt-outs, opt-out progress tracking, exposure risk reporting, and more.
To remove your data from even more sites, you can opt for the Extended plan (covering over 170 sites) or the Ultimate plan (with coverage for more than 270 sites). For custom removal requests, you'll have to go with the Ultimate plan.


Optery doesn't just cater to individuals, it's got a family-friendly plan too. With discounts ranging from 20% to 30%, the more accounts you have, the more you save. The family plan organizer takes care of the bills and account tiers but can't snoop into reports or personal data of family members. It's a smart way for families to join forces in safeguarding their online privacy while keeping their personal stuff personal.
All paid plans include a 30-day money-back guarantee, so you can confidently explore Optery's premium features and services. If you're not entirely satisfied, simply request a full refund within the first month of your subscription.
If you wish to find out more, check Optery's terms of service.
Free Optery: How can you remove data with the Free Basic plan?
Optery's Free Basic plan offers a fantastic entry point for users looking to take their first steps toward securing their online privacy. While it provides limited features compared to the paid plans, it's an excellent option to start understanding how Optery works and begin the process of data removal.
To begin using the Free Basic plan, all you need to do is sign up for an Optery account. Once you land on your Optery dashboard, you'll get an overview of your account and data removal progress.
Look for the "View" Links in the "Link to Profile" column of the dashboard as Optery will generate a list of sites where your data appears. Review the list and select the sites you want to opt out of. Optery will guide you through the opt-out process for each site. Some sites may require you to send an email, while others might have an online form. Also, you can initiate scans periodically to keep an eye on your online data.
While the Free Basic plan is an excellent starting point, it does come with some severe limitations. You'll have access to a limited number of data broker sites for opt-out requests compared to the paid plans and you'll have to do most of it on your own. So, it's the best bet for those who have more time than money.
Competition: What are the best alternatives to Optery?
In the world of online privacy protection, Optery isn't the only player in the game. Several other services aim to keep your personal information safe, and some of the notable ones include Incogni, DeleteMe, and Privacy Bee.
Both Incogni and DeleteMe cover more broker sites and offer a more comprehensive privacy protection service that extends beyond merely removing personal information from data brokers. However, their pricing is less budget-friendly than Optery's. Also, unlike Optery, they don't provide a free tier.
Meanwhile, while both Optery and Privacy Bee offer free versions with valuable benefits, Optery's lowest-priced paid plan is roughly half the cost of Privacy Bee's, and its mid-tier plan is still more affordable. Moreover, Optery typically provides a report within an hour or less, whereas Privacy Bee's removal reports can be slower.
See our Incogni review for the latest test results on this leading data removal service. Curious about how Incogni stacks up against similar services? Explore our comparison guides, including Incogni vs DeleteMe and Incogni vs Privacy Bee, to find the right fit for your data removal needs.
Optery FAQ
Does Optery really work?
Yes, according to our own experience and in-depth testing for this review, as well as positive user reviews, Optery works well. It is effective in helping users locate and opt out of their personal data on data broker websites. It has also proven to be a useful tool in preventing spam calls and identity theft.
What does Optery remove?
Optery specializes in removing your personal data from a wide range of data brokers that share and sell information like your home address, phone number, and email online.
How does Optery work?
Optery initiates its process by creating an exposure report, which matches your personal information with profiles on various data broker sites. You can then choose to remove your data manually or opt for a paid subscription, allowing Optery to handle the process on your behalf.
Where is Optery located?
Optery is headquartered in the San Francisco Bay Area. While based there, it operates as a fully remote global team, backed by investments from renowned firms like Y Combinator, Bayhouse Capital, Global Founders Capital, Goodwater Capital, Pioneer Fund, and more.
Optery review conclusion: Is Optery worth the cost in 2023?
Our thorough testing of Optery has affirmed it as a trustworthy and highly effective data removal service, presenting a compelling solution for those in pursuit of comprehensive online privacy protection. With its wide array of features, including automated data removal, data broker detection, and custom removal requests, Optery shines as a superb choice for data removal.
To sum it up, here are the main highlights from our review:
Optery offers a comprehensive data removal service that helps users remove their personal information from numerous data broker sites.

With Optery's automated data removal process, users can protect their online privacy without investing significant time and effort.

Its intuitive design and clear layout make it easy for users to navigate the platform and manage their privacy settings.

Optery provides in-depth removal reports featuring "before" and "after" screenshots, offering tangible proof of the data removal process's effectiveness.

With the Ultimate plan, users can request custom removal from websites not covered in Optery's standard service.

The privacy policy ensures that users' personal data is not sold or rented to third parties and provides options for data disclosure or deletion.

Optery offers a range of pricing options, including a free basic plan and affordable paid tiers, making it accessible to users with varying budgets.

All paid plans come with a 30-day money-back guarantee, allowing users to try Optery's premium features with confidence.

Optery offers solid customer support through guides, a help desk, and live chat, as well as email and social media support, providing users with multiple avenues for assistance.
While there are a few drawbacks, we feel Optery is certainly a rock-solid choice for all types of users. So, whether you're an individual looking to fortify your online privacy or a family seeking to protect the digital footprints of all its members, Optery proves to be a sound investment, guaranteeing peace of mind in an era where data security is critical.
This Optery review was last updated on November 14, 2023.