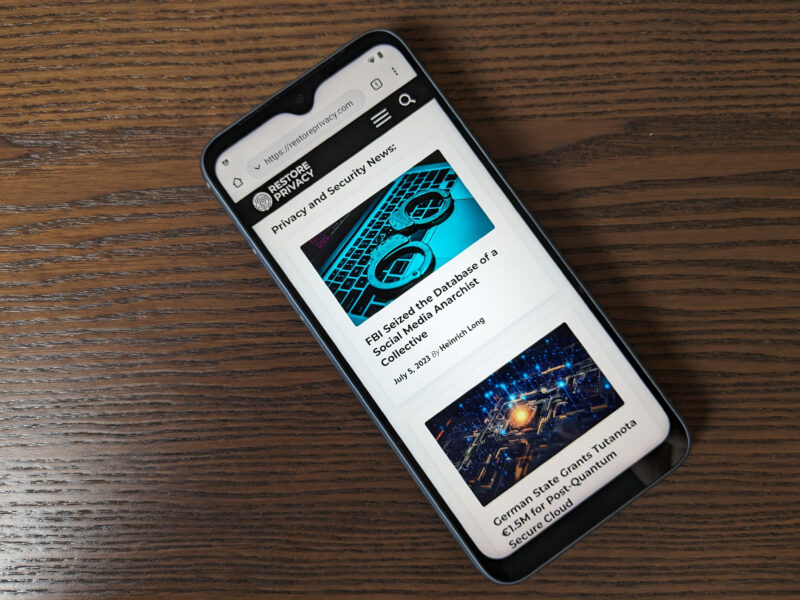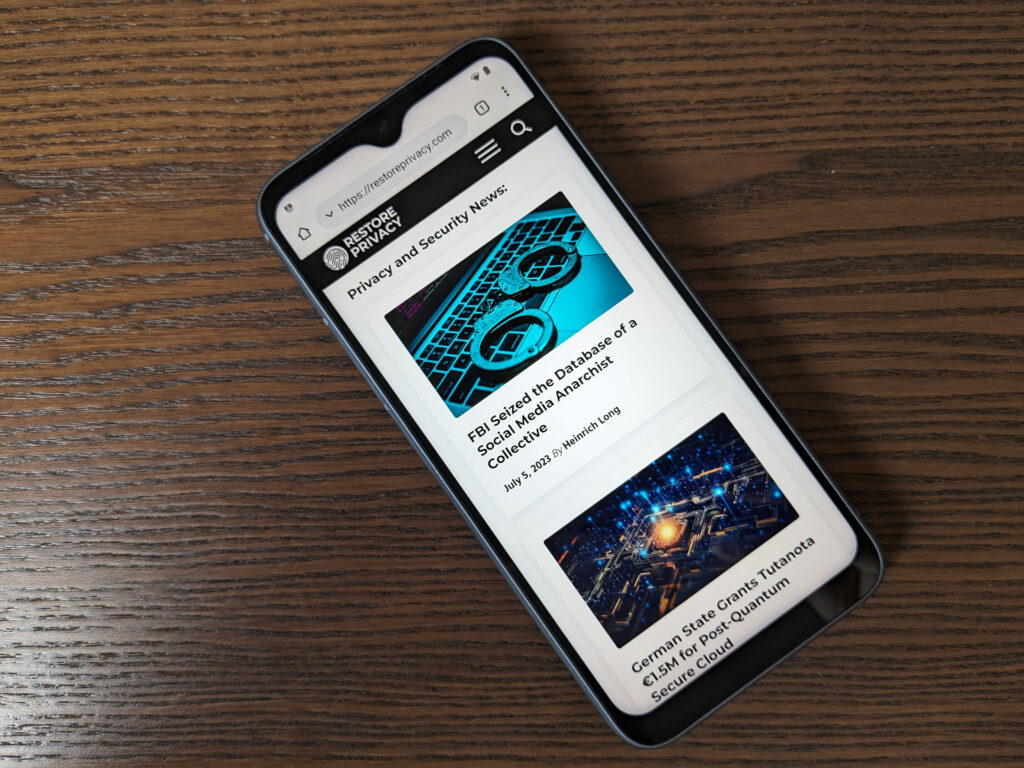 The Murena Fairphone 4 has launched a "U.S. pilot" program to sell the repairable, sustainable, and privacy-enhanced smartphone in the U.S.
The model is the product of a collaboration between Fairphone, a Dutch electronics manufacturer focused on ethically produced electronics, and Murena, the creator of a de-Googled Android distribution named'/e/OS.'
The two firms promise to offer a very different device than what is currently available in the U.S. market, one that respects the user's privacy, gives them complete control of their data, is easily repairable (iFixit score: 10.0), has a 5-year hardware warranty, and software update support until at least 2026.
Murena sent us a Fairphone 4 device for review, so we had the chance to get our hands on the device, probe the privacy-centric features built-in to its software, and evaluate the product from all angles.
/e/OS Privacy
The /e/OS Android distribution is a fork of another popular distribution, LineageOS, created by Mandrake (and Mandriva) Linux creator Gaël Duval in 2017. /e/OS does not contain proprietary Google apps or services, severely limiting the data the tech giant can collect from the device.
Google's search engine has been replaced with Murena search, and Google Services have been replaced by microG. This open-source implementation suite allows people to enjoy some functionality from Google Service APIs. Moreover, the system does not perform connections to Google's Domain Name, Network Time Protocol, and Connectivity Check servers, which is standard practice for all modern Android phones.
All the core apps, including the web browser, SMS app, camera, clock, dialer, contacts, etc., are forks of the default Android applications, third-party apps modified for enhanced privacy, or re-implementations of trustworthy tools from similar-minded projects.
Upon launching the device, the user is greeted by the 'Advanced Privacy' dashboard that allows them to set which trackers they accept, if they would like to spoof their location, and whether they would prefer to hide their real I.P. address using a bouncing mechanism from the TOR network. This is super convenient and can be activated/deactivated with a toggle.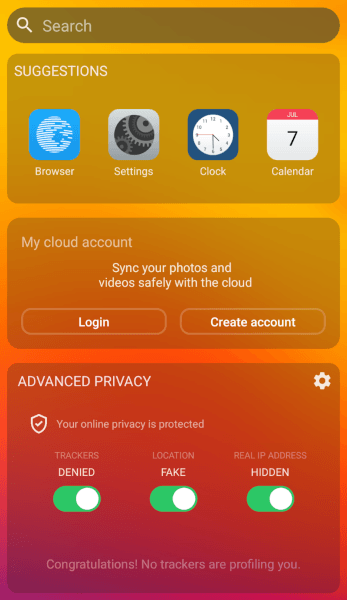 On the location management setting, the user can select if they want to use a random or a specific location, which could serve specific use-case scenarios like accessing geo-restricted content.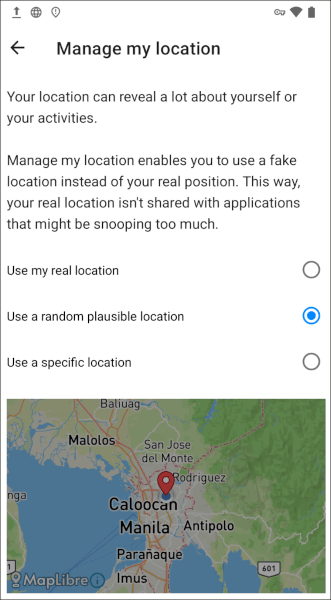 Murena also allows users to create a cloud account ("@murena.io") that they can use for email, address storage, app settings, calendar items, notes, and backing up media or communication data. The vendor gives 1 G.B. of storage for free, but the user may purchase up to 2 T.B. of storage for $250/year if more storage is needed. All of Murena's servers are hosted in Europe, are GDPR compliant, and are powered by wind energy and other renewable sources.
The /e/OS app store, called 'App Lounge,' doesn't require the user to create an account or log in to their Murena account to download apps, so one can browse what's available without being profiled or feeding a recommendations algorithm.
Apart from user reviews, the apps feature a privacy score, which is a general assessment of their intrusive data collection and management policies. This allows users to quickly evaluate the risk of having their personal data collected and disseminated to extensive networks of marketers, advertisers, and data brokers, before installing the app.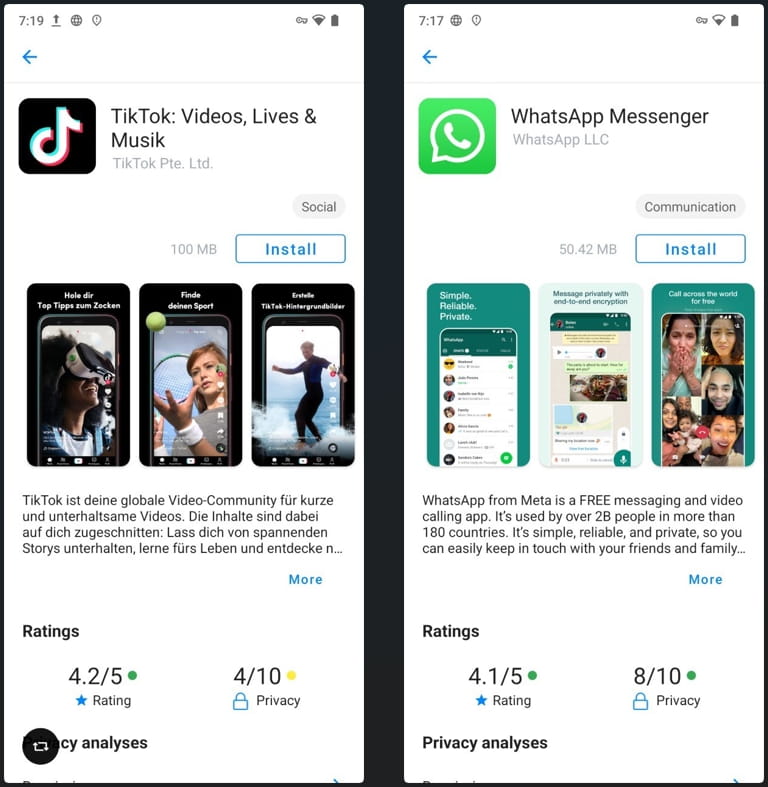 Additionally, App Lounge lists the trackers used and the permissions that an app requests upon installation, providing users with more in-depth information about what data will be collected while they use the app and which companies will receive it.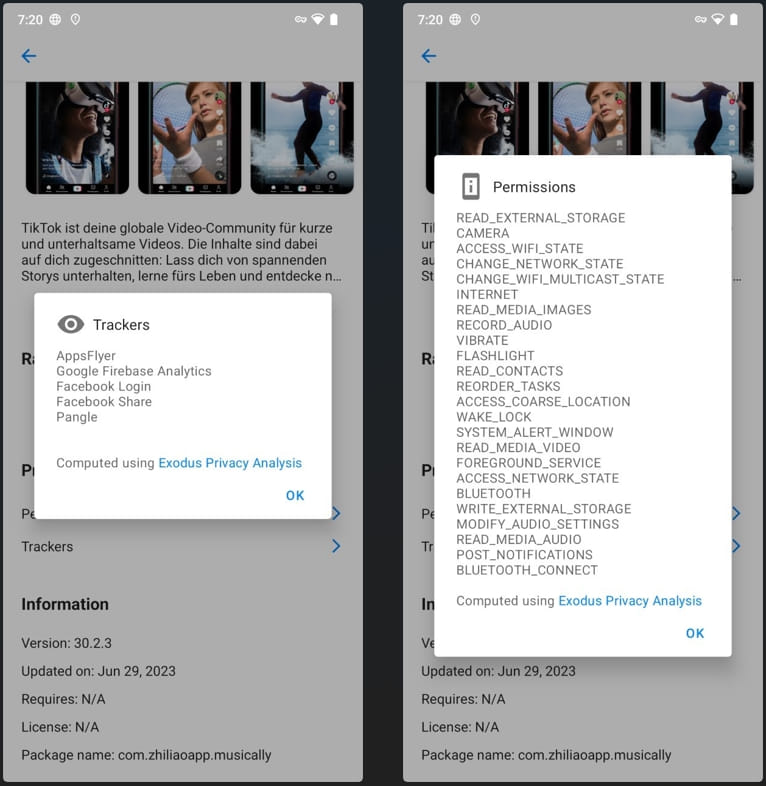 The Fairphone 4 Smartphone
Fairphone 4 is a rather bulky but comfortable to handle smartphone with Qualcomm Snapdragon 750G 5G (Adreno 619 GPU) at the helm, which is sure to remain capable of handling most everyday tasks for years to come. The phone comes in two variants, one with 6 G.B. of RAM and 128GB of storage and a higher-tier model with 8GB RAM and 256GB of internal memory.
The display size is 6.3 inches, which keeps the device's dimensions manageable, while the resolution and density leave nothing to be desired, at 2340 x 1080 and 410ppi. The display refresh rate maxes at 60Hz, which will most probably go unnoticed from Fairphone's target audience. On the protection front, there's Gorilla Glass 5, an older but milestone version of the chemically strengthened glass.
In the cameras department, there is a 48-megapixel (½" sensor and f/1.6 aperture) main camera, a 48-megapixel (f/2.2 aperture) secondary, and a 25-megapixel (½.78″ sensor and f/2.2 aperture) selfie camera. RestorePrivacy did not perform extensive tests on the camera performance, but we could deduce that the results match those of modern mid-rangers.
Finally, the battery is a 3,905 Li-ion cell that supports up to 20 Watts of charging speed and is removable, meaning that it can be easily replaced after a couple of years of use have taken a toll on its max capacity.
The only omission we could locate is the absence of a headphone jack and an S.D. card slot, somewhat reducing the utility and versatility of the device, even though these two features gradually eclipsed from the smartphone market and consumers learned to live without them.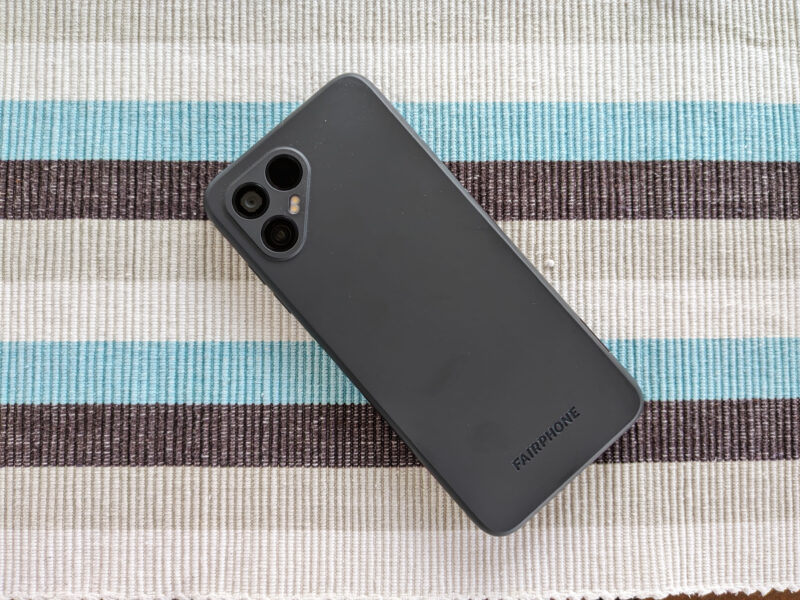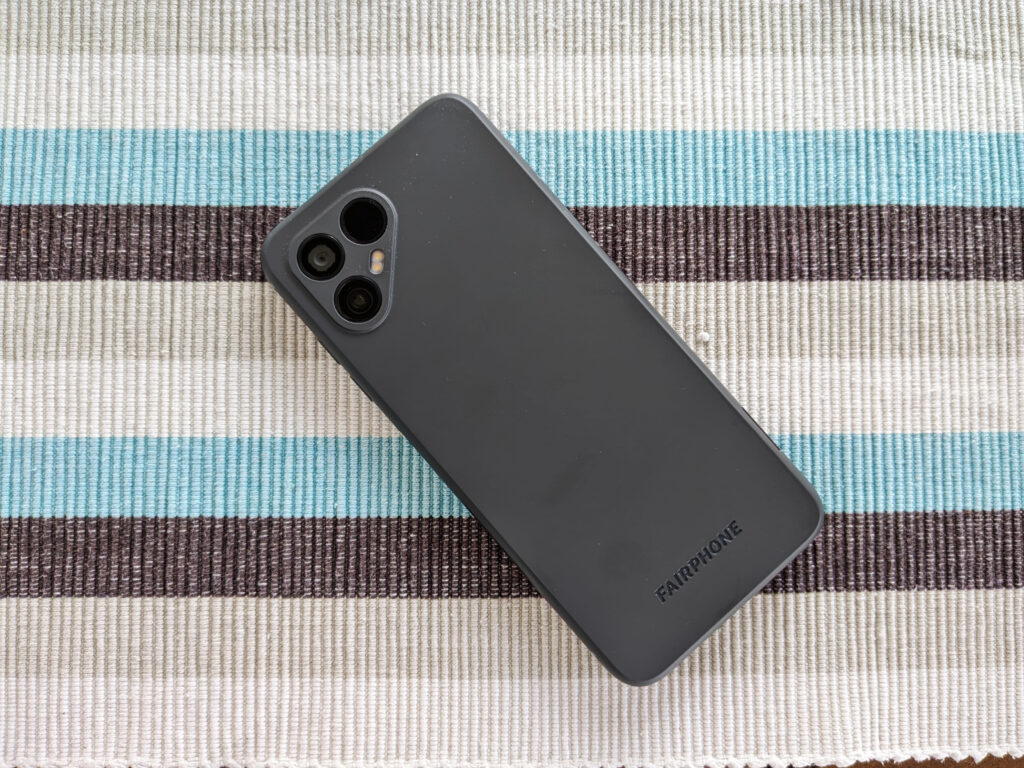 The Fairphone 4 price for buyers from the United States was set to $599 for the 6 GB/128GB edition and $679 for the 8 GB/256GB variant, and you can get it from Murena's online shop. The price is no doubt steep for the hardware and device capabilities, but it's crucial to underscore the uniqueness of this product. The Murena Fairphone 4 was designed with a deep commitment to privacy, longevity, and ease of repair. Moreover, it proudly boasts an ethically driven production process, marking a rare proposition in the market.
Although the device is fully carrier unlocked, the vendor recommends that it is used with the T-Mobile network in the United States. That does not mean it won't work with other carriers, but rather that it has not been thoroughly tested with them.
Related Articles: