The Android operating system continues to dominate the mobile market, with the average user spending about three hours per day on their Android device. To maximize your ability to stay private and secure, while also getting full access to all websites and streams, you will need to use a reliable VPN for Android.
Unfortunately, there are many dangerous and malicious Android VPN apps that have been flagged by researchers. Even popular Android VPNs, such as Betternet and Hotspot Shield VPN, have been called out for privacy-abusing practices. With this being the case, how do you find the best VPN for Android to keep your data safe and secure?
To answer this question, we tested the most popular VPNs for Android and ranked the top performers. This guide takes a deep dive into the world of Android VPNs to answer all of your questions. Here's what we'll cover:
The 5 best VPNs for Android that met all of our criteria
How to use a VPN on Android
When you should use a VPN on Android
How to setup an Android VPN
Tips for using a VPN with Android
Why free Android VPN apps are not recommended
Android VPN comparison table
What is the best VPN for Android?
The top-performing Android VPN in our tests was NordVPN. It offers secure and fully-featured Android VPN apps with a variety of VPN protocols and servers to choose from. It is one of the best values on the market with this 68% off discount coupon.
The second runner-up is Surfshark. It also performed flawlessly in our tests with user-friendly Android apps that offer excellent speeds and features. And like NordVPN, Surfshark also supports the WireGuard VPN protocol for the best performance. Surfshark also offers a good deal with this 81% off coupon.
We'll examine each of the best VPNs for Android in more detail below. But to be recommended in this guide, the VPN needed to meet these criteria:
Passed all tests with no data leaks found (no IP address leaks or DNS leaks)
Good performance throughout the server network (speed and reliability)
High-quality Android VPN apps with all features working correctly
Supports secure VPN protocols with strong encryption standards
Offers a money-back guarantee
Trustworthy and well-established VPN provider with a good track record
Located in a safe privacy jurisdiction (outside of Five Eyes countries, such as the US and UK) to keep your data safe
Now let's examine the best Android VPN services:
1. NordVPN – Value, performance, and security make this the best Android VPN
It is easy to see why NordVPN is one of the most popular VPN services in the world. It is at or near the top of the pack in every category, delivering excellent privacy and security to every popular device type. The service includes powerful features like double-hop VPN and Tor-Over-VPN servers, along with the CyberSec feature that blocks ads, trackers, and malware domains.
NordVPN has an edge over most VPNs on the market because it now supports the WireGuard VPN protocol with all apps. The WireGuard VPN protocol offers major performance upgrades and improvements over legacy VPN protocols like OpenVPN and IPSec. Here's why you want a VPN that supports WireGuard with your Android device:
Much faster speeds than legacy VPN protocols (up to 445 Mbps in our tests).
Faster to establish a connection with the encryption handshake (two seconds or less).
Seamless transition between network interfaces. This means you can transition between Wi-Fi and wireless (4G) networks without losing your VPN connection. No other VPN protocol does this, which is why WireGuard is the most reliable protocol for mobile devices.
Better battery life for your devices (OpenVPN drains the battery faster).
Fastest VPN for Android
NordVPN is currently the fastest VPN we have tested. Their implementation of the WireGuard VPN protocol is called NordLynx. Here was a speed test with NordVPN where we were able to get 445 Mbps: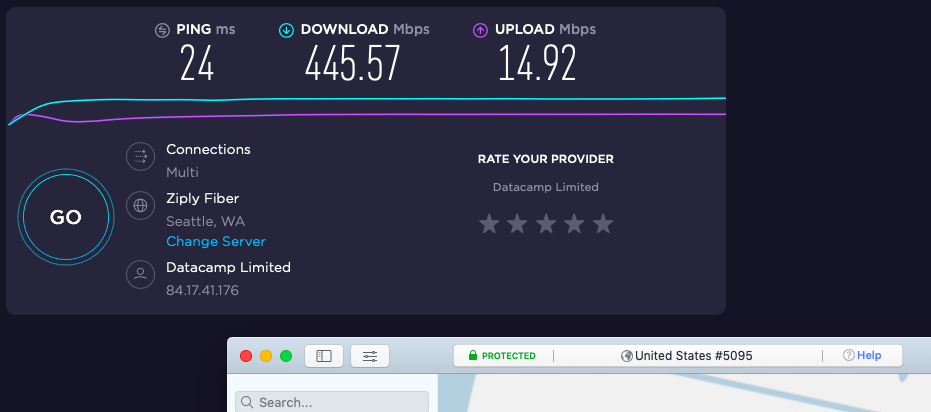 Fast speeds and excellent reliability make NordVPN an excellent choice for any high-bandwidth activities, such as using a VPN for torrenting and streaming. WireGuard also improves streaming for all Android devices, whether it is your Android mobile device or an Android TV. We've been using NordLynx (WireGuard) on a test system for a while now, and frankly don't want to give it up.
The NordVPN Android app passed all tests we put it through. There were no data leaks, no bugs, no connection issues, and all of the features worked perfectly. Below is a screenshot of the NordVPN Android app: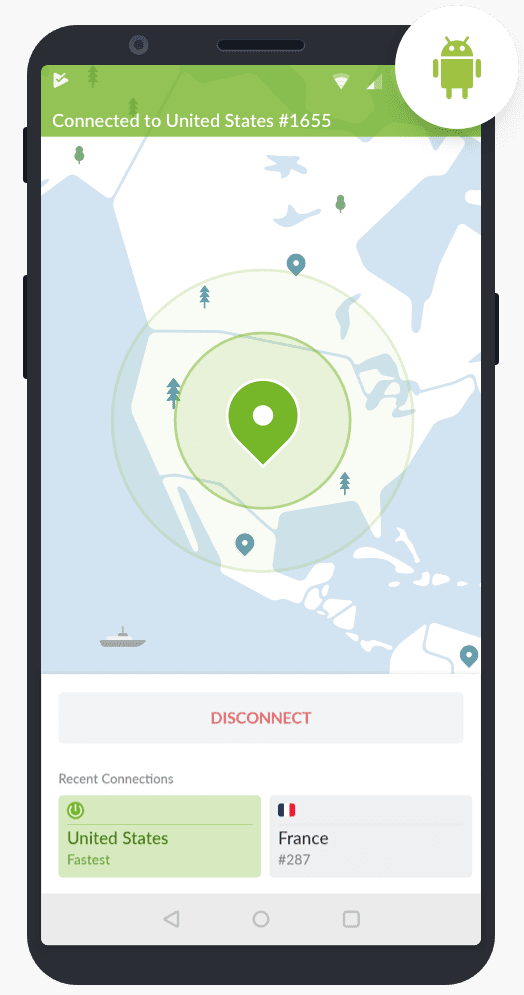 Here are some more features that convinced us that NordVPN has the best Android VPN app:
Dedicated RAM servers: The company does not use any virtual server locations and runs all servers in RAM-disk mode (no hard drives!). This means no data can ever be stored on a server or seized by a third party, which gives NordVPN users more data security and privacy.
Obfuscated servers: If you want to conceal your VPN traffic or use a VPN where they may be blocked (China) you need to use an obfuscated server. The NordVPN Android app works with NordVPN's full lineup of obfuscated servers to keep you safe.
Verified No logs: NordVPN is a verified no logs VPN provider, having passed a third-party audit of their logging policies performed by PWC AG in Zurich, Switzerland.
IP and DNS leak protection: NordVPN apps offer excellent protection against IPv4, IPv6, and DNS leaks. The Android VPN app has a built-in kill switch, which performed flawlessly in our tests.
Strong encryption: NordVPN uses an AES-256-GCM cipher with an HMAC SHA256 hash authentication, and DHE-4096 key exchange for Perfect Forward Secrecy.
WireGuard: Most VPNs do not even support WireGuard yet. NordVPN leads the pack in this regard, with full WireGuard support built into all of their VPN apps via NordLynx.
Best VPN for streaming: NordVPN is rated the best VPN for Netflix and streaming in general. It unblocks 14+ Netflix regional libraries, as well as Hulu, BBC iPlayer, Amazon Prime, and many more.
Responsive support: You get 24/7 live chat support directly through the website, as well as many support manuals and videos.
30 day money-back guarantee: If NordVPN doesn't work well for you, simply cancel in the first 30 days for a 100% refund.
Here are the pros and cons of NordVPN:
NordVPN Cyber Deal is Now LIVE:
Get 68% off NordVPN plus a FREE gift added to your subscription (1 month to 2 years free).
Get 68% Off NordVPN + FREE Gift >>
(Discount is applied automatically.)
See our NordVPN review for more test results and info.
---
2. Surfshark VPN – A fully-featured Android VPN at a great price
Launched in 2018 in the British Virgin Islands (BVI), Surfshark VPN has a very polished feel. And even though this VPN is relatively new to the market, it is racing ahead of other top providers, as noted in our Surfshark vs ExpressVPN comparison. And like NordVPN, Surfshark supports the WireGuard VPN protocol with all VPN apps and offers excellent performance. Our latest tests show that Surfshark is definitely a leader in the Android VPN space.
We didn't find any problems with the Surfshark Android app. It didn't leak, crash, or glitch during our test period. With over 3,200 servers in 65 countries, the server network is large enough to give you a local server in all the most interesting places. We tested out many of Surfshark's US servers and found speeds to be excellent. Below was a speed test result using a Surfshark VPN server in New York, which gave us 397 Mbps: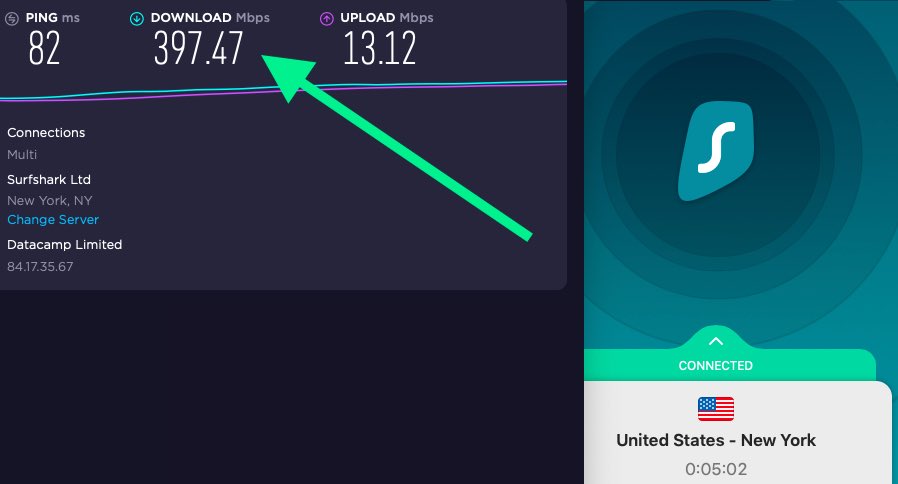 After testing out Surfshark VPN on Android, here are some of our favorite aspects of this service:
Strong security: The service has solid security and leak protection, including multi-hop VPN and a kill switch.
Privacy-focused: With a no logs policy, and features like Override GPS location and Invisible to devices, Surfshark goes above and beyond to protect your privacy on Android and other platforms.
CleanWeb: The CleanWeb feature blocks ads, trackers, malware, and phishing domains.
WhiteLister: This is a split tunneling feature that lets you route selected apps or websites around the VPN connection.
Great for streaming: Surfshark officially supports 16 different Netflix regions (including US, UK, and Canada). It also supports many other streaming services and is a great VPN for BBC iPlayer, Hulu, Disney Plus, and more.
Large server network: Surfshark has over 3,200 servers around the world, with a presence in over 65 countries.
Great support: Surfshark offers 24/7 live chat support that was responsive and helpful when we did our tests.
Safe jurisdiction: Surfshark is based in the British Virgin Islands. This is one of the best privacy jurisdictions and it's not a member of the 5/9/14 eyes alliances.
WireGuard: Surfshark supports the WireGuard VPN protocol on Windows, Mac OS, Android, and iOS devices. This gives you phenomenal speeds and reliability.
All of the features we listed above are available in the Surfshark Android VPN app that we tested out for this guide. Here is a screenshot of what it looks like: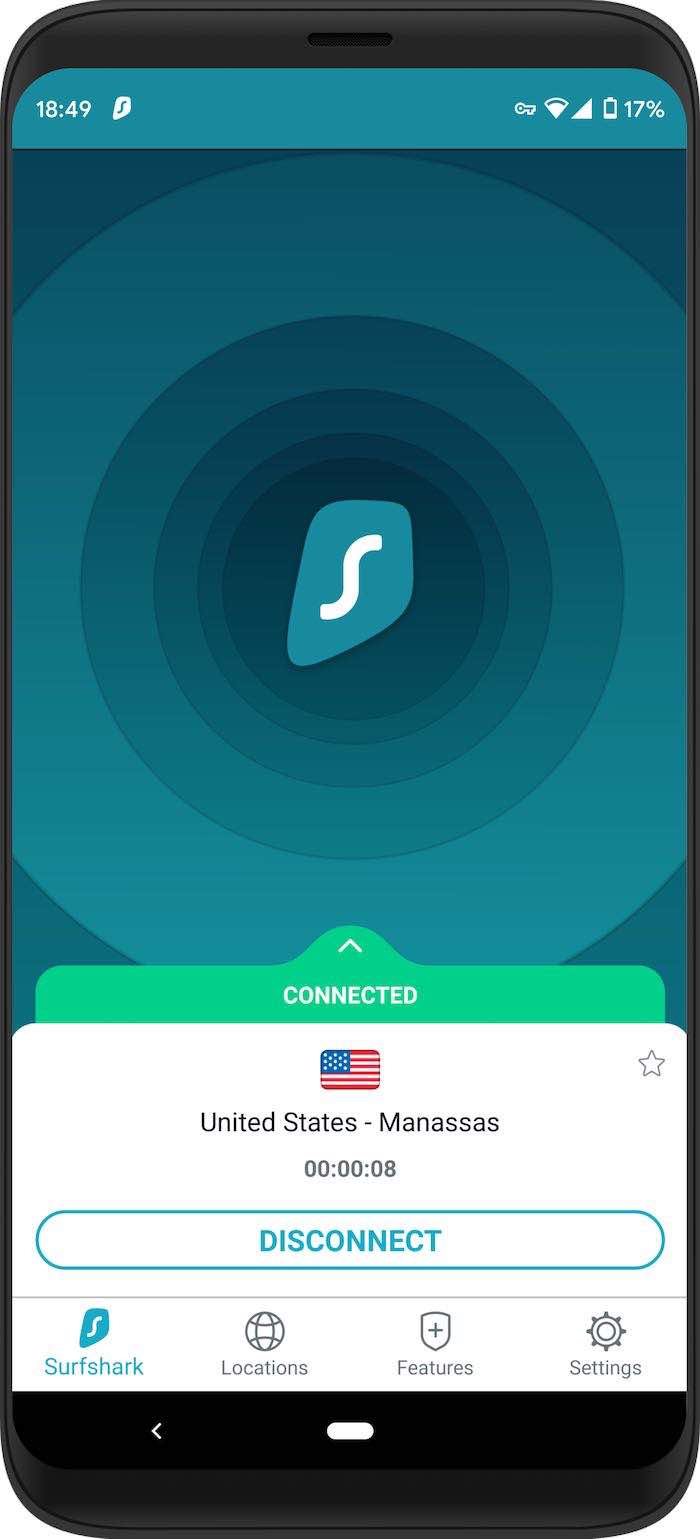 Great value: Next to NordVPN, Surfshark is also a great value. At only $2.49 per month with the two-year plan with the coupon below, it is arguably one of the best cheap VPNs we have reviewed.
Surfshark 81% Off Coupon
Get 81% off Surfshark VPN (drops the price down to $2.49 per month).
81% Off Surfshark VPN Here >>
(Discount is applied automatically.)
See our Surfshark review for more test results and analysis.
---
3. ExpressVPN – A reliable and user-friendly VPN for Android
While NordVPN is our pick as the best VPN app for Android, ExpressVPN is also a strong contender, even in the #3 spot. Based in the British Virgin Islands (a great locale for internet privacy), ExpressVPN's also offers very secure, reliable, and user-friendly Android VPN apps.
The ExpressVPN Android app did great in our testing. We found no leaks, bugs, or connection issues of any kind. Like NordVPN, ExpressVPN is also a verified no-logs VPN service, having passed an independent audit by PWC. It also gets high marks in terms of security:
Strong encryption: ExpressVPN uses the strongest encryption standards with an AES 256-bit cipher, a 4096-bit RSA key and SHA-512 HMAC authentication.
VPN Protocols: The ExpressVPN Android gives you the choice of OpenVPN UDP or TCP protocols, as well as IPSec/IKEv2 and Lightway. Lightway is a self-developed protocol by ExpressVPN with many similarities to WireGuard.
Audited: ExpressVPN has passed a third-party security audit performed by Cure53, as well as a privacy audit verifying the no-logs policies.
Split Tunneling: ExpressVPN has added split tunneling to the Android app. This allows you to select which apps will use the VPN tunnel and which will go directly to the regular (unencrypted) internet.
Secure servers: ExpressVPN's TrustedServer feature runs all the VPN's servers in RAM-only mode, as we also saw with NordVPN and Surfshark. This protects your data against physical seizure of the servers.
Network protection: ExpressVPN Android apps can temporarily block internet access when you are unable to connect or reconnect to the VPN. This block prevents internet traffic from leaking out when it is not protected. Visit this page for more details on how this network protection feature works.
You can enable "Network protection" in the settings of the Android VPN app as you see below: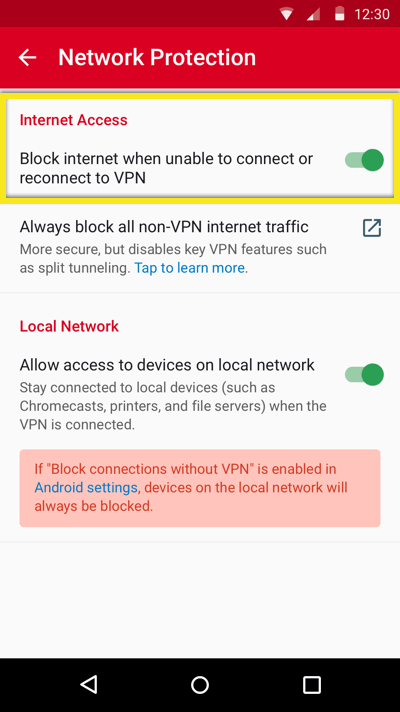 Aside from privacy and security, ExpressVPN also does well with streaming. It unblocks many regions of Netflix, although not as many as Surfshark (see our ExpressVPN vs Surfshark comparison for more details). You can use ExpressVPN with all major streaming devices, including Smart TVs, tablets, computers, and Android TV boxes. ExpressVPN even offers a dedicated Amazon app and is one of the best VPNs for Firestick and Fire TV.
Below is the ExpressVPN Android app in action. It is clean, minimal, and was very reliable in our testing.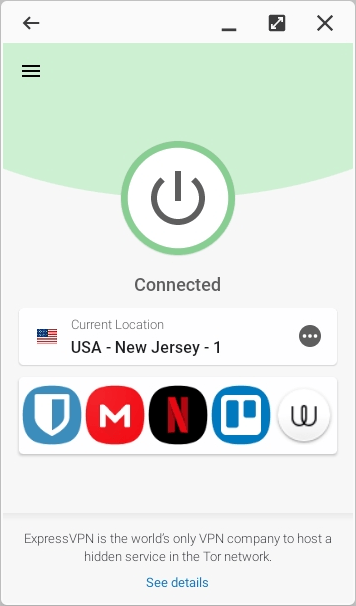 Unlike with NordVPN, ExpressVPN offers server selection with a list, rather than a world map. There are pros and cons to each layout. For a more detailed discussion of differences, see the NordVPN vs ExpressVPN comparison guide.
Here are the pros and cons of ExpressVPN:
ExpressVPN Discount Coupon
Sign up for the 12 month plan, and get 3 months FREE (49% Off)
Get Three Months Free + 49% Off ExpressVPN >>
(Discount is applied automatically through the link above.)
Check out the ExpressVPN review for more test results and analysis.
---
4. VPNArea – Secure, privacy-focused VPN for Android
VPNArea is a privacy-focused VPN service based in Bulgaria. They offer a well-regarded service that has been operating since 2012 with a no logs policy. Like our other top Android VPNs, VPNArea has a large server network spread across 54 countries. Nearly every server in VPNArea's network provides 1,000 Mbps bandwidth channels, delivering premium performance for their users.
The VPNArea apps we tested out for the review all performed well. They have custom apps for Windows, Mac OS, Linux, iOS, and Android. All VPN apps come with built-in leak protection (kill switch), with all DNS requests being translated by VPNArea's own servers. And similar to NordVPN, VPNArea also offers double-VPN servers and Tor-over-VPN servers for added anonymity. Below is the VPNArea Android app: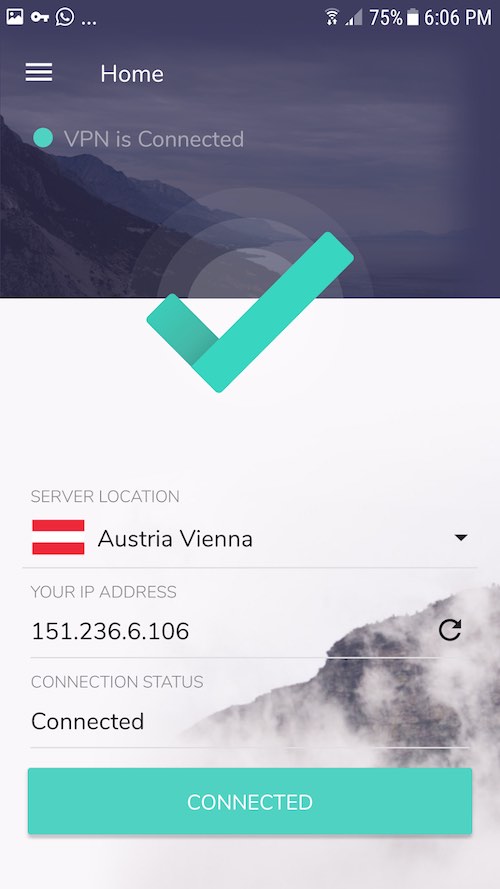 The VPNArea Android app supports the OpenVPN and IKEv2 protocols. And while it is not quite as fast as WireGuard, VPNArea's implementation of the OpenVPN protocol still performed well. They also offer an obfuscation feature to conceal VPN traffic and get around blocks. This makes VPNArea a great choice if you need a VPN for China or any other restricted network.
Another unique feature with VPNArea is that they offer dedicated IP addresses. This allows you to select a region with an IP address that only you will use, rather than sharing with other customers. Check out these VPNs with dedicated IP addresses to see the pros/cons of this feature.
Lastly, VPNArea provides users with 8 simultaneous connections, as well as live chat support and a 30 day money-back guarantee. Their prices are also quite affordable if you go with the two-year pricing plan. Check it out below.
See our VPNArea review for more info.
---
5. VPN.ac – A secure and basic VPN for Android
VPN.ac is a competitively-priced, security-focused VPN. Based in Romania, it uses state-of-the-art encryption algorithms for speed and security. Their network consists entirely of dedicated bare-metal servers with self-hosted DNS and gigabit bandwidth channels, resulting in great performance.
The VPN.ac Android app itself is both good-looking and full of useful features and information. Protocol and port selection are easily accessible under the app settings. Their Android app also includes a split tunneling feature, obfuscated server selection, and other useful preferences and security features.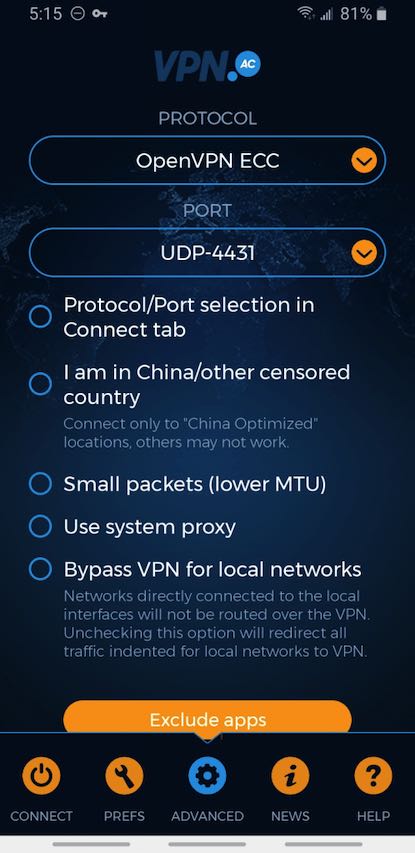 By selecting one of the obfuscated (China-designated) servers, you can bypass VPN blocks and restrictions without hassle. There is also easy access to Android's Always-on VPN page, as well as live charts of your data usage.
The VPN.ac Android client handled our testing with no leaks and no problems of any sort. Here are the key points we discovered about VPN.ac and its Android client:
Security: The VPN.ac Android client connects to their secure server infrastructure, and works with a range of VPN protocols and ports. The network also includes 22 double-hop servers.
Obfuscation: Great obfuscation features to hide VPN traffic and get around VPN blocking (a good VPN for China)
Safe jurisdiction: VPN.ac is based in Romania, a good privacy jurisdiction that's not a member of the 5/9/14 eyes alliances.
Competitive prices: $3.75 per month with the two-year plan. You can also get a discounted one-week trial (see the FAQ page).
Similar to NordVPN, VPN.ac also supports the WireGuard VPN protocol. Unlike NordVPN, however, VPN.ac has not integrated WireGuard support into their VPN clients. Instead, you must use third-party clients, as we'll discuss later in this guide.
See our VPN.ac review for more test results and analysis.
---
Android VPN Overview
If you are new to using a VPN on a mobile device, or new to VPNs altogether, you are probably wondering how to use a VPN on Android mobile devices. Let's quickly cover VPN basics, then talk specifically about using a VPN on an Android-powered device. We'll focus on installing and using a VPN on an Android smartphone, since this is by far the most likely use case.
VPN Basics in 100 words or less
A VPN (Virtual Private Network) is a system that securely and privately connects two devices across the Internet. It does so by creating an encrypted connection (called a tunnel) that provides security by preventing outsiders from reading your messages as they pass between the devices. A VPN also protects your privacy by hiding your IP address and location. Since IP addresses are the way that devices are identified on the internet, hiding yours means the message recipient doesn't know who you are, unless you tell them.
How to use a VPN on Android
So how do you use a VPN on an Android smartphone? There are a few steps:
Choose a good VPN service – The VPN service provides the software you need to connect your Android to the physical servers that comprise the VPN network.
Get some VPN software running on your phone – The VPN software handles your side of the connection. This includes interacting with the VPN service's servers, encrypting outgoing messages before they leave your device and decrypting incoming messages once they arrive.
Connect your device to the VPN service – Given the correct login credentials, the VPN software will establish a connection to a VPN server. The server will create the encrypted tunnel that will carry messages between your device and the other one (providing security). It will also strip your IP address from all the messages you send (providing privacy) and decrypt any messages incoming over the VPN network.
When should you use an Android VPN?
Whenever you are doing something private or personal online – Logging into your bank account, reviewing your medical records, or planning to visit a controversial website? Using the VPN will greatly increase your privacy and security.
Whenever you are using a public WiFi connection – Public WiFi is a wondrous thing… if you are a hacker or spy. Most free public networks are extremely vulnerable to being hacked. When hostile forces do hack into a public WiFi connection, the bad guys can wreak all sorts of havoc, including capturing your personal information.
Whenever you don't want someone to track your location – Your device's IP address can be used to figure out approximately where you are in the physical world. A VPN replaces your real IP address with its own address when sending your messages to the internet. Anyone trying to track your location using your IP address will be foiled.
When your Internet Service Provider is spying on you – If you are not using a VPN, you have virtually no privacy online. Your Internet Service Provider (ISP) and all sorts of hostile entities (spies, hackers, and various three-letter-agencies) can see everywhere you go and everything you do online. They may use that information themselves or sell it to third parties who will use it for their own purposes. If you use a VPN, your ISP won't be able to see what you are doing.
In short, for maximum security and privacy, you should always use a safe and reliable VPN on your Android device.
How to setup an Android VPN
There are three major approaches to setting up an Android VPN. They are:
Use a VPN service's Android app
Use third-party VPN clients for Android
Use Android's built-in VPN features
In the following sections we will take a look at each of these options in more detail. There are of course pros and cons to each.
Use a VPN service's Android app
As you saw at the beginning of this guide, most of the best VPN services for Android provide their own Android client. This client will be compatible with the features and benefits of the VPN service, making it the easiest way to make the connection. A good example of this is the NordVPN Android client. Among its many talents, this client knows how to work with NordLynx, NordVPN's custom protocol for WireGuard. It also includes all of the other great features we mentioned above, such as CyberSec and Split Tunneling.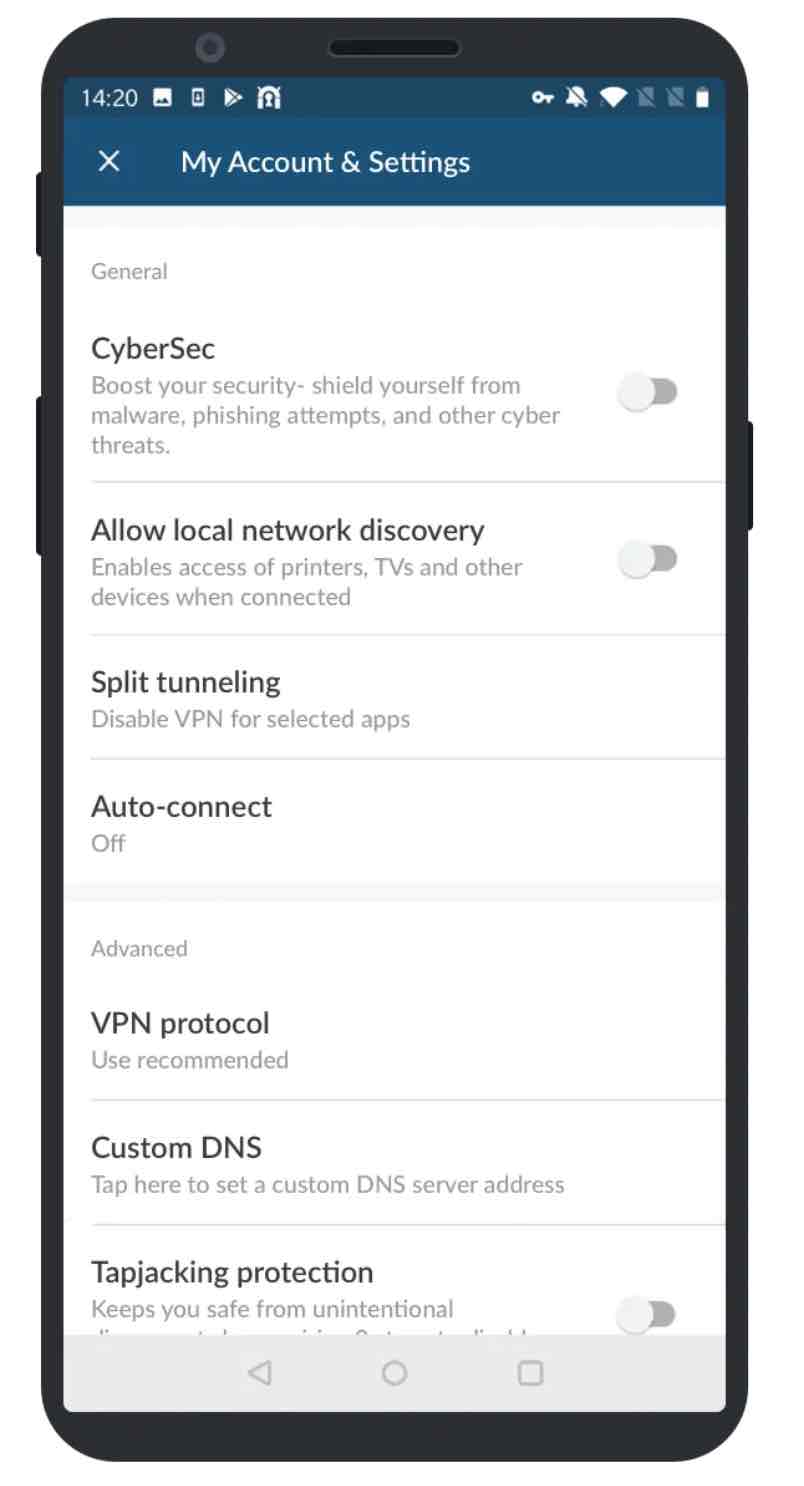 Any time the VPN service you decide to use has specialized features, choosing the service's own Android app is going to be not only the easiest way to go, but the only way to take full advantage of the features your service offers.
Use third-party VPN clients for Android
While using a VPN service's own Android app is normally the best way to go, sometimes those apps are more trouble than they are worth. If you find yourself using a VPN service with a crummy Android app, you might want to try a third-party VPN app instead. Let's take a quick look at some free Android VPN apps that might work for you in such a situation.
OpenVPN Connect for Android
For a few years now, OpenVPN has been recognized as the best overall VPN protocol. It is secure, capable of using 256-bit encryption keys and top encryption algorithms. It does a good job of bypassing firewalls, supports Perfect Forward Secrecy, has passed third-party audits, and is available for all popular operating systems.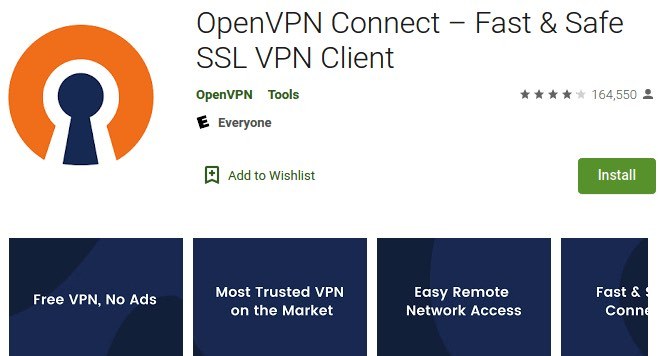 OpenVPN is used by all the top VPN services, and has been for quite a few years (the first OpenVPN code was released in 2001). It is also open source code, which greatly decreases the odds that there is anything shady happening to your data inside the code.
On the downside, OpenVPN isn't particularly fast, and the codebase that comprises OpenVPN is huge. This creates what is known as a large attack surface. The larger the attack surface, the greater the odds that hostile forces will be able to find a way to hack the code. While it isn't perfect, OpenVPN is still a great choice. OpenVPN Connect is the official VPN application for Android developed by OpenVPN, Inc.
WireGuard on Android – Fast, modern, and secure
Right now, WireGuard is the VPN protocol getting lots of attention. Small (about 4,000 lines of code vs OpenVPN's 600,000+ lines) yet sophisticated (built with state-of-the-art cryptography), WireGuard is meant to replace all those other VPNs out there, including OpenVPN.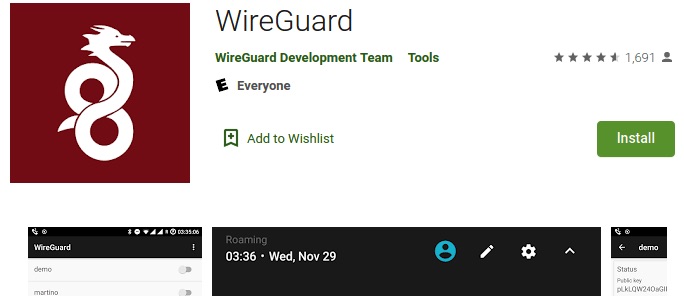 In our testing to date, WireGuard appears to be faster than OpenVPN. You can see in our WireGuard vs OpenVPN speed tests page that WireGuard was about 58% faster than OpenVPN in our tests.
Thanks to its much smaller codebase, it should be easier to audit, and it offers a smaller attack surface for hackers to exploit.
WireGuard is the best protocol to use with Android
The updated rankings in this Android VPN guide reflect the performance of WireGuard. In other words, NordVPN and Surfshark are at the top because they have a very clean, user-friendly, and privacy-focused implementation of WireGuard that delivers really fast speeds.
To recap, here are the reasons you should be using the WireGuard VPN protocol on your Android device:
Faster speeds
Better reliability (no dropped connections when switching network interfaces)
Faster connections speeds (handshakes)
Improved batter life
In short, WireGuard is the future of mobile VPN services. Sure, you can still get solid performance with OpenVPN, or even with ExpressVPN's Lightway protocol, but WireGuard remains the top performer.
Tips for using a VPN with Android
Here are a few tips that could be helpful when using a VPN on Android devices.
Enable Always-on VPN and block connections without VPN
To change these settings, follow these steps:
Open the Settings app, and tap Connections.
If you don't see the VPN option here, tap More connection settings.
Tap VPN, then tap the Gear icon next to your VPN's name. You should now see these options. For the utmost in privacy, turn both of these options On.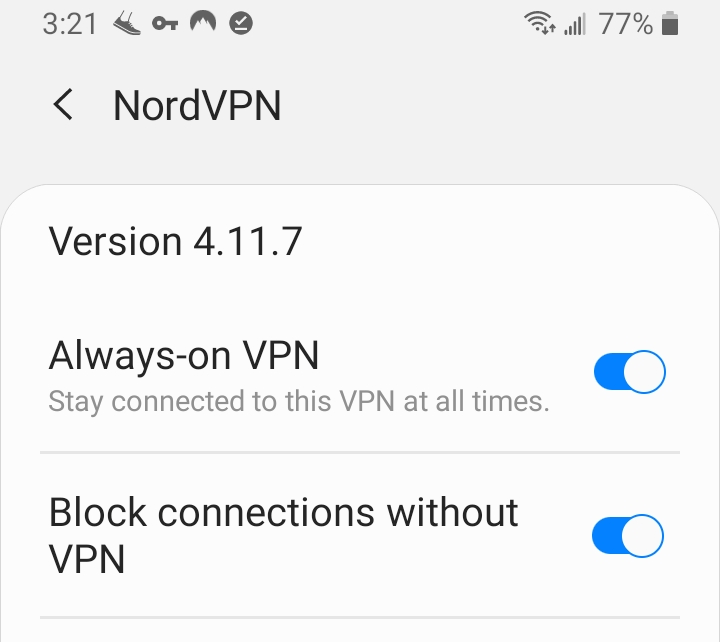 Choose the right VPN server to maximize speed on your Android device
You can sometimes get better performance from an Android VPN (or any VPN for that matter) by manually choosing the right VPN server. The "right" server to connect to depends on what you are going to do with your device while connected. The following are a few rules of thumb for deciding which VPN server to connect to:
Connect to the geographically-closest VPN server – This will generally give the best performance. Think of a VPN connection as having multiple legs. One leg is the connection between you and the VPN server you are using. The other leg is the connection between the VPN server and the location you are connecting to. Remember that it does take time for signals to travel across the Internet, and the further away a server is, the greater the amount of time it will take. Connecting to a VPN server near you minimizes the length of one leg of the connection, and often makes a noticeable difference in performance.
Switch servers if the one you are using seems slow – Sometimes individual VPN servers get overloaded with too many users, or have other problems that cause the server itself to slow down. If the server is the problem, switching to another server nearby will let you bypass the problem.
Try split tunneling to reduce the load – If your computer is old, or your Internet connection is slow, having all your Internet traffic pass through your VPN connection could be too much. If your VPN service supports split tunneling, you can enable that, and have all your non-critical data pass outside the VPN. You will have to figure out which apps need the protection of the VPN and which don't, but limiting the VPN connection to only those uses that really require privacy and security (online banking for example), could speed things up nicely.
Try a different VPN app
As we discussed earlier in the post, there are some third-party Android VPN apps that you might want to try if you are unhappy with the performance or usability of your VPN's app on Android. OpenVPN Connect and VPN client pro both have a lot of potential in this case, since the vast majority of VPN services do support OpenVPN.
Why free Android VPN apps are dangerous
Can you trust a free VPN?
Over the years, free Android VPN apps have cultivated a toxic reputation. One major study examined over 200 different free Android VPN apps and found some alarming issues. Here are the biggest problems with free Android VPN services according to the study noted above:
38% of free VPN apps contained malware
Many popular free Android VPN apps contained tracking libraries
84% of the tested apps leaked user data (IP addresses or DNS requests)
Some services used browser hijacking to redirect customers to shady commerce sites
Many free VPN services give third parties access to your data (see for example in our Betternet review)
If it costs money to run a VPN service, then why are there so many free VPN apps in the Google Play Store?
Answer: They are making money off of their users. This is most likely done by collecting data and selling it to third parties.
Note: Do not confuse a completely free VPN service and app you see in the Google Play Store with a third-party VPN client. The third-party VPN client (such as OpenVPN Connect) does not offer the VPN service itself, but rather just the app through which you will connect to your (paid) VPN service.
We generally do not recommend any free VPN services. However, there are some free trial VPN services you could consider.
Android VPN Comparison Table
There are hundreds of VPNs for Android devices to choose from. And the majority of them either don't work well, spy on you, or both at once. Finding those few excellent Android VPNs is a huge amount of work. Instead of leaving you to figure this out yourself, we decided to do the research for you.
The table below highlights the top-rated Android VPNs that met all of our criteria. These services passed all tests with no data leaks, offer good speeds, their Android apps are reliable, and they use strong encryption. Additionally, they are located in safe privacy jurisdictions and have an established track record and good reputation.
Enjoy staying safe and secure on your Android device with a good VPN!
---
---
---
---
---
---
---