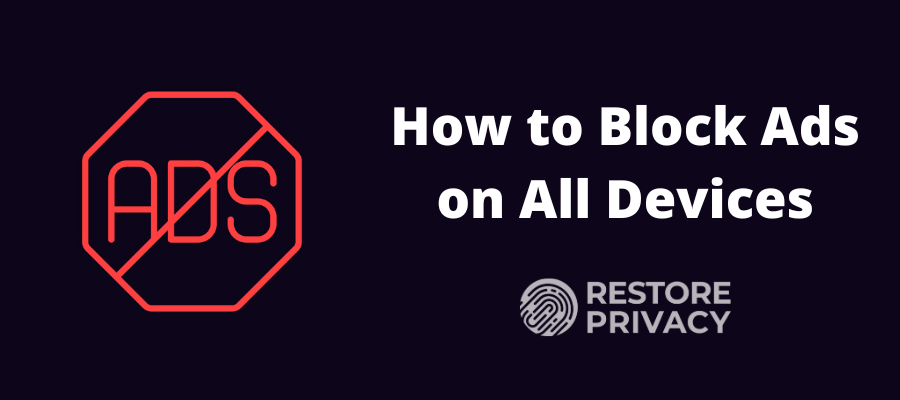 Ads make up a significant part of our online experience. And while they might sound harmless, ads are intrusive, annoying, and often dangerous. Therefore, gaining better insights into how to block ads effectively on all platforms is crucial.
This is because ads thrive on gaining access to personal information, which is why data broker platforms exist. These platforms are dedicated to analyzing, collecting, and selling data to third-party advertisers. Advertisers then utilize this information to improve their marketing tactics, including creating better targeted advertising. While this may be profitable for businesses and advertisers, it grossly abuses our data privacy and security.
But don't worry! This guide provides information on how to help you stay secure from online advertisements.
For those who are short on time and looking for quick solutions, the list below highlights the best ad blockers you can start using now.
Threat Protection – A comprehensive ad blocking solution from NordVPN available for Windows and macOS. It blocks trackers, ads, malware, phishing domains, and can also scan files for security threats.
Browser-based ad blockers – One of our favorites is uBlock Origin.
Ad blocking browsers – See the Brave browser.
Ad blocker apps – See AdGuard, the standalone ad blocker app.
Ad blocking on your network, such as with Pi-hole, or ad-blocking DNS.
We will examine all of these solutions, and a lot more, further below. But first, let's cover some basics.
Understanding the Need for Ad Blocking
Ads have become an almost unavoidable part of our digital lives. Whether it be streaming videos on YouTube, downloading torrents, scrolling through social media apps, or even downloading any free application from Google Play Store. Ads are inevitable since they are everywhere. The sudden pop-ups of ads ruin your online browsing experience and are frustrating to deal with every day.
The big problem with ads is not only their intrusive nature, but also the risks they pose to your data privacy, security and even the performance of your device. For example, just look at the free Android apps available on the PlayStore. Since these apps are "free" they tend to rely heavily on ads for revenue. In other words, they generate revenue by selling your information to advertisers and bombarding you with targeted advertisements. But by doing so, they don't only jeopardize your privacy, but they also impede your device performance.
Apart from that, ads are also a threat to online security as they lead to serious cybersecurity issues. Many threat actors exploit the modern digital world's dependability on ads to spread malware.
Hackers often use ads to lure people into downloading malicious apps. This practice is alarmingly common and according to research a total of 5,704,599 adware were detected and blocked in the second half of 2023 alone.
Such adware could lead to all types of malicious threats, including malware, ransomware, trojans etc. Therefore, it is crucial to block ads to mitigate issues such as:
Malware attacks
Gain better device performance
Ensure data privacy and security
Enhance online browsing experience.
There are even state spyware programs that utilize ad networks as attack channels.
Fortunately, there are several reliable methods that you can use to block ads effectively. Whether you are using Android, iOS, browsers, Mac, or Windows, blocking ads is fairly easy if you know the level of security you are trying to achieve.
Essential Adblockers to use in 2023
Since blocking ads is crucial, finding the right ad blocker that offers robots privacy, security and a reliable online browsing experience is important. However, there are several types of ad blockers available which makes picking out a single one somewhat difficult. Therefore we tested and listed our top recommendations and divided them into separate categories like:
Ad blockers with built-in VPNs
Browser extension ad blockers
Ad blocking apps
Browsers with built-in ad blockers
All these ad blockers provide various levels of privacy and security to their users. Read along to gain more insights.
Ad blocker with built-in VPNs
To start, a VPN is short for Virtual Private Network. A VPN creates a secure and encrypted tunnel between your device and a VPN server. This offers many advantages in terms of privacy and security, as we covered in our overview guide VPNs here. Combining a VPN with an ad blocker offers many advantages.
A VPN ad blocker combo provides robust privacy and security for your devices. These ad blockers offer a comprehensive solution to online privacy and security by providing protection from several different security threats. Some of the best ad blockers with built-in VPNs are:
NordVPN Threat Protection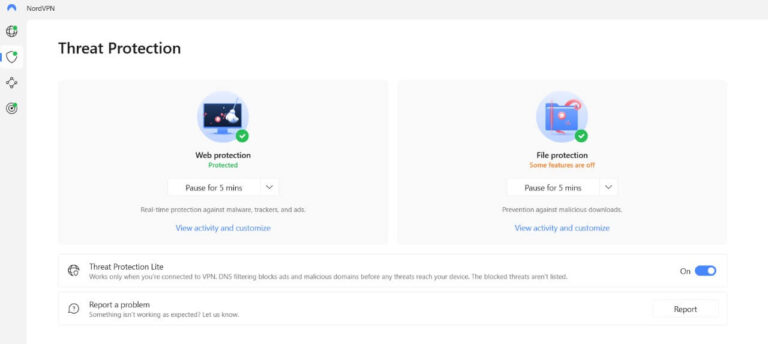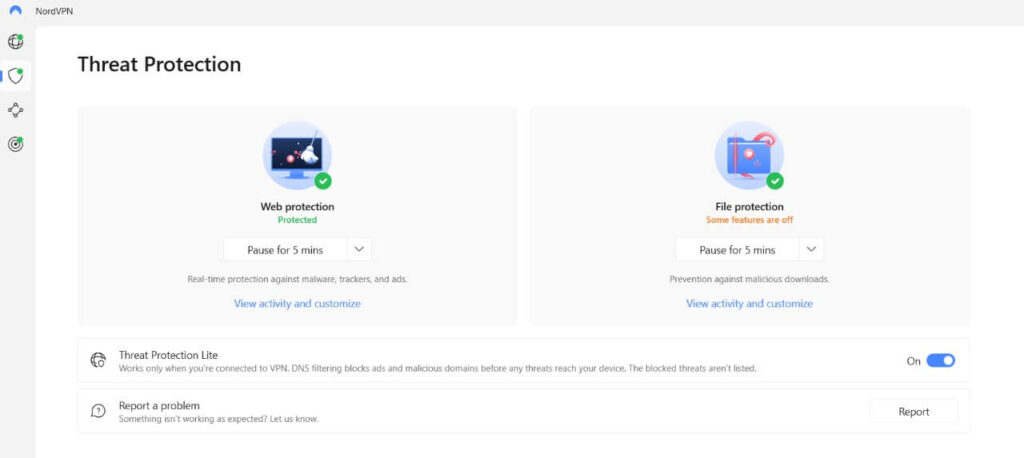 NordVPN Threat Protection offers an advanced cybersecurity solution that goes beyond ad-blocking. This powerful tool blocks ads and provides URL trimming and protection from malicious sites, all while utilizing a private DNS provider hostname for enhanced security.
The URL trimming feature removes unnecessary parameters from the URLs you visit, preventing tracking and ensuring a more private browsing experience. In addition, NordVPN Threat Protection's ad-blocking feature is highly efficient and capable of blocking a wide range of ads, including pop-ups, banners, and autoplay videos, which are often the most disruptive. This tool also offers a high degree of customization, allowing users to fine-tune their ad-blocking preferences for a more personalized browsing experience.
NordVPN also has a dark web scan feature to alert you if your data has been exposed in a breach.
These features make NordVPN Threat Protection an excellent choice for users seeking a comprehensive solution to enhance their online privacy and security.
To learn more about NordVPN, check out our NordVPN review here.
---
Surfshark Cleanweb


Surfshark Cleanweb is a feature offered alongside the Surfshark VPN. The feature offers comprehensive privacy and security and ensures an ad-free online experience. It blocks ads, banners, and pop-ups on the browsing level, which enhances the user's browsing experience, making it more enjoyable and less stressful.
In addition to blocking intrusive ads, Surfshark Cleanweb also offers features like data breach alerts for robust security. The feature helps protect sensitive information by alerting users of a data breach. In a data breach, Surfshark Cleanweb promptly notifies the user. It also provides them vital information about the breach and suggestions for securing their data. It helps users take immediate action to prevent any potential misuse of their information.
Furthermore, Surfshark monitors various online databases and dark web sources for any potential leaks of your information. If your data is found on these platforms, Surfshark Cleanweb will alert you, allowing you to take the necessary steps to protect your online identity. This feature and its effective ad-blocking capabilities make Surfshark Cleanweb a reliable tool for a safer online experience.
Note: Surfshark also offers a comprehensive security suite called Surfshark One. This suite includes an ad blocker, VPN, antivirus, private search engine, and also data breach alerts.
Check out our Surfshark VPN review to learn more.
---
Utilizing Built-In Browser Ad Blockers
Built-in browser ad blockers are an excellent option for those who prefer not to install additional software on their devices. They offer users a streamlined and ad-free browsing experience by automatically blocking intrusive ads, enhancing privacy, and improving page loading times.
Brave Browser's Ad Blocking Feature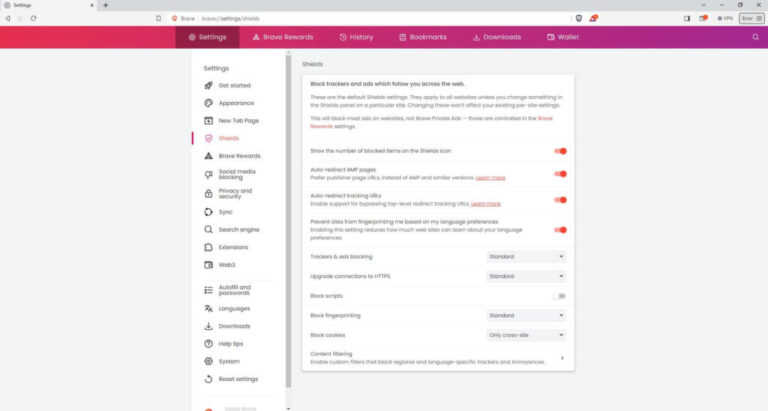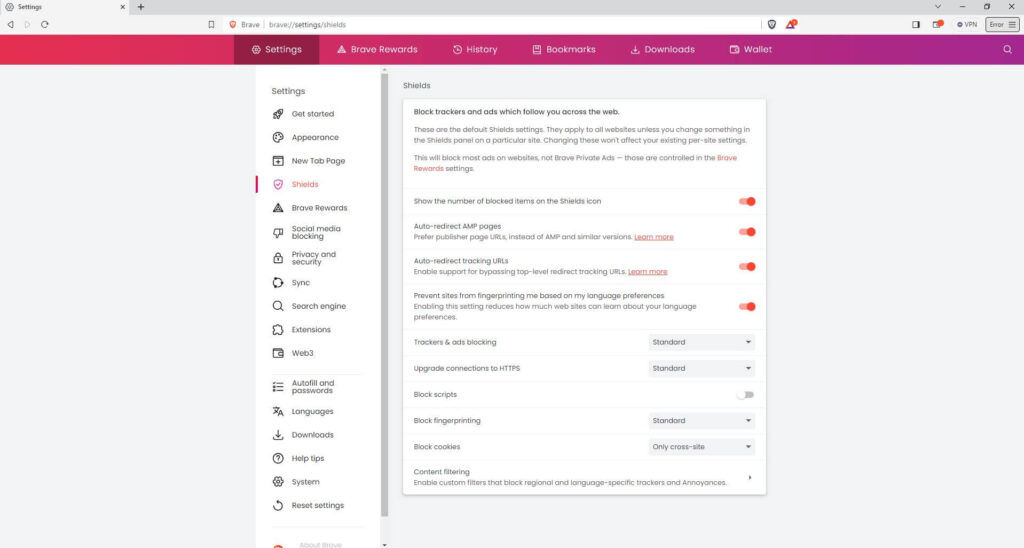 Developed by the former developer of Mozilla, Brave is one of the most notable privacy browsers available. The browser has a built-in ad-blocking feature that blocks ads, scripts, trackers, and cookies by default. This Chromium-based browser promises its users the utmost privacy and security through several additional features, such as built-in browser fingerprinting protection.
The browser also blocks all third-party storage and has a built-in VPN and default HTTPS encryption. It works with all operating systems, such as Windows, macOS, Linux, Android, and iOS.
Check out the Brave browser here >>
Firefox Browser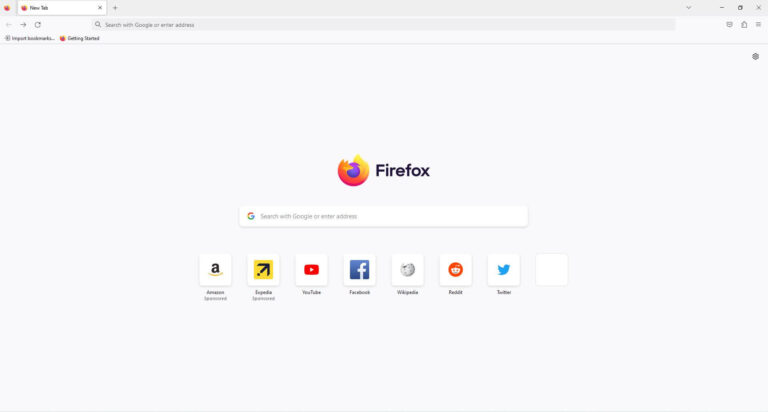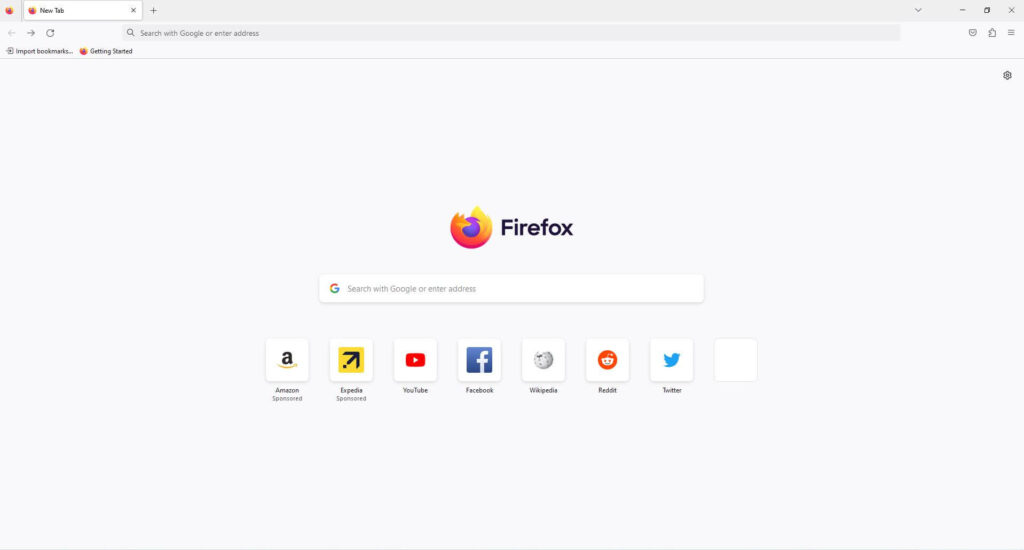 Firefox is a well-known browser for offering exceptional privacy and security for its users. The browser is easy to use and customizable, making it a reliable option for a secure online browsing experience. It has a default Enhanced Tracking Protection feature that blocks ads, trackers, and malicious scripts.
Additionally, Firefox offers social media blocking and total cookies protection. The browser also provides default browser fingerprinting protection and HTTPS encryption. Firefox browser works with all operating systems, including Windows, Mac, Linux, Android, and iOS.
Check out the Firefox browser here >>
DuckDuckGo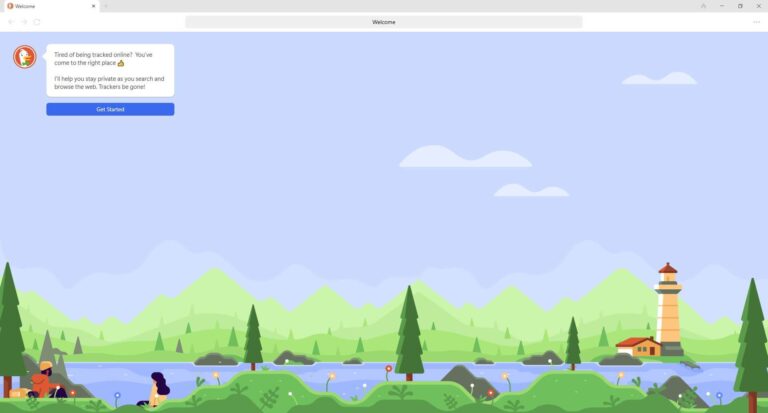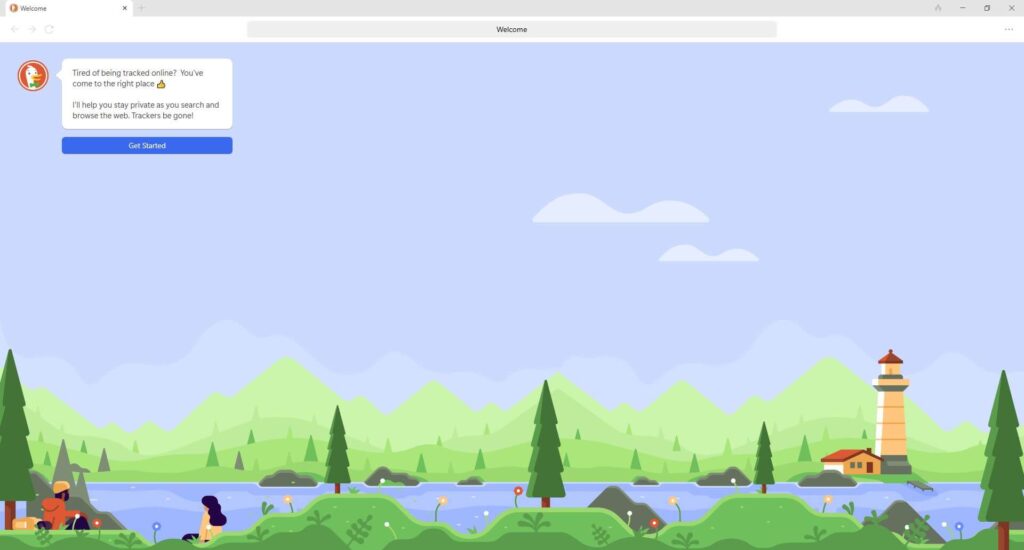 DuckDuckGo has a strong reputation as one of the most private browsers and also private search engines available. The browser has default cookies, tracker and ads, and fingerprinting protection. It also has built-in link tracking, referrer tracking, and social content tracking protection.
The browser also offers email protection in which it hides your email with a @duck.com address when signing up for things online. After removing trackers, this email forwards all the promotional emails to the existing email. Overall, DuckDuckGo offers comprehensive security and a reliable online browsing experience.
Check out DuckDuckGo browser here >>
Blocking ads with browser extensions
Browser extensions offer another layer of ad-blocking capabilities, allowing you to customize your browsing experience according to your preferences. These ad blockers can easily be installed within browsers and help ensure security from ads, trackers, pop-ups, and malvertising. Some of the most reliable ad blocker browser extensions to use are as follows:
uBlock Origin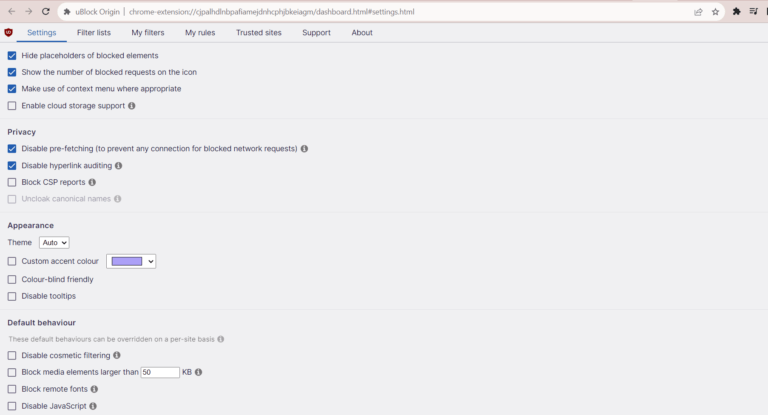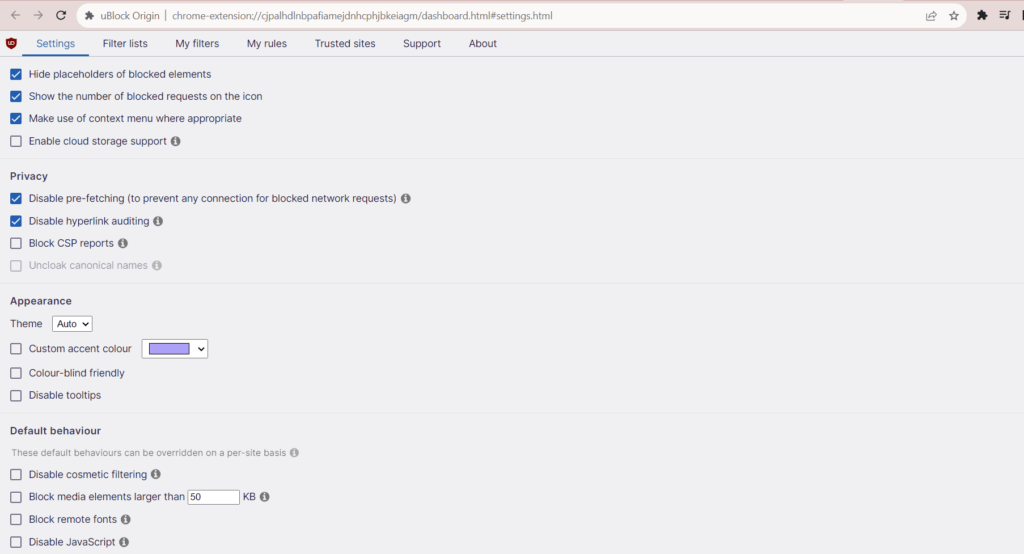 uBlock Origin is a powerful and efficient ad blocker that effectively blocks various ads and trackers. This free and open-source browser extension also excels in CPU and memory usage, ensuring a smooth and uninterrupted browsing experience. It's designed to work seamlessly even on low-power devices, so it won't slow down browsing or drain your device's battery.
What sets uBlock Origin apart is its versatility and user-friendly nature. Unlike many other ad blockers, it doesn't just block ads – it gives you control over what you see and don't. With its advanced filtering capabilities, you can block specific types of ads or websites. This means you can tailor your online experience to your preferences, blocking out the noise and focusing on the content you care about.
In short, uBlock Origin is a powerful tool that gives you control over your online experience, helping you to browse the web on your terms. It is available for use on several browsers such as Google Chrome, Firefox, and Microsoft Edge. However, it is not compatible with Safari.
Privacy Badger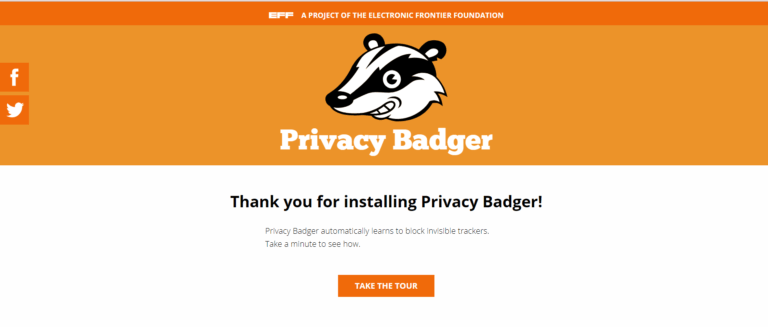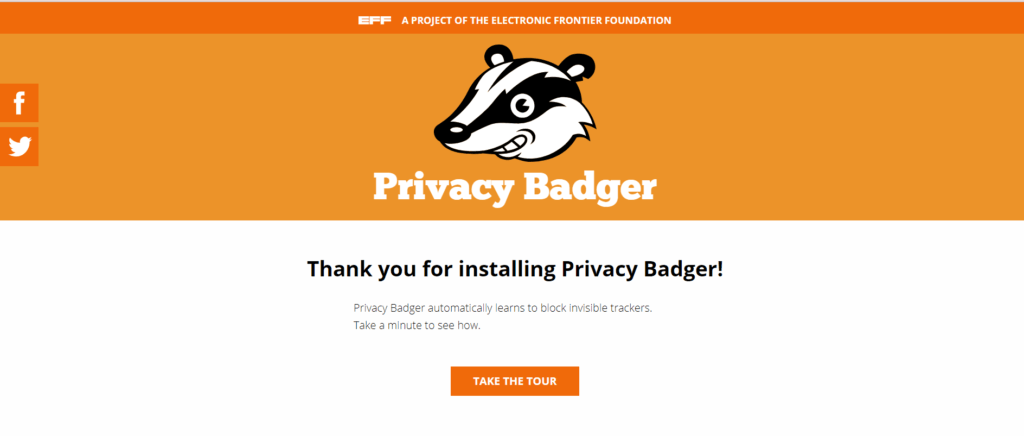 Privacy Badger is a reliable ad-blocking tool created by the Electronic Frontier Foundation (EFF), a non-profit organization committed to free internet. The browser extension goes beyond just blocking ads. It prevents tracking techniques and eliminates intrusive advertisements, safeguarding your privacy while browsing the web. It automatically blocks invisible trackers, preventing everyone from tracking your browsing without your consent.
Unlike traditional ad blockers, privacy Badger doesn't rely on a predetermined list of what to block. Instead, it uses an algorithm to learn what to block based on the behavior of trackers. This means it can adapt and respond to new tracking techniques, providing a more robust defense against tracking.
Privacy Badger also has a feature that allows you to see which companies are tracking you on different websites. You can then block or unblock these trackers individually, giving you more control over who can track your online activities. Privacy Badger also enforces the Do Not Track (DNT) header. This sends a signal to websites, analytics companies, ad networks, plug-in providers, and other web services, telling them to stop tracking your activity. The browser extension works reliably on Chrome, Firefox, Edge, and Opera. It does not work with Safari.
Ghostery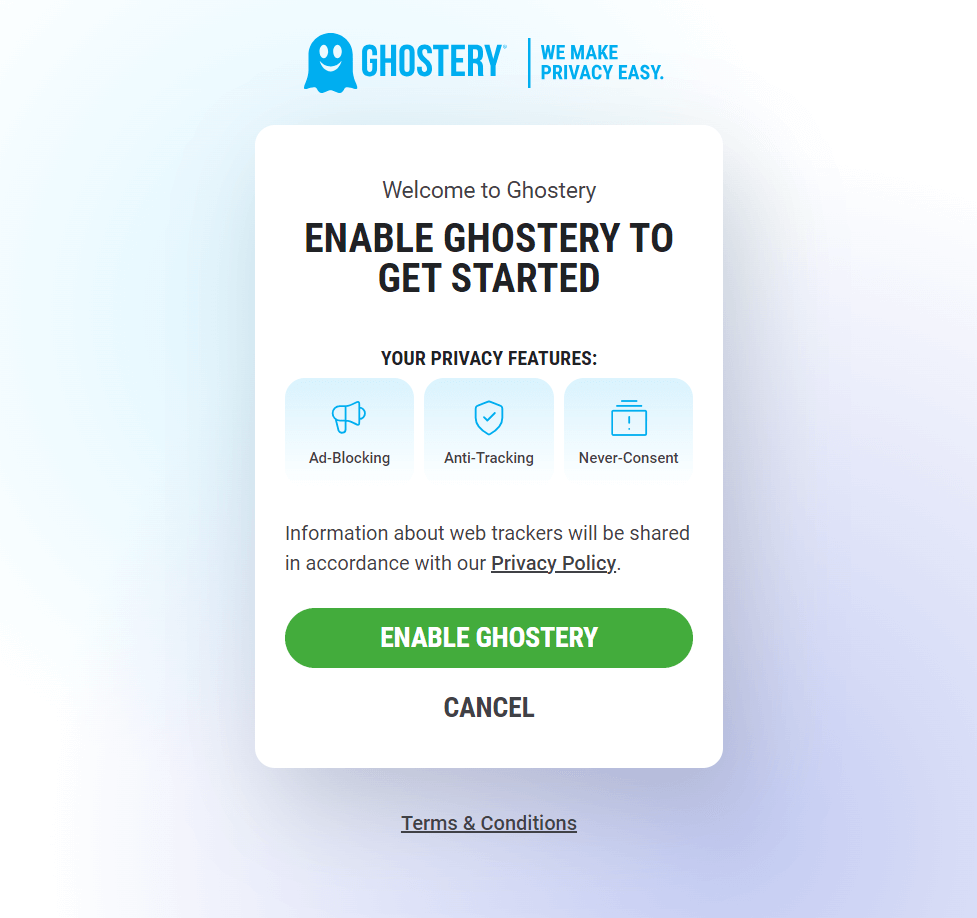 Ghostery is an open-source, reliable, ad-blocking browser extension that ensures robust privacy and security. It efficiently blocks a wide range of ads, trackers, display ads, video ads, social media ads, and tracking cookies. This helps improve online browsing speeds and privacy. The privacy extension uses various methods to block ads, including content blocking, cookie blocking, and script blocking.
Apart from blocking ads, Ghostery also ensures online privacy by preventing third-party online tracking. It blocks all third-party cookies and tracking methods. It has tracker information about the number of trackers, their type, and the company behind them on every website you visit. A similar feature called Tracker Preview helps users gain insights on the trackers present on a search engine result before they even visit the page. To ensure users get reliable results, Ghostery uses WhoTracksMe, which has the largest database of trackers.
Another feature that makes Ghostery stand out is its Enhanced Anti-Tracking feature, which anonymizes your identity and replaces your data with random values to ensure robust privacy. Overall, this open-source and free browser extortion is a reliable option for privacy-conscious people. It provides a safe and smooth browsing experience and is available with all popular browsers such as Chrome, Edge, Firefox, and Safari.
Ad-blocking Apps
Ad-blocking apps, offer comprehensive ad-blocking solutions for Android devices. They can filter out ads and trackers across apps and browsers and help you eliminate unwanted ads. Apart from that they also enhance your browsing experience and protect your privacy. These powerful tools can greatly improve your overall experience on your Android and iOS device.
AdGuard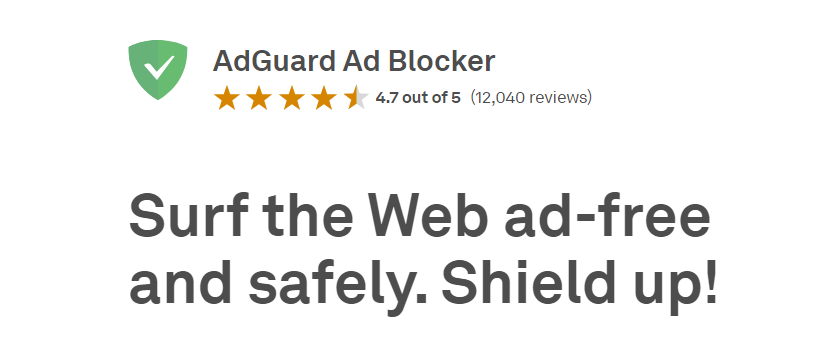 AdGuard is one of the most reliable adblockers available for Android and iOS. The adblocker offers a wide range of features for both platforms, making them a good choice for ensuring privacy and security.
This ad blocker blocks all ads, banners, and even pop-up cookies on Android. It also offers tracking protection, which helps prevent third-party online tracking. The ad blocker also ensures security from phishing attacks and malicious websites through a DNS protection feature, AdGuard DNS. It also has an annoyance feature to block intrusive elements on the webpage, such as social media buttons, comments, and floating ads. Moreover, its firewall ensures security from malicious apps, and the built-in VPN encrypts data and hides your IP address.
While the adblocker has several features on Android, its iOS features are somewhat limited, but it ensures robust security. Like Android, it also blocks all Safari ads, banners, and pop-ups. However, it has a Privacy protection feature that blocks third-party trackers, ensuring a secure online experience. Like the Annoyance blocking feature for Android, the iOS app for the adblocker also allows users to block intrusive elements on a webpage manually.
Overall, it is a powerful and versatile ad blocker offering comprehensive protection for Android and iPhone devices. It is highly customizable and easy to use.
Total Adblock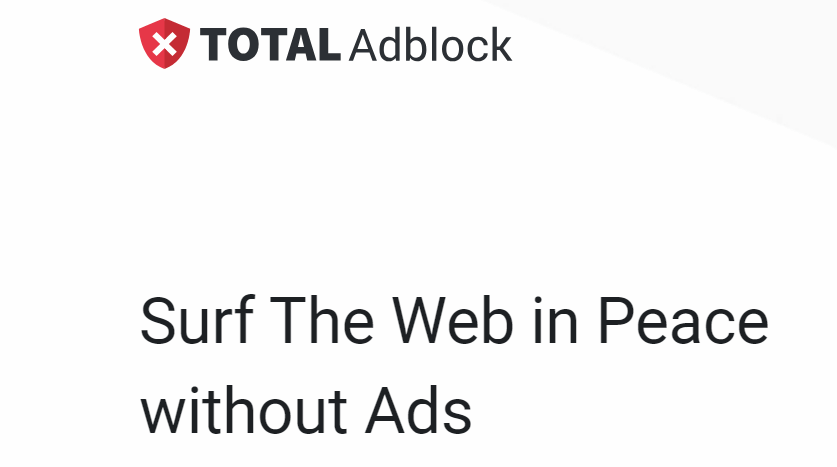 Total Adblock is one of the best ad-blocking solutions for Android and iOS users. Created by the company behind the infamous TotalAV antivirus, the adblocker is known to efficiently block ads, banners, trackers, cookies, pop-ups, and scripts. It also removes ads and trackers on social media platforms and streaming sites, including YouTube, Facebook, Yahoo, ESPN, and CNN.
Apart from that, the adblocker is customizable and comes with a whitelisting option that allows users to whitelist any specific content they want to see. Additionally, it has a user-friendly interface designed for effortless navigation through its array of features and settings.
Overall, Total Adblock is a comprehensive and customizable ad-blocking solution that allows users to customize their online browsing experience. Its user-friendly interface and reliable ad-blocking capabilities make it an excellent choice for those seeking a more enjoyable and ad-free online browsing experience. Apart from having dedicated apps for Android and iOS, it is also available as a browser extension for all popular browsers except Firefox.
Check out Total Adblock here >>
Choosing the Right Ad Blocker for Your Needs
Selecting an appropriate ad blocker is critical to an ad-free browsing experience tailored to your specific needs. When evaluating ad blockers, there are several essential things to consider, such as their ad-blocking capabilities, security features, and the platforms they support. It is best to choose an ad blocker offering a few more features than only blocking ads, such as those that also offer tracking protection.
Additionally, some ad blockers excel at blocking specific types of ads, while others focus on preventing tracking techniques or removing intrusive ads. Finding an ad blocker that strikes the right balance between ad-blocking capabilities and additional features, such as whitelisting and data breach monitoring, is vital.
Lastly, ensure the ad blocker you choose is compatible with your browser and operating system. Considering these factors, you can select the ideal ad blocker for your needs, ensuring a seamless, ad-free browsing experience on your device.
Blocking Ads in Specific Apps and Games
Blocking ads in specific apps and games can significantly improve your user experience and save mobile data. Ad-blocking solutions can help you block ads on your device since they offer system-wide ad blocking. However, these ad blockers are only available for Android and iOS devices.
How to block ads on All Devices?
Ads are a massive intrusion into our online privacy and security, so blocking them is crucial. However, blocking ads is somewhat hard since most apps, websites, search engines, and social media platforms earn through them. Fortunately, privacy advocates have devised various ways to block ads on every available device. Here is how you can block Chrome, Android, iOS, and Mac ads.
Blocking ads in Chrome
Google Chrome's built-in ad blocker provides basic ad-blocking features, eliminating ads from websites that don't meet the Better Ads Standards. While it may not block all ads, this feature can help reduce the number of intrusive ads and pop-ups encountered during your browsing sessions, offering a cleaner and more enjoyable online experience.
The ad-blocking feature in Chrome works by identifying and blocking ads from sites that repeatedly display intrusive ads, as defined by the Better Ads Standards. These standards were developed by the Coalition for Better Ads, an industry group dedicated to improving the state of online ads.
The feature is easy to activate. All you need to do is:
Open the Settings menu, and click Security and Privacy.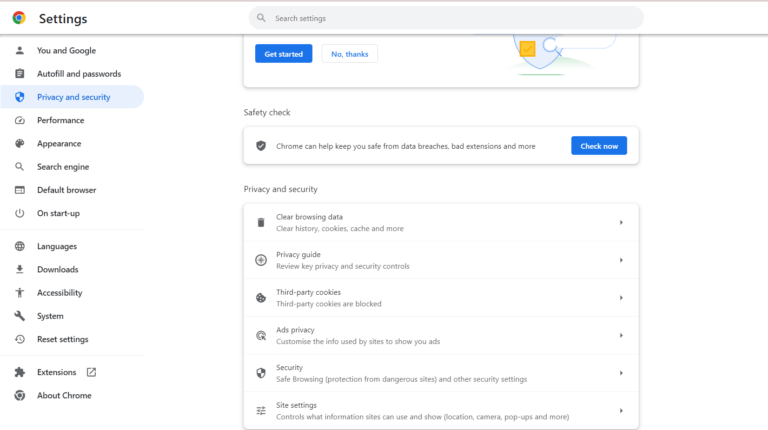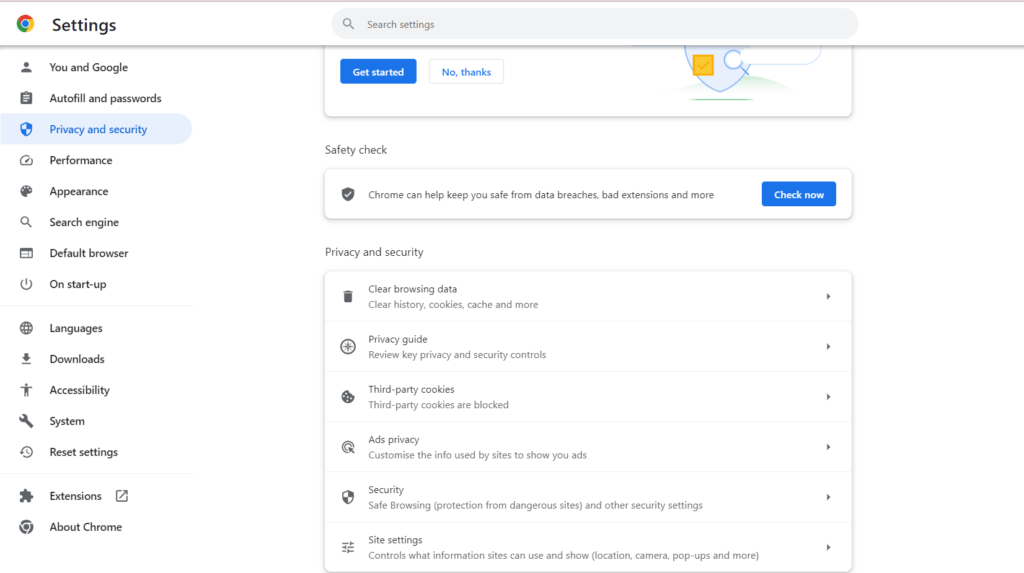 2. Select Site Settings, and then click Additional Permissions.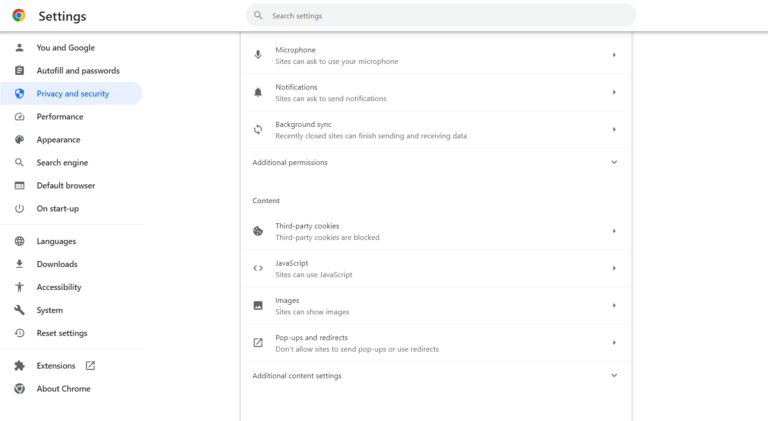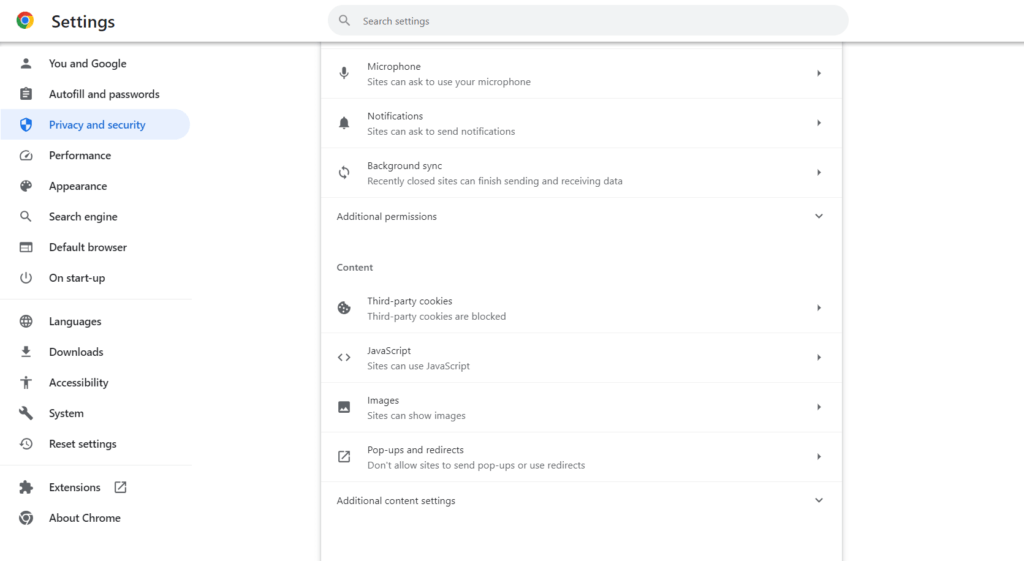 3. From here, you can toggle Ads on or off and also adjust Pop-Ups and redirects.
It's important to note that this feature won't block all ads. If you want to gain better privacy with Google ads, you can customize that too due to the new Privacy Sandbox by Google. Here are the steps to it:
Open the Settings menu, and click Security and Privacy.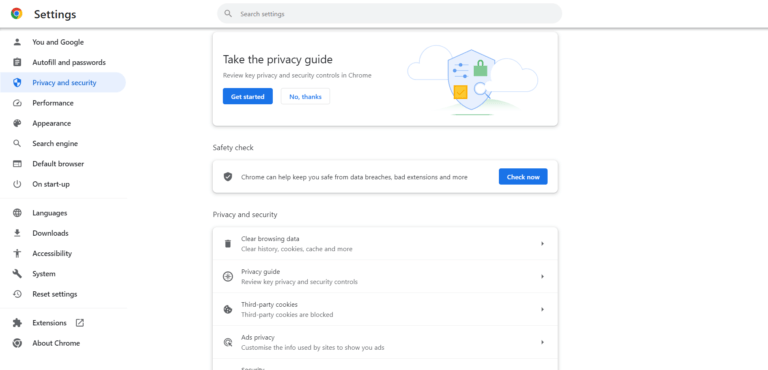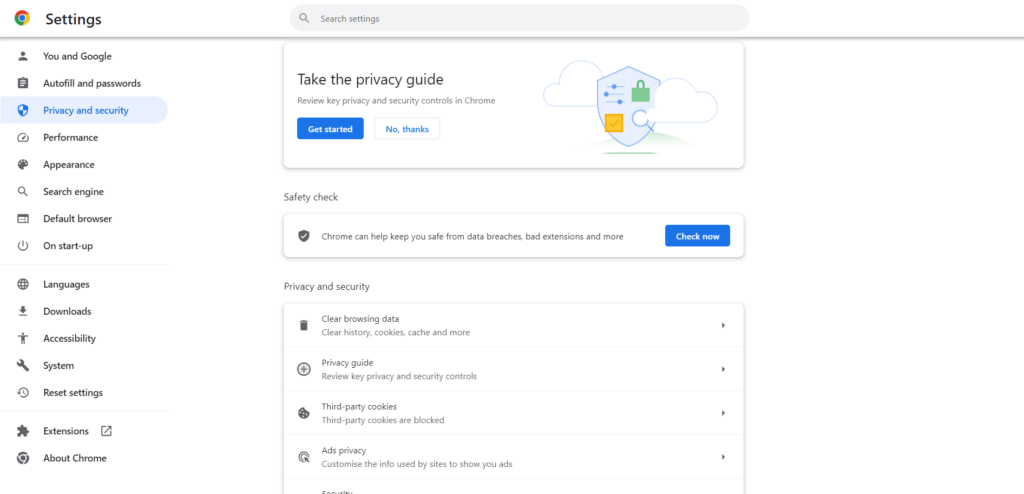 2. Go to Ads Privacy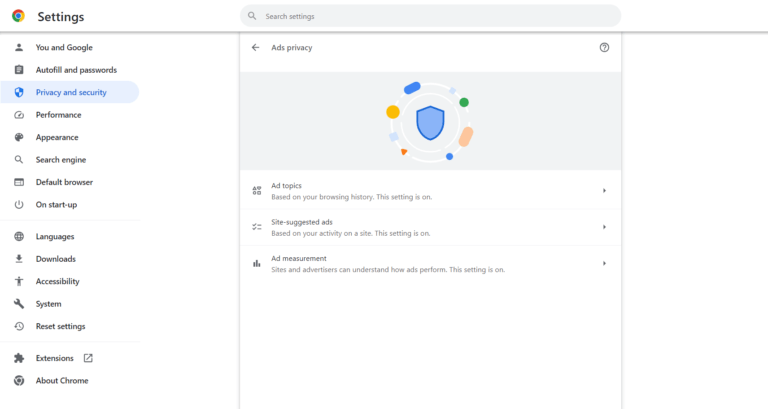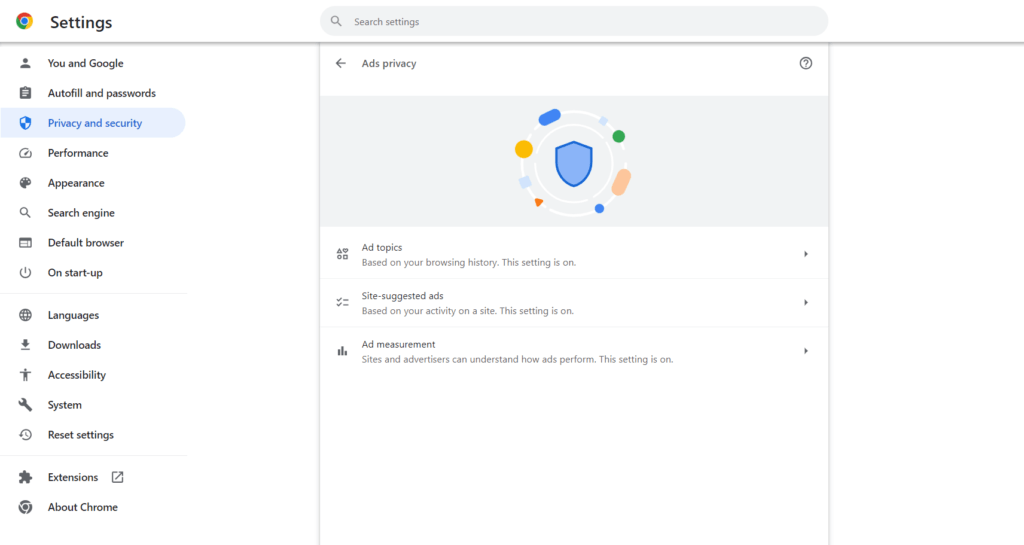 3. Here toggle off Ad Topics, Site Suggested Ads, and Ad Measurement
However, there is controversy surrounding Chrome since Google has been involved in collecting user information on several occasions. Therefore, people often search for reliable Google Chrome alternatives, which you can find in our guide.
One of the best ways to block ads on chrome is to find an privacy-focused alternative to Chrome, such as the Brave browser. You can also integrate a VPN for Chrome to encrypt your browser's traffic and hide your IP address.
Blocking ads on android
For Android users, a great option is to use a VPN ad blocker, as we covered above. This is an all-in-one solution and works by simply downloading a reputable VPN app on your phone, such as with NordVPN or Surfshark.
Generally speaking, Android users have a wide range of options available to them for ad-blocking. These options range from using ad-blocking browsers and extensions to installing dedicated ad-blocking apps that work across all apps and browsers on your device. But there are manual options too. Android users can block some targeted ads by using the following settings:
Go to settings and navigate to "Privacy"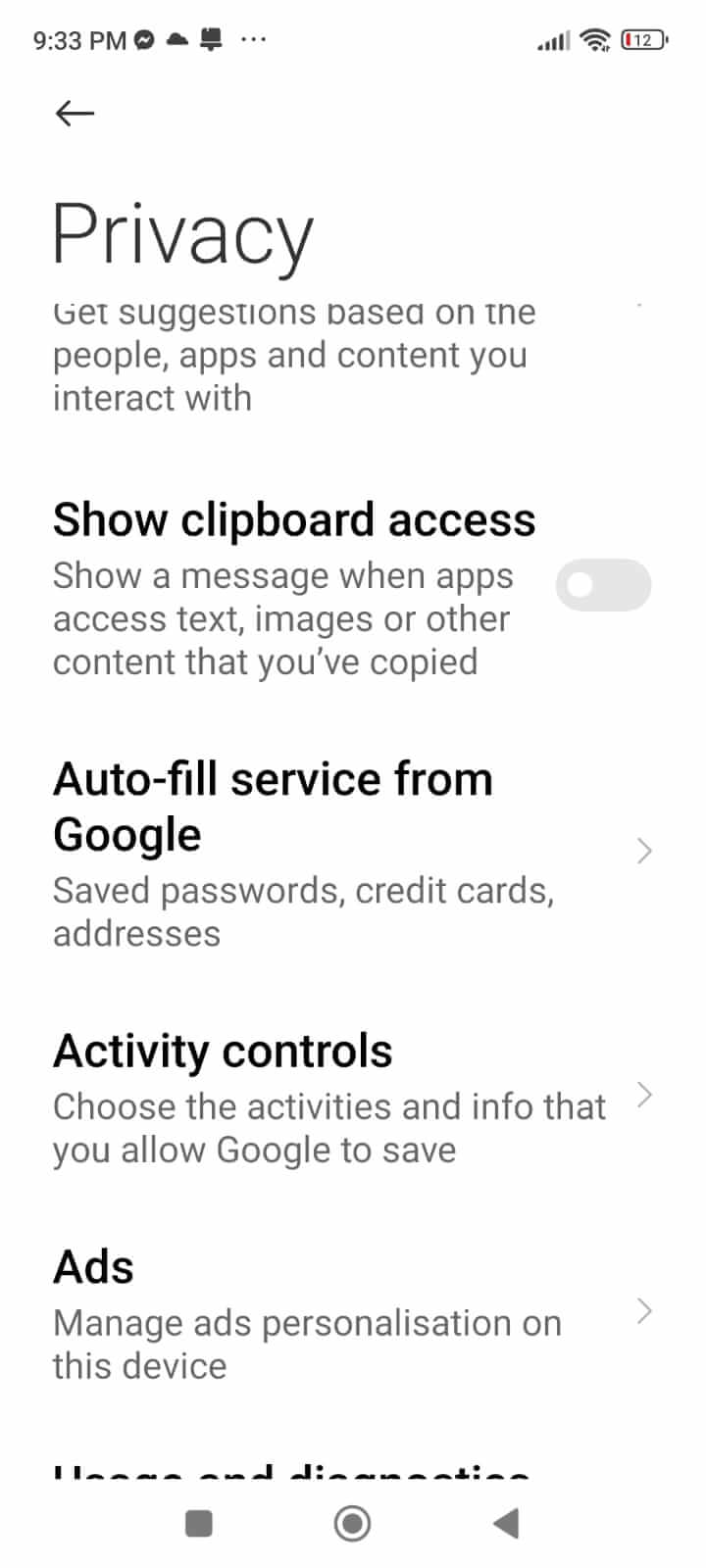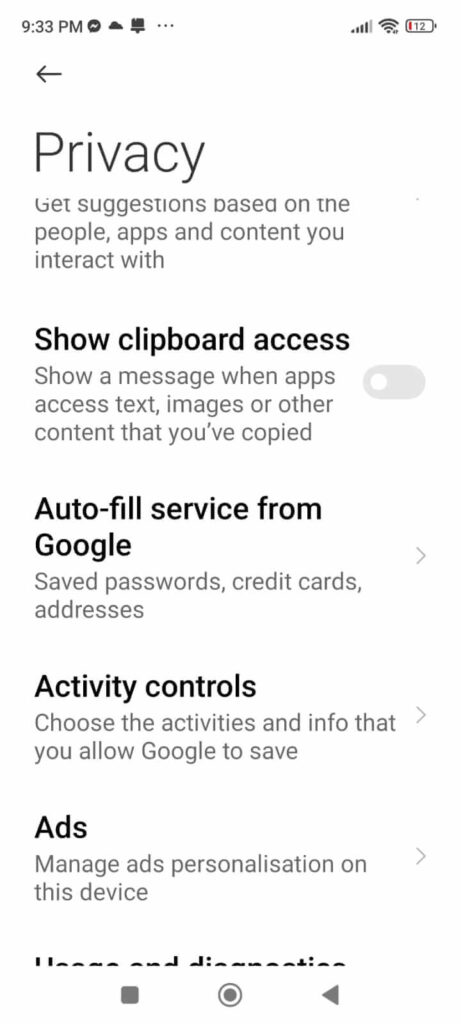 2. Scroll down to Ads and click on it.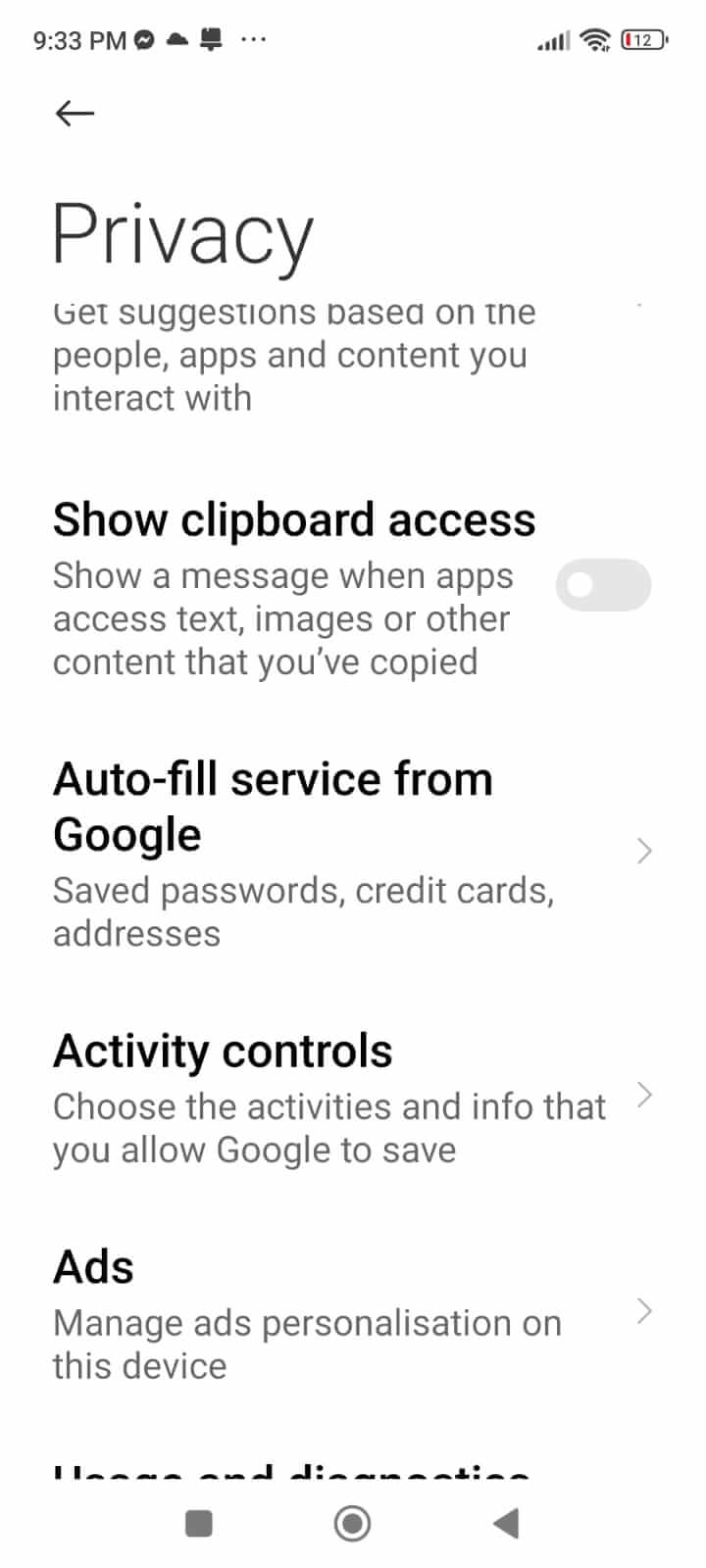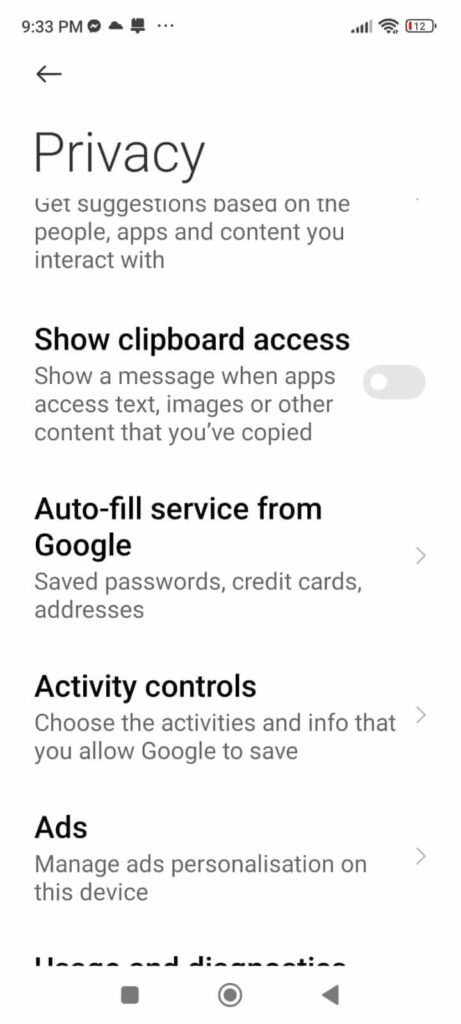 3. Here, you can delete or reset advertising ID which prevents advertisers from showing personalized ads.
While this can ensure basic privacy and security for the users, it will not completely block ads from the device.
Ad-blocking on Android can significantly improve the user experience, enhancing browsing speed, saving data, and protecting privacy. It can also help preserve your device's battery life.
Blocking ads on iPhone and iOS
Ad-blocking on iOS can be achieved through various means, such as using ad-blocking browsers, extensions, and dedicated ad-blocking apps. There are a range of iPhone VPN apps that also have excellent ad-blocking features.
Similar to Android devices above, you can also block personalized apps on your iPhone and iPad using the following steps:
Go to settings and scroll down to Privacy & Security and then on Location services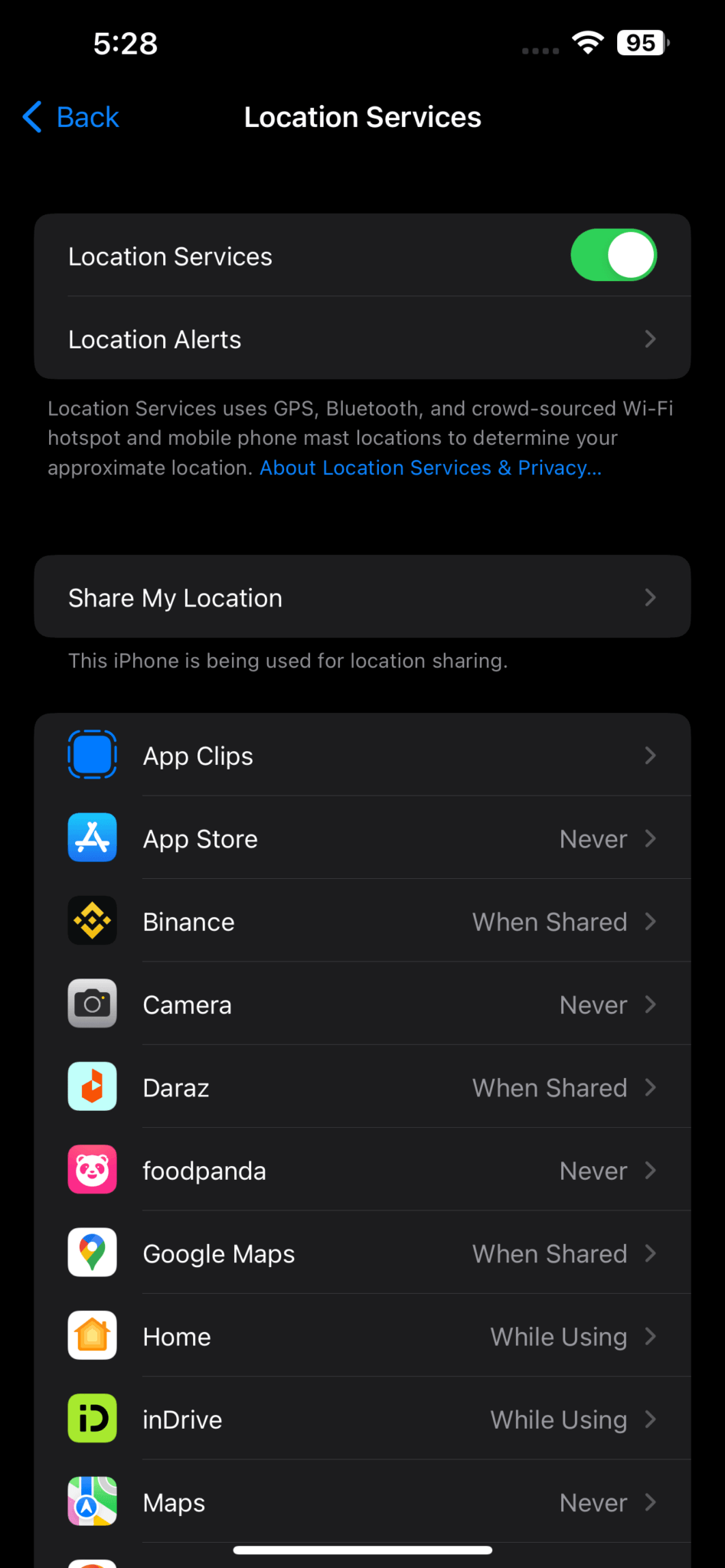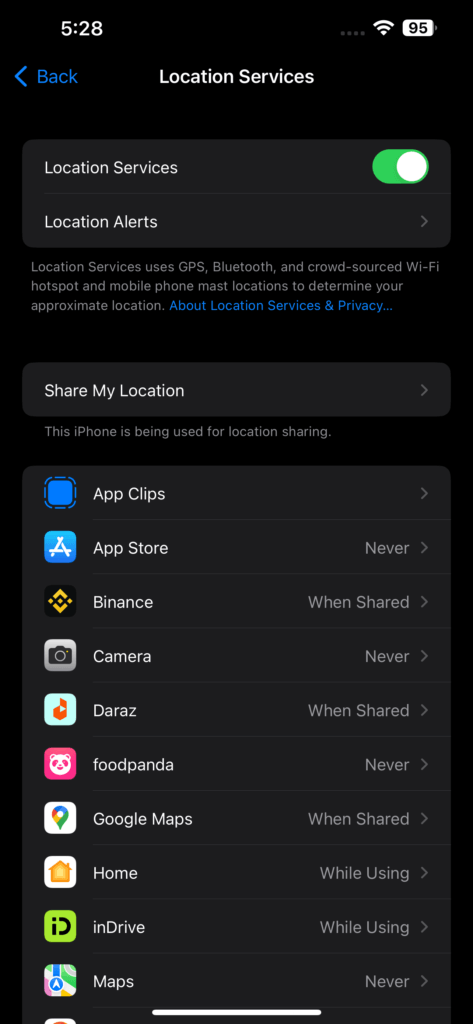 Here click on Apple Advertising.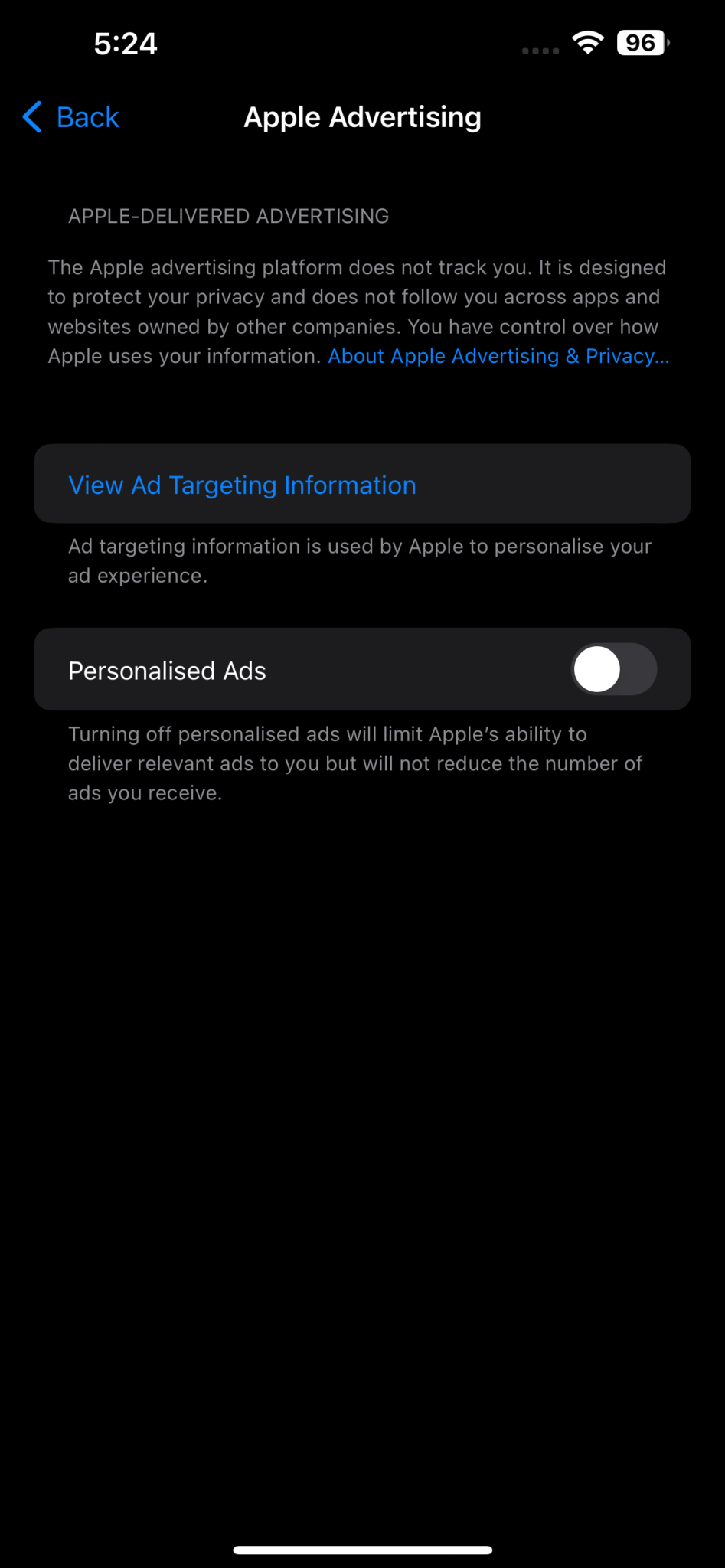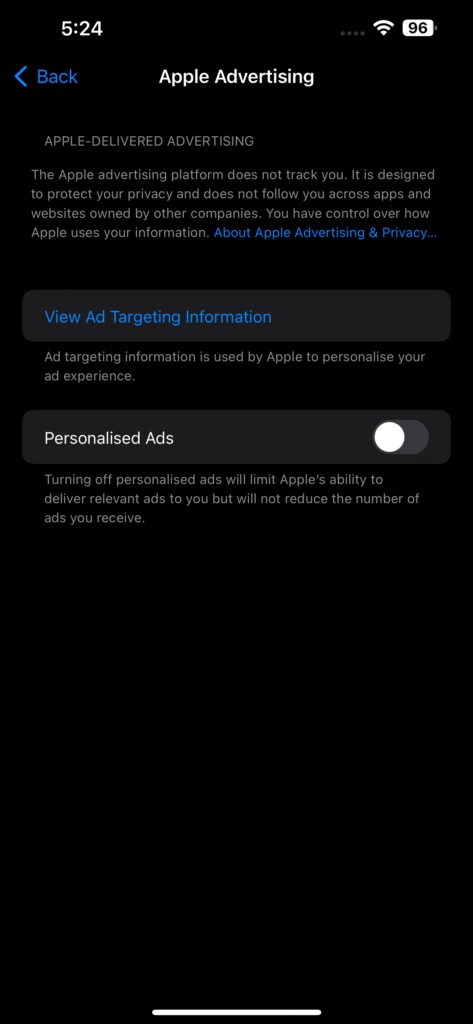 Toggle off personalized ads
Blocking ads on Mac
Although there are several ad blockers and browser extensions that you can use to block ads on Mac, there is a manual option within the OS too. Here are the steps that you can follow:
Click on the Apple menu and go to System preferences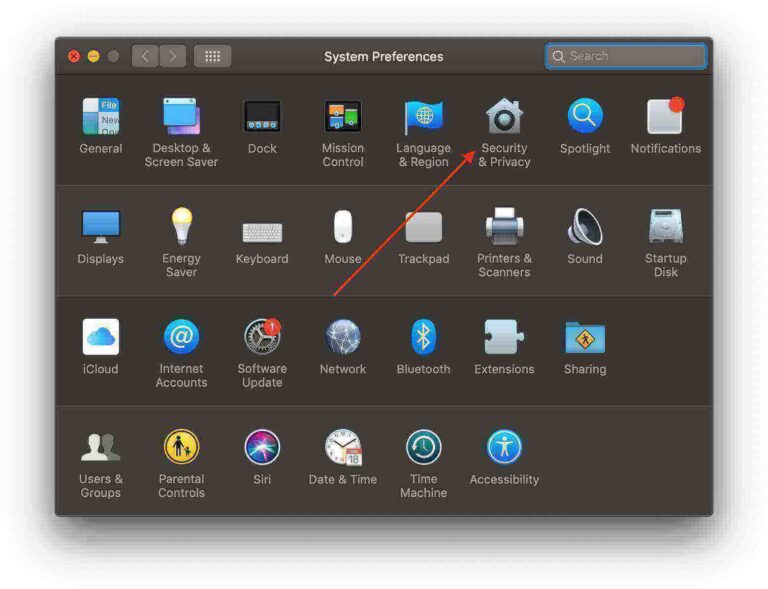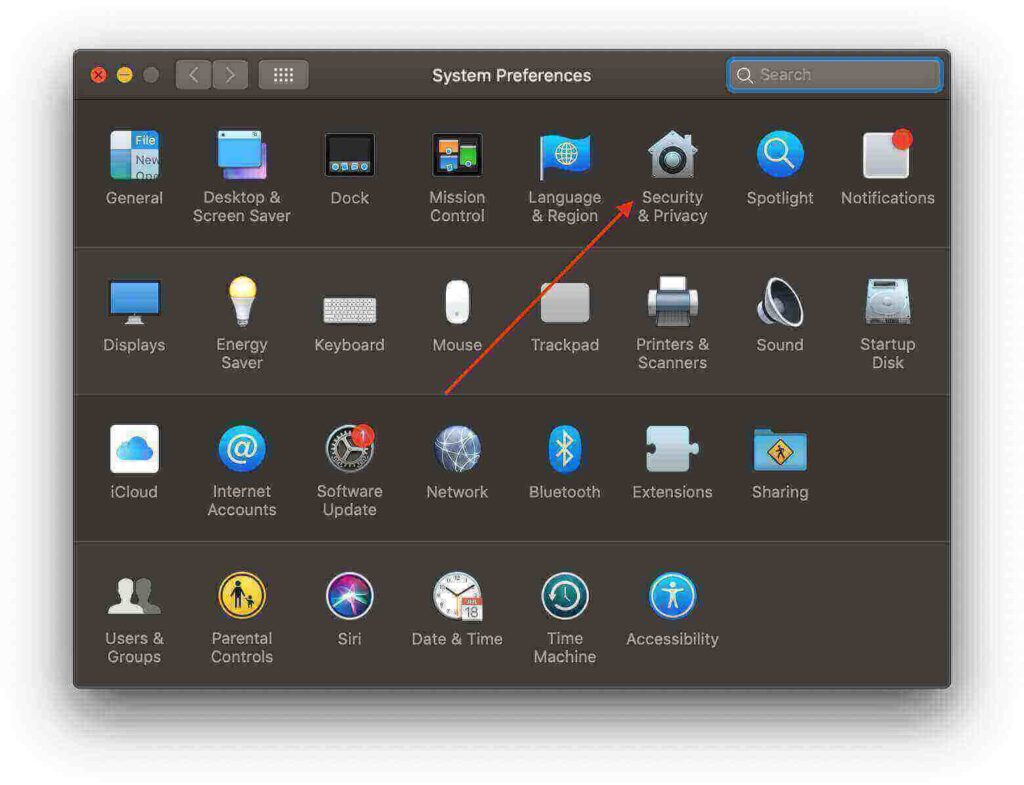 2. Here click on Privacy and Security and click on Privacy tab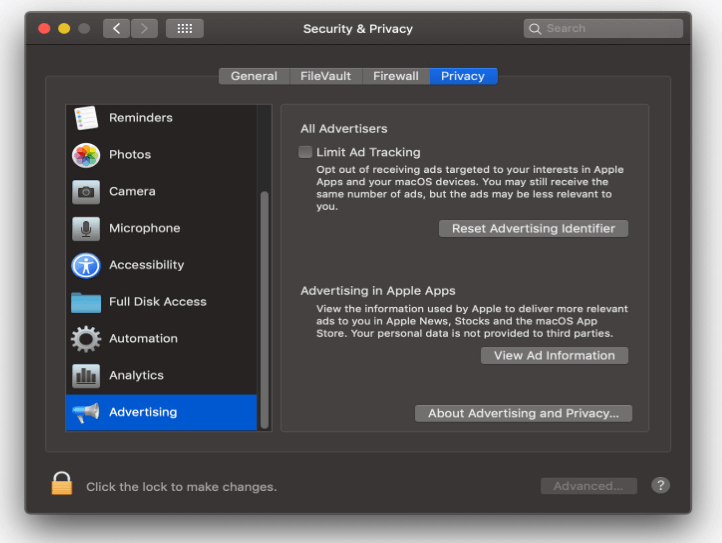 3. From here select Apple Advertising
4. Click on Limit Ad Tracking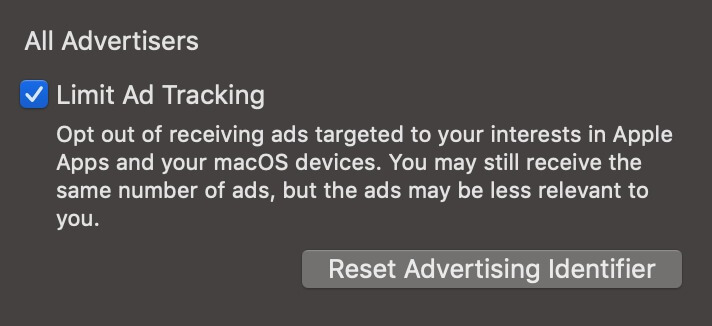 It is important to remember that while this may block personalized ads from Apple and might also disable ads from tracking you, you might receive some advertisements.
Once again, using a reputable macOS VPN app should greatly improve your browsing experience, particularly with certain high-performers like Surfshark and NordVPN with their ad-blocking features.
Pros and Cons of Ad Blockers
While ad blockers help provide an ad-free browsing experience, they come with their own set of advantages and disadvantages. Understanding these can help you decide whether to use an ad blocker and which one to choose.
Pros of Ad Blockers
Enhanced Browsing Experience: By blocking annoying and intrusive ads, ad blockers can significantly improve your browsing experience, making it smoother and more enjoyable.
Increased Privacy: Many ad blockers also block trackers, preventing companies from collecting your personal data and tracking your online activities.
Improved Performance: Ads can slow down your browsing speed and drain your device's battery. By blocking these ads, ad blockers can enhance your device's performance and extend its battery life.
Cons of Ad Blockers
Impact on Free Content: Many websites rely on ad revenue to provide free content. By blocking ads, you could potentially impact these websites' revenue and their ability to offer free content.
Whitelisting Issues: While most ad blockers allow you to whitelist certain websites, this process can sometimes be tricky and time-consuming.
Reduced Web Quality: At times, since ad blockers block ads and cookies, it impacts the quality of websites.
In conclusion, while ad blockers come with numerous benefits, they also have potential downsides. It's essential to weigh these pros and cons before deciding to use an ad blocker.
Supporting Content Creators and App Developers
Ad-blocking can significantly enhance your browsing experience, but it's worth remembering that many content creators and app developers depend on ad revenue to sustain their work. By whitelisting their sites or purchasing premium subscriptions, you can help maintain a balance between ad-free browsing and supporting free, ad-supported services.
Showing your support for content creators and app developers can take many forms, such as:
Engaging with their content
Providing feedback
Purchasing products or services
Spreading the word
Collaborating
Attending events or webinars
Ultimately, finding a balance between enjoying an ad-free browsing experience and supporting creators is key to sustaining a healthy online ecosystem.
Final Words on blocking ads
Ad-blocking is essential for an enjoyable and secure browsing experience. By exploring various ad-blocking solutions, such as essential ad blockers, built-in browser ad blockers, browser extensions, and ad-blocking apps, you can find the perfect ad-blocking tool to meet your specific needs. Remember to support content creators and app developers while enjoying your ad-free browsing experience, ensuring a healthy balance in the online world.
But don't stop with just blocking ads.
Consider a comprehensive solution to restoring your digital privacy and securing your devices by exploring the following guides and implementing the tools and solutions for your unique situation.
Good luck on your journey!
Frequently Asked Questions
Is it possible to block all ads?
It is possible to block all ads by using a private browser with ad-blocking capabilities, such as AdBlock for Chrome, which can remove personal identifiers and replace them with random values, leaving data collectors clueless about your identity.
How do you disable ad blockers?
To disable an ad blocker, open the Chrome menu at the top right corner and navigate to Settings > Site Settings > Intrusive ads. Toggle the switch off to allow ads on all websites. Alternatively, go to Extensions > Manage Extensions and turn off any ad blocker extension.
Are there any browsers with built-in ad blockers for Android?
Yes, several browsers with built-in ad blockers are available for Android devices. Popular options like Brave, Firefox Focus, and Opera for Android are equipped with integrated ad-blocking features, allowing users to enjoy an ad-free and streamlined browsing experience without needing separate ad-blocker extensions.
Can you block all ads on iOS?
Blocking all ads on iOS can be challenging due to Apple's restrictions on ad blockers. While you can block many ads in Safari using ad-blocking apps, some ads within apps and certain ads served by Apple's advertising network may remain unblocked. However, using content blockers and ad-blocking apps can significantly reduce the number of ads you encounter while browsing on iOS devices.
How do I block ads on iOS devices?
Blocking ads on iOS devices is a simple process. You can either use adblocking or you can also "Limit Ad Tracking" through your device's privacy settings.
What is the safest iOS ad blocker?
Finding the safest ad blocker for iOS is hard as it depends upon personal needs. But the best and safest options available are AdClear Plus, Total AdBlock, and AGuard.
Does Apple allow ad blockers?
Yes, Apple does allow ad blockers on its iOS devices. Users can install ad-blocking apps and content blockers from the App Store to reduce the visibility of ads in the Safari browser. However, Apple has certain restrictions in place, such as limiting the scope of ad blocking within apps and encouraging the use of its own advertising framework, which can impact the effectiveness of ad blockers on iOS.
How do I block ads permanently?
Blocking ads permanently is challenging and requires several things, such as using a reliable ad blocker, disabling ad tracking through the device, and practicing safe browsing habits.
Which DNS blocks ads?
Several DNS services can block ads without the need for additional pointers or configurations. Some popular options include NextDNS, and CleanBrowsing. These DNS providers filter out ads and malicious content at the DNS level.
How do I block ads everywhere on my Android?
You can use ad-blocking apps to block ads everywhere on your Android device. These apps work system-wide and effectively block ads in browsers, apps, and games without manual configurations. Remember to download these apps from trusted sources and follow their instructions for optimal ad blocking.
This ad blocker guide was last updated on October 1, 2023.