Most people know that Apple prides itself on respecting the privacy of its users — and the iPhone is no different. Whether you are someone who values privacy and security, or maybe you want easy access to content around the world, you will need a reliable VPN for your iPhone in 2023.
But here's where things get challenging. Many VPNs do not perform well on mobile devices. One study found up to 84% of mobile VPN apps leak user data. Aside from these privacy issues, we have also found in our own VPN tests that iPhone VPN apps can suffer from bugs and crashes. So how do you find the best VPN for iPhone?
We ranked the best VPNs for iPhone in 2023 based on the following factors:
Passed all tests with no leaks that would expose your data online (no IP address leaks or DNS leaks)
Good performance throughout the server network (speed and reliability)
High-quality VPN apps with all features working correctly
Supports secure VPN protocols with strong encryption standards
Offers a money-back guarantee
Trustworthy and well-established VPN provider with a good track record
Located in a safe privacy jurisdiction (outside of Five Eyes countries, such as the US and UK) to keep your data secure
So without further delay, here are the best VPNs for iPhone:
NordVPN – The best VPN for iPhone in 2023
| | |
| --- | --- |
| VPN | NordVPN |
| Based in | Panama |
| Logs | No logs (audited) |
| Price | $2.99/mo. |
| Support | 24/7 live chat |
| Refund | 30 days |
| Website | NordVPN.com |
NordVPN regularly comes out on top in our recommendations, simply because it delivers in all the important categories for iPhone users. Whether you are looking for privacy and security, or you are trying to unblock content and stream movies, NordVPN is the top VPN for iPhone.
The NordVPN iPhone app performed very well in our tests. Below you can see we are connected to NordVPN server in the US on our iPhone, with the Auto-Connect feature enabled.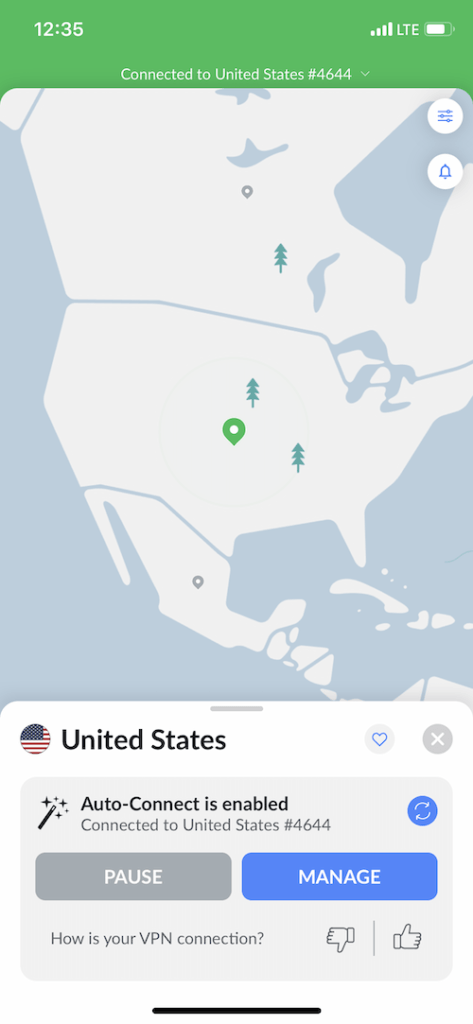 One big area that makes NordVPN the best iPhone VPN in 2023 is performance. NordVPN fully supports the WireGuard VPN protocol on all platforms (including iPhone and iPad), and this delivers the fastest speeds and best security. NordVPN's implementation of WireGuard is called the NordLynx protocol, which is fully supported on iPhones. In our VPN tests using NordVPN with the NordLynx protocol, we were able to hit download speeds of 445 Mbps!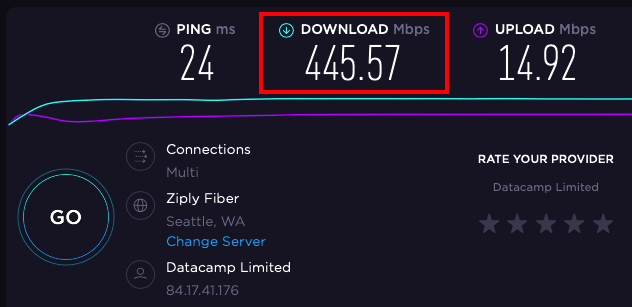 NordVPN also checks all the boxes for security and privacy. They currently have 5,500 servers in 58 countries around the world. All servers run in RAM-disk mode (no hard drives), which means no data can ever be stored on servers or access by third parties. NordVPN is also a verified no logs VPN service, having passed both privacy and security audits by outside firms. When using Nord VPN on an iPhone, you have access to all the major privacy and security features, including:
CyberSec feature that will block ads, trackers, and malware domains from loading on your iPhone
NordLynx protocol that delivers all the benefits of WireGuard on your iOS device (fastest VPN speeds and the most secure encryption standards)
Double VPN servers that encrypt traffic over two different hops for double the encryption
Obfuscated servers that conceal VPN traffic and also allow you to get around VPN blocks (useful if you need a VPN for China, school, or work networks that block VPNs)
VPN Kill switch that will block internet traffic on your iPhone if the connection drops (see the benefits of a VPN kill switch here)
You can easily enable both CyberSec and NordLynx (WireGuard) directly in the VPN app's settings on your iPhone. We recommend enabling these two features for higher levels of privacy and security, while also getting the best performance.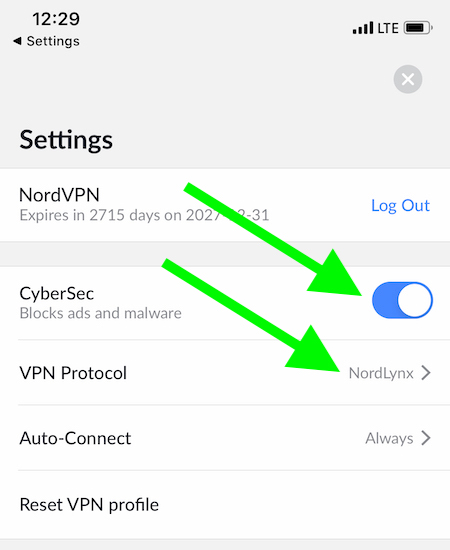 You can see all NordVPN features here >>
If you plan to stream video on your iPhone with a VPN, then NordVPN will have you covered. They unblock 17+ Netflix regions around the world, including all of the most popular regions. NordVPN also works with BBC iPlayer, Amazon Prime, Hulu, Disney Plus, DAZN, and many other streaming sites. Finally, they also provide dedicated streaming apps for some devices, such as the Firestick VPN app.
How to use NordVPN on your iPhone
Installing and using NordVPN on your iPhone is quite simple. Just follow these steps:
Purchase a discounted NordVPN subscription (use the coupon below)
Install the NordVPN app on your iPhone
Open the NordVPN app on your iPhone and log in with your credentials
Click the Quick Connect button to connect to the fastest VPN server possible.
Note: When you first connect to a VPN server on your iPhone, you will likely be asked if you want to allow the VPN app to add configurations to your device. Simply confirm that you Allow this to enable quick and easy VPN connections on your iPhone.
+ Pros
User-friendly and reliable apps
Double-VPN and Tor-over-VPN servers
No logs (audited twice)
Strong encryption standards with full support for WireGuard
Works with Netflix and many other streaming services
Threat Protection feature to block ads, trackers, and malware domains
24/7 live chat support
Dedicated RAM-servers with 10 Gbps bandwidth channels
– Cons
Big discounts only available with long-term subscriptions
NordVPN Cyber Deal is live:

Get 68% Off NordVPN (drops the price to $2.99 per month) plus 3 months FREE with 2-year plans:
(Coupon is applied automatically.)
For more info, check out our new and updated NordVPN review.
---
Surfshark – A fast, affordable, and secure VPN for iPhone
| | |
| --- | --- |
| VPN | Surfshark |
| Based in | The Netherlands |
| Logs | No logs |
| Price | $2.30/mo. |
| Support | 24/7 live chat |
| Refund | 30 days |
| Website | Surfshark.com |
Next up on our list of the best VPNs for iPhone in 2023 is Surfshark VPN. In many respects, Surfshark is right behind NordVPN. It offers many similar features and also performs pretty well, but it also has a few drawbacks.
If you are looking for a user-friendly iPhone VPN that is affordable, then Surfshark is one of the best cheap VPNs to consider. The price is slightly cheaper than NordVPN, while Surfshark has the added bonus of giving you unlimited simultaneous connections. The Surfshark VPN apps for iPhone also performed well in our tests and are full of useful features.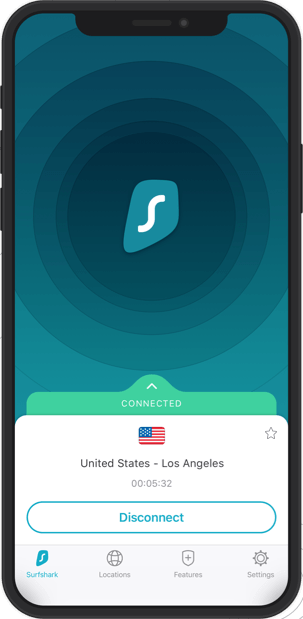 Surfshark currently boasts about 3,200 servers in 65 countries around the world. Like NordVPN, Surfshark runs all servers in RAM-disk mode for maximum data security and is a no-logs VPN service. However, unlike NordVPN, Surfshark has not been audited for its no-logs claims.
In terms of speeds, Surfshark performs well and supports the WireGuard VPN protocol on iPhones, Windows, Mac OS, and Android devices. You can easily select the WireGuard protocol in the settings of the Surfshark iPhone app. With the Surfshark VPN app for iPhone, the IKEv2 protocol is used by default, but this is easy to change in the settings.
Like NordVPN, Surfshark also offers a VPN ad blocker feature. It is called CleanWeb and it will block ads, trackers, and malware domains. I'd recommend enabling CleanWeb on your iPhone because blocking ads will speed up page load times and also save you on bandwidth. To do this, simply go to the VPN Features tab, and then toggle CleanWeb on.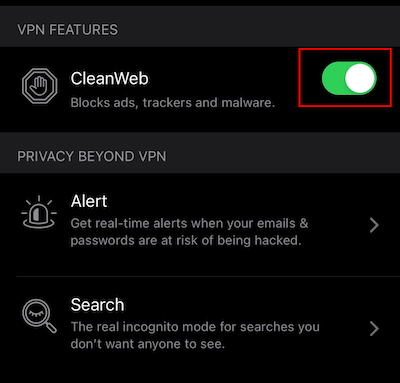 Surfshark also does great with streaming. It supports 15+ Netflix libraries and is currently one of the best VPNs for Netflix.
How to set up Surfshark VPN on iPhone
Setting up Surfshark VPN on iPhone is fast and easy if you follow these steps:
First, get a discounted Surfshark VPN subscription (use the coupon below for the best savings).
Download the Surfshark VPN app for iPhone from the Surfshark website or Apple store.
Open the app and log in to your VPN account.
Click the Connect button to connect to a nearby server.
Click Allow to let Surfshark Add VPN Configurations to your device so connections are smooth and fast.
Just like above with NordVPN, we'd recommend using the WireGuard protocol for the fastest connections and also enabling CleanWeb (ad blocker) for more privacy and security. You can see our comparison between NordVPN and Surfshark for more details on these top two iPhone VPN services.
+ Pros
Unlimited connections
User-friendly apps for all devices and operating systems
CleanWeb feature to block ads, trackers, and malware
Works great with Netflix and many other streaming services
24/7 live chat support
Strong encryption and security features (audited)
– Cons
Limited support for VPN routers
Average OpenVPN speeds (use WireGuard)
Surfshark VPN Coupon:

Get 82% off Surfshark VPN (drops the price down to $2.30 per month) plus 2 months FREE:
(Coupon is applied automatically.)
To learn more about Surfshark VPN, check out our Surfshark VPN review here.
---
ExpressVPN – A secure and reliable VPN for iPhone (but expensive)
| | |
| --- | --- |
| VPN | ExpressVPN |
| Based in | British Virgin Islands |
| Logs | No logs (audited) |
| Price | $6.67/mo. |
| Support | 24/7 live chat |
| Refund | 30 days |
| Website | ExpressVPN.com |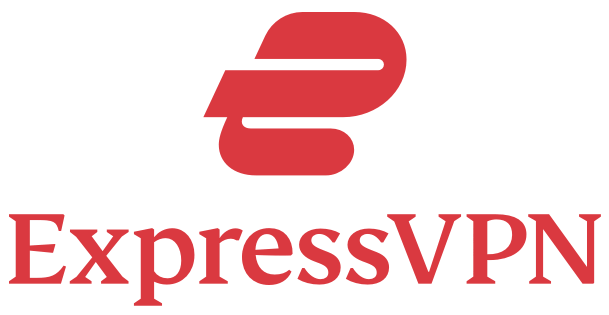 ExpressVPN checks all the right boxes that make for a great VPN for iPhone. It is fast, secure, reliable, and it works well for all types of uses, from streaming to torrenting. However, of all the iPhone VPN apps on this list, ExpressVPN is the most expensive. Additionally, it has fewer features than our other recommendations, as we'll show you in detail below.
Let's start with the positives. ExpressVPN is fast and reliable. Unlike NordVPN and Surfshark, ExpressVPN offers the Lightway protocol, rather than supporting WireGuard. Lightway is a self-developed protocol with many similarities to WireGuard, but it's not quite as fast as WireGuard, and it's only used by ExpressVPN. In our NordVPN vs ExpressVPN speed tests, we found that WireGuard was significantly faster (with NordVPN).
ExpressVPN boasts a large selection of apps for all types of devices, from computers and tablets to phones and routers. They also offer a MediaStreamer app to support different types of streaming devices, and this makes ExpressVPN a great VPN for streaming. The ExpressVPN iPhone app we tested performed well. It was reliable, fast, and very easy to use.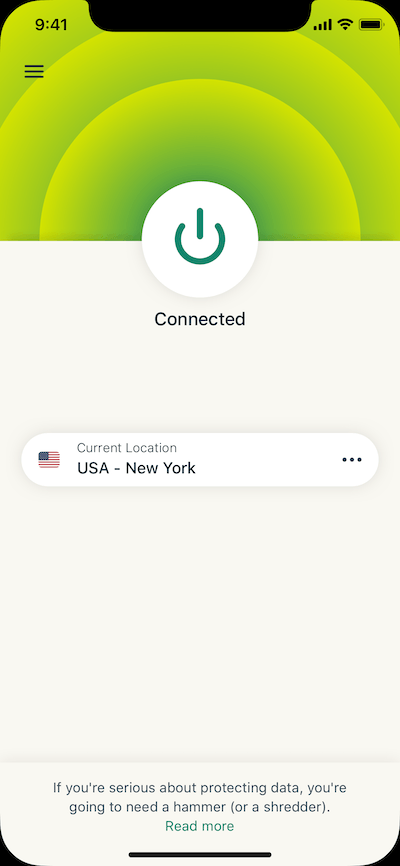 Now let's discuss features. In comparison to other iPhone VPN services, ExpressVPN has fewer features. There is no VPN ad blocking, no Double VPN servers, no Obfuscated servers, or anything out of the ordinary. And while the iPhone VPN app does have a basic kill switch, that's about it.
In terms of streaming, ExpressVPN unblocks a variety of streaming services, although not quite as many as NordVPN or Surfshark. It unblocks a wide range of Netflix libraries, allowing you to easily change Netflix regions from anywhere. It also works well for BBC iPlayer, Amazon Prime, Disney Plus, and a few other services.
How to set up Express VPN on iOS
Get an ExpressVPN subscription (coupon for three months free is below).
Download the ExpressVPN iPhone app.
Open the VPN app on your iPhone and log in.
Connect to a VPN server.
+ Pros
User-friendly and secure apps
Split tunneling feature (for Mac OS, Windows, and routers)
Works with Netflix and most streaming services
24/7 live chat support
Passed independent third-party audits for security and no-logs
Very large server network
– Cons
Above-average prices
Fewer features
Average OpenVPN speeds (use Lightway)
Check out our ExpressVPN review for more info and test results.
---
Now that we have covered the best VPN services for iPhone, let's address some frequently asked questions you might have.
Do iPhones have built-in VPN?
No, iPhones do not have any built-in VPN. However, iPhones do have built-in VPN support for the IKEv2 VPN protocol, which can be used with different VPN services. Many of the top iPhone VPN services support the IKEv2 protocol (see our guide on VPN protocols for details) and setting this up is easy.
To use your iPhone's built-in VPN you simply need to download the IKEv2 certificate from your VPN service to your iPhone, enter your login credentials, and then connect to a VPN server.
After downloading the certificate, you can select the VPN server you want to connect to through your iPhone. You will then add this server configuration to your phone under:
Settings > General > VPN.
This will include the Server hostname, Remote ID, and then your Username and Password for authentication. Finally, with this configuration, you can always connect to it by toggling on the VPN button in your iPhone's settings area, as you see below.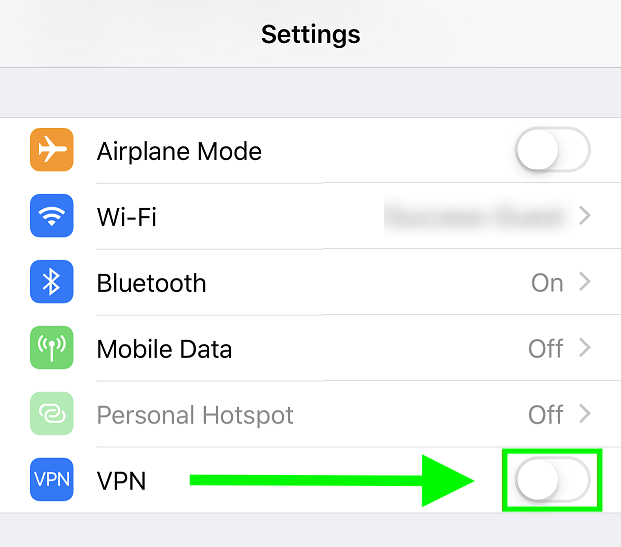 Even though you can use the built-in iPhone VPN settings, I would instead recommend using your VPN's dedicated iPhone app. A dedicated iPhone VPN app from one of the recommended VPNs above,
Is easier to set up than the IKEv2 option on your iPhone
Gives you easy access to every VPN server in the network with one click. (With the built-in IKEv2 VPN, you will need to import hostnames and configuration files for every server you want to use in the network, and this is a hassle.)
Includes a good kill switch, to better secure your traffic if the VPN connection drops.
Offers full access to all VPN features that are available through your iPhone's VPN app.
What is the best free VPN for iPhone?
As we noted above in the introduction, we do not recommend using a free VPN for iPhone. There are many reasons for this, but to illustrate the point, you could read this study, which points out the risks of free mobile VPN apps. The study found the following risks with free mobile VPN apps:
84% leak user data (your IP address or DNS requests and browsing history)
82% attempt to access sensitive data on your phone, such as location data, contacts, etc.
75% utilize third-party tracking
38% contain malware
18% don't even encrypt your data
Suffice it to say, we do not recommend free mobile VPN apps. And we also came to the same conclusion in our guide on the best Android VPNs.
As an alternative, you could consider using a VPN with a free trial. But keep in mind that using no VPN is often safer than using an unsafe free VPN that collects your data and undermines your security.
How to get the fastest VPN speeds on your iPhone
People spend lots of time on iPhones these days, and that includes taking part in high-bandwidth activities such as streaming videos. And it goes without saying that nobody enjoys buffering, playback errors, or slow-loading websites. Therefore it's important to get a fast and reliable VPN for your iPhone that delivers consistent performance.
If you want a fast VPN for your iPhone, you will need to use the WireGuard VPN protocol with a good VPN provider. It is for this reason that NordVPN and Surfshark were ranked the best VPNs for iPhone in 2023. They both support the WireGuard protocol on iOS, and they both have a network of extremely fast servers (based on our tests). Here are the reasons that make the WireGuard protocol (with NordVPN or Surfshark) so ideal for iPhone users:
Extremely fast download speeds
Nearly instant connections (no more waiting for 5-60 seconds for your VPN to establish a connection)
Seamless connection when transitioning between network interfaces (go from WiFi to mobile data without dropping a VPN connection)
More reliability (as we explain in our WireGuard vs OpenVPN guide)
Using WireGuard on an iPhone is easy — just select it under the list of protocols in your iPhone's VPN app. For example, here it is with NordVPN with the NordLynx protocol (recall that NordLynx is just NordVPN's WireGuard implementation):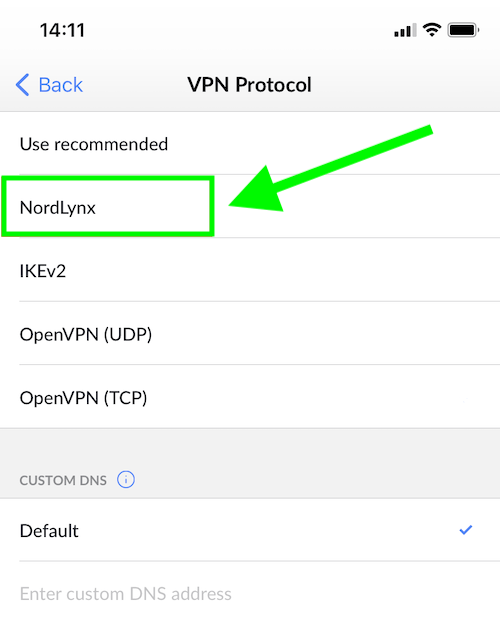 With a good VPN and the WireGuard VPN protocol, you will enjoy the fastest VPN speeds on your iPhone. Now just don't run out of data!
Why you need a VPN for iPhone in 2023
If you are reading this page and made it this far, you probably already know you need a VPN on your iPhone. But nonetheless, let's just recap the reasons why before concluding this report.
Privacy – In today's world, internet service providers log everything and often share this data with a wide network of third parties. To cover your tracks, you will need a VPN that encrypts all traffic and hides your location. This way, your internet service provider (and/or cell phone service) will not be able to see any website you visit.
Security – If you ever use public WiFi, you should know that your connection is vulnerable to hackers and people snooping on your data. To solve this problem, you should use a VPN whenever you are on any public network.
Bypass restrictions – We all know the internet is getting partitioned up and restricted. To get easy access to any site you wish, you will need a good VPN network with servers that will allow you to easily bypass restrictions with any device.
Cybersecurity continues to be a dominant theme we see in the news and is a top concern for most people. Cybercriminals continue to exploit vulnerable individuals, networks, businesses, and even non-profit organizations for potentially lucrative payouts. If you care about your privacy and security, a VPN is a crucial first line of defense, in combination with other privacy tools that we discuss on this site.
Comparison Table of the Top iPhone VPNs
This concludes our report on the top iPhone VPNs in 2023. Here is a table highlighting the top three choices.
---

---

---
This iPhone VPN guide was last updated on January 5, 2023.