| | |
| --- | --- |
| VPN | TunnelBear |
| Based in | Canada |
| Logs | Connection logs |
| Price | $3.33/mo. |
| Support | Email |
| Refund | None |
| Website | TunnelBear.com |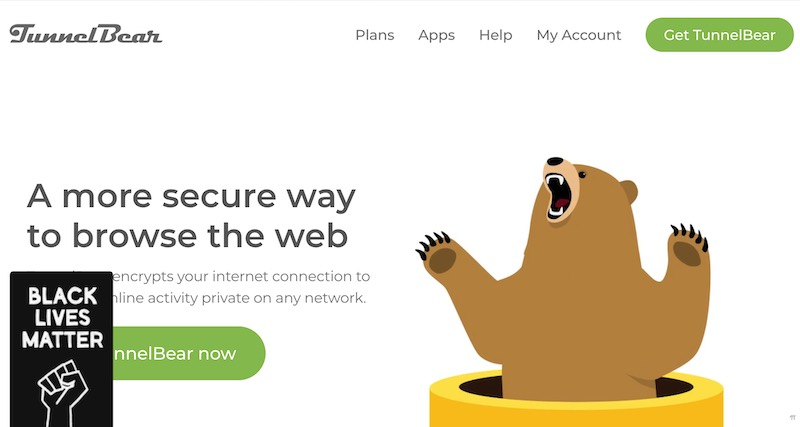 TunnelBear is a well-known Canadian VPN service that was acquired by the US cybersecurity company McAfee a few years ago. While you often see it recommended on various sites (and is darn cute), TunnelBear also has some noteworthy drawbacks, which we'll cover below in this TunnelBear review.
On a positive note, it is one of the few VPNs that has undergone a third-party security audit. On a negative note, I found it to be slow, the server network is tiny, support is limited, and it simply does not work with many streaming sites, among other issues…
Read on for an honest TunnelBear VPN review.
+ Pros
User-friendly apps and browser extensions
Passed a third-party audit in 2018
Free plan (500 MB of data)
– Cons
Slow speeds
Based in Canada (Five Eyes)
Limited payment options
No refunds
Does not work well with Linux or routers
Small server network
Not a good choice for Netflix or torrenting
Limited customer support
Additional research findings:
Bought out by US cybersecurity company (McAfee)
Does TunnelBear work in China?
TunnelBear logging policies
Now let's examine the results.
TunnelBear Pros
Here are the pros of TunnelBear VPN:
User-friendly apps and browser extensions
For this TunnelBear review, I tested out the Windows and Mac OS apps. Both of these VPN clients did fine in my tests without any major issues. Below is a screenshot of the Windows VPN client that I tested out for this review: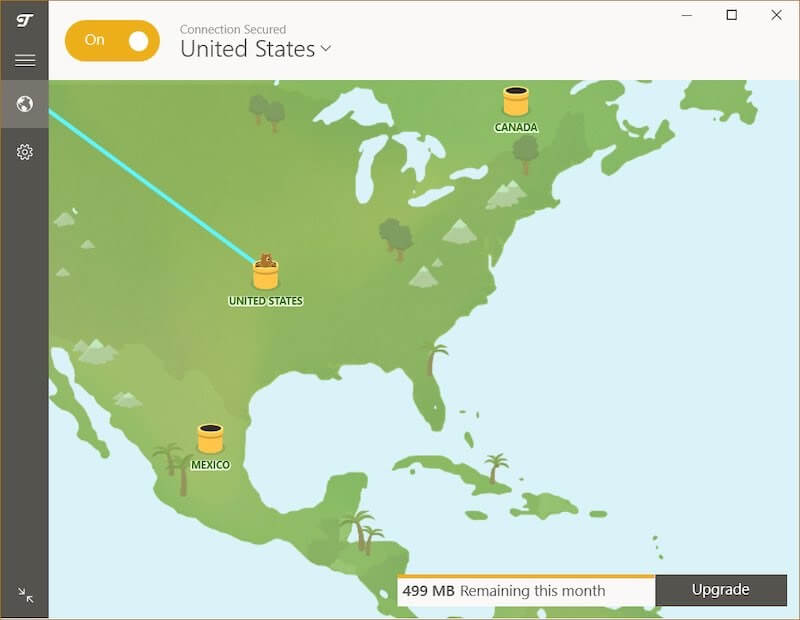 TunnelBear VPN offers applications for Windows, Mac OS, iOS, and Android. TunnelBear also offers browser extensions, which we will cover in detail further below.
Note: TunnelBear does not provide any app for Linux and it is not possible to use this VPN with routers. This is a major drawback we'll discuss more below in the cons section.
Random connection issues – Another drawback I noted when testing the TunnelBear Windows client is that it would sometimes have connection problems. This seemed to randomly occur with different servers, which resulted in the error message below.

This random connection error did not appear with every server.
TunnelBear VPN browser extensions
The TunnelBear browser extension is a lightweight encrypted proxy that you can control from the browser window. This is geared toward people wanting to use the VPN within the browser, as we noted in our Firefox VPN guide. TunnelBear offers browser extensions for:
I tested the TunnelBear Chrome extension for this review and found it to work alright. Here is the TunnelBear Chrome extension in action, which you can see in the upper-right corner of the browser.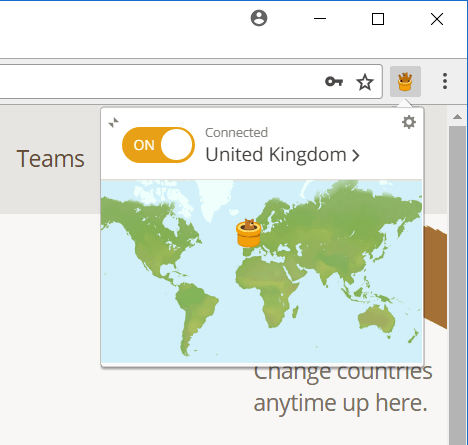 Many VPNs now offer browser extensions. In some cases, such as with TunnelBear, the browser extension acts as an additional proxy for the browser itself, changing the IP address and DNS requests within the browser. In other cases, such as with ExpressVPN, the browser extension just extends the VPN desktop client into the browser for easier functionality. In this case, you can simply control the desktop VPN client through the browser.
We discuss this topic more in our post on the best VPN for Chrome. There are also a few other VPNs that offer browser extensions, including VPN.ac, ExpressVPN, and also NordVPN and CyberGhost.
Secure, passed a third-party audit
TunnelBear offers good data encryption using the 256-bit AES OpenVPN for Windows, Mac OS, and Android. The IKEv2 protocol can be used with iOS and Windows as well. Both OpenVPN and IKEv2 are secure and reliable VPN protocols. Each has pros and cons.
OpenVPN is open source, but it requires the use of a third-party client and is more CPU-intensive. IKEv2 can be used natively on various devices (no app required) and runs with less CPU, but it is also not open source.
No WireGuard support with TunnelBear
At the time of this review, TunnelBear does not support the WireGuard VPN protocol. This is a relatively new protocol that provides very fast speeds along with upgraded security and encryption over legacy protocols. If you compare WireGuard vs OpenVPN, the speeds are usually much better with WireGuard.
TunnelBear leak protection
TunnelBear offers a basic leak protection option which is called VigilantBear. This feature acts as a kill switch to block traffic when there is no active VPN connection and can be activated directly within the VPN application.
I ran both the Windows and Mac OS apps through a round of VPN tests to check for leaks and problems. Everything worked well without any leaks to report.
Here you can see the leak test results when connected to a TunnelBear server in Norway: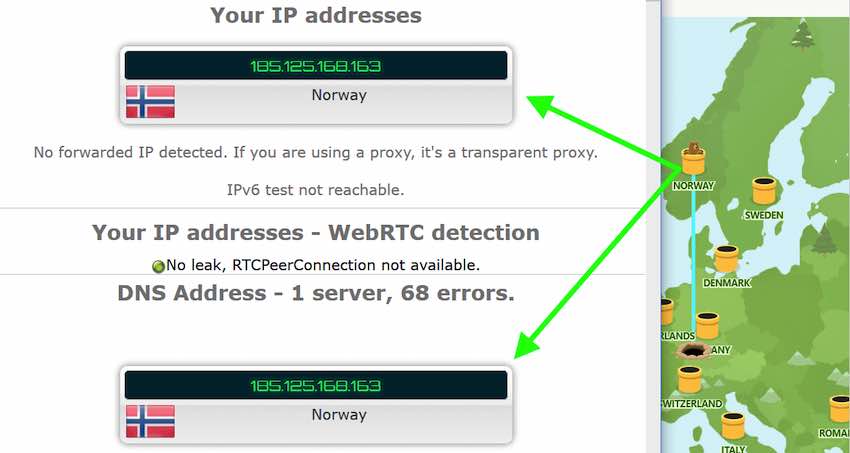 The TunnelBear Mac OS client also did not have any leaks in my tests.
It is important to remember to enable VigilantBear (the leak protection feature) to be protected against data leaks.
TunnelBear security audit
TunnelBear is one of the few VPN providers to undergo a third-party security audit. The audit was performed by Cure53. Here is a brief summary of the findings:
Cure53's complete report is available on their website. To summarize, they discovered 2 "critical", 5 "high", 3 "medium", 7 "low", and a few "informational" issues – all of which were promptly fixed. The more serious vulnerabilities would have required an attacker to have direct access to the device, and be logged in as a guest. However, under those circumstances it would have allowed attackers to escalate app permissions to give them root access to a device, modify executables and bypass non-strict host matching.
There have been a few other VPN services that have undergone security audits, including ExpressVPN and also NordVPN, which we both discussed in the ExpressVPN vs NordVPN comparison.
Tunnel Bear audits
TunnelBear's first security audit was completed in 2017, then they followed this up again in October 2018. According to their website, the plan is to do an audit every year.
The latest audit from TunnelBear was released in January 2020. We see other VPN services that are also undergoing security audits. This is discussed more in our TunnelBear vs NordVPN comparison.
TunnelBear free VPN plan
Another benefit of TunnelBear is the free VPN plan. Unfortunately, you are limited to only 500 MB of data. I used up all the data in about 5 minutes by running through a few VPN speed tests.
The TunnelBear VPN app shows you the data that's remaining in the bottom-right corner. While the 500 MB may help some to get a feel for TunnelBear, it is really inadequate compared to some other free trial VPN services.
For example, we noted in our Windscribe review how this VPN offers 10 GB per month. Another example is Trust Zone VPN which offers 3 GB of data for free.
If you want more data for the TunnelBear free plan, you can do promotional tweets of TunnelBear for an extra 1 GB. Again, this is still inadequate if you want to thoroughly test the VPN on all your devices. When you run out of data, you will be alerted in the app and all connections will be blocked.

With free VPN services, you can expect these types of restrictions. So now let's look at the regular prices.
TunnelBear prices
In terms of pricing, TunnelBear is in the middle of the road. It is certainly not the cheapest VPN, but it's also not extremely expensive. Add in the fact that you get unlimited data and unlimited simultaneous connections, and this VPN has the potential to be a good value. However, the drawbacks of the service mean we still can't recommend it, as you will see in the rest of this review.
Here are the current prices of TunnelBear VPN's Unlimited plan.

To get the best prices on TunnelBear, you will need to commit to three years, which is quite a long time. This is also a drawback we noted in the NordVPN review: the best deals only come with a longer subscription.
I'm not aware of any VPN coupons or discounts that TunnelBear is offering. And I do not believe they offer any VPN Black Friday deals like many other services do.
Now let's take a look at the cons of TunnelBear VPN.
Cons of TunnelBear
TunnelBear slow speeds
One major drawback with TunnelBear VPN is the slow speeds.
For this updated TunnelBear review, I ran speed tests with servers around the world. All tests were conducted in our US lab on a 500 Mbps internet connection, using the official TunnelBear desktop apps.
Here was the TunnelBear server in the United States, giving me download speeds of only 52 Mbps.

Considering my baseline speed of 500 Mbps, this is a really slow speed test result. Many VPNs can get over 200 Mbps on most servers.
Next I tested the TunnelBear server in Canada, with speeds of only 43 Mbps.

This is even slower than our previous test result. If you are looking for the best VPN for Canada with fast and consistent speeds, this is not it.
I previously ran tests with TunnelBear servers in Europe. Again, the results were not great.
Here was the TunnelBear server in the United Kingdom at only 5 Mbps.

Based on all of my tests, TunnelBear is not a fast VPN.
Comparison with NordVPN and the WireGuard protocol
For comparison, below is a speed test result from NordVPN with the WireGuard protocol at 445 Mbps.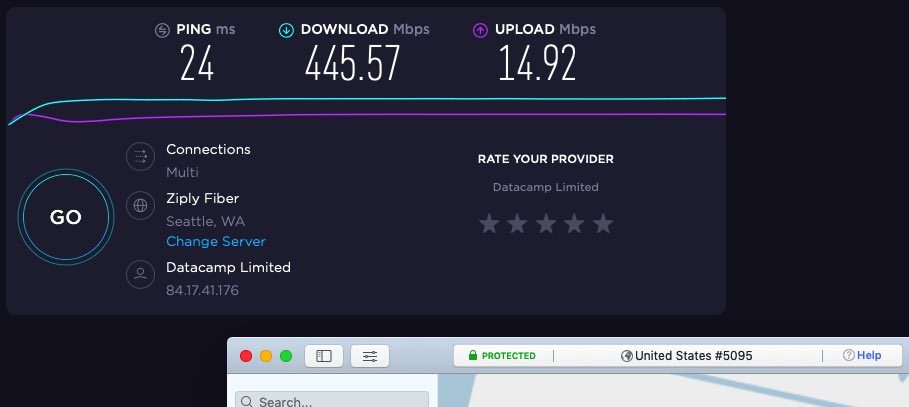 NordVPN with the WireGuard protocol is the fastest VPN we have tested. Tunnelbear can't come close to these speeds, especially since it does not support WireGuard.
Check out NordVPN with WireGuard here >>
Based in Canada (Five Eyes)
TunnelBear is a VPN based in Canada. As we explained before, Canada is not a good privacy jurisdiction and is a member of the Five Eyes alliance. This means that Canada collects and surveillance data with other countries, such as the US, UK, Australia, and New Zealand.
TunnelBear's privacy policy explains how personal data is protected under Canadian privacy laws. This is somewhat ironic, as Canada does not have a great record when it comes to privacy. Canadian authorities also prosecute people for minor copyright violations (similar to the US). From the TunnelBear privacy policy:
TunnelBear is a global company. Although our physical servers are located in many different countries around the world, TunnelBear does not store Personal Data outside of Canada's physical borders. By using our services, you authorize TunnelBear to use your information according to Canada's laws, regardless of which country you are located in.
As a Canada VPN service, TunnelBear abides by all Canadian laws.
As noted in the ExpressVPN vs TunnelBear comparison, there are many other VPNs located in privacy-friendly jurisdictions to consider.
Very limited payment options
When we last attempted to purchase a subscription to run some tests for this TunnelBear review, there was a problem. While the pricing page claimed that you could pay with Bitcoin (and Jars of Honey), the only payment methods that were actually available were credit cards.

This time around, TunnelBear has removed the Bitcoin icon from the pricing page, which is good. However, this clearly shows that you are forced to pay with a credit card and therefore provide your real name.
While that is annoying, it isn't the real problem with buying a TunnelBear subscription. The real problem with subscribing to TunnelBear is that…
TunnelBear has no money-back guarantee
If you dig into the TunnelBear Terms of Service, you can see that TunnelBear does not offer any refunds. They specifically state:
All amounts paid are non-refundable.

This is hard to imagine in today's VPN market. TunnelBear is probably the only widely-recognized VPN with a no-refund policy. Almost all the leading VPN services offer a full 30 day money back guarantee. To see this for yourself, check out Surfshark or ExpressVPN or NordVPN.
Coupling the no refund policy with the extremely short trial period (500 MB of data does not last long) means that there is much more risk to signing up with TunnelBear than with the leading VPNs. If you aren't happy with TunnelBear after you purchase a subscription, there's little you can do.
Limited support for Linux, routers, and other devices
If you are a Linux user, your options are pretty limited with TunnelBear. They even state on their website,
We do provide instructions for using TunnelBear on Linux, however, we only provide limited support for that platform.
While they do have a post from 2014 on how to use TunnelBear with Linux, it is certainly not the best VPN for this endeavor. Fortunately, this is better than some VPNs. For example, in our AVG VPN review, we noted they do not support Linux at all. For more options, check out these best VPNs for Linux instead.
Additionally, Tunnelbear does not have any native app for the Amazon Firestick or Fire TV. This is another reason it's not a good VPN for streaming. Check out these VPNs for Firestick instead.
TunnelBear does not work with routers
Nearly every VPN we have reviewed here on Restore Privacy supports routers. While some offer a dedicated router app (discussed in the ExpressVPN review), most others support various router firmware with OpenVPN configuration files. And this is easy to do if you simply make the OpenVPN configuration files available to your users and guide them through the installation steps.
TunnelBear, however, does not do this. Instead, they say,
TunnelBear does not provide configurations to be used on modems/routers.
That is pretty surprising, to say the least — but that's not all. There are many other devices that TunnelBear does not support:
TunnelBear is not supported for Kindle/eReaders, Windows mobile devices, Apple/Android TV, or gaming systems.
Not looking good. And here you can see the official stance on the TunnelBear website:


We have a guide on using a VPN with Apple TV. Unfortunately, it is not very easy because Apple TV does not support VPN apps directly. Instead, you will need to use a VPN on a router. But even with this option, TunnelBear still won't work.
If you want to use a VPN on these types of devices, we'd recommend considering one of the bigger providers, such as NordVPN or Surfshark.
Small server network
Another drawback with TunnelBear is that it has a fairly small server network. At the time of this TunnelBear review, there are only 48 server locations to choose from. This is a big step up from the 23 locations they had the last time we reviewed TunnelBear, but still, nothing to write home about.
This problem is particularly noticeable if you need a VPN for USA or Canada with numerous server locations.
With nearly every VPN I've tested, there are numerous server locations in the United States and Canada to choose from. TunnelBear, however, does not give you any choices and you can only connect to "United States" in the VPN client.
Therefore, for the entire North American continent, TunnelBear users have only three server locations to choose from:
Canada
United States
Mexico
Based on my tests, it appears the United States server is located in California. The Canada server seems to be in Toronto.
Two other VPNs offering more server locations are IPVanish and NordVPN.
Our other problem with TunnelBear servers is that they don't tell you how many servers they have. We know they have 48 server locations, but no idea how many servers are in each location. The number of servers could be as small as 48 for all we know. It is probably far more, but who knows for sure. In the meantime, top VPNs like NordVPN and Surfshark each have several thousand servers across their network. The fact that TunnelBear doesn't mention how many actual servers they have makes us a bit uncomfortable.
Not good for Netflix or torrenting
Is TunnelBear a good VPN for Netflix?
Answer: No
I tried accessing US Netflix with the TunnelBear server in the United States. But I found that TunnelBear does not work with Netflix and returned the infamous proxy error with the US server.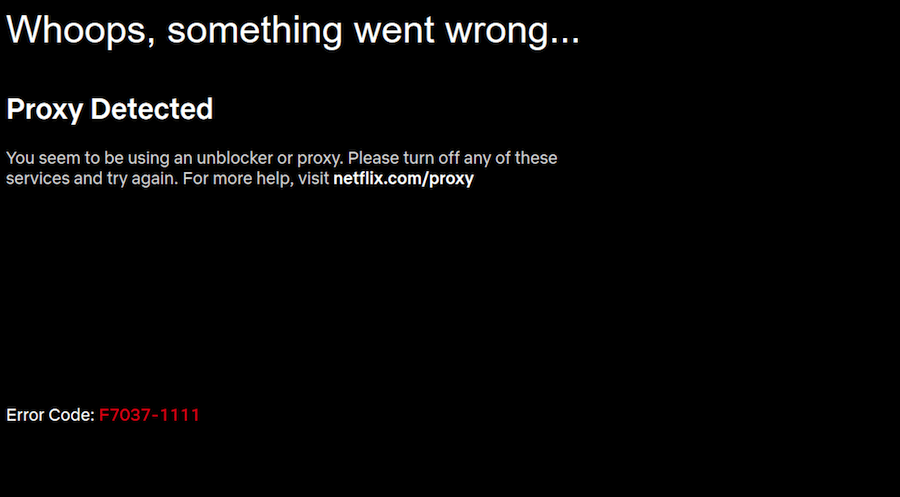 Fortunately, there are many other Netflix VPN services to consider.
Netflix is not the only problematic area when it comes to streaming. We also found Tunnelbear to be blocked when trying to stream Amazon Prime. Check out our guide on the best VPNs for Amazon Prime for alternatives.
Does TunnelBear work for torrenting?
In years past, we saw that TunnelBear would actively block torrents on its network. Today, however, torrenting does seem to work. But don't hold your breath.
TunnelBear was very slow in our tests. Therefore it would not be a good VPN for torrenting due to slow file transfer speeds. And of course, there are very few servers to choose from, which hinders your ability to find a fast server for torrenting near your location.
Recommendation: Don't use TunnelBear for torrenting.
Limited customer support
Last, but not least, is the issue of support.
With TunnelBear, support is very limited:
No live chat support at all
"Help" section takes you to a generic page for FAQs
No clear ways to email questions or submit help tickets
Previously, TunnelBear offered email support. I would rate it as mediocre.
Today, however, there does not appear to be any obvious option to email support or submit a help ticket – at least for those of us with a free plan. This is a major drawback, especially when you consider it in light of the fact that they don't offer refunds.
Unfortunately, they have done a great job of making it difficult to find a real person who can help.
Additional research findings
Here are some additional findings for this TunnelBear review.
Tunnelbear VPN bought by McAfee
TunnelBear VPN is a service offered by Tunnelbear Inc. that appears to be based in Toronto, Canada. However, in March 2018, TunnelBear VPN was purchased by McAfee, the US cybersecurity company.
This is part of the growing trend we've seen of VPNs getting bought up by large companies. CyberGhost VPN was also acquired by a large advertising/tech conglomerate.
Since the purchase, it doesn't seem like much has changed. I could not find any mention of McAfee on the website. Additionally, the purchase details (price) were also not disclosed publicly.
Does TunnelBear work in China? (Obfuscation GhostBear feature)
TunnelBear provides an obfuscation (Stealth VPN) feature called GhostBear.
This basically hides (obfuscates) your VPN traffic to protect you against deep packet inspection (DPI) and VPN restrictions. Obfuscation is a must-have feature where VPNs are getting blocked. This is often the case in restrictive countries, such as China and Saudi Arabia, as well as with work or school networks.
The GhostBear obfuscation feature is available on Windows, Mac OS, and Android. You can enable the GhostBear feature under Settings > Security as seen below with the TunnelBear Windows client.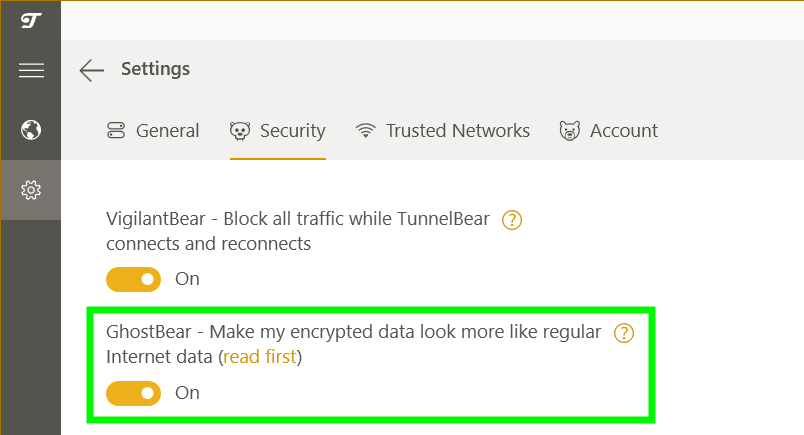 Tunnelbear uses Obfsproxy as its primary obfuscation feature.
Note: I have not heard any reports of TunnelBear working well in China, since the vast majority of VPNs there are getting blocked. See our guide on the best VPN for China for more information.
TunnelBear logging policy
Unfortunately, TunnelBear is another VPN service that claims to have a "no-logging policy" but then discloses data that is "collected" in their privacy policy.
Here is how the "no logging" policy is being marketed on the website:

Now we will take a look at the fine print.
If you read the TunnelBear privacy policy, you find that TunnelBear "collects" (logs) the following data when you use the VPN service:
Operating system version
TunnelBear app version
Active for the month (1 or 0)
Monthly bandwidth usage
You can read the details in the Privacy Policy here.
Is this a big deal?
It all depends on how much privacy and security you are looking for — and what amount of data you are comfortable with TunnelBear having.
There are also a few VPNs with no logs that have been verified.
TunnelBear VPN FAQ
While we tried to answer all your questions in detail in the body of this review, sometimes all you need is a quick answer to your question. Here are some frequently-asked TunnelBear questions (and their answers).

Is TunnelBear VPN secure?

TunnelBear is one of the few VPN services that has successfully had its security audited by a third-party (outside) auditor. In their case, Cure53 conducted the audit and found that TunnelBear was secure.


Is TunnelBear really free?

TunnelBear is definitely not free. TunnelBear offers an extremely limited free trial. You get to transfer 500 MB of data during the trial period. That is an extremely small amount of data, not really enough to do any decent testing in our opinion.


Is TunnelBear good for streaming?

TunnelBear is not a good VPN for streaming. In our testing, it failed to connect to Netflix and Amazon Prime video.


Is TunnelBear good for torrenting?

TunnelBear no longer blocks torrent sites, and it is a secure VPN so torrenting with it would be safe. However, because TunnelBear is very slow, your downloads would take a long time so we recommend faster secure VPNs for torrenting.


Is TunnelBear good for China?

We honestly can't say whether or not TunnelBear is good for China. They have GhostBear, an obfuscation protocol that is designed to evade internet censorship systems like the Great Firewall. But nowhere on the TunnelBear site do they claim that their VPN works for China, and we have not seen any reports claiming success.

If you need to use a VPN there, we suggest you select one from our list of the best VPNs for China to be safe.

TunnelBear Review Conclusion: Not Recommended
We put TunnelBear through some intense testing and research for this review. Unfortunately, it did not fare well during this process. We can't recommend you use it.
Passing a security audit as it did a few years ago still leaves it ahead of most VPN services in this area. But the VPN market is continuously advancing. We don't see a lot of improvement in TunnelBear, leaving it lagging farther and farther behind the leading VPN services in many areas.
Also, when you consider the price, it's definitely not what I'd consider a "good deal". At about $5 per month (annual plan), you really aren't getting much for your money:
Slow speeds
No access to Netflix and other streaming sites
No refunds
Extremely small server network (only one server in the US!)
Limited customer support
TunnelBear does have some things going for it, but it also has many areas to improve before it can compete with the big players.
Alternatives to TunnelBear VPN
Click the VPN name below to read our full review – or grab the discount for the best savings. All three of these VPNs have a 30-day money-back guarantee.
You can also check out our guide on the best VPN services for other recommendations.
If you have used TunnelBear VPN, feel free to share your honest review (good or bad) below.
This TunnelBear VPN review was last updated on January 7, 2023.