ExpressVPN and Surfshark are both big names in the VPN industry. While ExpressVPN is a longstanding veteran, Surfshark is a relative newcomer with rapid innovation, numerous features, and low prices. So which one comes out on top in this ExpressVPN vs Surfshark comparison?
Based on the latest test results and analysis, Surfshark is the winner for 2022. In comparison to ExpressVPN, Surfshark offers faster speeds, better apps, more security features, better support for streaming. Finally, Surfshark is also a much cheaper than ExpressVPN and an overall better value (see the coupon in the table below).
This table highlights the main facts about each VPN:
| | | |
| --- | --- | --- |
| | ExpressVPN | Surfshark |
| Website | ExpressVPN.com | Surfshark.com |
| Location | British Virgin Islands | The Netherlands |
| Servers | 3,000+ | 3,200+ |
| Countries | 94 | 95 |
| Logs | No logs (audited) | No logs |
| Torrenting | All servers | All servers |
| Support | Knowledge Base; 24/7 live chat | Knowledge Base; 24/7 live chat |
| Apps for | Windows, macOS, Linux, Android, iOS | Windows, macOS, Linux, Android, iOS |
| Price | $6.67 | $2.21 |
| Best Deal | 49% Off Coupon > | 83% Off Coupon > |
We tested out and examined each of these VPNs in ten different categories — and the test results revealed a clear winner. If you've been wondering whether to go with Surfshark or ExpressVPN, this comparison guide will give you a definitive answer.
Here are the areas we'll examine in this Surfshark vs ExpressVPN comparison:
VPN Apps
Speeds
Reliability
Features
Security
Logging and Privacy
Torrenting
Netflix & Streaming
Prices and Refunds
Value
So let's get to it, starting with examining the VPN apps.
VPN Apps comparison: Surfshark and ExpressVPN
Both Surfshark and ExpressVPN offer good VPN apps that performed well in our tests. The main areas we are focusing on here are the design and usability of the VPN apps (user experience).
First let's take a look at the ExpressVPN apps. Below you can see that the ExpressVPN desktop client is clean, minimal, and not overly cluttered.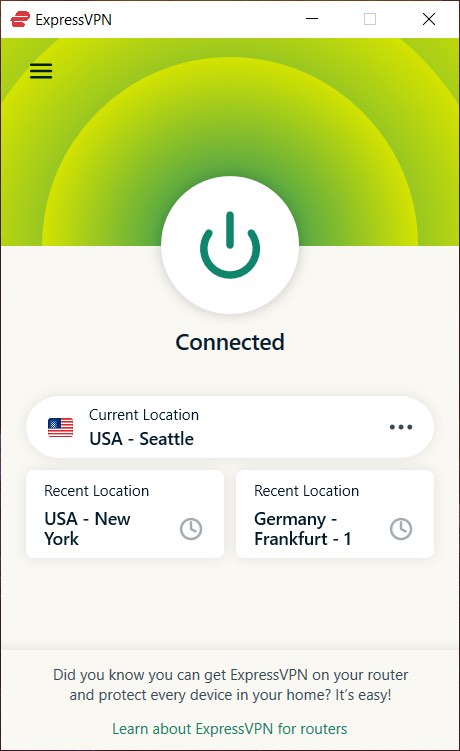 You can get access to more features by clicking the three lines in the top-left corner. This will open up a second window on your desktop. For me, this is a drawback because a second window takes up more space on your desktop, rather than having all features right in the same window.
Additionally, switching servers usually requires a second window to pop up, which includes a list of server locations to choose from. The only exception to this is if you select one of the two quick-connect servers locations at the bottom of the app.
Not adjustable – Another drawback with the ExpressVPN desktop apps is that the size is not adjustable.
Surfshark VPN apps
In contrast to ExpressVPN, Surfshark VPN apps include all features and settings within the same window. In other words, a second window will not pop up. Below is the Surfshark Windows VPN app we tested, which allows you to select different tabs on the left to change servers, features, etc.
To switch servers, features, or settings, simply select the appropriate tab or icon in the left side of the Surfshark desktop app.
Another big difference between the Surfshark and ExpressVPN desktop apps is that Surfshark is customizable. For example, if you want to expand the app, you can simply click the side and then drag it to the size you want. When you make it wider, the Surfshark app will adjust to include server locations and connections status all in the same window. This allows you to easily click a location and switch servers in just a few seconds.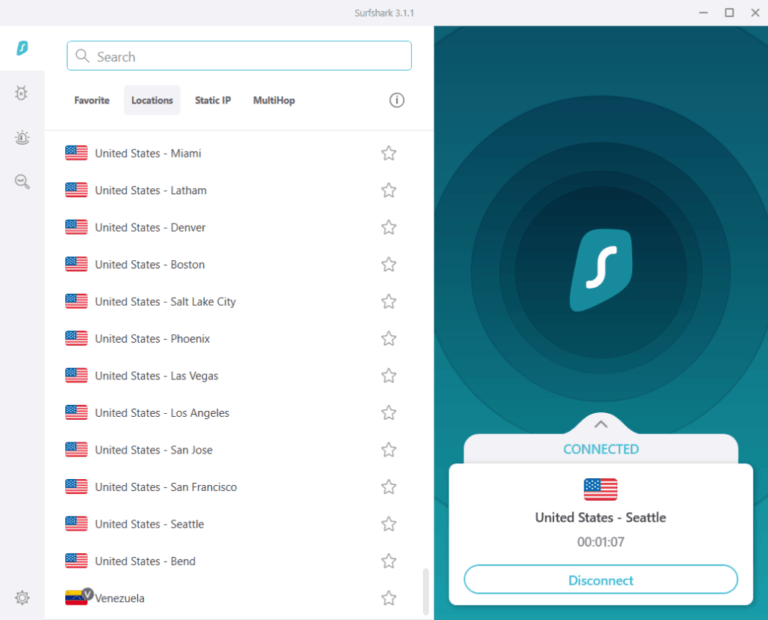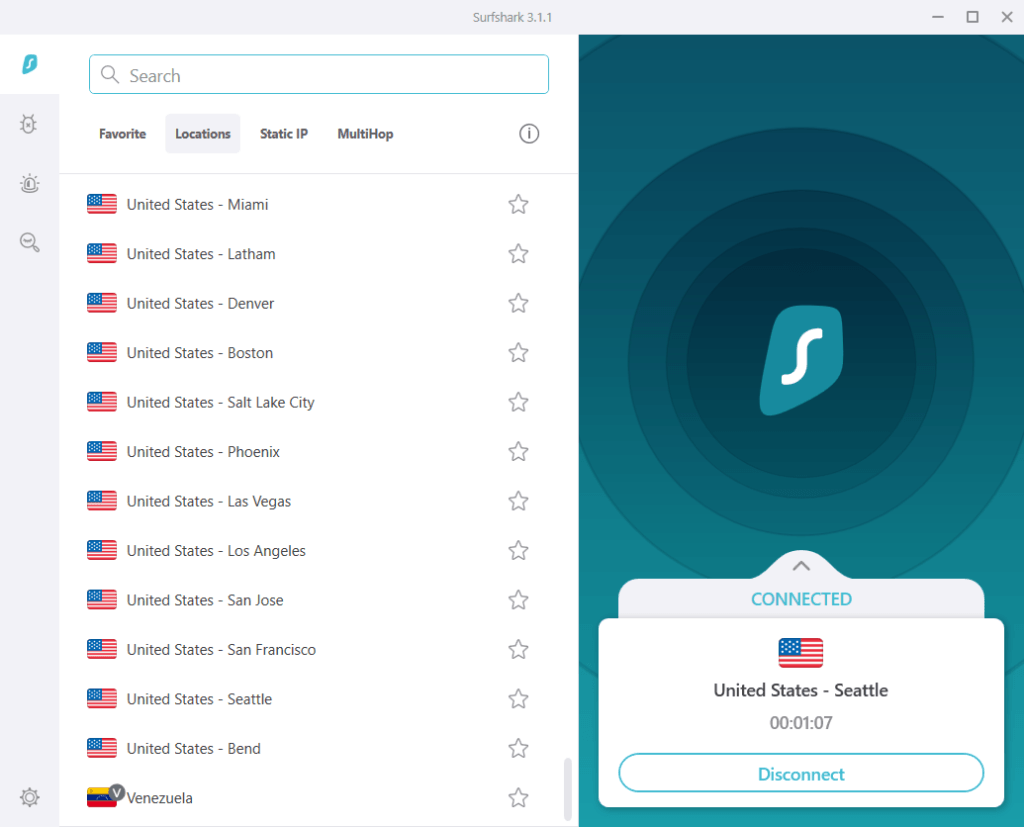 Overall, I would rate the Surfshark VPN apps better than ExpressVPN. While they are both user-friendly, the Surfshark app does not require a second window to open up for features and servers and it is also more customizable.
Winner for VPN apps: Surfshark
---
ExpressVPN vs Surfshark speed test results
Many people want a VPN that delivers the best performance possible. Speed is particularly important for those using a VPN for streaming, torrenting, and other high-bandwidth activities.
Testing variables – All of the ExpressVPN vs Surfshark speed tests below were conducted on a 500 Mbps connection using the official VPN apps. Both of these VPNs have released new VPN protocols to deliver faster speeds, and I used these protocols for the tests:
Lightway protocol with ExpressVPN – This protocol promises to be faster and more lightweight than OpenVPN, while also delivering better mobile performance. Like OpenVPN, it uses and AES cipher.
WireGuard protocol with Surfshark – The WireGuard VPN protocol is taking the VPN world by storm because it is extremely fast and very secure, with the upgraded Chacha20 ciphers. It delivers speed, reliability, and security, while also being open source (and used by many other VPN services).
Test #1: Seattle, USA
Here was the ExpressVPN server in Seattle: 136 Mbps

This is not a very good speed test result from ExpressVPN. I would expect over 200 Mbps, especially considering the close distance (low ping) between me and the VPN servers.
The Surfshark server in Seattle: 308 Mbps

Now we're talking. Surfshark was about 172 Mbps faster than ExpressVPN with servers in Seattle. That is a huge difference. And at over 300 Mbps, you can enjoy the best speeds for any high-bandwidth activities.
Test #2: Los Angeles, USA
ExpressVPN server in Los Angeles: 209 Mbps

At over 200 Mbps, we see ExpressVPN performing better than the previous location, but still not close to Surfshark.
Surfshark server in Log Angeles: 346 Mbps

Here we can see that Surfshark is still about 137 Mbps faster than ExpressVPN.
Test #3: New York, USA
ExpressVPN server in New York: 214 Mbps.
This is about on par with our other ExpressVPN speed test results. Now for Surfshark.
Surfshark server in New York: 397 Mbps.

At nearly 400 Mbps, Surfshark is one of the fastest VPNs we have tested. With the New York server location, Surfshark is nearly twice as fast as ExpressVPN.
Lastly, we also tested servers in the United Kingdom.
Test #4: United Kingdom
ExpressVPN server in the UK: 235 Mbps.

This was the best speed test we've seen from ExpressVPN. But again, it's still not on par with Surfshark.
Surfshark server in the UK: 330 Mbps.

This was the slowest Surfshark speed test result, but it is still nearly 100 Mbps faster than ExpressVPN.
Why is Surfshark so much faster than ExpressVPN?
It's clear from our test results that Surfshark is faster than ExpressVPN in all locations that we tested. One of the reasons for this is that the WireGuard VPN protocol used by Surfshark is faster than Lightway protocol used by ExpressVPN. Another reason is that Surfshark simply offers a faster server network with more bandwidth available to its users.
Fastest VPN tested – Right now the fastest VPN we have tested is NordVPN with the WireGuard protocol. But aside from WireGuard, NordVPN also offers very fast speeds with the OpenVPN protocol, as well as with all Double-VPN server configurations. You can see it outperforming ExpressVPN in our ExpressVPN vs NordVPN comparison.
To get the fastest VPN speeds possible, then check out NordVPN with WireGuard.
However, for the price, Surfshark is still hard to beat as it significantly outperforms ExpressVPN with all locations.
Winner for speeds: Surfshark
---
Reliability: Is Surfshark or ExpressVPN better?
Both Surfshark and ExpressVPN are reliable VPN services that consistently work well. If your biggest concern is reliability, you can't go wrong with either of these VPNs. We'll examine each below.
Surfshark reliability
Based on all of the tests we ran for the Surfshark review, we found this service to be very reliable. Here are some reasons why:
Reliable VPN apps – The Surfshark VPN apps we tested were very reliable and did not suffer from bugs, timeouts, or any other failures.
Reliable servers – The Surfshark server network offers consistently fast and reliable performance.
Stable connections – Connections with Surfshark were also reliable, without frequent drops or disconnects.
In short, Surfshark is a very reliable VPN service. Now let's examine ExpressVPN.
ExpressVPN reliability
Similar to Surfshark, ExpressVPN is also a reliable service:
Reliable VPN applications: Whether you are using the Lightway or OpenVPN protocols, ExpressVPN offers reliable VPN apps.
Reliable servers: Even though the speeds aren't quite as fast as with Surfshark, the ExpressVPN server network is still reliable.
Reliable Connections: We did not find any connection problems when testing out ExpressVPN.
Tiebreaker: Streaming and performance
Many people use a VPN to stream media, and therefore streaming reliability is a big consideration. Unfortunately, ExpressVPN did not do well with streaming some content. Specifically, we found ExpressVPN getting blocked by BBC iPlayer, as we'll cover more below in the streaming category.
Surfshark is very reliable with accessing streaming websites, as our tests verified below. The fact that it offers more reliability with streaming and also speeds means that it wins this category.
Reliability Winner: Surfshark
---
Features comparison
Perhaps you just need a basic VPN to hide your IP address. If this is the case, either of these VPNs will do.
However, if you want a VPN that offers lots of features, then you will want to take a closer look because there is a big distinction for this category.
ExpressVPN has fewer features than Surfshark
ExpressVPN does is a fairly basic VPN service without many bells and whistles, so to speak.
One of the main features with ExpressVPN is split tunneling. This feature allows you to route specific apps or websites outside of the VPN tunnel. We also see this feature with both NordVPN and ProtonVPN. You can see the split tunneling option with ExpressVPN below: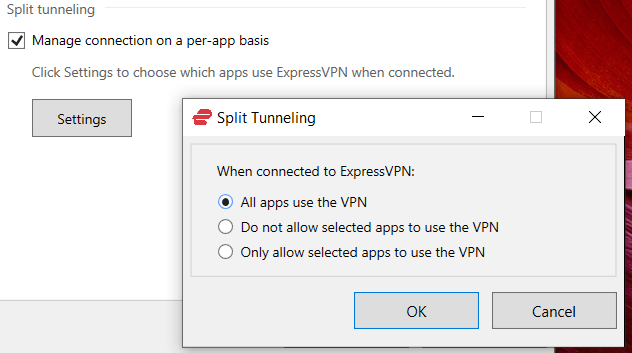 A split tunneling VPN feature is fine, but I don't see this as a major addition to any VPN service. And Surfshark has the feature as well.
Lightway Protocol – The Lightway protocol is unique to ExpressVPN because they built it from the ground up (unlike WireGuard with Surfshark). And while Lightway does offer faster speeds than OpenVPN, it does come with a few noteworthy drawbacks. Here are a few areas that Lightway differs from Surfshark VPN:
Lightway is not as fast as WireGuard.
Limited adoption: Lightway is only used with ExpressVPN, while WireGuard is trusted and used by many VPN providers.
While Lightway is not a terrible option, it still lags behind the WireGuard protocol. Meanwhile, the WireGuard VPN protocol is now supported by Surfshark and NordVPN, as well as many other VPN services.
There are a few other security aspects of ExpressVPN that they brand as features. One example of this is running all servers in RAM-disk mode, which they call the "TrustedServer feature." But again, Surfshark also runs all servers in RAM-disk mode and does not call this a feature. So let's examine Surfshark features now.
Surfshark VPN features
With features, Surfshark really stands out from ExpressVPN.
Here are some of the big areas where Surfshark offers more features than ExpressVPN:
Double-VPN servers – With Surfshark, you can select from fourteen different double-VPN server configurations. This adds an extra layer of encryption by routing your traffic over two different VPN servers.
Static IP servers – These servers give you the same IP address every time you connect to them (rather than shuffling through different IP address shared by all the users on that server). (Note that this is different from a VPN with a dedicated IP address that only you use.)
NoBorders feature – This allows you to get around VPN blocks in places that use censorship to inhibit VPN users. The NoBorders feature is useful if you need a VPN for China or VPN for UAE, where VPNs are blocked.
Camouflage mode – This hides your VPN traffic by encapsulating it with an additional layer of HTTPS encryption. This way, even your ISP won't know you are using a VPN.
Bypasser – This is a split tunneling feature, just like we discussed above with ExpressVPN.
Just from the list above we can see that Surfshark offers many more features than ExpressVPN. But there's more.
CleanWeb – CleanWeb is a basically VPN ad blocker. This will block ads, trackers, and even malware domains from loading on your device. You can enable it directly in the Surfshark app and it will work on your entire operating system through the VPN itself.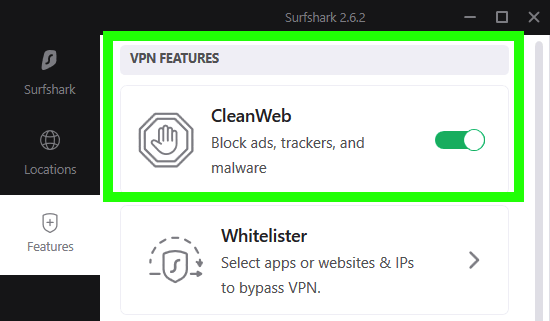 Lastly, we should also discuss WireGuard.
WireGuard advantages with Surfshark
We already covered how ExpressVPN does not support WireGuard and has instead developed its own Lightway protocol. Surfshark, however, has decided to implement WireGuard, like many other VPN services have done. Here are some benefits of the WireGuard VPN protocol:
Fast to establish a connection (often under a second)
Seamless transition between networks, such as when switching from WiFi to 4G
Improved battery life with mobile devices
Improved reliability and fewer dropped connections
To sum everything up with features, Surfshark offers better and more features than ExpressVPN.
Features winner: Surfshark
---
Security and encryption
With security, both Surfshark and ExpressVPN are on solid ground. So let's examine each one.
Encryption comparison
Both Surfshark and ExpressVPN utilize strong encryption standards.
ExpressVPN: Data is encrypted with an AES-256 cipher, SHA-512 hash authentication, and a 4096-bit RSA key exchange.
Surfshark: Data is encrypted with an AES-256 cipher, SHA-256 hash authentication, and a 4096-bit RSA key exchange.
The encryption we see here with each VPN is basically the same. While there is a small difference in hash authentication, both standards are considered very secure.
VPN protocols
Both ExpressVPN and Surfshark support the standard VPN protocols, as you can see below.
ExpressVPN: OpenVPN UDP, OpenVPN TCP, IPSec/IKEv2, IPSec/L2TP, and Lightway protocol (currently in BETA)
Surfshark: OpenVPN UDP, OpenVPN TCP, IPSec/IKEv2, Shadowsocks, and WireGuard
The big difference here is that Surfshark is using a widely adopted VPN protocol with WireGuard. In contrast, ExpressVPN is using a self-developed protocol called Lightway, which no other VPNs are using at this time.
While both VPNs offer secure protocols, Surfshark would have a slight edge in this sub-category with its support of WireGuard.
Server security
With server security, both ExpressVPN and Surfshark do well.
Here are some factors to consider with ExpressVPN and server security:
All servers run in RAM-disk mode. This offers a high level of security because data cannot be stored on any server.
Uses some virtual server locations. We find this with both Surfshark and ExpressVPN.
Now looking at Surfshark:
All servers operating in RAM-disk mode (just as we see with ExpressVPN).
Uses a few virtual server locations for exotic locales (just like ExpressVPN).
Both Surfshark and ExpressVPN come out equal with server security.
Leak protection
Most people using a VPN do not want to have any type of data leaks. Fortunately, both Surfshark and ExpressVPN protect you in this regard. Both of these providers include built-in leak protection features that I tested and found to work well:
IPv4 and IPv6 leak protection
DNS leak protection
Kill switch to block traffic if the VPN connection drops
Neither ExpressVPN nor Surfshark suffered any data leaks in my tests. Both are secure.
Overall Security winner: Tie
---
Logs and Privacy: ExpressVPN vs Surfshark
Both Surfshark and ExpressVPN are solid choices when it comes to logging policies and privacy. But there is a slight difference that makes ExpressVPN come out on top.
Surfshark logging policy
Surfshark is a no logs VPN service, as they explain on their website and also in the privacy policy.
Surfshark respects your privacy, therefore we are committed to not process any data related to the online activity of our users. Surfshark is based in the British Virgin Islands, which does not require data storage or reporting. We do not collect IP addresses, browsing history, session information, used bandwidth, connection time stamps, network traffic and other similar data.
This all sounds good. However, Surfshark has not undergone a third-party audit to verify that it is a no-logs VPN provider.
ExpressVPN logging policy
Like Surfshark, ExpressVPN is also a no-logs VPN service, as they explain on the website:
ExpressVPN stores no activity logs and no connection logs from our users. Here's what that means:

No activity logs. ExpressVPN does not see or record which websites you visit. We never log the destination or contents of your traffic, and we run our own private, zero-knowledge DNS on every VPN server for added privacy and anonymity.

No connection logs. ExpressVPN never logs connection timestamps, session duration, your source IP address, or the ExpressVPN IP address that your computer assumes when connected to the VPN.
Verification: Unlike Surfshark, ExpressVPN has completed a third-party no logs audit. The audit was carried out by PWC and verified the no-logs policy and privacy protection measures are in place.
Jurisdiction: BVI vs Netherlands
Another important consideration with privacy is where the VPN is legally located (jurisdiction). Some VPN providers are located in a bad privacy jurisdiction, such as the US or UK, and this means they can be forced to log user data and hand it over to governments. We discussed this in the IPVanish review, where they were forced to log user data for the FBI, all while claiming to be a "zero logs" VPN.
Today, ExpressVPN is based in the British Virgin Islands. The BVI is an excellent privacy jurisdiction that protects users. Surfshark, however, is based in The Netherlands. While this is not an ideal privacy jurisdiction, being located in Europe, it is also not a horrible location either.
Conclusion on privacy and logs – This is a very close category, with both VPNs doing well. However, because ExpressVPN has passed a third-party audit to confirm the no-logs policy, it comes out on top.
Logs and privacy winner: ExpressVPN
---
Torrenting: Is ExpressVPN or Surfshark the best?
Surfshark and ExpressVPN are both good options for torrenting, but this category was not a tie.
When we look for the best VPN for torrenting, there are two big factors to examine:
Speeds – You will want a fast VPN for torrenting that can facilitate large file transfers. Surfshark is the winner here.
Leak protection – Nobody wants to get a DMCA notice because their VPN was leaking when torrenting movies. Fortunately, both of these VPNs offer great leak protection.
The real difference between ExpressVPN and Surfshark when it comes to torrenting is download speed. Recall that we were able to get up to 397 Mbps with Surfshark in our download speed tests:

And another great thing about Surfshark is that every VPN server in the network is P2P-friendly. Therefore you don't have to worry about torrenting restrictions or blocks with this VPN.
Torrenting winner: Surfshark
---
Netflix and streaming support
VPNs are becoming extremely popular for streaming and unblocking content from around the world. To satisfy our readers, this is a critical area we test and examine in our VPN reviews.
With ExpressVPN and Surfshark, there is a big difference in streaming support.
ExpressVPN Netflix – ExpressVPN offers continuous access to Netflix, but only with a few Netflix regions. Based on my conversations with ExpressVPN support, and also testing out the service for the ExpressVPN review, here are the drawbacks I noted:
Fewer Netflix regions supported. The main regions supported by ExpressVPN are USA, Japan, and UK, but a few other regions may also work.
Slower speeds (but you should still have plenty of speed to stream Netflix in HD with ExpressVPN).
So if you just want to access USA Netflix, ExpressVPN should be fine, even though it is more limited than Surfshark.
Surfshark Netflix – In comparison to ExpressVPN, Surfshark supports a larger selection of Netflix regional libraries. Surfshark officially supports 15 different Netflix libraries, which is a much larger selection than ExpressVPN. We rate Surfshark as one of the best VPNs for Netflix.
Surfshark works with more streaming services than ExpressVPN
One recurring problem we have found with ExpressVPN is that it gets blocked with some of the most popular streaming services. Take for example BBC iPlayer, a popular media channel out of the UK. For much of the past year, ExpressVPN was completely blocked from BBC iPlayer and popular Netflix regions.
Surfshark stands out from ExpressVPN in the streaming category for these reasons:
More Netflix regions supported
Continuous access to a larger number of streaming sites and services
Here we found Surfshark VPN to work perfectly with BBC iPlayer (no blocks):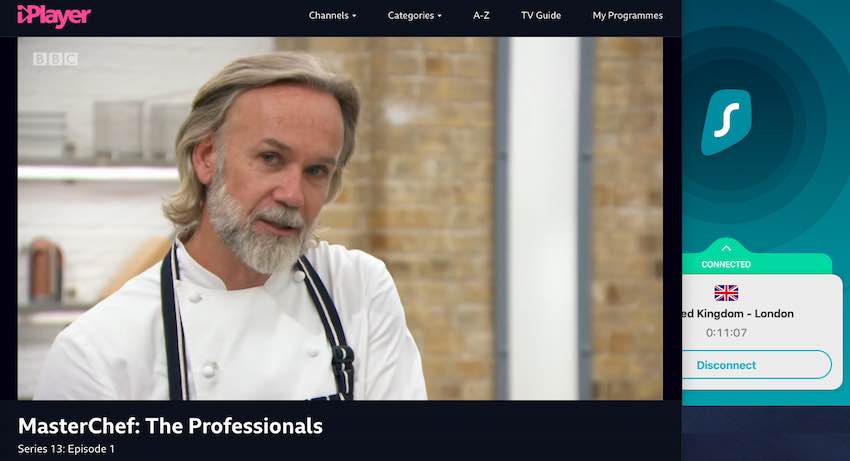 Surfshark is the big winner in the streaming category because it works with more services around the world than ExpressVPN.
Netflix and streaming winner: Surfshark
---
Prices and refunds
In the price category there is a huge difference.
First, let's just compare the prices of Surfshark and ExpressVPN:
ExpressVPN prices
Monthly Plan: $12.95/mo
6-Month Plan: $9.99/mo
15-Month Plan: $6.67/mo
It's obvious from the data above that Surfshark offers significantly cheaper prices. In fact, we consider it to be one of the best cheap VPNs on the market, under $4 per month.
In contrast to Surfshark, the cheapest monthly rate you can get on ExpressVPN is $6.67. This means ExpressVPN is more than double the cost of Surfshark. The cheapest price you can get with Surfshark is $2.21 per month with the two-year plan when you use this coupon for three months free >>

Now let's examine refund policies.
Both VPNs = 30 day refund window
With both Surfshark and ExpressVPN, you get a 30 day refund window with all subscription plans. This is great, especially with many VPNs offering only a 7 day refund window. Note that there are more VPNs moving to the 30 day refund window, as we discussed in our NordVPN vs IPVanish comparison.
Prices and refunds winner: Surfshark (by a mile)
---
Is ExpressVPN or Surfshark the best value?
The last thing we will examine in our comparison of Surfshark and ExpressVPN is the question of value.
Which VPN offers the best value for your money?
We've already noted that Surfshark is significantly cheaper than ExpressVPN. However, even more important than price is the fact that Surfshark offers more value for your money in these areas:
Faster speeds than ExpressVPN
More features than ExpressVPN
Better support for streaming services (not getting blocked like ExpressVPN)
Unlimited connections (ExpressVPN gives you six connections)
Cheaper price
In addition to everything noted above, I also think Surfshark's decision to implement the WireGuard VPN protocol gives it a big edge over ExpressVPN, which uses the self-developed Lightway protocol. WireGuard certainly seems like the future of VPNs, especially with its top-notch performance on mobile devices and blazing-fast speeds.
After looking at all these factors, it seems clear that Surfshark gives you more bang for your buck, as the saying goes.
Value winner: Surfshark
---
Which is better ExpressVPN or Surfshark?
When you examine the 10 categories we used for testing and analysis, it is clear that Surfshark comes out on top and is a better VPN service than ExpressVPN.
To summarize, Surfshark won in eight categories, ExpressVPN was the winner in one category, and one category was tied:
VPN Apps – Surfshark
Speeds – Surfshark
Reliability – Surfshark
Features – Surfshark
Security – Tie
Logging and Privacy – ExpressVPN
Torrenting – Surfshark
Netflix & Streaming – Surfshark
Prices and Refunds – Surfshark
Value – Surfshark
Overall winner: Surfshark VPN
For the record, we like and recommend both of these VPN services.
However, in the past year, we have seen Surfshark improving while ExpressVPN has stagnated or gotten worse in a few key areas.
Ultimately, either of these VPNs may be the right choice for your unique circumstances. And both offer a 30 day money-back guarantee, which means you can test each one risk-free and keep the service you like the best.
Whichever VPN you decide to go with, be sure to get the best savings with the discounts below:
Surfshark VPN Coupon

Get 83% off Surfshark VPN (drops the price down to $2.21 per month) + 3 months FREE:
(Coupon is applied automatically.)
This discount link drops the price of Surfshark down to $2.49 per month.
So now let's take a look at the best deal from ExpressVPN.
ExpressVPN Coupon Deal

Sign up for the 12-month plan and get 3 months added to your subscription for free.
(Coupon is applied automatically.)
This discount link drops the price of ExpressVPN to $6.67 per month and includes three months free.
And if you have used either of these VPNs, feel free to drop a comment below to help others decide which one to go with.
This Surfshark vs ExpressVPN comparison guide was last updated on September 21, 2022 with new info and test results.