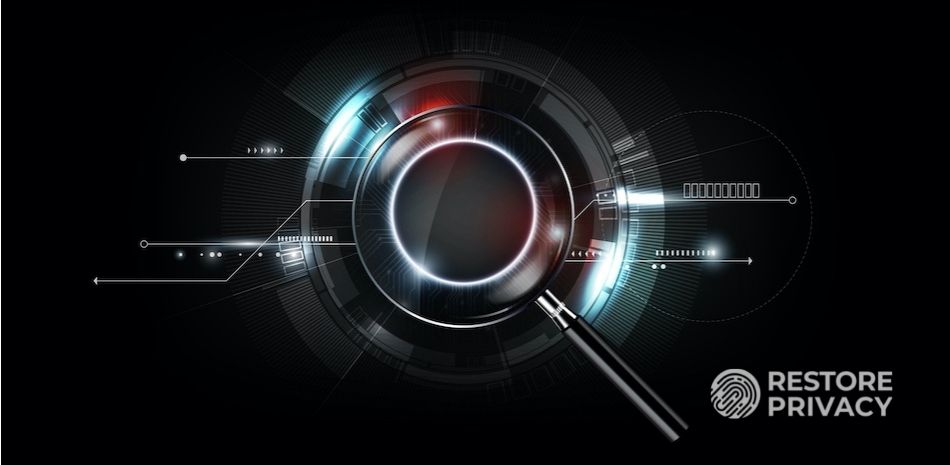 Imagine reading a glowing review online about a VPN service. You have read through the website, analyzed the pricing options, and are just about to purchase a subscription — but then something changes your mind.
You learn that the VPN "review" website you have been reading is actually owned by the VPN service itself. In other words, they wrote their own glowing review. Could any information on the website be trusted knowing that it was influenced by the owners of the site?
Would you trust a movie review that was written by the director of the movie? Or how about a book review that was written by the book's author? Of course, this would be absurd because there's an obvious conflict of interest. After all, a review is supposed to be unbiased and objective, otherwise it's no different from an advertisement.
A conflict of interest
Today, most people go online to research products and services before making a purchase. In fact, some studies suggest that, "84 percent trust online reviews as much as a personal recommendation" — but is this trust warranted? In some cases, we believe the answer is no.
When the same company runs both the VPN service and also the VPN review website that rates and recommends the same service, this can create a conflict of interest. How serious of an issue is this? Well, you can decide that for yourselves after reading this report.
So let's begin by examining the players.
Kape Technologies owns CyberGhost, Private Internet Access, Zenmate, and now ExpressVPN
We have been following Kape since it first appeared on our radar in 2017 after buying CyberGhost VPN. Back in 2017, the company was named Crossrider and it was often connected with malware that infected devices via packaged software bundles — see this blog post from Malwarebytes. However, we examined the history of Crossrider and discovered that while its platform was used for malware by third parties, Crossrider was not the creator or distributor of malware. In 2018, Kape purchased ZenMate VPN, which was a smaller VPN service based in Germany.
Then, in 2019, Kape purchased Private Internet Access (PIA). This was an interesting acquisition that greatly expanded Kape's influence in the VPN market. We wrote an in-depth report on Kape and Private Internet Access, including the history of each company.
Update: In September 2021, we learned about plans for Kape to purchase ExpressVPN. This trend of consolidation in the VPN industry is not something we like to see, since it creates fewer independent VPNs.
To summarize, Kape is now the owner of four VPN services: CyberGhost, ZenMate, Private Internet Access, and also ExpressVPN. Now let's fast forward to 2021 when Kape entered the world of VPN review websites.
Kape purchases vpnMentor.com and Wizcase.com
In March 2021, news broke that Kape had purchased Webselenese, which is the parent company of vpnMentor and Wizcase. These are two large VPN review websites that collectively get about 6.8 million visitors per month according to Ahrefs data (May 2021). Webselenese is based in Tel Aviv, Israel and was sold to Kape for $149.1 million, as you can see in the press release here.
Both vpnMentor and Wizcase now have a disclosure near the top of the websites explaining how they are owned by Kape. Here is the disclosure we see on vpnMentor when you click on "Ownership" :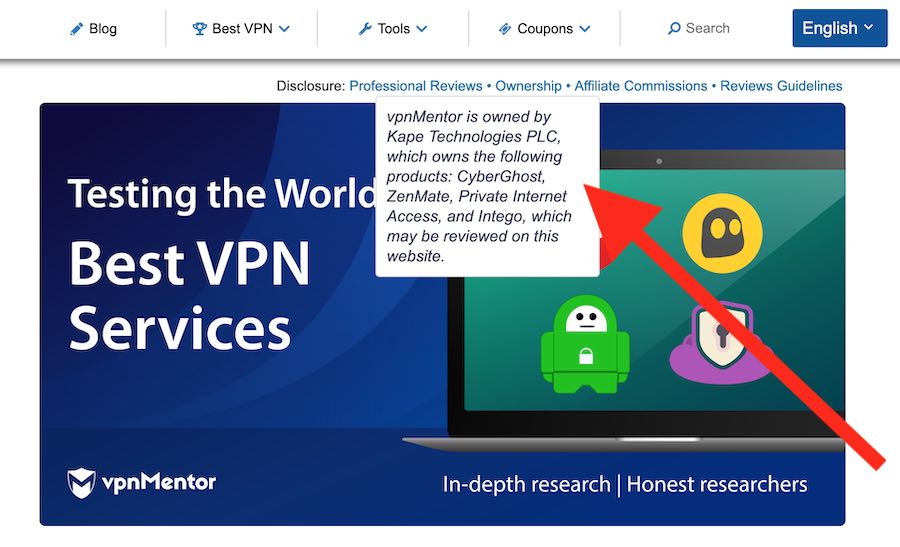 We see a similar disclosure on Wizcase.com:

Note: With both of these websites, you will only see the disclosures if you actually click on the "Ownership" link, which then opens a small box with the disclosure.
Now, perhaps you are wondering if the new ownership changes of these VPN review websites would have a change in the rankings and recommendations.
VPN recommendations change after Kape purchases vpnMentor and Wizcase
Now let's examine how the rankings changed after the acquisition.
The table below highlights the rankings on vpnMentor's homepage before and after the site was purchased by Kape. Notice the changes in CyberGhost and Private Internet Access.
Before ownership change
NordVPN
ExpressVPN
Surfshark
CyberGhost
Private Internet Access
After ownership change
ExpressVPN
CyberGhost
Private Internet Access
IPVanish
PrivateVPN
With vpnMentor.com, you can see that NordVPN and Surfshark have been completely removed from the top recommendations. Additionally, CyberGhost and Private Internet Access have gone up in the rankings to the #2 and #3 spots after the ownership changes.
We see similar developments with the before and after changes on Wizcase.com:
Before ownership change
NordVPN
ExpressVPN
Surfshark
CyberGhost
Private Internet Access
After ownership change
ExpressVPN
CyberGhost
Private Internet Access
PrivateVPN
HMA VPN
Just like with vpnMentor, we see that the parent company's brands were raised in the recommendations, while some competing brands were dropped entirely (NordVPN and Surfshark).
j2 Global owns PCMag, Mashable, IGN, and more
j2 Global is a company that owns numerous digital publications and brands. Many of these digital publications are in the business of reviewing, ranking, and recommending VPN services. This is the case with these j2 Global brands: PCMag, IGN, Mashable, ExtremeTech, RetailMeNot, and more.
You can see all of the j2 Global brands here. Below is a snapshot of just the group of Technology brands owned by j2 Global.

A few years back, j2 Global also began acquiring VPN services.
j2 Global purchases IPVanish, StrongVPN, Encrypt.me, SaferVPN, and more
In April of 2019, a disclosure began appearing on PCMag articles that stated,
Disclosure: PCMag's parent company Ziff Davis is owned by j2 Global, which also owns various software products and services including Encrypt.me, IPVanish, and StrongVPN.
After digging into the issue more, we learned that j2 Global had purchased these three VPNs from StackPath, a Texas-based technology company. You can see these VPNs listed under the group of Security brands owned by j2 Global:

In addition to the VPNs listed above, I discovered that j2 Global also owns SaferVPN and WLVPN, which fall under its NetProtect subsidiary, as you can see here. WLVPN is a "white label" VPN service that sells the infrastructure, software, etc. to businesses to create their own "white label" version of a VPN. We discovered this in our Namecheap VPN review when researching the IP addresses and discovering they pointed back to IPVanish servers. There appears to be a few different white label VPNs running on j2 Global's infrastructure, including Namecheap VPN and VPNHub.
IPVanish, the most popular VPN from this group, has undergone a few different ownership changes. This came after the IPVanish logging scandal, where they logged user data for the FBI, all while claiming to be a "no logs" VPN. The privacy scandal appears to have damaged the brand's reputation, which may have been one of the reasons for the sale to j2 Global.
Changes with rankings after the acquisition of VPN brands?
Unlike what we found with vpnMentor and Wizcase above, j2 Global does not appear to be heavily promoting its own brands in the top VPN recommendations. For example, PCMag, which appears to be the largest of the VPN review brands, does not include any j2 Global VPNs in its roundup of the best VPN services (but there is a section on VPN deals with IPVanish). There is also a disclosure in the text about the parent company owning the three VPNs.
Similarly, IGN does not include IPVanish in its top VPN recommendations, as you can see here. We find the same to be true with Mashable's roundup of the best VPNs here.
Can you trust a VPN review website that owns VPN services?
The answer to this question is subjective, simply because trust is a very subjective factor. So you will have to decide the answer for yourself.
In the case of vpnMentor and Wizcase, we can see big changes to their VPN recommendations shortly after the websites were acquired by Kape Technologies. Additionally, some competing VPN brands, such as NordVPN and Surfshark, are gone from the top recommendations on Kape's websites.
Conversely, with j2 Global's collection of publications, we do not see heavy promotion of the parent company's VPN brands or major changes in their recommendations.
Can you eliminate all conflicts of interest?
Conflicts of interest can be problematic in all forms of media. For example, large advertisers pay millions to media companies for ads and may get preferential treatment and reporting in various "news" outlets. The same can be said for digital publications that rely on advertisements, which track users through third-party ad networks.
Some have argued that affiliates also muddy the waters. An affiliate partnership is when a website gets a commission when someone purchases something through links on the site. This commission does not increase the cost of the product to the end-user, but it does help to cover expenses of running the website for content creators.
In a perfect world, perhaps there would be no advertisers, affiliates, sponsors, and the like. But this can make it challenging to pay the bills and support the project over time. With Restore Privacy, we have relied on donations from the very beginning. However, we quickly learned that very few people donate, especially if all of the information is available for free. Furthermore, the few donations we did receive could never cover all the costs of running the site and our time involved. This is explained more on the mission page.
There was previously a VPN review site that relied strictly on donations to fund everything called "That One Privacy Site". It was popular with the Reddit crowd, but this project also fizzled out. First, the updates to the site stopped happening (updates take lots of time and effort). Then the owner of the site sold the domain to a "SafetyDetectives" website, which also uses the affiliate business model.
Why VPN review websites are valuable to VPNs
We noted in the introduction that many people use online reviews when making decisions on products and services to purchase. This trend is also big with VPN services. For this reason, VPN review websites are important for acquiring customers.
It seems that the financial interest in driving traffic to purchase VPN subscriptions is likely to be driving the acquisition of VPN review sites. This comes at a price, however. There is a risk to the website's credibility when you consider the shared ownership and the resultant conflict of interest.
Looking ahead: more consolidation in the VPN, tech, and publication industries
So what does the future hold for VPNs, review sites, and technology blogs in general?
One trend we have seen over the years is consolidation. Large VPN services often grow larger, while smaller services may get purchased by some of the bigger players or go out of business.
Similarly, we see digital publications also undergoing consolidation and change as some of the smaller brands get purchased by outside companies that hold large portfolios of brands. For example, j2 Global is a massive, publicly-traded company with numerous brands and annual revenue in the billions of dollars. Therefore this is a trend that is likely to continue as both VPN services and review websites get acquired by larger players.
As for us, Restore Privacy remains 100% independent. The owner of the site, and all the writers, have no ownership stake in any product or service we discuss or review, and there are no plans to ever sell out. We will continue to deliver unbiased, factual, and up-to-date reviews, reporting, and analysis.
Did we miss any other "review" website that is owned by VPN companies? Feel free to drop a comment below or send us a tip here.