Namecheap, the famous domain and hosting service, offers a VPN service called FastVPN. While it is certainly cheap, Namecheap's FastVPN has a few shortcomings.
Namecheap is a well-known domain registrar and hosting service. The company has been in that business since the year 2000. They have been adding additional types of services since then, and has now entered the VPN market. Today we are going to take another look at Namecheap's FastVPN. Depending on exactly what you are looking for from a VPN, this service could be the one you are looking for.
This service has two big things going for it: a killer low price (indeed a cheap VPN), and an unlimited number of simultaneous connections. It also has a number of drawbacks, which we will talk about in the body of this review.
| | |
| --- | --- |
| VPN | Namecheap FastVPN |
| Based in | United States |
| Logs | Connection logs |
| Price | $0.99/mo. |
| Support | Email and Chat |
| Refund | 30 days |
| Website | Namecheap.com |
One worth noting right away is that during our researching into the background of Namecheap FastVPN, we discovered that it is a rebranded (white label) version of another popular VPN service — one with a controversial past.
So is Namecheap's FastVPN still worth using, or should you move on to better alternatives? We'll answer this question and more in this in-depth FastVPN review.
FastVPN Pros and Cons
Here are the key findings we discovered in our testing and research:
+ Pros
Easy to use VPN apps
Strong encryption and secure VPN protocols
Support for Windows, Mac OS, Linux, Android, iOS, and Routers
No IP address or DNS leaks detected
Support for streaming and torrenting
Multiple payment methods including Bitcoin
Low prices
Unlimited number of simultaneous connections
30 day money-back guarantee
– Cons
Slower than leading VPNs
Buggy VPN apps
Unclear VPN data collection policies
Based in the United States (bad privacy jurisdiction)
Support staff seems anxious to help, but inexperienced
Not very good for streaming
Lacks advanced features
FastVPN interesting FACTs:
Namecheap VPN shares some connections with IPVanish
Moderate-sized network with servers in 50+ countries
FastVPN PROs
FastVPN has a number of good characteristics that you might find appealing, particularly if you are new to using a VPN, or need just the basics.
FastVPN apps are easy to use
While some VPNs expect you to understand encryption algorithms and different VPN protocols, or force you to dig through huge lists of VPN servers to decide which to use, Namecheap VPN is simple and user-friendly. Launch it, click the big red Connect button, and get on with your day.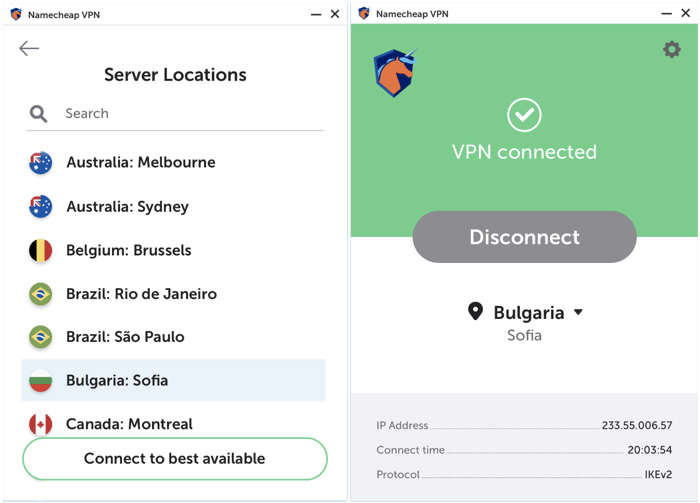 While you can just hit the big red button and forget about it, as shown above, Namecheap VPN does also allow you to choose a specific server manually, if that makes sense for your current situation.
Secure VPN protocols and strong encryption
FastVPN doesn't cut corners when it comes to protecting your data. It uses industry-standard AES-256 encryption, and supports the OpenVPN and IKEv2 VPN protocols, as well as WireGuard. These VPN protocols offer both strong security and good performance.
Beyond this, the VPN also includes a kill switch to keep your data from leaking onto the internet if the connection to the VPN fails for some reason.
On the topic of VPN protocols, Namecheap VPN now supports the WireGuard VPN protocol. WireGuard is a relatively new VPN protocol that offers faster performance and upgraded encryption standards over the legacy VPN protocols, such as OpenVPN and IPSec/IKEv2. We've found WireGuard to offer much faster speeds than other protocols in our WireGuard vs OpenVPN speed tests.
Support for Windows, Mac OS, Linux, Android, iOS, and more
The Namecheap VPN provides support for the top desktop and mobile operating systems, as well as many routers.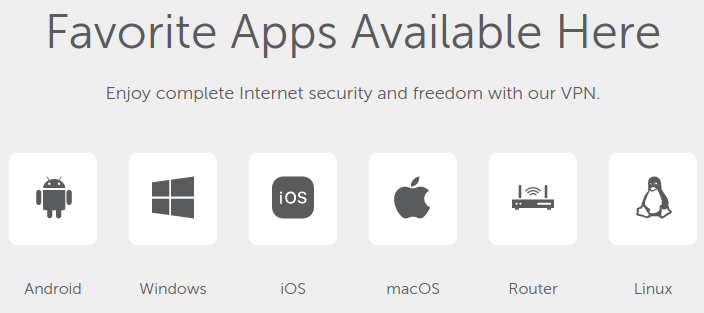 In our research for this review, we discovered that Namecheap VPN shares some connections to IPVanish, under the IPVanish white label program. (We'll discuss this topic more below.)
During our testing of the FastVPN apps on different operating systems, we discovered some bugs, which we cover in the CONs section below. For now, all you need to know is that this is not the best VPN for Windows, Android, or Mac we have encountered.
Firestick – Many people are using a Firestick or Fire TV to stream media. Using a VPN on Firestick offers advantages for unblocking geo-restricted content. Unfortunately, it does not look like Namecheap VPN has a direct app for Firestick devices at this time.
No IP address or DNS leaks
We ran our standard set of VPN tests against both the mobile and desktop apps without encountering any leaks of any sort. Here you can see the Namecheap VPN desktop (Windows) client without any leaks.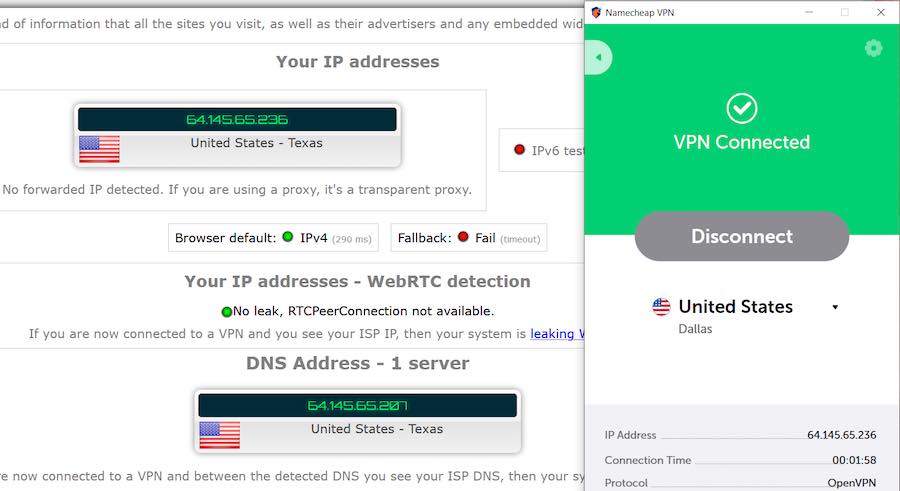 You can see the IP address in the leak tests matches up with the VPN's IP address and location in the VPN client on the right. Additionally, you can also see that Namecheap's DNS servers are handling all DNS requests.
The FastVPN Android app also did not have any leaks in our tests, although we did find some bugs. (Check out these VPNs for Android if you are considering alternative VPNs for your mobile device.)
Limited streaming and torrenting support
FastVPN supports both streaming media and torrenting. When it comes to accessing geo-blocked content, the VPN can access some regional Netflix libraries.
However, it's important to note that Namecheap VPN shares some of the same IPVanish infrastructure, which is also shared by other VPN providers. Therefore if there's a problem with Netflix blocking the VPN, there's not much that Namecheap can do about it, since the server network is controlled by IPVanish. Check out the best VPNs for Netflix that consistently work.
So what about torrenting?
FastVPN allows torrenting on its servers. However, as we'll show you below, speeds were not very good in our tests. For those who want to torrent large files, this is a serious drawback. Check out the best VPNs for torrenting to see other options.
Multiple payment methods including Bitcoin
You can pay for your FastVPN subscription with major credit cards, PayPal, even Bitcoin.
To purchase a FastVPN subscription, you first need to create a Namecheap account. Then, you can select the duration of your VPN subscription and continue with the purchase.
You can see that Bitcoin is also a payment option. You can first top up your account balance with Bitcoin and then pay for the Namecheap services you want, including the VPN. We also found Bitcoin payment options in our ExpressVPN review.
A low-cost VPN
Namecheap VPN is one of the least-expensive VPNs you will find, particularly if you are willing to invest in their 1-year plan.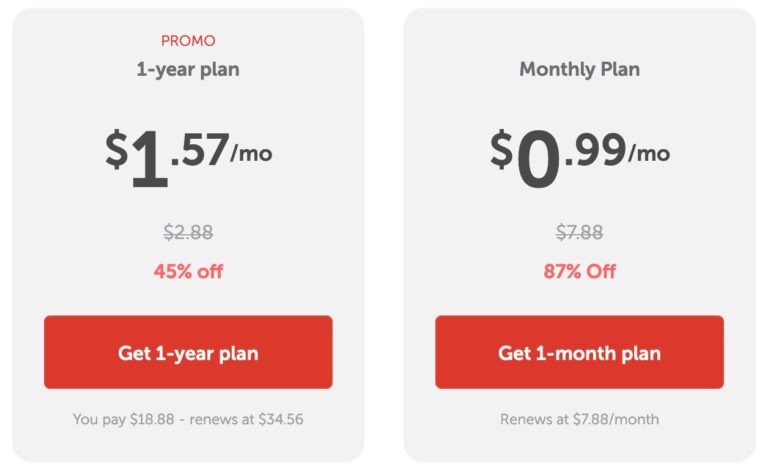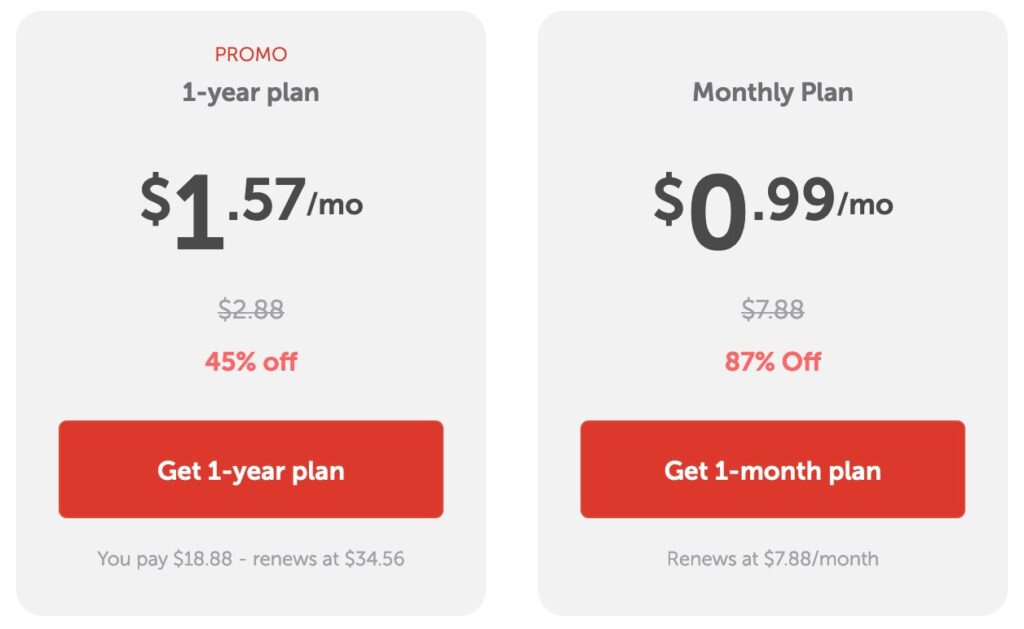 Note that the monthly plan renews at $7.88 per month, which is very expensive. Additionally, the initial price of $18.88 for the annual plan, renews at $34.56 – another big increase.
Given the prices above, Namecheap is a good cheap VPN service. However, there are many others to consider as well. Check out our review of the best cheap VPNs for some excellent options.
Unlimited number of simultaneous connections
This is an excellent feature if you are planning to use your VPN in a household with lots of internet users / streaming media fanatics. Most VPNs limit you to 5 or 6 simultaneous connections, which can be a problem when you have multiple people trying to connect through the VPN.
Other VPNs that have an unlimited number of simultaneous connections include IPVanish, Surfshark, and Perfect Privacy. See our Surfshark review to learn more. And we also have comparisons of these VPNs, such as the Surfshark vs IPVanish comparison.
Note: In the past there was some confusion about the number of simultaneous connections that FastVPN could support. Several sources insisted that the service was limited to 5 simultaneous connections. We spoke to Namecheap VPN support. They assured us that you do have an unlimited number of simultaneous connections, whether or not you install the VPN on your router.
30 day money-back guarantee
Namecheap offers a 30 day money-back guarantee for the VPN. This gives you plenty of time to confirm that it meets your needs before being locked in to a (potentially long-term) subscription.
In the past few years, we have seen more and more VPN services offering a full 30 day refund window. Most of the popular VPNs, such as IPVanish and NordVPN, offer this one-month refund window.
Note that you can basically use the 30 day money-back guarantee as a free trial VPN. Simply test out the service in the first 30 days, then cancel if you don't like it for a full refund.
Chrome browser extensions
Namecheap now offers a Chrome browser exension.
Browser extensions are a good feature that come in many forms. Some VPN browser extensions function as an additional proxy for the browser, while others basically extend the functionality and features of the VPN to the browser.
Many VPN browser extensions include extra features. For example, one of the best VPNs for Chrome is ExpressVPN, which offers a browser extension that spoofs geolocation data, blocks WebRTC leaks, and also supports HTTPS Everywhere for additional encryption.
Namecheap VPN CONs
Here are the drawbacks we found for this Namecheap VPN review:
Slower than leading VPNs
Many people are looking for a fast VPN with reliable performance. This comes in handy for high-bandwidth activities. Despite its name, Namecheap's FastVPN is not particularly fast. For testing, we ran all speed tests on a 500 Mbps wired (ethernet) connection using the OpenVPN protocol in the Namecheap VPN client. Here are the results:
First, I tested speeds with a Namecheap server in Seattle, getting about 111 Mbps:

Considering my baseline speed of 500 Mbps, this is not a great speed test result from Namecheap VPN.
Next, I tested a server in Los Angeles, which had download speeds of about 80 Mbps:

Another Namecheap VPN server I tested was in New York. Speeds were about the same, and not very fast, at 76 Mbps:

All of the servers I tested for this FastVPN review in the United States had mediocre speeds. This VPN was not horribly slow, but it also was not consistently fast.
Lastly, I tested a Namecheap VPN server in the United Kingdom, and the results were even worse at only 38 Mbps:

While we can expect UK VPN speeds to be slower due to the long distance between me and the server, 38 Mbps is far slower than other VPNs I've tested. Overall, these are not good VPN speeds, and I must conclude that Namecheap VPN is not very fast – at least in my tests.
Comparison speed tests
For comparison, in our NordVPN review, we were able to hit speeds around 445 Mbps.
Here was a NordVPN server I tested in Seattle, which gave me 445 Mbps: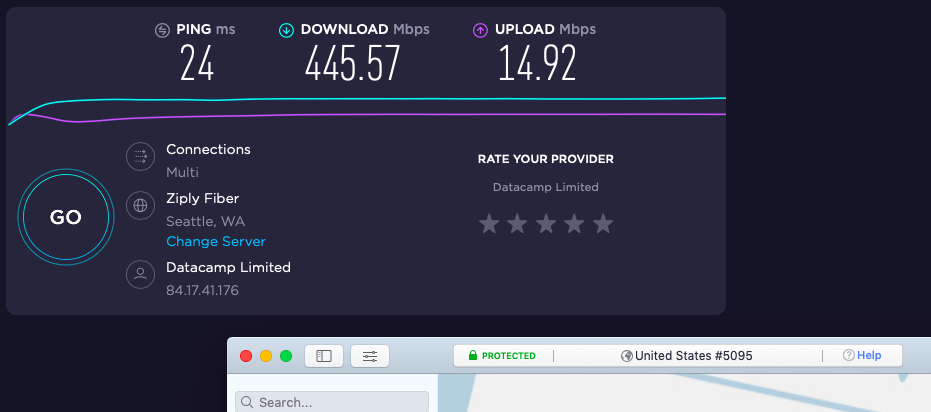 One of the main reasons that NordVPN is faster than most other VPNs is because it utilizes a streamlined version of the WireGuard VPN protocol. VPNs with WireGuard consistently outperform those without, as you can see in the NordVPN vs PIA comparison. You can grab a coupon on NordVPN below if you are interested:
NordVPN's Cyber Deal is live:

Get 69% Off NordVPN with the coupon below plus 3 months FREE, no activation code needed:
(Coupon is applied automatically; 30 day money-back guarantee.)
Note: IPVanish is in the process of adding WireGuard support across its network.
Buggy VPN apps
Another problem we found with Namecheap VPN is that the apps were buggy. In our first round of tests, the Namecheap VPN client on Windows simply did not work. Despite extensive troubleshooting with Namecheap support staff, we still were not able to get the VPN to work on Windows.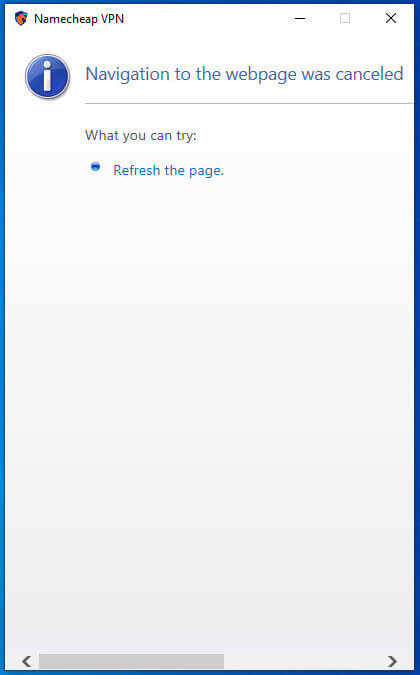 Fortunately, we had another Windows laptop to try, and were able to get the VPN client up and running — but we still experienced other problems.
Another issue we found with FastVPN is that sometimes the VPN client could simply not connect to the VPN server. This error/bug affected random servers we tested. Here's what the error looked like: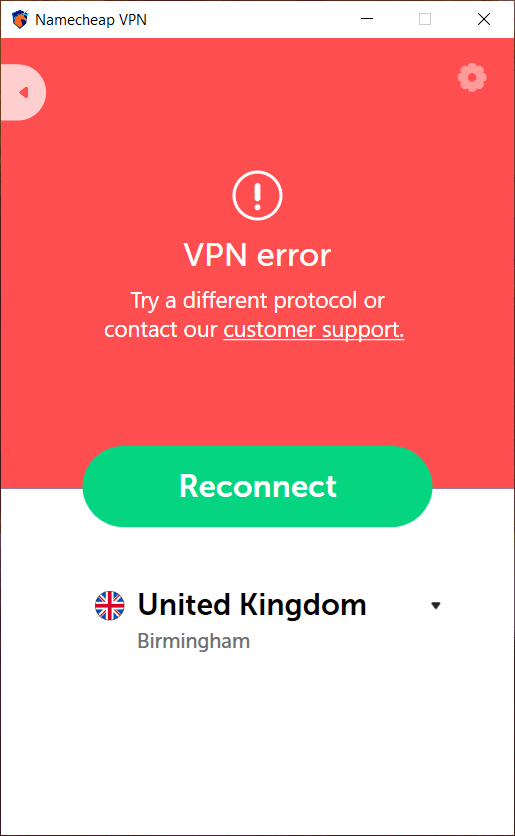 This annoying error would occur randomly with different servers I tested around the world.
Suffice to say, Namecheap VPN suffers from a few bugs.
Unclear VPN data collection policies
We reviewed the Namecheap Privacy Policy and VPN Terms of Service (ToS). While the documents themselves are written to be easy to understand, we were unclear on exactly what data they collect and when. They state that they do monitor and collect errors for troubleshooting purposes.
Previously the ToS had some wording that made us wonder how well they would protect our privacy. However the current ToS states that they do not log any user activity:

Checking in with support, they did tell me that Namecheap VPN keeps some basic connection logs, but assured me that "no personal identifiable information" is recorded.
Check out these no logs VPNs if this issue with Namecheap VPN gives you pause.
Based in the United States (bad for privacy)
The United States is generally not considered a good place to base a privacy-oriented business like a VPN. The United States is at the center of most international surveillance organizations, and can legally force companies (even VPNs) to secretly spy on their customers in violation of the company's own policies and terms of service.
This lack of respect for privacy is a big reason that the top-rated VPN services like ExpressVPN and NordVPN are located in countries that have greater regard for user privacy rights.
And if you think this is just paranoia, consider that there have been a few well-known cases of US VPNs that have been forced to log their users and turn over the data to authorities.
For example, there was the case with IPVanish logging users, all while claiming to be a "zero logs" VPN service.
Support is anxious to help, but seems inexperienced
While the support staff for Namecheap VPN is very responsive and clearly anxious to help, we were not impressed with the results.
In our first two interactions with support, the first-line person wasn't able to help and handed us off to someone who they said could help. In one case, the second-line support was able to answer our question, while in the other, even third-line support was unable to resolve the issue with the failed Namecheap Windows VPN client.
Hopefully these issues will get ironed out, but remember, Namecheap is not building the software behind the VPN, but rather relying on a third party.
Namecheap VPN does not work well for streaming
As we noted above, Namecheap VPN does support streaming, and can unblock at least some Netflix regional libraries. However, it does not unblock numerous streaming services, like we found with other leading VPNs.
Additionally, it does not seem to be able to defeat the geo-blocking very well. For example, it is not the best VPN for Hulu or Amazon Prime, simply because we found it to get blocked. Fortunately, there are a few good VPNs that work with Amazon Prime.
But there are other good options available. If unblocking websites and streaming media channels is important to you, this is not the right VPN provider for your needs. For a couple of good options that offer low prices, unlimited simultaneous connections, and good streaming capabilities, check out our Atlas VPN vs Surfshark comparison.
Lacks advanced features
Namecheap VPN offers basic VPN features. Whether this is actually a drawback or not depends on how you plan to use a VPN. If you just want connect-and-go protection, this shouldn't be a problem. But if you need more than basic VPN functionality, Namecheap is not a good choice.
Our favorite fully-featured VPN right now is NordVPN because it offers:
Double-VPN servers to encrypt traffic across two locations at the same time
Tor-over-VPN servers to encrypt VPN traffic again with the Tor network
CyberSec, a feature that blocks ads, trackers, malware, and phishing domains
Obfuscated servers to conceal your VPN traffic as regular HTTPS encryption (a great feature if you need a good VPN for China)
The double VPN servers are an added bonus that we find with both NordVPN and ProtonVPN. While there is twice the encryption with these servers, we still found they can be fast with NordVPN.
It's also worth noting that FastVPN has no option for a static IP address. Using a VPN with static IP is useful in some circumstances, such as for banking and perhaps gaming if you want to bypass the VPN. However, if you want to use a VPN for gaming, your best bet is choosing a nearby server and minimizing latency.
Namecheap VPN interesting FACTs
Here are some interesting bits of information about Namecheap VPN that didn't easily fit into the Pros or Cons section.
Namecheap FastVPN's connections to IPVanish
Namecheap VPN is a product of Namecheap, an ICANN-accredited domain registrar and technology company. Richard Kirkendall founded the company in 2000, and serves as the CEO. In 2018, it was listed in the Inc. 5000, a list of the fastest-growing companies in America.
The company's long-time focus was domain registration (they have over 10 million domains under management). As a domain registrar and hosting service, we think Namecheap does a great job and we'd recommend their services.
When we began examining the Namecheap VPN IP addresses, we noticed something strange. Some of the IPs were pointing to IPVanish hostnames and were coming up under the ownership of IPVanish. Here's just one example we found:
At this point I decided to dig deeper.
Sure enough, IPVanish has a white label program that they market under "WLVPN" – a reseller program.

Namecheap provided me with more information on the situation as follows:
On iOS, macOS, Android and Windows we use for now WLVPN network and we have built the application layer on top using the WLVPN network, we have an agreement from WLVPN to provide Network while we have no ties to IPVanish entity.
As our latest client application Chrome Extension we started using another Network and built our own SDK for Chrome Extension, which we do plan in future to integrate into other client application supporting Hybrid Networks.

-Namecheap spokesperson
While there is some connection, it seems safe to say Namecheap's FastVPN operates independently. We can also hope there is no repeat of the IPVanish logging scandal.
It's not surprising that our speed tests were about on par as those from IPVanish, which was beat out in the NordVPN vs IPVanish comparison.
Moderate-sized network with servers in 50+ countries
The Namecheap VPN network of servers is of moderate size. The company reports that there are over 1,000 servers in the network, which is a respectable number. Likewise, their presence in 50+ countries is respectable.
However, when the leaders in the VPN space have between 3,000 and 6,000 servers in as many as 94 countries, Namecheap has some catching up to do here.
Namecheap FastVPN FAQ
We encountered these questions while working on this FastVPN review:

Does Namecheap VPN work with Netflix?

The Namecheap FastVPN does not work well with Netflix. In general, it has trouble unblocking geo-blocked content, meaning you will likely see a "Netflix proxy error" message, rather than the movie or show you want to watch.


Is FastVPN good for streaming?

Namecheap's FastVPN has the same kinds of problems with streaming in general that it has with Netflix. Namely, it does not do a good job of unblocking geo-blocked content. That means most of the time you will probably not be able to stream content from other parts of the world, regardless of which streaming service you are trying to use.


Is Namecheap FastVPN good for China?

FastVPN is not one of the best VPNs to use in China. To function in China, you want a VPN that can disguise (obfuscate) VPN traffic as regular HTTPS internet traffic, making it effectively invisible to the "Great Firewall." FastVPN does not provide that kind of service.


Is Namecheap VPN good?

Namecheap's FastVPN is a good VPN if you are looking for a cheap, basic service, and don't intend to do anything with it that might attract the attention of the US government. It is not a good choice if you are looking for the fastest, or most secure, or best for streaming VPN.


Where is Namecheap VPN based?

Namecheap's FastVPN is based in the United States. This is not an ideal situation, since the US is not a very good jurisdiction for privacy-related services like VPNs. If you want the most privacy from your VPN, you should choose one based outside the United States, ideally in a location like Panama or the British Virgin Islands.

Namecheap FastVPN review conclusion
The Namecheap VPN service is clearly improving as time goes along. And the combination of an unlimited number of simultaneous connections along with a super low price is noteworthy, and there are other low-priced VPNs, which we discuss in the Surfshark vs NordVPN comparison.
We are reluctant to recommend Namecheap VPN at this time. The primary concern is that the company is located in the United States (Five Eyes). Since protecting your privacy is the top job of any VPN and the United States is not a good privacy jurisdiction, using FastVPN carries a privacy risk.
Add in the current weak state of technical support and limited feature set, and we think you can get a lot more VPN for only a little more money.
Alternatives to Namecheap VPN
Click the VPN name below to read our full review – or grab the discount for the best savings. All three of these VPNs have a 30 day money-back guarantee.
For a more in-depth look at the top providers, see our guide that reviews the best VPNs.
Related Articles:
This Namecheap FastVPN review was last updated on August 10, 2023.