| | |
| --- | --- |
| VPN | Private Internet Access |
| Based in | USA |
| Logs | No logs |
| Price | $2.03/mo. |
| Support | Email and Chat |
| Refund | 30 days |
| Website | PrivateInternetAccess.com |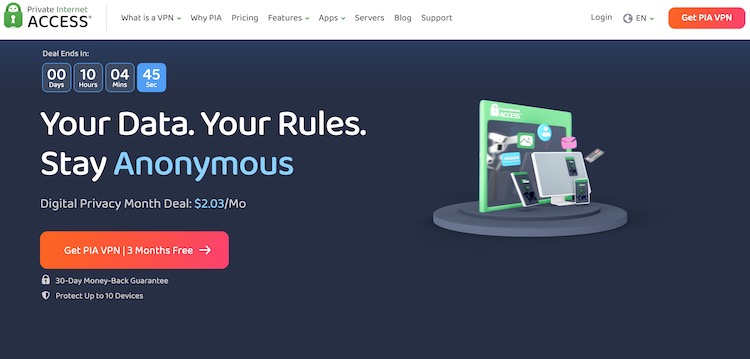 In this Private Internet Access VPN review, we set out to see how well the PIA VPN stacks up against today's more intense competition. To do this, we purchased a PIA VPN subscription, researched the company's background, and then thoroughly tested the PIA VPN apps. Here are just some of the questions this PIA review will answer for you:
How fast are PIA servers in various locations around the US and Europe?
How well do the VPN applications work?
Does this VPN have any data leaks or security problems?
Does it work well with Netflix and other streaming services?
We are going to get down into the details in this review, so let's begin with an overview of our findings before getting our hands really dirty.
Private Internet Access overview
Here is a brief overview of the test results and research findings for this PIA review:
+ Pros
User-friendly and secure VPN apps
Several extra privacy and security features
Tested and proven no logs VPN provider
Low prices
– Cons
Inconsistent speeds
Based in the US (bad privacy jurisdiction)
Does not work well for Netflix and streaming
Additional research findings:
PIA support tests
Convicted cryptocurrency criminal hired as the CTO of PIA
Does PIA work well for torrenting?
Private Internet Access Pros
User-friendly and secure VPN apps
Private Internet Access offers a nice selection of VPN apps for desktop and mobile operating systems. Additionally, PIA also has browser extensions for Chrome, Firefox, and Opera browsers. Below you can see all of the PIA VPN apps: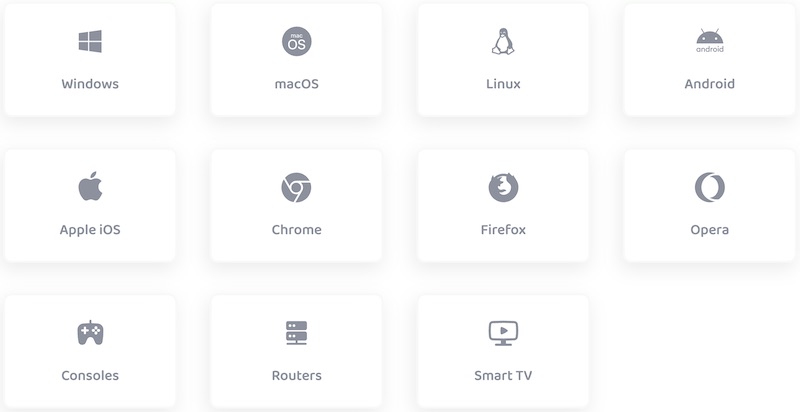 Note: Most of the leading VPNs today support more than just desktop and mobile operating systems. For comparison, we pointed out in our Surfshark vs NordVPN report that both of these VPNs support gaming systems, Smart TVs, Firestick, routers, and all major desktop and mobile operating systems.
PIA Windows app
For this PIA review, we thoroughly tested the Windows VPN client. Overall, the Windows client feels polished and it's also user-friendly. We also liked the "dark mode" design. Below you can see the PIA Windows client (app) which expands or collapses to reveal more settings and options. Here is the collapsed version displaying basic connection info: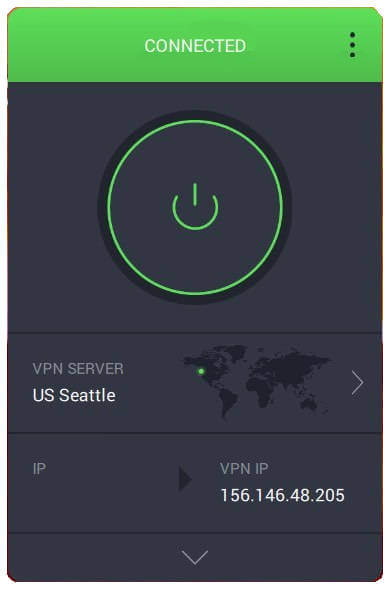 The PIA VPN app hovers above the tray in the bottom-right corner of the desktop. In addition to all the features we covered above, the Private Internet Access desktop client also has:
Light and dark modes
Settings to open VPN client on system startup
Connect on launch settings (to a specified VPN server)
Different language settings
Customizable DNS options
Port forwarding
Split tunneling
Overall the PIA desktop clients work well. It may be a decent choice if you want a user-friendly VPN for PC operating systems.
You can also use Private Internet Access on some types of routers. As we noted in the guide on the best VPNs for Apple TV, a VPN router is useful for protecting all types of devices in your household.
Security and privacy test results
Most people using VPNs today need a service that is secure and free of data leaks. And while data leaks are common with some free VPN apps, this is not something we should expect with a premium (paid) service that promises security.
So to test this, I ran both the Windows and Mac OS clients through some basic VPN tests and checks to identify leaks or broken features.
Below I'm testing the PIA Windows VPN client for leaks while connected to a server in Sweden. You can see in our test results below that we did not identify any leaks or problems with the PIA VPN apps.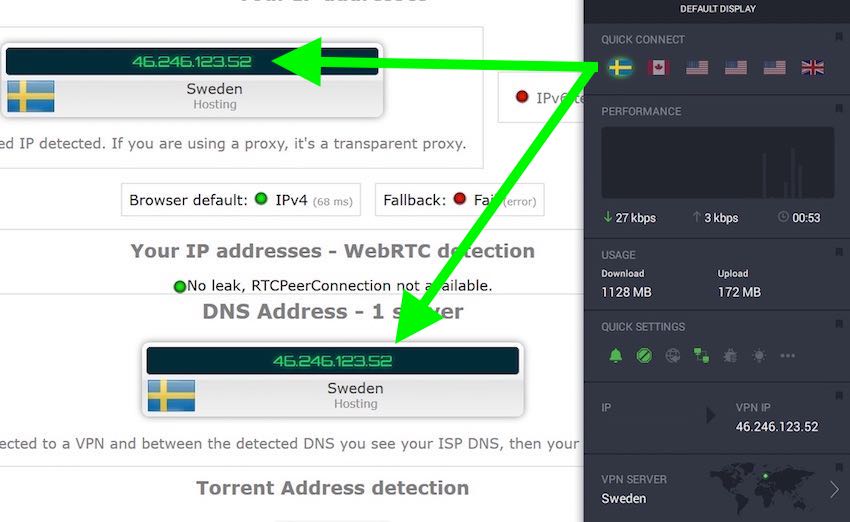 I also tested the PIA Mac OS client and found it to be secure and without leaks. Although I'm not sure I would consider PIA to be one of the best VPNs for Mac, it may still be a decent choice for Mac users.
PIA also implements a good kill switch with their VPN apps, which will block traffic if the VPN connection drops for any reason. This ensures all traffic remains encrypted and protected by the VPN tunnel.
The PIA kill switch has three levels:
Off: does not block any traffic
Auto: blocks outside traffic when the VPN is on
Always: Also blocks all traffic when the VPN is off
In testing out the kill switch with various interruptions, everything appeared to work well.
Extra privacy and security features
Despite being a basic VPN service, Private Internet Access still offers some good privacy and security features.
In addition to the multi-level kill switch we discussed above, PIA also provides:
Various data encryption options, including WireGuard
A VPN ad blocking feature called PIA MACE
Split tunneling feature
Dedicated IP addresses are available
WireGuard support with mixed results
First, the WireGuard protocol is an excellent feature that usually offers big advantages with performance. However, in our tests for this PIA review, WireGuard speeds were not very good (we'll examine slow speeds further below). Nonetheless, the WireGuard VPN protocol does still offer some advantages, including upgraded security and more reliability on mobile devices.
Below you can see the encryption options in the PIA Windows app: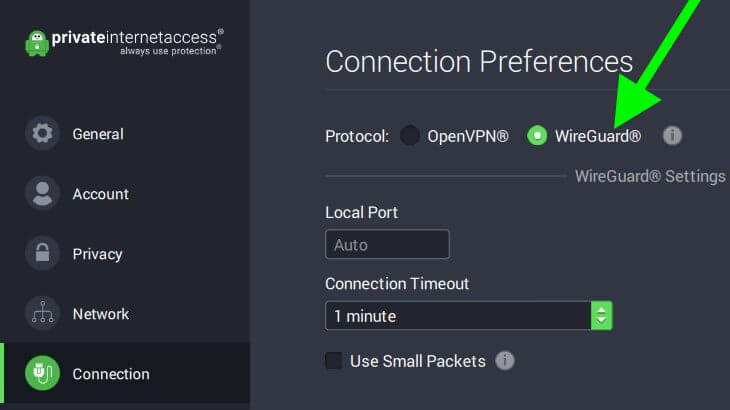 In most cases, the WireGuard protocol offers big advantages over OpenVPN. For example, you can really see this in the recent NordVPN vs IPVanish comparison.
PIA MACE ad blocker
Another good feature offered by PIA is the ad blocker, which they call PIA MACE.
PIA MACE blocks domains for advertisements, trackers, and malware. Unlike some other ad blocker options, PIA MACE does not have the ability to white list certain domains, or adjust the filter settings. It is simply On or Off.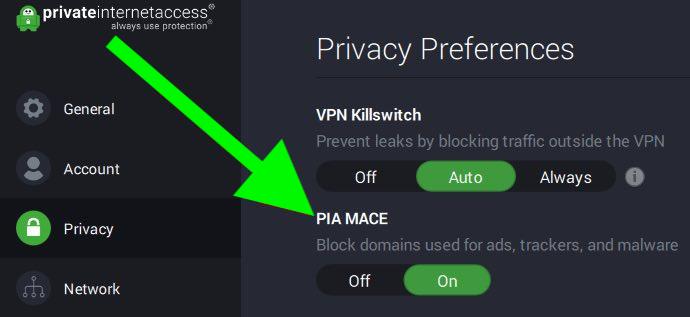 While some ad blocker is better than no ad blocker, I would not recommend using PIA MAC as your primary ad blocker. When I tested different VPN ad blockers, I found that PIA's ad blocker did not block as many domains as other options.
In terms of VPN ad blockers, NordVPN, Surfshark, and Perfect Privacy performed better than PIA, while PureVPN and CyberGhost performed the worst. We compare and contrast the two in our Surfshark vs PIA guide.
Overall, PIA does well in terms of security and privacy features, even if the ad blocker is not very robust.
Split tunneling feature
Private Internet Access has added a split tunneling features. Split tunneling is very useful because there are some app, programs, and websites that are simply not compatible with VPNs. For example, many banking websites will block connections from VPN servers.
Split tunneling allows you to deal with this kind of problem without disconnecting the VPN. You configure the Private Internet Access VPN app to route "problem" traffic directly to the internet, while continuing to pass the rest through the encrypted VPN tunnel.
Dedicated IP addresses are available
For certain use cases, you need a dedicated IP address. If your use case necessitates such an address you already know it. Private Internet Access is one of the few VPNs that offers dedicated IP addresses. You have your choice of locations: United States, Canada, Australia, UK, and Germany. At the time of this review, adding a dedicated IP address to your Private Internet Access subscription would add $2.50 per month to the subscription cost.
PIA is a tested and proven "no logs" VPN
Many VPN services claim to be "no logs" – but few have actually been tested and/or verified.
Private Internet Access is one of the few verified no logs VPN services to survive real-world tests. There were two separate court cases where Private Internet Access was subpoenaed for data logs, but they could not provide any information.
The first court case occurred in 2016 when the FBI demanded logs concerning a PIA user who had allegedly been making bomb threats. As discussed in official court records, the only information PIA was able to provide was a cluster of VPN IP addresses that were allegedly used for the crime:
A subpoena was sent to London Trust Media [Private Internet Access] and the only information they could provide is that the cluster of IP addresses being used was from the east coast of the United States.
The second court case occurred in June 2018, when US authorities again demanded data logs for a criminal investigation. Once again, however, PIA was not able to provide any data on the accused VPN user:
John Allan Arsenault, general counsel for London Trust Media, a VPN company, testified about how many VPN companies, including his, intentionally don't retain logs of internet activity of their clients so that they cannot be produced in response to subpoenas from law enforcement or others. London Trust Media operates the brand Private Internet Access (PIA), which owns several IP addresses used to hack Embarcadero Media.

Private Internet Access does not log user activity, such as what files they accessed or changes they made to a website.
While PIA has not undergone an audit to verify their "no logs" policies, such as with NordVPN and VyprVPN, these two court cases certainly validate their claims.
Court cases are indeed a good test to verify logging claims. After all, a court case revealed that PureVPN had been logging customer data and handing it over to US authorities, despite claiming to be a "no logs" VPN service. (You can get the details in our PureVPN review.)
You can read the PIA privacy policy for more info.
Low prices for PIA subscriptions
Private Internet Access has previously been among the best cheap VPNs on the market, with very affordable prices.
Right now there are three basic pricing tiers: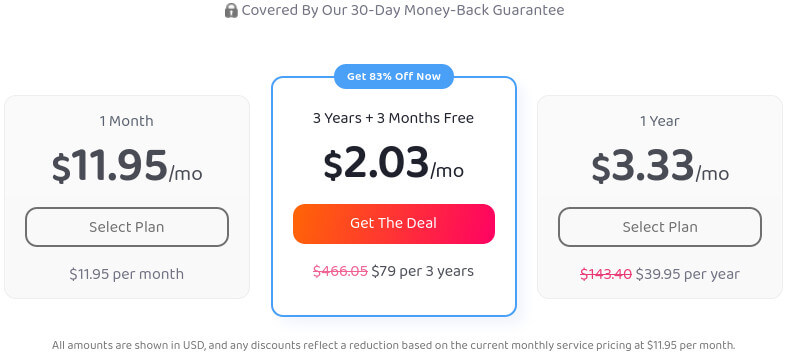 At under $3 per month with the two-year plan, PIA is very affordable. They currently do not offer any free trials. However, with a 30 day refund window, it does function like a free trial VPN allowing you to test the service and cancel if you don't like it.
Refund policy – All plans come with a 30 day refund policy, which is about average for the VPN industry. Reading through the Terms of Service, I did find a few exceptions to the 30 day refund window:
Due to limitations with 3rd party payment processors, certain accounts cannot be refunded by PIA directly. Accounts purchased through the Apple Store, Giftcards or 3rd party deal sites, can only be refunded by the payment processor.
It's interesting to see a mention of "Giftcards" in the refund policy since PIA does not offer that payment option anymore. You will also be denied a refund if you "materially breach" any part of the Terms of Service.
Payment options – At the time of this PIA review, they currently offer four different payment methods, as you can see below: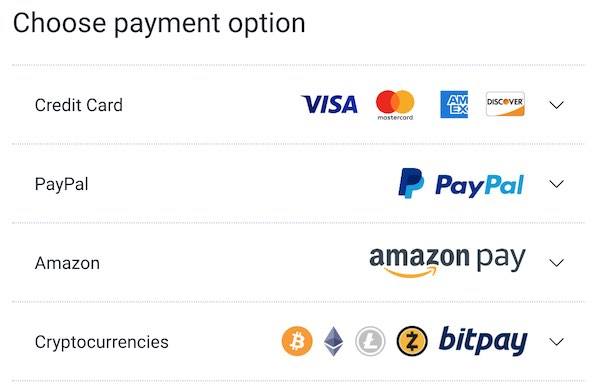 This is a pretty good selection of options. Some VPNs do not even support cryptocurrency payments, as we noted in the IPVanish review. So overall this is another strong point for PIA.
Now let's move on to some of the drawbacks with Private Internet Access.
Private Internet Access Cons
Now that we've covered some of the pros of PIA, we'll look at the cons.
Inconsistent speeds
One of the biggest drawbacks we noted in this PIA review was with performance. This was somewhat surprising, however, since most VPNs that support WireGuard have excellent performance. With PIA, I ran numerous speed tests on a 500 Mbps internet connection (baseline speed) from my testing lab in the United States.
In order to give PIA the best performance test possible, I selected the WireGuard VPN protocol and ran speed tests with the latest version of the PIA Windows client. Now let's examine the results.
Here was a PIA server in Seattle at 41 Mbps:

This is really bad. Getting only 41 Mbps on a 500 Mbps connection is definitely slower than average. So let's examine some other locations.
Here was a PIA server in Los Angeles, California at 85 Mbps:

While this is better than the previous test result, it is still quite slow. We should be getting speeds over 200 Mbps, especially with the WireGuard protocol.
Next, I tested a PIA server in New York, which gave me about 23 Mbps.

With PIA servers in the United States, it is clear that this is a slow VPN.
For the final speed test, I decided to try a location across the pond in the United Kingdom. Here was a PIA server in London, UK, which gave me 10 Mbps.

With slow speeds like this, PIA is certainly not the best VPN for the UK if you value performance.
In previous PIA reviews, speeds were better. It seems that speeds with Private Internet Access are getting worse, even after adding WireGuard.
Comparison with VPNs that are faster than PIA
For comparison, the fastest VPN we have tested here on Restore Privacy is NordVPN. It also supports the WireGuard protocol and has a huge global network of fast servers. We could routinely get speeds over 300 Mbps in our tests for the NordVPN review. Here is one server location in Seattle with speeds of 445 Mbps: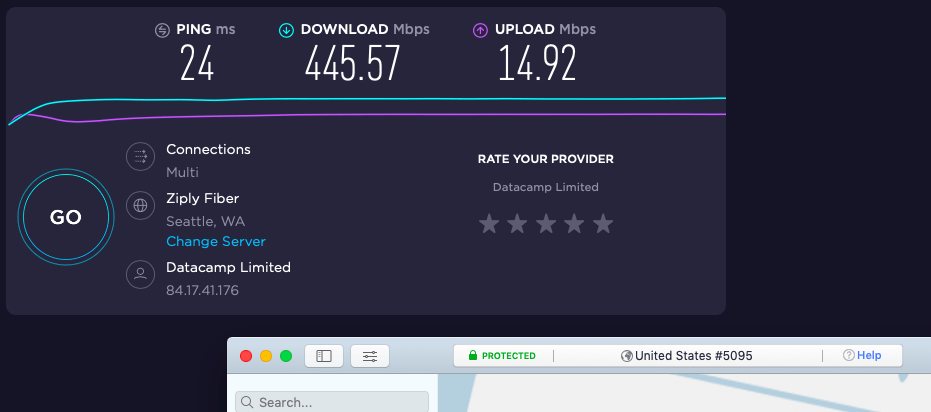 Check out NordVPN with WireGuard here >>
We will also be publishing more speed comparisons in the PIA vs NordVPN report.
Based in the US (bad privacy jurisdiction)
While Private Internet Access does well in some areas of privacy, one major drawback is the jurisdiction.
PIA is based in the United States, which is a member of the five eyes surveillance alliance. And aside from the surveillance concerns, there are also legal drawbacks to operating a VPN in the US. The biggest issue is that the US government can legally force businesses to log customer data and provide this to authorities. Additionally, authorities can also issue gag orders, thereby prohibiting the business from alerting its customers to privacy violations (see National Security Letters).
There are previous examples of this happening, such as with IPVanish being forced to log user data, despite being a "no logs" VPN. Another example was Lavabit being coerced to hand over encryption keys.
How important is jurisdiction?
Ultimately, the answer is that it depends on your unique needs and threat model, which you should consider when selecting the best VPN service for your needs. Many people disagree about the importance of jurisdiction, and the answer is not entirely clear, simply because we cannot see what's going on behind the scenes.
As a business operating in the United States, PIA is still obligated to comply with all US laws, regulations, and court orders – or shut down like Lavabit in 2013. It's also worth noting that the previous "no logs" court cases happened under previous ownership, not the current parent company (Kape).
PIA does not work well for streaming
Private Internet Access has never done well for streaming in my tests. For example, Netflix has always been hit or miss. I've tested US servers with PIA to Access Netflix, and I was blocked out.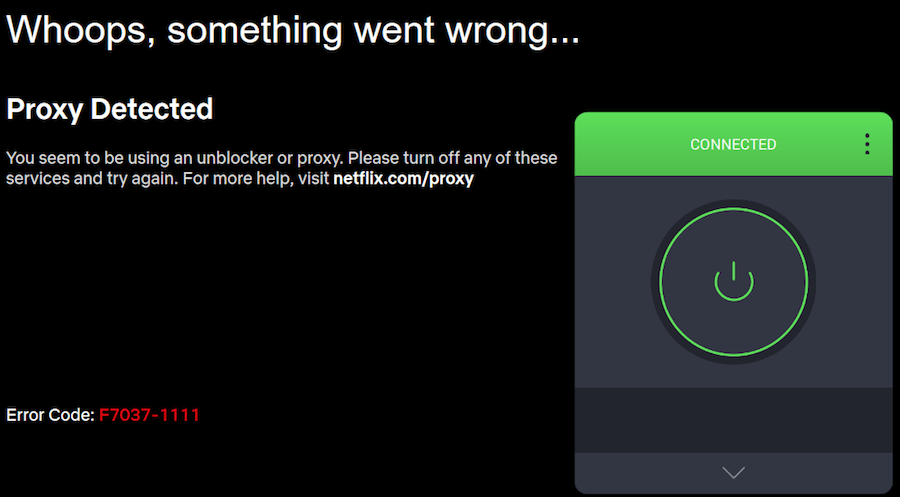 Private Internet Access may get through with some servers, but it did not work with the ones I tried to use. It is not the best VPN for Netflix based on my own tests, but things are constantly in flux when it comes to Netflix and VPNs, so you may want to test this yourself.
It's also important to note that the Netflix VPN issue is always a cat and mouse game that continues to evolve. Even though I could not access Netflix with Private Internet Access, there may be a few servers in the network that are getting through (but I gave up). Two of the best VPNs for Netflix are currently NordVPN and ExpressVPN.
I also tested out BBC iPlayer, which is a popular streaming service for UK content — and it's also free. Once again, however, PIA was not able to get through and was blocked out. Below you can see I'm using a PIA server in London, but BBC iPlayer is still not accessible.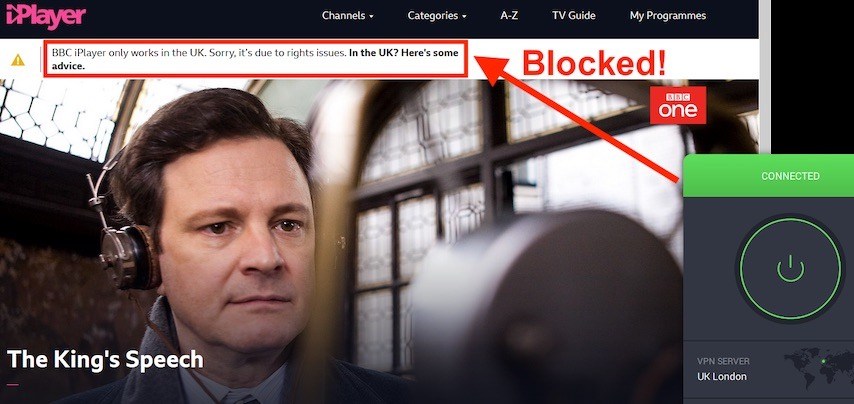 In PIA's defense, there are only a few VPNs that work for BBC iPlayer, with most others getting blocked.
Note: Many people also use VPNs on streaming devices. One such example of this is using a VPN for Firestick. Unfortunately, PIA does not offer a dedicated Firestick app at this time.
PIA purchased by Kape Technologies
I have an article dedicated to the issue of Kape purchasing PIA VPN. Here are the main highlights:
Kape purchased Private Internet Access in November 2019
Kape was formerly named Crossrider and was often associated with malware (see articles about "Crossrider malware") – but Crossrider never created or distributed malware
In 2017, Crossrider purchased CyberGhost VPN, and then later Zenmate
Crossrider changed its name to Kape
In 2021, Kape purchased ExpressVPN for about $1 billion
As we have noted before, trust is a major factor when choosing Privacy Tools. After all, a VPN has the potential to record everything you do online when you decide to use it to encrypt traffic.
Crossrider created a development platform, not malware
We have taken a closer look at Crossrider and Kape here. Ultimately, we learned that Crossrider created a development platform that third parties used to infect devices with malware. However, Crossrider itself was not the owner or creator of that malware.
Due to abuse carried out by third parties, Crossrider shut down its platform in 2016 and pivoted to the security VPN and security industry. Today, Kape is a major player in the VPN industry, owning four VPN services and a collection of VPN "review" websites.
Additional research findings:
Below are additional findings from my research of PIA for this review.
PIA support tests
Private Internet Access offers email (ticket) support and chat. Unfortunately, I was not able to reach live chat support when I tried for this review. Here was the message I received when attempting to connect with a support technician at PIA: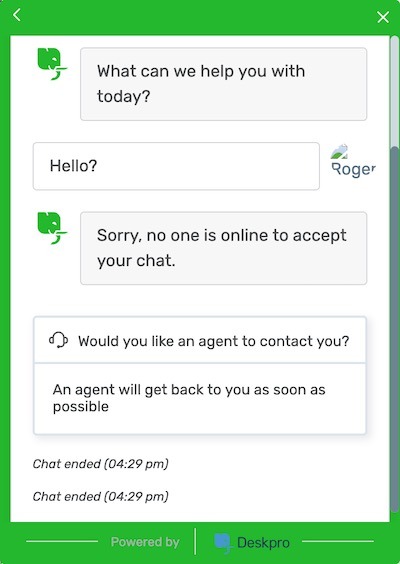 The chat ended, but nobody ever got back to me. This is a case of bad support in my opinion.
Most of the leading VPNs offer 24/7 live chat support with professional and responsive staff. This does not seem to be the case with PIA at this time.
Controversy surrounding the CTO of PIA
For reasons that are not entirely clear, some of the higher-ups at Private Internet Access decided to hire Mark Karpeles as the CTO (Chief Technology Officer) in April 2018.
To understand why this was upsetting to many PIA users, we'll just take a quick look at Mark Karpeles.
Mark Karpeles was running Mt. Gox in 2014 when it suddenly collapsed, with millions of dollars in Bitcoins disappearing. Karpeles was subsequently arrested in Japan and charged with fraud and embezzlement. As to where all the Bitcoins that were stored at Mt. Gox ended up, nobody seems to know:
650,000 bitcoins remain unaccounted for as a result of the Mt. Gox hack. A number of online theories have been developed as to where the missing coins are. Some have suggested that Mt. Gox never had the amount of coins that it claimed, and that Karpelés had manipulated the numbers to make it appear that Mt. Gox held more bitcoin than it in fact held.
In March 2019, Karpeles was found guilty of tampering with financial records in a Japanese court. Due to the controversy that erupted in various forums after Karpeles joined PIA, Andrew Lee (co-founder of PIA) wrote a blog post where he explained his reasoning. The post discusses "Mistakes, Forgiveness and Human Progress" – but that may not be enough for PIA users who trust the company with securing their private data.
Does PIA work well for torrenting?
When selecting the best VPN for torrenting, there are a few things you want to look for:
Fast speeds
Secure apps
Good leak protection settings
While PIA offers secure apps with a kill switch, the speeds were not good in my tests. This means that torrenting will be most likely be slow. On a positive note, PIA does have port forwarding, which is useful with torrenting, but the slow speeds are still a big drawback.
Another drawback for torrenting is (once again) the US jurisdiction. The US has very strict copyright violation laws (DMCA) and many large media companies that go after people for copyright infringement. Using a VPN in an offshore jurisdiction may be safer, as they would not need to comply with copyright infringement laws or deal with DMCA issues. We cover this issue more in our ExpressVPN vs PIA comparison.
Private Internet Access FAQ
Here are some common questions (and their answers) related to the Private Internet Access VPN:

Is Private Internet Access really the fastest VPN on the planet?

Unfortunately, the answer is no. Although their website proudly proclaims that Private Internet Access is the fastest VPN on the planet, that simply is not true. In fact, despite their upgrading to use the fast WireGuard VPN protocol, our testing showed Private Internet Access to be one of the slower major VPNs.



Is Private Internet Access good for streaming?

In our testing, the Private Internet Access VPN had some small success connecting to Netflix and other streaming media services. They are better at it than many VPNs, but nowhere near the best.

If streaming content is important to you, check out this guide to the best VPNs for streaming.


Is PIA VPN good for torrenting?

The PIA VPN is not a good choice for torrenting. While it is a secure VPN, it is very slow, which could make torrenting tedious. In addition, it is based in the United States, where content providers can and do take legal action against people who download their content.

Here's a guide to the best VPNs for torrenting.


Does the Private Internet Access have dedicated IP addresses?

Yes! Private Internet Access has added support for dedicated IP addresses to their service. Addresses are available in several countries, and the additional monthly fee for these addresses is low.

Private Internet Access review conclusion
Private Internet Access is a cheap VPN. The company has been adding features to increase the value of the service, but it still lags far behind industry leaders like NordVPN or Surfshark. On a positive note, it does have good VPN apps that are secure and user-friendly. But even with that, these drawbacks stand out:
Slow and inconsistent speeds
Based in the United States
Does not work well with streaming services
Now part of a large VPN conglomerate (Kape Technologies)

Mediocre support that may or may not be available
In short, while the company continues to improve their service, we still can't recommend this VPN. There are too many other great alternatives to consider.
Stay safe!
Best alternatives to Private Internet Access
Click the VPN name below to read our full review – or grab the discount for the best savings. All of these VPNs have a 30 day money-back guarantee.
NordVPN review (with a 69% discount coupon)
You can also check out our guide on the top-performing VPN services based on the latest test results.
If you have used Private Internet Access, feel free to share your review in the comments below.
This PIA review was last updated on July 6, 2023.