Amazon Prime offers one of the best video libraries around and a good VPN is your ticket for 24/7 access – wherever you are located. But with over 200 VPN services, how do you find the best VPN for Amazon Prime? That's what we'll answer in this guide.
Amazon Prime Video (a.k.a. Prime Video) has become one of the most popular sources of streaming video content in the world. It gives you unlimited streaming of the massive Amazon video library. This library contains Amazon Originals, popular movies, and some of the most popular TV shows.
With more people streaming content online at home, due to lockdowns and other factors, having consistent and reliable access is crucial. Amazon Prime continues to grow in popularity and has even landed some major broadcasting deals, including Thursday Night Football with the NFL.
But what do you do if you are blocked from your Amazon Prime account due to travel or other reasons?
The best solution is to use a VPN (Virtual Private Network) to defeat any blocks or restrictions. But not just any VPN will do. Most VPN services are unable to defeat the blocks that Amazon puts up to keep you from your content.
Even if you aren't blocked from Amazon Prime, your ISP (internet service provider) might be one of those throwbacks that throttles streaming traffic in order to reduce bandwidth usage. Or you might not like various groups and agencies targeting you for surveillance and data collection.
In this Amazon Prime VPN guide, we're going to show you our top picks for the best VPNs for accessing the massive library of Amazon Prime Video content.
Ranking the best VPNs for Amazon Prime
Here are the criteria to make the grade as one of the best VPNs for Amazon Prime:
The ability to unblock Amazon Prime and watch Prime Video in HD.
A network of fast, reliable VPN servers that will let you stream in HD without endless interruptions.
Quality apps for your PC and mobile devices as well as for streaming-oriented devices like Smart TVs.
Consistent performance regardless of the device or VPN server used to connect.
Excellent general-purpose VPN performance, beyond the ability to unblock Amazon Prime.
A technical support team that can help you unblock Amazon Prime fast, and can help with any other VPN issues as well.
Bonus points for unlocking other major streaming services like Netflix and BBC iPlayer.
Note: All of our winners have numerous VPN features that we won't discuss in detail here. You can expect things like unlimited bandwidth, a kill switch, split tunneling (the ability to pass some traffic through the VPN while routing other internet traffic around it), streaming servers as well as optimized servers for things like multi-hop connections. To get the specifics for a particular VPN, you will want to read our full review, which is linked after each section below.
Now that you know how we ranked them, let's take a closer look at the four winners.
Here are the best VPNs for Amazon Prime:
NordVPN – Best all-around VPN for Amazon Prime
| | |
| --- | --- |
| VPN | NordVPN |
| Based in | Panama |
| Logs | No logs (audited) |
| Price | $3.71/mo. |
| Support | 24/7 live chat |
| Refund | 30 days |
| Website | NordVPN.com |
NordVPN has taken first place as the best VPN for Amazon Prime. It does a great job unblocking Amazon Prime and quickly and reliably delivers streaming content from Amazon's libraries to you.
NordVPN gives you access to an enormous network of 5,200 fast VPN servers, with locations in 59 countries. That network includes over 1,700 servers in the United States, meaning you should always be able to find a server that unblocks Amazon's US libraries.
NordVPN offers great performance, allowing you to stream HD Amazon Prime videos without any buffering or interruptions. It is currently the fastest VPN we have tested. For example, with a NordVPN server in Seattle, we hit download speeds of 445 Mbps: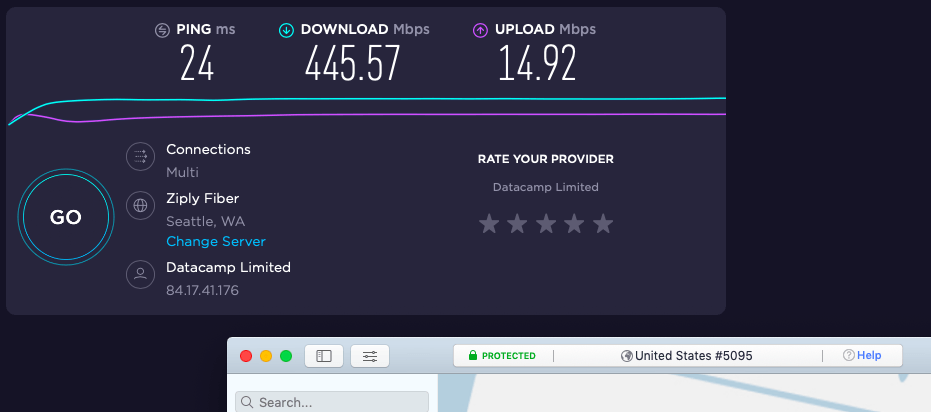 We have consistently found NordVPN to offer excellent performance for high-bandwidth activities, such as when using a VPN for torrenting. And the speeds with NordVPN have gotten a recent boost as they have added support for the NordLynx protocol that is built into all their apps. NordLynx is the company's custom implementation of the WireGuard VPN protocol, which offers faster speeds and upgraded security.
NordVPN has apps for a full range of systems. Windows, Mac OS, Linux, Android, and iOS, as well as proxies for major web browsers and torrenting apps. They even have browser extensions from Firefox, Safari, and Chrome (rated as the best VPN for Chrome). NordVPN also supports Android TV boxes and Smart TVs, as well as FireStick and Fire TV.
In the area of privacy, NordVPN comes out on top. It is based in Panama and is a verified no logs VPN service, having passed two independent audits. Every server in NordVPN's network runs on volatile RAM memory without hard drives. These RAM servers ensure no data can ever be stored on a server – the latest trend in VPN server security.
NordVPN has also passed an independent security audit conducted by VerSprite. This helps to ensure peace of mind that you have great security while streaming Amazon Prime videos. And on the topic of security, NordVPN also offers these advanced features:
CyberSec – Blocks ads and malware domains while stopping trackers from spying on you.
Double-VPN servers – Pass your traffic through two VPN servers one after the other, to make it far harder for anyone trying to discover your true identity (or IP address, as the case may be).
Tor-over-VPN servers – Combine the Tor network's anonymity features with NordVPN's security and privacy.
Obfuscated servers – Disguise your VPN traffic by making it look like HTTPS encrypted traffic. This can get you around blocks and restrictions placed by ISPs and governments (useful should you need a VPN for China).
Customer support: NordVPN Customer Support features 24/7 live chat directly through the website. Fast support like this is ideal if you have technical issues or need help unblocking Amazon Prime with your VPN. Add in a 30 day money-back guarantee and you can test NordVPN for yourself risk-free.
Additional streaming services unblocked: Beyond Amazon Prime, NordVPN unblocks Netflix (US, UK, Canada, France, Germany, Netherlands, Spain, Japan, Australia, India, Italy, and possibly other regions), BBC iPlayer, Hulu, HBO, DAZN, and many more.
NordVPN Amazon Prime regions
Below are the Amazon Prime regions currently supported by NordVPN. Notice that any server you connect to in the designated region should work for unblocking Amazon Prime.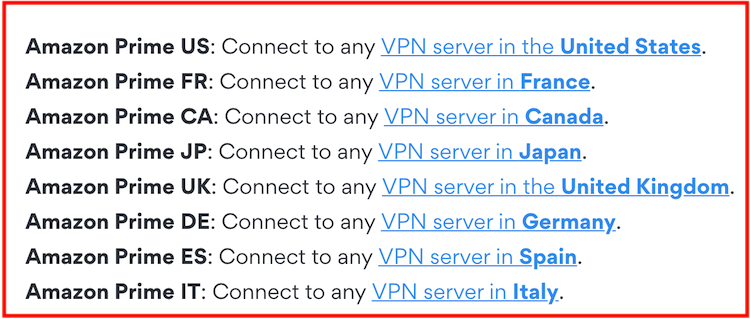 To access these regions, you simply need to connect to a NordVPN server in one of the given Amazon Prime regions. Below I am connected to a NordVPN server in the United States to stream Amazon Prime US.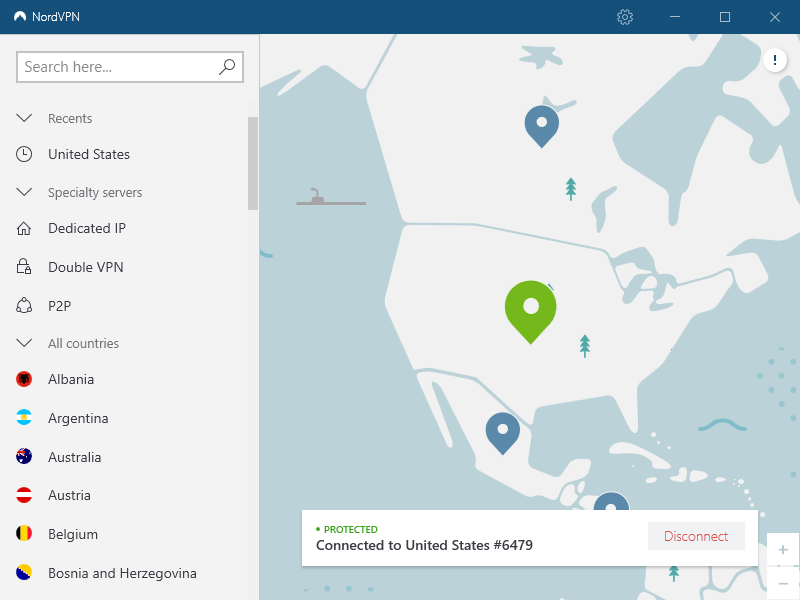 + Pros
User-friendly and reliable apps for all operating systems and devices
Double-VPN and Tor-over-VPN servers
No logs (audited twice)
Strongest encryption standards with full support for WireGuard
Works with Netflix and many other streaming services
CyberSec feature to block ads, trackers, and malware domains
24/7 live chat support
Split tunneling on desktop and mobile apps
Dedicated RAM-servers with 10 Gbps bandwidth channels
– Cons
Big discounts only available with long-term subscriptions
NordVPN Cyber Deal Coupon

Get 68% off your NordVPN subscription with the coupon below.
(Coupon is applied automatically.)
Want to learn more? Check out our full NordVPN review.
---
Surfshark – A reliable Amazon Prime VPN with a low price
| | |
| --- | --- |
| VPN | Surfshark |
| Based in | The Netherlands |
| Logs | No logs |
| Price | $2.49/mo. |
| Support | 24/7 live chat |
| Refund | 30 days |
| Website | Surfshark.com |
Surfshark launched in 2018 and has been taking the VPN world by storm. It is an excellent VPN for Amazon Prime and works well for streaming many different streaming services. If you use the VPN coupon located below, Surfshark is the cheapest VPN for Amazon Prime Video on our list – and it has a lot to offer.
Surfshark's network includes more than 3,200 VPN servers located in 63 countries. The Surfshark network isn't quite as fast as those of NordVPN or ExpressVPN, but it is still fast enough and reliable enough to handle HD streaming media. We have also noticed some variability in speeds between server locations, but again the overall network can definitely get the job done for you.
Like our leaders, Surfshark has quality apps for many types of devices, from the core computer and smartphone operating systems, to browser extensions, Smart TVs, and game consoles. They even have a dedicated app in the Amazon store if you need a VPN for Firestick and Fire TV streaming. They also offer Trust DNS, which works with the rest of their server network to simplify switching DNS services.
Surfshark easily handles all the expected VPN tasks like securing your data and protecting your privacy. Their mobile device browser extensions recently scored well in a security audit by Cure53, a German cybersecurity firm that has also worked with ExpressVPN, Bitwarden, and other pro-privacy products. Surfshark has also recently converted their entire network to run in RAM-disk mode for an increased level of data security.
On the advanced VPN tech front, Surfshark offers some of the same tools as NordVPN:
CleanWeb feature to block ads, trackers, and malware domains
MultiHop that encrypts traffic over two VPN servers
Camouflage mode to conceal VPN traffic and get through blocks and censorship
There are two additional Surfshark features you definitely want to know about. The first is their support for an unlimited number of simultaneous connections to their network. NordVPN offers six simultaneous connections. ExpressVPN supports five simultaneous connections.

In many households, it would be easy to exceed the supported number of simultaneous connections, particularly when using the VPN for streaming media in addition to regular internet access. For situations like these, Surfshark could be the best and only practical solution.
Even with the low, low pricing, Surfshark manages to provide 24/7 live chat support and a 30 day money-back guarantee.
Streaming services unblocked: Beyond Amazon Prime, Surfshark unblocks Netflix (US, UK, Australia, Canada, Singapore, Italy, South Korea, Germany, Japan, Norway and working on more), BBC iPlayer, HBO, Hulu, SlingTV, and more.
+ Pros
Unlimited connections
User-friendly apps for all devices and operating systems
CleanWeb feature to block ads, trackers, and malware domains
Works great with Netflix and many other streaming services
24/7 live chat support
Strong encryption and leak protection features
– Cons
Limited support for VPN routers
No WireGuard support for Linux (currently in development)
Surfshark Coupon

Get 81% off Surfshark VPN (drops the price down to $2.49 per month) with this coupon:
(Coupon is applied automatically.)
See our in-depth Surfshark VPN review for more details.
---
ExpressVPN – Secure and reliable VPN for Amazon Prime Video
| | |
| --- | --- |
| VPN | ExpressVPN |
| Based in | British Virgin Islands |
| Logs | No logs (audited) |
| Price | $6.67/mo. |
| Support | 24/7 live chat |
| Refund | 30 days |
| Website | ExpressVPN.com |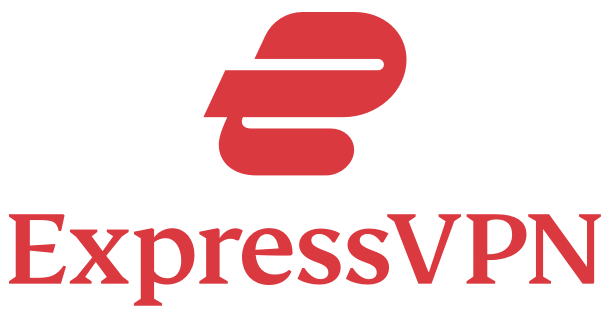 If you want Amazon Prime unblocking capabilities along with an excellent all-around VPN, ExpressVPN could be the service you want.
These guys have a great reputation for unblocking websites and streaming services around the world. In total, ExpressVPN's network includes over 3,000 VPN servers in 94 countries. This server network is comparable to other VPNs we've looked at, such as IPVanish and NordVPN. The network is consistently fast and reliable, and easily handles HD-quality streaming.
Another thing we really like about ExpressVPN is the apps. They have secure and user-friendly apps for all sorts of systems. Where a full VPN app isn't appropriate, such as with Smart TVs, ExpressVPN offers support through their MediaStreamer smart DNS service. In the screenshot below, you can see all the different operating systems and devices supported by ExpressVPN: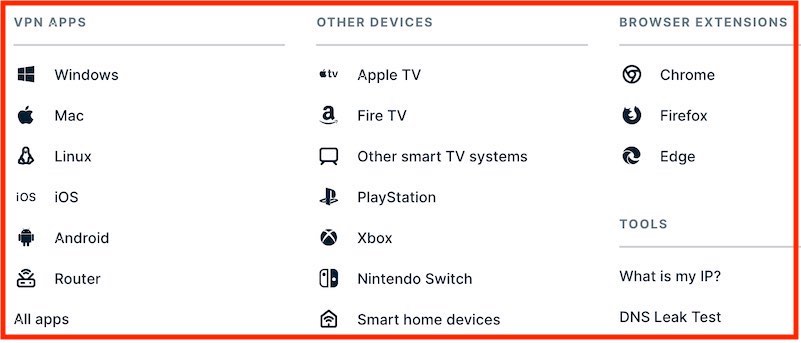 ExpressVPN is based in the privacy-friendly British Virgin Islands, and has completed multiple third-party audits confirming that its security is tight and they live up to their commitment to protect your privacy as a no-logs VPN. And like NordVPN and Surfshark, ExpressVPN runs all servers in RAM-disk mode for greater data security.
We are also impressed with their great Customer Support. While we have never had a problem using ExpressVPN to connect to Amazon Prime, we did once need to contact their 24/7 live chat support about a problem connecting to a different streaming service. Within minutes the tech figured out the problem and had us connected.
You can give ExpressVPN a thorough workout without risk since they offer a 30 day money-back guarantee.
Streaming services unblocked: Beyond Amazon Prime, ExpressVPN unblocks Netflix (US, UK, Canada, Australia, France, Italy, Japan, and Germany, along with other non-English-speaking regions), BBC iPlayer, ESPN, HBO, Hulu, SlingTV, and more.
+ Pros
User-friendly and secure apps
Fast speeds throughout the server network
Split tunneling feature (for Mac OS, Windows, and routers)
Works with Netflix and most streaming services
24/7 live chat support
Passed independent third-party audits for security and no-logs
Very large server network
– Cons
Above-average prices
Fewer features than some leading VPNs
ExpressVPN Coupon Deal

Sign up for the 12-month plan and get 3 months added to your subscription for free.
(Coupon is applied automatically.)
Want to learn more? Then check out our in-depth ExpressVPN review.
---
VyprVPN – A user-friendly VPN for streaming Amazon Prime
| | |
| --- | --- |
| VPN | VyprVPN |
| Based in | Switzerland |
| Logs | No logs (audited) |
| Price | $8.33/mo. |
| Support | 24/7 live chat |
| Refund | 30 days |
| Website | VyprVPN.com |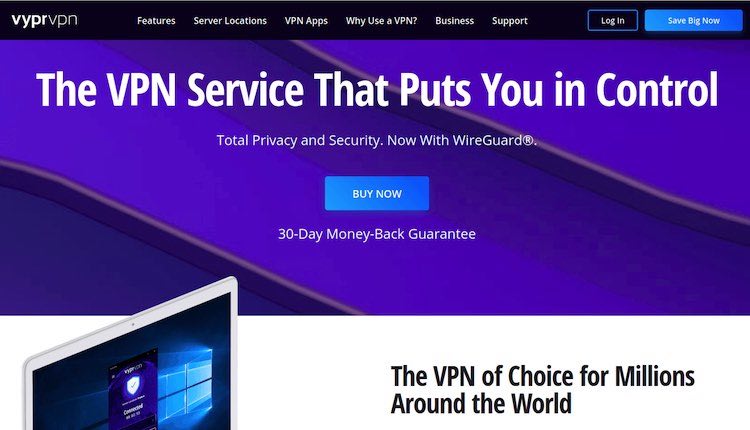 The last VPN service to make our list of the best VPNs for Amazon Prime is VyprVPN. They offer 8 server locations within the United States that you can use for connecting to Amazon Prime's US library (or other US-based streaming services, of course).
VyprVPN also delivers with performance and reliability. Like NordVPN and CyberGhost, VyprVPN also supports the Wireguard VPN protocol. We were able to hit speeds over 300 Mbps with US servers in our VyprVPN review. In terms of reliability, VyprVPN apps performed well without any bugs or crashes.
As its presence on this list would suggest, VyprVPN also has no problems doing its job as a general-purpose VPN. They collect no personally identifiable information (PII), as confirmed by a third-party audit. You'll also find that VyprVPN has useful features such as their own DNS servers and a malicious sites filter. Lastly, they also offer the Chameleon protocol, which can help you bypass VPN blocks, for example if you need a VPN for UAE, where VPNs are often blocked.
The VyprVPN apps we tested all performed well. They offer apps for Windows, Mac OS, Android, and iOS. Support for Linux right now is not great, so check out these other VPNs for Linux instead. Below is the VyprVPN desktop app in action on a Macbook test computer.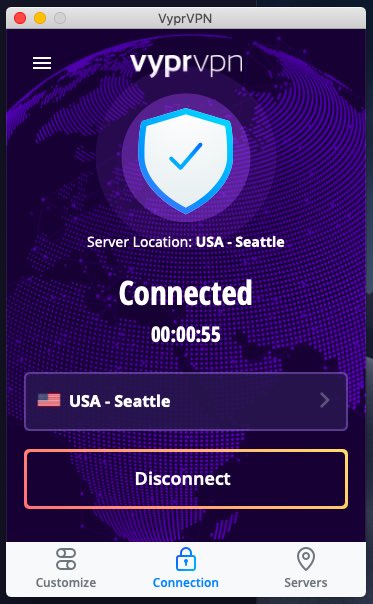 In keeping with the rest of the VPN services in our list, VyprVPN offers 24/7 customer support and a 30 day money-back guarantee.
Streaming services unblocked: Beyond Amazon Prime, VyprVPN unblocks Netflix (US, UK, and Germany), BBC iPlayer, Hulu, and HBO.
+ Pros
Secure applications with strong encryption
Excellent speeds with all servers tested
Full WireGuard support directly in VPN apps
Chameleon protocol (obfuscation)
Entirely self-owned server network
User-friendly apps for many devices/platforms
Based in Switzerland with an audited no-logs policy
30 simultaneous connections
– Cons
Requires name for registration
No cryptocurrency payment options
Want to learn more? Check out our full VyprVPN review.
---
Amazon Prime VPN FAQs
Alright, so you want to use a VPN for streaming Amazon Prime Video, but perhaps you have some questions…
Do you need a VPN for Amazon Prime?
How Do I Access Amazon Prime Using a VPN?
Can I use a free VPN to watch Amazon Prime video?
Does Amazon Prime block VPNs?
How fast does my VPN need to be for Amazon Prime?
Do you need a VPN for Amazon Prime?
The answer to this question depends on your location and travel plans. Will you be connecting to Amazon Prime from outside your normal geographic region? If the answer is yes, you will need a VPN. You will also need one if you want to prevent your ISP and other third parties from snooping on your online activity.
Then there are situations like this:
Some ISPs still throttle streaming content. To keep down the amount of traffic on their network, they actually cripple your streaming connection by limiting how fast you can download data. When you use a VPN to encrypt your connection, the ISP has no way to tell you are streaming a video, so can't penalize you for it.
How Do I Access Amazon Prime Using a VPN?
While using a VPN to defeat internet blocks and get access to hidden information might sound like something out of a spy movie, it is actually easy to do. Just follow these instructions:
Step 1: Get a VPN that works well with streaming services
You already know which VPNs we selected as the best for Amazon Prime. But here they are again:
NordVPN
Surfshark
ExpressVPN
VyprVPN
Once you sign up for one of these services we will be ready to continue.
Step 2: Install your new VPN
Download and install the correct app(s) for the device(s) you will use to connect to Amazon Prime.
You can find the app(s) you need on the VPN's website.
Step 3: Connect to a VPN server
Launch (run) the VPN app you just installed. Select a location in the United States, since that is where the best Amazon Prime content is located. You always want to select a location in the country where the content is, not where you are. For this to work you need to convince Amazon Prime that you are located somewhere in the USA so it doesn't block you. If you have the option, connect to the location in the USA that is closest to your present location. This will give you the best results.
Note: In some cases, you may need to connect to Amazon Prime through a specific server or location to get past the blocks that Amazon Prime and other streaming services put in front of you. If you can't connect using the location you selected, hit the VPN's 24/7 live chat line and ask for help.
Step 4: Enjoy your access to Amazon Prime
You should now be ready to roll. Log in to Amazon Prime as normal. The service should see you as just another local user and not try to block you.
Can I use a free VPN to watch Amazon Prime video?
Free VPNs do not work well for Amazon Prime because the speeds will be slow, which results in poor streaming quality. And because free VPN services are limited, you probably won't be able to unblock Amazon Prime with one. And because many free VPNs gather and sell information about you, it makes sense to avoid them anyway.
For more reasons why it is a bad idea to use a free VPN for anything, check out our discussion on free VPNs here.
Does Amazon Prime block VPNs?
Amazon Prime and many other streaming services try hard to block VPN users from getting at their content.
To you and me, this seems crazy. You are paying good money for your Amazon Prime account, so why shouldn't you be able to use it unless you are sitting in a particular country?
Long story short, copyright holders force Amazon Prime and other streaming services to block you. Copyright holders can maximize their profits by licensing content to each region based on its value in that region.
But that plan doesn't work if people can see content from any region they wish. So streaming services end up signing contracts that require them to block access from outside each licensed region.
While that works out great for the copyright owners, it harms legitimate users like you by artificially keeping you from viewing the content you are paying for.
Either way, there are solutions. Whether you need a VPN for Hulu, Amazon Prime, or Netflix, you will still be able to stream your favorite content with the right service.
How fast does my VPN need to be for Amazon Prime?
The speed of your VPN is important, but what is really important is the ability to stream HD content without hiccups or other problems.
That means that results depend on the speed of your internet connection, where you are located, where your VPN server is and where the Amazon Prime servers are located. Let's start at the beginning, by looking at the overall speeds you need for different video qualities. After that, we'll look at what you can do to improve speed, given your location and so on.
Speed and quality
The following table shows the overall speed you need to stream video from Amazon Primer or anywhere else to get a particular image quality:
500 Kbps = Minimum quality
1,500 Kbps [1.5 Mbps] = Normal quality (less than 480p)
3,000 Kbps [3 Mbps] = SD quality (480p or better)
5,000 Kbps [5 Mbps] = HD quality (720p or better)
25,000 Kbps [25 Mbps] = Ultra HD quality (1080p or better)
Optimizing the speed of your connection
Assuming you can't change your physical location, and Amazon Prime refuses to move their servers closer to you, what can you change?
The speed of your VPN
The speed of your internet connection
The VPN server you connect to
As you might expect, a faster VPN that can also unblock Amazon Prime will give you a faster overall connection. Right now, the fastest VPNs we have seen that can also unblock Amazon Prime are NordVPN and ExpressVPN. Going with one of them is the best you can do for item #1 in our list.
As you might also expect, a faster internet connection will generally result in a faster connection. If your Internet Service Provider offers a plan of faster than 5 Mbps, upgrading to that should take care of item #2 in our list. Fortunately, there are renewed calls to improve internet speed in many countries.
Item #3 might not be so obvious. But it becomes much clearer when you realize that it does take a finite amount of time for messages to travel through the internet, and the further a message has to go, the longer it takes. Connecting to a VPN server instead of directly to Amazon Prime always make the signal travel farther.
Generally speaking, to get the best speed and reliability, choose a closer VPN server that is located within the geographic region the streaming service supports (the United States in our example). If there is more than one VPN server available in the region, choose the one that is physically closest to you. Doing this will minimize the latency (delays) in the connection and should give you the best streaming performance possible in your circumstances.
Amazon Prime VPN Comparison Table
Finding the best VPN for Amazon Prime will give you the best viewing results, wherever you happen to be. And with the Amazon Prime Video library continuing to grow with great content, you'll want a VPN to ensure you have access at all times.
However, you will also want to remain secure online. After all, the internet remains a dangerous place where numerous businesses, organizations, and devices such as security cameras are hacked all the time. Fortunately, a VPN provides you with the added security and privacy that is crucial in today's digital world.
Another benefit worth mentioning is that these VPNs also work well for other streaming services. Perhaps you need a VPN for BBC iPlayer to get access to UK media, then our top three choices have you covered. Or maybe you are a Netflix fan and want the best VPN to unblock Netflix during your global travels. Either way, you'll be able to stream your content with a reliable VPN service.

---

---

---
---
This Amazon Prime VPN guide was last updated on November 30, 2021.