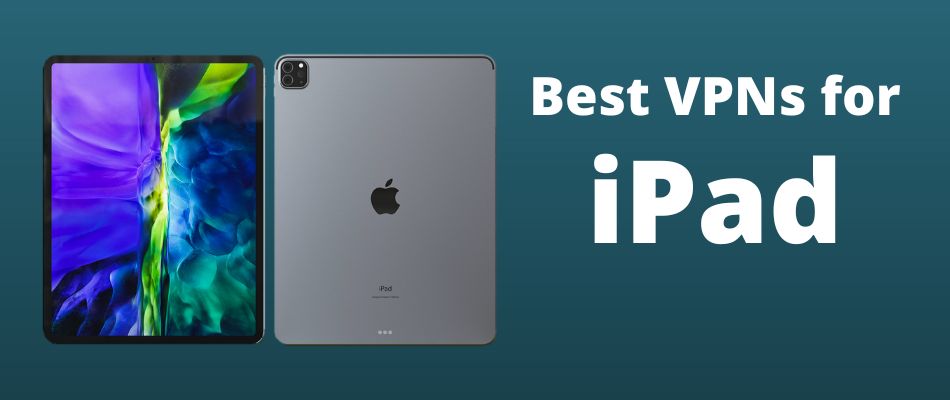 As an iPad user, you are used to a high-quality online experience. You are also used to dealing with Apple, a company that prides itself on securing user privacy. But that is all within the Apple ecosystem.
Out on the Net, it's a different story, and Apple can't protect you out there. You need to take your security and privacy into your own hands. This is where a VPN for iPad devices comes into play. The right VPN will provide unbreakable security for your message traffic, along with a no-logs policy and system design that protects your privacy.
In this guide we are going to examine the best VPNs for iPad based on the latest test results. We have now tested and recommend three VPNs that not only do they give you security and privacy, they also give you the ability to view Netflix and other streaming content from sources around the world.
This table highlights our top recommendations before we dive deeper into the details:
---
---
---
These are the criteria we used to rank the best VPNs for iPad in 2022:
Passes all our leak tests meaning there are no IP address leaks or DNS leaks that could expose your data online
Fast, reliable VPN server network
High-quality, easy-to-use VPN apps with no bugs
Support for secure VPN protocols and strong encryption
Offers a full money-back guarantee
Backed by a trustworthy, established company
Located in a jurisdiction that respects internet privacy and is located outside the US, UK, and other Five Eyes countries
With those criteria in mind, let's dive right into our reviews of the best VPNs for iPad:
---
NordVPN – The best iPad VPN for 2022
| | |
| --- | --- |
| VPN | NordVPN |
| Based in | Panama |
| Logs | No logs (audited) |
| Price | $3.29/mo. |
| Support | 24/7 live chat |
| Refund | 30 days |
| Website | NordVPN.com |
When you apply our ranking criteria to the best VPNs on the market today, NordVPN ranks as the best VPN for iPad users. This VPN service is secure and reliable, with extremely strong encryption and VPN protocols. In our tests, we found it to offer easy-to-use apps that didn't leak or have any issues with bugs. NordVPN has been a leader in the industry for years and is strategically based in Panama, one of the best privacy jurisdictions in the world.
Below you can see NordVPN running on an iPad connected to a VPN server in the USA: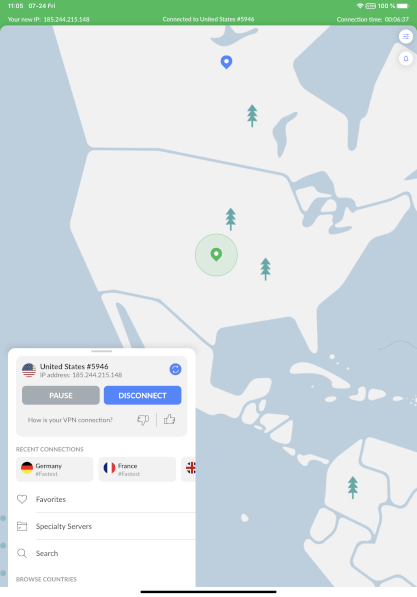 One thing you cannot see in the image above is just how fast this VPN is. The speed comes from a combination of high-performance updates to the 5,500+ VPN servers in their 59-country network and their network-wide support for the WireGuard VPN protocol. WireGuard has a host of speed and security benefits, and the engineers at NordVPN have boosted its privacy to comply with their no-logs VPN status. The result was the NordLynx VPN protocol, which is secure, private, and very, very fast.
Yes, NordVPN clocked in at 445 Mbps on our 500 Mbps internet connection. That officially makes it the fastest VPN we have tested.
Another great feature you get with NordVPN for iPad is called Threat Protection Lite. Threat Protection Lite protects your iPad from "ads, unsafe connections, and malicious sites" while you are connected to a NordVPN server. This makes it similar to other VPNs with ad blocking built in.
And these are not the only advanced features NordVPN brings to your iPad. Here is a partial list of those features:
Double-VPN servers that encrypt your traffic across two different servers in two different locations for additional security.
P2P servers that are optimized for P2P (torrenting) traffic and have the security to keep your identity hidden at all times. We rate NordVPN as the best VPN for torrenting.
Obfuscated servers that make your VPN traffic look like regular HTTPS traffic to hide it from VPN censors or other restrictions.
Tor-over-VPN servers that pass your VPN traffic through the Tor (Onion) network to gain its anonymity benefits.
You can see all NordVPN features here >>
NordVPN is also our pick for the best VPN for streaming on iPad or other devices. It can unblock the leading Netflix regional libraries so you can stream the world's best content without ever leaving your home. You aren't restricted to Netflix either. NordVPN can stream content from services like Amazon Prime Video, BBC iPlayer, DAZN, Disney Plus, and most other major (and not-so-major) services.
How to use NordVPN on your iPad
It is easy to install and use NordVPN on your iPad. Here is the 4-step how-to guide:
Using the coupon below, get yourself a NordVPN subscription (the coupon will get you the best price currently available.)
Follow the online instructions to download and install the NordVPN app on your iPad.
Open the app on your iPad and log in to it.
Click the Quick Connect button. This connects you to the best (fastest) VPN server for your location. If you want to stream Netflix or other content from another region, select a NordVPN server from that region and log into that instead of using the Quick Connect button.
It couldn't get much simpler than that. But if something goes wrong, don't worry. NordVPN has 24/7 live chat support and their experienced team will get you sorted out as fast as possible.
Note: The first time you log into a NordVPN server on your iPad, you may be asked to allow the VPN app to add configurations to your device. Go ahead and do this and you will be up and running in minutes.
+ Pros
User-friendly and reliable apps
Double-VPN and Tor-over-VPN servers
No logs (audited twice)
Strong encryption standards with full support for WireGuard
Works with Netflix and many other streaming services
Threat Protection feature to block ads, trackers, and malware domains
24/7 live chat support
Dedicated RAM-servers with 10 Gbps bandwidth channels
– Cons
Big discounts only available with long-term subscriptions
NordVPN's Cyber Deal is live:

Get 63% Off NordVPN plus an additional 3 months FREE:
(Coupon is applied automatically.)
If you want more information on this impressive VPN service, check out our in-depth NordVPN review.
---
Surfshark – High performance for a low, low price
| | |
| --- | --- |
| VPN | Surfshark |
| Based in | The Netherlands |
| Logs | No logs |
| Price | $2.30/mo. |
| Support | 24/7 live chat |
| Refund | 30 days |
| Website | Surfshark.com |
Surfshark is our #2 pick as the best VPN for iPad users. It has most of the same features as NordVPN and is almost as fast. At the same time, it has a couple of features that might cause you to make Surfshark your #1 VPN for iPad.
What are those features that may give Surfshark the edge over NordVPN?
One is price. Surfshark is definitely a cheap VPN and even less expensive than NordVPN. If you use the Surfshark discount coupon here, you should be able to get this high-quality VPN for a low, low price of under $2.50 per month. Two other leading VPNs in the "cheap" category are NordVPN and Atlas VPN.
The other special feature of Surfshark is that it supports an unlimited number of simultaneous connections. In plain English, Surfshark doesn't put limits on the number of devices that can be connected to their server network at any one time. Most of the big VPN services, such as NordVPN and CyberGhost, give you around six connections with your subscription.
Like NordVPN, Surfshark has an attractive and easy-to-use iOS VPN app for your iPad. That app and the other Surfshark apps have passed our leak tests with no problems. Surfshark is now based in The Netherlands, a good privacy jurisdiction. Surfshark has been around since 2018, and has an excellent track record, including passing independent security audits.
Here's what the Surfshark client looks like on the iPad: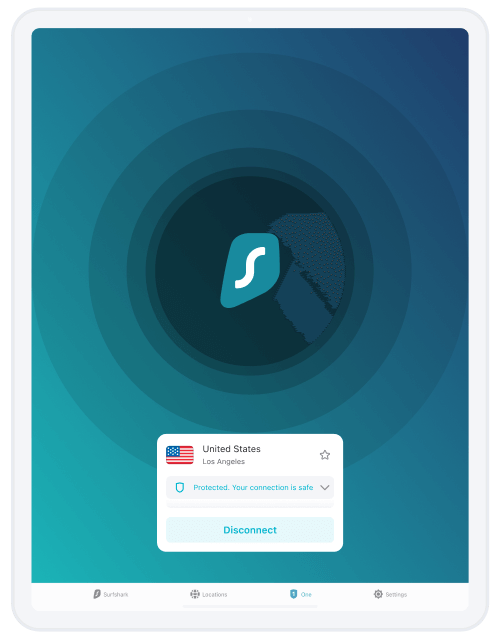 The Surfshark VPN server network is large and geographically dispersed, with more than 3,200 servers spread across 100 countries. Like NordVPN, all Surfshark's VPN servers have now been upgraded to diskless (Ram-only) servers for enhanced privacy. Additionally, to speed your data through the network, all Surfshark servers now have at least one 1 Gbps port, and many servers are being upgraded to 10 Gbps ports.
Surfshark also uses the WireGuard VPN protocol and is the second-fastest VPN we have tested, just behind NordVPN. The IKEv2 protocol is probably set as the default on your iPad, so you may need to switch to WireGuard manually. It routinely outperforms other leading VPNs, as you can see in the Surfshark vs ExpressVPN comparison.
One of Surfshark's advanced features is CleanWeb, which works much the same as NordVPN's Threat Protection Lite. We recommend you turn it on along with WireGuard to get the best speed and security all at the same time.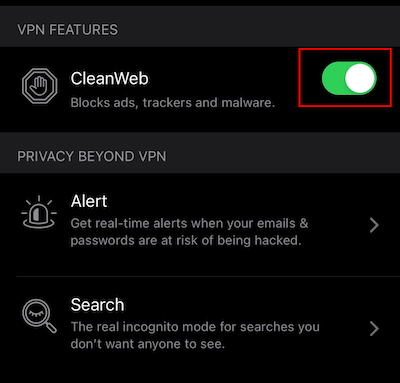 Some of the other advanced Surfshark features you can use on your iPad include:
Double-VPN (Multi-hop) servers that encrypt your traffic over two hops
Bypasser split tunneling controls which data goes through the VPN tunnel and which goes directly to its destination unprotected.
Camouflage mode (obfuscated servers) to hide the fact that you are even using a VPN
Surfshark does a great job when it comes to both streaming and torrenting. It typically beats out the competition in this category, as you can see in the Surfshark vs Proton VPN comparison.
How to set up Surfshark on your iPad
Getting the Surfshark VPN up and running on your iPad is an easy job if you follow the instructions here:
Use the coupon below to get the best price available on a Surfshark VPN subscription.
Download the Surfshark VPN app for iOS from the Surfshark website and install it.
Open the app and log in to it.
Click the Connect button to connect to a nearby server. If you are logging in to view content from another geographic region, don't click the Connect button. Instead, select a server in the region you want access to and connect to that one.
If asked to let Surfshark Add VPN Configurations, click Allow for the best performance.
As mentioned earlier, we strongly urge you to select the WireGuard protocol for the fastest, most secure connections and enable CleanWeb for enhanced privacy and security.
Note: If you would like a detailed head-to-head comparison of our two best VPNs for iPad, check out this NordVPN vs Surfshark article.
+ Pros
Unlimited connections
User-friendly apps for all devices and operating systems
CleanWeb feature to block ads, trackers, and malware
Works great with Netflix and many other streaming services
24/7 live chat support
Strong encryption and security features (audited)
– Cons
Limited support for VPN routers
Average OpenVPN speeds (use WireGuard)
Surfshark VPN Coupon:

Get 82% off Surfshark VPN (drops the price down to $2.30 per month) plus 2 months FREE:
(Coupon is applied automatically.)
For more information on this fast, cheap, and reliable service, check out our in-depth Surfshark VPN review.
---
ExpressVPN -Premium performance at a premium price
| | |
| --- | --- |
| VPN | ExpressVPN |
| Based in | British Virgin Islands |
| Logs | No logs (audited) |
| Price | $6.67/mo. |
| Support | 24/7 live chat |
| Refund | 30 days |
| Website | ExpressVPN.com |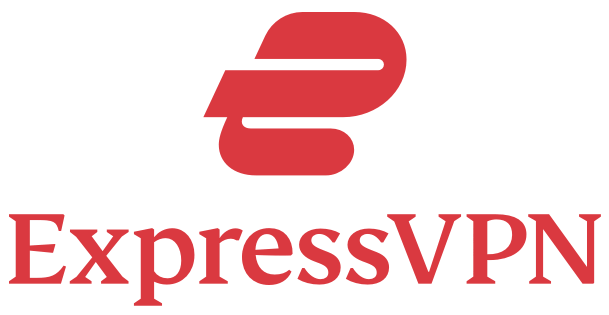 ExpressVPN has all the characteristics needed to make this list. It passed our leak tests, is fast and reliable, and uses secure protocols with strong encryption. Its apps are high-quality and easy to use (you can see their app in action on the iPad below). The company is trustworthy and established in the British Virgin Islands, a great location for a VPN. They even offer a full 30-day money back guarantee, if you decide you don't want to keep using their service.
So why is ExpressVPN #3 on this list instead of #1 or #2? There are several reasons, which will cover below.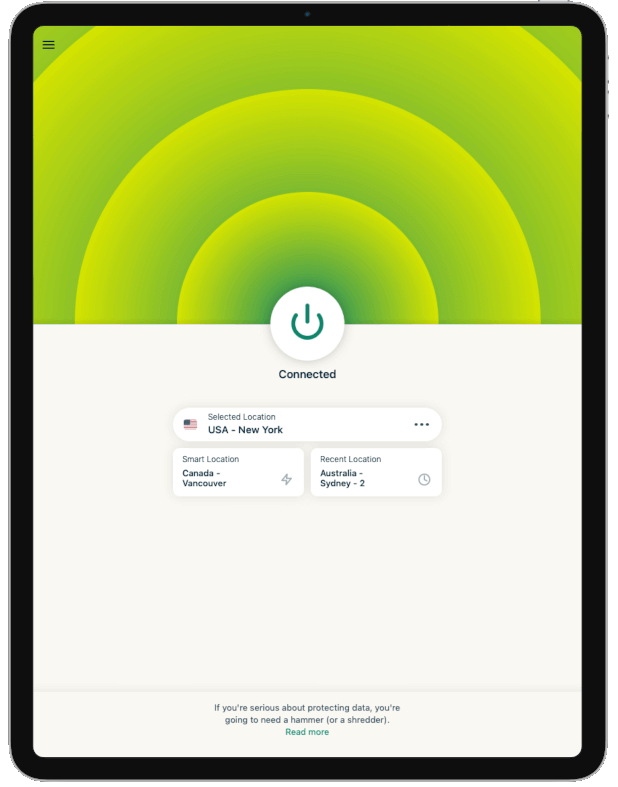 While ExpressVPN is fast, it is not as fast as either of our two leaders. Instead of going with WireGuard, ExpressVPN created the Lightway VPN protocol. With Lightway, ExpressVPN sees a significant improvement in performance and security. But as our NordVPN vs ExpressVPN tests demonstrated, WireGuard is much faster than Lightway.
As we saw earlier, both NordVPN and Surfshark supplement their full feature set with a number of advanced features that most of the VPN industry does not possess. ExpressVPN, on the other hand, sticks mostly to the basic VPN feature set and has few advanced features comparable to those of NordVPN or Surfshark.
Another thing holding ExpressVPN back is its price. Even with the discount coupon we have arranged for you, ExpressVPN is much more expensive than either of the other two.
On the positive side of the ledger, ExpressVPN provides apps for a wide range of devices and operating systems. It can unblock Netflix and most streaming services very well, and they have a special MediaStreamer app that may get you streaming when the full VPN doesn't. ExpressVPN's skill at streaming quality services like Amazon Prime Video and Hulu has landed it on our list of the best VPNs for streaming.
When it comes to features, ExpressVPN was a leader in the move to diskless servers, which definitely boosts your security and privacy. Their kill switch is called Network Lock, and it does exactly that, quickly and reliably without letting your data leak out.
But that's about it. You won't find those advanced features and multiple server types that the other guys have. That's not necessarily a bad thing. If all you are looking for is an extremely solid and easy -to-use VPN for your iPad (and don't mind spending a bit more money) then ExpressVPN could be exactly the VPN you need. To find out, use the discount coupon below to get the best available price for ExpressVPN.
How to set up ExpressVPN on your iPad
The ExpressVPN app is easy to download, install, and use on your iPad. Follow the instructions below and you will be up and running in just minutes:
Use the ExpressVPN Coupon Deal at the end of this section to get a discounted deal on a subscription.
Download the ExpressVPN app for iOS from the ExpressVPN download page and install it.
Launch the app.
Click the Connect button to connect to an ExpressVPN server. Connect to a server located near your physical location for normal VPN use. But if you are connecting so you can view content from another geographic region, connect to a server in the geographic region where the content is located.
If the iPad asks you about letting ExpressVPN Add VPN Configurations, you should do so to get the full benefits of your ExpressVPN subscription.
+ Pros
User-friendly and secure apps
Split tunneling feature (for Mac OS, Windows, and routers)
Works with Netflix and most streaming services
24/7 live chat support
Passed independent third-party audits for security and no-logs
Very large server network
– Cons
Above-average prices
Fewer features
Average OpenVPN speeds (use Lightway)
ExpressVPN Coupon:

Sign up for the 12-month plan and get 3 months added to your subscription for free.
(Coupon is applied automatically.)
You'll find even more information on this quality service in our in-depth ExpressVPN review.
---
Alright, now that we have covered the best VPNs for iPad in detail above, we can get to some frequently asked questions (FAQs).
iPad VPN FAQ
Here are answers to people's most frequently asked questions when looking for a VPN for iPad:

What makes a good iPad VPN?

We cover this in more detail in the body of our review, but here are the main things you need to look for: a fast, reliable service that is secure enough to protect your privacy, with high-quality apps made to run on iPads.


Why do I need a VPN for my Apple iPad?

You need a VPN for your Apple iPad for the same reasons you need one for your computer or smartphone. An iPad VPN will:

* Keep your personal and sensitive information safe from internet snoops.

* Make it safe to use free and public WiFi services while on the go.

* Give you access to Netflix and other streaming services while you are outside your normal geographic region.

* Give you access to Netflix libraries and other streaming services from around the world without leaving your house.


How do I watch Netflix on iPad with VPN?

Assuming you have already installed a premium VPN on your iPad (one that can unblock Netflix libraries around the world), it is easy to watch Netflix on your iPad. Here are the basic steps you need to follow:

1. Launch the VPN and log onto a VPN server in the country or region that has the Netflix content you want to view.

2. Log into Netflix normally. You should see the Netflix content available to people in the same location as the VPN server.

3. Select the content and view the way you would normally.

If you do not see the right content, the first step is to close Netflix, clear the browser cache, then log into Netflix again.

If that doesn't work, contact the VPN technical support team and ask them to tell you which server to connect to for the Netflix content you want to view. All of the iPad VPNs we recommend have 24/7 live chat systems backed by experienced support personnel who should be able to help you get connected quickly.


Can't I use a free iPad VPN?

While a free iPad VPN service sounds appealing, such services can be dangerous. Some make their money by logging your online activities and selling the information. Others get paid to install malware on your devices.

Even the honest ones usually have onerous limits on the amount of data you can use, the number of VPN servers you have access to, or how long you can use the service before being automatically subscribed to an overpriced subscription.

If you really want to try a free VPN on your iPad, we have a review of the best free VPN services.


Doesn't my iPad already have a VPN built in?

There has been a lot of confusion about this. Your iPad has support for VPN connections built into it. But it doesn't have its own VPN, or anyone else's VPN built into it. If you were inclined to do so, you could build your own tiny VPN and configure your iPad to work with it, but that wouldn't really make sense.

A reputable commercial VPN service will be faster, more secure, and give you many more capabilities than any homebrew VPN you or I are likely to be able to construct. If you select one of the VPN services we recommend, it will integrate smoothly with your iPad and give you superior protection and performance.


Do I need a VPN if I have iCloud Private Relay?

If you have an iCloud+ subscription, you have access to iCloud Private Relay. This service is designed to protect your online privacy, but it does not replace a VPN. Private Relay passes your internet traffic through two separate, secure internet relays (servers). The design is such that the first relay only knows what your IP address is, but not your online destination. The second relay knows your online destination, but not your real IP address.

Private Relay is like a VPN in that it protects your privacy. However, it only works for websites you visit using the Safari web browser. Even then, it only works for websites that use the old, insecure HTTP protocol instead of the newer, encrypted HTTPS protocol.

VPNs allow you to select servers in different countries to get access to content in those countries or evade the internet blocks certain countries impose upon their citizens. Private Relay is explicitly designed to prevent you from doing these kinds of things.

While iCloud Private Relay is a nice improvement for iPad users, it does not eliminate the need for an iPad VPN.

Conclusion: Why you need a VPN for iPad in 2022
To wrap this up, let's quickly go over why you need an iPad VPN today. There are three big reasons: privacy, security, and the ability to bypass restrictions like geo-blocking.
Privacy
Privacy is an increasingly rare and valuable commodity in today's world. From your ISP (Internet Service Provider) to almost every website you visit, they all try to record any information they can about you. Once they have it, they will probably either use it for their own marketing efforts or sell it to the highest bidder. Or both.
A quality iPad for your VPN will keep your ISP from tracking your activities. It will also hide your identity (in the form of your IP address) from the locations you visit online.
Security
Pretty much any public (and not a few private) networks could be targeted by hackers looking to get past your computer's security to all that juicy personal data. A secure VPN like the ones we profiled in this article will help protect your computer from attacks by hackers and other hostile forces.
Bypassing online restrictions
From governments trying to control what their people see and hear, to corporations trying to prevent people from the 'wrong' location from streaming content, groups are trying to divide the internet into little kingdoms they control. The best VPNs for iPad help you bypass all these restrictions and get access to all of the internet.
If you are interested in any of these topics, getting a VPN for iPad use is your next logical step. While there are literally hundreds of VPNs on the market, we've made things easy for you by profiling the three best iPad VPNs right here.
Three options to choose from, not hundreds. Best of all, you can't lose. All three of these are excellent products, and any one of them will do the job for you. And since they all offer 30-day money-back guarantees, you can try any or all of them without risk. What are you waiting for?
This best VPN for iPad review was last updated on November 8, 2022.