NordVPN and Proton VPN are both large, well-respected names in the VPN and privacy communities. While NordVPN has been around longer and is one of the most popular VPNs in the industry, Proton VPN is also making a name for itself. So who comes out on top in this Proton VPN vs NordVPN comparison?
Based on the latest test results, NordVPN wins in 2022. In comparison to Proton VPN, NordVPN is much faster, offers more security features, more servers, and better support for streaming. Finally, NordVPN is also significantly cheaper than Proton VPN (see the coupon in the table below).
This table highlights the main facts about each VPN:
| | | |
| --- | --- | --- |
| | NordVPN | Proton VPN |
| Website | NordVPN.com | ProtonVPN.com |
| Location | Panama | Switzerland |
| Servers | 5,500+ | 1,746 |
| Countries | 59 | 60 |
| Logs | No logs (audited) | No logs |
| Torrenting | All servers | Restricted |
| Support | Knowledge Base; 24/7 chat | Knowledge Base; email (no chat) |
| Apps for | Windows, macOS, Linux, Android, iOS | Windows, macOS, Linux, Android, iOS |
| Price | $3.09 (with coupon) | $4.99 |
| Best Deal | 68% Off Coupon > | N/A |
NordVPN remains one of the most popular VPNs in the world, boasting a large server network, premium speeds, and lots of privacy features. It routinely outperforms other VPNs with performance, features, and streaming capability.
ProtonVPN comes from Switzerland with a focus on privacy and security, but with a smaller set of features, fewer servers, a higher price, and less access to popular streaming sites. Additionally, there was recently a data scandal involving Proton Mail, the sister company of Proton VPN, with regards to logging user IP addresses.
So which one comes out on top in this NordVPN vs ProtonVPN comparison? While we like and recommend both of these services, there was a clear winner in almost every category. Here are the areas we'll examine:
Company background and jurisdiction
Features
Speed tests
Streaming and torrenting
Security and Encryption
Privacy
Prices and Refunds
Value
We'll take a deep dive into each of these categories, while also posting the test results below. And by naming a winner in each category, we hope to give you a fast way to identify the VPN that's worth your attention.
Background and jurisdiction: ProtonVPN vs NordVPN
It is always useful to know something about the background of any company you do business with. This is particularly important when you are dealing with private or otherwise sensitive information.
While a VPN can prevent others from spying on your online activities, you need to be able to trust the VPN not to spy on you. And some have done exactly that, in the form of sharing your information with third parties. For example, PureVPN shared information about a user with the FBI, despite claiming to be a no-logs VPN. The same thing happened with IPVanish a few years ago.
Given that, let's see what we can learn about the companies behind these two VPNs.
NordVPN background and jurisdiction
| | |
| --- | --- |
| VPN | NordVPN |
| Based in | Panama |
| Logs | No logs (audited) |
| Price | $3.09/mo. |
| Support | 24/7 live chat |
| Refund | 30 days |
| Website | NordVPN.com |
NordVPN is one of the best-known companies in the VPN industry. It is part of NordSec, a brand that includes NordVPN and two new products: the secure password manager NordPass, and the encryption / cloud storage tool NordLocker. This company has an excellent background and track record, and has also passed third-party audits.
NordVPN is strategically based in Panama, a strong privacy jurisdiction that is not part of any surveillance alliances. It also does not have any mandatory data retention or logging laws. These characteristics make Panama an excellent jurisdiction for privacy-focused services like NordVPN.
Our NordVPN review has more information on the company background.
ProtonVPN background and jurisdiction
| | |
| --- | --- |
| VPN | Proton VPN |
| Based in | Switzerland |
| Logs | No logs |
| Price | $4.99/mo. |
| Support | Email |
| Refund | 30 days |
| Website | ProtonVPN.com |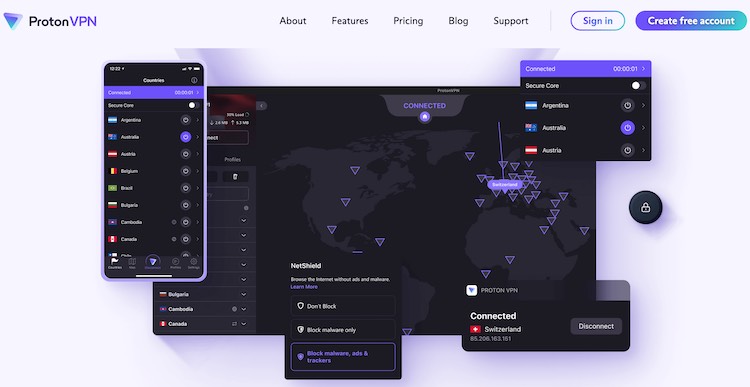 ProtonVPN comes to us from the team behind ProtonMail. The parent company of ProtonVPN (and ProtonMail) is Proton Technologies, a well-respected company is based in Switzerland. Similar to Panama with NordVPN, Switzerland is also a good privacy jurisdiction and is not party to any international surveillance alliances.
Even before ProtonVPN was officially launched in 2017, ProtonMail had built up a strong following in the privacy community. It is one of the leading secure email services. Today, you can combine both ProtonMail and ProtonVPN under one subscription – but it's quite expensive, as we'll cover below.
Important Note:
ProtonMail was the subject of another logging controversy. It was found to be logging users for a criminal investigation, as requested by law enforcement officers in France. We covered the situation in detail here:
ProtonMail Gives Up Logs on User, Then Scrubs Website of No IP Logging Claims
In the ProtonVPN review, we noted how Proton has a history of targeted logging against specific users, based on Swiss court orders. This information was released in previous transparency reports and it has also been called out by others.
Both NordVPN and ProtonVPN are backed by reputable companies based in privacy-friendly jurisdictions. But we do consider Panama to be a slightly better jurisdiction for privacy than Switzerland. Additionally, ProtonVPN has a history of targeted logging of its users, which we do not see with NordVPN.
Company background and jurisdiction winner: NordVPN
---
NordVPN vs ProtonVPN Features
Now we will examine how ProtonVPN and NordVPN compare with each other in the features category.
ProtonVPN features
ProtonVPN's network currently consists of 1,057 servers in 54 countries. This isn't a particularly large network, but it may be sufficient for your needs.
Unfortunately, ProtonVPN restricts servers to only premium subscriptions. In other words, you will need to pay for a "Plus" or "Visionary" subscription in order to have access to all servers. (Free and Basic users are locked out.) This is different from NordVPN, which gives all users 100% access to all servers.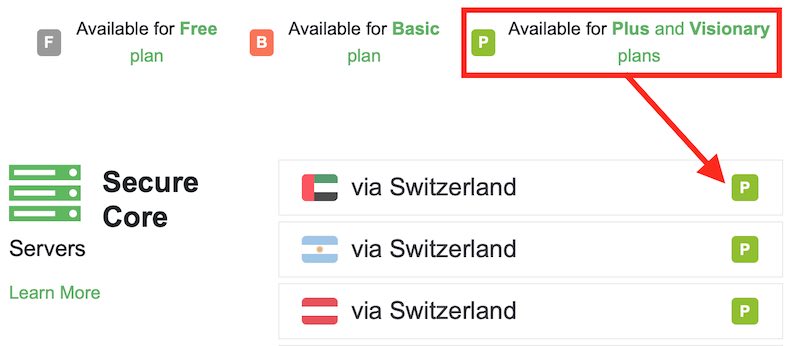 The company claims that their network provides high-speed connections for premium users. But in our tests with a "Plus" account, we simply could not find a fast server, unlike our speed tests with NordVPN.
The ProtonVPN apps have useful privacy and security features such as a kill switch, auto-reconnection to the network, DNS leak protection, and split tunneling (on some of their apps). Speaking of apps, all ProtonVPN apps are open source. They provide apps for Windows, Mac, Linux, iOS, Android, and various routers, including the Vilfo VPN router.
Here you can see some of the privacy features we tested with the ProtonVPN Windows VPN app: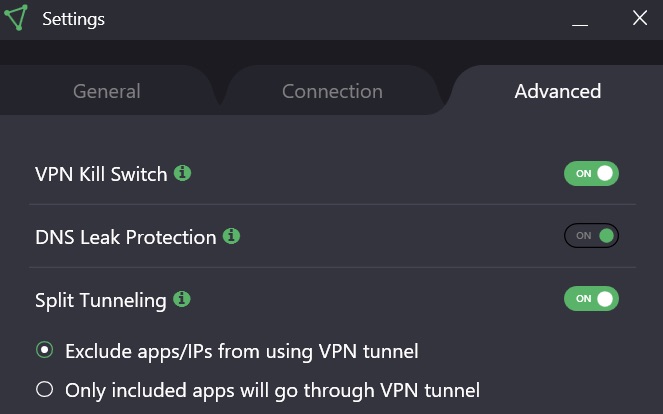 The "Secure Core" servers could also be considered a feature. These are just double-VPN servers, similar to what NordVPN offers. However, one noteworthy difference from NordVPN is that ProtonVPN's Secure Core servers are located in high-security data centers. For example, the Switzerland Secure Core servers are located in a former Swiss Army fallout shelter.
ProtonVPN is also launching a "VPN Accelerator" feature that will be available for Windows, MacOS, iOS, and Android device. This may improve the slow speed situation as it will utilize the WireGuard VPN protocol.
NordVPN features
NordVPN has all the basic features that we covered with ProtonVPN, including built-in leak protection and kill switches on all their VPN apps. One big difference from ProtonVPN, however, is that NordVPN offers many advanced privacy features. They have apps for everything ProtonVPN does, and more. They even go a few steps beyond, supporting options such as Android TV, gaming consoles, and Raspberry Pi.
Another big difference between ProtonVPN and NordVPN is full WireGuard support. NordVPN has integrated the WireGuard protocol into their network, in the form of the NordLynx VPN protocol. This is a privacy-first implementation of Wireguard that uses a Double NAT system to secure user IP addresses, as discussed in our main WireGuard VPN guide. It is easy to activate and use NordLynx in the NordVPN clients, simply follow these steps: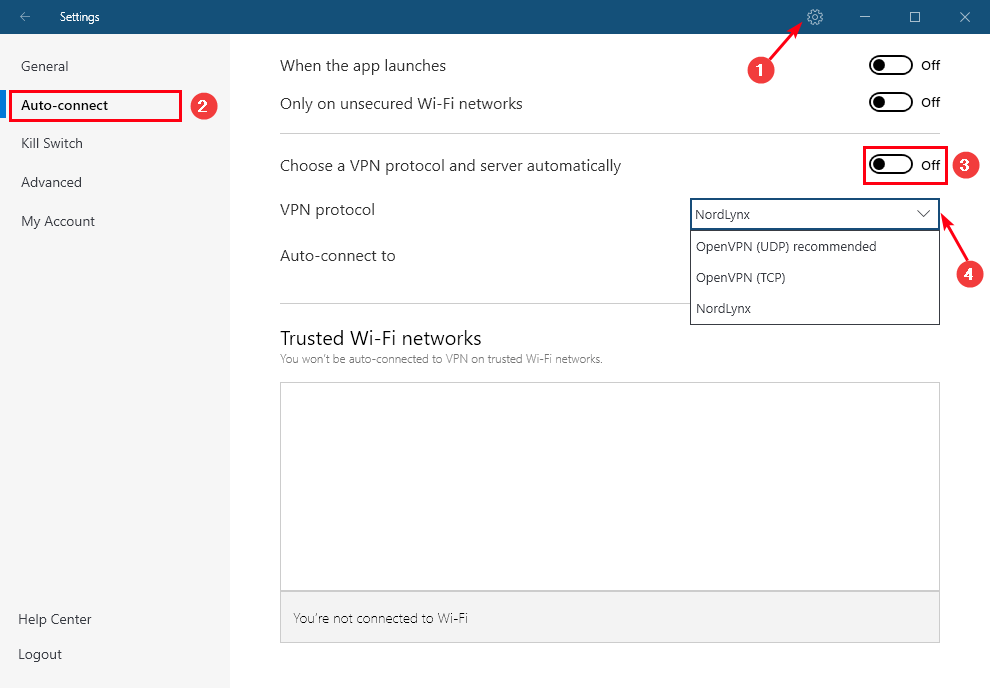 NordVPN has servers in 58 countries worldwide and their network contains over 5,500 servers. This server number amounts to five times the size of ProtonVPN's network, with five more countries covered. And unlike with ProtonVPN, the entire server network is available to all NordVPN users (no restrictions).
Another difference between NordVPN and ProtonVPN is that NordVPN offers numerous specialty servers for various use cases:
P2P servers that are optimized for torrenting. (We found these servers to be faster than the others and ideal for torrenting large files.)
Obfuscated servers that conceal VPN traffic as regular HTTPS encryption, thereby getting around blocks. These servers are useful if you need a VPN for China or the UAE, where VPNs are often blocked. (ProtonVPN admits here it is blocked in China and does not offer obfuscated servers like NordVPN.)
Double-VPN servers that encrypt traffic over two different locations. NordVPN's Double-VPN servers are similar to ProtonVPN's Secure Core servers.
Tor-over-VPN servers that add an additional layer of encryption via the Tor network. ProtonVPN also offers Tor-over-VPN servers, but again, these servers are restricted to only the most expensive subscriptions.
Below is the NordVPN Windows client we tested out for this Nord vs Proton comparison. On the left side of the app, you can see all the specialty servers, with an active connection to a double-VPN (Switzerland > Netherlands) server configuration.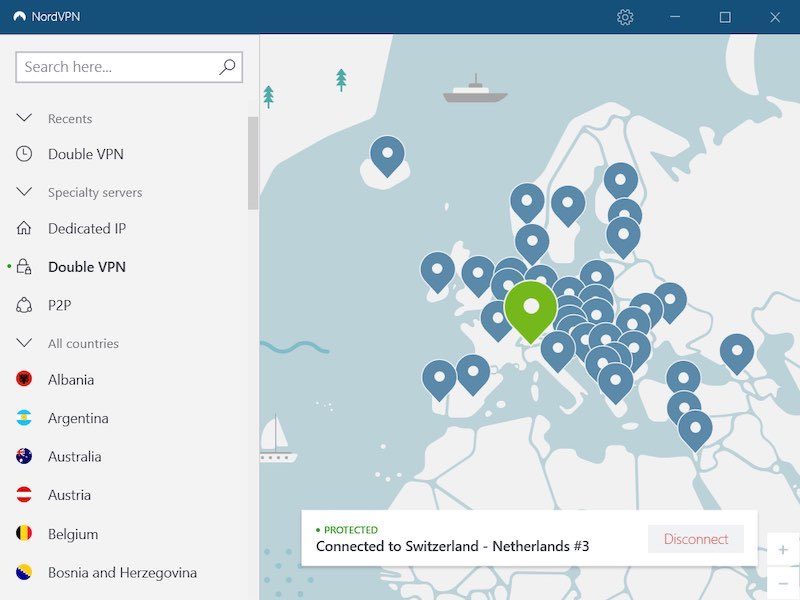 One last feature to consider is CyberSec, which blocks ads, trackers, malware, and phishing domains. This is a useful feature if you want a lightweight and efficient VPN ad blocker for all your devices. Unlike browser-based ad-blockers, such as uBlock Origin, NordVPN's CyberSec feature will block ads and trackers on your entire operating system through the VPN.
While ProtonVPN offers some useful features, NordVPN's WireGuard support, large server network, and specialty servers give it the edge. And if we consider streaming, then NordVPN does even better.
Features winner: NordVPN
---
NordVPN vs ProtonVPN speed tests
Given all the work a VPN must do to protect your data, it is only logical that they would slow your connection down somewhat. But how much any particular VPN slows you down can vary enormously.
We ran all of these NordVPN vs ProtonVPN speed tests with a 500 Mbps connection in our US lab. We tested servers in the United States and United Kingdom, as well as double-VPN servers from each service.
Test #1: Seattle, USA
Here was a ProtonVPN server in Seattle, which gave me about 92 Mbps.

Right away, we see that ProtonVPN does not have fast speeds with the Seattle location. Now let's see if NordVPN is faster than ProtonVPN with this location.
Here was the NordVPN server in Seattle at 445 Mbps.

This is the fastest VPN speed test result we've gotten here on Restore Privacy. For the Seattle server location, NordVPN was 4.8 times faster than ProtonVPN, or 353 Mbps. This is a massive difference.
Test #2: New York, USA
Here was the ProtonVPN server in New York at about 101 Mbps.

While this is slightly faster than the ProtonVPN server in Seattle, it is still not very fast.
Here was the NordVPN server in New York, giving us great speeds of 280 Mbps.

It's clear that NordVPN offers significantly faster speeds than NordVPN with the US servers we tested. So now let's see if overseas servers were any different.
Test #3: United Kingdom
Here was the ProtonVPN server in the UK at only 20 Mbps.

This is the slowest ProtonVPN server we tested. We would not expect speeds this slow with a premium (high-priced) VPN service.
Here was the NordVPN server in the UK at about 295 Mbps.

For the UK region, NordVPN was more than 14 times faster than ProtonVPN, nearly hitting 300 Mbps. This is really impressive, especially when you consider the high latency and long distance between my location and the VPN server. NordVPN clearly delivers on speeds and is the best VPN for UK server speeds.
Double-VPN speed tests with NordVPN and ProtonVPN
NordVPN and ProtonVPN both offer double-VPN servers. You can select the double-VPN servers directly in the NordVPN app. With ProtonVPN, they refer to their double-VPN servers as "Secure Core" – and they are only accessible if you have one of the more-expensive VPN subscriptions.
But back to the speed tests.
Here we tested a double-VPN server with ProtonVPN using the Switzerland > Canada configuration: 27 Mbps.

Again ProtonVPN delivers slow speeds with the double-VPN "Secure Core" servers. not a great speed test result from ProtonVPN, even considering the double encryption and higher latency.
Here was a double-VPN server from NordVPN with the US > Canada configuration: 214 Mbps.

NordVPN again outperforms ProtonVPN by a large margin. The Double-VPN servers from NordVPN are significantly faster than the Secure Core (double VPN) servers from ProtonVPN. We also found it to beat out other services offering double-VPN servers, as seen in our Surfshark vs NordVPN comparison.
Why is NordVPN so much faster than ProtonVPN?
One big advantage that NordVPN has over ProtonVPN is that it utilizes the WireGuard VPN protocol. In our WireGuard vs OpenVPN speed tests, WireGuard outperformed OpenVPN with every server location. ProtonVPN now supports the OpenVPN and IKEv2 protocols, as well as WireGuard under the "VPN Accelerator" feature.
ProtonVPN continues to struggle in the performance area, while NordVPN is getting better. NordVPN is also beating out other leading VPNs with speeds, as we can see in the NordVPN vs IPVanish comparison.
Speed test winner: NordVPN
---
ProtonVPN vs NordVPN streaming and torrenting
Both of these services support streaming media as well as P2P (torrenting) – but one offers a lot more streaming options than the other. Can you guess who?
Streaming with ProtonVPN and NordVPN
Millions of people use their VPN to stream media – and this is a trend that is only growing. But major streaming services like Netflix use geo-blocking technology to fence out anyone trying to connect from the 'wrong' physical location. While many VPNs can unblock websites, only a few have advanced capability to defeat geo-blocking with streaming services.
NordVPN – Unfortunately for ProtonVPN, in this category they are competing with one of the very best VPNs for streaming available today. NordVPN has the fastest network we've tested with a huge selection of streaming-compatible servers around the world. We currently rank NordVPN as the best VPNs for Netflix because it offers fast and consistent access to 15+ Netflix regional libraries. Here we are streaming Netflix with a ProtonVPN server in the US: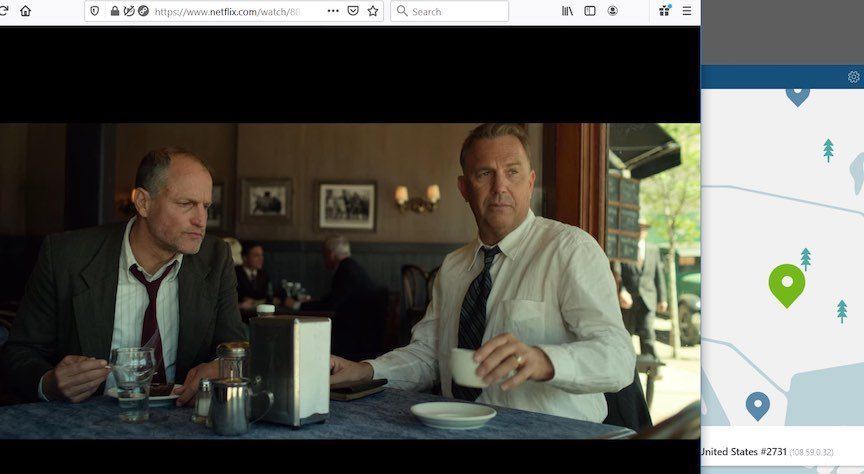 Aside from Netflix, NordVPN is also a great VPN for Disney Plus, Hulu, BBC iPlayer, and more. They even offer a dedicated Amazon app if you want to use a VPN for Firestick.
ProtonVPN – This is a decent VPN for streaming, but ProtonVPN has a few limitations in comparison to NordVPN. Here are the streaming drawbacks we found with ProtonVPN:
Fewer streaming services supported – ProtonVPN only works with a limited number of services in comparison to NordVPN. For example, ProtonVPN only supports about four different Netflix libraries, while NordVPN officially supports more than ten.
Restricted servers – ProtonVPN restricts streaming servers to the most expensive accounts (Plus and Visionary). Free and Basic users will not be able to access American Netflix with ProtonVPN, unless they upgrade their accounts.
Limited support for streaming devices – In comparison to NordVPN, ProtonVPN also offers less support for streaming services. ProtonVPN does not have a dedicated app for Firestick and is tricky to set up with Smart TVs and other streaming devices.
NordVPN wins the streaming challenge.
Torrenting with NordVPN and ProtonVPN
What about torrenting? Can ProtonVPN compete?
NordVPN – NordVPN has a lot of advantages that make it the best VPN for torrenting:
Premium speeds (fastest VPN we have tested)
Dedicated P2P torrenting servers
Large server network
Secure VPN apps with no data leaks
Considering all of these factors, it's easy to rate NordVPN as the best VPN for torrenting.
ProtonVPN – ProtonVPN is a good VPN for torrenting. However, we found these drawbacks:
Slower speeds, as noted above.
Free plan blocks torrenting traffic (you'll need to upgrade your account)
ProtonVPN also blocks some servers from torrent traffic and will automatically disable your connection if they detect torrent transfers. (We've seen lots of complaints about this from ProtonVPN users.)
Considering everything, ProtonVPN does not seem to be an ideal choice for torrenting.
Note: Neither NordVPN nor ProtonVPN support port forwarding, a feature that is useful when torrenting with a VPN. There are a few VPNs, such as Private Internet Access (PIA) that offer port forwarding. But in our PIA vs NordVPN comparison, we still found Private Internet Access to come up short with torrenting speeds.
NordVPN wins the torrenting challenge too.
Streaming and Torrenting winner: NordVPN (winner for both sub-categories)
---
Encryption and Security: Proton vs Nord
Encryption and security are important factors to consider when selecting a VPN.
VPN Encryption & Protocols
ProtonVPN vs NordVPN have comparable levels of encryption and protocols:
ProtonVPN: The ProtonVPN Windows client and Linux script use the OpenVPN protocol. Their other apps use the IKEv2 protocol. For their encryption, they use AES-256-CBC and HMAC SHA-512 authentication. ProtonVPN is in the process of also integrating WireGuard.
NordVPN: NordVPN clients use the OpenVPN and NordLynx protocols, while also supporting IKEv2 on some operating systems. For their encryption, they use AES-256-GCM with a 4096-bit DH key or ChaCha20 ciphers.
It's clear that both NordVPN and ProtonVPN are using secure encryption together with reliable VPN protocols. With that being said, NordVPN wins this sub-category because with the full implementation of the WireGuard protocol, which utilizes the latest encryption standards.
Note: Another big advantage that WireGuard has over OpenVPN is the code base size. OpenVPN is bulky at around 400,000 lines of code with the OpenSSL. This stands in stark contrast to WireGuard, which only has about 4,000 lines of code. This makes WireGuard efficient, lean, and easier to audit in comparison to OpenVPN.
Security audits
NordVPN has undergone the following third-party audits:
A no-logs audit by PricewaterhouseCoopers AG Switzerland. (NordVPN is one of a handful of verified no logs VPN services.)
A second PricewaterhouseCoopers no-logs audit covering regular, obfuscated, Double VPN and P2P servers. (This was completed in 2020.)
An app and infrastructure audit, along with ongoing penetration testing conducted by VerSprite.
ProtonVPN has undergone a security audit conducted by SEC Consult. Unlike with NordVPN, ProtonVPN has not had any outside audits to verify its no-logs claims.
NordVPN wins. We see no reason to believe that there is anything wrong with ProtonVPN's security. And ProtonVPN would win this category against most VPNs. But NordVPN simply has more audits to back them up.
VPN server security
These two companies take different tacks to providing security for their servers.
NordVPN has converted all their servers to diskless (RAM) operation. With all servers running in RAM-disk mode, it is impossible to store any data on a server. This protects NordVPN users even if a server is seized by a third-party – no data will be available. We see this trend with both ExpressVPN and NordVPN, as well as a few other services moving to RAM-disk servers.
Another advantage with the NordVPN server network is that they are rolling out their own dedicated hardware. By deploying colocated servers, rather than renting servers from third parties, NordVPN will have total control over hardware.
While NordVPN plans to convert their entire network to colocated servers, I have not seen ProtonVPN announce similar plans.
ProtonVPN touts their Secure Core initiative, which physically protects their core servers against access by hypothetical third parties. But recall that Secure Core servers are still restricted to the most expensive subscription plans, and the rest of the server network does not benefit.
NordVPN has already completed many locations with implementing colocated servers, with the entire network expected to be running on self-owned hardware later in 2021.
Encryption & security winner: NordVPN is the overall winner with this category.
---
Privacy comparison: Proton vs Nord
What about protecting your privacy? Both services have solid no-logs policies, but there is a key distinction.
According to Proton's own transparency reports, they have complied with court orders that have forced them to target users for IP logging. This could be a major drawback of operating in Switzerland, which is also home to data retention laws. (See our article on the ProtonMail logging situation.)
With NordVPN, I have not been able to find any instances of targeted logging like we see with ProtonVPN. Additionally, Panama is more of a privacy-friendly jurisdiction than Switzerland because it does not have mandatory data retention laws.
NordVPN has also completed two separate no-logs VPN audits, which verified the VPN is following its privacy policy. ProtonVPN has never completed a no-logs audit.
Privacy winner: NordVPN
---
Prices and refunds
Okay, now that you have a sense of what each VPN is like, let's see how much they cost and how hard it would be to get a refund if you change your mind.
ProtonVPN pricing – This gets a little confusing. ProtonVPN has four different price plans. And unlike most companies, they don't offer multi-year discounts. It will be easier to talk about this if we have a picture to look at: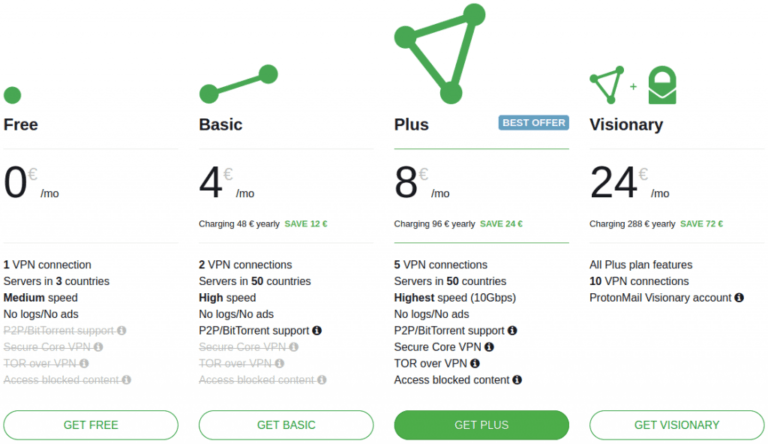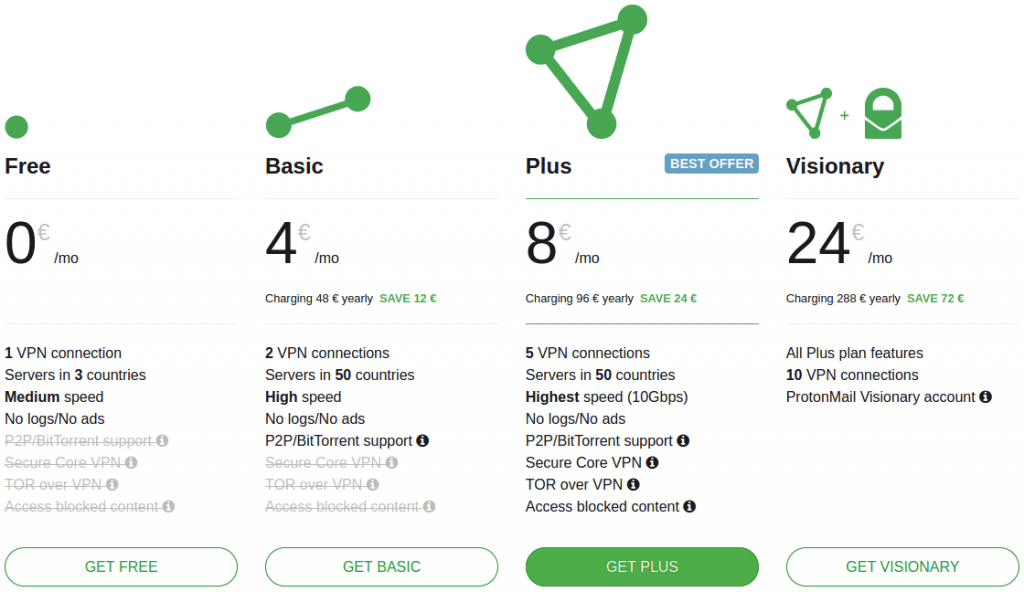 The Free plan could be useful if you have very simple needs, but is really best for testing out the service. The Basic plan, at 4€/mo, supports 2 simultaneous connections and could work if you won't be streaming blocked content, or access to the "fast" servers ProtonVPN offers. The Plus plan, which they bill as their best deal, gives you five simultaneous connections, and full access to all the VPN's features. This plan will set you back 8€/mo.
The top tier here is the Visionary plan, which gives you everything in the Plus plan, while supporting 10 simultaneous connections and giving you a ProtonMail Visionary account. This plan has an extremely high price of 288€ per year! It's clear that ProtonVPN is not the cheapest VPN we've seen.
ProtonVPN offers a 30 day refund window, which is pretty standard in the VPN industry. We are not aware of ProtonVPN offering any VPN coupons at this time.
NordVPN pricing – In contrast to ProtonVPN, NordVPN gives you full access to everything with every pricing plan. You simply score bigger discounts for longer subscriptions.
A one-month NordVPN subscription costs $11.95/mo. A one-year subscription goes for $59 ($4.92/mo) for the first year, and a 2-year subscription costs only $89 which comes out to $3.71 per month if you use the NordVPN discount coupon here >>

Just like with ProtonVPN, all NordVPN plans come with a 30 day money-back guarantee.
Price and Refund Winner: Assuming you want access to all features and all servers, then NordVPN offers much better prices and is the winner of this category.
---
Value – Is NordVPN or ProtonVPN better?
Value can be a subjective calculation in that it really depends on what you plan to do with your VPN. If the most important thing for you is price, and you don't mind the slow speeds, limited features, and restricted server network, then ProtonVPN may be the best fit.
While we don't know exactly what you plan to do with your VPN, based on your own needs, we can compare ProtonVPN vs NordVPN on three key characteristics that every user expects from their VPN: security, privacy, and speed.
So how does ProtonVPN compare to NordVPN?
NordVPN is much faster than ProtonVPN.
Both are secure, but NordVPN offers the latest in VPN encryption technology with the WireGuard protocol.
Both protect your privacy, but NordVPN offers more privacy features, diskless servers, and has two audits to verify its no-logs claims.
Value winner: Based on these criteria, NordVPN wins the value category as well.
---
Conclusion: NordVPN wins in 2022
We here at Restore Privacy have always liked ProtonVPN, with its strong values and privacy-focused VPN service. It's even featured on our best VPN list, along with the other top recommendations. However, in direct comparison to NordVPN, it's clear to us that ProtonVPN has a lot of catching up to do.
Tallying up the results of our eight NordVPN vs ProtonVPN test categories, we can see that NordVPN won six, with two categories being a tie.
Company background and jurisdiction: NordVPN
Features: NordVPN
Speed tests: NordVPN
Streaming and Torrenting: NordVPN
Security and Encryption: NordVPN
Privacy: NordVPN
Price and Refund: NordVPN
Value: NordVPN
For most users, we would recommend NordVPN over ProtonVPN. It simply offers the best value for your money.
Additionally, the lackluster performance with ProtonVPN really prevents us from recommending this VPN. And while it may have a good reputation in the privacy community, it simply does not compete against other leading VPN services, as we also observed in the ExpressVPN vs ProtonVPN comparison.
We're happy to recommend NordVPN, a service that continues to get better. And if you want to give it a try, use the discount coupon below for the best savings.
NordVPN Cyber Deal is Live:

Get 68% Off NordVPN (drops the price to $3.09 per month) plus 3 months FREE:
(Coupon is applied automatically.)
Want to give ProtonVPN a shot?
Go for it! Here is a link to their website:
This ProtonVPN vs NordVPN comparison report was last updated on September 20, 2022 with new info and test results.