In this latest NordVPN vs CyberGhost comparison guide, we've taken a good look at both VPN services, with particular attention to any recent updates or changes. While both VPNs are popular and have lots of recommendations, the results revealed a clear winner — and also one to avoid.
NordVPN outperformed CyberGhost in almost every test category. NordVPN is faster, has more security features, offers better support for streaming and torrenting, and is more reliable than CyberGhost. This table reveals the key facts about each VPN before we dive into the details:
| | | |
| --- | --- | --- |
| | NordVPN | CyberGhost |
| Website | NordVPN.com | CyberGhostVPN.com |
| Location | Panama | Romania |
| Servers | 5,500+ | 9,000+ |
| Countries | 60 | 90+ |
| Logs | No logs (audited) | No logs (audited) |
| Torrenting | All servers | Restricted |
| Support | Knowledge Base; 24/7 chat | Knowledge Base; chat |
| Apps for | Windows, macOS, Linux, Android, iOS | Windows, macOS, Linux, Android, iOS |
| Price | $2.99 (with coupon) | $2.11 |
| Coupon | 69% Off NordVPN Coupon > | N/A |
Here are the seven categories we will cover in this comparison guide:
Speed tests
Price
Features
Security
Privacy
Netflix and streaming
Value
Before we get into the test results, let's take a quick look at the VPN apps from CyberGhost and NordVPN.
| | | |
| --- | --- | --- |
| | NordVPN | CyberGhost |
| Apps | Windows, macOS, Linux, iOS, Android | Windows, macOS, Linux, iOS, Android |
| Browsers | Chrome, Firefox, Edge | Chrome |
| Other | Android TV, Fire TV, Gaming systems, and more | Android TV, Fire TV, and more |
First up is CyberGhost. With the CyberGhost desktop apps, you can use either the full version or the minimized version. Unfortunately, you need to switch to the full version to get access to the features. When you do this, the app takes up lots of space on your computer.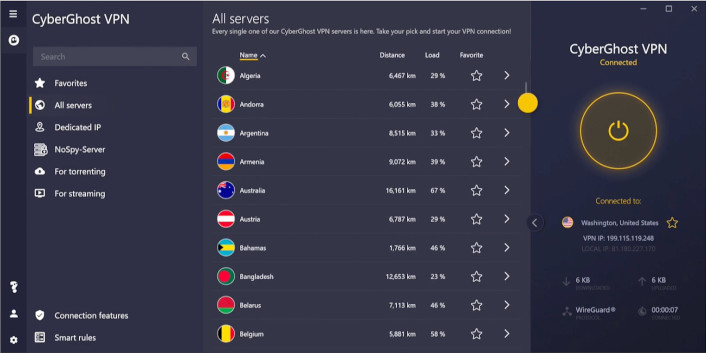 NordVPN desktop apps do not take up as much space, and there is one size (not two sizes as we find with CyberGhost). The NordVPN apps give you quick and easy access to all features and do not take up as much space on your desktop. The app lets you select servers either from the box on the left side of the window or directly from the server map with one click: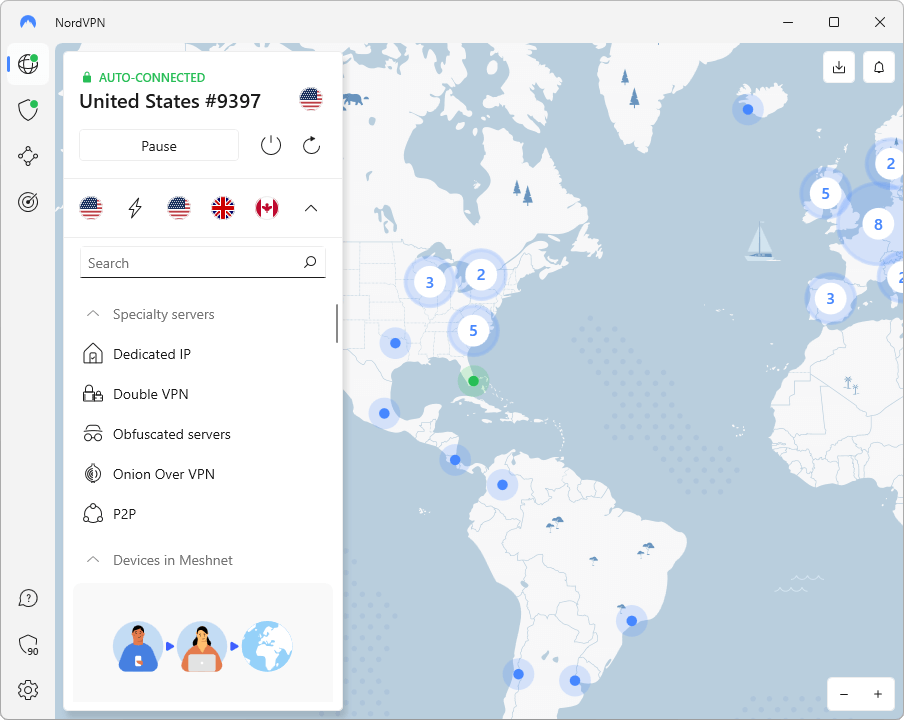 Now that we've seen the apps, let's check out the speed tests.
---
NordVPN vs CyberGhost speed tests
Speed is one of the biggest considerations when choosing which VPN is best. For the NordVPN vs CyberGhost speed test results below, my baseline (non-VPN) speed was about 500 Mbps. All tests were conducted from my location in the United States using the official VPN applications with the WireGuard protocol selected. We found a huge difference in server speeds.
For this comparison, I tested servers in the US and UK.
Test #1: Seattle
CyberGhost server in Seattle: 12 Mbps

This is a horribly slow result by CyberGhost, with more than 97% of the bandwidth wasted! Let's hope NordVPN can do better in the same location.
NordVPN server in Seattle: 445 Mbps

This is one of the fastest VPN speeds we have ever clocked. In this test, NordVPN is around 35 times as fast as CyberGhost VPN!
Test #2: Los Angeles
CyberGhost VPN server in Los Angeles: 32 Mbps

At around 32 Mbps, this is another slow speed test result from CyberGhost VPN. Can NordVPN do better?
NordVPN server in Los Angeles at 304 Mbps.

With this server location, NordVPN was almost ten times as fast as CyberGhost.
Test #3: New York
So far, NordVPN is running circles around CyberGhost in the speed category. Let's see if our last two locations will be any different.

CyberGhost server in New York at 46 Mbps.
Here we have another location and another example of CyberGhost dragging behind with speeds.
NordVPN server in New York at 280 Mbps.

NordVPN is the clear winner with US servers, badly beating CyberGhost at every location.
My last test was connecting to the UK. Incredibly, CyberGhost turned in a UK speed of only 6.33 Mbps.

No, that's not a typo. CyberGhost speeds with this UK server were in the single digits. My only guess is that the UK servers were overloaded with users, resulting in slow speeds for everyone on the server.
So now let's see how NordVPN compares. Here is a NordVPN server in the UK at 295 Mbps.

So despite the long distance between my physical location and the VPN server in the UK, NordVPN was still able to deliver speeds of nearly 300 Mbps. This is impressive, especially in comparison to CyberGhost, which struggled with low speeds on every server. Here are the speed test results in table form for easy reference:
| | | |
| --- | --- | --- |
| Location | NordVPN | CyberGhost |
| Seattle | 445 Mbps | 12 Mbps |
| Los Angeles | 304 Mbps | 32 Mbps |
| New York | 280 Mbps | 46 Mbps |
| United Kingdom | 592 Mbps | 246 Mbps |
| OpenVPN | 295 Mbps | 6 Mbps |
Summary of speed test results.
Why is NordVPN faster than CyberGhost?
NordVPN and CyberGhost should have very similar speeds since both support the WireGuard VPN protocol. However, the NordVPN server network gives them a huge advantage.
These NordVPN server network updates give it a big edge with speeds and reliability:
As noted above, one possible reason for the speed difference is that CyberGhost hasn't seemed to be investing in network upgrades. Below is a screenshot from a previous CyberGhost review. You can see that numerous CyberGhost servers were at maximum capacity.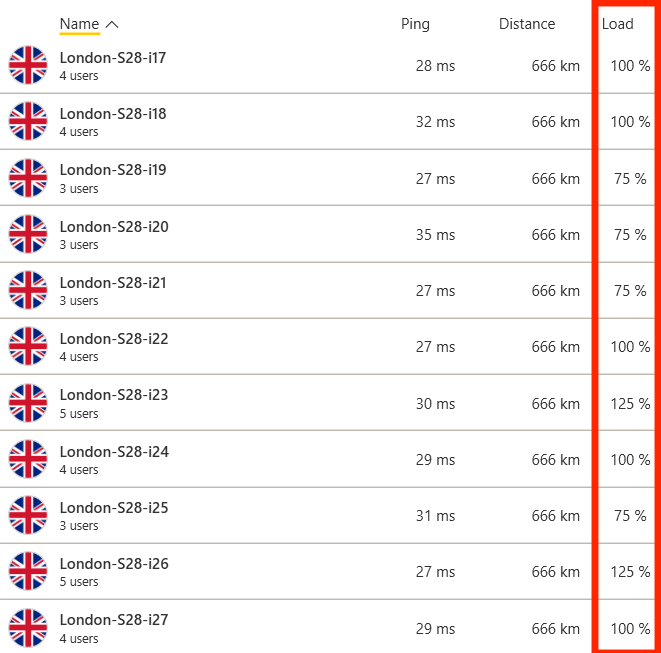 Overloaded VPN servers can cause major problems. Overloaded servers tend to have slow connection speeds and a higher risk of connection failures. An overloaded server may be unable to handle all the requests that it receives in a timely manner, leading to slowdowns across the network. The server might even crash, causing users of that server to disconnect and spreading even more delays across the network.
If you value performance, then NordVPN is the better choice and is one of the fastest VPNs we have tested.
Speed Winner: NordVPN
---
NordVPN vs CyberGhost price comparison
| | | |
| --- | --- | --- |
| Time | NordVPN | CyberGhost |
| Monthly | $11.95 | $12.99 |
| 6-months | N/A | $6.99/mo |
| 1-year | $4.92/mo | N/A |
| 2-year | $2.99/mo | $2.11/mo |
| Coupon: | 69% Off Coupon | N/A |
NordVPN prices – The cheapest price for NordVPN is currently $2.99 per month when you take advantage of this discount coupon on two-year plans. We recommend the two-year plan. NordVPN now has three types of 2-year plans: Standard, Plus, and Complete. The latter 2 cost more because they include non-VPN features that might be of interest to you. But all three give you the full VPN functionality we discuss in this review.
NordVPN is a great choice if you want a good cheap VPN, without having to sacrifice quality or performance.
NordVPN refunds – All NordVPN subscription plans come with a 30-day money-back guarantee, including the monthly plan. This allows you to test the VPN risk-free for 30 days. To track the latest prices and deals, I also have a NordVPN coupon page.
NordVPN's Cyber Deal is live:

Get 69% Off NordVPN with the coupon below plus 3 months FREE, no activation code needed:
(Coupon is applied automatically; 30 day money-back guarantee.)
CyberGhost prices – In comparison to NordVPN, CyberGhost's best price of $2.11 per month is significantly lower, at least right now. Remember that VPN prices change frequently so check the company's website or visit my VPN coupons page for the best prices.
CyberGhost previously offered a 7-day free trial VPN, but this has been discontinued.
CyberGhost refund policy – According to the latest information I found on their FAQ page, users will get a 14-day refund window on one-month subscriptions, but a 45-day refund window for subscriptions 6 months or greater. Assuming you follow my advice and go with the longest (cheapest) plans, CyberGhost has better prices and a better refund policy.
Price winner: CyberGhost
Note: You can be sure to get the best prices on NordVPN if you use this discount coupon >>
---
CyberGhost vs NordVPN features comparison
| Feature | ExpressVPN | CyberGhost |
| --- | --- | --- |
| Split tunneling | Yes | Yes |
| RAM-only servers | Yes | Yes |
| Kill Switch | Yes | Yes |
| Private DNS | Yes | Yes |
| Logs | No logs (audited) | No logs (audited) |
| Multiple VPN protocols | Yes | Yes |
| Browser Extensions | Yes | Yes |
| Built-in ad blocking | Yes | Yes, but essentially useless |
| User Profiles | No | Yes |
CyberGhost and NordVPN both offer interesting features, but with NordVPN, the features consistently work well.
CyberGhost features – One of CyberGhost's main features is the ad blocker. But the ad blocker does not even work on HTTPS sites and most sites are now HTTPS, so the ad blocker is essentially useless. There are better VPN ad blockers to choose from, as we noted in the NordVPN vs Surfshark comparison.
CyberGhost also offers different "profiles" that are tailored to different use cases for the VPN, such as torrenting, browsing, etc. You can see these different profiles in the CyberGhost app below on the left.

Dedicated Static IP addresses – Like NordVPN and TorGuard, CyberGhost also offers dedicated static IP addresses for an added cost. These dedicated IP addresses offer the following benefits: they ensure a stable connection, reducing the risk of intermittent connection issues; they allow for easier access to geo-restricted content, as a static IP address can be set to a specific region; they can enhance online gaming experiences by reducing latency; they are less likely to be blacklisted by certain websites compared to shared IP addresses; and they allow for secure remote access to business networks. See this comparison article for more on this topic.
Overall, CyberGhost is about average when it comes to features. It has a few nice extras, but it does not really stand out from the crowd. This is similar to what we found in the ExpressVPN vs IPVanish comparison.
NordVPN features – NordVPN offers some great features, and unlike CyberGhost, all the features work correctly. Here's the NordVPN Windows client with double-VPN servers: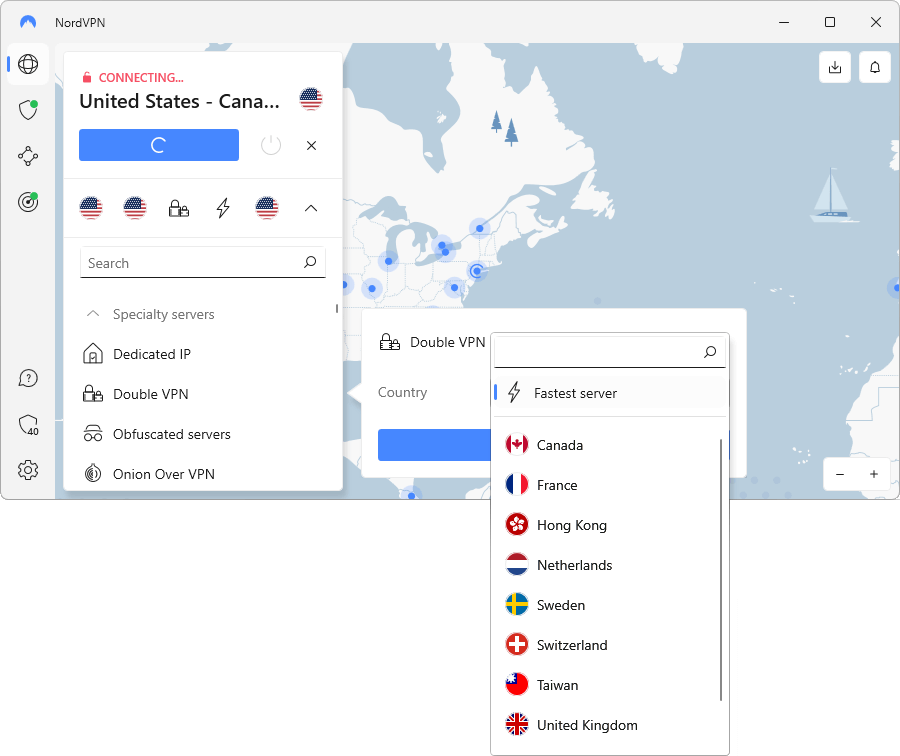 Threat Protection – This is an ad-blocking feature that works on HTTP and HTTPS websites. It also blocks trackers and malware domains, plus can scan downloaded documents. Threat Protection is available for Windows desktops and macOS. More details are in the Security section of this article.
NordVPN servers vs CyberGhost servers
| | | |
| --- | --- | --- |
| Servers | CyberGhost | NordVPN |
| Total | 9,700+ | 5,800+ |
| Countries | 91 | 60 |
| Virtual Locations | Yes | No |
| Specialty Servers | No | Yes |
CyberGhost has an enormous VPN server network, with well over 9,000 servers in 91 countries. However, some significant percentage of their total network is made up of virtual servers. There are pros and cons to the use of virtual servers (see this article for details) although we prefer a service that uses only physical servers.
The important thing here is that CyberGhost doesn't try to hide its use of virtual servers. As a matter of fact, they list all their virtual server locations on the website.
While CyberGhost has more servers covering more countries, NordVPN has a large network comprised of 100% physical servers. They also have perhaps the widest range of specialized VPN servers in the industry:
You can See all NordVPN features here >>
Features winner: NordVPN
---
Security: NordVPN against CyberGhost
In terms of security, I did not find any leaks or problems with either NordVPN or CyberGhost.
NordVPN leak tests and encryption
I ran NordVPN through some basic VPN test procedures to identify any problems, and everything checked out fine (no leaks or issues):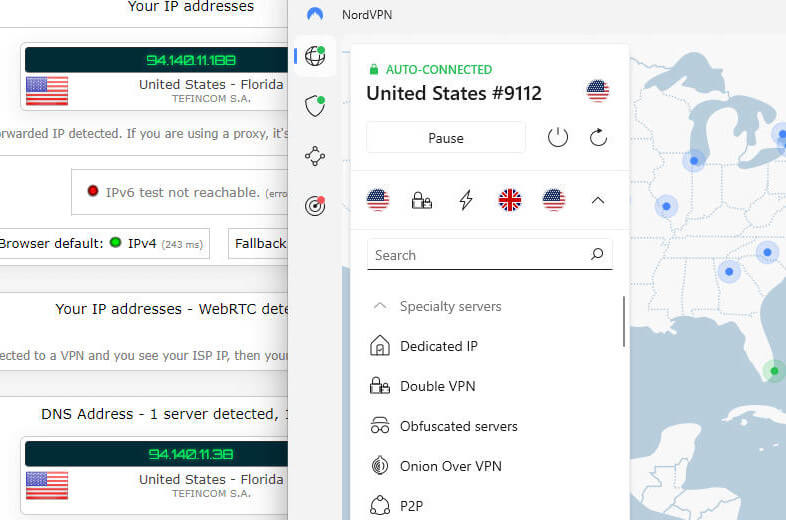 I did not find any leaks in the NordVPN apps that I tested.
| | | |
| --- | --- | --- |
| Item | CyberGhost | NordVPN |
| Cipher | AES-256, ChaCha20 | AES-256, ChaCha20 |
| RSA Key | 2,048-bit | 4,096-bit |
NordVPN uses an AES-256-GCM cipher with HMAC SHA-256 hash authentication and Perfect Forward Secrecy through a DHE-4096 key exchange with OpenVPN and IKEv2 protocols. The WireGuard protocol (NordLynx), uses a combination of upgraded security algorithms, including ChaCha20 for symmetric encryption, authenticated with Poly1305, using RFC7539's AEAD construction.
In comparison to CyberGhost, NordVPN uses stronger encryption algorithms.
Threat Protection
Another big security upgrade with NordVPN is the Threat Protection feature. In a nutshell, this feature offers you full protection from the following items:
You can enable Threat Protection directly in the NordVPN app and then customize the filters you want to activate with the toggle button on the right:
Because this feature is aiming to be an all-inclusive antivirus solution for desktop users, it is only available on Windows and macOS. The other NordVPN apps offer Threat Protection Lite, which has fewer capabilities and only works when you are connected to a VPN server.
| | | |
| --- | --- | --- |
| Feature | NordVPN Threat Protection | Threat Protection Lite |
| Blocks Ads, Trackers, and Malicious Websites | yes | yes |
| Scans for Web Malware | yes | yes |
| Scans Downloads for File Malware | yes | no |
| Requires Active VPN Connection | no | yes |
| Platforms | Windows, macOS | Windows, macOS, Android, iOS, Linux, Browser Extensions |
CyberGhost leak tests and encryption
Just like with NordVPN, I did not identify any leaks or security issues when testing out CyberGhost VPN. You can see all leak test results in the CyberGhost VPN review.
CyberGhost uses an AES-256-CBC cipher with SHA-256 hash authentication and ECDH-4096 key exchange. This is on par with NordVPN, but CyberGhost does not offer upgraded encryption algorithms via the WireGuard VPN protocol.
Aside from leak tests and encryption, there are also other security aspects to consider.
Infrastructure, audits, and security practices
This aspect of the CyberGhost vs NordVPN battle has gotten much more interesting recently. While NordVPN continues to upgrade, well, everything, the CyberGhost team has made major strides as well. Check it out.
NordVPN infrastructure, audits, and security practices
NordVPN has made major upgrades and improvements to the security of their infrastructure. Here are the security updates with NordVPN:
Ongoing security auditing – NordVPN has contracted with Versprite, an independent cybersecurity firm, to conduct a full audit of all aspects of the VPN. This includes ongoing penetration testing of the NordVPN clients.
Bug Bounty program – NordVPN launched a public bug bounty program to reward anyone who finds security problems or vulnerabilities with NordVPN software.
Infrastructure security audit – NordVPN conducted a full audit of their infrastructure, including hardware, software, backend code, and more.
Vendor security assessment – NordVPN is assessing and upgrading all servers in their network.
Full RAM-disk servers – NordVPN's entire network now runs in RAM-disk mode, without any hard drives. This ensures no data can be physically stored on any server. Some other leading VPNs, such as ExpressVPN, also do this.
Colocated servers – NordVPN is now rolling out self-owned (colocated) servers for all locations. This will remove the need to rent servers from data centers and also ensure a higher level of security.
CyberGhost infrastructure, audits, and security practices
In terms of security, NordVPN is really raising the bar. This is especially true when you consider that they have passed several third-party security audits (including their no-logs policy) and they conduct ongoing penetration testing.
CyberGhost has taken action to up its security game as well. In March of 2023, they announced that they had completed a third-party audit of their no-logs policy as well as their server network and management systems. They have also upgraded their server network to run diskless. As noted above for NordVPN, RAM-disk servers are more secure since no data can be stored on the servers.
Security winner: NordVPN
---
Privacy: Is NordVPN or CyberGhost better?
In the past, one of the biggest differences between CyberGhost and NordVPN was in the area of privacy. This has improved recently.
CyberGhost privacy
I was previously very concerned about these two characteristics of CyberGhost in the area of privacy:
Now I am less concerned with these particular issues. Why? Because:
Another factor that affects privacy is how the servers are operated. CyberGhost now runs their servers in RAM-disk mode, eliminating another of my concerns. VPNs running all servers in RAM-disk mode have more data security since no logs can ever be stored on a server. This means that there's no data for anyone to get, even if a server were to be physically seized by a third party.
Our servers run on RAM-only; they are fully encrypted and have no ties to our databases or management infrastructure. Every reboot wipes them down, and even if they're removed from the rack, they're completely useless and can't be accessed.

Tudor Fulga, Head of Infrastructure, CyberGhost VPN
With their transition to RAM-disk servers, CyberGhost joins the likes of NordVPN and ExpressVPN in providing this great level of protection.
In addition, CyberGhost VPN is based in Romania, a country with strong privacy laws and no ties to international surveillance alliances that we can detect.
NordVPN privacy
Despite CyberGhost's recent improvements, NordVPN still does significantly better with privacy. Here are a few highlights:
Overall, this part of the competition has become much closer. CyberGhost is now probably ahead of most VPNs when it comes to protecting your privacy. But NordVPN is one of the best in the world for this and gets the nod in this category.
Privacy winner: NordVPN
---
Netflix and streaming performance
In the category of Netflix streaming, there is once again a clear winner. First, we'll look at CyberGhost.
Does CyberGhost work with Netflix?
CyberGhost claims to work with Netflix. In the CyberGhost VPN client, you can connect to either the US Netflix or UK Netflix server. However, after connecting to CyberGhost's US Netflix server, I was still blocked by Netflix.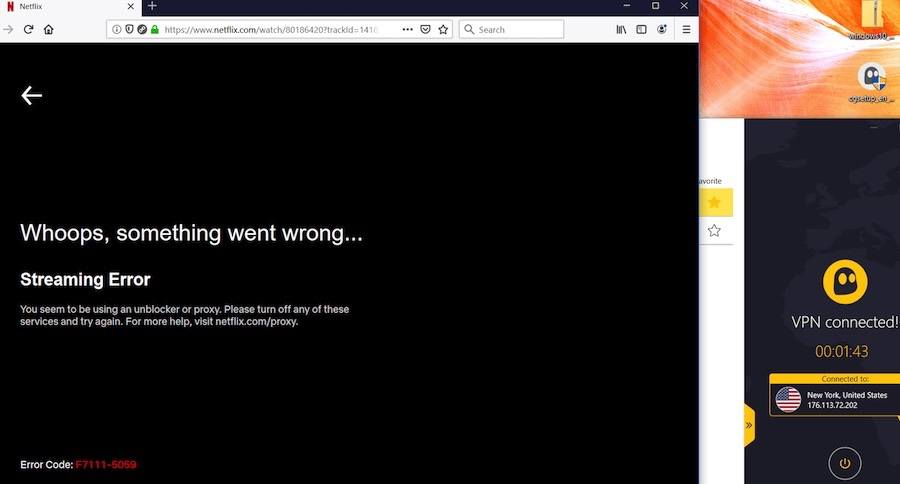 Based on these tests, CyberGhost does not appear to be a good VPN to use with Netflix when the dedicated Netflix server is getting blocked. Additionally, we found that CyberGhost did not work well with BBC iPlayer and was blocked by the servers we tested. (See these best VPNs for BBC iPlayer instead.)
Is CyberGhost a VPN that works for Hulu? We did not test this, but regardless, the slow speeds will hamper your streaming experience.
NordVPN works well with Netflix and other streaming services
Next up was NordVPN, which has always worked well with Netflix. Sure enough, NordVPN unblocked Netflix without any problems. Here I'm streaming Netflix through a NordVPN server in the US.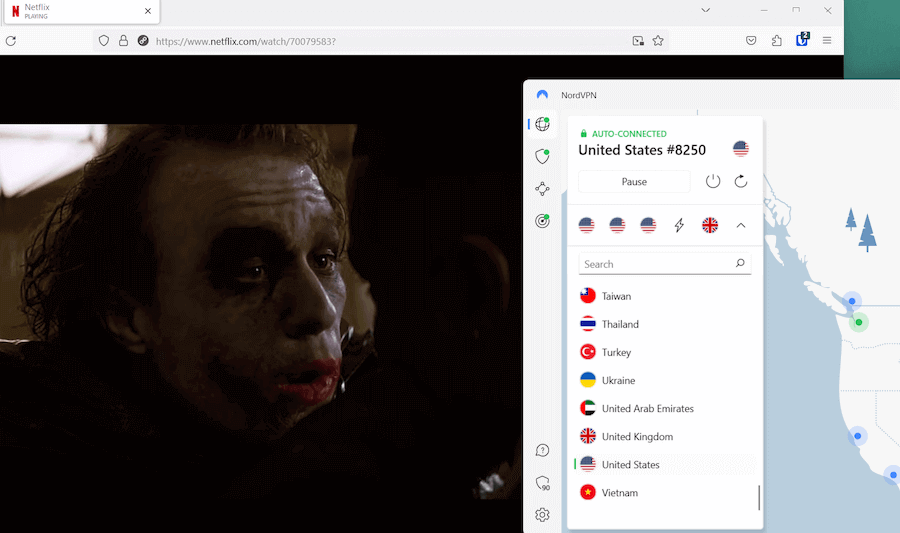 NordVPN unblocks all major Netflix regions around the world, including US Netflix, the UK, Canada, Australia, Korea, Italy, Germany, and many other regions. It also works well with other streaming services such as BBC iPlayer, Amazon Prime, and Hulu. If you need a good VPN that works with Netflix, NordVPN is one of the best choices.
Note: Most VPNs are limited to regional Netflix support. However, ExpressVPN and Surfshark are two other options that unblock a large selection of Netflix regions.
Netflix and streaming winner: NordVPN
---
Value: Is NordVPN or CyberGhost the best value?
Lastly, we will examine the question of value. Does NordVPN or CyberGhost offer the best value for your money?
Recall that right now the best price for CyberGhost is significantly lower than that of NordVPN. While CyberGhost is cheaper than NordVPN, the key area to examine is value and how the VPN actually performs.
Based on all of the test results in this CyberGhost vs NordVPN comparison, it is clear that NordVPN comes out on top. NordVPN was the winner in every category, except for the price. NordVPN outperforms CyberGhost and also offers more features. If you want the best value for your money, then go with NordVPN, even if it is slightly more expensive.
Conclusion: CyberGhost vs NordVPN goes to NordVPN in 2023
As I mentioned before, NordVPN easily wins this competition. The following table summarizes my test results:
| | |
| --- | --- |
| Category | Winner |
| Speeds: | NordVPN |
| Features: | NordVPN |
| Security: | NordVPN |
| Privacy | NordVPN |
| Netflix & Streaming | NordVPN |
| Price | CyberGhost |
| Value | NordVPN |
There is also the trust factor. CyberGhost recently completed an audit of their no-logs policy, conducted by Deloitte. According to their agreement with Deloitte, the details of the audit can't be published here, but it doesn't seem that the audit turned up any major problems. This is good news for CyberGhost in light of their checkered past.
NordVPN has undergone numerous audits, including a full security audit, server infrastructure audit, and three separate audits verifying its no-logs policies. It also operates from a privacy-friendly jurisdiction and has a solid track record. While CyberGhost is definitely improving in these areas, I feel more comfortable trusting NordVPN with my data.
If you want to give NordVPN a try, be sure to use the coupon below for maximum savings. And remember you have a 30-day money-back guarantee to claim a 100% refund if you find it doesn't meet your expectations.
NordVPN's Cyber Deal is live:

Get 69% Off NordVPN with the coupon below plus 3 months FREE, no activation code needed:
(Coupon is applied automatically; 30 day money-back guarantee.)
Not yet ready to pull the trigger on NordVPN?
Here are some other comparisons you might find helpful.
You can also see the NordVPN vs IPVanish guide, with NordVPN coming out on top. Another comparison with CyberGhost is our CyberGhost vs Surfshark report, with Surfshark claiming the title.
Lastly, there is also a CyberGhost vs ExpressVPN comparison, with ExpressVPN being the winner.
Related Articles:
If you have used either of these VPNs, feel free to drop a comment below to share your experience.
This CyberGhost vs NordVPN comparison was last updated with new test results and information on November 25, 2023.