In this new and updated NordVPN vs CyberGhost comparison guide, we put both VPN services through extensive testing and also took a close look at each company. While both VPNs are popular and have lots of recommendations, the results revealed a clear winner — and also one to avoid.
Overall, NordVPN outperformed CyberGhost in almost every test category. Based on all of the tests we ran for this comparison, NordVPN is faster, it has more security features, better support for streaming, and is more reliable than CyberGhost. All test results are posted as screenshots below.
This table reveals the key facts about each VPN before we dive into the details:
| | | |
| --- | --- | --- |
| | NordVPN | CyberGhost |
| Website | NordVPN.com | CyberGhostVPN.com |
| Location | Panama | Romania |
| Servers | 5,500+ | 5,000+ |
| Countries | 60 | 80 |
| Logs | No logs (audited) | No logs |
| Torrenting | All servers | Restricted |
| Support | Knowledge Base; 24/7 chat | Knowledge Base; chat |
| Apps for | Windows, macOS, Linux, Android, iOS | Windows, macOS, Linux, Android, iOS |
| Price | $3.09 (with coupon) | $2.75 |
| Best Deal | 68% Off Coupon > | N/A |
Here are the seven categories we will cover in this NordVPN vs CyberGhost comparison guide:
Speed tests
Price
Features
Security
Privacy
Netflix and streaming
Value
Before we get into the test results, let's first take a quick look at the VPN apps from CyberGhost and NordVPN.
First up is CyberGhost. With the CyberGhost desktop apps, you can use either the full version, or the minimized version. Unfortunately, the minimized version does not give you access to the features, so you will have to switch over to the full version. When you do this, the app takes up lots of space on your computer.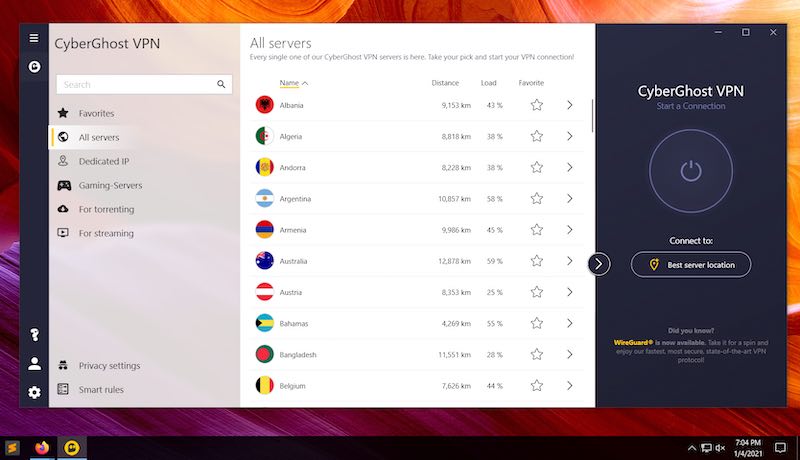 With NordVPN, the desktop apps do not take up as much space, and there is one size (not two sizes as we find with CyberGhost). The NordVPN apps give you quick and easy access to all features, and do not take up as much space on your desktop. The app lets you select servers either from a list (on the left) or directly from the server map with one click, as you can see below.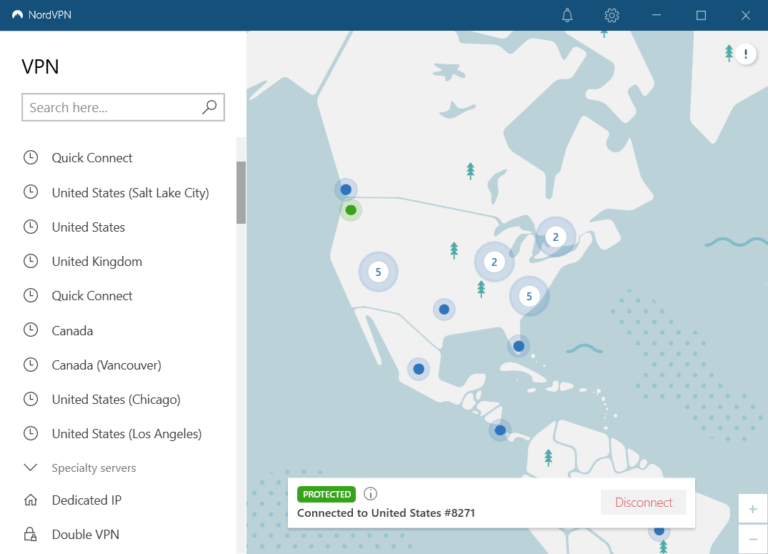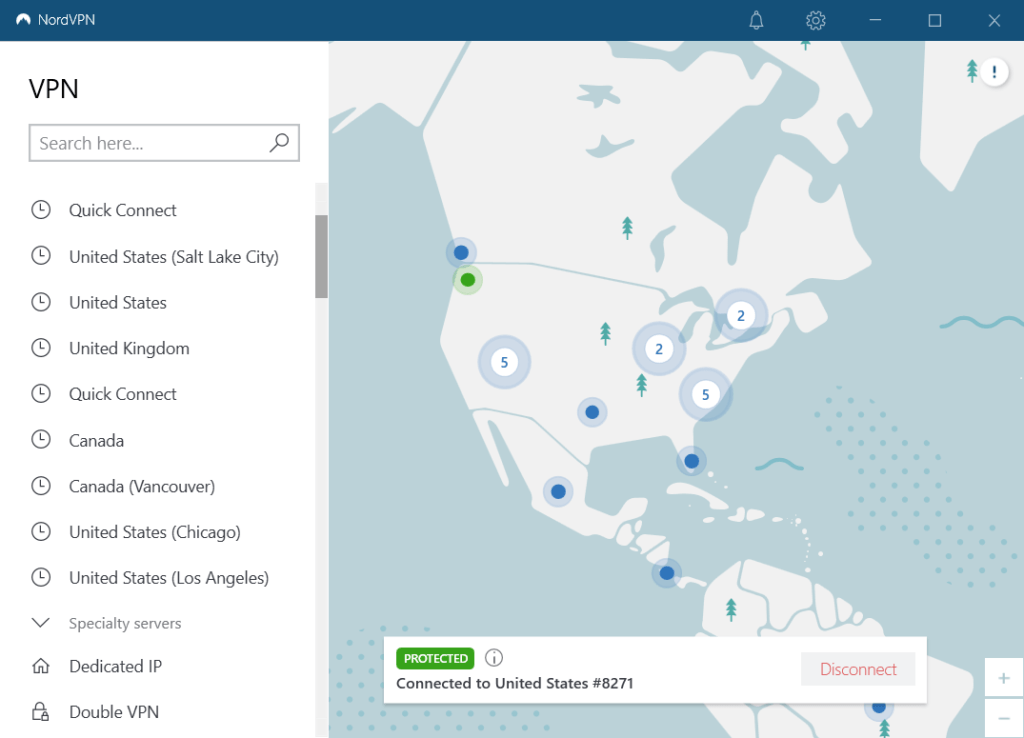 You can also see in the bottom-right corner of the NordVPN app that there are Specialty Servers available to choose from, but we'll cover this more below.
Now that we have given you a brief over of NordVPN and CyberGhost apps, we will start with head-to-head speed tests.
---
NordVPN vs CyberGhost Speed tests
Speeds are a big consideration when choosing which VPN is best for your needs. For the NordVPN vs CyberGhost speed tests below, my baseline (non-VPN) speed was about 500 Mbps. All tests were conducted from my location in the United States using the official VPN applications. You will see from the tests below that there was a big difference in server speeds.
Note: Both NordVPN and CyberGhost support the WireGuard VPN protocol. Because this is the fastest VPN protocol, it is also what we used for speed testing with each VPN.
For this comparison, I tested servers in the US and UK.
Test #1: Seattle
CyberGhost server in Seattle: 12 Mbps

This is a really slow speed test result from CyberGhost, not even above 20 Mbps. Now let's see if NordVPN can do better in the same location.
NordVPN server in Seattle: 445 Mbps

This is one of the fastest VPN speeds we have ever clocked. NordVPN is significantly faster in this location, beating out CyberGhost VPN by over 433 Mbps! Now to the next speed test.
Test #2: Los Angeles
CyberGhost VPN server in Los Angeles: 32 Mbps

At around 32 Mbps, this is another slow speed test result from CyberGhost VPN. Can NordVPN do better?
NordVPN server in Los Angeles at 304 Mbps.

With this server location, NordVPN was again significantly faster than CyberGhost, by over 270 Mbps.
Test #3: New York
So far, NordVPN is running circles around CyberGhost in the speed category. Let's see if our last two locations will be any different.

CyberGhost server in New York at 46 Mbps.
Here was have another location and another example of CyberGhost dragging behind with speeds.
NordVPN server in New York at 280 Mbps.

NordVPN is the clear winner with US servers, beating CyberGhost at every location.
The last servers I tested were in the UK. Here was a CyberGhost server in the UK at only 1.69 Mbps.

No, that's not a typo. CyberGhost speeds with this UK server were in the single digits. My only guess is that the UK servers were overloaded with users, resulting in slow speeds for everyone on the server.
So now let's see how NordVPN compares. Here is a NordVPN server in the UK at 295 Mbps.

So despite the longer distance between my physical location and the VPN server in the UK, NordVPN was still able to deliver speeds of nearly 300 Mbps. This is impressive, especially in comparison to CyberGhost, which struggled with low speeds on every server.
Why is NordVPN faster than CyberGhost?
Theoretically, NordVPN and CyberGhost should have very similar speeds, since both support the WireGuard VPN protocol. However, unlike CyberGhost, NordVPN has a huge advantage with its server network.
These NordVPN server network updates give it a big edge with speeds and reliability:
Currently rolling out dedicated (self-owned) hardware with more bandwidth
Some NordVPN servers are running on 10 Gbps bandwidth channels (no other VPN is doing this, yet)
Rolling out more server locations around the world
Unlike with NordVPN, CyberGhost does not appear to be investing in network upgrades. Below is a a screenshot from my recent CyberGhost review. You can see that numerous CyberGhost servers were at maximum capacity.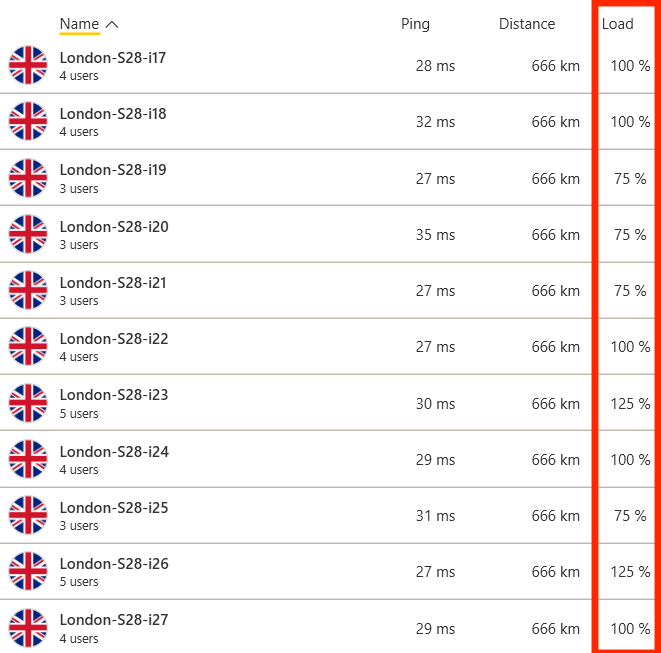 If you value performance, then NordVPN is the better choice and is one of the fastest VPNs we have tested.
We will keep an eye on CyberGhost servers and update this comparison guide with any new information. The bottom line, however, is that you don't want to use overloaded servers as this will usually result in slow speeds.
Speed Winner: NordVPN
---
NordVPN vs CyberGhost price comparison
NordVPN prices – The cheapest price for NordVPN is currently $3.29 per month when you take advantage of this 68% discount coupon on two-year plans. The one-month plans are pretty expensive, and the 1-year plans fall in the middle.

The two-year plan is the best deal with the lowest prices. NordVPN is a great choice if you want a good cheap VPN, without having to sacrifice quality or performance.
NordVPN refunds – All NordVPN subscription plans come with a 30 day money-back guarantee, including the monthly plan. This allows you to test out the VPN risk-free for 30 days. To track the latest prices and deals, I also have a NordVPN coupon page.
CyberGhost prices – In comparison to NordVPN, CyberGhost's prices are more expensive with the monthly rate, but cheaper with the 6-months plan.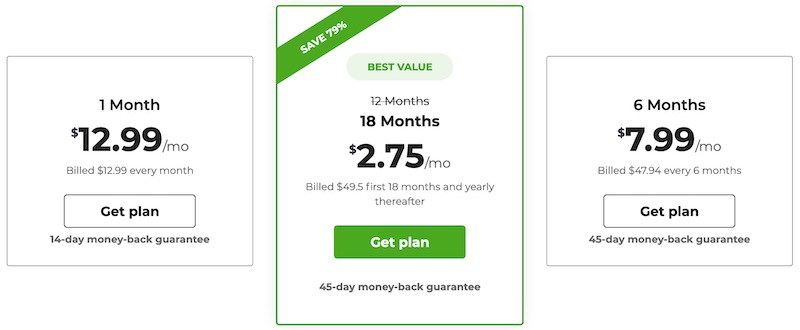 The cheapest you can get CyberGhost for is $2.75 per month with the 18-months plan. This comes out cheaper than the two-year plan with NordVPN. This is comparable to other VPN coupons we see available today.
Previously, CyberGhost offered a 7 day free trial VPN, but this has been discontinued in favor of a longer refund policy.
CyberGhost refund policy – According to the latest information I found on their FAQ page, users will get a 14-day refund window on one-month subscriptions, but a 45-day refund window for subscriptions 6 months or greater. This is different from NordVPN, which gives you a 30 day refund window on all subscription plans. So the refund category is basically a tie, but CyberGhost has slightly better prices.
Price winner: CyberGhost
Note: You can get even cheaper prices on NordVPN if you use this coupon for 68% off >>
---
Features: Is NordVPN or CyberGhost best?
CyberGhost and NordVPN both offer interesting features, but with NordVPN, the features consistently work well.
CyberGhost features – One of CyberGhost's main features is the ad blocker. But as I discussed in the CyberGhost VPN review, the ad blocker does not even work on HTTPS sites. Even worse, it blocks ads on HTTP sites only by using traffic manipulation, rather than through DNS requests. But since most sites are now HTTPS, the ad blocker is essentially useless. (There are better VPN ad blockers to choose from, as we noted in the NordVPN vs Surfshark comparison.)
CyberGhost also offers different "profiles" that are tailored to different use cases for the VPN, such as torrenting, browsing, etc. You can see these different profiles in the CyberGhost app below on the left.

Overall, CyberGhost is about average on features. It has a few of the basics, but it does not really stand out from the crowd. This is similar to what we found in the ExpressVPN vs IPVanish comparison.
NordVPN features – NordVPN offers some great features, and unlike with CyberGhost, all the features work correctly. Below is the NordVPN Windows client I tested with the double-VPN servers: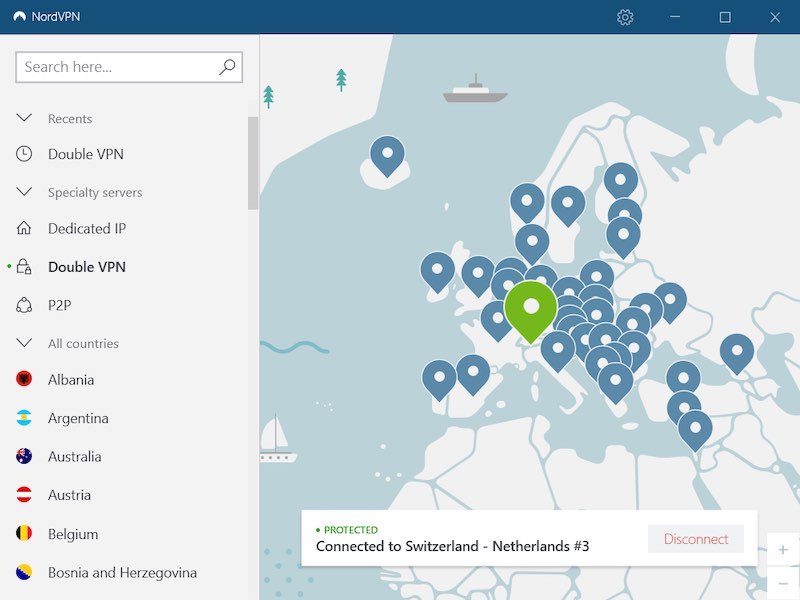 Here are a few of the features that I really liked with NordVPN:
CyberSec – This is an ad blocking feature that works on HTTP and HTTPS websites. It also blocks trackers and malware domains.
Double-hop VPN servers (31 to choose from, and the speeds are excellent)
Tor-over-VPN servers that encrypt traffic with the Tor network, in addition to the VPN
Obfuscated servers – These servers will conceal your VPN traffic as regular HTTPS encryption. This is a useful feature if you need a good VPN for China, or anywhere else that VPNs are blocked.
Netflix works well (discussed more below)
Excellent leak protection features (two-level kill switch)
VPN with dedicated IP is an add-on feature for $70 per year
The CyberSec feature is one of my favorites because it will effectively block ads, tracking, and even malware domains. This is VPN ad blocker feature is enabled directly in the VPN client and it will work immediately. Additionally, blocking ads will also improve page load speeds, in addition to protecting your privacy.

In addition to all of the features listed above, NordVPN also offers dedicated P2P servers. The P2P servers offer the fastest speeds if you need a good VPN for torrenting.
Features winner: NordVPN
Note: You can get more details on all available NordVPN features here.
---
Security: NordVPN vs CyberGhost
In terms of security, I did not find any leaks or problems with either NordVPN or CyberGhost.
NordVPN leak tests and encryption
I ran NordVPN through some basic VPN test procedures to identify any problems, and everything checked out fine (no leaks or issues):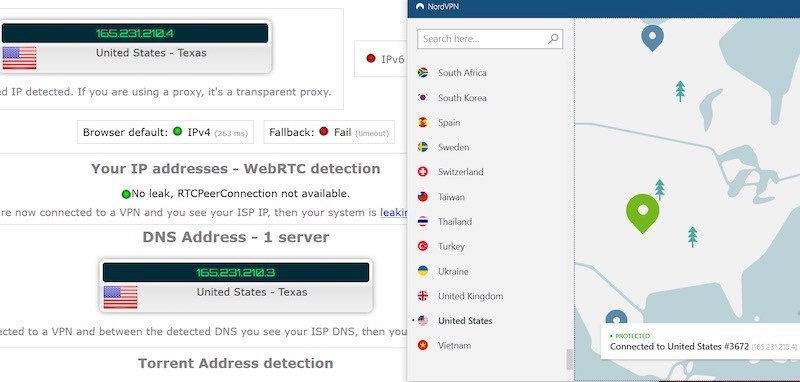 I did not find any leaks in the NordVPN apps that I tested.
NordVPN uses an AES-256-GCM cipher with HMAC SHA-256 hash authentication, and Perfect Forward Secrecy through a DHE-4096 key exchange with OpenVPN and IKEv2 protocols. The WireGuard protocol (NordLynx), uses a combination of upgraded security algorithms, including ChaCha20 for symmetric encryption, authenticated with Poly1305, using RFC7539's AEAD construction.
In comparison to CyberGhost, NordVPN uses stronger encryption algorithms.
NordVPN's Threat Protection feature
Another big security upgrade with NordVPN is the Threat Protection feature. In a nutshell, Threat Protection offers you full protection from the following items:
Web trackers
Harmful websites
Infected files
Intrusive and malicious ads
You can enable Threat Protection directly in the NordVPN app and then customize the filters you want enabled with the toggle button on the right: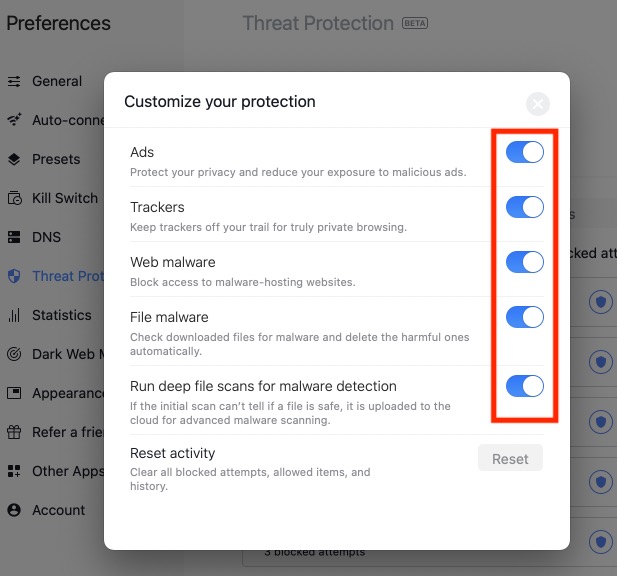 Because the Threat Protection feature is aiming to be an all-inclusive antivirus solution for desktop users, it is only available on Windows and Mac OS. Nonetheless, the CyberSec feature still works for both desktop and mobile devices as well.
CyberGhost leak tests and encryption
Just like with NordVPN, I did not identify any leaks or security issues when testing out CyberGhost VPN. You can see all leak test results in the CyberGhost review.
CyberGhost uses an AES-256-CBC cipher with SHA-256 hash authentication and ECDH-4096 key exchange. This is on par with NordVPN, but CyberGhost does not offer the upgraded encryption algorithms via the WireGuard VPN protocol.
Aside from leak tests and encryption, there are also other security aspects to consider.
Infrastructure, audits, and security practices
Unlike CyberGhost, NordVPN has made major upgrades and improvements to the security of their infrastructure. Here are the security updates with NordVPN:
Ongoing security audit – NordVPN has contracted with Versprite, an independent cybersecurity firm, to conduct a full audit of all aspects of the VPN. This includes ongoing penetration testing of the NordVPN clients.
Bug Bounty program – NordVPN launched a public bug bounty program to reward anyone who finds security problems or vulnerabilities with NordVPN software.
Infrastructure security audit – NordVPN conducted a full infrastructure security audit to include hardware, software, backend code, and more.
Vendor security assessment – NordVPN is assessing and upgrading all servers in their network.
Full RAM-disk servers – NordVPN's entire network now runs in RAM-disk mode, without any hard drives. This ensures no data can be physically stored on any server. Some VPNs, such as ExpressVPN, also do this.
Colocated servers – NordVPN is now rolling out self-owned (colocated) servers for all locations. This will remove the need to ever rent servers from data centers, and also ensures a higher level of security.
In terms of security, NordVPN is really raising the bar. This is especially true when you consider the third-party security audits and ongoing penetration testing.
I have not seen CyberGhost announce any audits, bug bounty programs, vendor security assessments, and they do not run servers in RAM-disk.
Security winner: NordVPN
---
Privacy: CyberGhost vs Nord VPN
One of the biggest differences between CyberGhost and NordVPN is in the area of privacy.
CyberGhost: As I mentioned at the beginning of this guide, there are quite a few alarming issues with CyberGhost in the area of privacy:
I found CyberGhost to be utilizing session recording scripts on their website, which act like a surveillance camera recording everything a person does on the website (explained in the CyberGhost review).
CyberGhost falsely claims to be "no logs" when their privacy policy reveals that their applications collect user data – and you do not have the option of opting out.
CyberGhost is also now owned by a conglomerate called Kape Technologies, which also owns VPN review websites that rank Kape's holdings in the top spots.
Another factor that affects privacy is how the servers are operated. CyberGhost does not run servers in RAM-disk mode, which leaves potential user data to be confiscated in the even that someone seized a server (this happens). With VPNs like ExpressVPN and NordVPN running all servers in RAM-disk mode, you get a higher level of data security since no logs can ever be stored on a server. This means that there's no data for anyone to get, even if a server were to be physically seized by a third party.
Overall CyberGhost does not do well in the area of privacy.
NordVPN does significantly better than CyberGhost with privacy. Here are a few highlights:
NordVPN has a genuine no logs policy. It is one of the few no-logs VPNs that have been audited and verified by an independent third party.
NordVPN is based in Panama, which is a good jurisdiction for privacy.
NordVPN's website is not using any session recording scripts (at the time I conducted the review of NordVPN).
It also offers a higher level of encryption to secure your private data. In short, NordVPN is the winner in the privacy category.
Privacy winner: NordVPN
---
NordVPN vs CyberGhost Netflix and streaming
In the category of Netflix streaming, there is once again a clear winner. First, we'll look at CyberGhost.
Does NordVPN or CyberGhost work best for Netflix?
CyberGhost claims to work with Netflix. In the CyberGhost VPN client, you can connect to either the US Netflix or UK Netflix server. However, after connecting to CyberGhost's US Netflix server, I was still blocked by Netflix.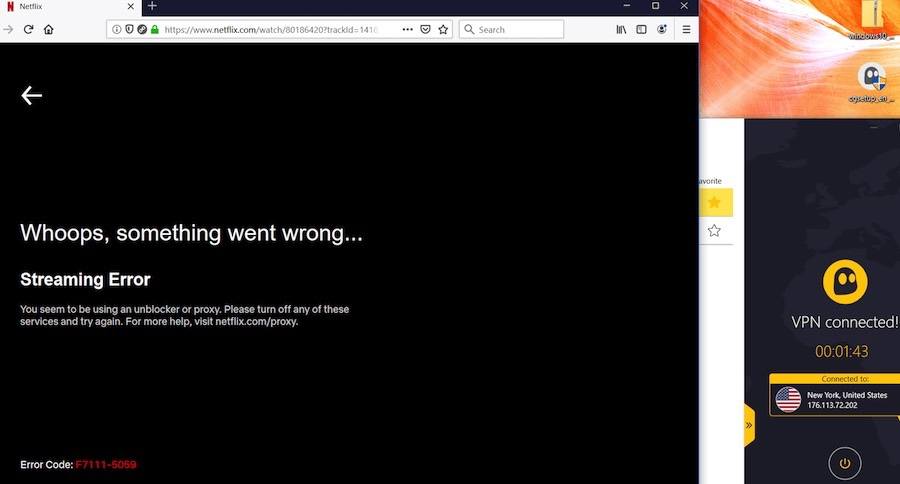 Based on these tests, CyberGhost does not appear to be a good VPN to use with Netflix when the dedicated Netflix server is getting blocked. Additionally, we found it to not work well with BBC iPlayer and was blocked with the servers we tested. (See these best VPNs for BBC iPlayer instead.)
Is CyberGhost a VPN that works for Hulu? We did not test this, but regardless, the slow speeds will hamper your streaming experience.
NordVPN continues to work with Netflix and many other streaming services
Next up was NordVPN, which has always worked well with Netflix. Sure enough, NordVPN unblocked Netflix without any problems. Here I'm streaming Netflix through a NordVPN server in the US.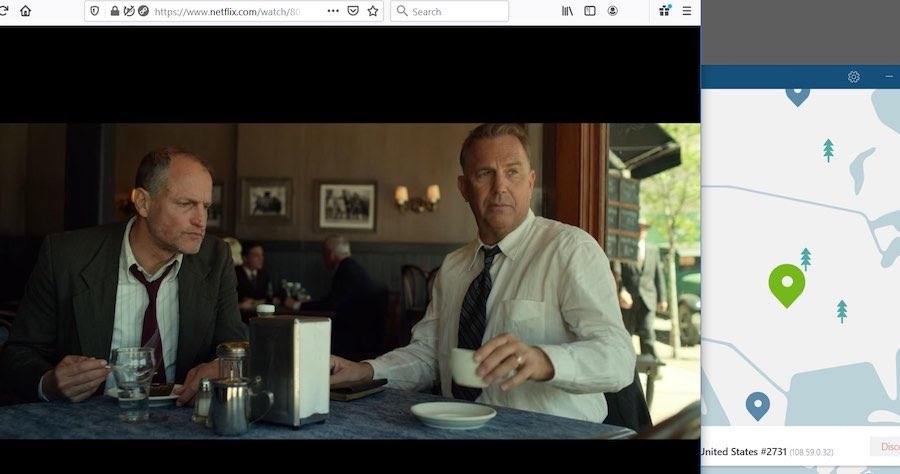 NordVPN unblocks all major Netflix regions around the world, including US Netflix, UK, Canada, Australia, Korea, Italy, Germany, and many other regions. It also works well with other streaming services such as BBC iPlayer, Amazon, and Hulu. If you need a good VPN that works with Netflix, NordVPN is one of the best choices.
Note: Most VPNs are limited with regional Netflix support. However, ExpressVPN and Surfshark are two other options that unblock a large selection of Netflix regions.
Netflix and streaming winner: NordVPN
---
Value: Is NordVPN or CyberGhost the best value?
Lastly, we will examine the question of value.
Does NordVPN or CyberGhost offer the best value for your money?
Recall that the cheapest price for CyberGhost was about $2.75 per month, while NordVPN was $3.29 per month. While CyberGhost is cheaper than NordVPN, the key area to examine is value and how the VPN actually performs.
Based on all of the test results in this CyberGhost vs NordVPN comparison, it is clear that NordVPN comes out on top. NordVPN was the winner in every category, except for price. NordVPN outperforms CyberGhost and also offers more features. If you want the best value for your money, then go with NordVPN, even if it is slightly more expensive.
Conclusion: NordVPN wins in 2022
So let's wrap this NordVPN vs CyberGhost comparison up with a brief overview. Here you can see the winner for each category:
Price: CyberGhost
Speeds: NordVPN
Features: NordVPN
Security: NordVPN
Privacy: NordVPN
Netflix and streaming: NordVPN
Value: NordVPN
There is also the trust factor. NordVPN has undergone numerous audits, including a full security audit, server infrastructure audit, and two separate audits verifying its no-logs policies. It also operates from a privacy-friendly jurisdiction and has a solid track record.
Meanwhile, CyberGhost has not undergone any audits (that we are aware of) and has a checkered past.
If you want to give NordVPN a try, be sure to use the coupon below for maximum savings. And remember you have a 30 day money-back guarantee to claim a 100% refund if you find it doesn't meet your expectations.
NordVPN Cyber Deal is Live:

Get 68% Off NordVPN (drops the price to $3.09 per month) plus 3 months FREE:
(Coupon is applied automatically.)
Looking for other comparison guides?
You can also see the NordVPN vs IPVanish guide, with NordVPN coming out on top. Another comparison with CyberGhost is our CyberGhost vs Surfshark report, with Surfshark claiming the title.
Lastly, there is also a CyberGhost vs ExpressVPN comparison, with ExpressVPN being the winner.
This concludes our comparison of NordVPN versus CyberGhost VPN. If you have used either of these VPNs, feel free to drop a comment below to share your experience.
This CyberGhost vs NordVPN comparison was last updated with new test results and information on June 16th, 2022.