NordVPN and IPVanish are both very popular VPN services that have been around a long time — but that's about where the similarity ends. While one VPN continues to upgrade and improve its service, the other has suffered from a data privacy scandal and is falling behind the competition, based on the latest tests.
In this NordVPN vs IPVanish comparison, we will closely examine each VPN service in eight different categories, which also include numerous tests for speeds, security, features, and streaming capability.
Important Note: In addition to the performance tests, we will also examine the IPVanish logging case. This was when IPVanish logged user data and provided it to US government agents, all while claiming to be a "zero logs" VPN.
Here's what we will cover in this IPVanish vs NordVPN comparison:
Features and Apps – Which VPN offers the best features and VPN apps?
Speed tests – Numerous servers tested in North America and Europe
Encryption and Security – Is NordVPN or IPVanish more secure?
Netflix and Streaming – Which one works best for Netflix and streaming services?
Logs and Privacy – Examining the logging policies and privacy protections.
Torrenting – Is NordVPN or IPVanish best for torrenting?
Support – Does IPVanish or NordVPN offers the best support?
Price and Value – What are the prices and which VPN is the best value for your money?
As you'll see, there was a clear winner in nearly every category. So let's get started!
Features and Apps: NordVPN vs IPVanish
In terms of features, NordVPN is the big winner as it continues to innovate and improve. Let's first look at IPVanish
IPVanish features and apps
I have been testing IPVanish since 2015 and it has never offered many features. Today, not a whole lot has changed. This is somewhat strange, given that most other VPNs in the industry continue to adapt, grow, and introduce new features for their users. IPVanish, on the other hand, is rather static. Below is the IPVanish Windows app we tested out.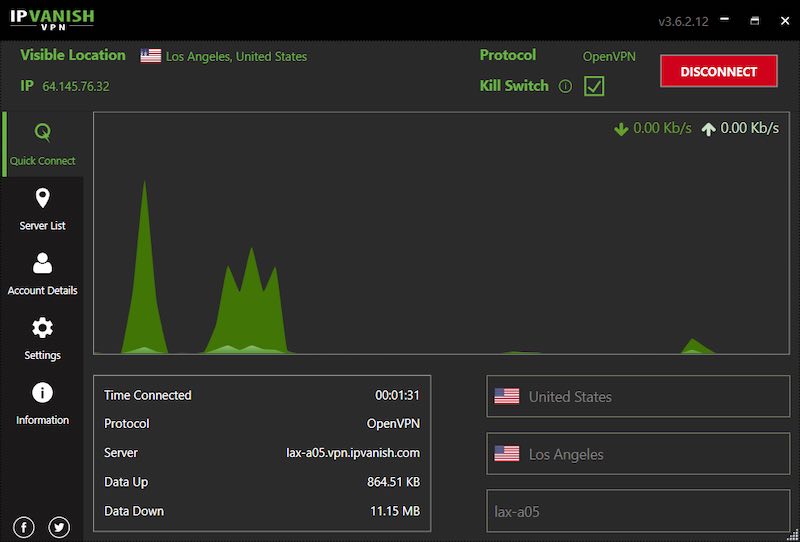 Aside from basic leak protection settings (the VPN kill switch) and a large server network, IPVanish does not have much to offer. They do not have any VPN ad blocker, specialty servers, or other advanced features that leading VPNs offer today.
The most noteworthy update with IPVanish from the past few years has been adding support for the WireGuard VPN protocol. Many VPNs now support the WireGuard VPN protocol, including NordVPN. About the only features that IPVanish offers are basic leak protection settings, which they refer to as "Enhanced Security Features" as you can see below.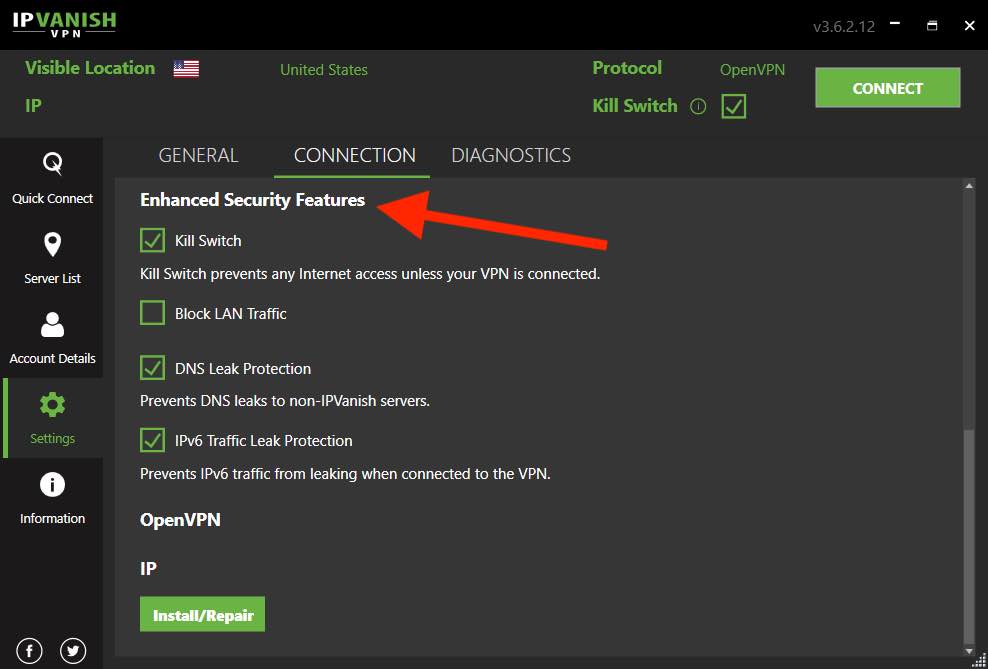 IPVanish servers – IPVanish currently has about 1,300 server in 55 locations, according to a support representative I chatted with. This is a large server network, on par with ExpressVPN and CyberGhost.
Now let's compare the features of IPVanish to those of NordVPN.
NordVPN features and apps
NordVPN offers lots of different privacy and security features, significantly more than you will find with IPVanish. The NordVPN apps we tested had a better look and feel than those from IPVanish. Selecting features, changing servers, and interacting with the app was easy and intuitive. Below is the NordVPN app for Windows that we tested.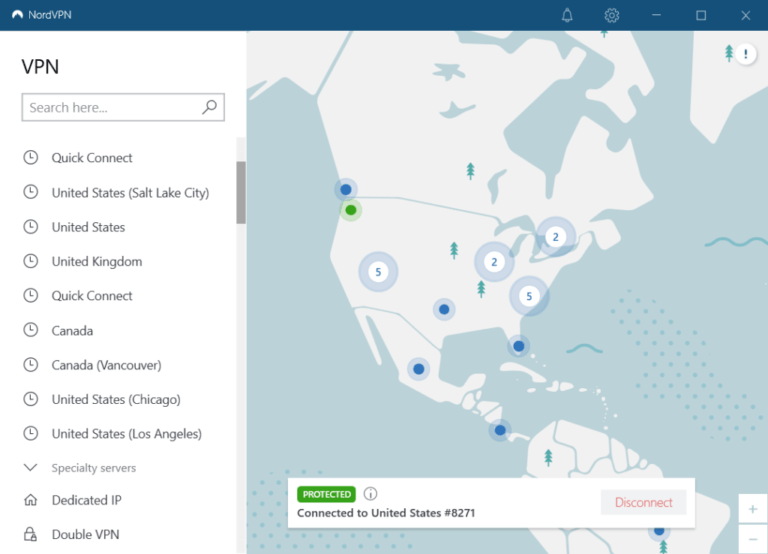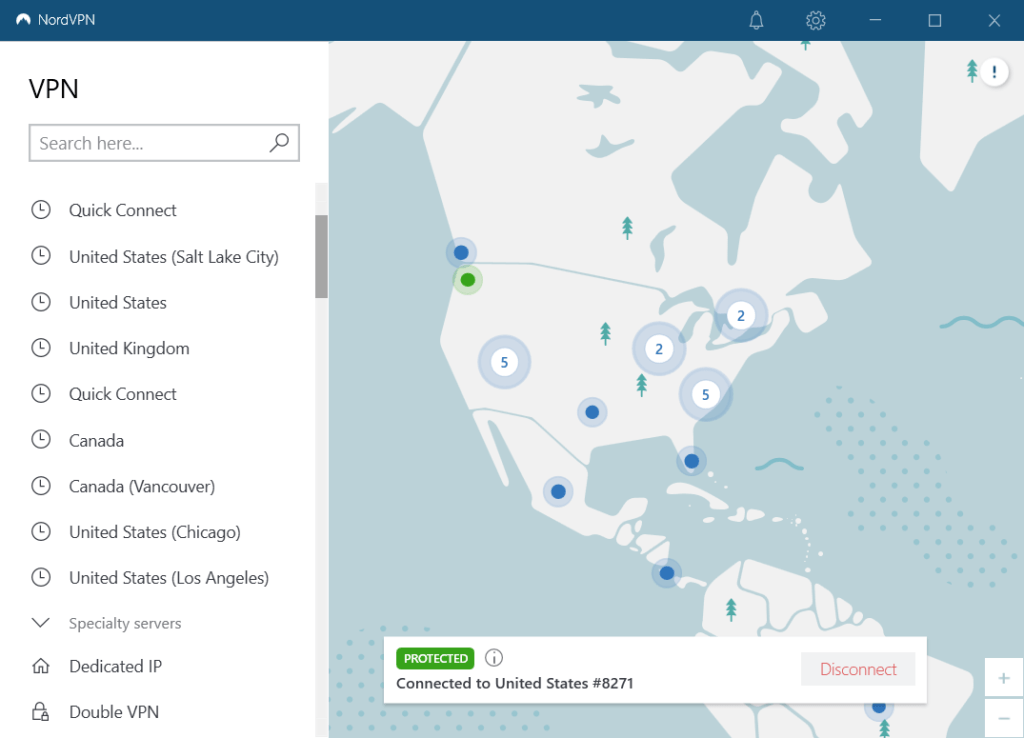 Now let's examine all of the privacy and security features you get with NordVPN.
Double-VPN server configurations – These will encrypt your traffic across two separate VPN servers, thereby giving you a higher level of security and privacy. (See our guide on multi-hop and double VPNs for more info on this topic.)
Even with the double-VPN encryption, performance is still excellent with NordVPN. In the NordVPN vs ProtonVPN comparison, NordVPN was still able to deliver around 200 Mbps with the double-VPN servers.
CyberSec – This is a feature to block ads, trackers, and malware domains. It is configured directly inside NordVPN's apps and works really well. It will also improve speeds by blocking ads and other third-party resources that eat up your bandwidth.
Threat Protection – The new Threat Protection feature from NordVPN takes CyberSec to another level. This is similar to an antivirus feature for Windows and Mac and will not only block trackers and malicious ads, it can also block malicious files.
Obfuscated servers – These are useful for getting around VPN blocks, such as if you need a reliable VPN for China.
NordVPN server stats – NordVPN offers about 5,500 servers in 60 countries. This is more than IPVanish. Additionally, NordVPN is rolling out colocated (self-owned) servers, which means they will have 100% control over all hardware (no rental servers).
Leak protection – NordVPN offers built-in leak protection settings that worked well in our tests (no leaks). This is about the only feature that IPVanish offers. One difference with NordVPN, however, is that they offer different levels for the kill switch, which can block traffic and/or close apps if the VPN connection drops for any reason. You can see this in the image below: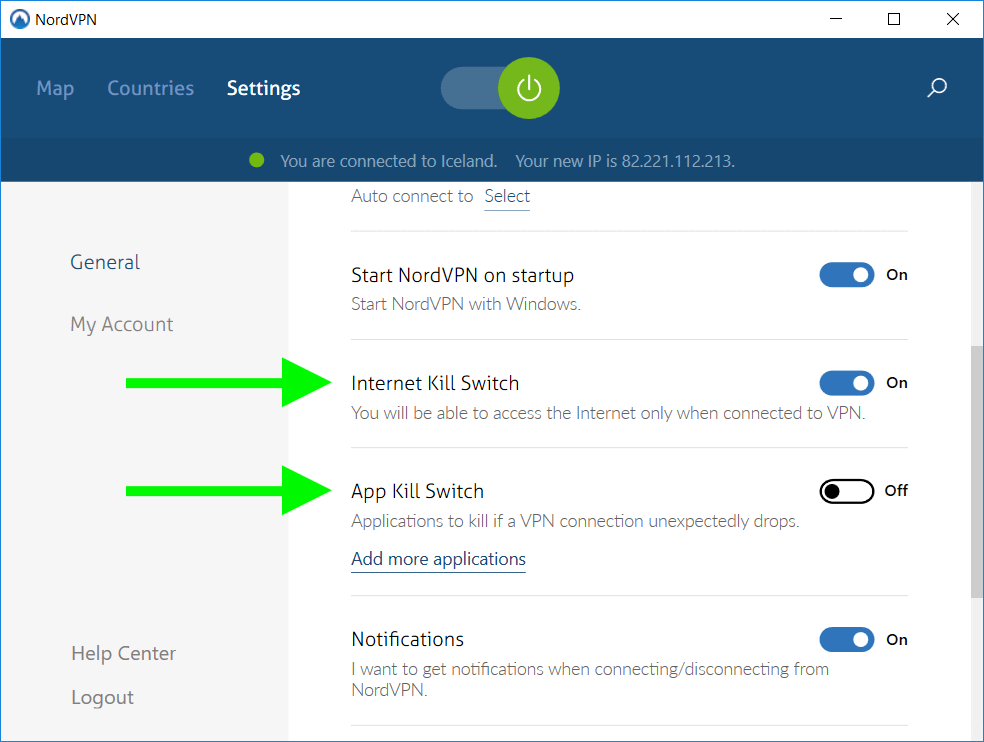 In comparison to IPVanish, NordVPN is the big winner in terms of features. It simply offers more and better features, whereas IPVanish remains a very basic VPN service.
Split tunneling – Split tunneling is a feature that allows you to route specific apps or certain websites outside of the VPN tunnel. This feature is available with NordVPN in the Windows and Android apps. There are a few other services that offer this feature as well, such as ExpressVPN and Surfshark.
Streaming support – NordVPN works with many streaming websites, including Netflix, Hulu, BBC iPlayer, and more — we'll examine more below.
Features winner: NordVPN
---
NordVPN vs IPVanish speed test comparison
To see whether NordVPN or IPVanish is the fastest, I tested each VPN in server locations around the US and Europe. All tests were conducted on a 500 Mbps (baseline) connection using the respective VPN apps. First, I tested servers in the US.
I tested locations around the US where both IPVanish and NordVPN had servers.
Test #1: Los Angeles
Here I'm testing a NordVPN server in Los Angeles, which gave me about 304 Mbps:

At over 300 Mbps, this is a very impressive test result from NordVPN. Let's compare that to IPVanish.
Here was the IPVanish server in Los Angeles I tested, giving me speeds around 68 Mbps:

Here we see that IPVanish is significantly slower than NordVPN with the Los Angeles server location, by about 236 Mbps.
Test #2: Seattle
Next up was a NordVPN server in Seattle, with speeds around 445 Mbps.

This is the fastest VPN speed test result we have gotten here at Restore Privacy. When we have VPN speeds over 200 Mbps, that is really good. Clocking in over 400 Mbps is on another level, and this is thanks to NordVPN's implementation of WireGuard.
Here was the IPVanish server in Seattle, with speeds around 79 Mbps.

While this is a little faster than the previous location, it is still quite slow. We see that IPVanish is lagging behind NordVPN with this location by about 366 Mbps — a huge margin.
Test #3: New York
Next I tested a NordVPN server in New York, with speeds of 280 Mbps.

This is still really fast, even though it's not quite on the level we saw before. Let's see if IPVanish can take the lead here.
IPVanish server in New York with speeds of 5 Mbps.

This is another slow speed test results from IPVanish. With the New York location, NordVPN was about 275 Mbps faster than IPVanish. We saw similar speed test results in the NordVPN vs PIA comparison, where NordVPN was faster in all locations.
Why is NordVPN faster than IPVanish?
Here are a few reasons that may explain why NordVPN was consistently faster than IPVanish in all of our tests:
NordVPN appears to have a

larger server network

with

more bandwidth

. With more bandwidth for VPN users, speeds should also be better.

On the network front, NordVPN is rolling out new colocated servers with 10 Gbps bandwidth channels.
NordVPN offers a CyberSec ad-blocking feature. This improves speeds by blocking ads and other tracking resources from loading, thereby giving you faster page load speeds and saving on bandwidth.
Winner for speed: NordVPN
Note: This is not an anomaly. NordVPN consistently outperforms other top-rated VPN services. See also in the NordVPN vs ExpressVPN comparison, where it came out on top with every location tested.
---
Encryption and Security: Is NordVPN or IPVanish best?
Both NordVPN and IPVanish offer good encryption and security, but one still has an edge.
NordVPN encryption: NordVPN encrypts data with an AES-256 cipher, SHA256 hash authentication, and a 4096-bit key exchange to employ Perfect Forward Secrecy. In comparison to IPVanish, NordVPN uses stronger encryption standards.
NordVPN supports the following protocols: OpenVPN, IKEv2, L2TP, and WireGuard. The WireGuard protocol is offered through NordVPN's own custom implementation, which they call NordLynx.
NordVPN server security: NordVPN goes above and beyond most other VPNs in the way of server security. Here are the details:
Completed a full, third-party security audit, which included examining all servers and VPN infrastructure.
Runs all servers in RAM-disk mode with no hard drives. This makes it impossible to store any logs on the VPN server.
Implementing self-owned colocated servers throughout the entire network. This will mean no more rental servers from third parties, which is what most other VPNs do.
IPVanish: IPVanish encrypts traffic with an AES-256 cipher, SHA1 authentication, and a 2,048-bit key exchange. IPVanish supports the following VPN protocols: OpenVPN, WireGuard, IKEv2, L2TP, and PPTP. The PPTP protocol is not considered secure and should be avoided (and IPVanish should probably not be offering it). We discuss these protocols more in the IPVanish review.
Server security with IPVanish: IPVanish describes their network as a "Tier 1" network. And while they have previously claimed to own all of the servers in their network, they no longer make this claim. This suggests IPVanish is renting VPN servers, which is what most VPNs do.
Unlike NordVPN, IPVanish does not run servers in RAM-disk mode, which means user data could potentially be acquired from the server by third parties. This was a drawback we also noted in the Surfshark vs IPVanish comparison, with Surfshark also using RAM servers. Additionally, IPVanish has not published any security audits, which is another drawback in comparison to NordVPN.
Note: When you are not properly securing your servers, it puts the VPN and all its users at risk if there is ever a server seizure. This was clearly the case with the Windscribe security breach. Like IPVanish, Windscribe also does not run servers in RAM-disk mode — and when their servers were seized, Windscribe VPN users were put at risk.
Encryption and security winner: NordVPN
---
IPVanish vs NordVPN Netflix and streaming comparison
Many people are using VPNs to stream media and unblock content around the world. This is especially true for Netflix, which now restricts access based on your IP address (where they think you are located).
There are only a handful of VPNs that work with Netflix. Many others are blocked or too slow and unreliable to stream Netflix.
IPVanish – Although IPVanish has previously been blocked by Netflix, it now offers limited support for American Netflix. Additionally, IPVanish markets itself as a good option if you need a VPN for Kodi, with dedicated apps for Kodi streaming.
Unlike NordVPN, however, IPVanish does not do well with unblocking BBC iPlayer or Amazon Prime. I have frequently found it to get blocked. Here you can see the IPVanish London server is still getting blocked by BBC iPlayer: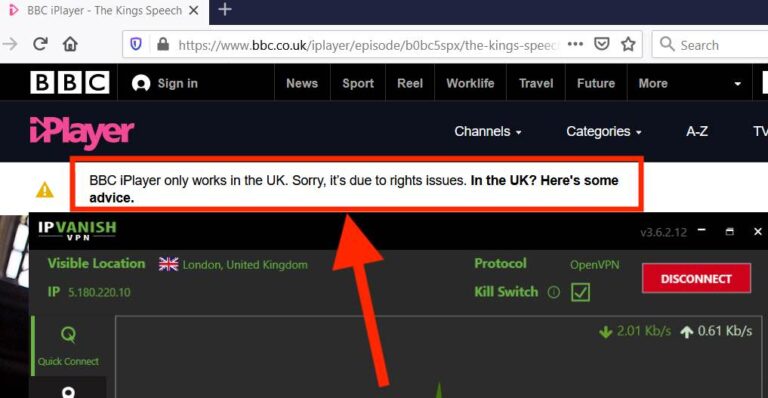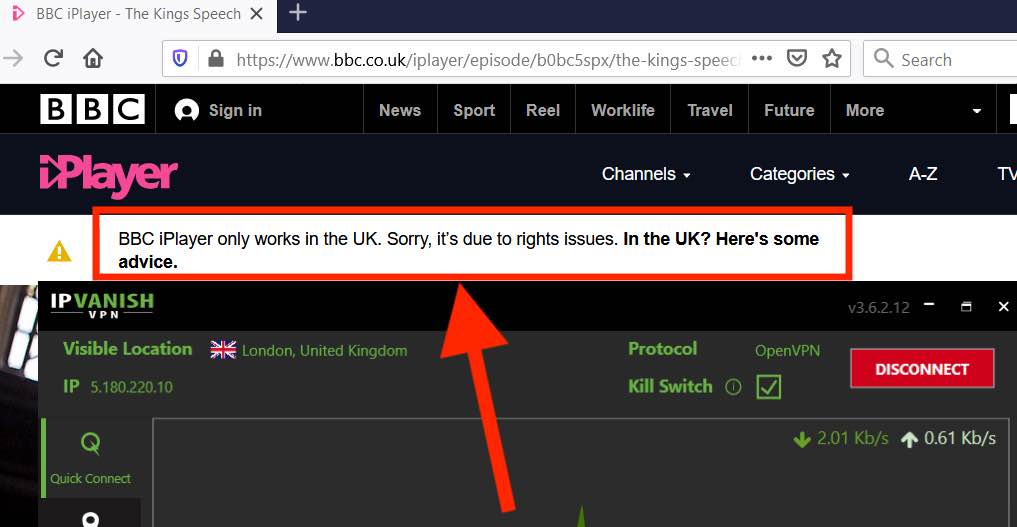 There are other good VPNs to unblock BBC iPlayer and streaming services, including NordVPN below.
NordVPN – NordVPN also works well with Netflix and unblocks more regions than IPVanish. I've tested this out many times and have found NordVPN to be one of the best options if you want a reliable VPN for Netflix that access numerous regional libraries.
Here I'm streaming Netflix through a NordVPN server in the US.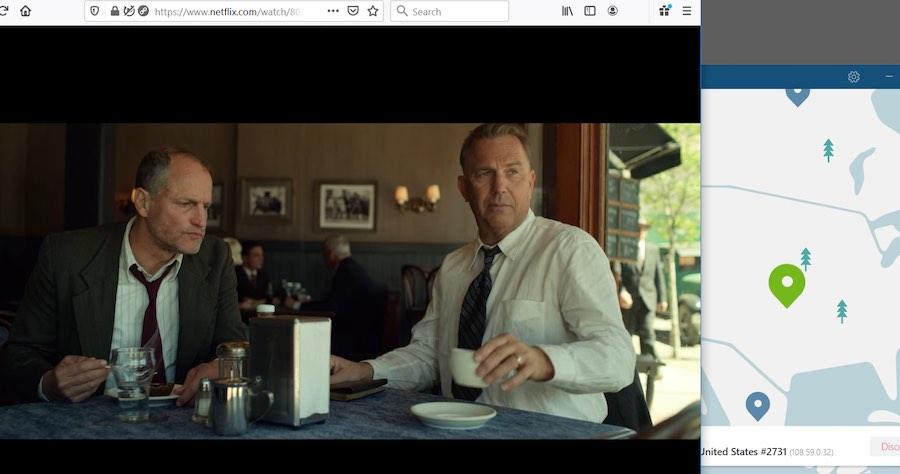 Unlike IPVanish, NordVPN supports many different Netflix libraries around the world. You can access these Netflix regions with NordVPN: US, UK, Canada, France, Germany, Netherlands, Spain, Japan, Australia, India, and Italy. (Other regions may also be supported, but I can't test everything.)
Additionally, NordVPN works well with other streaming services such as BBC iPlayer and also streaming Amazon Prime with a VPN.
If you want a fast VPN for streaming, NordVPN is currently the best option. If you want access to numerous Netflix regions around the world, BBC iPlayer, Amazon Prime, and other streaming services, NordVPN takes the prize.
Streaming winner: NordVPN
---
NordVPN vs IPVanish logs and privacy
The next category we'll examine is logs – or what data the VPN is recording when you use their service. In this category, there is a big difference between NordVPN and IPVanish. Both NordVPN and IPVanish claim to be "no logs" VPN providers – but only one has been verified to be correct.
The IPVanish logging case
A few years back I broke the news that IPVanish was caught logging customer data and providing this to the FBI. This case pertained to a criminal investigation, and when requested by the FBI, IPVanish violated their own "no logs" policy. IPVanish explained this was done under a different management/ownership structure.
Many VPNs today claim to be no logs. We still see this with IPVanish and ExpressVPN. But similar to NordVPN, ExpressVPN has undergone independent audits confirming the no-logs policy.
Jurisdiction: With IPVanish being based in the United States, this puts the VPN completely under US law. It also means they can be pressured by US authorities to log user data, which is exactly what happened. The US is a Five Eyes surveillance country and not a good jurisdiction for privacy.
NordVPN's no-logs claims verified by third-party audit
Unlike with IPVanish, NordVPN has been verified to truly be a no-logs VPN. It is one of the few verified no logs VPNs. In November 2018, NordVPN underwent a full audit from PricewaterhouseCoopers, which verified NordVPN's no-logs policy to be accurate. This is about as good as it gets for a no logs VPN provider.
Jurisdiction: With NordVPN being based in Panama, they are much more protected from countries, such as the US and UK, that demand customer data and/or logging. Panama is not a member of any international surveillance alliances like the US, UK, Canada, and others.
Logs and privacy winner: NordVPN
---
Does IPVanish or NordVPN work best for torrenting in 2022?
Next we will examine torrenting and P2P filesharing.
NordVPN – As noted earlier, NordVPN has dedicated P2P servers to give you the best performance with torrenting. I tested these servers out and found them to offer excellent performance.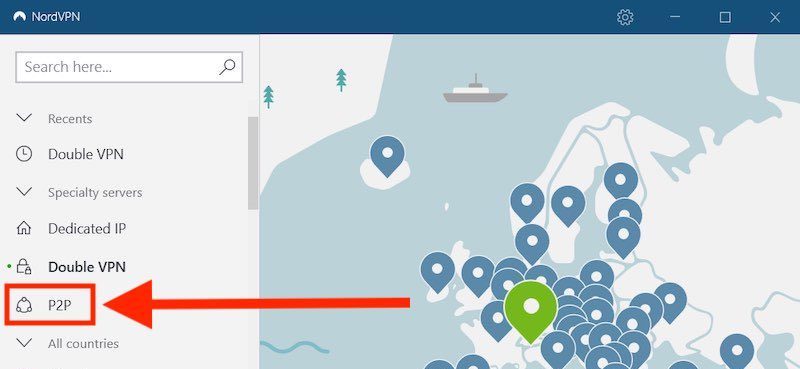 NordVPN also does not have any throttling or limitations on traffic. The fast speeds also make it one of the best VPNs for P2P torrenting. Lastly, Panama does not have any strict copyright laws like the United States.
IPVanish – Unlike with NordVPN, IPVanish does not offer any P2P servers. And being based in the US, it is also subject to strict copyright violation laws. Fortunately, without any logs, IPVanish users should not have to worry – unless IPVanish coughs up logs to the FBI, again.
There is another problem. Some US-based VPNs are forced to block torrenting on their servers. This happened to TorGuard VPN as part of a settlement from getting sued by copyright holders.
The biggest problem with using IPVanish for torrenting, however, is the slow speeds. NordVPN comes out on top in this category as well.
Torrenting winner: NordVPN
---
IPVanish vs NordVPN support
I have dealt with both IPVanish and NordVPN's support periodically over the past few years. This was mainly done when testing out the VPNs for their respective VPN reviews.
NordVPN – With NordVPN, you get access to 24/7 live chat support, which is available directly through the website. I have always found the chat support team to be professional, friendly, and knowledgeable. I've never experienced any extended wait time or problems getting support.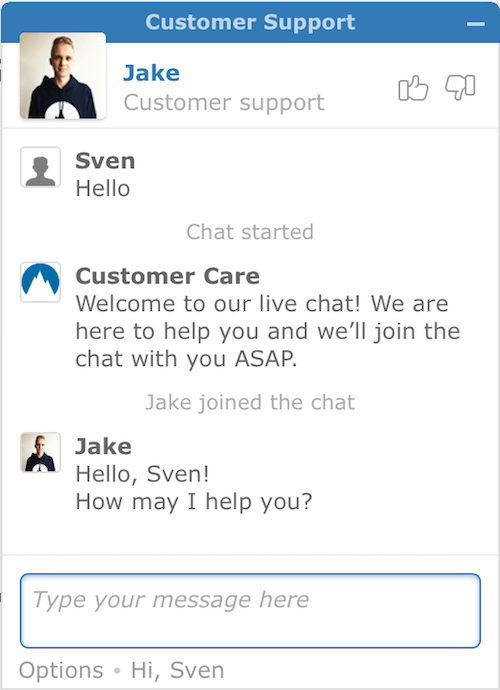 NordVPN chat support is always available if you need it.
IPVanish – Unlike with NordVPN, IPVanish does not offer 24/7 live chat support. Chat is available during regular business hours, but when I tried late at night, I could not get anyone. Email was hit or miss.
If you want 24/7 access to competent support technicians, then you will want to go with NordVPN.
Support winner: NordVPN
---
IPVanish vs NordVPN price and value comparison
Now we will examine prices to see whether NordVPN or IPVanish comes out on top. First up is IPVanish.
With IPVanish, they are offering two different pricing plans. You can either select the VPN on its own, or combine the VPN with a secure cloud storage option. Here are the prices for the VPN alone: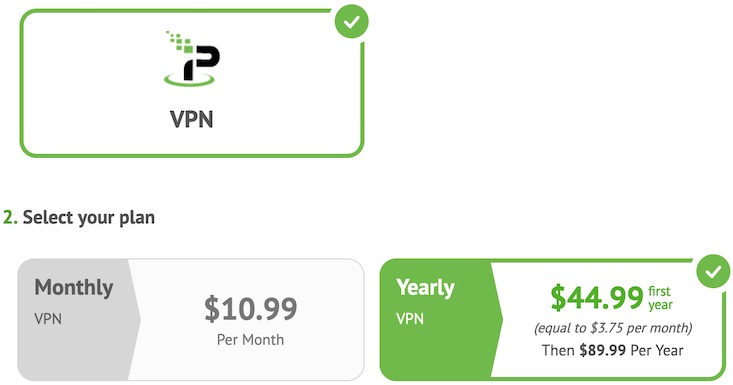 You can see that the annual rate of IPVanish comes in at $44.99 — but then jumps up to $89.99 per year. The monthly prices are also fairly expensive at $10.99 per month.
IPVanish accepts credit cards and PayPal. But unlike with NordVPN, IPVanish does not accept any cryptocurrency payments.
IPVanish refund policy – IPVanish offers a 30 day money-back guarantee, but again, there's a catch. There are no refunds on monthly subscriptions.

NordVPN prices
NordVPN also offers some great deals throughout the year.
Currently, the best discount you can find on NordVPN is with this coupon for 68% off. Here are the discounted prices:

NordVPN is cheaper than IPVanish with the two year rate, which costs only $79. With IPVanish, two years will cost you $134.98. This makes IPVanish about $46 more expensive than NordVPN for two years.
NordVPN supports all major payment options, with the exception of PayPal (in the US), and also accepts many different types of cryptocurrency.
(See also my NordVPN coupon page that also shows the latest deals and discounts with NordVPN.)
NordVPN refund policy – NordVPN offers a 30 day money-back guarantee. Unlike with IPVanish, this refund applies to all subscription plans.
So NordVPN is cheaper than IPVanish (with longer plans) and also offers a longer refund window. Overall, it is a cheap VPN that also offers value.
NordVPN wins on price and on value, coming in ahead of IPVanish in every category.
Price and value winner: NordVPN
---
Conclusion: NordVPN wins in 2022
As you can see from this NordVPN vs IPVanish comparison, the winner is clearly NordVPN.
This seems a bit lopsided, but NordVPN was truly the winner in every category:
Features and Apps – NordVPN offers more (and better) features than IPVanish, as well as better VPN apps.
Speed – NordVPN had faster speeds in every location tested.
Encryption and Security – NordVPN offers stronger encryption standards and security.
Netflix and Streaming – NordVPN works with US Netflix and many other streaming services, while IPVanish gets blocked.
Logs and privacy – NordVPN is an audited no-logs VPN provider. IPVanish was caught logging users for the FBI.
Torrenting – NordVPN offers much faster speeds for torrenting, dedicated P2P servers, and no limitations on bandwidth.
Support – NordVPN offers 24/7 live chat support.
Price and Value – NordVPN is cheaper than IPVanish, while also offering the best value.
NordVPN is the clear winner in this IPVanish vs NordVPN comparison for 2022.
If you are want to try both, remember that IPVanish does not provide refunds on monthly subscription plans. With NordVPN, you'll get a full 30 days to test out the service risk-free with all subscription plans.
Here's a coupon to get the best savings with NordVPN:
NordVPN Coupon

Get 68% Off NordVPN plus FREE anti-malware protection for all your devices:
(Coupon is applied automatically.)
So now the choice is yours.
If you are open to other options, you could also see my list of the best VPNs based on the latest test results.
This NordVPN vs IPVanish comparison was last updated on January 7, 2022.